ITEM:                                     E&E Gen2 Pack
MANUFACTURER:            Kifaru
REVIEW NOTES:
Many thanks to my wallet, my boss for paying me  huge amounts of coin, and my smart decisions as a younger bloke to not become ensnared with women of ill-repute and their evil, nefarious plans of having children to me. I'd also like to thank the economic  genius that has allowed the Australian dollar to gain close to parity to the mighty greenback.
Many thanks to Ganny for my custom velcro name tape. Very cool, I can now declare myself as a true geardo now I have my interwebs user-name on my kit. 
DESCRIPTION:
Made from the 1000D cordura, the Kifaru E&E is intended as a small "Escape and Evasion" type pack for vehicle and aircrew to pick up from disabled transport and have sufficient stores to survive until extraction. It takes up little space in environments that are traditionally very cramped working environments.
Dimensions are 36cm high, 24cm wide, and 10cm deep.
HARNESS –
Harness is a very simple flat webbing affair, with a simple sternum strap and tri-glide type buckles for strap adjustment. There is an option to upgrade these simple, basic straps to a padded model. This is what I did when I ordered the E&E. Although, be advised, upgrading the straps is up to the customer. So if you're like me, and not to be trusted with scissors and other sharp objects, make sure you have some sort of adult supervision nearby if you're going to be upgrading the straps. 
The padded straps are as used on the X-Ray pack from the Kifaru stable. Quite nice, contoured straps that work well.
One thing to note on the harness, is the length of the straps are sufficient for different users of any size. This means that the E&E should easily fit over anything worn, such as body armour.
A tubular webbing grab handle is fitted to the top of the pack. It's quite easy on the hands, and won't cut like most flat webbing strap does when used under a decent load.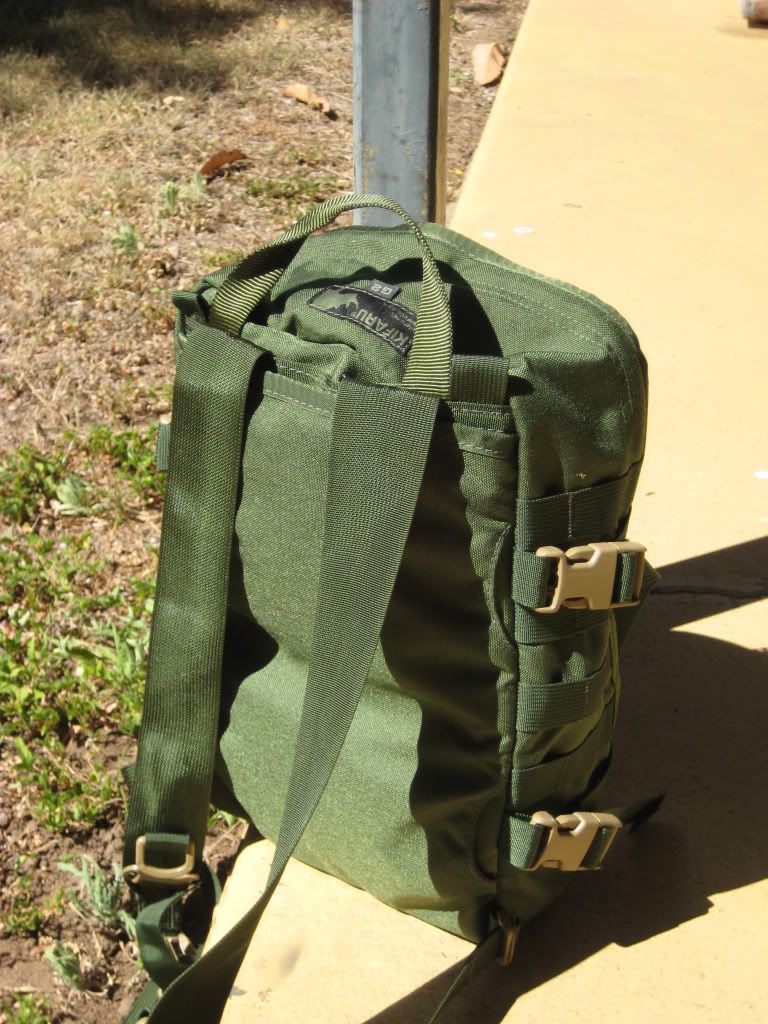 RUCKSACK –
Five rows of PALS are sewn onto the outside surface of the E&E pack. Access is via full length panel zip, backed up by adjustable fastex buckles. These fastex compression straps have another use to attach the E&E to the outside of your patrol pack via the Kifaru Dock & Lock system. If you use this E&E pack as a "go-bag" to carry extra items if the main patrol pack needs to be dumped, this is a nice, quick system to use.
It also allows the E&E to be used as an external pocket on your large pack or any kind of vest, like armour carriers.
On the top of the pack is a Velcro patch for ID and other assorted patches.
There is a pocket on the pack for hydration bladder, or can be used to stow flat objects such as maps or paperwork. The straps can also be stowed in this area whilst the E&E pack is stowed in a vehicle to prevent any snagging on rapid egress/bailout.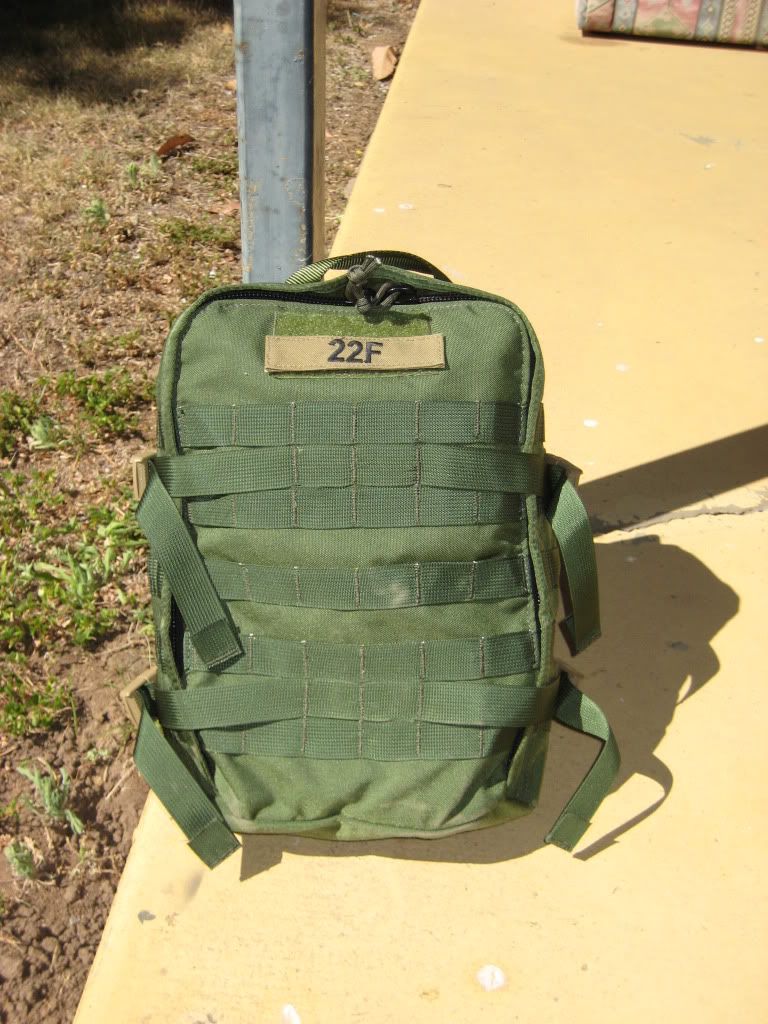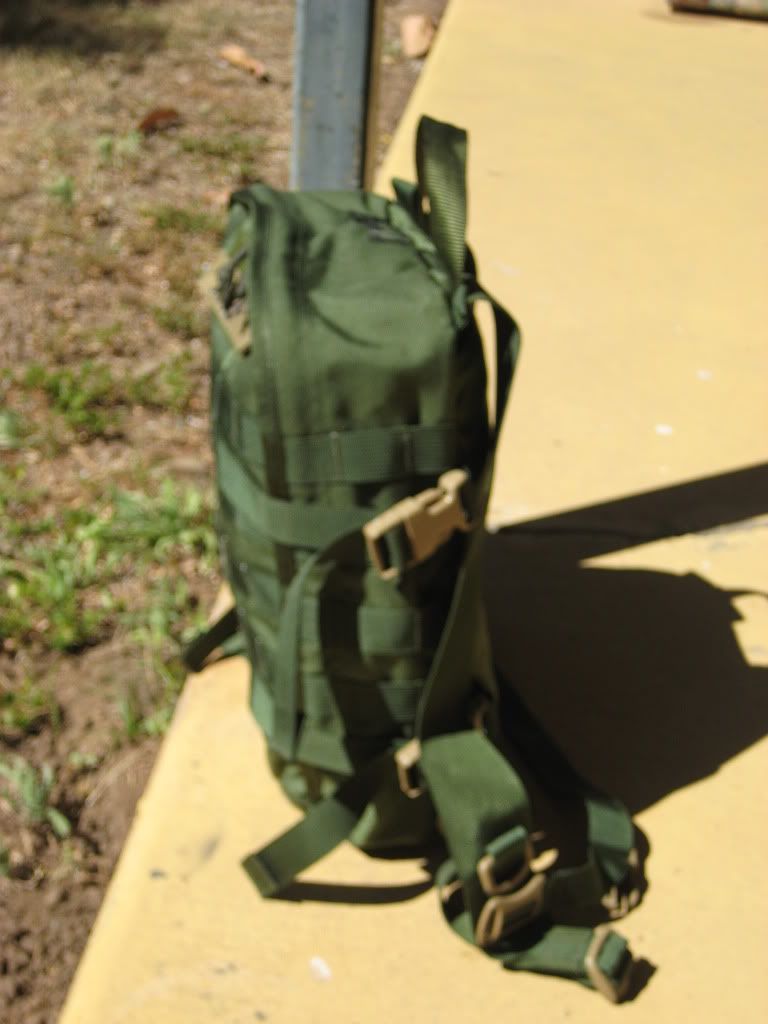 PERSONAL ASSESSMENT:
After my use of the Plat-a-tac Alpha pack, I was searching for something slightly smaller and of higher quality to use as a go-bag.
Nowadays, I want a small pack to carry some extra water, ammunition, rations and clothing (only to suit local climactic conditions) away from my main patrol pack. I don't carry too much kit such as manpack radios or anything like that nowadays.
I've been wearing mine around for some daywalking in the bush, and training pack walks. I generally load it up with 2L of water, a meal or two, toggle rope, extra ammo, hootchie cord and cleaning kit (along with my bottle of Slip2000 weapons lube).
I could see this pack being used to carry a manpack radio, provided the radio itself would actually fit within the pack. I'm pretty sure the E&E is too narrow to accept anything like Wagtail or Raven radios currently in Australian service. In this role, it could prove useful.
PROS –
Very compact, extremely well made design.
With the upgraded harness straps, comfort is increased. The PALS channels have allowed me to fit two SORD pouches to better suit my load. The pouches are placed to ease any stress on the zip (you all know my dislike of zips on fighting load), and only hold light, bulky items, since canteens in them tend to overbalance the load.
A useful load can be carried well within the shoulders of the wearer. This makes the E&E very handy for tight, confined spaces.
CONS –
Due to the construction, she's a heavy little thing for it's size!! I really noticed this when I had a Christmas moment of opening the packaging after the postie had managed to find my house. Mind you, since the pack is 1000D material, this is no big surprise.
Quite expensive, especially given the fluctuation of the Australian dollar versus the mighty greenback. However, since I'm young ('ish), single, not paying for any children and earning good coin, this is not as much of an issue for me.
SUMMARY:
Nice little pack that would suit aircrew, vehicle mounted personnel and those interested in trying to keep carried equipment to a minimum.
Unlike my Plat-a-tac Alpha, this one is a keeper.

Posted in Packs & Webbing by 22F with no comments yet.