ITEM:                     3 Day Assault BVS Pack
MANUFACTURER:            Mystery Ranch
LINK:                    
http://www.mysteryranch.com/s.nl/it.A/id.2488/.f?sc=7&category=45
Check out Mystery Ranch's photo's, they're much better than mine. But that's what you get for using a professional photographer, rather than a knuckle-dragger like myself.
REVIEW NOTES:
This pack was kindly supplied by Mystery Ranch for review through their Australian dealer Military Gear, in conjunction with Crossfire. I will be returning this item when completed, since I have no need for this kit.
I have received no financial compensation for the review of this item. I have done the review (like many with supplied equipment) with the proviso that I will be painfully honest in my assessment of this item.
Unlike most of my reviews, the 3 Day Assault BVS pack has not been fully field tested due to me recovering from illness. As such, I haven't been able to load it up and take it for a stomp to see how it treats me under harness.
DESCRIPTION:
A tri-zip assault pack, up to 3-day use. The harness system is designed to be worn in conjunction with body armour as well as "clean-skin" without armour.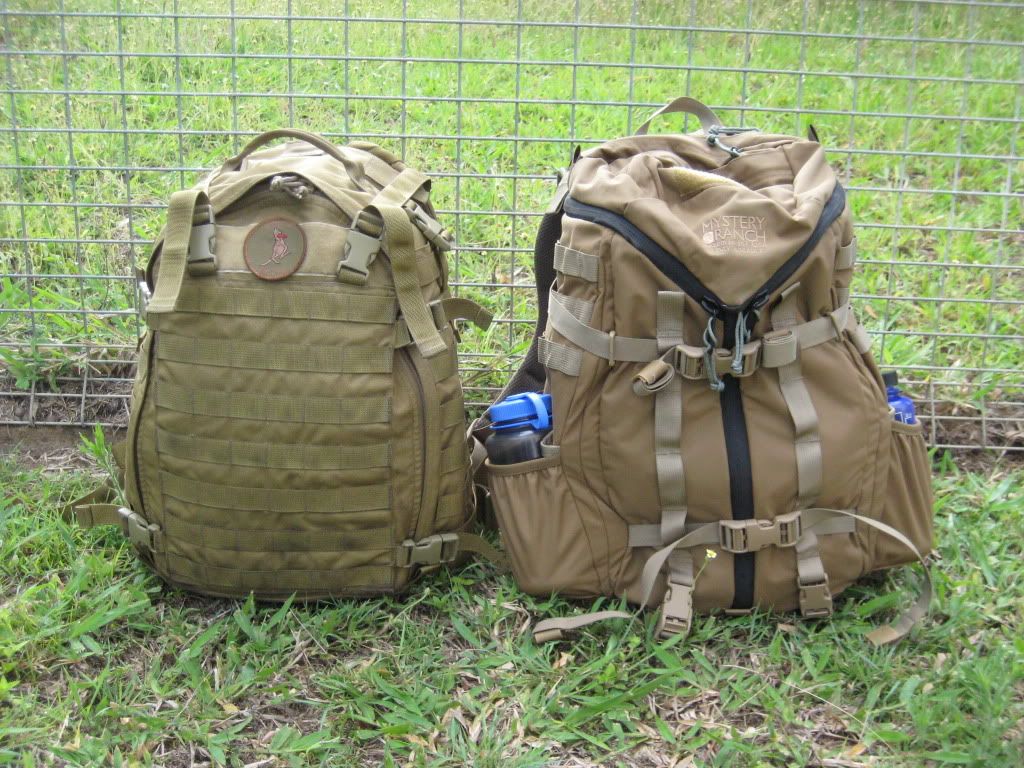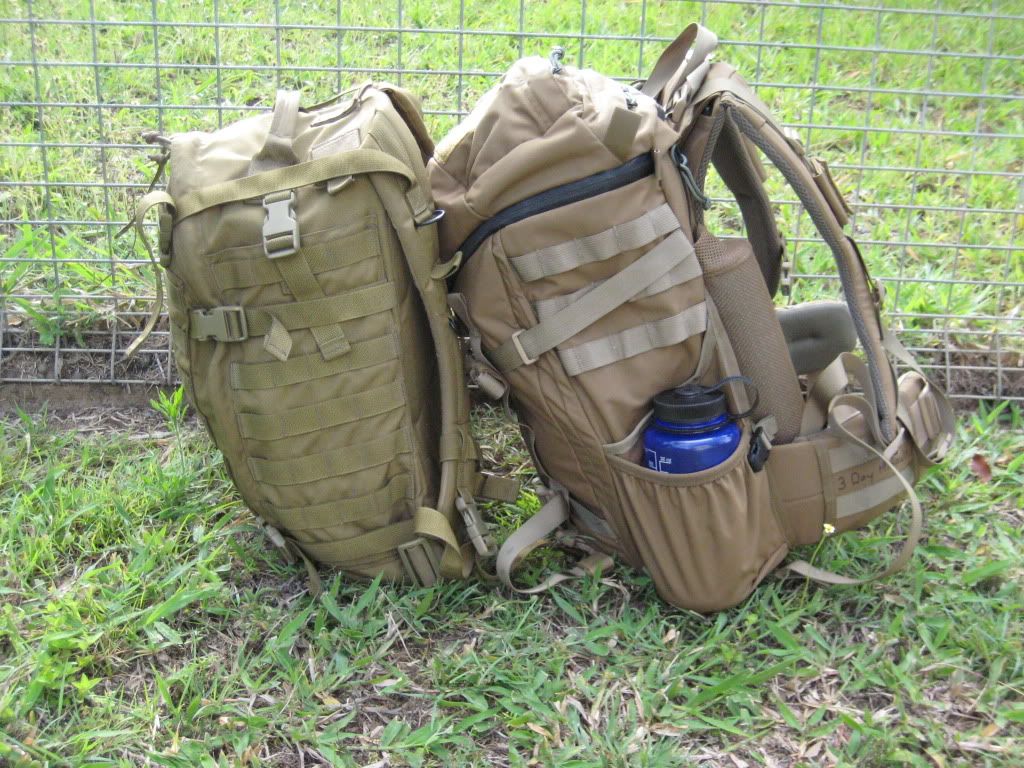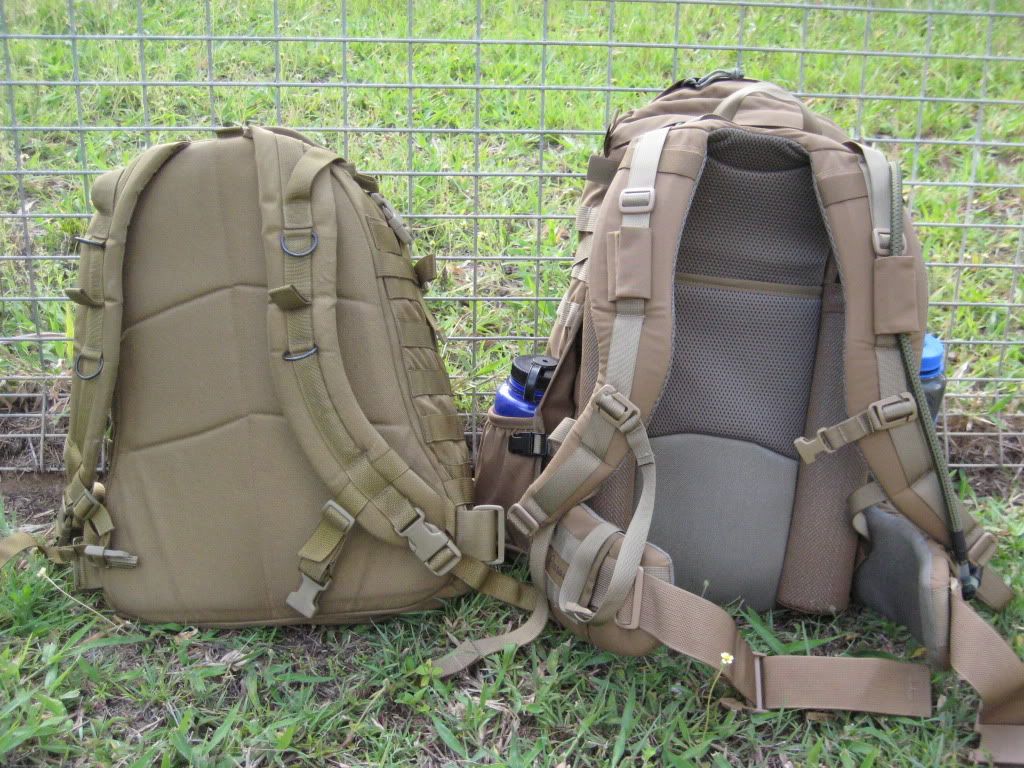 MATERIALS:
500D cordura for the main pack body.
Lockable fastex buckles
Webbing and mesh in various places
SPECIFICATIONS:
Capacity – 32.8L (2000Cubic Inches)
Weight – 2.3kg (5lbs 1oz)
Dimensions – 46cm x 29cm x 22cm (18" x 11.5" x 8.5")
LAYOUT:
HARNESS –
This pack uses the Futura yoke system with a live wing belt system. As found on most of the Mystery Ranch daypack range.
The contoured straps are similar to the DG-6 in that they have a 3-dimensional structure with a plastic stiffener in them that interacts at the shoulder to maximise comfortable load transferrance and prevent the load from turning the strap into a piece of string under a high load.
The harness has a sternum strap, and top tensioners like that found on most good quality hiking packs. Also fitted are elastic and Velcro loops to manage hydration bladder hoses.
The substantial and very comfortable hip belt is like others of the range from a design and usability point of view. There is PALS rows fitted to the hip belt, allowing pouches to be fitted to the belt for the wearer's preferences. The fully adjustable hip loading belt also has a clever way to adjust the running end to allow a reduction of flapping belt to reduce snag hazards in vehicles and close terrain which is impressive to see.
The harness is lined with a mesh material to reduce heat retention and such problems as chafing.
FRAME –
The Futura Frame is similar to others in the Mystery Ranch line for this size. It also has the BVS system in order to be worn in conjunction with Combat Body Armour. When worn with the MAR-CIRAS I've recently reviewed, the BVS (Bolstered Ventilation & Stability) system helped stabilise the pack a great deal. It also makes the pack comfortable to wear without CBA.
Unlike the bigger packs in the Mystery Ranch line, it should be noted that the BVS is non-removable on this pack. But it's interesting to observe that this BVS is made of a material (spacemesh as it's called on the website) that allows a significant amount of airflow through them, to allow maximum airflow across the back if not worn with CBA.
RUCKSACK –
Mystery Ranch's signature tri-zip arrangement has been used. I'm not a big fan of zips on a fighting load or any pack for rough field use, but the Mystery Ranch arrangement is growing on me. The ability to be able to open up the pack to easily access the contents is a nice ability to have in the field. The lockable fastex clips are fitted to relieve stress on the zips securing the load. The top clip of these also acts as a compression strap for the load. There are also daisy chains along the zip to lock the fastex clips into best position and assist in lashing equipment to the outside of the pack.
On the two sides of the rucksack body are some PALS rows and elasticated external pockets to carry nalgene sized bottles. This setup also allows long items such as M72 LAAW's and other similar items to be carried.
Under these two side panels, are fastex clip secured pockets that allow the hip-belt to folded away and stowed within (I didn't discover this until I had a look at the MR website) and will also allow such items as hydration bladders to be stowed. Other items that are wide and flat, such as cervical collars could conceivably be stowed in there as well. There are also loops and bits to manage hydration hose stowage on the pack, along with port access for handset or hydration hose access. This attention to detail is excellent.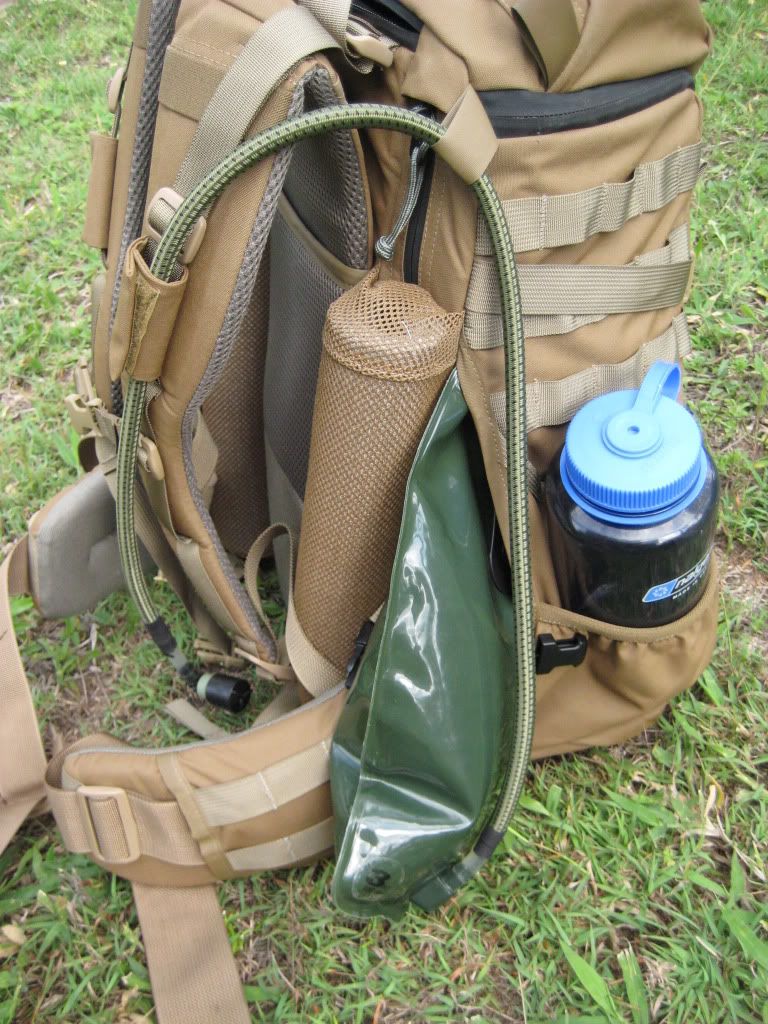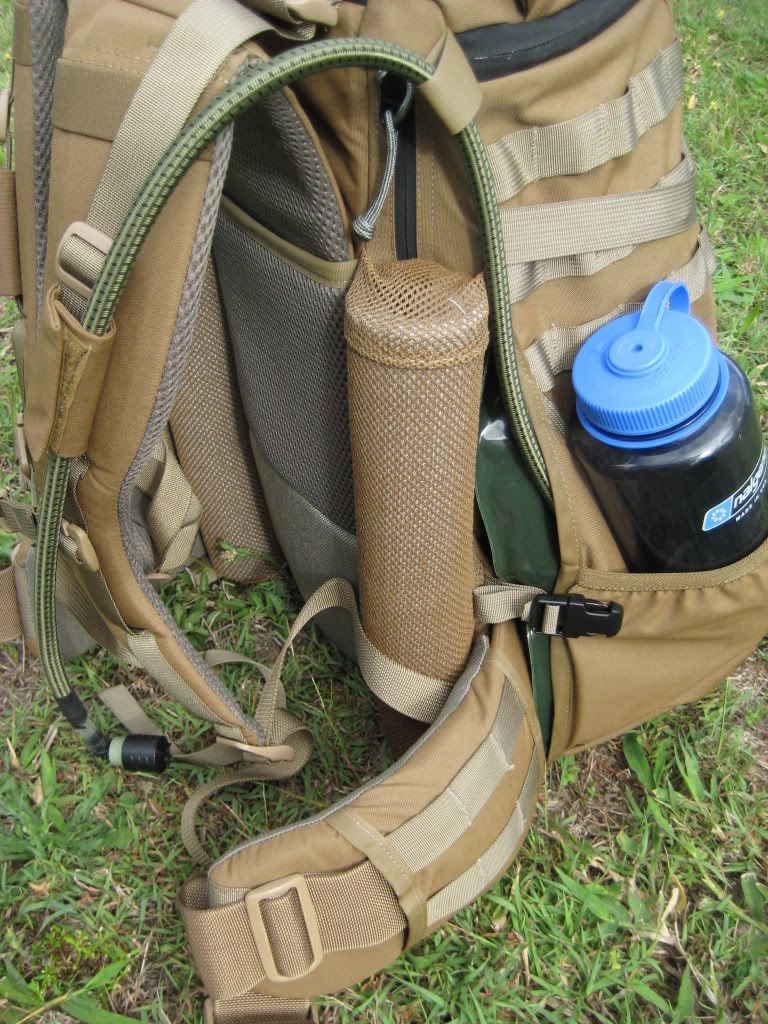 Another feature of the side panels are zip access to the interior of the pack for radio access.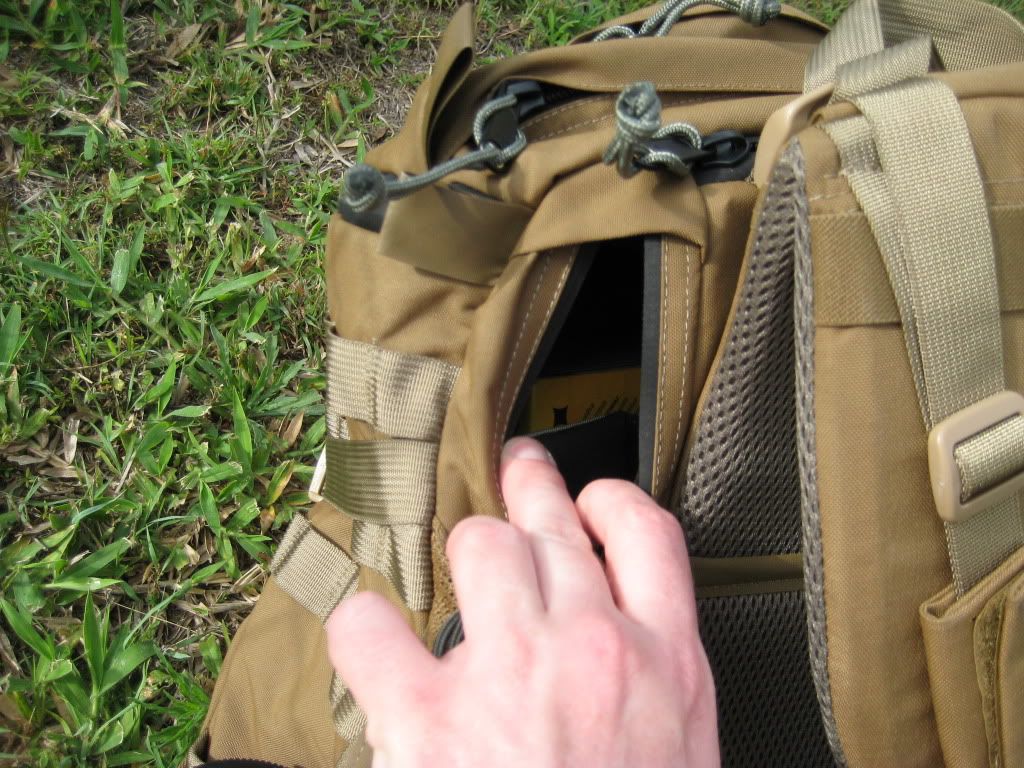 The bottom has some daisy-chain/PALS rows that allow items to be lashed to the pack bottom, and has two fastex clip cargo straps to do this.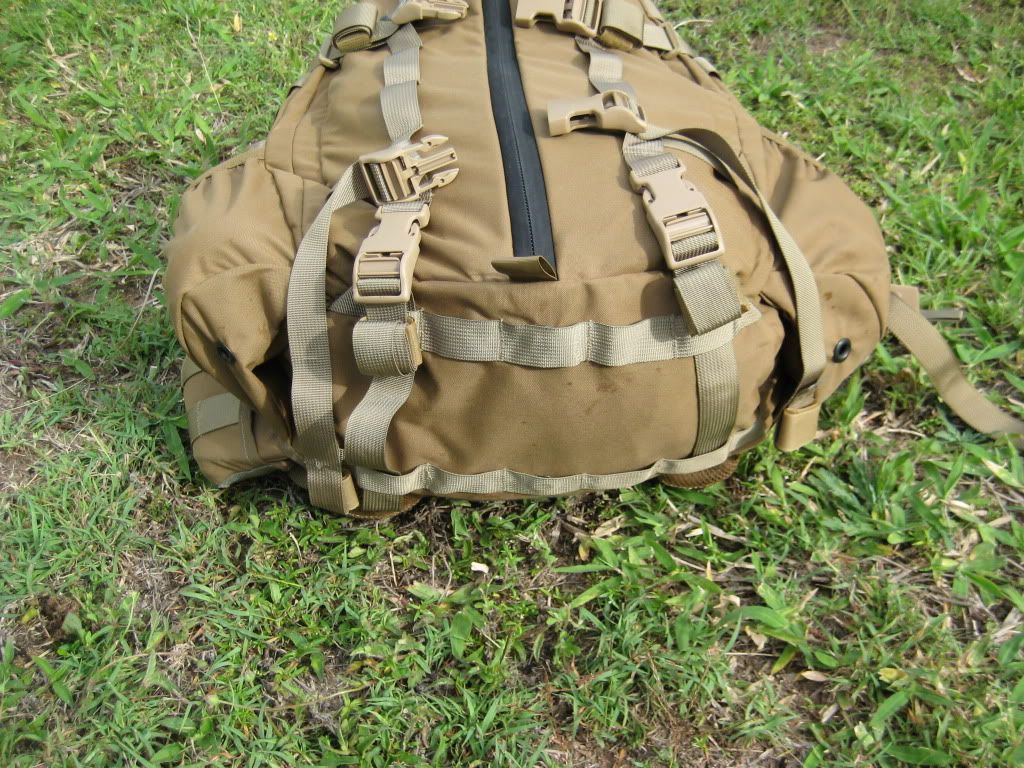 The lid has two zip access pockets for small sundry items. Under these two zips is also zip access into the main compartment for radio access purposes.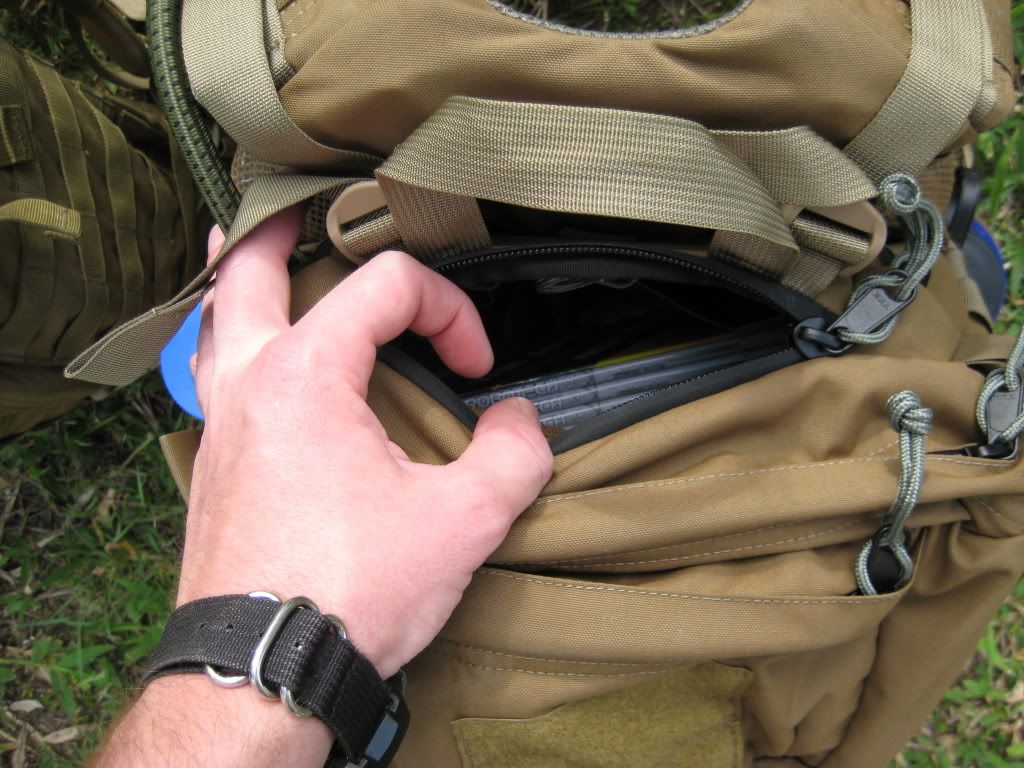 There is Velcro pile section on the lid for morale/ID patches.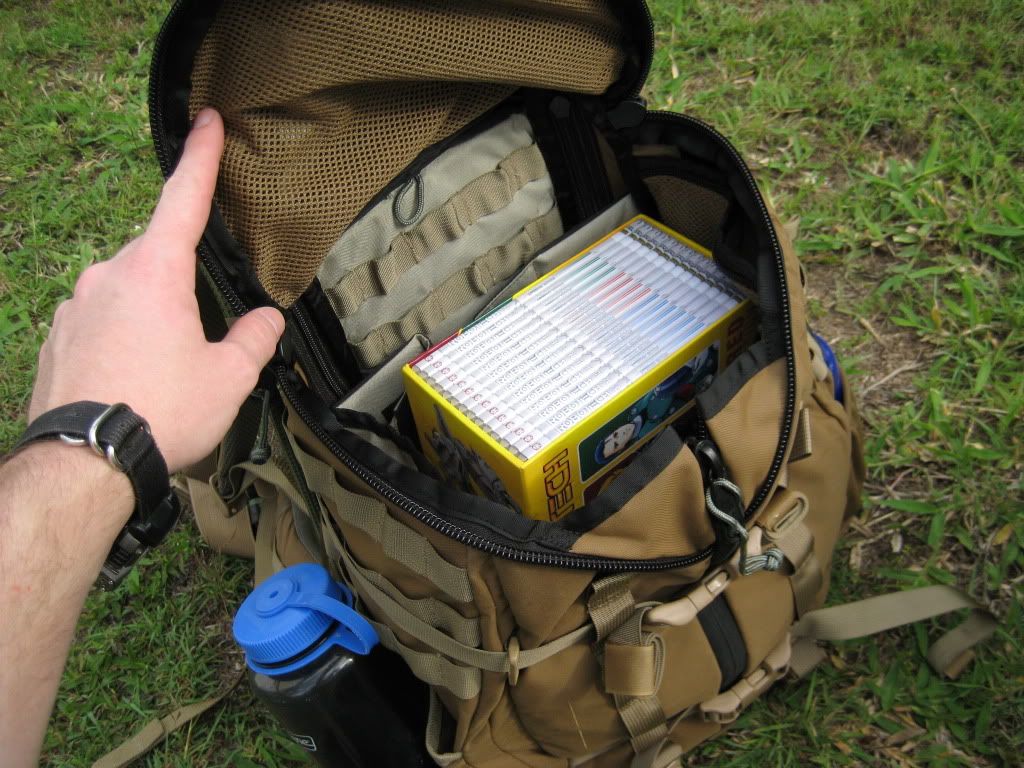 Inside the rucksack is a lot of internal organisation!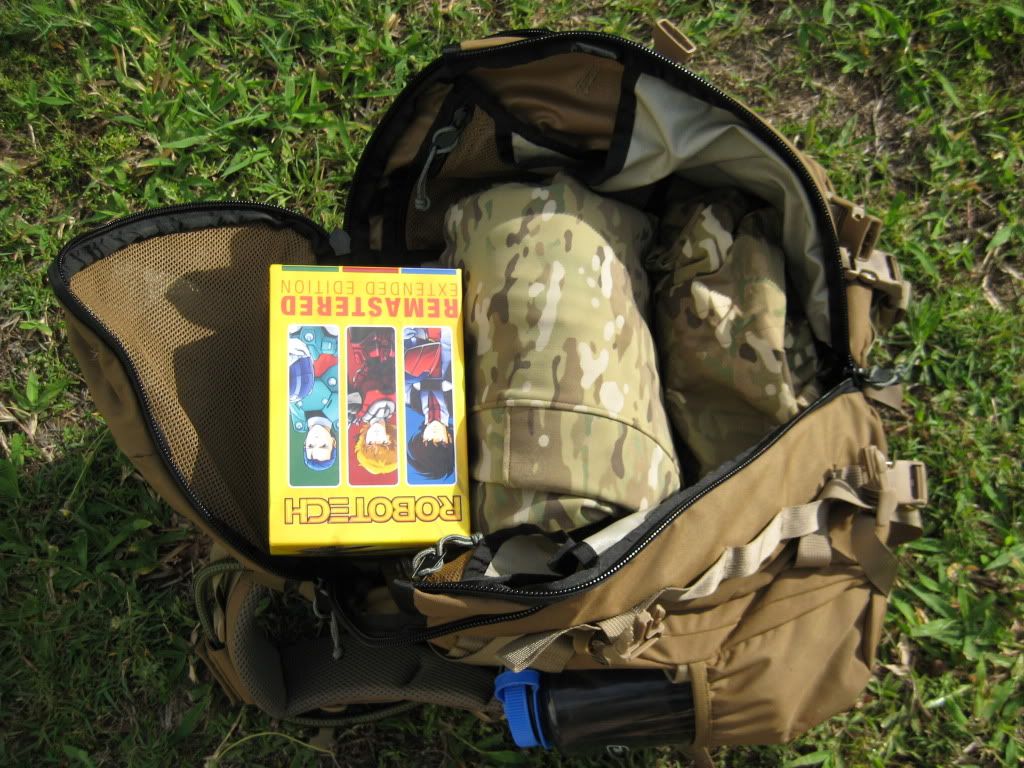 On the back, starting at the top is PALS rows to stow internal pouches. Below that is a fastex clip secured harness to carry the AN/PRC-117F radio set. The radio harness has Velcro to stow the harness away should the radio not be carried – I think that's what it for.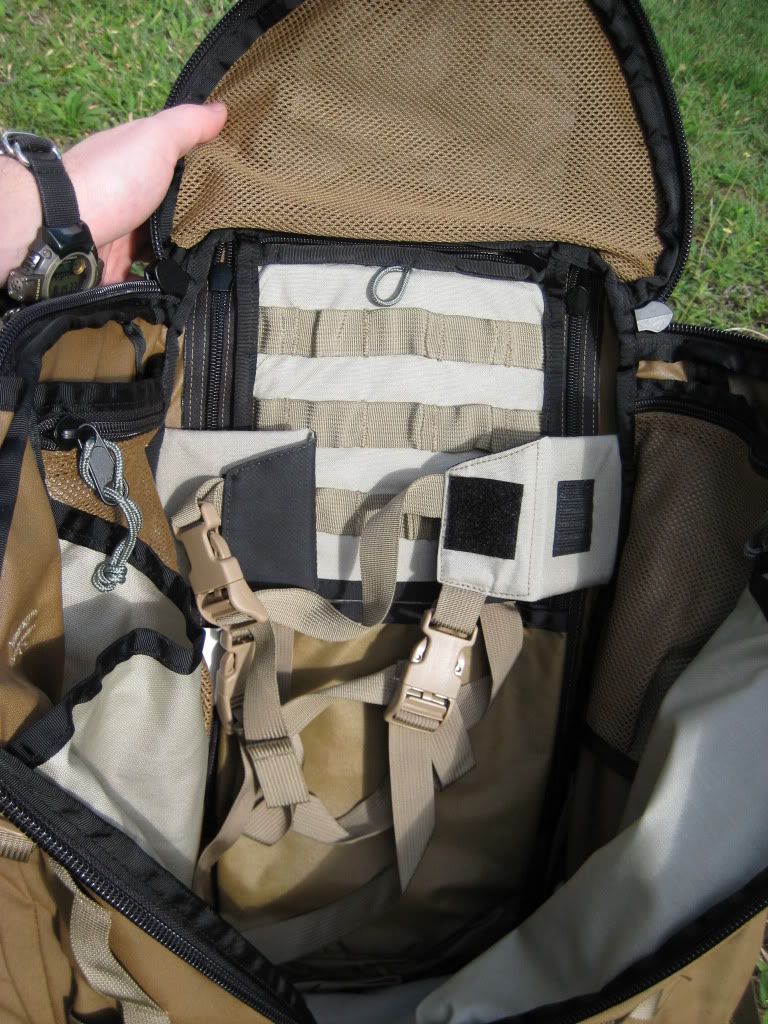 Below the radio harness is a pocket for another hydration bladder (capacity for carrying three hydration bladders).
On the  internal sides of the rucksack, is a couple more pockets for internal organisation.
There's a small zip secured mesh-lined pocket for small, sundry items. There's also an open-topped internal pocket for other objects and to aid in internal organisation.
PERSONAL ASSESSMENT:
As mentioned in some of my previous kit reviews, I'm not a big fan of zips on my bush gear. I'm actually a big fan of a traditional top loading pack.
Having said that, the Mystery Ranch Tri-zip arrangement is growing on me.
PROS –
Construction quality is very high.
The design itself has a lot of attention to detail. There are so many loops, and ports for hoses and cables that practically any load can be easily managed. 
The tri-zip arrangement makes accessing the load within the pack very easy. No more having to dig out equipment, lay it out on the ground next to you to find that one item you need at the bottom and then replace all your gear. Repeat in reverse when kit has to be re-stowed.
The 3-day BVS is one of those packs I'd consider for personal use, because of the essential flexibility of the design. One could conceivably be carrying this as a patrol pack, and still easily accommodate a manpack radio if stabbed in a hurry. For a designated Sig, it would be a very useful pack for short duration patrols where a minimum of equipment is needed.
CONS –
Again, the straps have no quick release buckles, which is one of my fetishes.
I have some concern about the strain placed upon the  main zip if the fastex clips aren't done up and secured/tensioned. Although this is only a real concern when the pack is closed up in a hurry. Short term exposure shouldn't be too much of a problem for a product of such high quality though.
Exchange rates between the Australian dollar and the Greenback is good now, but subject to fluctuation.
SUMMARY:
A highly developed assault/3-day pack. There is a lot of great design features in this pack that will allow it to be used for a variety of mission profiles.

Posted in Military, Mystery Ranch, Overnight, Packs & Webbing, Short Trip by 22F with 7 comments.