PRODUCT:           RATS Medic Pack
MANUFACTURER:            Mystery Ranch
DESCRIPTION:
The RATS (Rapid Access Trauma System) is a daypack sized aid pack for combat medics to access their supplies.
REVIEW NOTES:
This pack was kindly supplied by Mystery Ranch for review through their Australian dealer Military Gear, in conjunction with  Crossfire. I will be returning this item when completed, since I have no need for this kit.
I have received no financial compensation for this item. I have done the review (like many with supplied equipment) with the proviso that I will be painfully honest in my assessment of this item.
Like a few of my latest reviews, I'm way outside of the intended demographic for this pack. As such, I've probably missed some of the subtleties of the design since I'm not in the intended user market niche.
Unlike most of my reviews, the RATS medic pack has not been field tested due to me recovering from illness. As such, I haven't been able to load it properly load it up and take it for a stomp to see how it treats me under harness. I also don't possess enough knowledge/experience to actually use this pack properly.
If I have missed something glaringly obvious, please don't hesitate to mention it. I appreciate the further education to increase in my knowledge.
MATERIALS:
Most of the pack is 1000D cordura.
Good quality YKK zips for the main pack body.
Lockable fastex clips are also fitted.
SPECIFICATIONS:
Capacity – 30L (1800 cubic inches)
Weight – 2.9kg empty (6lbs 5oz)
Dimensions – 48cm x 28cm x 18cm (19" x 11" x 7")
LAYOUT: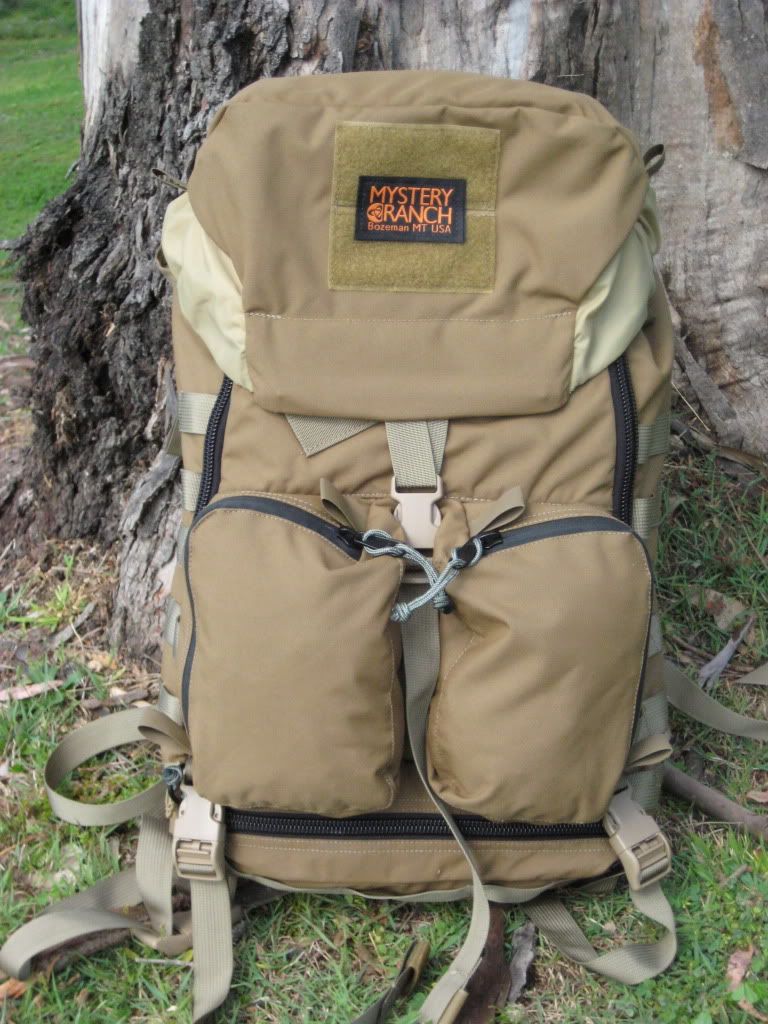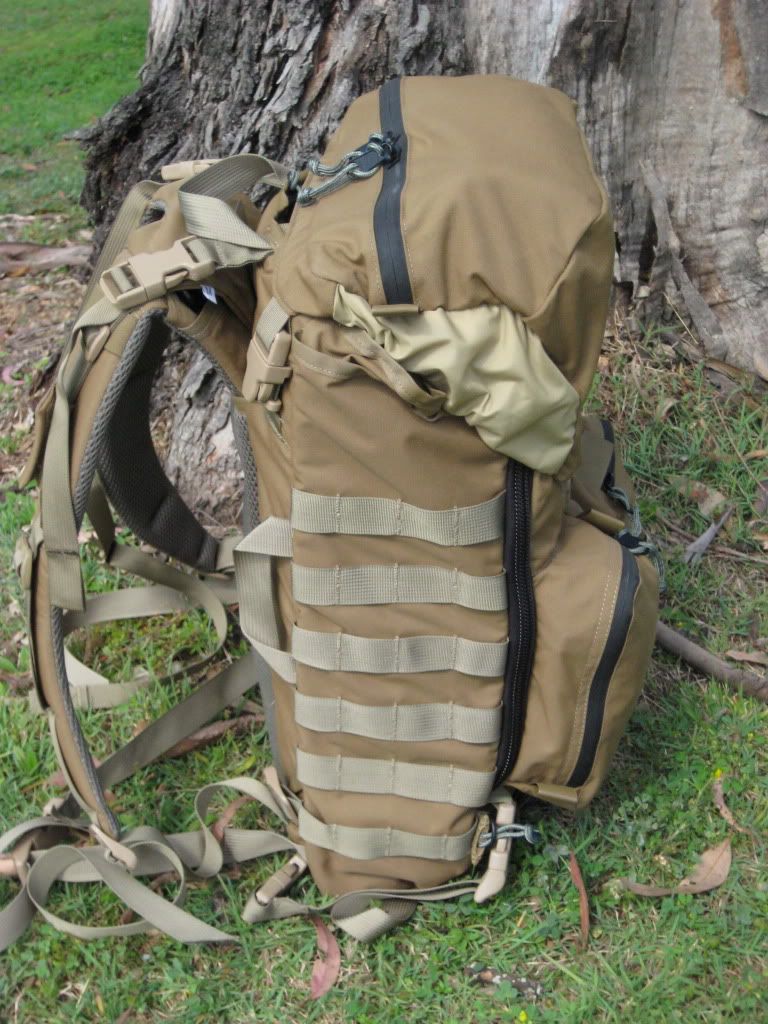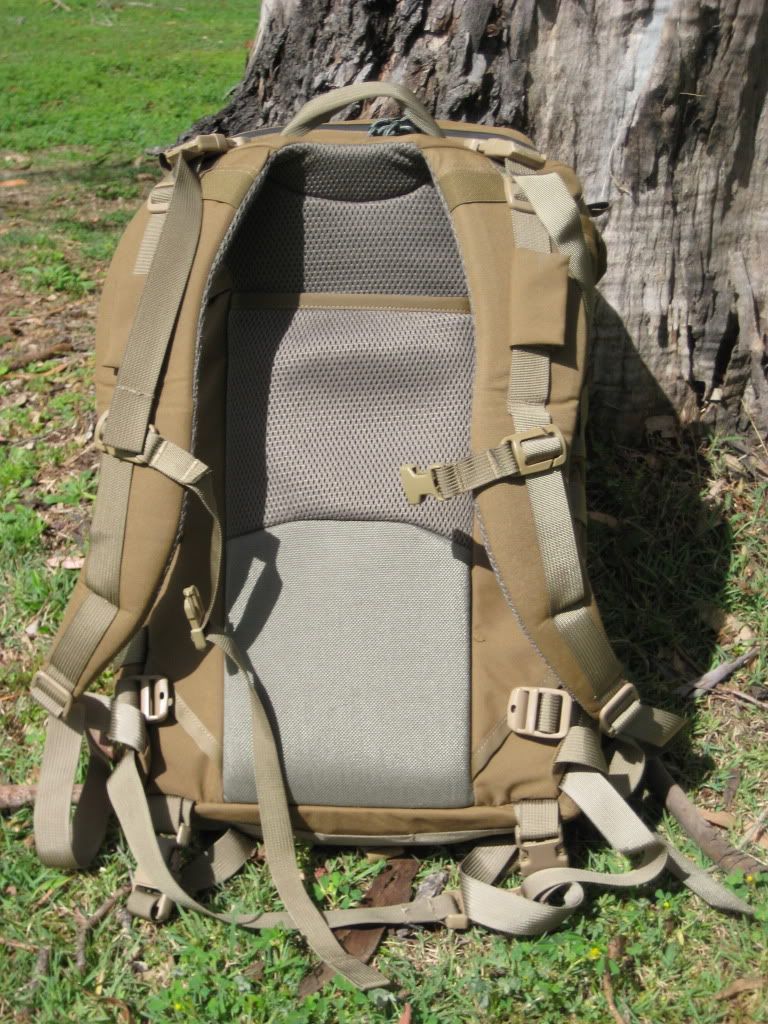 Harness –
Contoured straps that seem to have a 3D structure very similar to those found on the Crossfire DG-6. By this, I mean the contoured straps seem to have a plastic stiffener fitted in the portion that interacts at the shoulder to maximise comfortable load transferrance and prevent the load from turning the strap into a piece of string under a high load.
The harness has a sternum strap, and top tensioners like that found on most good quality hiking packs. Also fitted are elastic and Velcro loops to manage hydration bladder hoses.
There is a small strap for hip loading (well, more like a belly strap) but I can see where it's not really necessary for a load like this.
Frame –
Internal frame. Feels like a plastic pack sheet to add some tension and stiffness to the load and allow load transferrance to the pelvis. Seems quite comfortable.
The frame harness combination is up there with anything one would be able to find in a quality civvy bushwalking pack found in good quality outdoor shops like Mountain Design, K2 and Silk Road. This reflects Mystery Ranch's background of civvy hiking packs and other outdoor professional users.
Rucksack –
This is where the RATS gets interesting.
The rucksack lid is a detachable item with a zip pocket that has elastic loops to secure kit inside. It can be used as a bumbag (fanny pack for all you Gringo's). The lid is secured via a single fastex clip to keep the entire ruck closed. It also has a Velcro pile section for attaching patches.
Externally, the ruck is composed of three components, secured by large YKK zips. Two side panels with PALS rows sewn on for attaching external pouches. I like the placement of the PALS, since it encourages extra pouches that may contain heavy items to be stowed in the best locations for them: as close to the centre of gravity as possible.
These side panels also have pockets for long items to be stowed.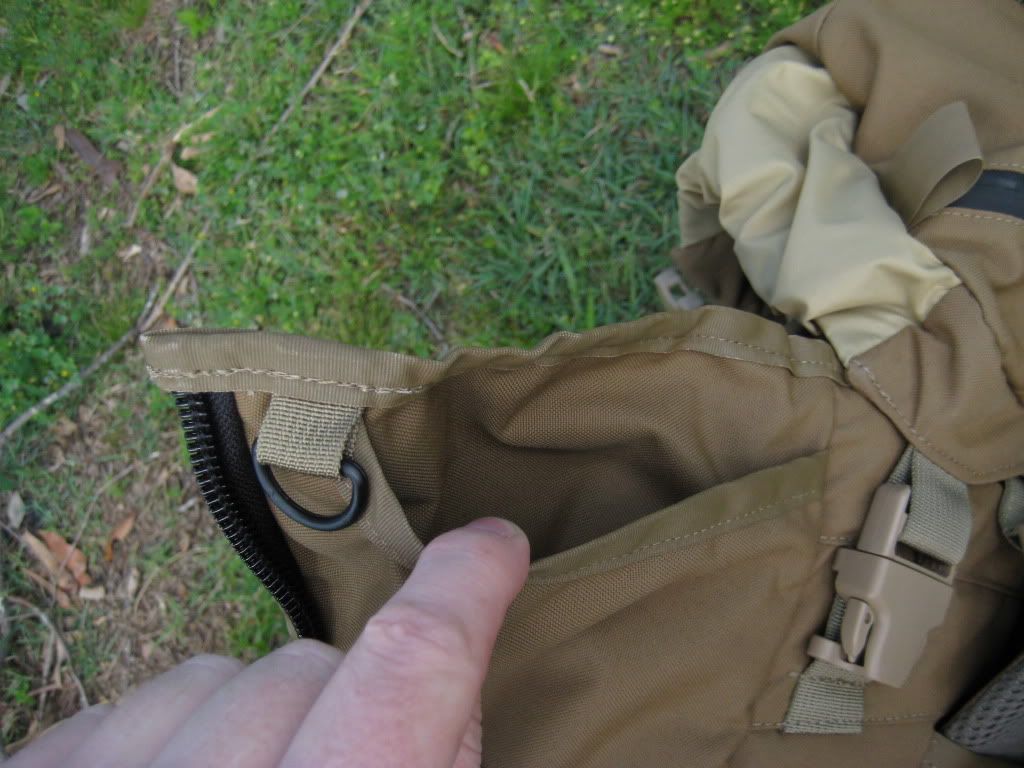 On the centre panel, are two small pouches, secured via zip and a pouch for trauma shears.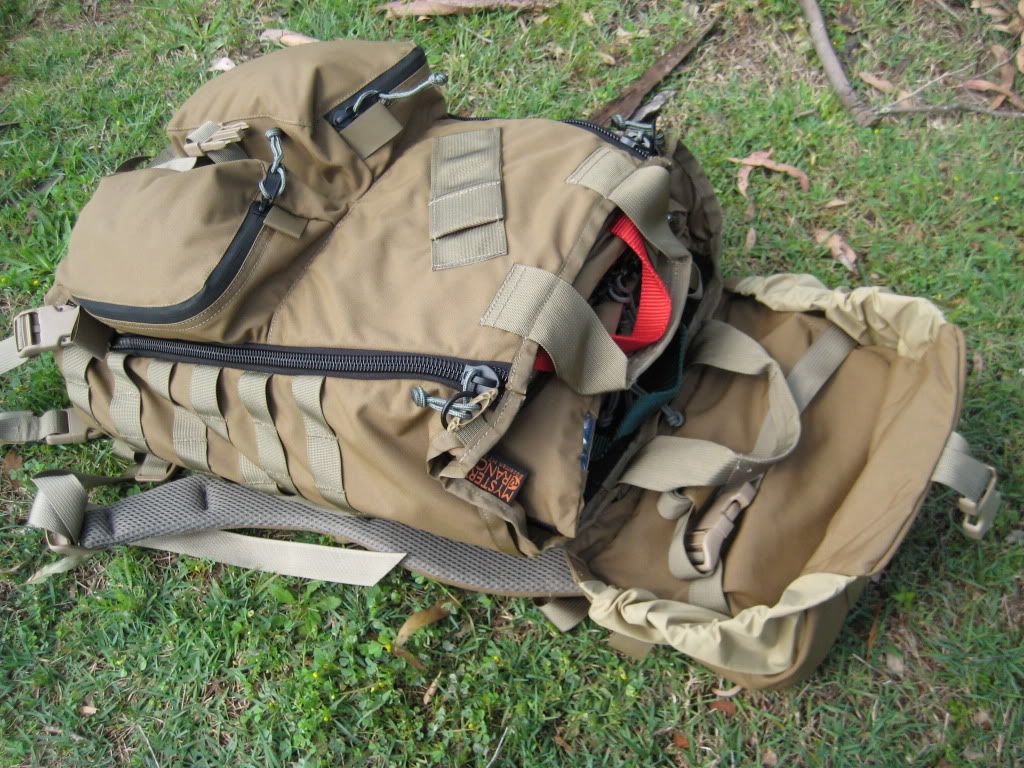 The two zips have toggles to prevent accidental opening.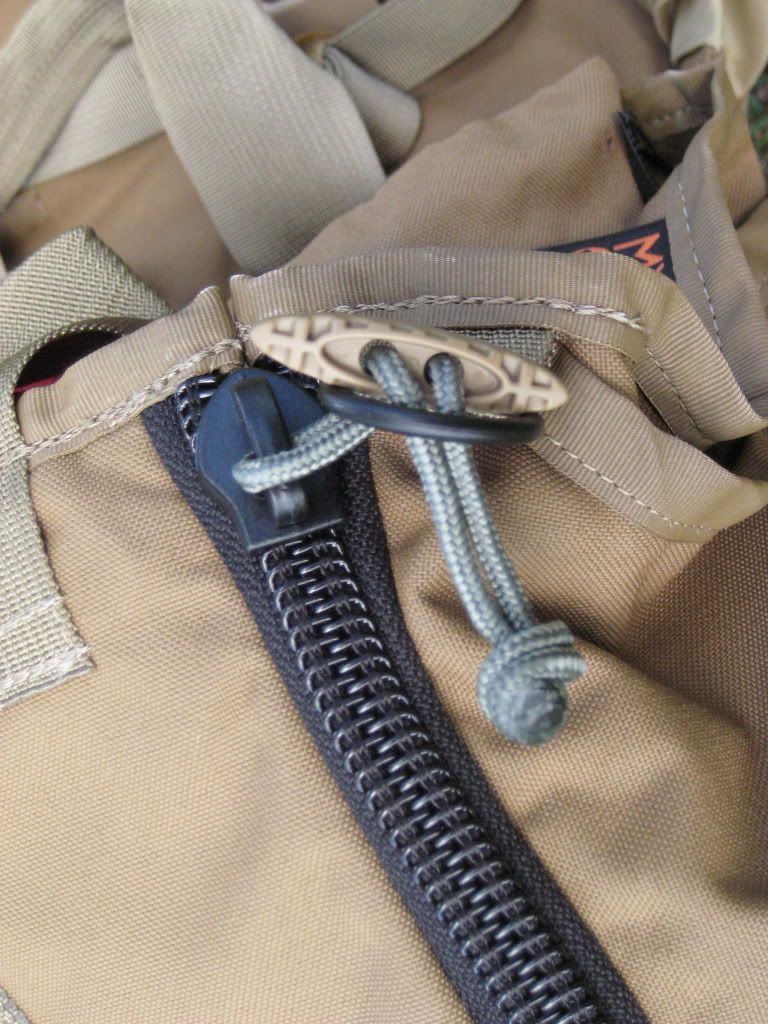 There is also a zippered compartment on the bottom, with cargo straps to carry more items externally if need be. PALS rows are also sewn onto the bottom for small pouches or assist in stowing rolled up equipment.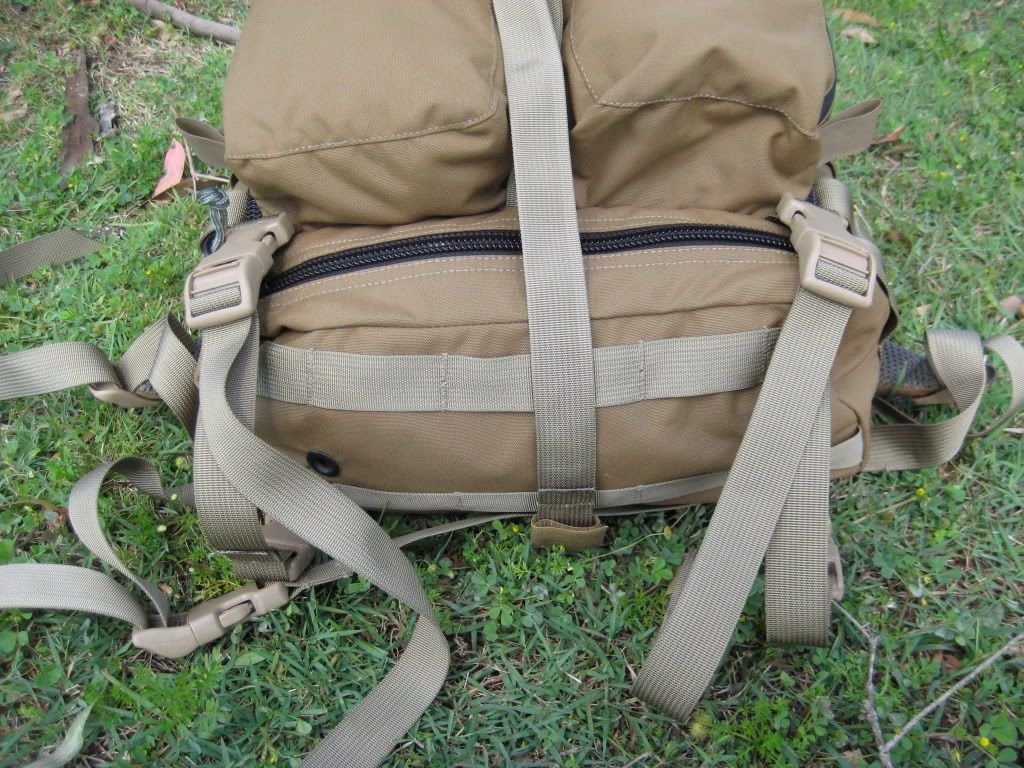 Undoing the zip toggles, and pulling on the drag handles attached to the top of the ruck was an eye opener for me. It's a very easy and rapid process to open up the ruck for use.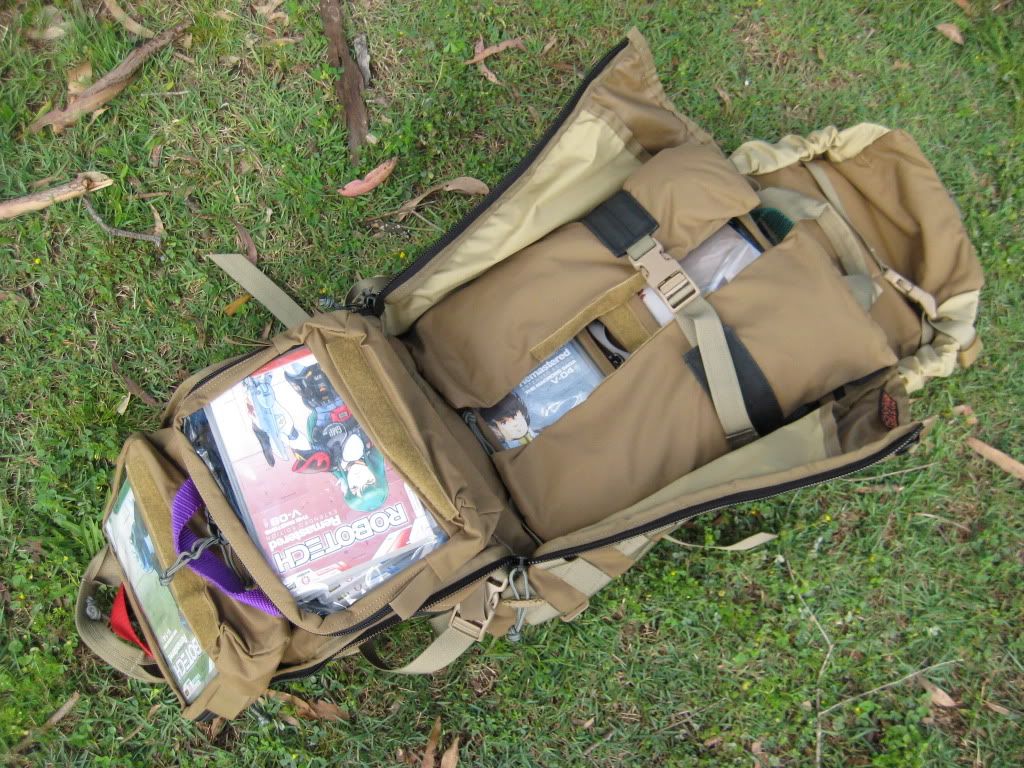 Undoing a fastex load strap, and looking at the internals of the pack was amazing.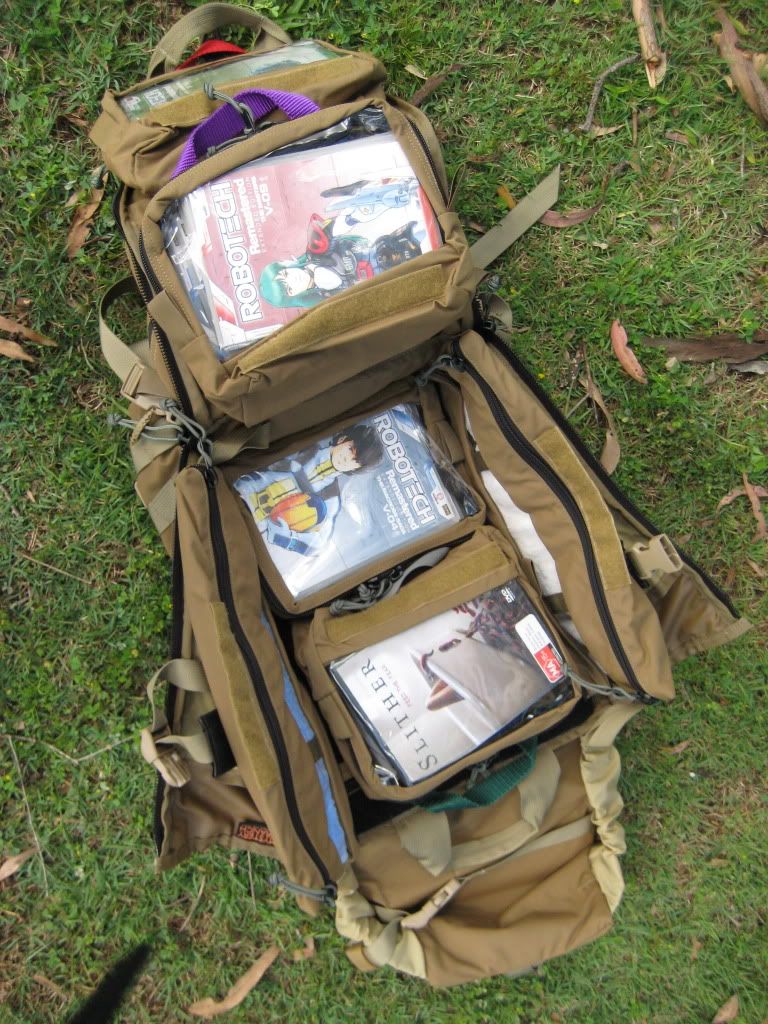 There is another internal pocket for trauma shears.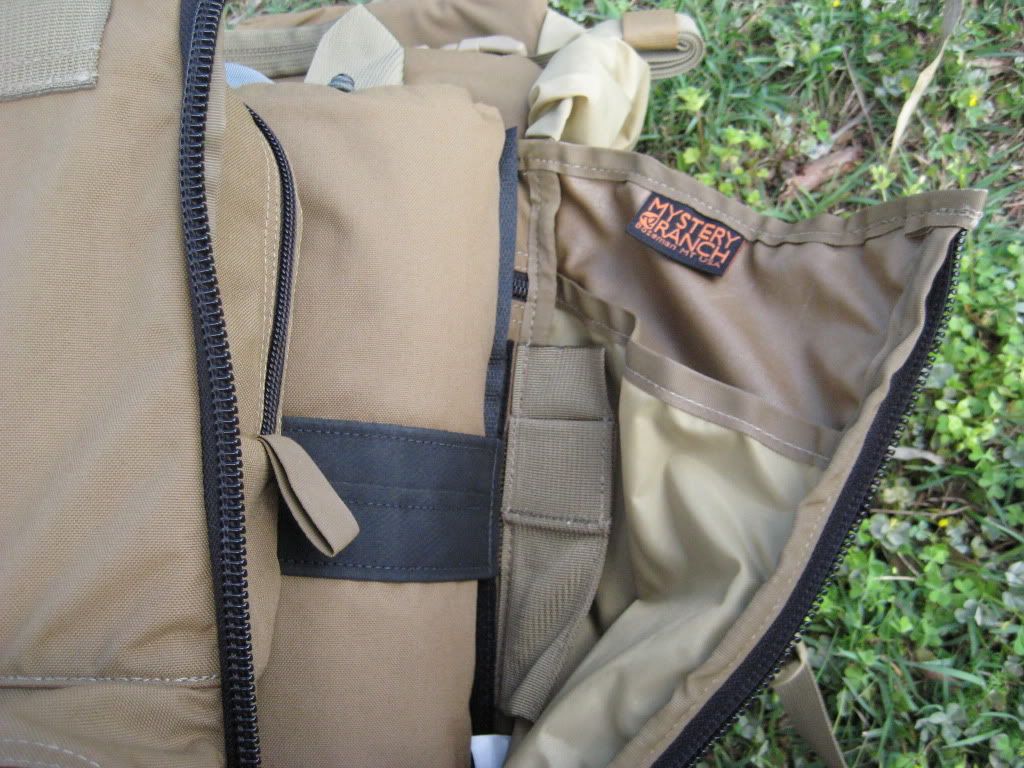 The internal surface of the side panels also have yet another pocket for long items.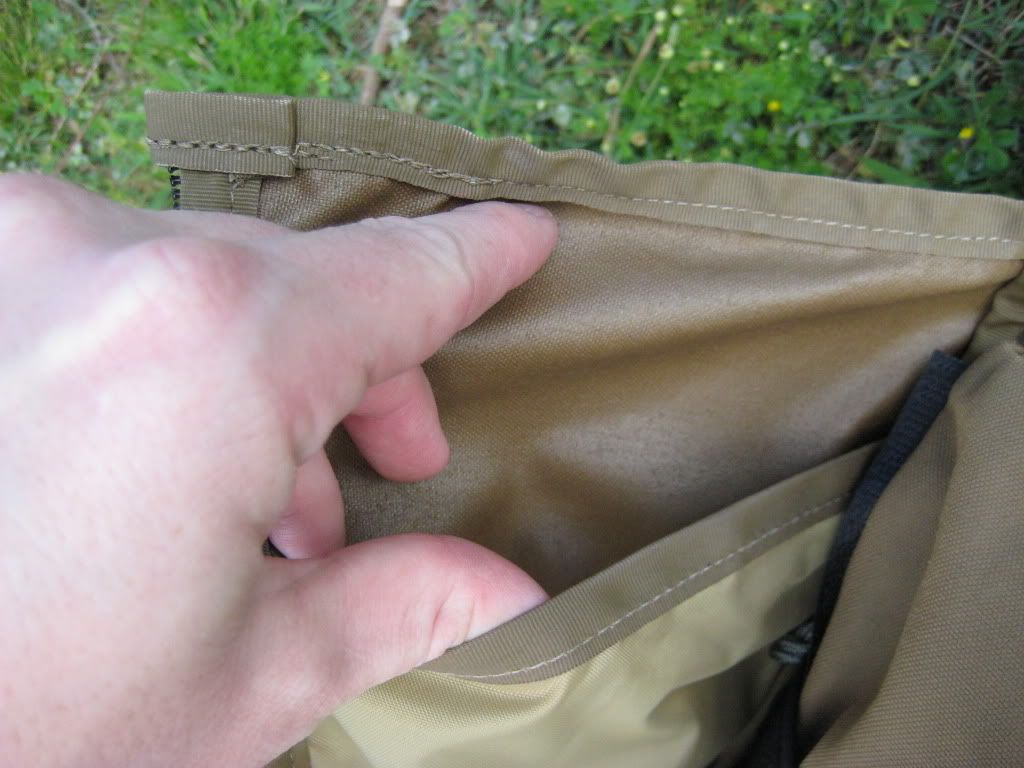 There is also a zip access pocket on the internal centre panel.
There are four removable Velcro anchored triage pouches. These pouches have colour coded handles, big clear windows to ascertain pocket contents. They also have a pile section of Velcro for name tags.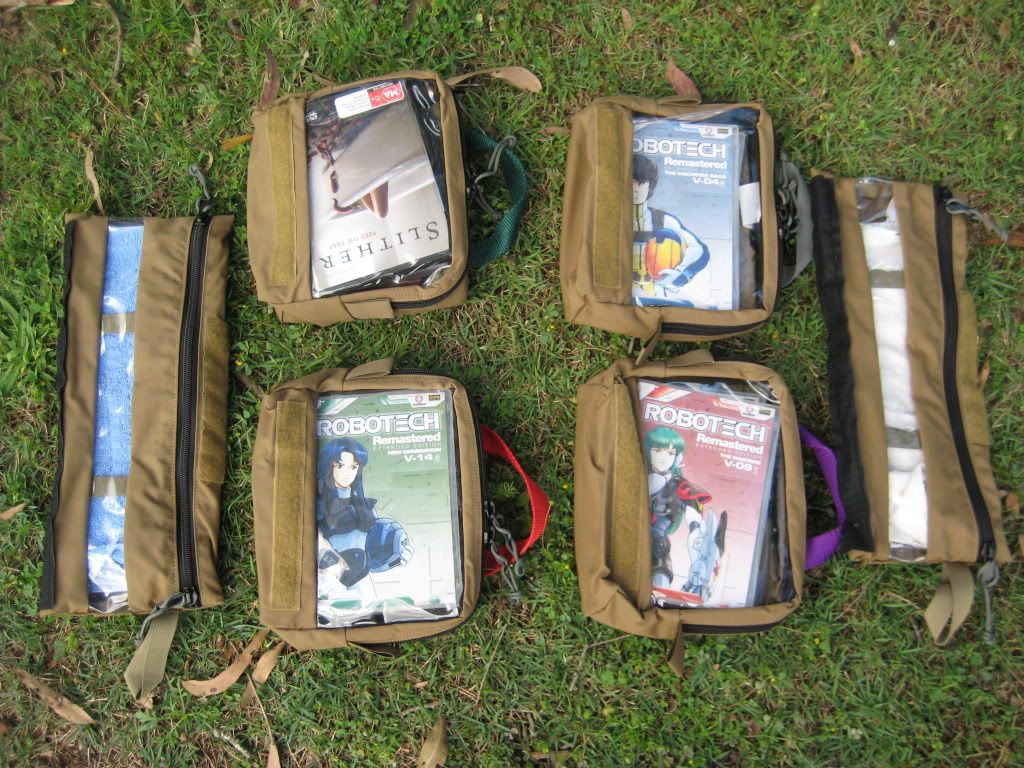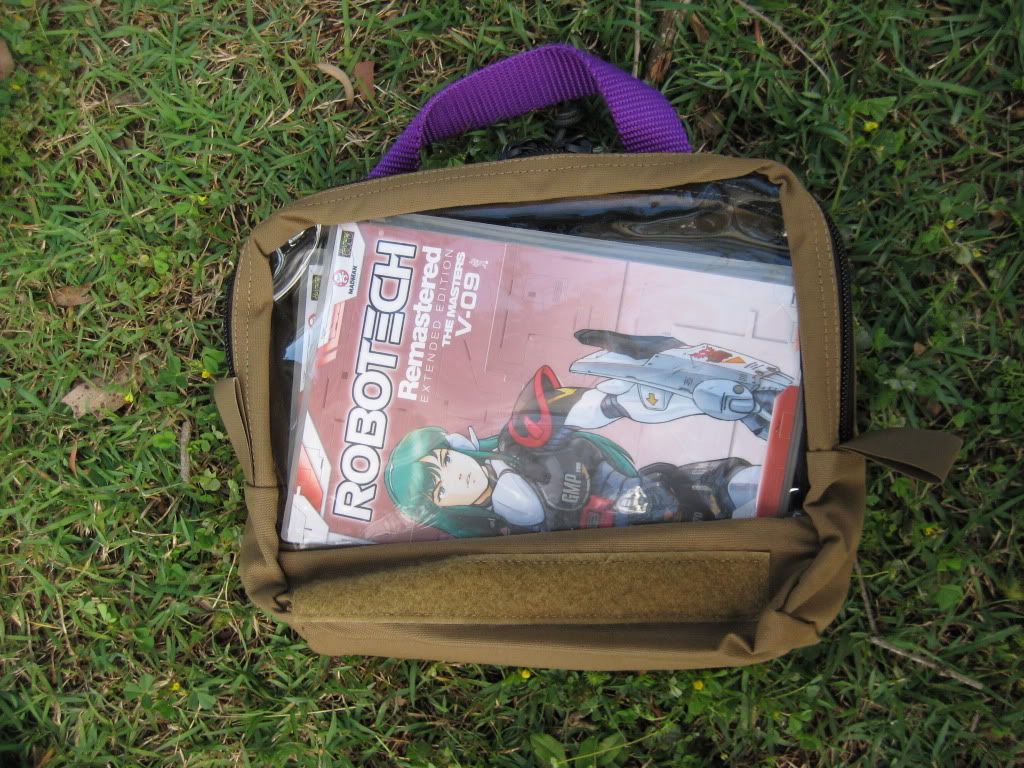 As I've had it explained to me, on encountering a casualty, the medic can lay down his pack, open it up and immediately start treating the casualty. The colour coding allows helpers to pass essential items to the medic as he requests them (such as the medic may say "Hand me my bleeding pocket" with the reply "Which one's that Doc??" "Red handle mate").
I can see the big windows being handy to visual ID, allow easier stock-takes and use-by date currencies for stock rotation, and easier controlled stores inspections.
The Velcro pile sections allow name tags to be fitted. As I had explained to me, this allows IR name tags to be fitted when the medic is working under NVG.
There are also two Velcro anchored triage pouches. Again, they have a clear window to check the internal contents, a loop at one end to allow hanging the IV bag on anything handy, and protect the IV bags themselves from punctures and other problems encountered in an austere field environment. I have no experience or training with giving IV bags, but after recently receiving more than a few whilst in hospital recently, I can really appreciate how these pockets could make life easier for the medic.
Apparently, there is also an insulated deployable ground mat. But I have no idea about it. I wasn't able to work that part out. I'm sure it's incredibly simple, but my non-medic background and lack of instruction on the pack have probably blinded me.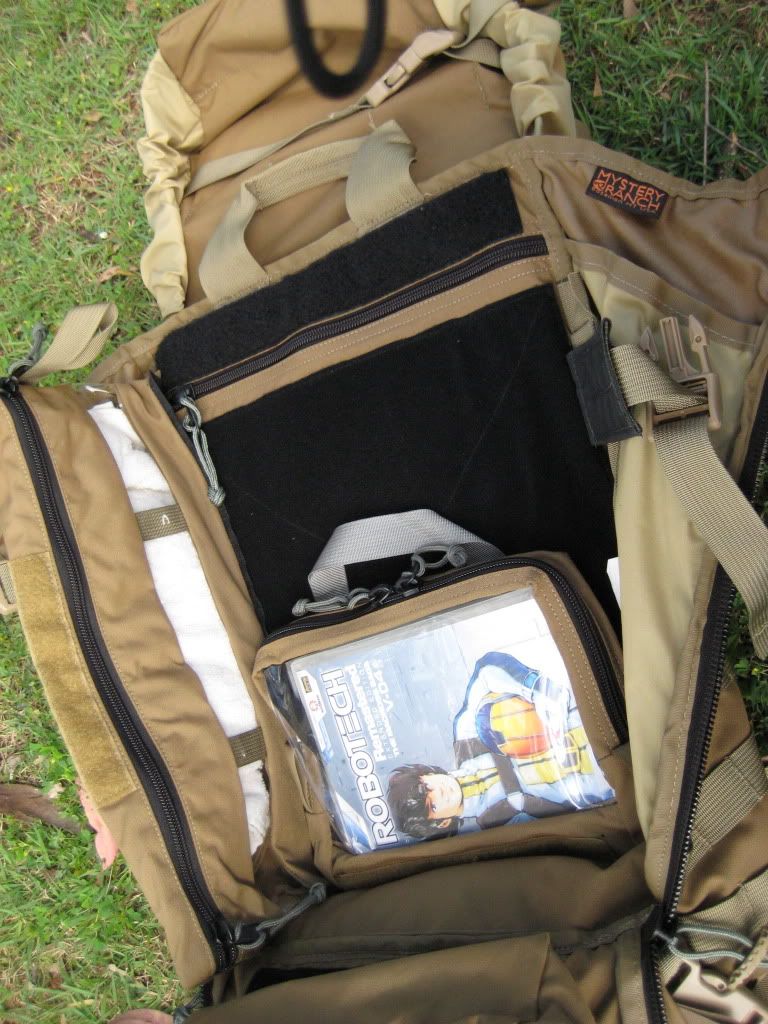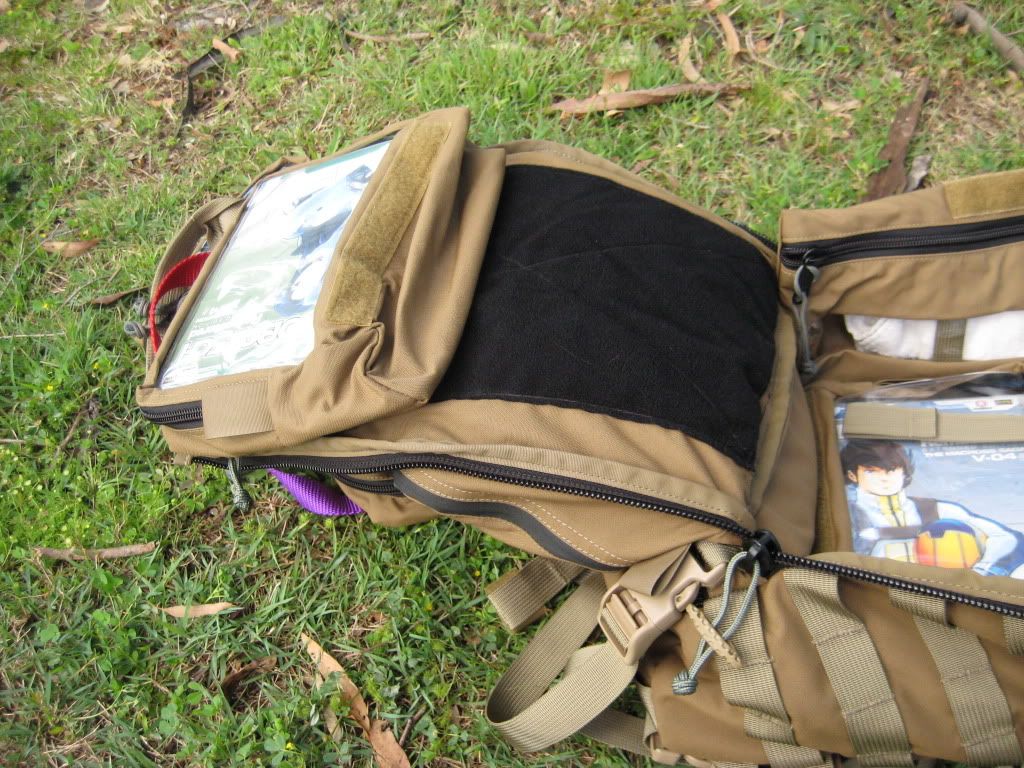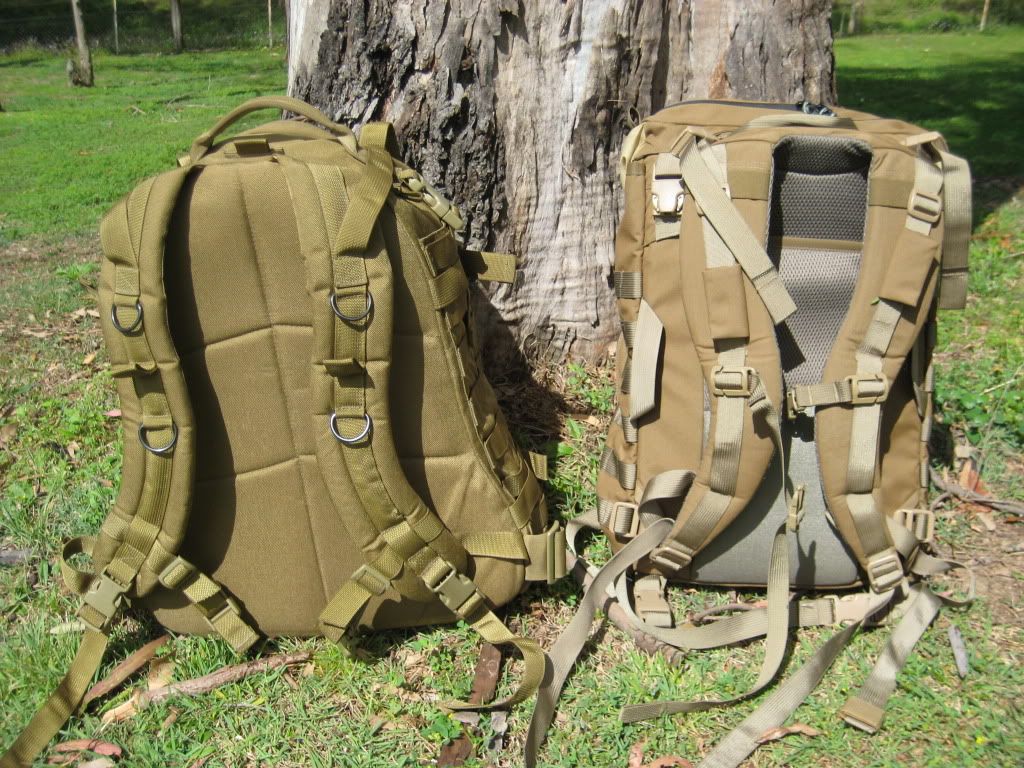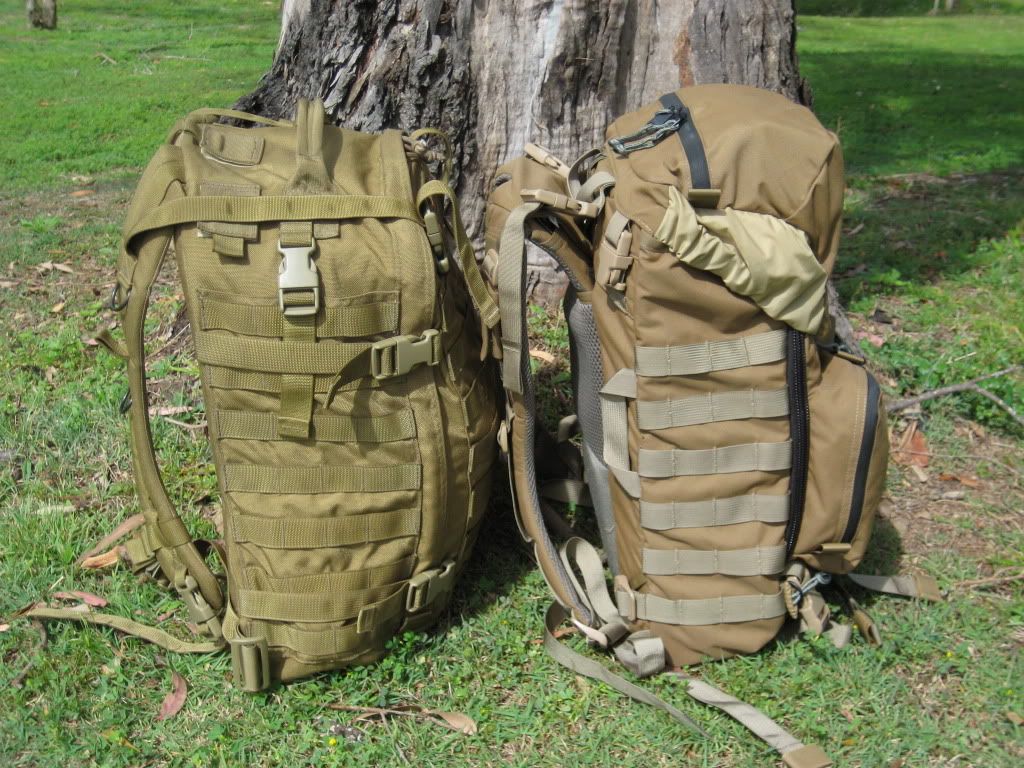 PERSONAL ASSESSMENT:
Mystery Ranch needs very little introduction in the CONUS market. My investigations reveal they have a very good name amongst the punters. Their background is in load carrying solutions to the forest fire fighting industry, recreational hikers, hunting and military markets.
Down Under in Australia however, they're virtually unknown.
For this reason, and the Global War on Terror that's been generating so much business in the last few years, Mystery Ranch is wishing to expand their markets.
Let me say again however, that I am by no stretch of the imagination, any sort of combat medic. As seems to be an increasing trend in some of my kit reviews lately, I am waaaaay outside of the intended demographic for this equipment. Having said that, I've been awfully impressed with the amount of thought behind the design of this pack. As a digger when I was serving, I was often saddled with the old tri-fold medic kit bags that were standard issue, which were often a less than efficient solution. A lot of the medics I worked with who were saddled with this ancient piece of gear were less than satisfied with it as well.
To receive something as high quality as the RATS pack and have a play with it, as well as pass it onto my old patrol medic, was an eye opener. Even my darling mum, who's had an inflicted interest on bush/outdoor gear most of her married life, has looked at this pack and mentioned that the thought behind the design was impressive. As an aside, my mum can now look at most bushwalkers and news footage of soldiers in action and question whether they really know about correct and proper load carriage, it's funny to hear her question some so-called expert's knowledge.
Pros –
A well thought out, highly evolved design.
I was very impressed with the attention to detail that was present by the little toggles to prevent the zips opening inadvertently under a load or stress. It's one of the reasons I'm not a big fan of zips on my gear.
The flexibility and ease of use has to be seen to be believed.
The pack is also capable of being piggy-backed onto the Mystery Ranch NICE frame when hauling heavier loads. This conceivably could give an excellent integrated package for loading pers kit and mission essential stores when operating dismounted. This is something that has plagued a great deal of the medics I've worked with over the years. It's excellent to see a solution for those poor Starlight types who patch us knuckle-draggers up after we become training aids for them.
Cons –
Price for the RATS is high. But, since as a professional, I have hesitated little on spending money on quality equipment that makes my job easier, it's a case of cry once for quality kit and never have to cry again.
Possibly the only thing I didn't like was the harness straps. The running end seemed "unfinshed" with no sewn loop to prevent it running through the adjustment buckle. For something in this application, a quick release buckle on at least one of the shoulder straps could have been an option as well. Mind you, I am one of these people who like having a quick release buckle on shoulder harness. It should be remembered though that adding such options does add to the manufacturing cost of the pack. Sometimes, the capability may just not be needed by the majority of end users.
SUMMARY:
I have been impressed with the RATS medical pack. If brought as a fully integrated package with a NICE frame pack from the same package, I think it could greatly aid in the job of combat medics.
I've had my old patrol mate wish he'd had something like this when we were playing soldiers. I'll let him speak of his initial impressions of this pack himself.

Posted in Mystery Ranch, Packs & Webbing, Specialist by 22F with 2 comments.