PRODUCT:           Soft Shell Jacket (Mdm Weight in Multicam)
MANUFACTURER:            Wild Things
REVIEW NOTES:
This item was graciously provided for review by Military Gear. Check out their website.
I will be returning this item when completed, since I have no need for this kit.
Due to illness and lack of bad weather in my AO, I have not been able to fully assess this garment under field conditions.
DESCRIPTION:
A medium (or 'normal') weight soft shell jacket in the very cool and effective multicam pattern. The design is a very 'technical' one as they refer to it in civvy bushwalking circles. 'Technical' is almost as over-used in that community as 'tactical' is in ours. Having said that, there are a few companies that actually do have the skills and knowledge to correctly and properly execute 'technical' designs. Wild Things are one of them.
A
A medium sized jacket rolled up for stowage is approximately 33cm x 15cm.
Made in America, the jacket is an alpine cut, where the rear of the bottom hem is slightly dipped to allow for dynamic movement. A high collar can be worn up to reduce heat loss and reduce chafing from outer garments. The collar also has a zip concealed lightweight hood.
The shell material is a mixture of nylon and stretch nylon. Outer surface is a normal softshell "sharksin" type texture. Inner surface of the shell is a lovely soft, plush fleece material that reminded me of my old blanket as a child.
Pockets are a mixture of nylon and spandex to allow for some stretching from items placed within. The actual pocket interiors are nylon mesh and very generously sized. The pocket zips on the front of the softshell are very low profile to reduce snagging and discomfort from outer garments such as heavy shell garments or armour.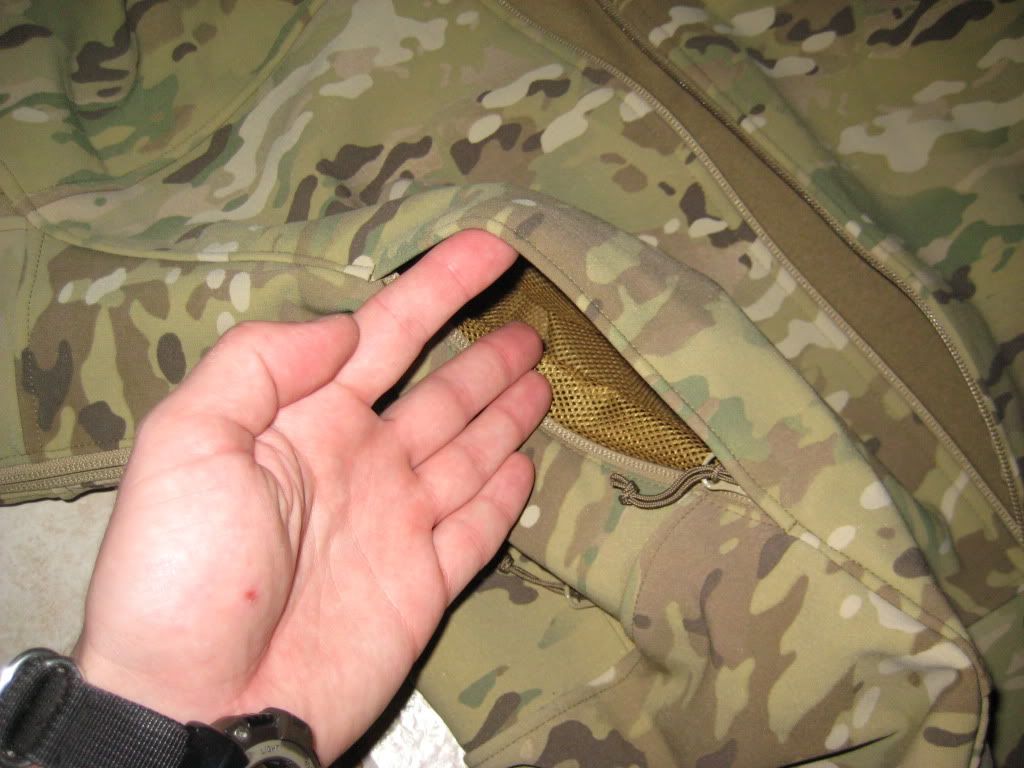 In the interests of wearer comfort and adjusting the jacket for different conditions, arm pit zips are fitted. These have a zip tab at each end to allow maximum ease of use and comfort.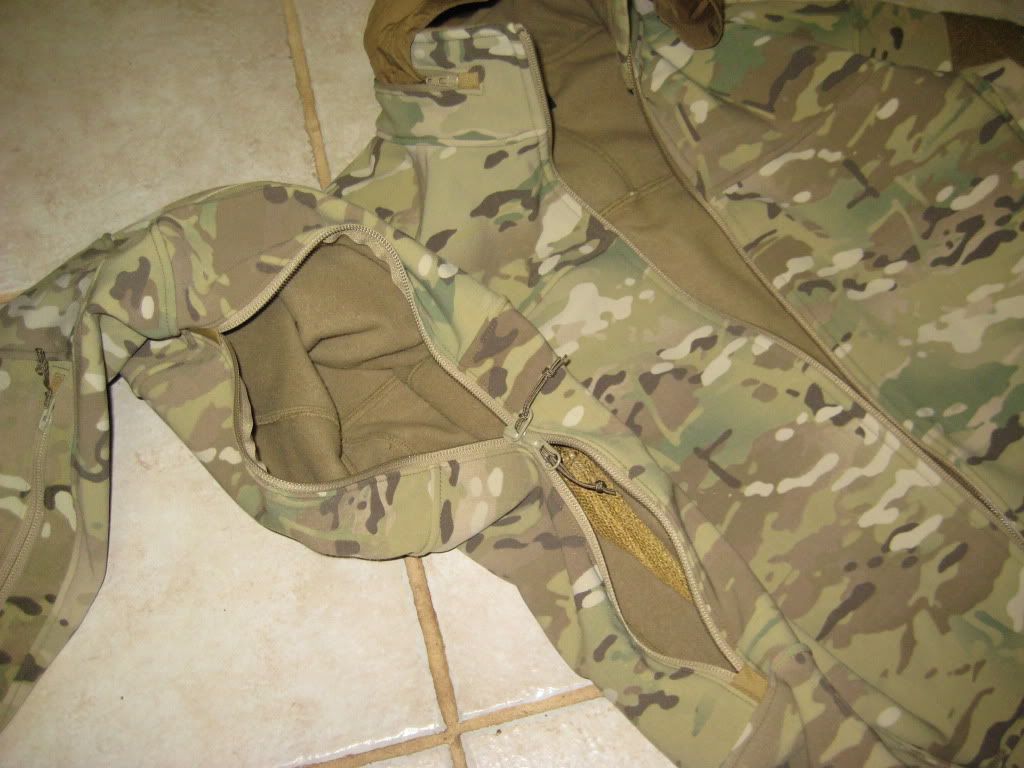 On the sleeves are fitted a pile section of Velcro for ID and morale patches. Zip bicep pockets are also on each sleeve.
A smaller pen pocket is on each forearm. 
All zips bar one (on the collar hood zip) have cord pulls to aid in use whilst wearing gloves, or cold hands.
PERSONAL ASSESSMENT:
Wild Things is an American outdoor equipment company that isn't widely known down under. It would seem they have their roots and background in climbing and skiing. They specialise in lightweight, tough outdoor equipment. Over the years, they have expanded their line to include us knuckle-draggers. It's always nice to know that someone at least appreciates the unique needs and requirements of outdoor professionals, who rely on their equipment to survive and accomplish the mission.
Probably the one thing Australian readers would have exposure or knowledge of Wild Things is their work for the American military making our allies Extreme Cold Weather System. Investigation reveals the Yanks seem quite happy with their cold weather clothing.
It's a really nice jacket, able to resist some slight rain/spray.
Unlike the very lightweight softshell I reviewed in coyote tan, I think this could be used as a stand alone garment. It's very warm and comfortable with the fleece inner.
Pros –
Very high quality jacket.
The sleeve cuffs aren't elasticized. For me, this is nice. I hate having the circulation in my wrists cut off by overly strong elasticated cuffs. Wearing this jacket with a cool-guy watch doesn't bunch the sleeve like some others do.
Mind you, the lack of elasticated cuffs is often slightly more inefficient in retaining body heat when it gets really cold. But I find this small sacrifice worth bearing.
The cut of the jacket allows full freedom of movement.
Cons –
I'm not sure if it was just sizing (the review jacket was a medium, and I normally prefer a large for field wear), but the alpine cut seemed a little less effective than other designs I've had opportunity to wear.
The material itself does not seem overly resistant to fire and flame. It's likely to turn one into a crispy critter should flame be applied. Although the Wild Things website suggests that they have some interesting  FR technology, I'm not sure if it applies to this garment.
Cost is quite prohibitive, but offset somewhat by current monetary trends. However, I consider cost immaterial when it comes to my survival in rough field conditions.
SUMMARY:
Another jacket I quite like.

Posted in Clothing & Footwear, Military, Military Gear by 22F with no comments yet.