PRODUCT:           Hardshell Jacket and Pants (eVent Breathable Material)
MANUFACTURER:            Wild Things
REVIEW NOTES:
This item was graciously provided for review by MilitaryGear.
I will be returning this item when completed, since I have no need for this kit.
Due to illness, I have not been able to fully assess this garment under field conditions. I have however, had opportunity to check the performance in some rainfall.
DESCRIPTION:
Hardshell Jacket
A hardshell rain jacket, made from 3-layer eVent breathable material.
Alpine/skiing cut to allow maximum movement, the jacket is completely seam sealed to maximise water proofing. All zips used are water-proofed with cord pulls to allow cold hands or gloves to manipulate them.
A full length zip runs up the front, with two hand pockets fitted. Dual ended armpit zips are also fitted to allow better climate and comfort control.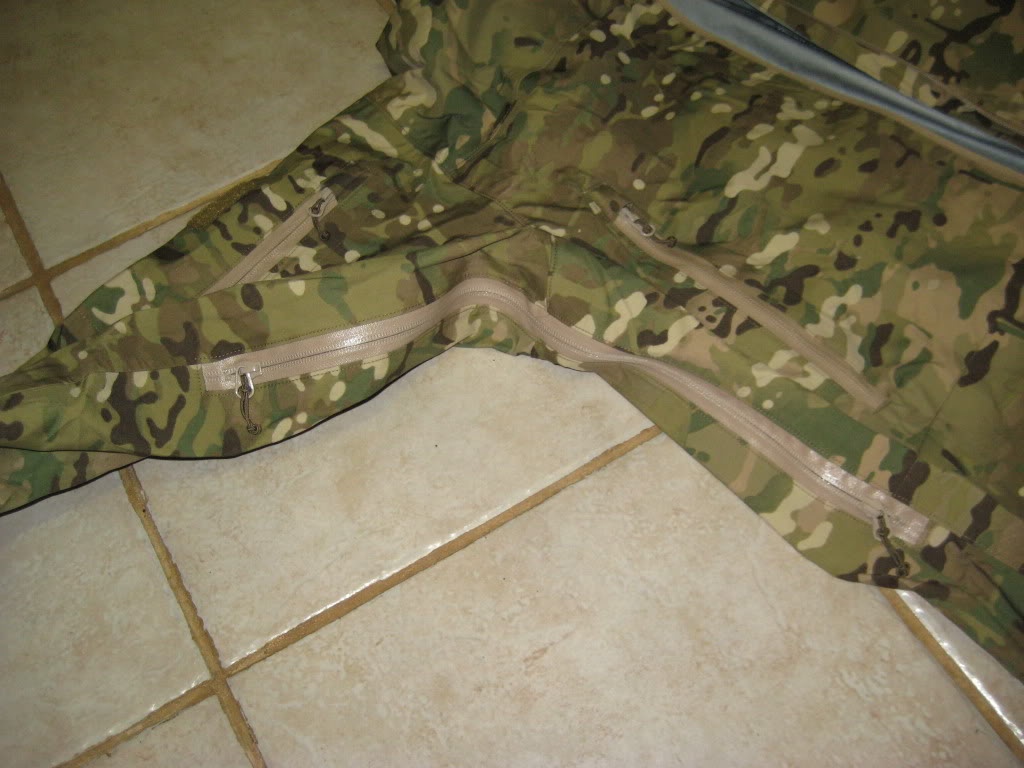 On the sleeves are fitted a pile section of Velcro for ID and morale patches. Zip bicep pockets are also on each sleeve.
The cuffs are adjustable via Velcro and also half elasticated. Since I find a fully elasticated cuff annoying to wear, I like this idea.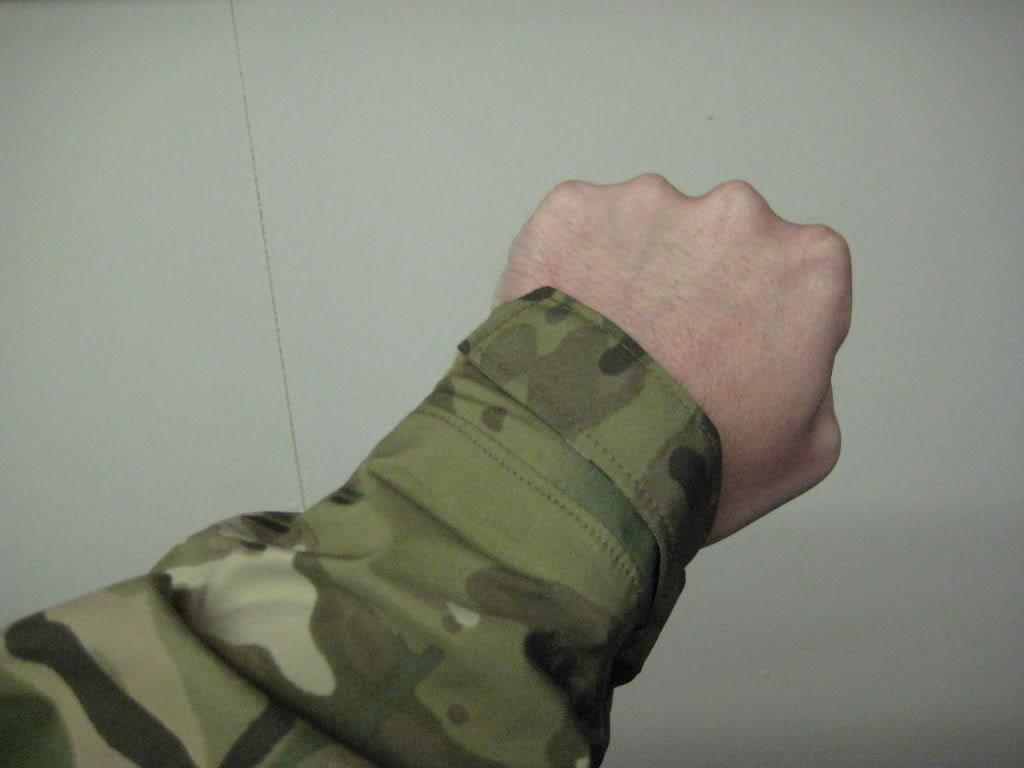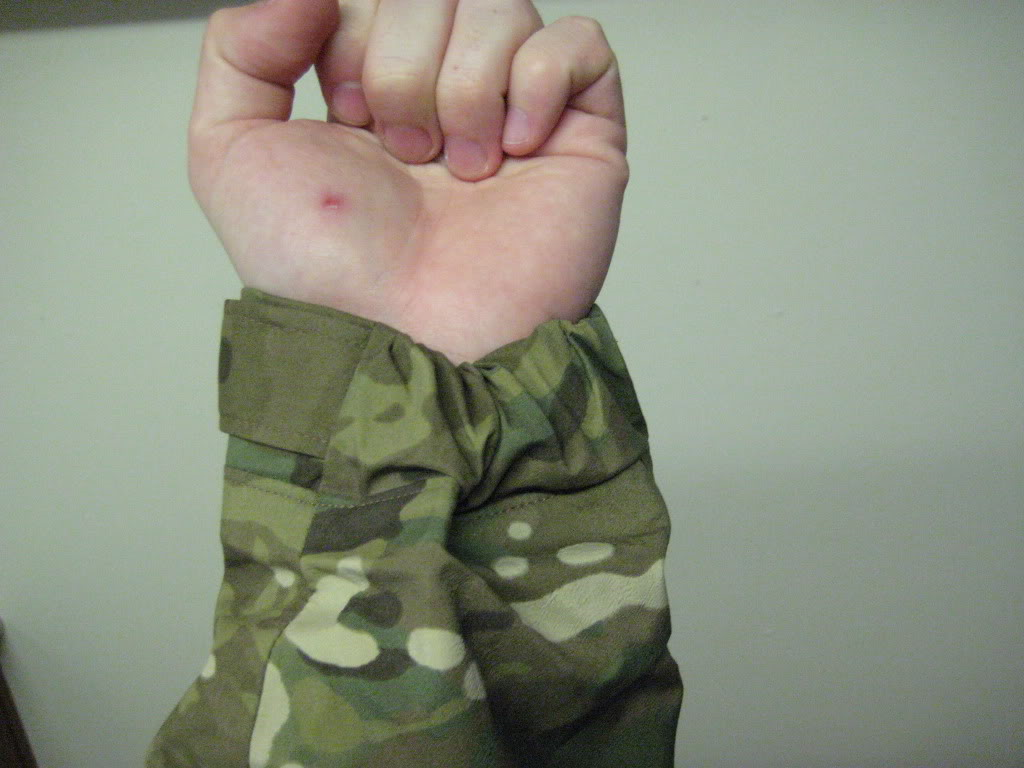 Bottom hems are adjustable via ealsticated shock cord. The barrel lock is firmly secured in place with a fabric loop to prevent the barrel lock from drooping and getting caught in other equipment. Such has occurred in the ADF with barrel locks getting caught in weapon trigger guards previously.
Inside the jacket are two mesh pockets to stow more items and equipment.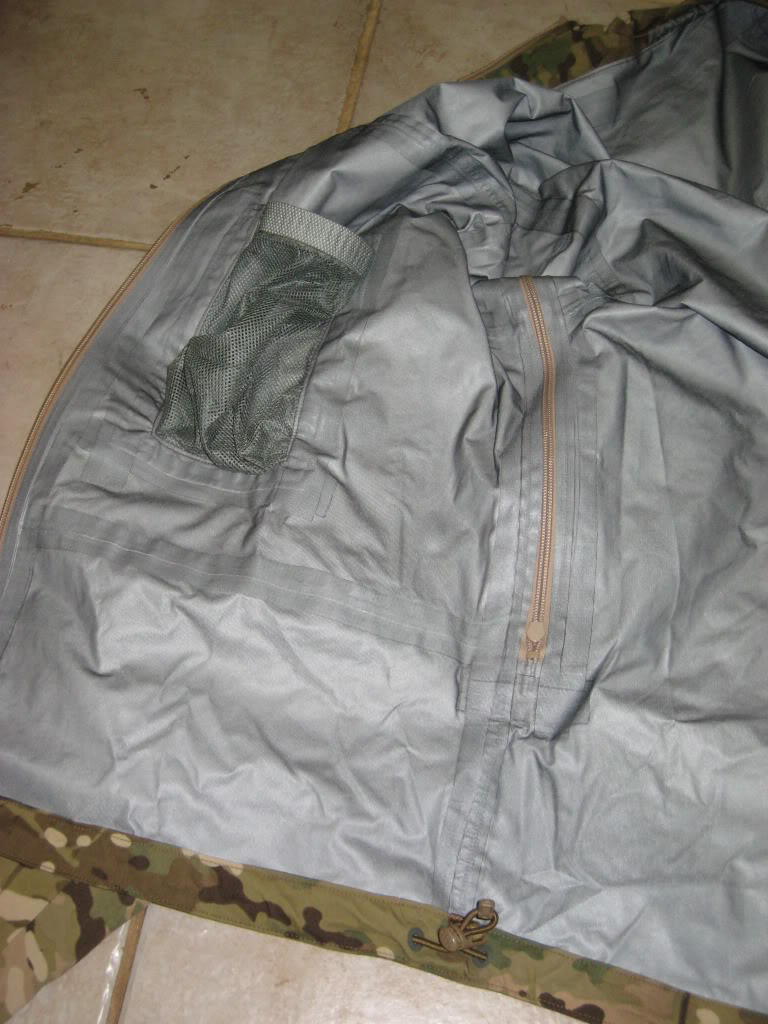 The hood is adjustable in two ways (circumference and depth) with a sturdy bill to prevent water from dripping into the wearers face. A Kevlar skid lid (helmet) can also be worn with ease with this hood.
Hardshell Pants
These outer hardshell pants are designed to be worn over normal clothing when the conditions are absolutely miserable.
Constructed from 3-layer eVent breathable material, they have a push button and waterproof zip fly.
The waist is semi-elasticated with belt loops and Velcro tension adjusters.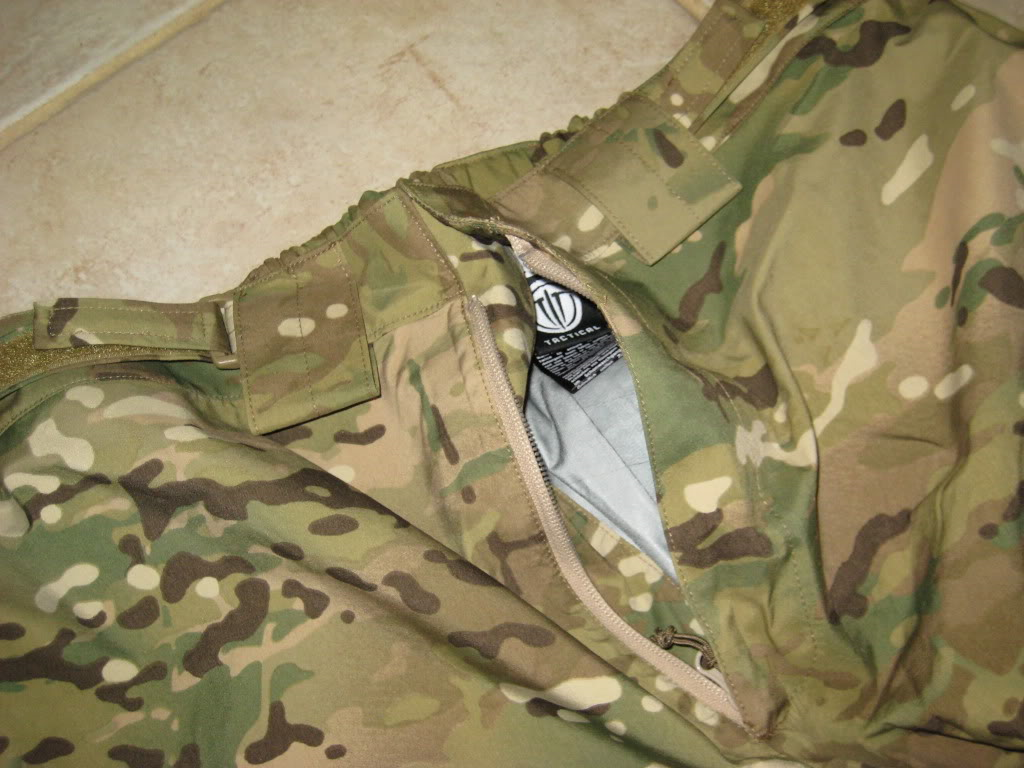 There are two zip accessed bellows pockets on the legs.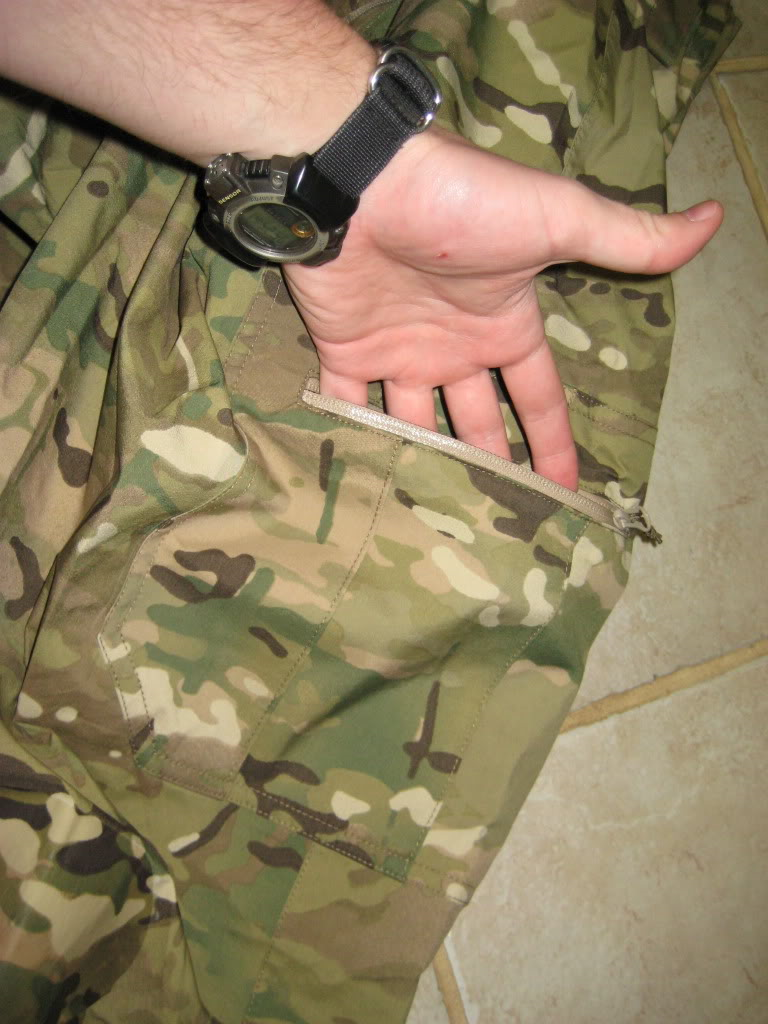 The knee's seem to be reinforced with some sort of rubberised treatment to the eVent material.
Each pant leg has a zip that runs up to the knee for easier access and donning/doffing.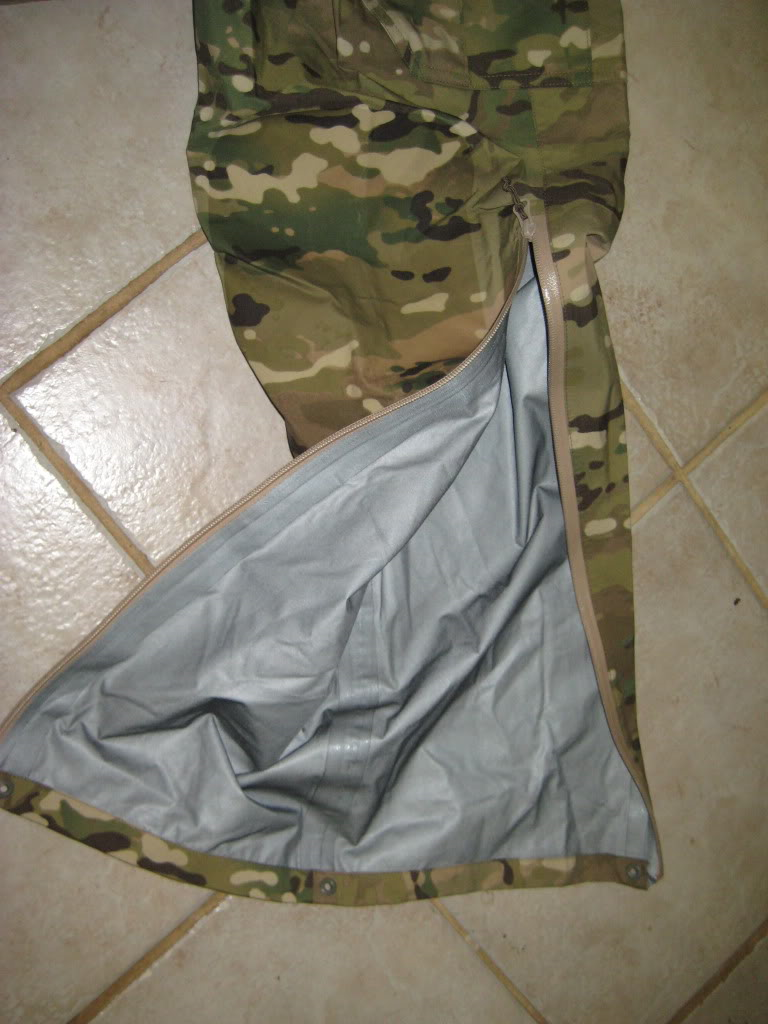 All internal seams are taped for maximum water-proofing and prevent wetting out.
PERSONAL ASSESSMENT:
Comparable to high end goretex jackets available from civvy bushwalking shops, this is a high end design for the paramilitary market.
Whilst I always like jackets, I've never had a need to wear waterproof/outerwear pants like this out field playing soldiers. Wearing outer pants like this for social activities for skiing, sure. But I've never had a need to wear them out scrub, preferring to be wet than be stuck wearing clothing I may need to rip off in hurry to move.
PROS –
Design and materials are of a very high standard.
I like the access zips on the legs of the pants. Prior experience wearing a yowie suit has shown that trying to get overpants on or off over combat boots. With such huge zips, getting these overpants on or off is not a problem.
CONS –
Cost is high, since it's imported from the US. But we all know my policy on high quality items – cry once on initial purchase, and never cry again.
Since the jacket is of alpine cut, I find the waist a little bit short for my tastes. I prefer my raincoats to be a little bit longer (generally to mid-thigh) to allow for movement, or long periods being scrunched up in a hide/OP position. The shorter cut is good for lots of movement, but does lack somewhat in coverage.
The only thing I can think of with the pants is the pockets seem to be a weak point in the design. Whilst the pants are made to high standard, I just feel the external bellows pockets are the only weakness. Without the pockets though, accessing equipment in the inner layers could be problematic though.
SUMMARY:
Not a bad rain system at all. Available as separate items from the supplier.

Posted in Clothing & Footwear, Military, Military Gear, Wet Weather by 22F with no comments yet.