ITEM:   DG-1 Sniper Pack, 60L 3-day Assault Pack
MANUFACTURER:  Crossfire
DESCRIPTION:
A 60L, top loading pack that can be loaded for day trips, as a 3-day pack or similar. Designed by Ian Maley of Wilderness Equipment fame.

REVIEW NOTES:
An opportunity to buy one of these cheap came up. Despite having more than decent disposable income, no children that I pay for, and no ex-wives to pay off for their silence, I'm still gripped by my Scottish heritage when it comes to spending hard earned beer tickets at times. Can't avoid a good bargain, nor spending as little as possible.
People may have observed me wandering around the recent Land Warfare Conference with this item strapped to my broken carcass.
MATERIALS:
1000D cordura for the pack body.
Steel rings for the Lost Arrow attachment system.
Fastex clips are field replaceable due to the proprietary Lost Arrow system that Crossfire uses.
The harness is lined with a canvas material. I'm sure how this works to allow air circulation, to  prevent heat build-up and chafing.
LAYOUT:
Compared to a RAID, DG-1 on the right.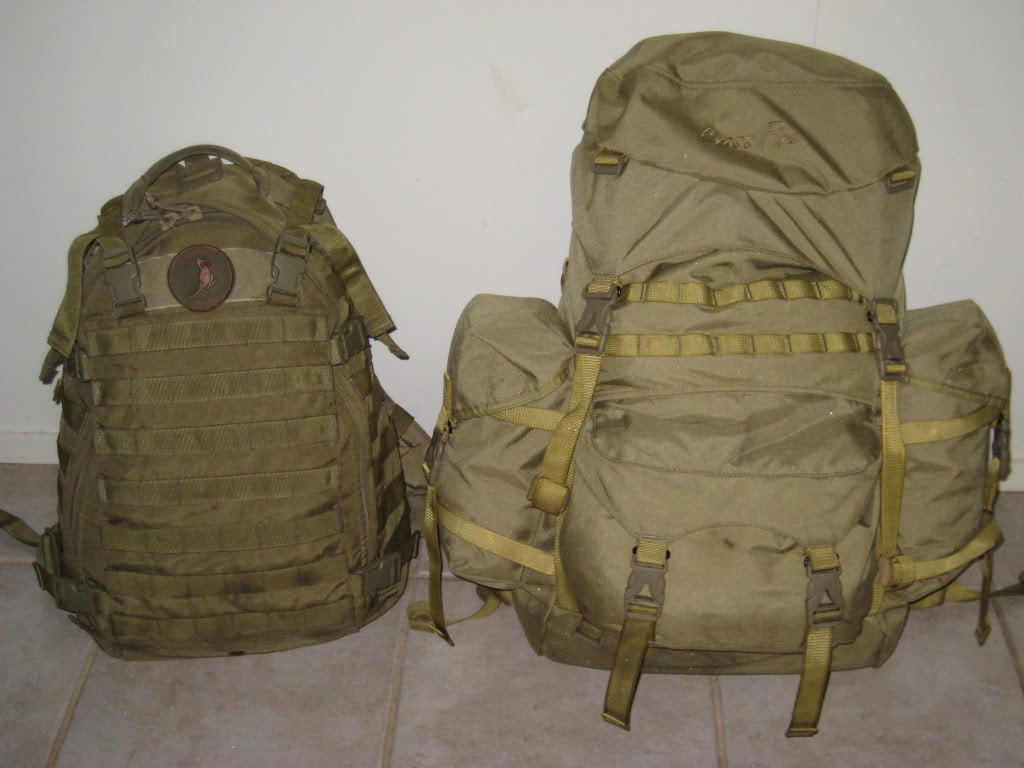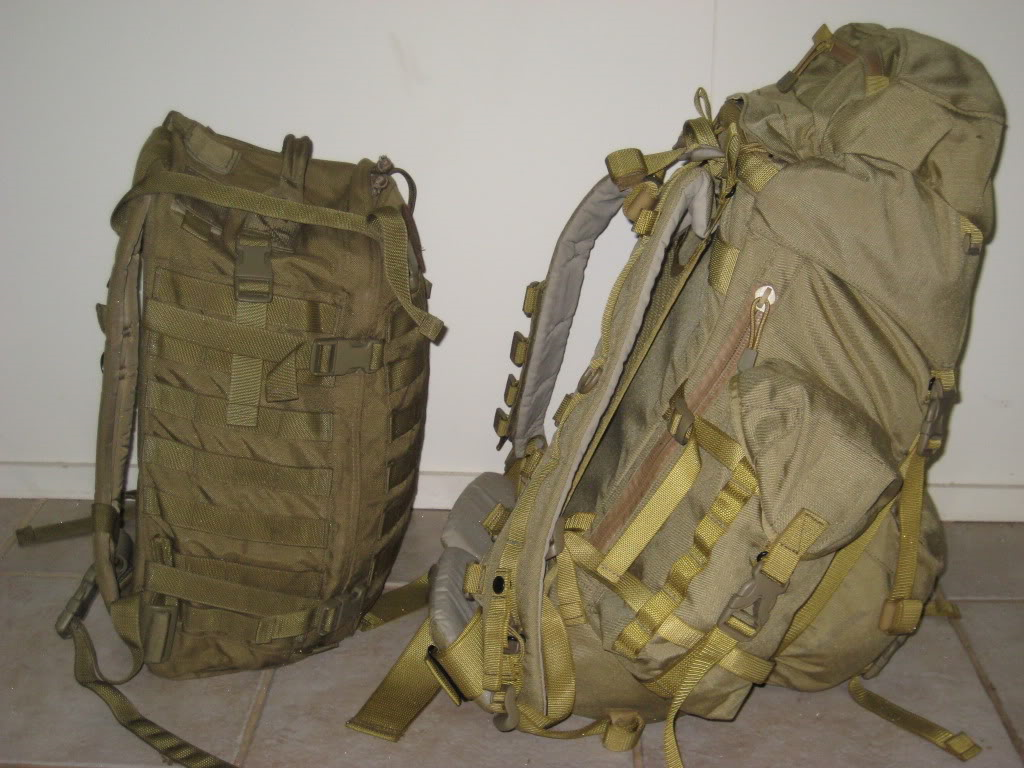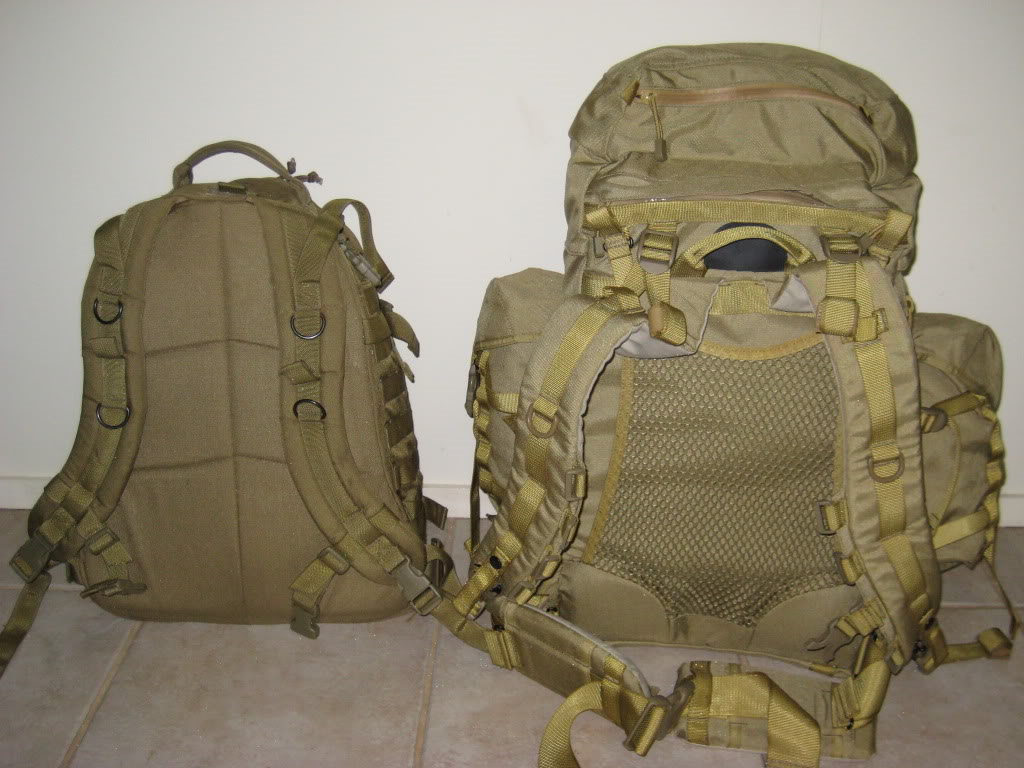 Capacity is approx 60L.
Dimensions of the pack are:
55cm(height) x 32cm(width) x 20cm(depth)
Or
21.6in x 12.6in x 7.9in for all you old fashioned Imperial folk.
Smaller capacity allows for shorter duration missions to be covered. The smaller size also allows the Sniper to be stored inside vehicle stowage bins with ease.
FRAME –
Similar to that found on the DG-2 Lighthorse, being of internal layout with a trampoline arrangement that also allows it be worn with body armour. The trampoline setup is similar to that found on some high end daypacks found in the civvy market (such as Dueter), and a version is also used by Plat-a-tac on some of their daypack designs. This is another solution to integrating the pack with body armour, somewhat like Mystery Ranch's BVS.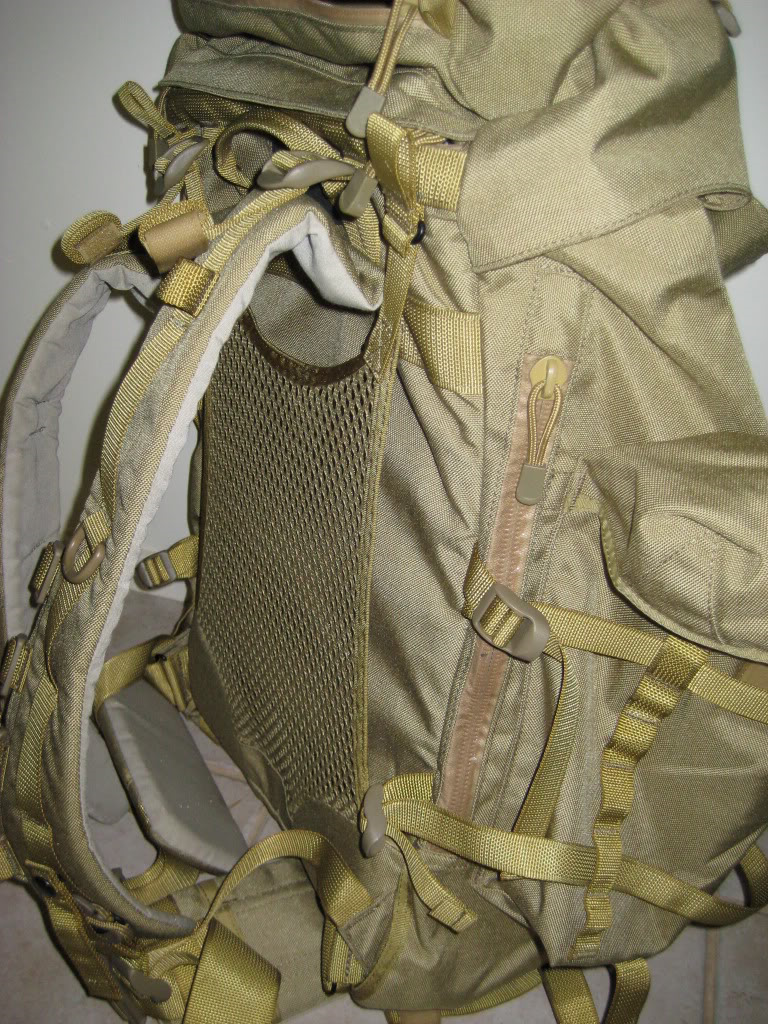 The major difference between this trampoline harness and the DG-2 Lighthorse I have is the placement of buckles on the shoulder blades. This appears to be a trial or prototype version, where the production version uses plastic triglide buckles that can interact with the shoulder blades in a negative fashion. It would appear that after my bleating after using the DG-2 Lighthorse, this has been fixed in later production.
Such is the advanced design on this pack, and it's sibling the Lighthorse, the frame still has a tendency to transmit as much weight as possible to the pelvis, instead of the shoulders. With the hip loading belt worn, it's really noticeable.
HARNESS –
Again, similar to that of the DG-2 Lighthorse. The harness isn't as heavy duty as that found on the DG-3 series, due to the pack not being designed for heavier loads.
The hip belt is 40mm webbing with removable cushions for comfort, and is removable from the pack according to wearer tastes and fetishes. Because the hip belt isn't attached to the pack as firmly as a dedicated hip belt for a true long range pack, there is some reduction in the efficiency and effectiveness of this hip belt.
If the load is kept within the design capacity of the pack, then the lighter weight hip belt and shoulder harness still keeps it all quite comfortable.
The shoulder straps are padded, contoured and has top tensioners. Straps also have capacity for a sternum strap (which seemed to be missing on the sample I bought, the vagaries of being cheap) and quick release buckles to drop the pack in a hurry.
The sternum strap system is very similar to that used on the DG-8, with a row of buckle attachment points to allow for lowering or raising the sternum strap to the right height. This also allows a second sternum strap, somewhat approximating the Mystery Ranch Cinch to be used if wearing armour.
A solid carry handle is also fitted to the harness for ease of handling, or stowing on vehicles.
RUCKSACK –
Top loading, with drainage holes fitted on main compartment and side pockets.
The lid is fixed on one side, with a top zip pocket for small items that need to be accessed without opening up the entire pack. This is scalloped out to allow head movement with helmet.
A hyphalon port for hydration bladder hoses is under the solid lifting handle.
A dual zip setup allows entry into the main rucksack compartment for playing with radio controls and also allows dual antennae to be poked out of the pack without interfering with the lid.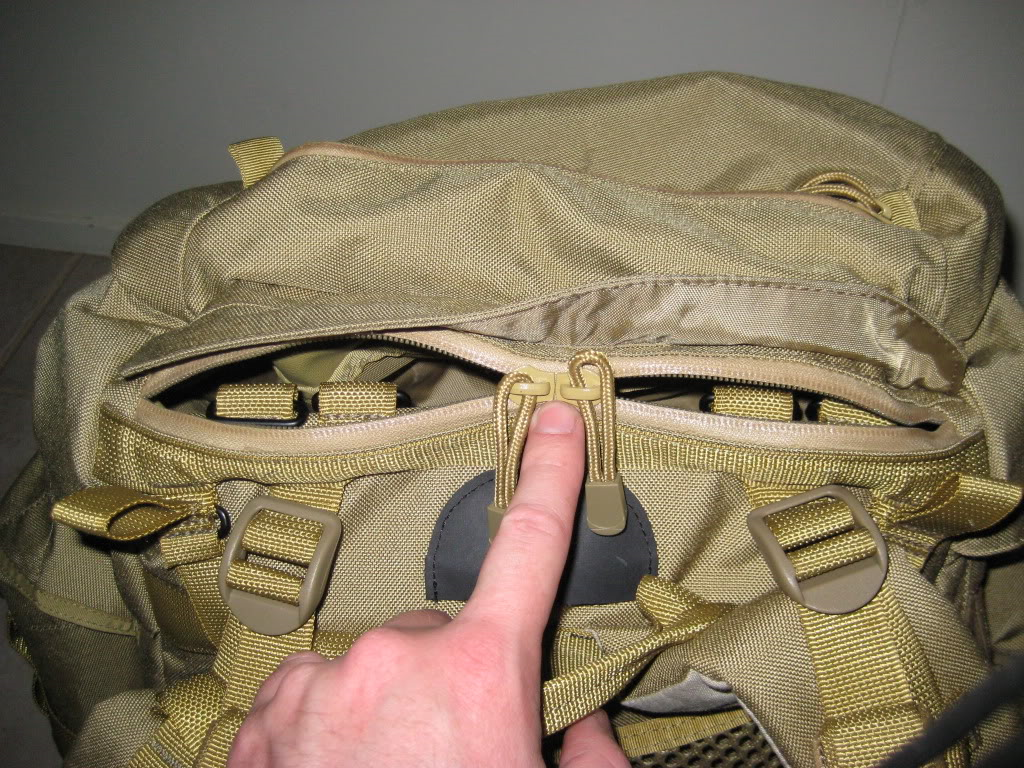 Under the lid, is a zip mesh pocket for small sundry items.
The rucksack is secured with a draw-string storm collar. Accessing into the main compartment shows no internal organisation save the "Lost Arrow" ring system that allows such accessories as a radio harness, hydration bladder pocket and dry bag to be attached.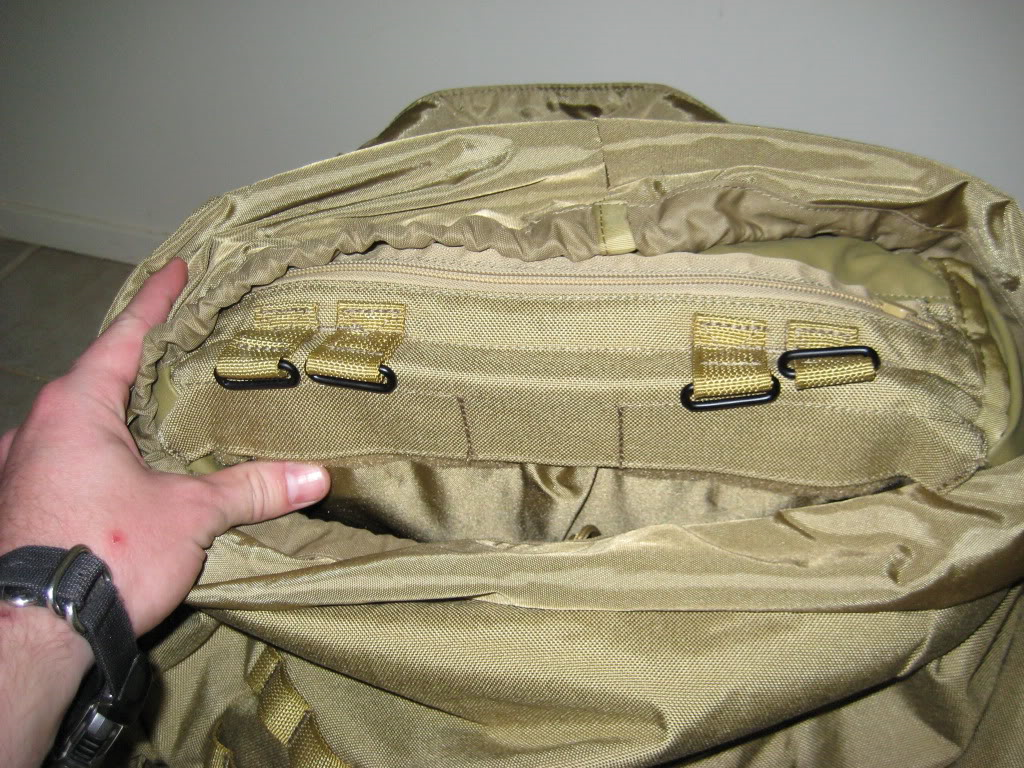 Along the left hand side (non-master side for 85% of the population) is a zip to allow access to any manpack radios stowed inside. Tension on this zip is relieved by the side compression straps.
There are three external pockets on the rucksack. Two on the side are sized to accept nalgene bottles and have Crossfire's usual pouch closure. This entails a fastex clip, drawstring and Velcro with removable panel that can be added if the user doesn't desire Velcro closure.
These side mounted external pouches also have attachment points for the side compression straps to flow through. The compression straps allow the pack to be reduced for smaller loads (down to a more manageable size if being used for single day trips) or expanded out to full capacity should more be needed during longer trips. These compression straps also allow storage of longer items to the outside of the pack.
The larger external pocket is situated on the lower central position on the ruck. It's also secured via fastex clips, but has a small roll-top (for dust proofing) and Velcro closure to ensure smaller items aren't lost.  Crossfire labels this pocket as storage for NBC respirator.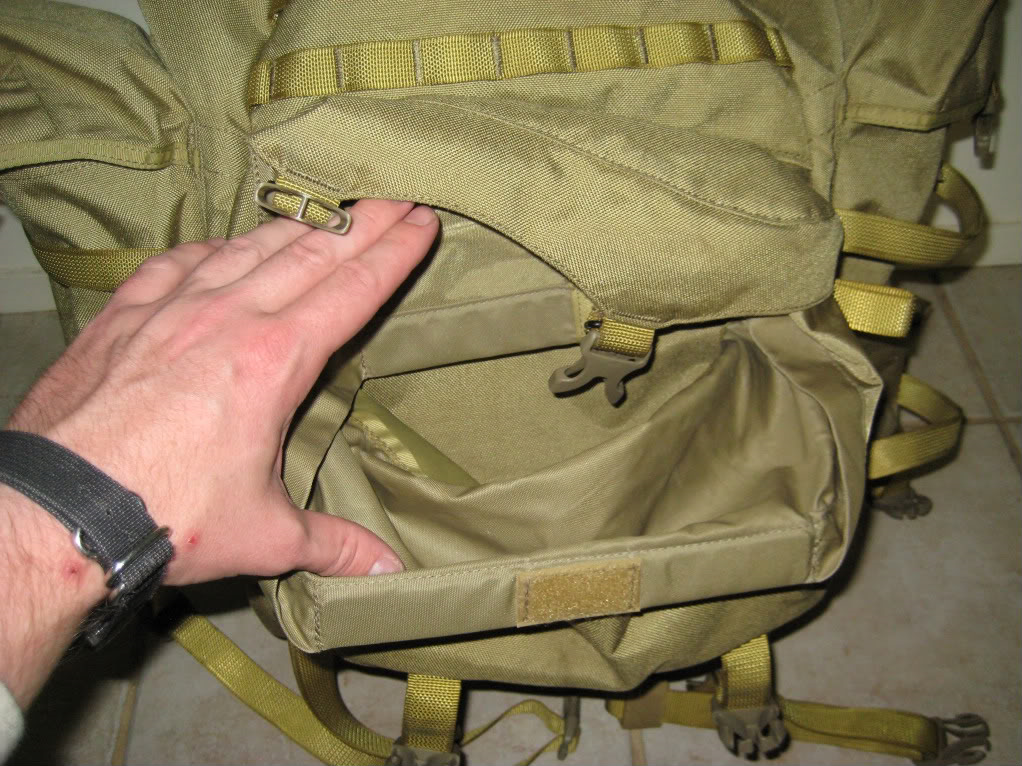 Above this middle pocket are some PALS rows to allow the wearer to customise their load slightly to accommodate some smaller pouches/items.
All buckles are field replaceable via the Crossfire "Lost Arrow" system.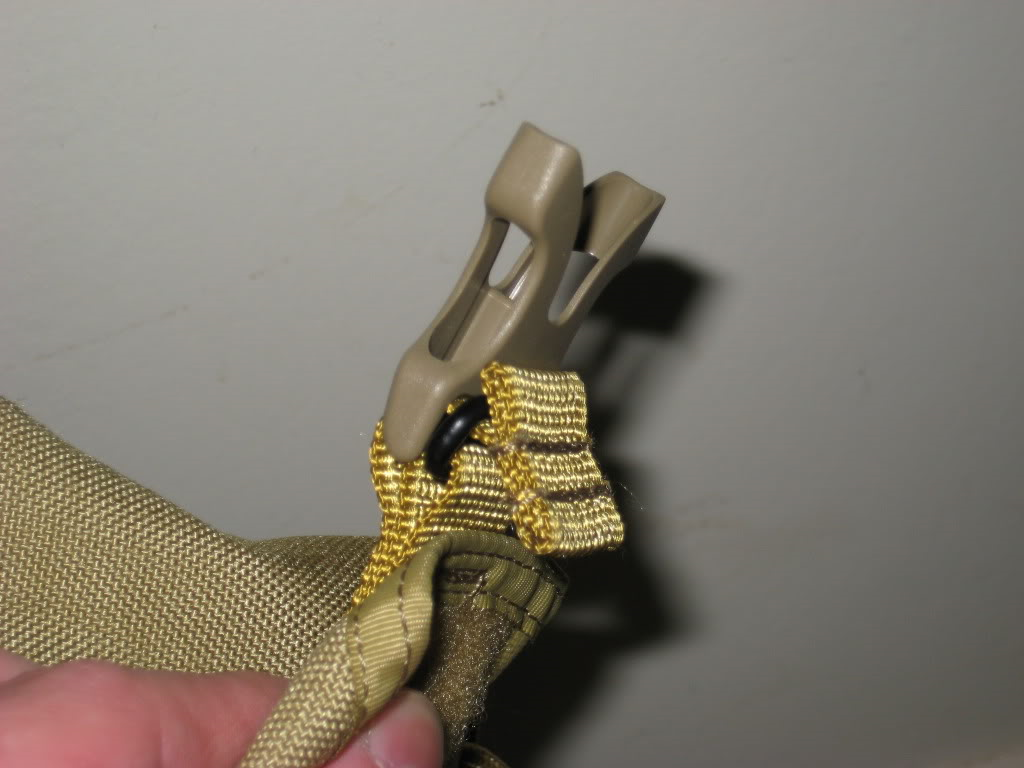 All straps have Velcro straps to aid in management.
ACCESSORIES:
Crossfire supplies a manpack radio harness, a hydration bladder carrier and a dry bag with the pack. All of these accessories are removeable via the Lost Arrow system that Crossfire uses.
 PERSONAL ASSESSMENT:
As mentioned previously, I recently acquired and used this pack as a travel pack around the country. I was able to load it up for a week's travel in civilisation (no bush work) as I transitted the country, I found the high quality harness system comfortable for loads up to and including 20kg's. The harness could probably handle up to another 5 kilo's with ease before starting to feel uncomfortable. Although I wouldn't want to do that for extended periods.
Whilst the harness isn't as advanced as that found on Crossfire's larger pack series, it's still more than sufficient for most loads that will be carried. Whilst the hip loading belt isn't as efficient as a more engineered version, it still aids in the wearing of the pack, and affords sufficient flexibility and choice for the wearer about it's use.
PROS –
Another high grade pack from the Crossfire line up.
Quality of manufacture is high.
Comfort level whilst worn is also high.
Price, quality and design is quite competitive compared to many other entries in the market here Down Under.
CONS –
One small issue I found that I'm used to larger capacity packs, is the ability for the lid to allow for slightly larger loads in the pack. Unfortunately, when I overloaded this pack during a recent trip, the lid had a negative affect interacting with my head (swollen as it is) whilst being worn.
Full comfort can only be achieved by using the hip belt, which is a compromise design to allow the belt to be removed easily.
Obviously, wearing the hip belt of the pack will interfere with any belt mounted combat load of the wearer.
Due to the nature of the trampoline frame and the way the rucksack is cut to allow the load transferrance to the body, the space in the main compartment of the ruck is slightly reduced because of this design. If packing very regular fixed shape items (like manpack radios, a lot of books etc) the space may not be able to accommodate really large bulky items. Some creative use of space that is available may be needed to be executed.
I didn't like the canvas material lining the harness, since it reduces airflow. Since I believe I have a prototype pack, the production version should have 3D mesh lining to allow more air flow. Although this is moot if armour and lots of load bearing harness is worn.
SUMMARY:
Nice little pack that could be used for assault (possibly a little too big for that, depending on load carried) or 3-day use.
This was to replace my DG-2 Lighthorse as a "possible" bag in the back of my car. Filled with items should I be struck with mechanical problems in remote locations, or unexpected stays away from my accommodation due to weather (cyclones and flooding). Instead, it's going to a very good mate who needs a slightly smaller pack.

Posted in Crossfire, Military, Packs & Webbing, Short Trip by 22F with 10 comments.