ITEM:                     Crew Cab
MANUFACTURER:            Mystery Ranch
DESCRIPTION:
The Crew Cab is an expandable pack made up of 3 separate compartments and components for carrying loads that are unusual in size and shape. It can be used as a compact day pack of 31L (1900 cubic inches) capacity, or expanded out to 82L (5000 cubic inch) capacity.
LINK:                     http://www.mysteryranch.com/s.nl/it.A/id.5850/.f?sc=7&category=45
Check out Mystery Ranch's photo's, they're much better than mine. But that's what you get for using a professional photographer, rather than a knuckle-dragger like myself.
Crew Cab in low capacity daypack mode, RAID pack on the left for comparison: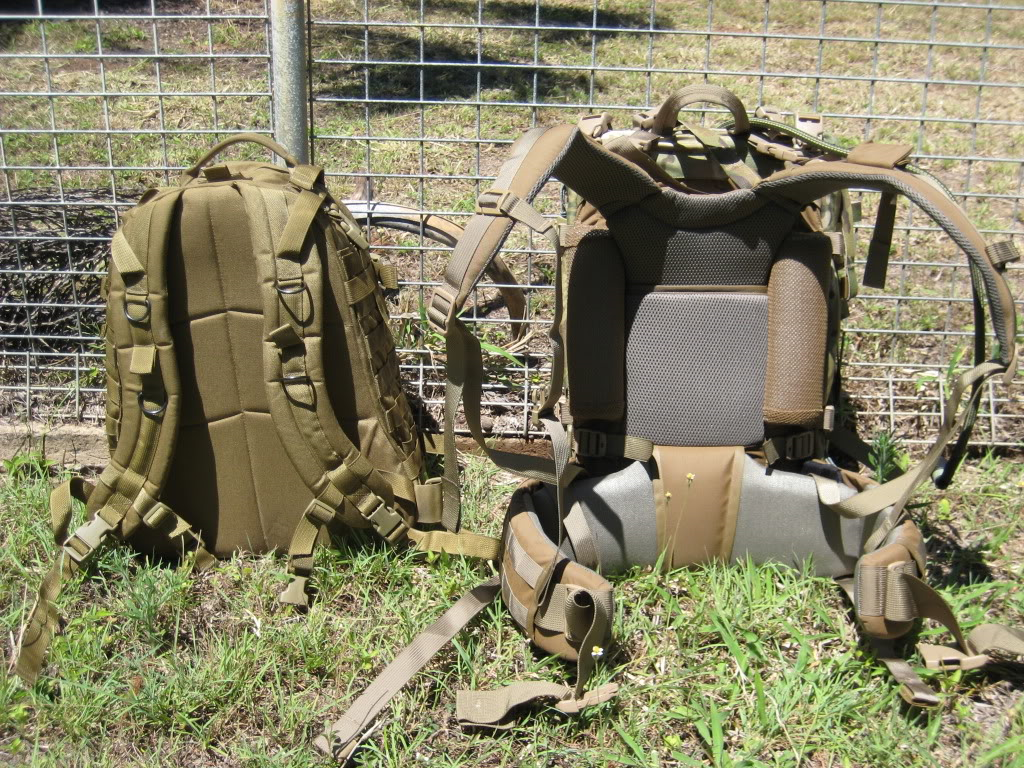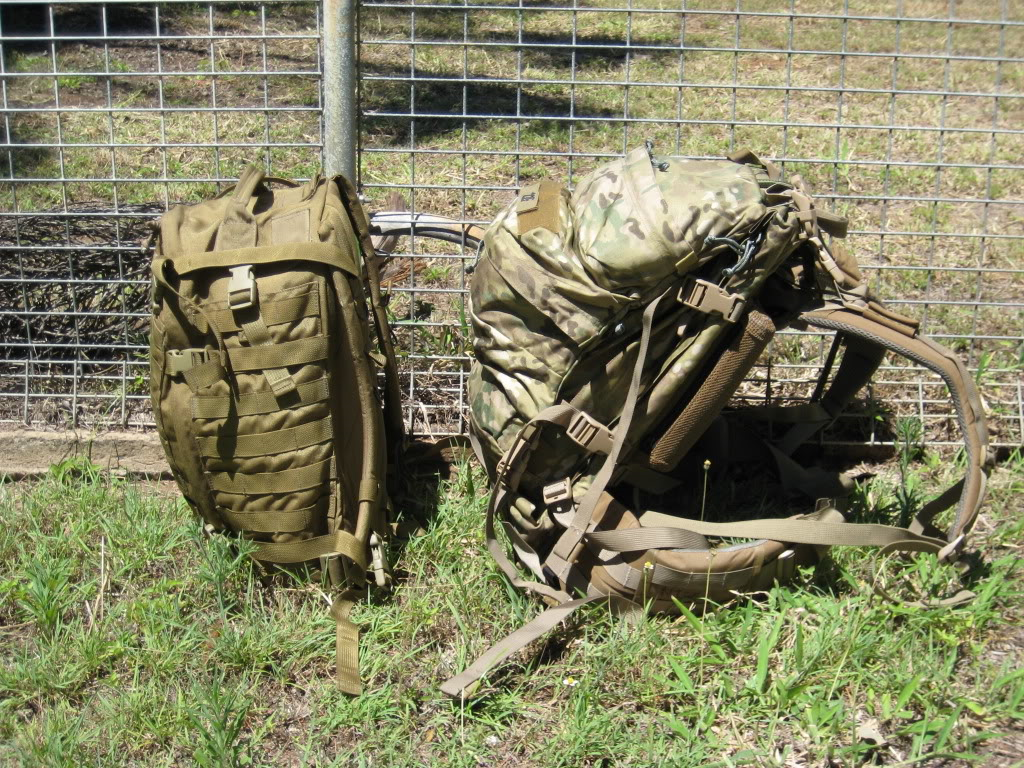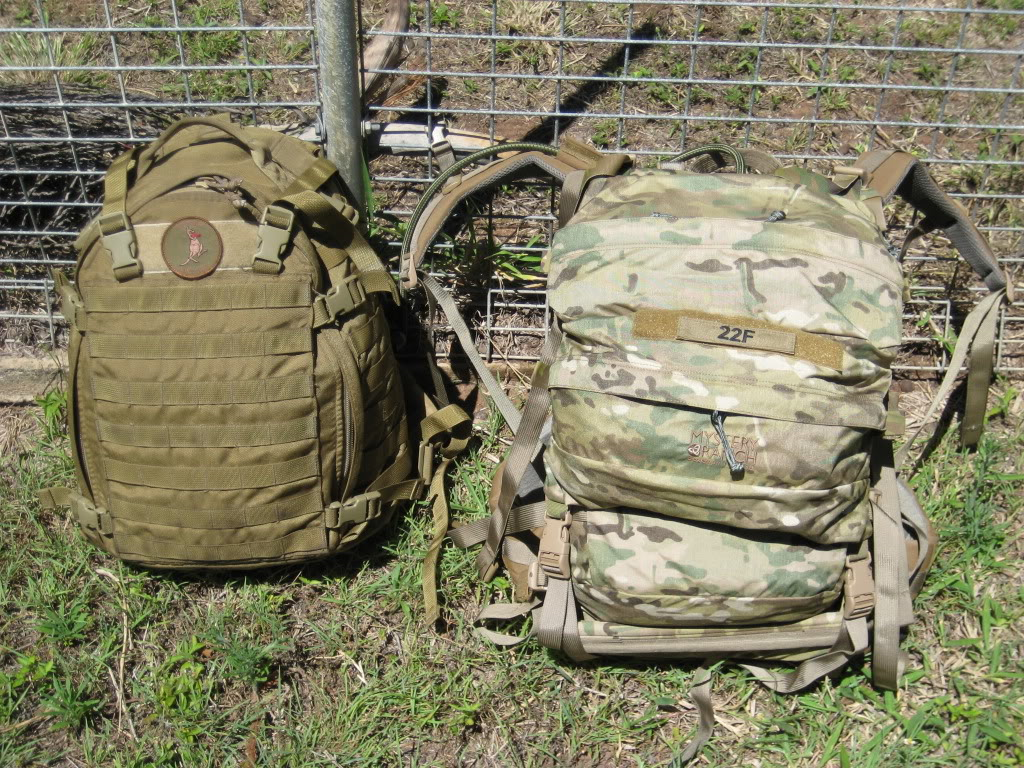 REVIEW NOTES:
This pack was kindly supplied by Mystery Ranch for review through their Australian dealer Military Gear, in conjunction with Crossfire. I will be returning this item when completed, since I have no need for this kit.
I have received no financial compensation for the review of this item. I have done the review (like many with supplied equipment) with the proviso that I will be painfully honest in my assessment of this item.
Unlike most of my reviews, the Crew Cab pack has not been fully field tested due to me recovering from illness. As such, I haven't been able to load it up and take it for a stomp to see how it treats me under harness.
As will be mentioned later in this review, the sample pack was provided with the Mystery Ranch Day Pack lid, which I believe is an extra item when ordering.
The sample pack was also supplied with 3 Load Cells, which are cubical ditty bags. They have an internal compression strap that alleviates the pressure on the zip when loaded. My first impression on seeing these load cells was "Oh, a multicam handbag, how cute. What'll they think of next… wait a minute".  Apparently Mystery Ranch has these load cells as separately purchased load organisers for Crew Cab platforms.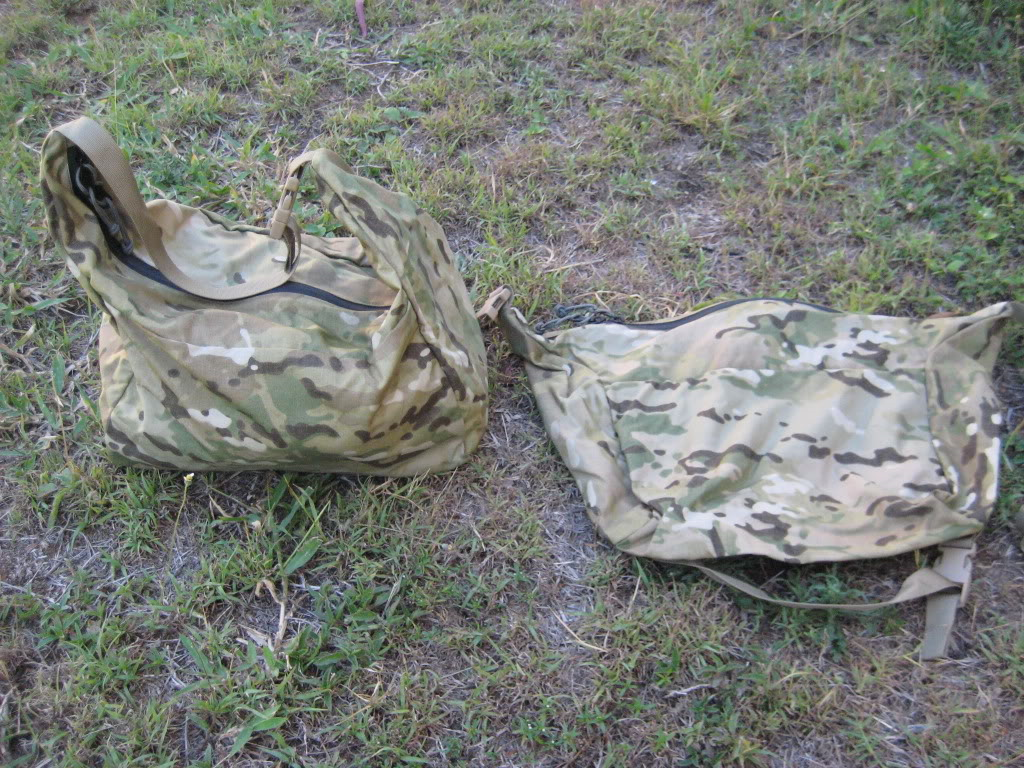 MATERIALS:
500D cordura for the main pack body.
Lockable fastex buckles
Webbing and mesh in various places.
SPECIFICATIONS:
Capacity – expandable from 31L (1900 cubic inches) to 82L (5000 cubic inches)
Weight – 3.5kg with NICE frame
Dimensions – 79-206cm x 53cm x 15cm (31-81" x 21" x 6")
LAYOUT:
FRAME –
This pack uses the Mystery Ranch NICE Frame. It's a mixture of internal and external frame. It's a flexible frame system that acts in a similar manner to DEI plastic MOLLE frames, in that the load is transferred and absorbed by the flexible frame, rather than be transferred straight to the wearer like a rigid frame such as that found on the venerable ALICE pack.
Test wearing has shown the NICE system feels quite comfortable against the body.
When worn with the MAR-CIRAS I've recently reviewed, the BVS (Bolstered Ventilation & Stability) system helped stabilise the pack a great deal. It also aides in making the pack comfortable to wear without CBA, although there are some who haven't found the BVS to aide in their comfort whilst wearing sans armour.
A full review of the NICE frame can be found HERE.
HARNESS –
The contoured straps are similar to the DG-6 in that they have a 3-dimensional structure with a plastic stiffener in them that interacts at the shoulder to maximise comfortable load transferance and prevent the load from turning the strap into a piece of string under a high load.
The harness has a sternum strap, and top tensioners like that found on most good quality hiking packs. Also fitted are elastic and Velcro loops to manage hydration bladder hoses.
The substantial and very comfortable hip belt is like others of the range from a design and usability point of view. There is PALS rows fitted to the hip belt, allowing pouches to be fitted to the belt for the wearer's preferences. The fully adjustable hip loading belt also has a clever way to adjust the running end to allow a reduction of flapping belt to reduce snag hazards in vehicles and close terrain which is impressive to see.
The harness is lined with a mesh material to reduce heat retention and such problems as chafing.
RUCKSACK –
All straps on this pack have Velcro keepers for strap management purposes.
The pack lid is a detachable item that can be used as a small daypack. It could conceivably be used as an Escape and Evasion bag for those moments when immediate survival items are needed. It is secured to the pack frame via lockable fastex clips at top and bottom and has a harness system tucked away in a pocket for immediate use.
A nice design point on the fastex closure for top and bottom of the lid is the ability to undo the top portion for access to the radio controls, without having to muck around as much with the pack. A nice feature.
The top zip pocket of this lid has an access port for a hose, so this would suggest that it's intended for storing a hydration bladder. One could easily carry a 3L bladder within it. The positioning of the pack lid is such that if a hydration bladder is fitted, that it's in the most optimal balance point.
The second pocket could conceivably carry daily necessities such as rations or a first aid kit.
There are three parts to the rucksack body.
The major component is a beaver tail with a daypack component. When being used at minimal capacity, in daypack mode, the beaver tail is secured via lockable fastex clips and a triglide at the bottom.
The daypack main compartment is secured via a clamshell zip, with a small sundries pocket and some open-topped internal pockets to aid with organisation.
With sleeping bag and spare clothing in dry bags: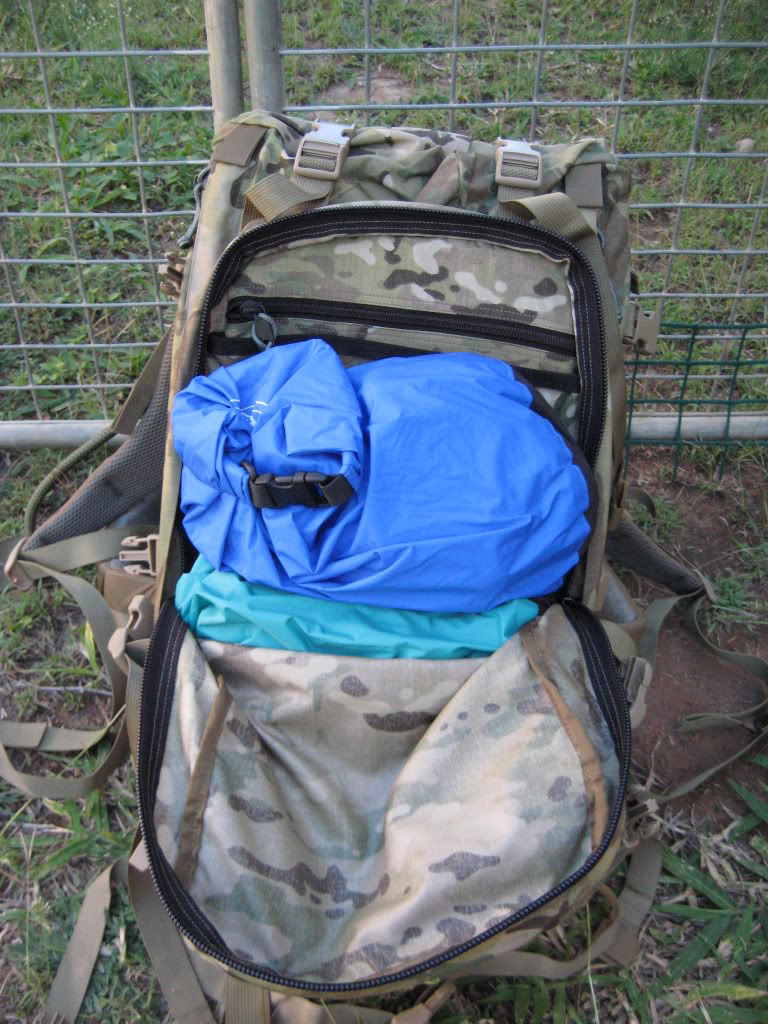 This whole daypack component is backed with foam.
The next two components are long, vertically orientated zip pockets. They're kydex backed to give them some rigidity. I was struck by how similar these two pocket are to the detachable daypack pouches that are found on the British Bergen.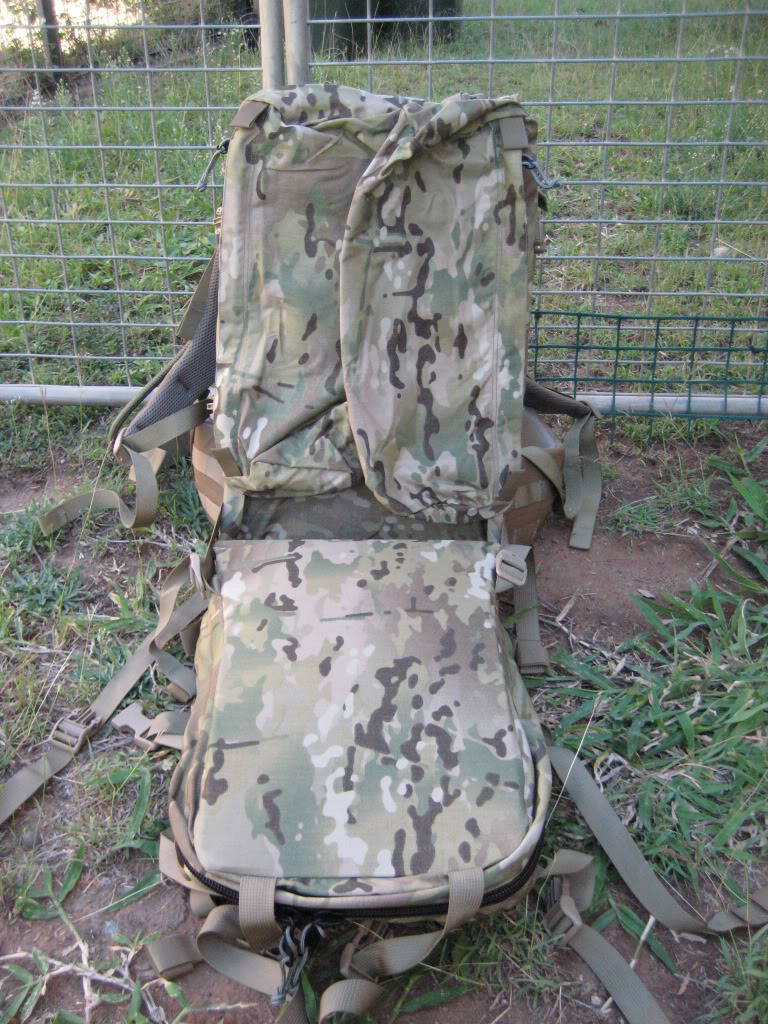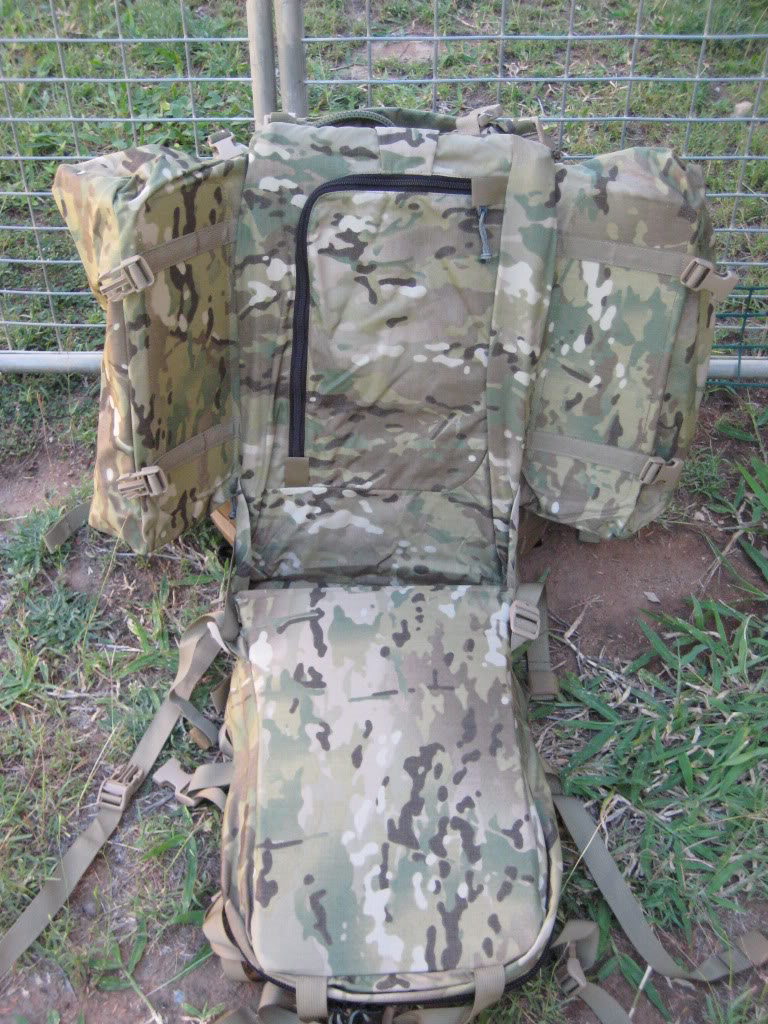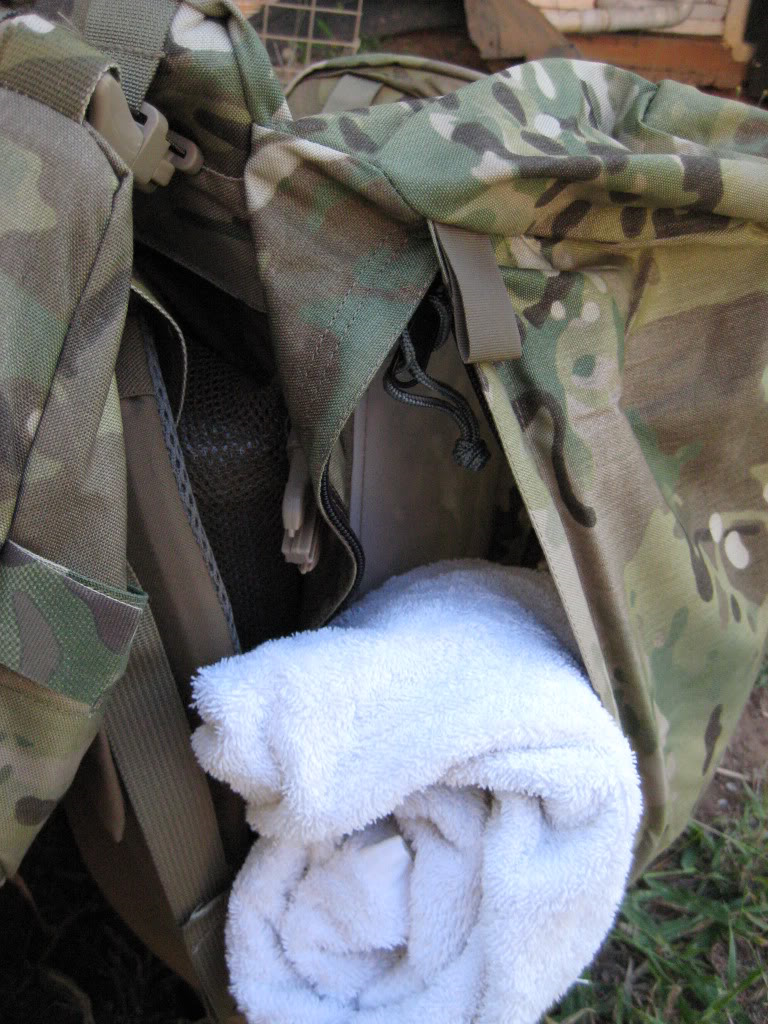 They can be folded out, secured via the fastex clips to form a cargo carrying shelf/area. This cargo area is pretty big, I was able to fit my RAID pack with ease. Larger items can easily be accommodated.
Crew Cab in load carrying mode, with RAID pack as cargo: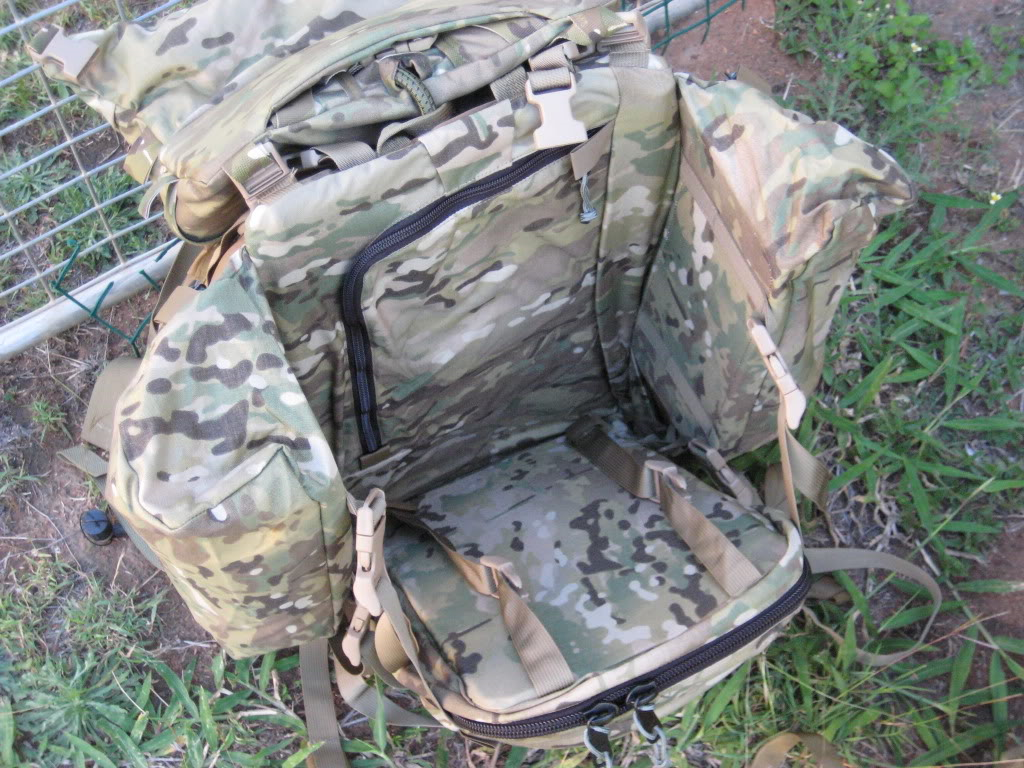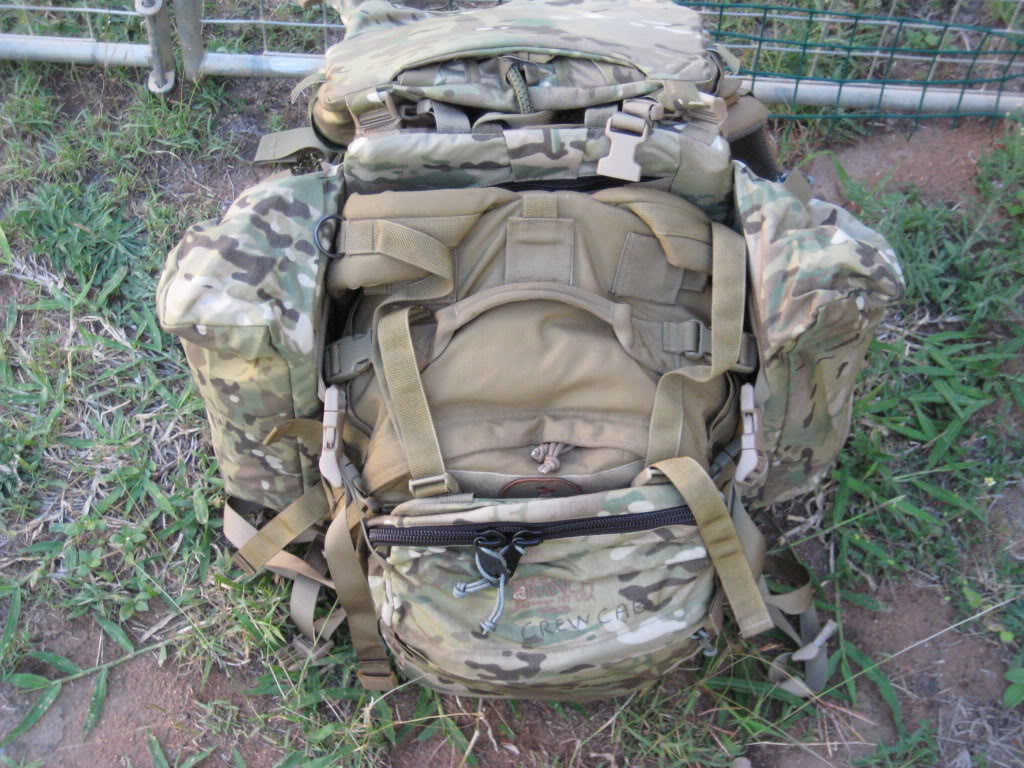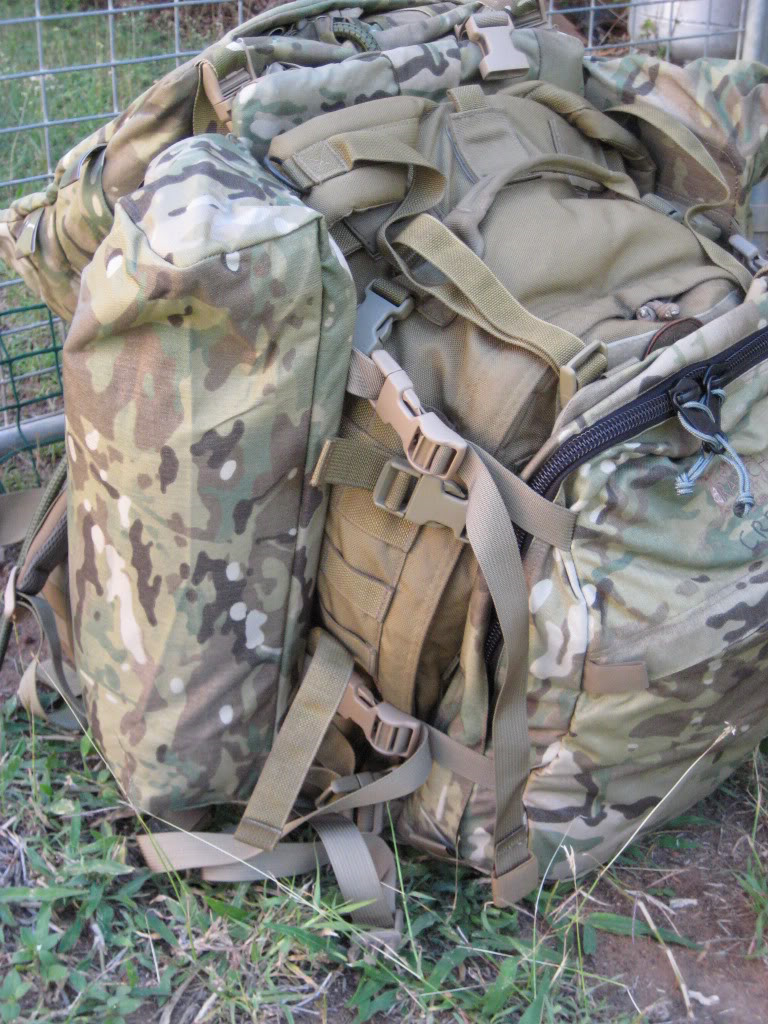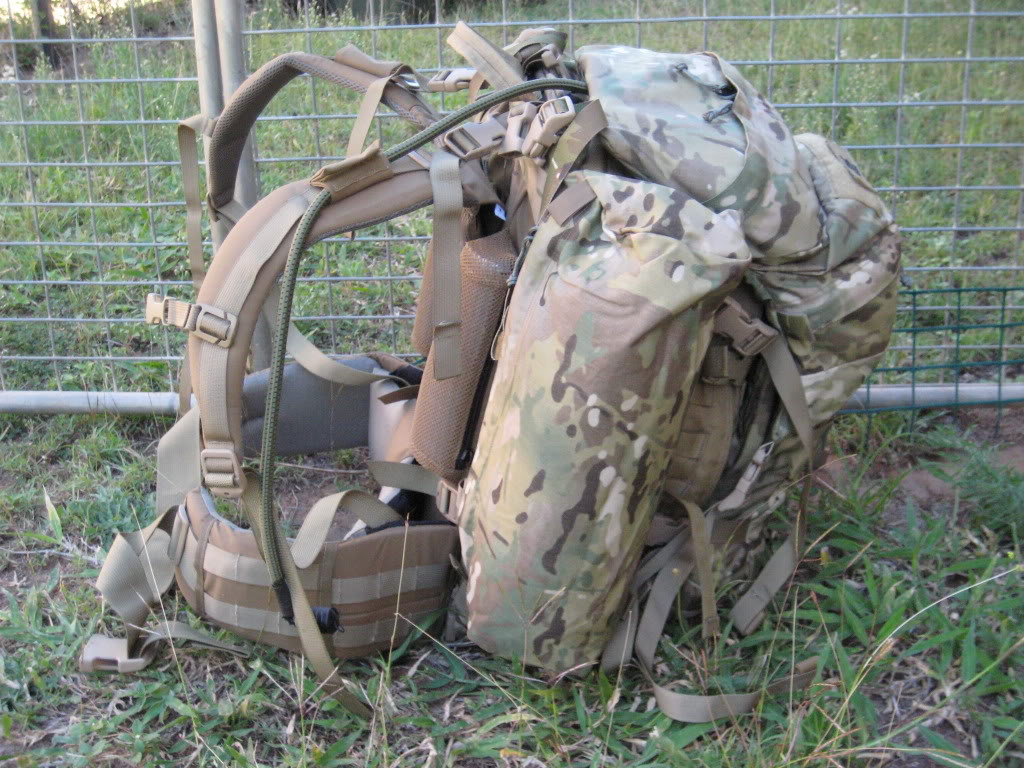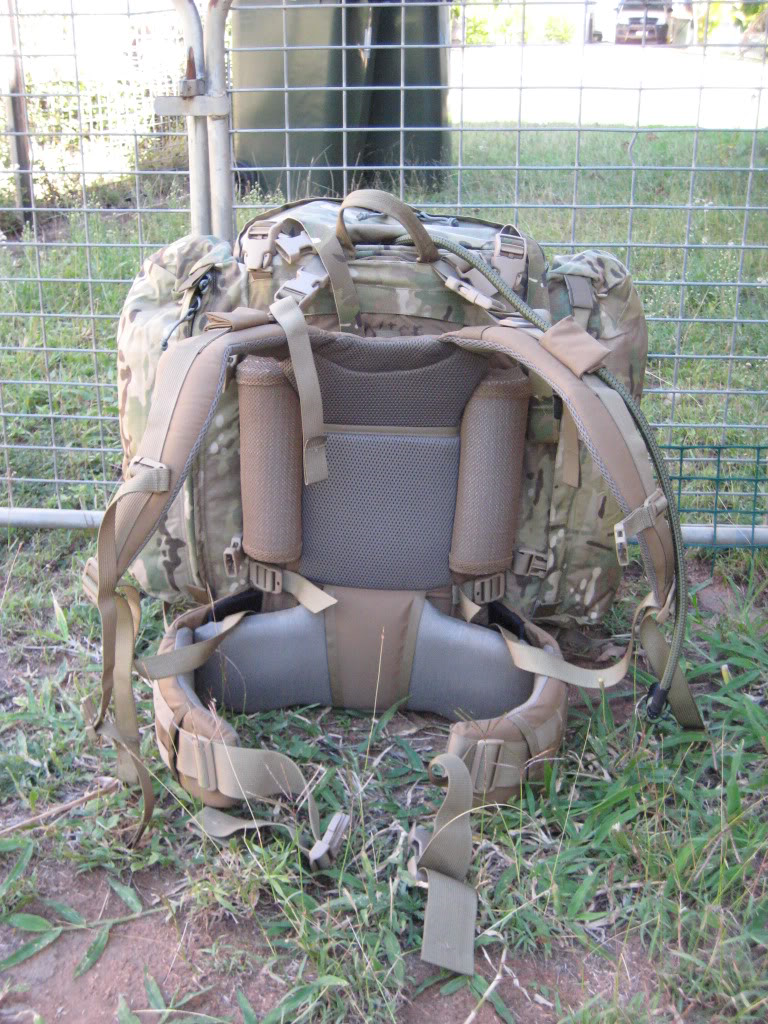 Opening up this cargo area also reveals a zip secured pocket to stow hydration bladders. It has a port to allow the hydration hose to be routed out along the harness strap.
All up, it's a pretty easy system to master. Open four fastex clips, fold out two pouches, refasten the four fastex clips, tension up, and a fairly low profile daypack is expanded out to a cargo hauling device.
PERSONAL ASSESSMENT:
Mystery Ranch suggests the Crew Cab could be useful for hauling the company's own load cells, pelican cases, antlers, weed sprayers, or deer meat.
For hunting, this pack would be ideal. It's a slimline daypack carrying only the essentials during the stalk, with minimal effect on activities. When the kill is made, then the pack can be configured for load hauling mode to carry out meat and antlers.
Because the pack is designed to carry such big bulky, unusual loads, I can see the Crew Cab being very useful in a military environment, for those who would be tasked with carrying unusual loads.
It steps away from the classic ignorance of "One size fits large" and "One pack for EVERYONE" despite most of us having different roles and loads in order to accomplish our mission.
Such people as medics and their aid packs (like the RATS pack I've reviewed earlier) could easily fit in this cargo space.
Pioneers and engineers can carry the myriad of power tools, other specialist equipment that goes with their job. In particular, I recall my dad as a younger bloke always complaining of standard issue packs when he was tasked with engineer splinter team tasks to infantry units, never being able to easily manpack some of the more esoteric items necessary for the job.
Even in my recon days, I could see something like this being useful to carry all the stores needed to dig in OP's and other taskings that would come up.
DFSW (Direct Fire Support Weapons) and Specialist weapons platoons/squads could also benefit from a pack like this to ease the carrying of such things as mortars, machineguns, missile/rocket launchers and all their assorted impedimenta like tripods, bulky ammunition and sighting systems.
PROS –
High design and construction  standards.
The flexibility of the design to carry items that traditionally tend to be a pain in the proverbial is bloody impressive. If carrying an unusual load that just won't fit in a normal pack, this is the pack to have. Not only can the unusual/non-standard load be carried, but a useful sustainment load of clothing, rations and water can be carried as well. To say this could make life easier for people would be an understatement.
CONS –
Price is quite high when comparing the Australian dollar to the mighty greenback. Having said that though, such a quality item of equipment should be easy to justify whilst the exchange rate is good for the Australian market, and being able to accomplish one's job better.
Due to the hip belt, integration with belt webbing is problematic. We all know my opinion of belt webbing nowadays though.
SUMMARY:
As a specialist pack, I really like the thought behind the Crew Cab. If I was tasked with carrying unusual and bulky loads, I would definitely look at obtaining this.
If it's not that obvious, I really liked the Crew Cab, and wished I'd had access to it years ago.
In fact, it's my opinion that the Crew Cab could be made even more suitable for a military customer by replacing the two zip side pockets with panels covered in PALS rows to allow external pouches to be fitted, allowing the wearer to configure his load for his personal equipment load out, meaning better access to his kit is possible.

Posted in Civilian, Long Range, Military, Mystery Ranch, Packs & Webbing, Specialist by 22F with 5 comments.