ITEM:     High Loft Jacket or Parka, Extreme Cold or Happy Jacket
MANUFACTURER:            Wild Things, USA
DESCRIPTION:
A heavyweight, high fill, high loft puff jacket for the tactical market.
REVIEW NOTES:
This item was kindly supplied by Military Gear for exposure to the Australian market.
I have not received any financial compensation for this review, but as usual for my reviews, the supplier has been informed that no punches will be pulled.
Since I have no need of this item, it will be returned at the end of this review. The likelihood of me needing clothing like this is somewhat remote given I don't regularly travel to alpine areas.
Also note, since the sizing of this garment is a little big for me (XXL as opposed to the M or L I would normally select), I can't really comment accurately on articulation of the garment during dynamic movement.
Due to illness, I have not been able to fully assess this garment under field conditions. Since I live in Northern Queensland approaching summer and the wet season, it's also been quite difficult to assess this garment under cold conditions.
LAYOUT: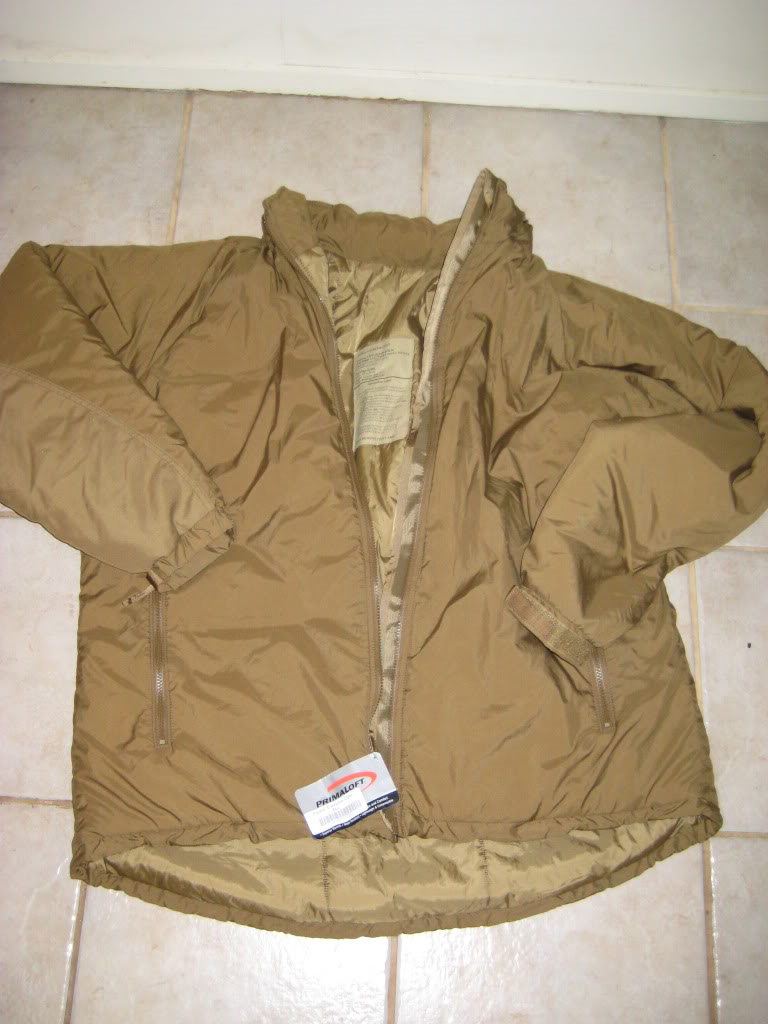 Outer shell is 70d over 6oz synthetic primaloft fill with a taffeta liner. It's a lower sheen nylon outer shell, when compared to the high sheen inner.
The sleeve cuffs are half elasticated and Velcro secured.
Elbows have a patch of 330d cordura to save the nylon shell from those most basic military activities of being on the ground. I thought that this was a nice touch for a warm layer. It's not intended for crawling, but more as protection whilst lying still, such as when working in OP.
Not often seen from a lot of bushwalking clothing I've seen in the civilian market, and not often found on many tactical competitors.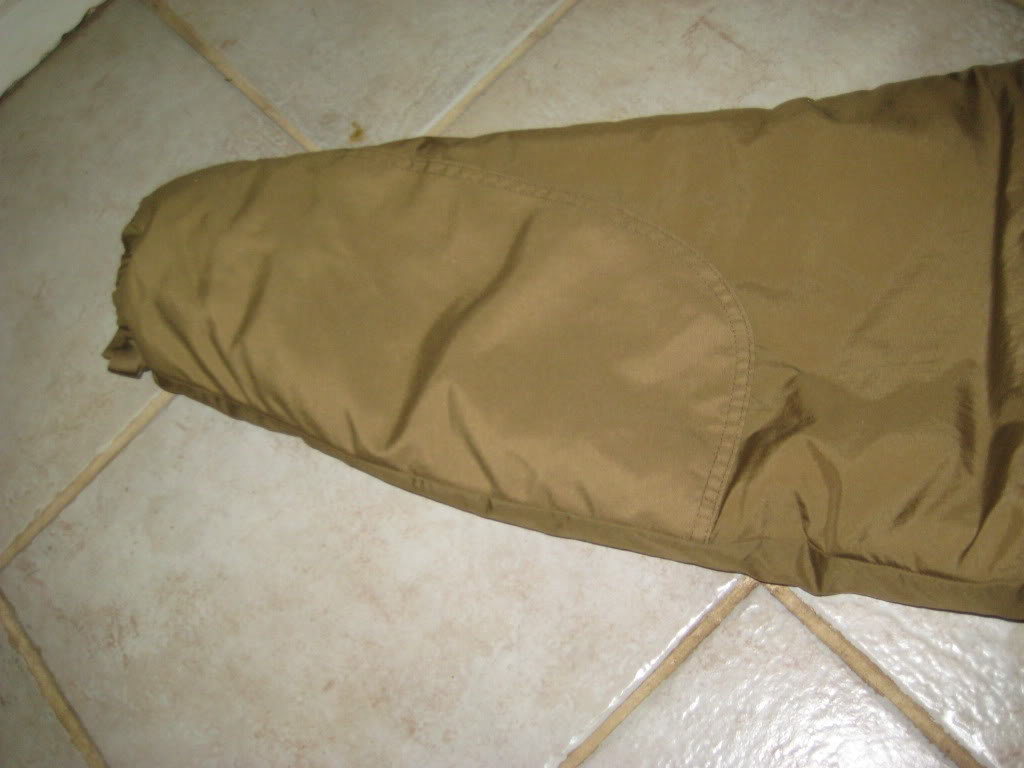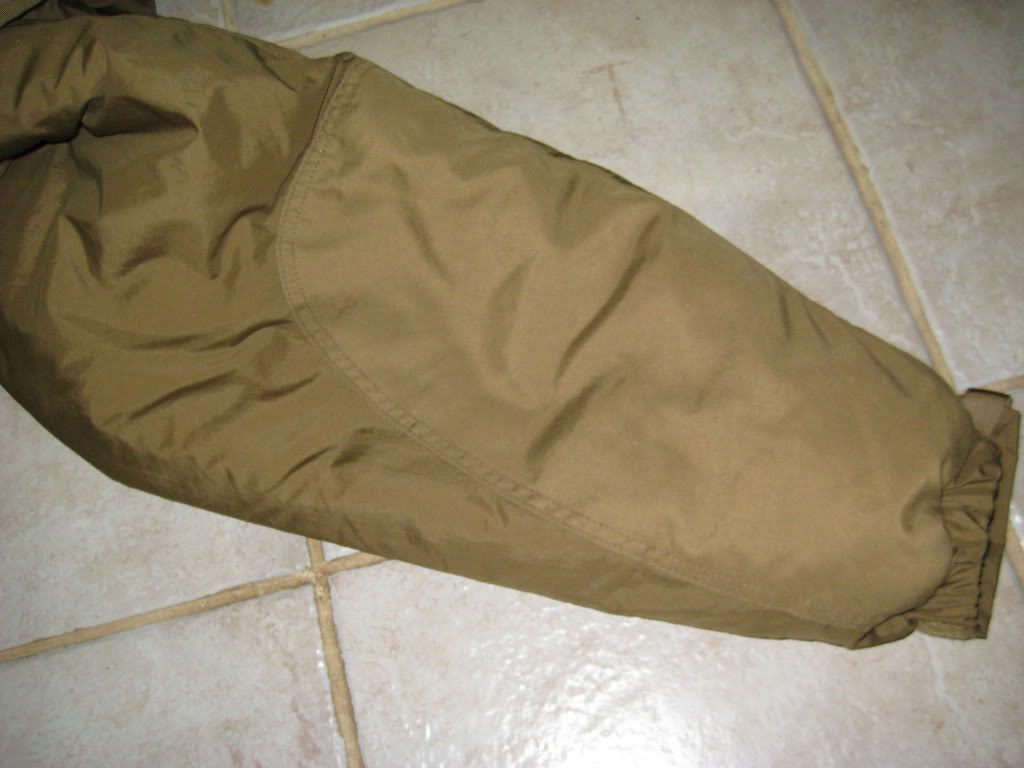 There are two hand warming pockets on the front of the jacket, secured via zip. Zips have cord pulls to allow easier manipulation with cold hands or whilst wearing gloves. The pockets are lined with 2oz primaloft.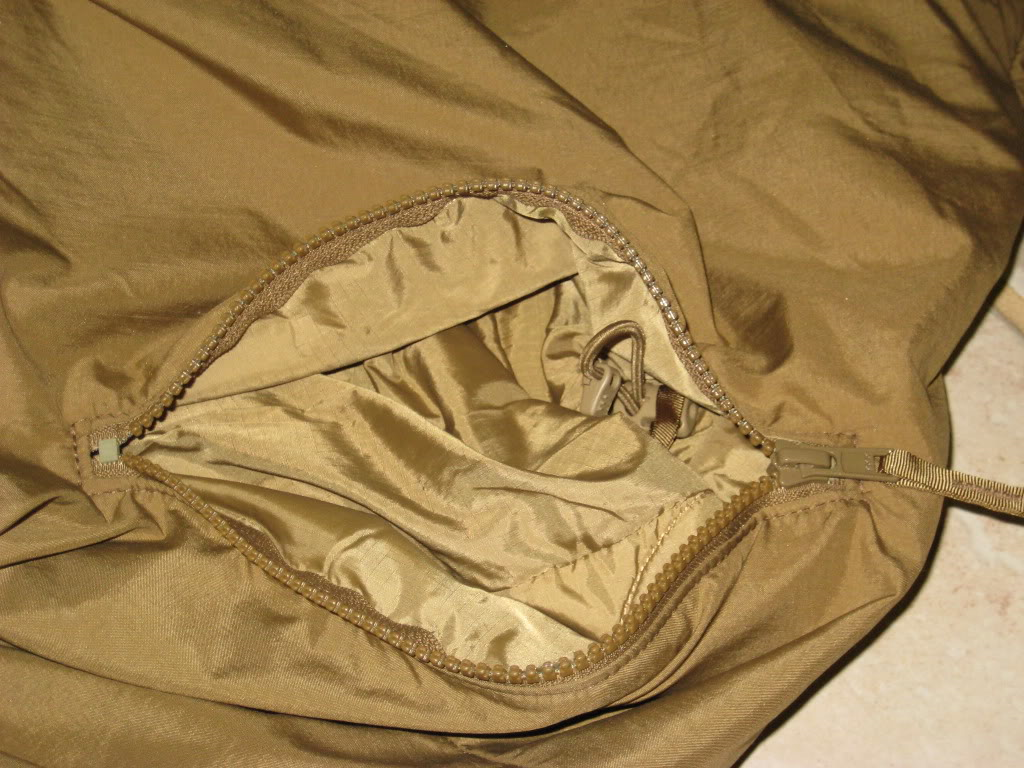 Internally, there are two mesh pockets at chest level for various small items. Apparently they're also to aid in drying out items via body heat. My limited experience also suggests that certain electronic items would benefit from being warmed by body heat, and that these mesh pockets are large enough to hold some fairly sizeable items.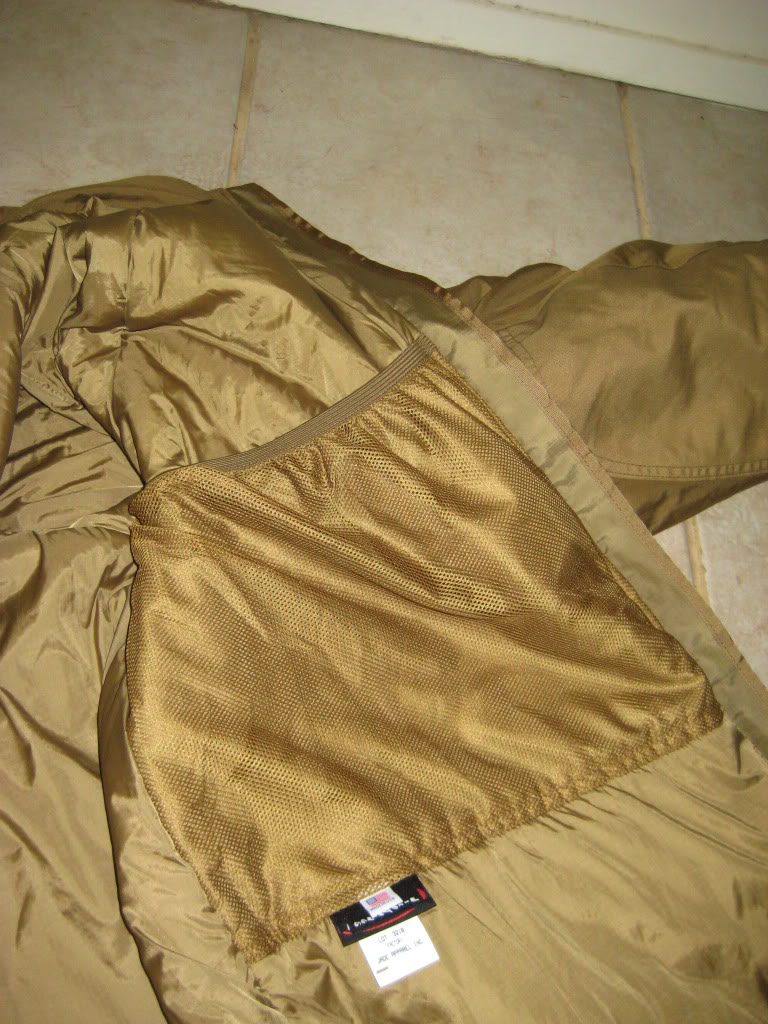 The collar has a concealable hood, with some insulation in it. Whilst the hood is concealed, the collar stands free to allow the neck to be covered. Hood is designed to accommodate a helmet, and has shock cord with barrel locks for tension.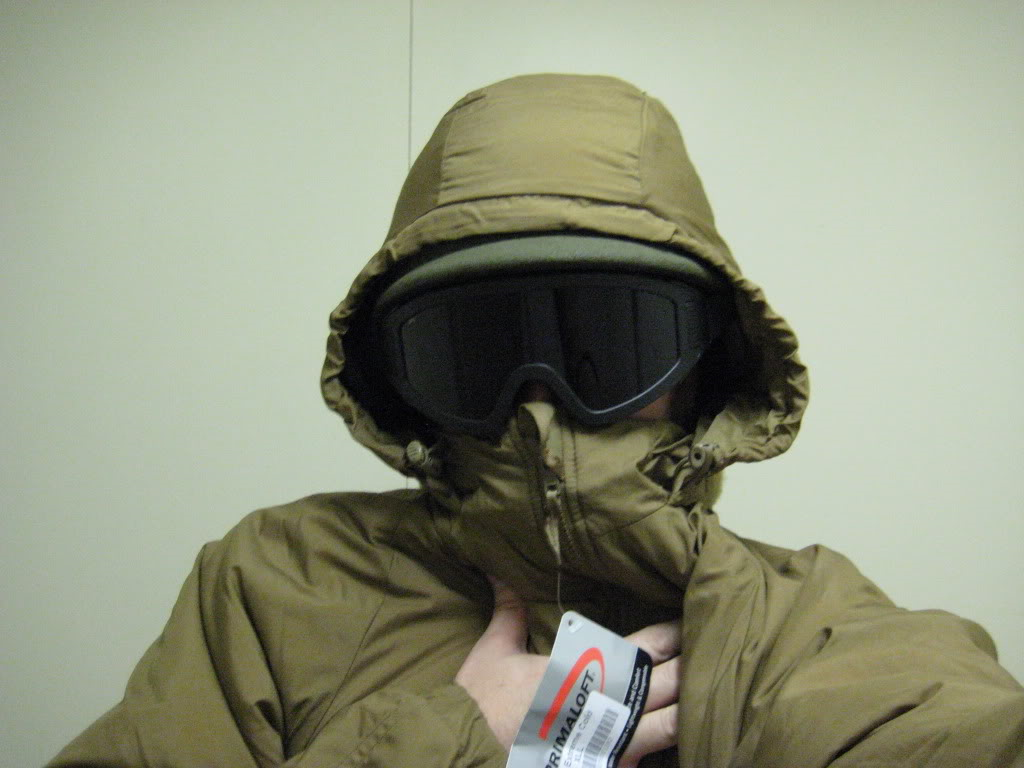 The hem is slightly alpine cut with a dip to reduce cold air flowing across the back when bending over. There is a shock cord adjustment for the hem, with two points (in the hand warmer pockets!) to adjust the tension which stows away from any likely snagging.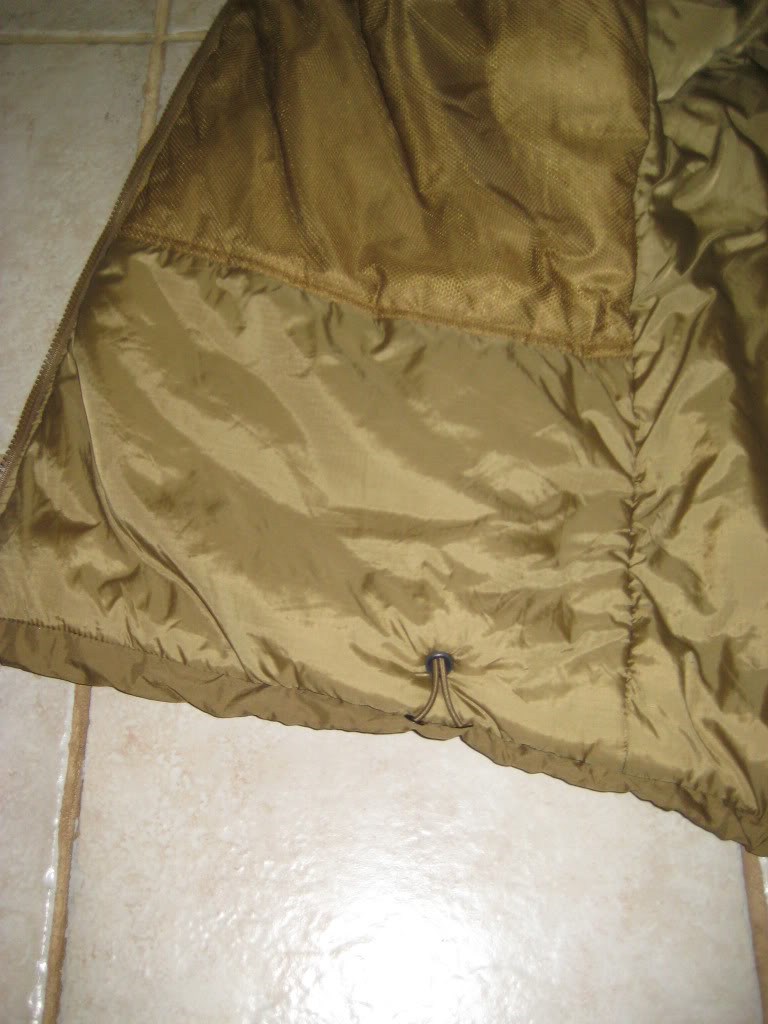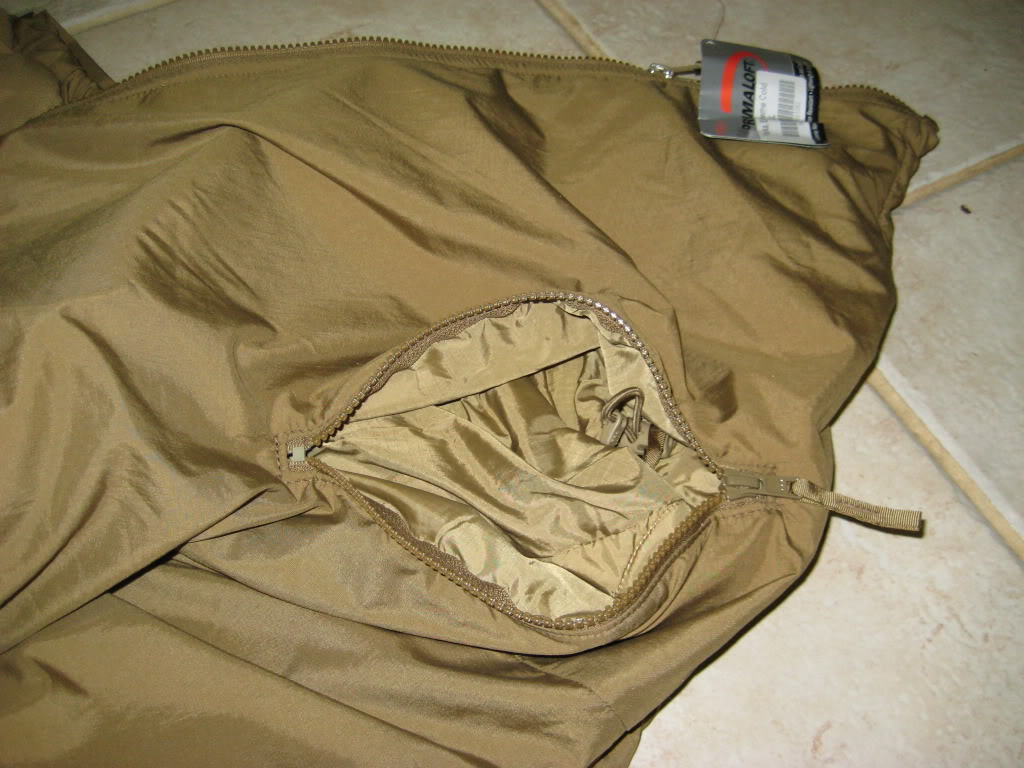 The full length zip has quite a stiff and impermeable draft excluder. The zip ends high enough to cover most of the face to retain heat should it be necessary.
Fill is a synthetic, Primaloft.
Originally developed for the US Army as a water resistant alternative to down. This is the fill used in most of the US military's cold weather system clothing and sleeping gear. Research shows the fill to be one of the better options in the market for this application. There is some research to show that the fill is very competitive to that found on equivalent items from competitors.
PERSONAL ASSESSMENT:
As mentioned in some of my earlier reviews of the Wild Things tactical line, this American Outdoor clothing company has recently branched into the tactical market.
They are relatively unknown here down under, but are well known in the United States as a ski and outdoor clothing company of some repute.
For Australian readers, it should be noted that Wild Things has been successful in supplying the ECWS for American forces. Such that this jacket has a NSN on the label.
As noted earlier, due to my geographic location, I've been unable to properly assess this jacket under proper cold weather conditions. Limited testing has been conducted, entailing every aircon unit in my small cottage being turned on to maximum cold (damn near froze my aircon units up and I can only imagine my power bill) whilst wearing the garment. Under this very expedient method, the garment did very well. I started sweating in it. It should be noted however, that this is NOT in anyway approaching rigorous cold weather testing. But for an experienced eye, it can give an indication of performance.
Due to its high loft, and large amount of filling, the jacket doesn't compress too much. It's roughly sized at 35cm x 15cm (or a small sleeping bag) when rolled up ready for stowage. With a compression sack of some sort, this could be reduced a little bit further.
In use, I can see this high loft jacket being brought out when stationary, easily removable to avoid too many layers being put on that may not be possible to remove later due to operational constraints. Although most outdoor clothing situations in adverse conditions rely on layering to retain heat, it may not be suitable due to time constraints, and enemy situation. Hence, one big layer to retain heat that can be easily doffed and stowed should sudden contact be made.
In fact, after checking the Wild Things website, I find that this jacket is intended to be worn over armour. This then explains the sizing I was given to review.
After trying the jacket with chest webbing, I could appreciate the increased sizing. Movement was not restricted, and I can appreciate the convenience of being able to put on a nice warm layer without removing the fighting load when on short halts or in fighting positions.
PROS –
Very high end garment that can provide a lot of heat retention. The technical aspects of the design are nicely thought out, and quite useful.
I especially like the solution to the extra shockcord when the hem is adjusted. All this extra running end is neatly gathered in the hand warming pockets, avoiding potential snag hazards.
As part of a layered suite of clothing, this would be very suitable for extreme cold weather work in alpine and mountainous terrain.
CONS –
There is a very slight risk of the internal mesh pockets snagging on equipment when donning/doffing the jacket. It's hard to quantify without full use out in field conditions when under the impact of fatigue, and a need to move as quietly as possible when in OP.
Pricing is about the same as a decent sleeping bag or goretex jacket. But if you're like me, and absolutely hate the cold, there is no real price on being warm.
SUMMARY:
Very high quality jacket. I would recommend this for anyone needing high quality clothing in current operational settings in mountainous conditions.

Posted in Clothing & Footwear, Military, Military Gear by 22F with no comments yet.