ITEM:      Tactiplane
MANUFACTURER:      Mystery Ranch
DESCRIPTION:
A large internal frame, expedition sized top loading pack.
REVIEW NOTES:
This pack was kindly supplied by Mystery Ranch for review through their Australian dealer Military Gear, in conjunction with Crossfire. I will be returning this item when completed, since I have no need for this kit.
I have received no financial compensation for the review of this item. I have done the review (like many with supplied equipment) with the proviso that I will be painfully honest in my assessment of this item.
Unlike most of my reviews, the Tactiplane sustainment pack has not been fully field tested due to me recovering from illness. As such, I haven't been able to load it up and take it for a stomp to see how it treats me under harness.
If I am incorrect on any details or concepts, please, feel free to educate me. I look forward to any insights you can provide.
LINK:
http://www.mysteryranch.com/s.nl/it.A/id.13768/.f?sc=7&category=49
MATERIALS:
500D cordura for the main pack body.
Lockable fastex buckles
Webbing and mesh in various places
SPECIFICATIONS:
Capacity – 98L (6000 cubic inches)
Weight – 4.4kg (9lbs 10oz)
Dimensions – 88cm x 41cm x 37cm (34.5" x 16" x 14.5")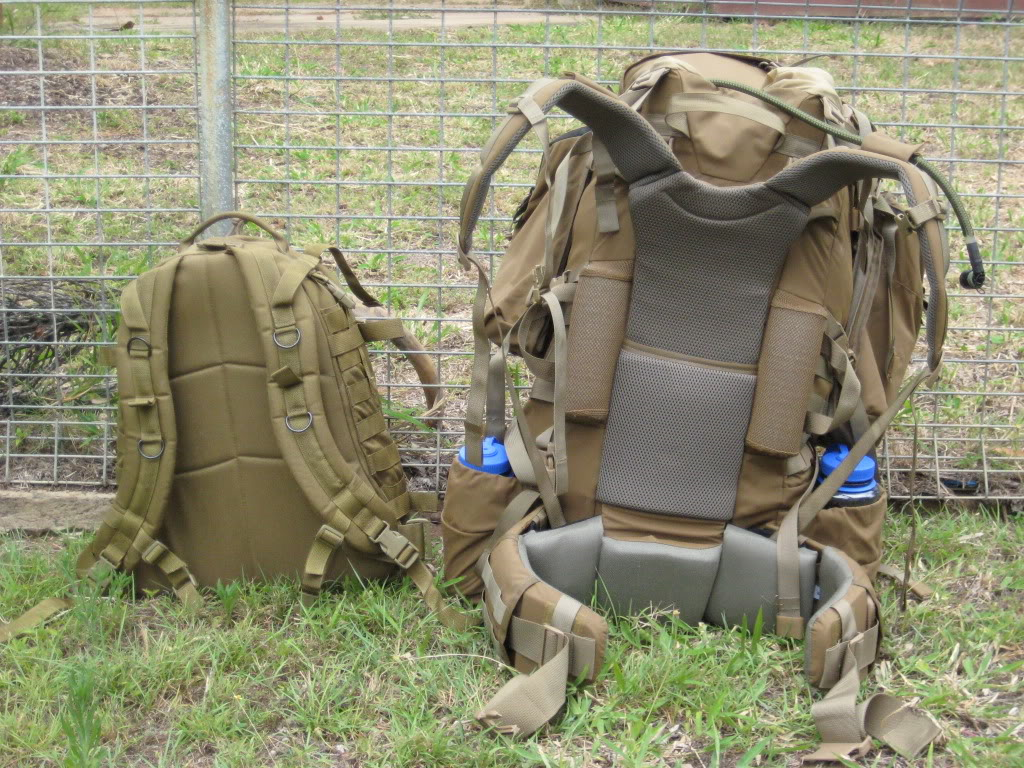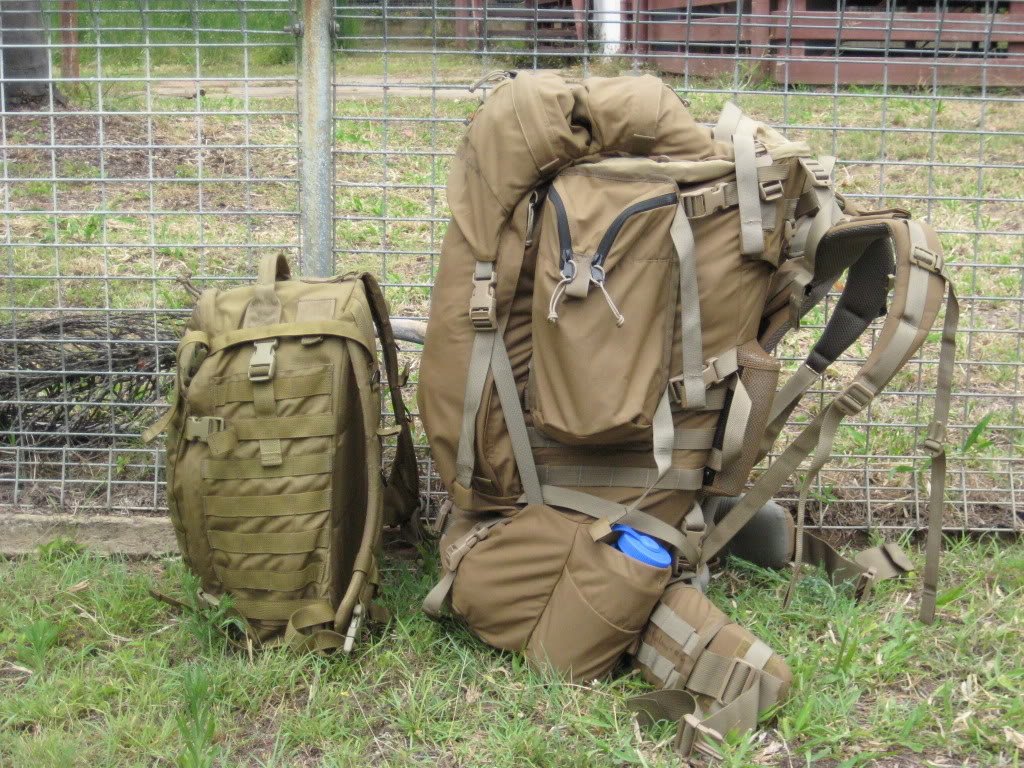 LAYOUT:
FRAME –
This pack uses Mystery Ranch's internal frame design, based on their range of civvy bushwalking/recreation packs.
The internal frame has some serious weight savings over the NICE hybrid frame, or any external frame for that matter.
HARNESS –
The Tactiplane is fitted with the Futura yoke which has telescopic adjustment for back length.
The contoured straps are similar to the DG-6 in that they have a 3-dimensional structure with a plastic stiffener in them that interacts at the shoulder to maximise comfortable load transference and prevent the load from turning the strap into a piece of string under a high load.
The harness has a sternum strap, and top tensioners like that found on most good quality hiking packs. Also fitted are elastic and Velcro loops to manage hydration bladder hoses.
The substantial and very comfortable hip belt is like others of the range from a design and usability point of view. There is PALS rows fitted to the hip belt, allowing pouches to be fitted to the belt for the wearer's preferences. The fully adjustable hip loading belt also has a clever way to adjust the running end to allow a reduction of flapping belt to reduce snag hazards in vehicles and close terrain which is impressive to see.
The pack is fitted with the BVS system, which I found was good for stabilising the pack across the back with very heavy loads, not just with armour.
The harness is lined with a mesh material to reduce heat retention and such problems as chafing.
RUCKSACK –
The Tactiplane is a top loading pack with Mystery Ranch's twist.
The pack lid is a detachable item that can be used as a small daypack. It could conceivably be used as an Escape and Evasion bag for those moments when immediate survival items are needed. It is secured to the pack frame via lockable fastex clips at top and bottom and has a harness system tucked away in a pocket for immediate use.
A nice design point on the fastex closure for top and bottom of the lid is the ability to undo the top portion for access to any radio controls, without having to muck around as much with the pack. A nice feature.
The top zip pocket of this lid has an access port for a hose, so this would suggest that it's intended for storing a hydration bladder. One could easily carry a 3L bladder within it. The positioning of the pack lid is such that if a hydration bladder is fitted, that it's in the most optimal balance point.
The sides of the ruck have PALS rows down low to attach pouches and tailor the load carried. The placement of these PALS rows prevent the user from overloading the pack in a bad way.
Below these PALS rows are pockets for Nalgene bottles or the stowage of long, awkward items with the aid of the compression straps.
These pockets are sized to accept rifle butts, like those of SWS's.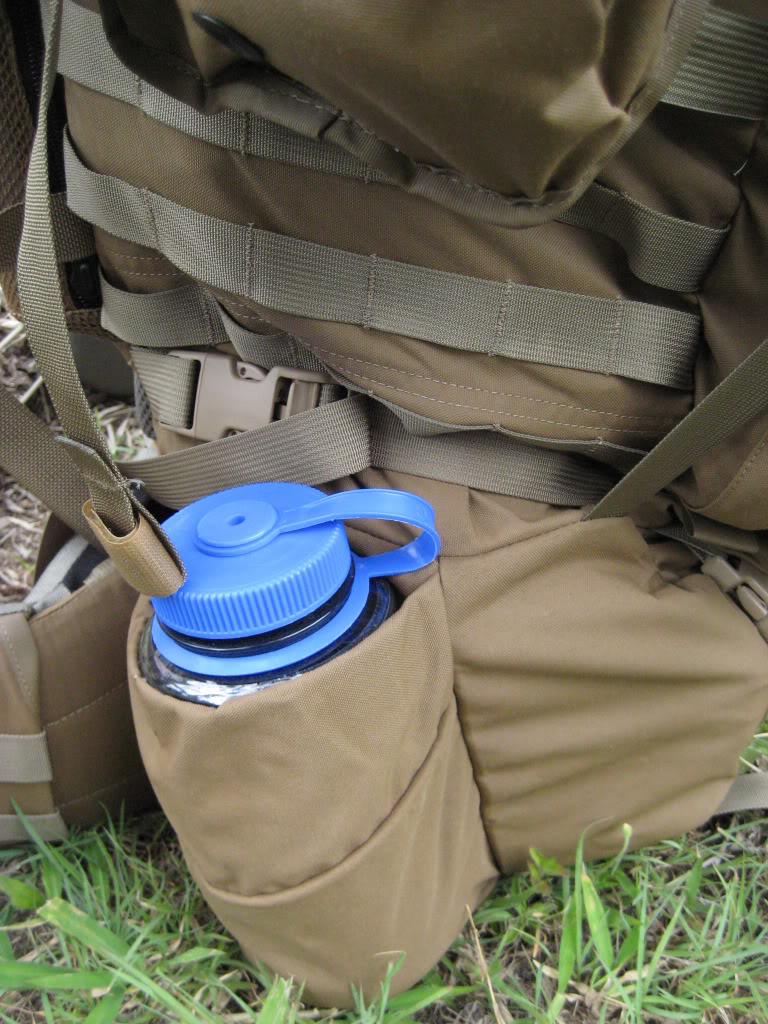 There is also two webbing handles on the sides of the pack to assist the carriage/lifting/handling of the pack in other scenarios than just simple wearing of the pack.
Because of the size and length of this pack there are three side compression straps.
The back of the ruck has two long vertical pouches secured via zip. In between these two dorsal pouches is a vertical zip to allow access to the internal contents of the pack.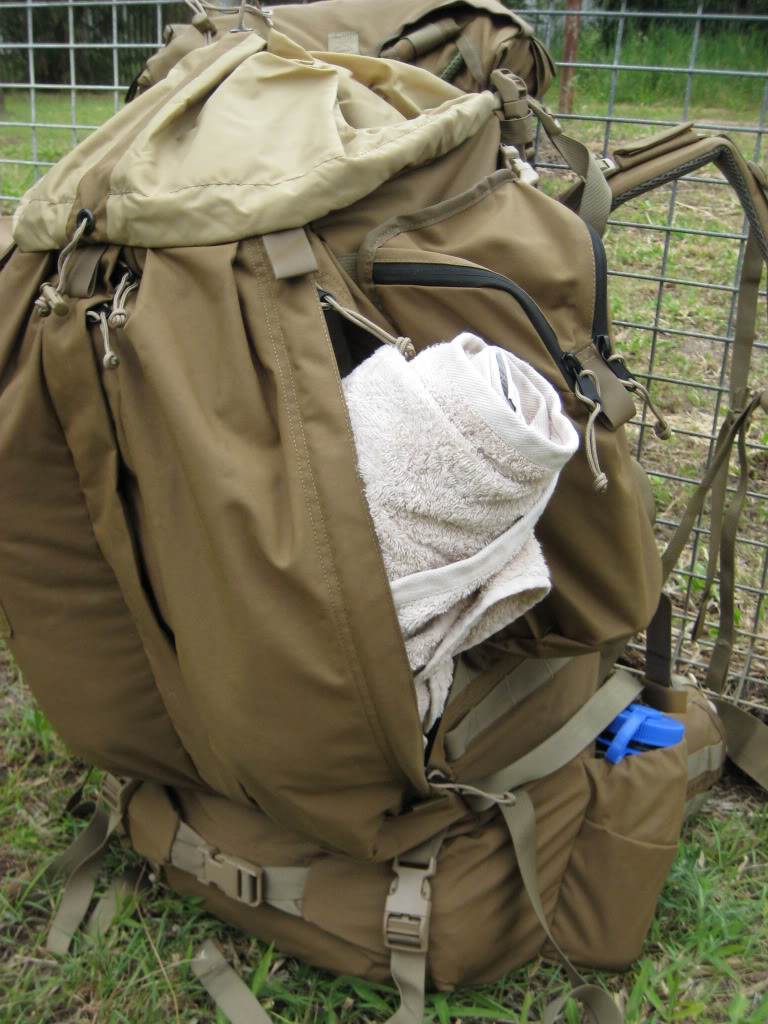 This zip is double tabbed, and has a fastex load relieving strap to ease tension on the zip.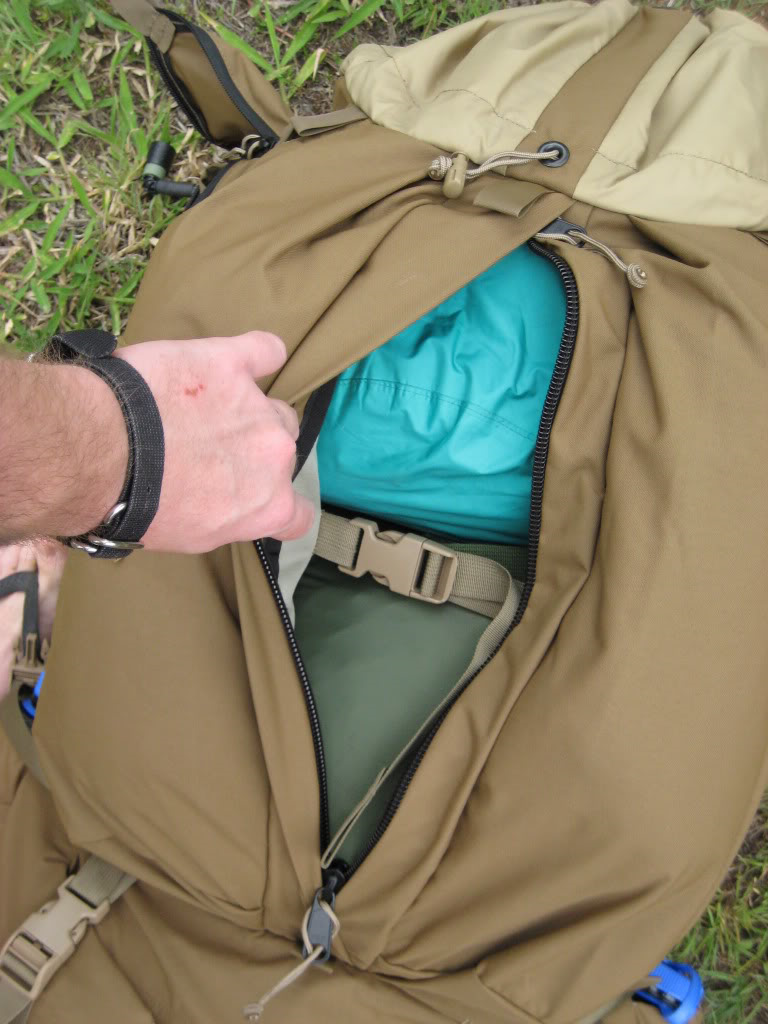 The bottom has some daisy-chain/PALS rows that allow items to be lashed to the pack bottom, and has two lockable fastex clip cargo straps to do this.
There is also a sleeping bag compartment that is sealed with a combination of fastex clip and zip.
The top of the rucksack has a dual draw-string storm collar to seal the pack up against the elements and allow extra capacity to be packed in.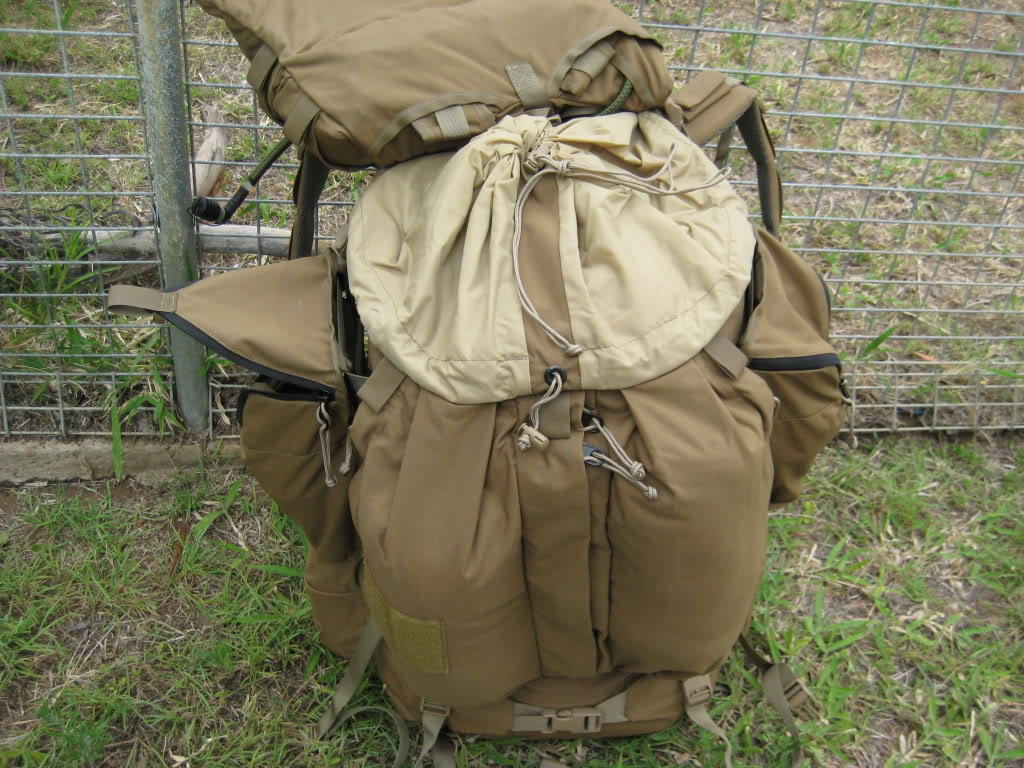 The inside of the rucksack compartment has some internal organisation. It's broken up into the main compartment with a radio pocket, with two smaller pockets that could carry hydration bladders.
The sleeping bag compartment at the bottom of the ruck has a skeletonised shelf to separate the main compartment. It's not completely sealed off from the main compartment.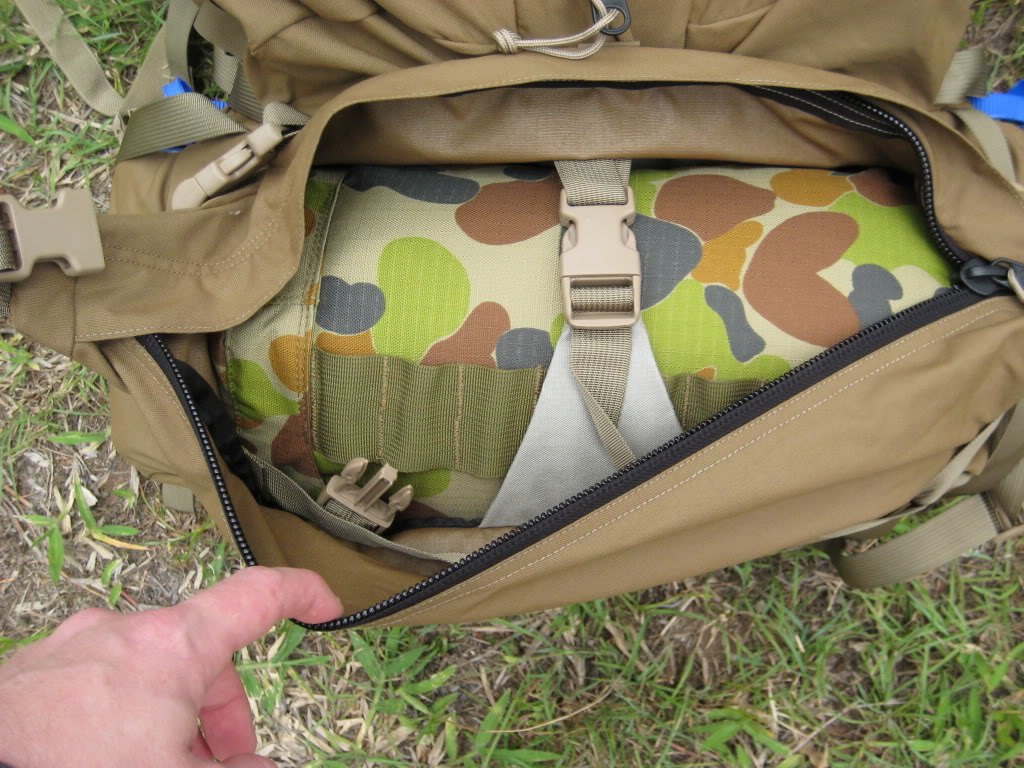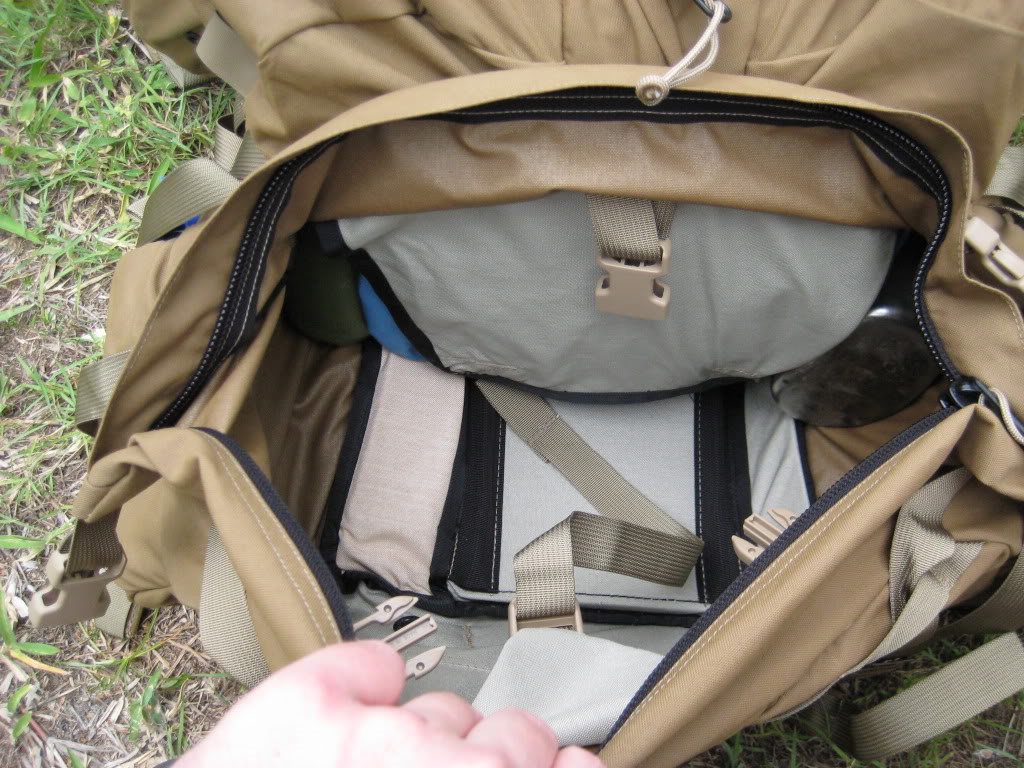 ACCESSORIES –
Two of Mystery Ranch's Rip-Zip pockets were supplied with the pack. These are 5L each in capacity and easily accessed by the dual zippers. They have a fibreglass frame structure to give them some rigidity. They attach to the pack via the compression straps.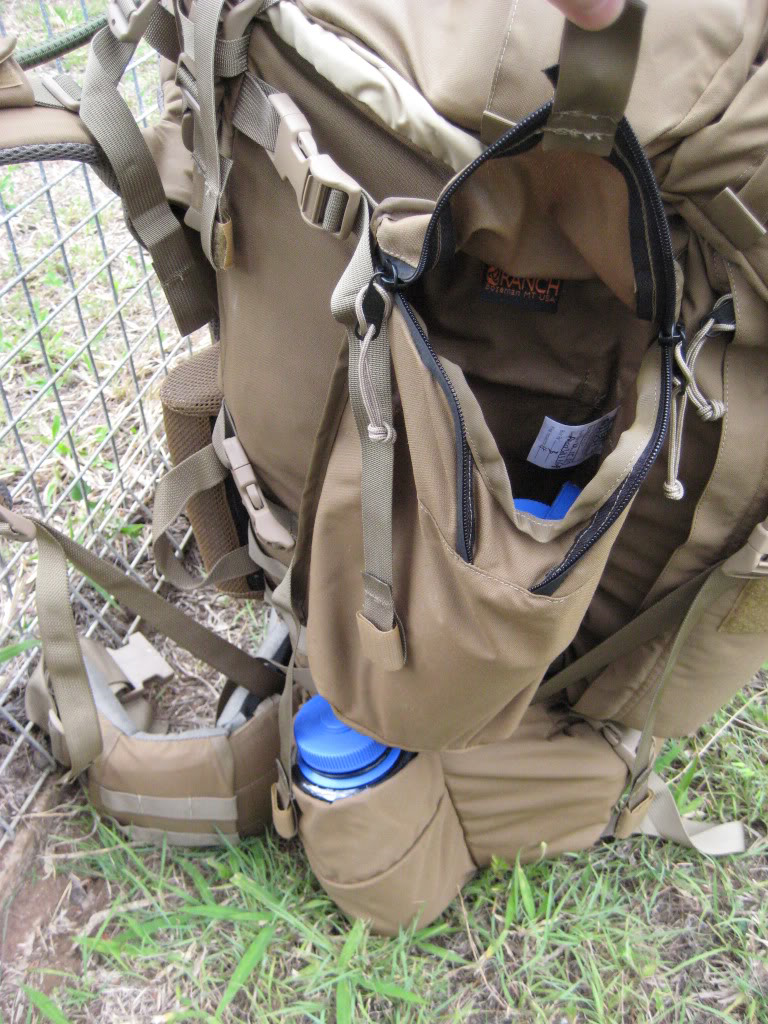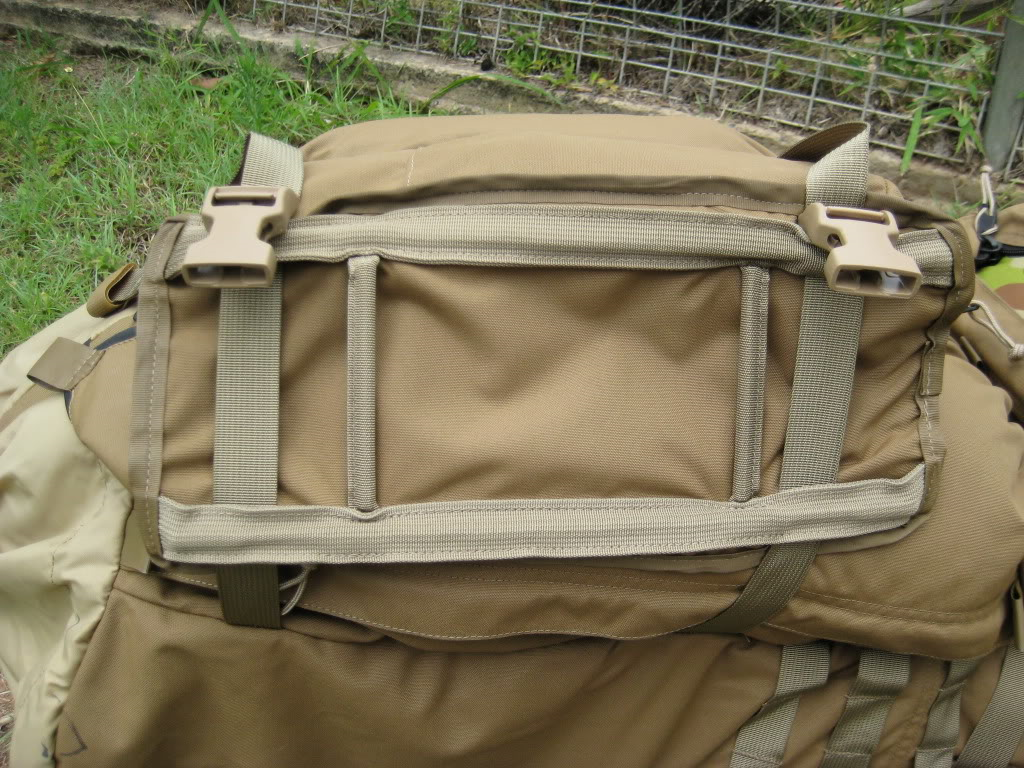 PERSONAL ASSESSMENT:
When I first received the Tactiplane, I was struck by the size of this pack. It's really big, REALLY big. Whilst not quite up to the carrying capacity of the Crossfire DG-8, it's in the equivalent class of being an expedition pack.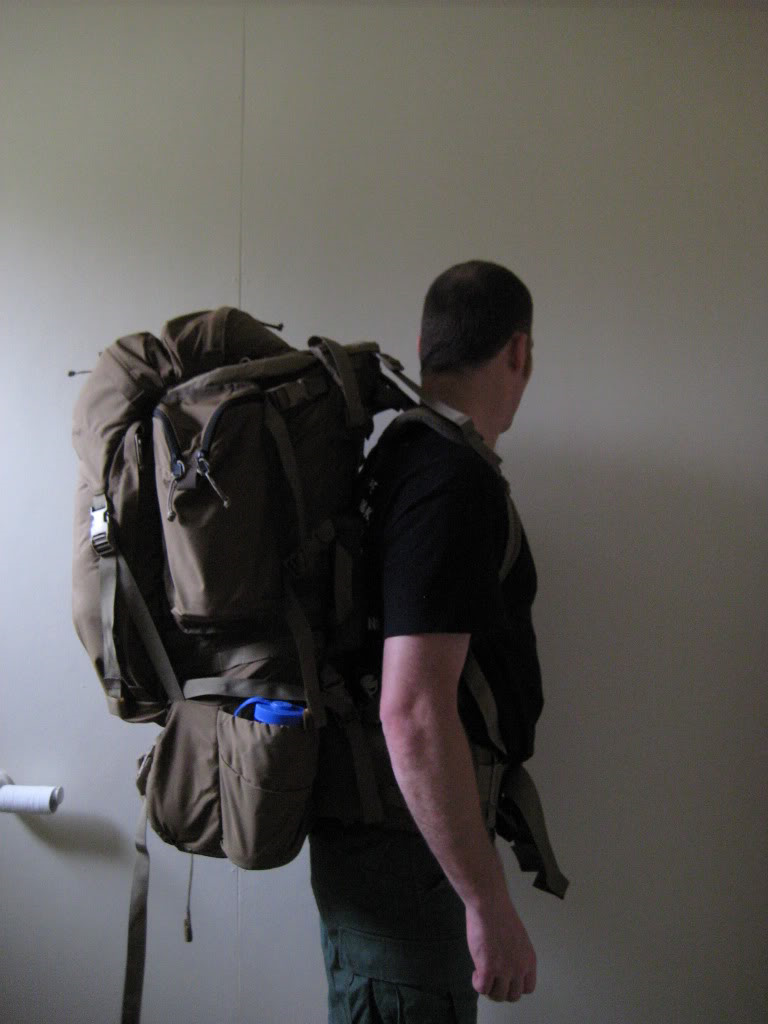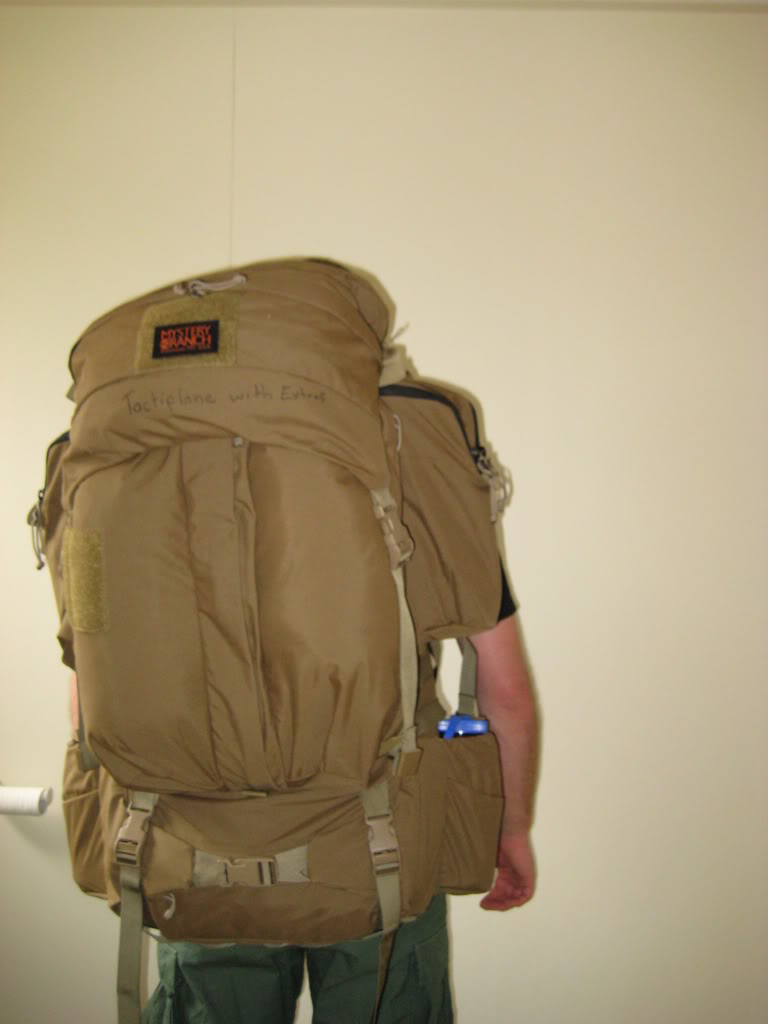 Mystery Ranch reckons that the Tactiplane is developed from the old Terraplane, and also equivalent to the Grizzly. It's currently on issue to American Special Operations. RUMINT that I'm hearing is that the American special operations are moving to get their load carrying equipment to be hip loading, as opposed to shoulder loading as much and as fast as possible. The rate of joint and spinal injury is quite concerning to them. I'm also pleased to learn recently that Australian Special Operations Troops have also accepted the Terraplane for their long range pack needs.
I packed the Tactiplane with as much gear I had sitting around that would resemble a decent load for extended stays in the wilderness for extended periods.
Loaded up with about 35kg's (approx 77lbs) it certainly lives up to its promises of being comfortable with heavy loads. Whilst it was bloody hard for me to actually drag that weight up to my shoulders, once the harness was properly done up and adjusted, it was very comfortable. Interaction with chest webbing and armour wasn't bad at all.
PROS –
Really designed for carrying heavy loads in comfort. The BVS system worked very well to stabilise this pack on me with a heavy load even without wearing armour.
The usual Mystery Ranch high quality design and manufacture.
CONS –
As mentioned, this is a specialist pack like the Crossfire DG-8. It is not really intended for use as a general purpose combat pack. As I've mentioned in my review of the DG-8, it's way more pack than the average user will ever need.
My usual bleat about lack of quick release harness buckles for Mystery Ranch line. Although I'm led to believe that some of the feedback I've provided will be used to improve the MR line for the Australian market. This was confirmed recently at the Land Warfare Conference, when I had opportunity to examine samples with quick release buckles on the harness. This small complaint of mine has now been fixed.
I'm not a big fan of the Rip-Zip accessory pockets. Whilst they are very nice pouches, the attachment system (using the compression straps on the side of the pack) left me cold after using the MOLLE system for awhile now. Thankfully, with the PALS rows on the sides of the ruck, it's not hard to use pouches of one's own choice.
SUMMARY:
Like other expeditionary packs, this is best suited for long range operations where light, yet bulky cold weather clothing must be carried.

Posted in Long Range, Military, Mystery Ranch, Packs & Webbing by 22F with no comments yet.