ITEM: Low Loft Jacket
MANUFACTURER: Wild Things
DESCRIPTION:
A lower loft, quilted parka intended as a warmth layer in a suite of cold weather clothing.
REVIEW NOTES:
Kindly supplied by Military Gear for exposure to the Australian market. I have received no financial compensation for this review, and the article will be returned to the supplier when the review is complete. As an agent of Military Gear, these are available for sale.
LAYOUT:
A low loft, slightly more streamlined and lighter weight version of the high loft jacket produced by the same company and reviewed by myself elsewhere. Outer shell is 70d over 2oz synthetic primaloft with a taffeta liner. It's a low sheen outer nylon shell, when compared to the high sheen inner.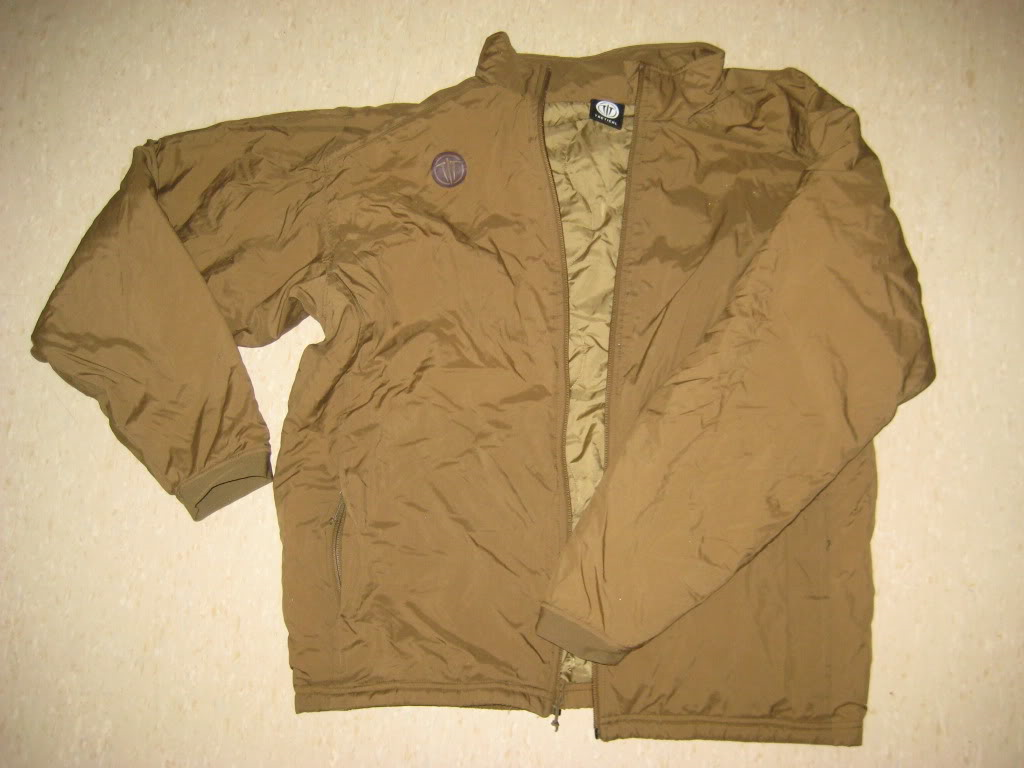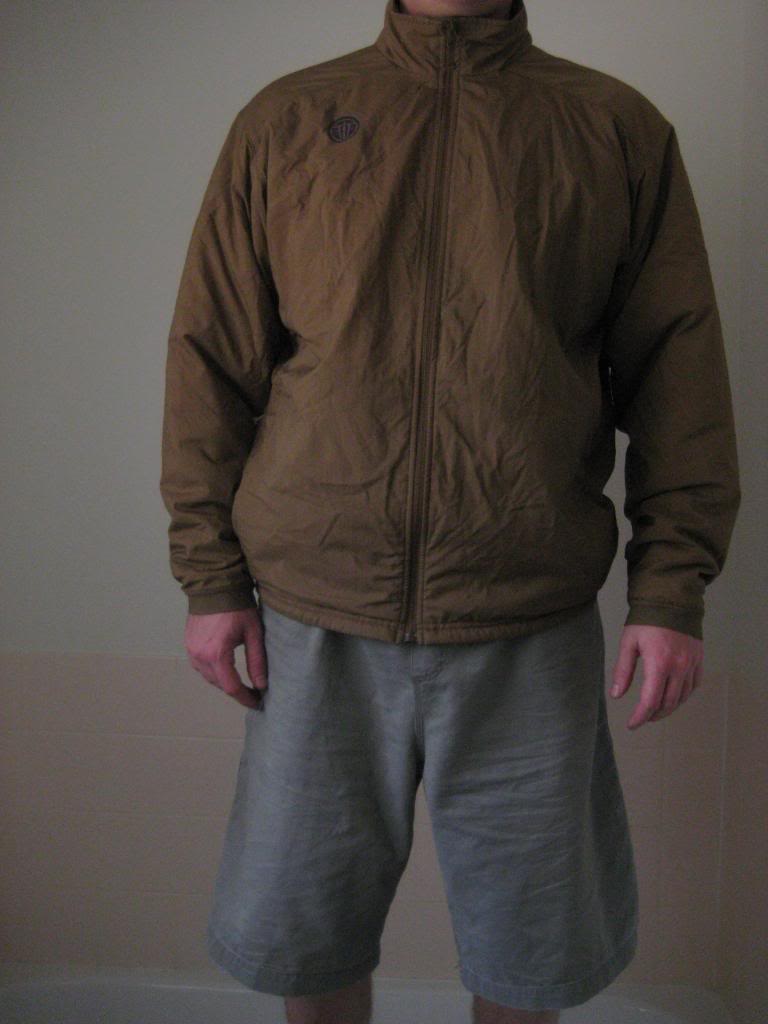 Primaloft was originally developed for the US Army as a water resistant alternative to down. This is the fill used in most of the US military's cold weather system clothing and sleeping gear. Research shows the fill to be one of the better options in the market for this application. There is some research to show that the fill is very competitive to that found on equivalent items from other offerings from other companies in the market.
Since it's meant to be a mid-layer, it is lacking in some of the features found on it's bigger brother. In that, the elbows don't have any abrasion resistant patches, although I'm led to believe this has been amended on the current version. Cuffs are elasticated, but of a loose fit. Such that drafts are reduced, but the wrist isn't overly constricted.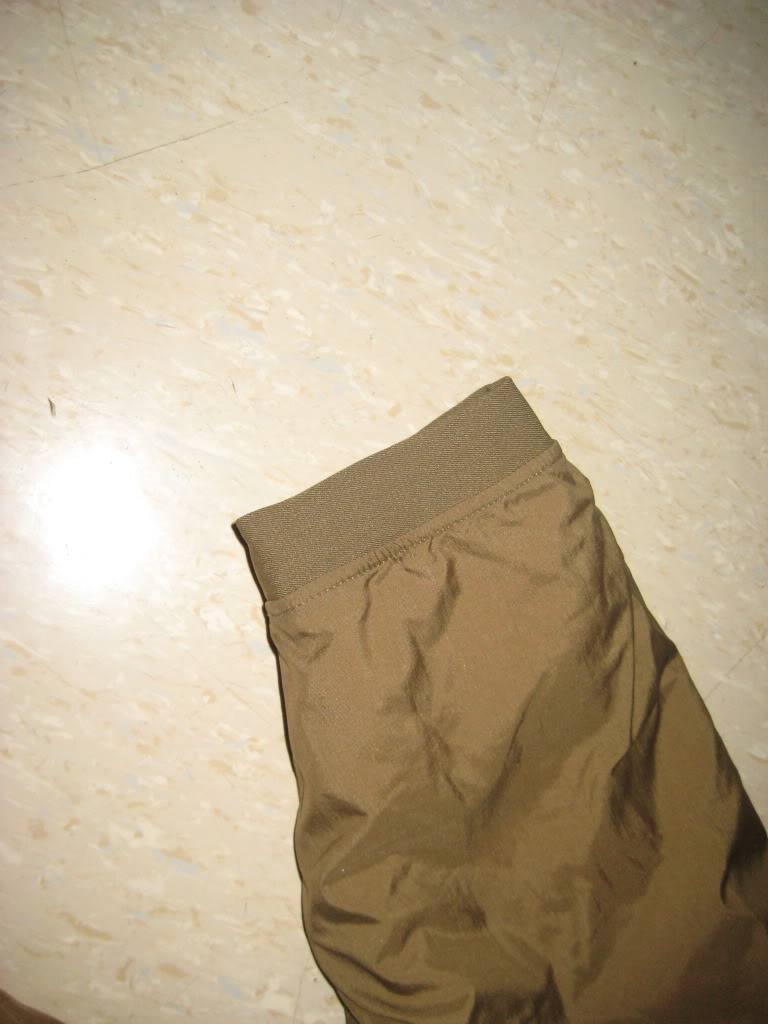 Internally, there is one zip accessed internal pocket over the left breast.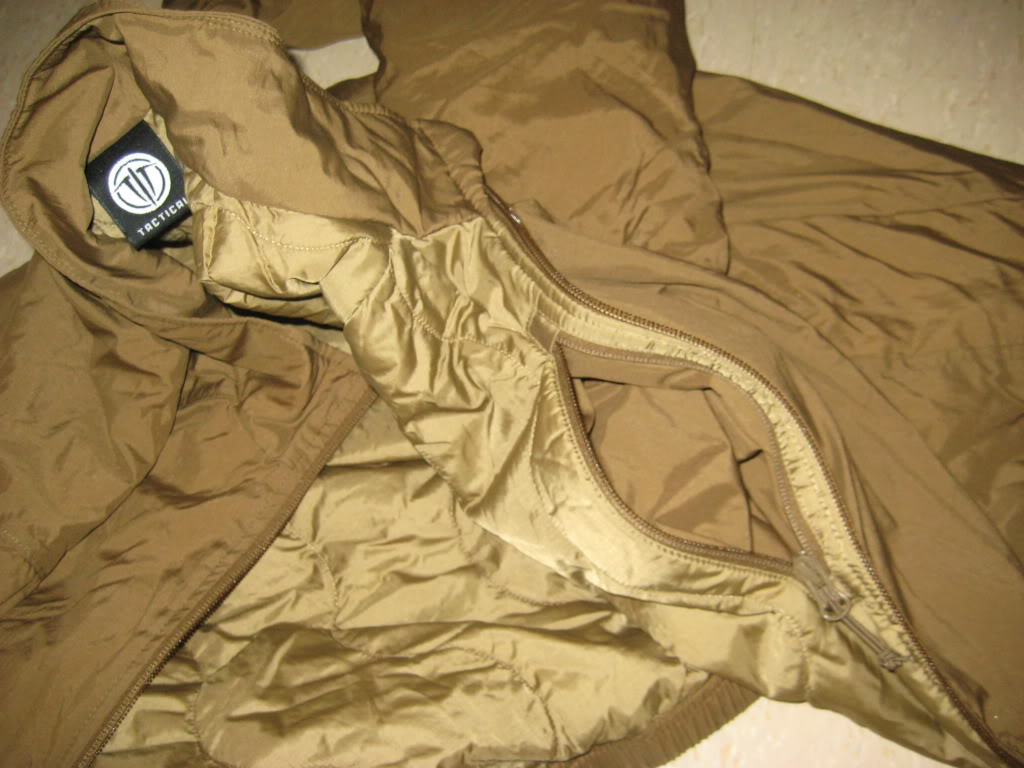 The collar has some insulation in it, but thankfully, no hood.
The collar stands free to allow the neck to be covered.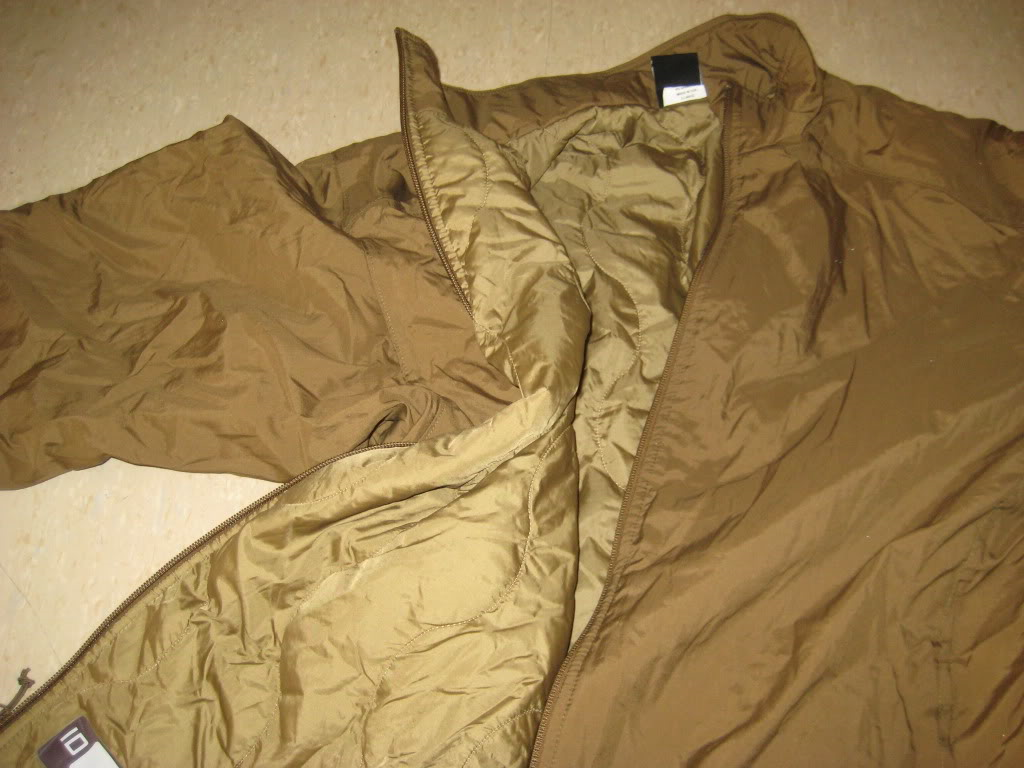 There are two hand warming pockets on the front of the jacket, secured via zip. Zips have cord pulls to allow easier manipulation with cold hands or whilst wearing gloves. The pockets are lined placed underneath the outer layer, but still has the main insulation between the wearer and the open zip. This allows the minimisation of heat loss when pockets are opened.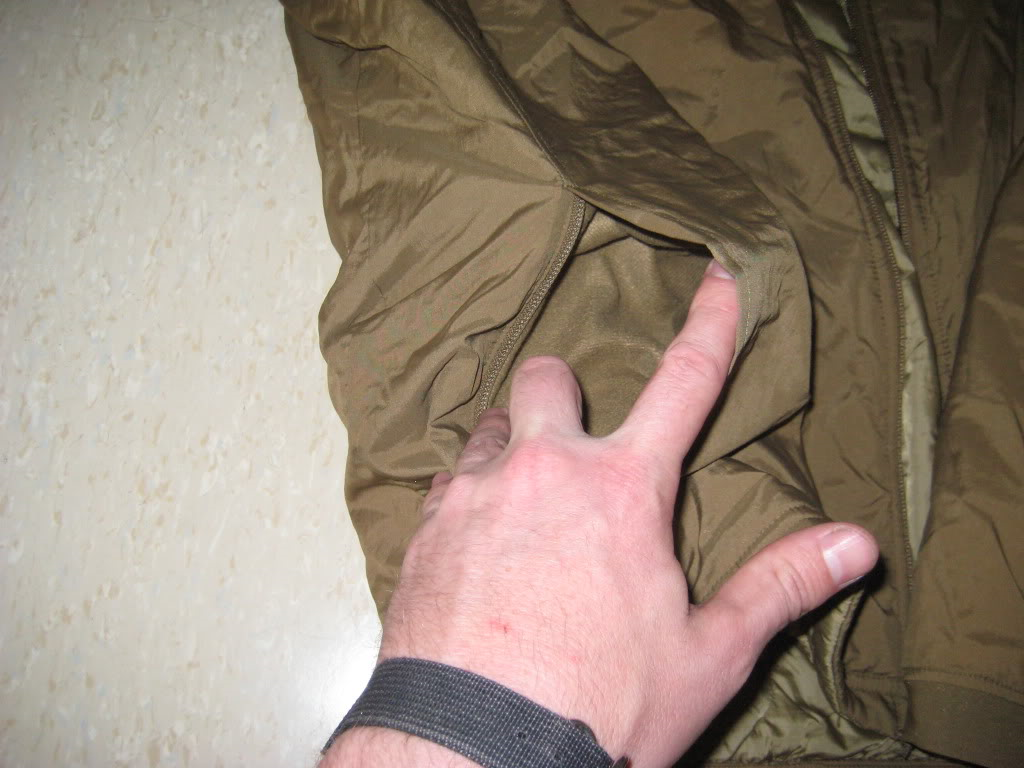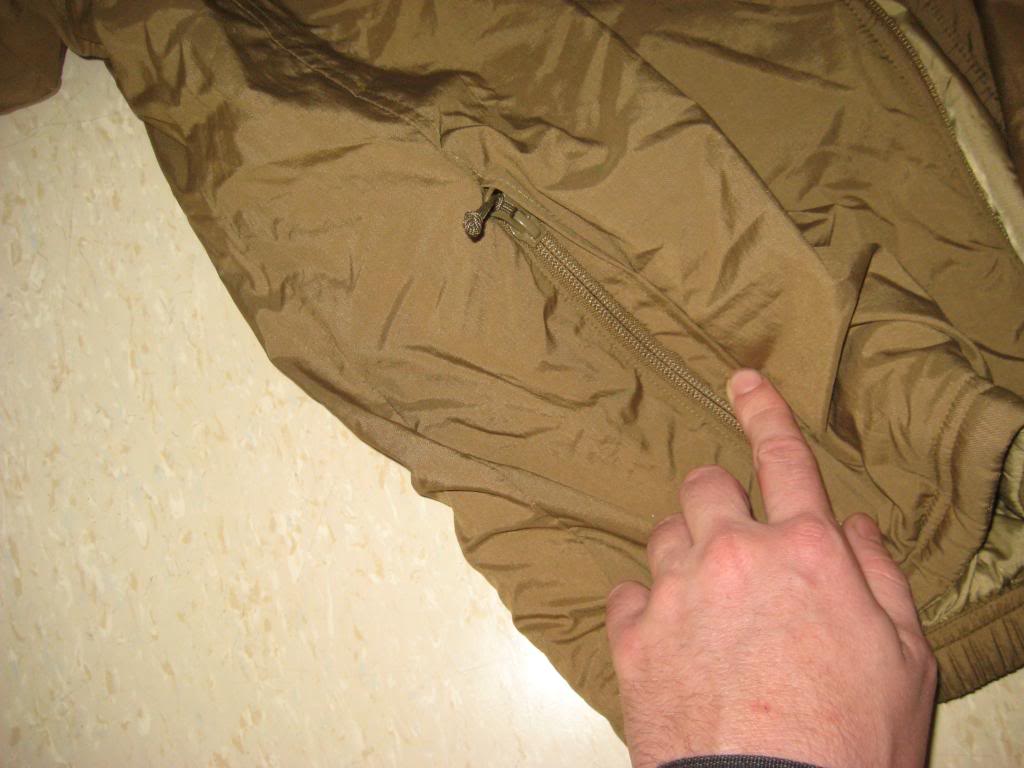 All zips have a pull cord to allow ease of use with gloves. The pull cords are sized that gloves can be used to grab them, but not large enough to snag on any and all protuberances found in the real world. The hem is elasticated to prevent any drafts being blown up the parka when doing normal activities like moving and bending over.
PERSONAL ASSESSMENT:
Well, for once for my latest reviews, the opportunity to test this article under semi-realistic conditions arose. I wore it on my travels to the USA during the northern hemisphere winter. Yes, that's right, instead of a bloody hot sticky summer my body was expecting, I subjected myself to the cold. Since I'm an utter cold frog, and HATE being cold, this was a nice test for a garment. If you're in need of some new, high-quality, and warm clothing for when you're in a cold snap then there's plenty of options to choose from. There are some great items available at Macy's. Usually with quality comes a price that reflects this, but don't let it put you off. You can find coupons and promo codes that will get you discounts for such stores here – https://www.raise.com/coupons/macys. Making a saving on something substantial like this is a great feeling.
It has been worn as part of a layered ensemble of warm clothing. Starting with merino wool base layer, modesty layer (shirt and pants), puff jacket, fleece jacket (or softshells), and eVent hardshell.
Obviously, because of its lower fill weight, the jacket is lighter in weight than its bigger brother the Happy Jacket I've reviewed previously. But since it's intended to be used in a suite of layers, it doesn't need to be as big as the Happy Jacket to allow for the other layers it's to be worn in conjunction with.
Actual use has been in such lovely places as Chicago, New York and Washington DC in the middle of their recent blizzard season just after Christmas 2010 and January 2011. For those of you who have never had the pleasure, Chicago was a great city, but the first intersection I crossed as a pedestrian, I fully (instantly and rather painfully I might add) understood the nickname of "The Windy City" it has earned. Temperatures were approximately -10degC, not allowing for wind. For an Aussie acclimatised for a Queensland summer, it felt like a glacier was about 10 klicks off, and getting closer every minute. It was that cold, the damn great lake whose shores that Chicago sits on had actually frozen.
The benefit of being able to compress into a fairly compact package was greatly appreciated whilst transiting between outdoor and indoor where warm layers would be taken off and stuffed into my small daypack. Traversing such great venues as the Chicago Natural History Museum (with the worlds most complete T-rex skeleton), New York Musuem of Natural History and the Smithsonian Institute of Air and Space (a VERY cool place for an aircraft buff like myself), it was good to be able to stuff my outer layers into the daypack, and still be able to put other items in alongside.
PROS –
The garment was great as a layered system to maintain heat in the body core. It's warm for it's size, light, and able to be compressed quite nicely. The jacket could easily be decorated with biker style patches too. You should check out embroidered iron on patches online if you want to add a bit more style to the design.
CONS –
Cost is pretty high. But if you're anything like me, there's no price on being warm and comfortable when weather conditions get harsh.
Although the elasticated cuffs on the list help retain heat and warm air, I found them annoying when worn with other medium layers like fleeces and outer layers like jackets and having the elasticated cuff interact with my watch band and gloves.
I'm also not sure how useful the elasticated hem on the rear bottom of the jacket is once the elastic goes either.
SUMMARY:
A very high quality item, that should be considered if one is to be heading off into cold areas. It is best used as part of a layered system of clothing.

Posted in Clothing & Footwear, Military, Military Gear by 22F with no comments yet.