ITEM: Vinyl Tape, Coyote Brown
MANUFACTURER: Battle Systems LLC
DESCRIPTION:
A dedicated version of the electricians tape that is a standard item in many outdoor professionals kit bag.
LINK:
http://www.battlesystemsllc.com/_..html
REVIEW NOTES:
This product has been graciously provided by Battle Systems LLC. Whilst I have received a small financial donation towards the maintenance of this website, this review is like any with supplied equipment, in that I have conducted the review with the proviso that I will be painfully honest in my assessment of this item.
Please note that whilst I am a scientist by trade, this is not a scientific trial by any means. A full and correct scientific study involves multiple samples and multiple repetitions with a control group to provide a statistically viable sample size and standardised tests are carried out to achieve meaningful results.
The actions described in this review then, are simply a small test that I would conduct before heading out into the scrub in order to test any manufacturer's claims so that no major surprises befall me when out and about in the wilds.
SPECIFICATIONS:
According to Battle Systems, this coyote tape is available in standard sized rolls that we're all used to.
It's formulated for temperature extremes, and to not leave messy residue when removed.
It's also apparently a little bit thicker than the normal run of the mill electrical tape.
PERSONAL ASSESSMENT:
Electricians tape is widely used within the paramilitary and outdoor industry for all sorts of purposes. In civilisation, it has a variety of uses repairing cables, hoses and fixing items that have broken loose, obviously as the name suggests, it was created for an electrician in his field of work
In a field environment, I, or people I know have used electricians tape for a lot of different things over the years:
– Securing loose equipment straps, which can get caught on various protuberances and can lead to hang-ups. For those who laugh at such things, I can assure you it's no fun at all to have a loose strap caught up in the ramp of a moving Armoured Personnel Carrier. Or even how much of an embuggerance life can get when equipment constantly catches on camouflage netting when draped over vehicles and command posts.
– Quick field repairs for broken equipment, until a more permanent solution or replacement can be found.
– Reducing noise from moving, squeaky equipment, like sling swivels, flaps, lids and other various bits.
– Securing some items to others as field expedient brackets, where factory mounts may not be available. Such items as torches, pace counters, shell dressings, GPS receivers may need to be secured to a personal weapon or vehicle.
– First aid applications, securing bandages to patients, splinting sprained/broken fingers together or covering hot spots to prevent blisters forming.
– Field expedient prisoner restraint. Only having done it personally on Exercise, it's a humorous sight to watch mates playing enemy trussed up like chooks (chickens) with electrical tape, unable to escape.
– Explosives handling, such as demolitions and booby-traps.
In short, electricians tape can be and is used for almost anything that needs to be stuck together. It's easily torn by hand, and can be easily applied in any required amount.
Unfortunately, there's a couple of major problems with using electricians tape.
For the paramilitary market, probably the biggest one that comes to my mind is colour. We go to great lengths to ensure we're clad in camouflage from head to foot, with camouflage face paint applied to all exposed skin, yet the bits of black tape we use to secure all our loose straps can often be the first thing that gives us away.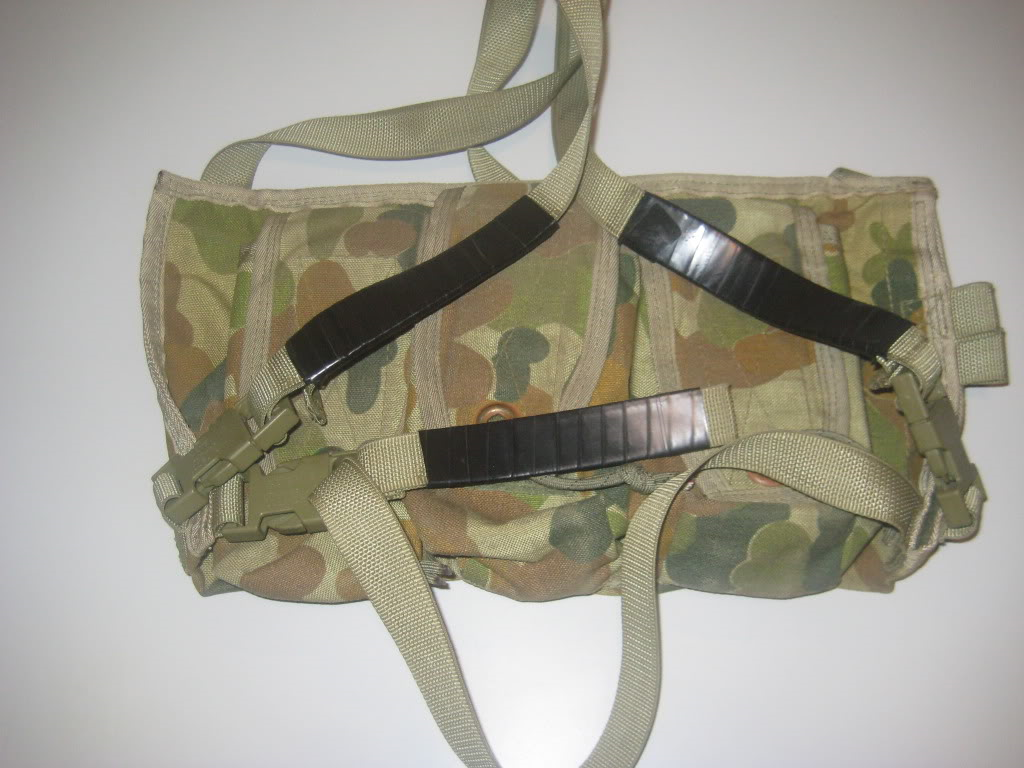 It can be seen then, from the following pictures that Battle Systems vinyl tape is intended to match and blend with camouflage materials. As the name implies, coyote tan is a good match. It's also intended to match Multicam.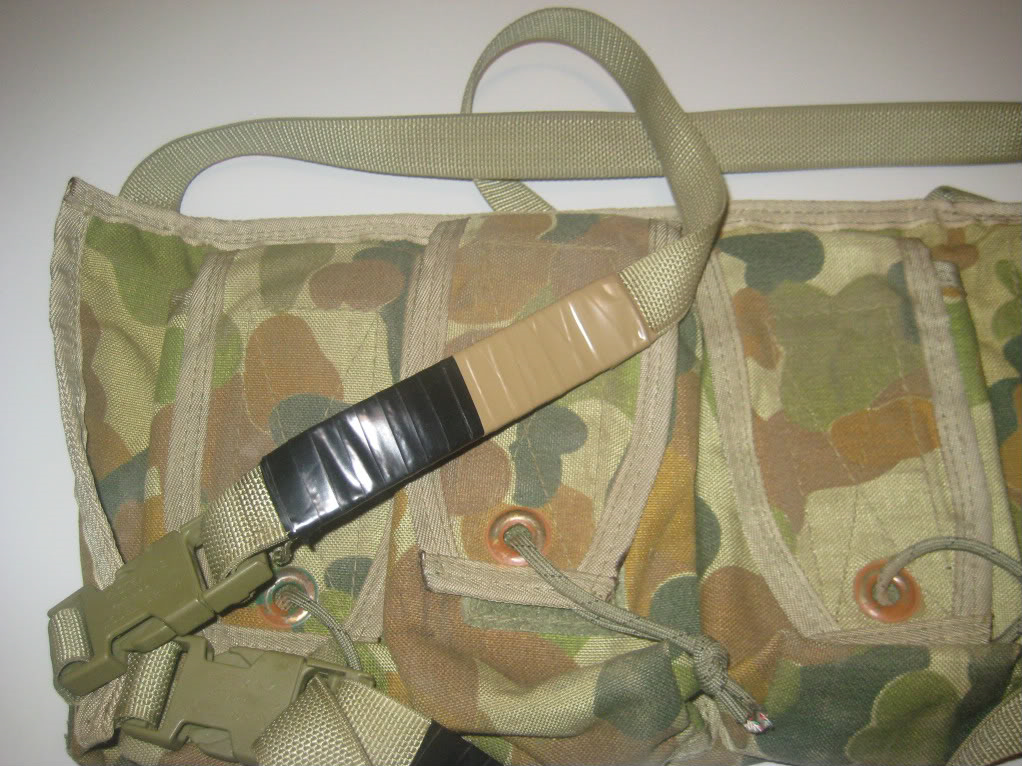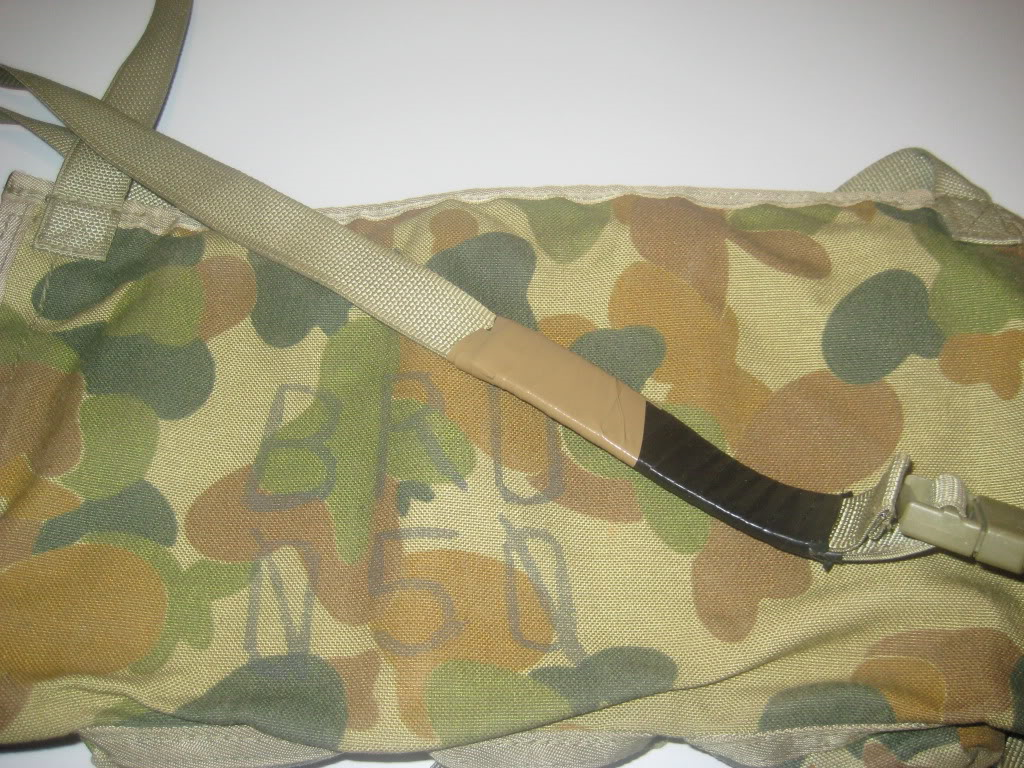 The supplier suggests that this tape is more resistant (able to stick) across a wider variety of temperatures.
In order to very roughly test this, a sample of the coyote tan and black electrical tape were placed in various temperature extremes for a short time.
For cold environments, I placed these samples in the freezer.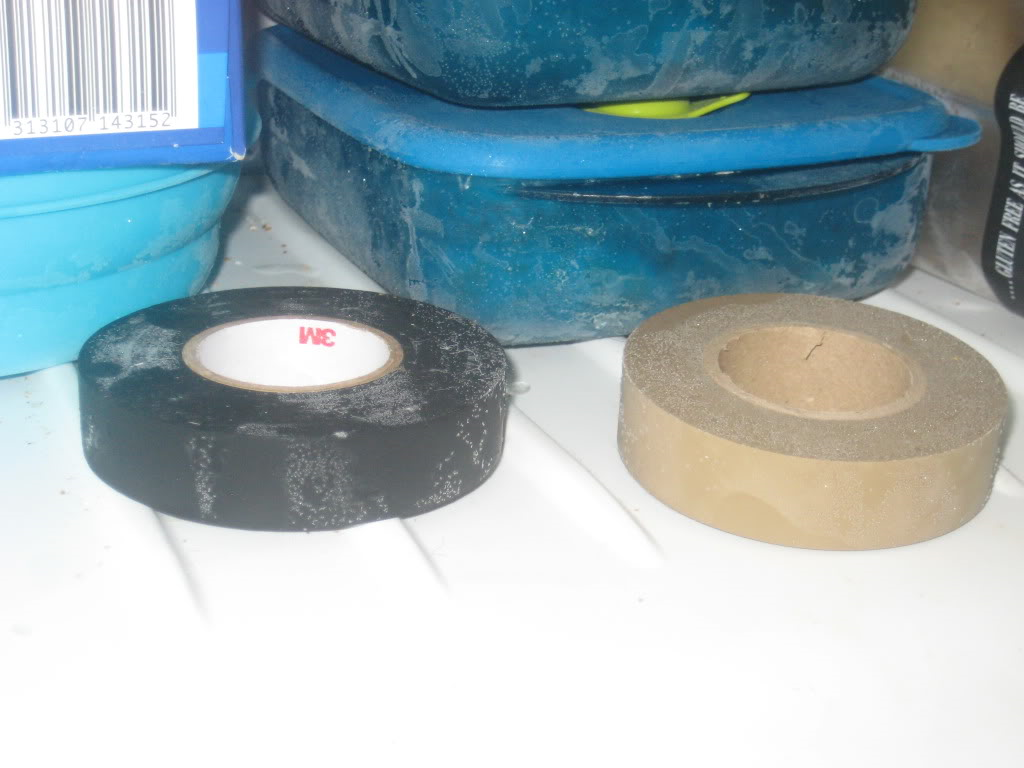 From my limited observations, Battle tape performs a bit better than normal black tape.
For warm environments, I placed these samples in and on my car during the working day. Outside temperature was 35degC (95degF) where inside temperatures were significantly higher, but unable to be recorded by myself.
I've also used this tape to secure loose straps on my underground rig (carrying self-rescuer and cap lamp battery) for when I'm at work digging coal out of the ground. It's still under long term evaluation in this application.
So far, the hot and wet samples are still holding up quite well. It has been exposed to a typical North Queensland wet season, where temperatures can exceed 35degC (95degF) and extreme humidity with constant rain. In the short time I've been looking at it, no problems or issues have occurred.
I also compared normal (black) electrical tape and Battle Systems Tape under burning conditions. Part of the value of vinyl electrical tape is resistance to fire. A 10cm (approx. 4inch) sample of tape was exposed to flame (cigarette lighter) for 30 seconds and observed. While both colours were good for ignition resistance, which is a major reason for electrical tape's usage, it was found that the Coyote Tan sample had a slightly increased resistance to melting.
PROS –
A small, veteran owned business, which is economically a better thing if you're into the sustainable economics thing.
Being a former service member, the proprietor behind Battle Systems still remembers the small things a digger/joe/tom needs in their life.
As my photos show, colour match is good with coyote tan. This allows the armed professional to pay attention to detail. This can aid with camouflage of personal equipment.
CONS –
Whilst the colour is good for camouflage and concealment, like any electrician's tape, the surface of the battle tape is slightly reflective. This can be fixed however by the usual simple expedient of giving equipment a quick spray with matt spray paint.
For those concerned about such things, I'm not sure how coyote tan tape will appear under NFE. Since I don't have access to such optics and equipment anymore, I'm unable to comment further.
SUMMARY:
A nice little product geared towards us military types, by one of our own.

Posted in Military, Miscellaneous Equipment by 22F with no comments yet.