ITEM: Multicam Smock
MANUFACTURER: Vertx
DESCRIPTION:
A next generation offering of the classic combat smock.
The traditional combat smock made of a cotton or NYCO blend of material, is intended to be a windproof (but not waterproof) garment to allow some protection from colder conditions yet allow breathability during high activity periods.
This iteration of a combat smock from Vertx is not only windproof, but waterproof as well, due to it's highly technical material that stops water droplets on the external surface, yet allows water vapour to pass through to prevent the wearer being struck by hypothermia.
REVIEW NOTES:
This smock was graciously provided for review by Military Gear. I will be returning this item after review since I have no need of this kit.
Whilst I act as agent for them, this review is like any with supplied equipment, in that I have done the review with the proviso that I will be painfully honest in my assessment of this item.
Due to real life (stuff like work to pay my bills) impacting on my spare time and hobby activities, and lack of suitable weather, I've been unable to fully test this smock in the field.
LAYOUT:
While based on the British and European concept of the combat smock, this is a very technical garment.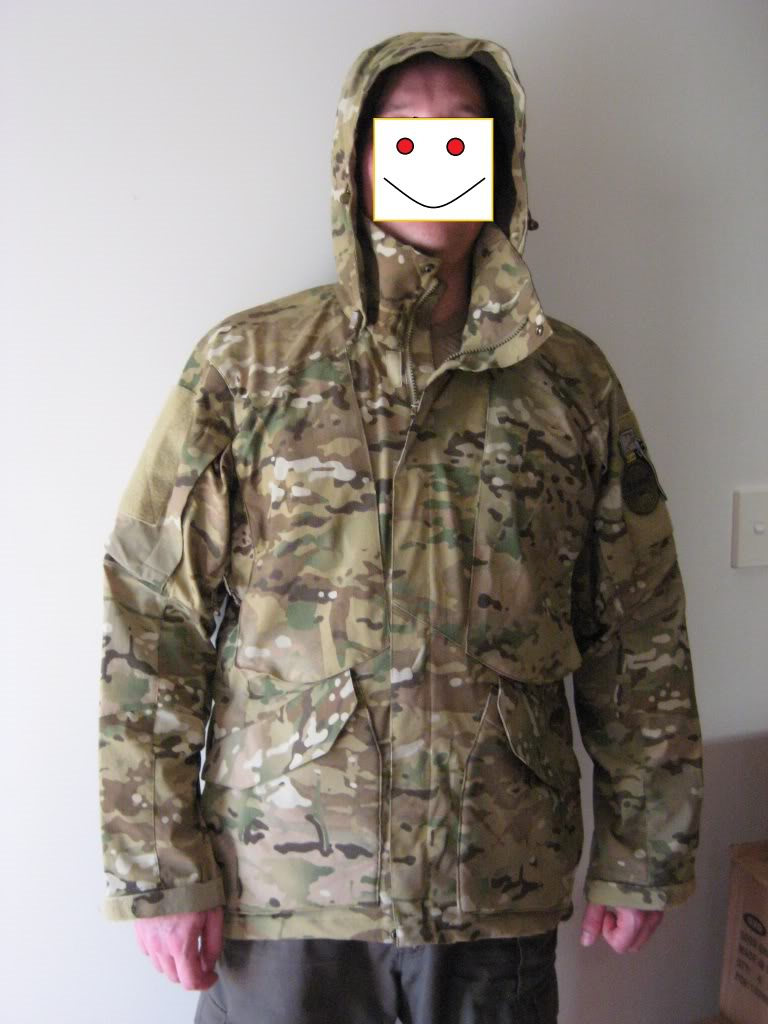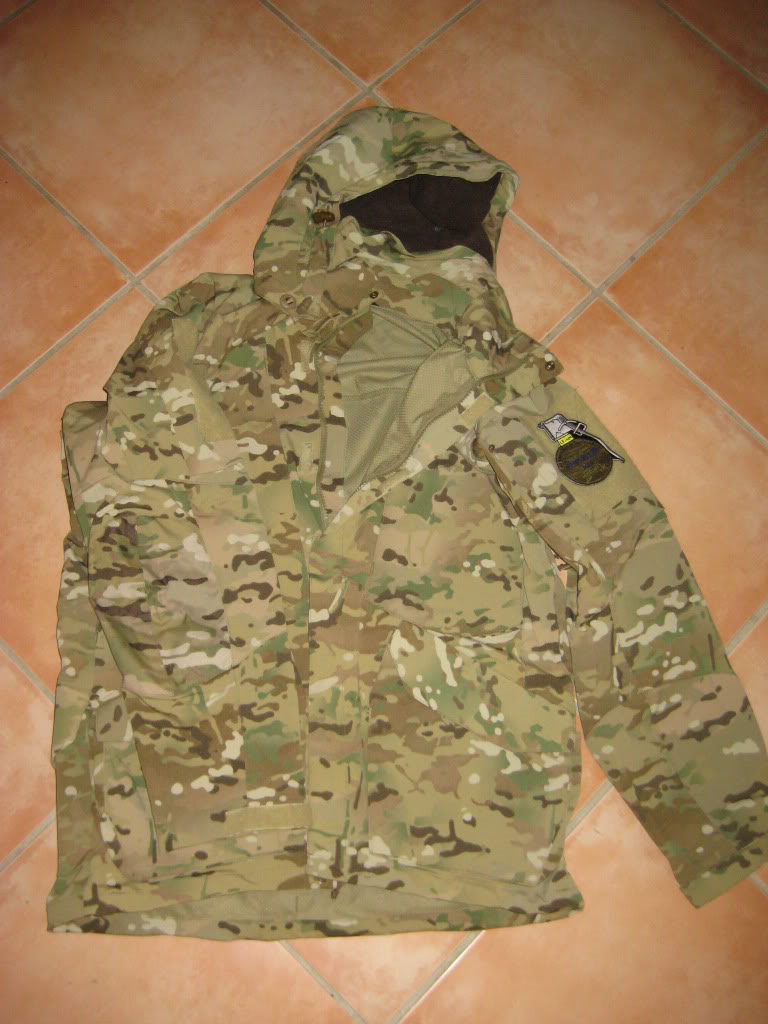 The smock is made from a truly high-tech material. According to the manufacturer, this is material is 40 Denier nylon 2-way stretch laminated a wicking/anti-microbial knit. Apparently it's treated with Nanosphere which makes it a permanent, highly water resistant finish whilst being completely breathable. The cut is very generous for other layers to be worn underneath and allow unrestricted movement.
MAIN BODY – 
The main zip has double pull tabs to allow the wearer to easily access under the smock, whether it be for ablution, or to access under layers and pockets.
The zip reaches all the way to the hem of the jacket.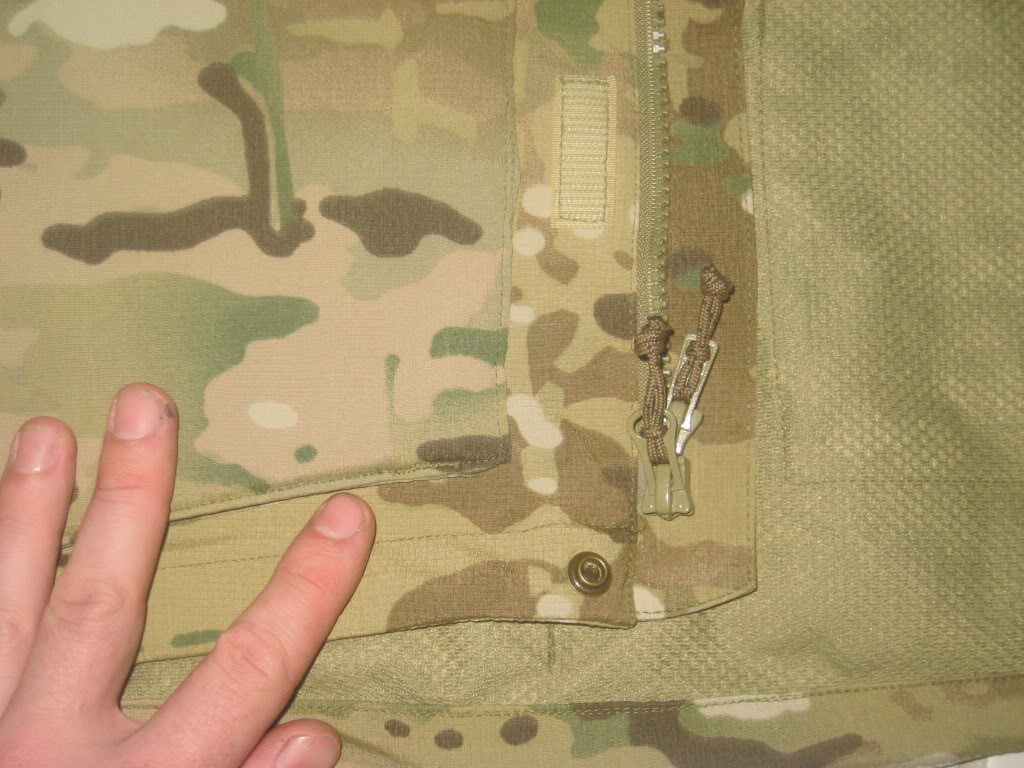 The hem is alpine/skiing cut to prevent drafts whilst moving.
A combination Velcro and snap secured storm flap covers the main zip. The snaps are at top and bottom to ensure the storm flap has some security against inadvertent opening whilst brushing up or against or snagging on protuberances.
There are two draw-strings, at waist and hem. These can be drawn quite easily, and secured with cord-locks. Since both of these draw-strings are internal, they can be tied away to prevent any excess from snagging.
On the chest, there are two pockets, secured via zip. The zips are orientated for up and down, Napoleon-style access. Inside these Napoleon pockets are smaller pockets that can hold an AR /STANAG magazine, an AUG/F88 magazine fits quite nicely as well.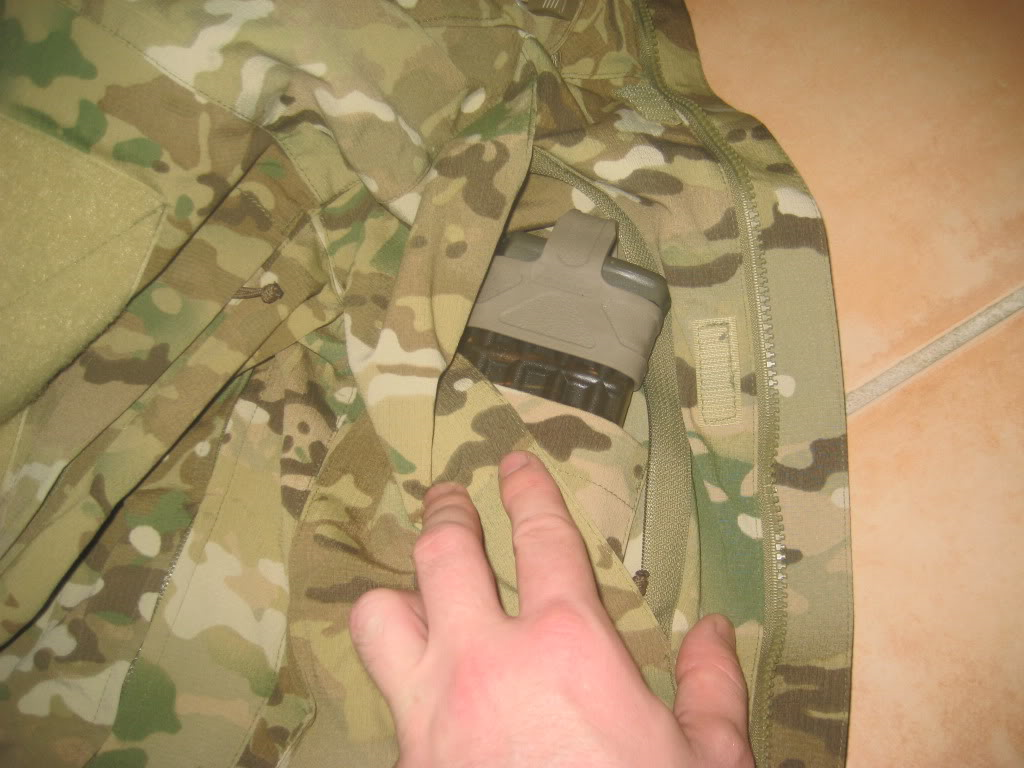 Below the chest pockets are another two large pockets, secured via Canadian slotted button. The top flaps of these lower pockets are slanted to allow access, and use as a warming pocket for the hands. These pockets allow the hands to be warmed by the fleece lining against the external surface.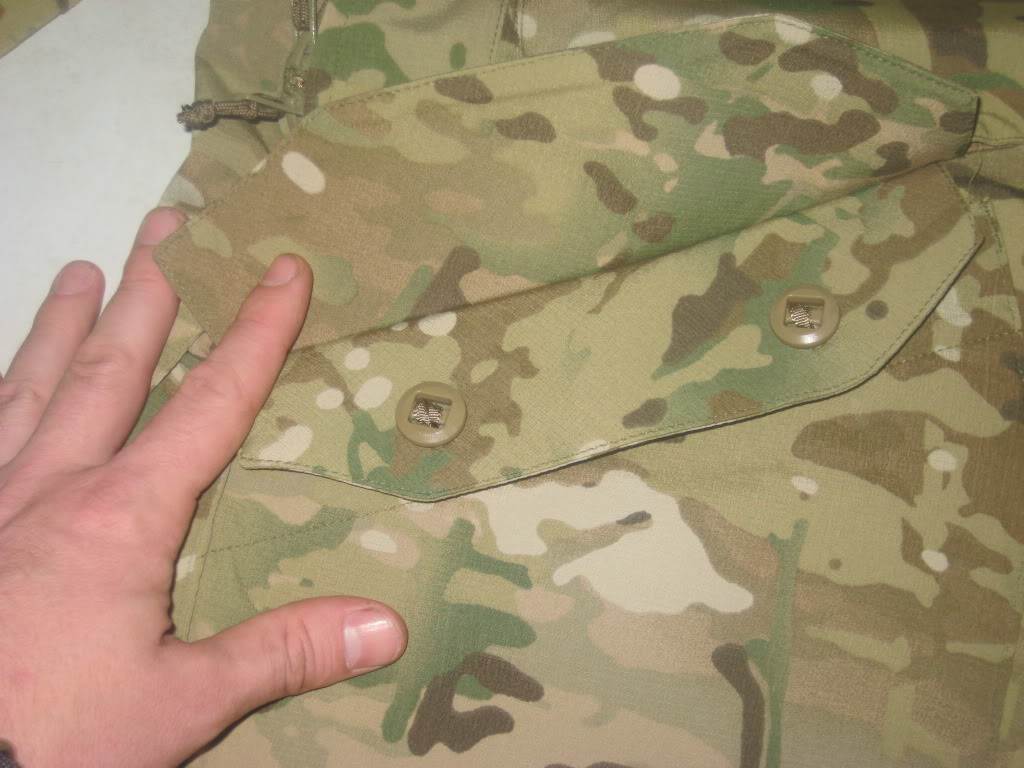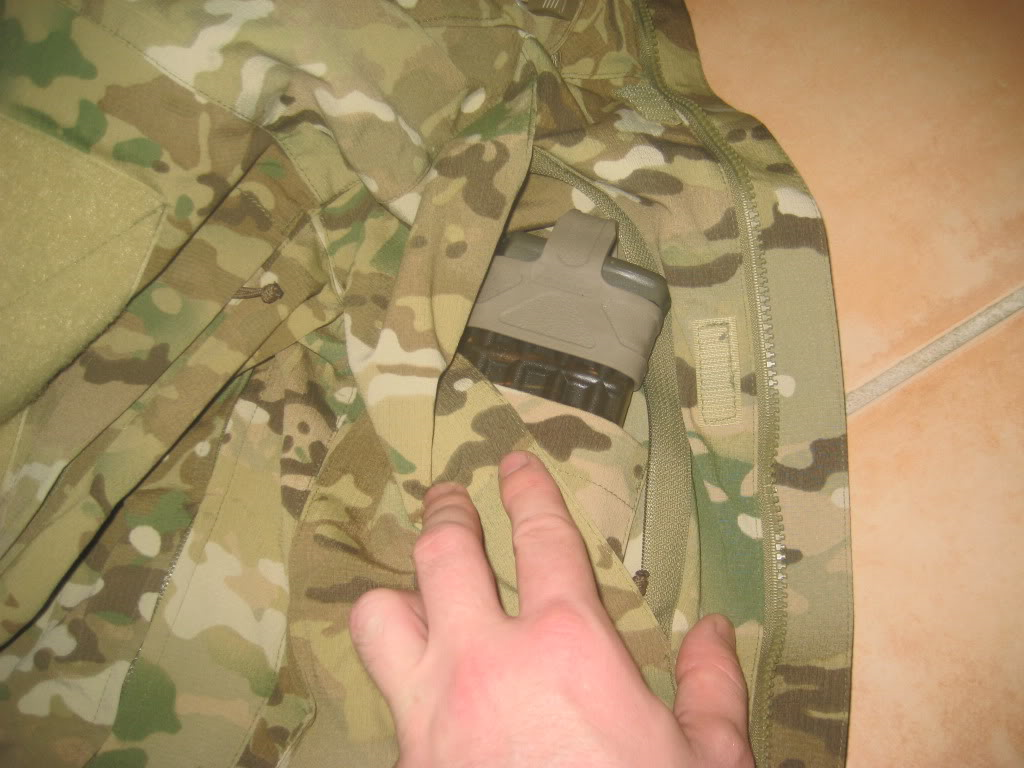 Moving around to the hips, are small pockets intended to carry rifle magazines.
All of these large pockets are bellowed to allow extra capacity.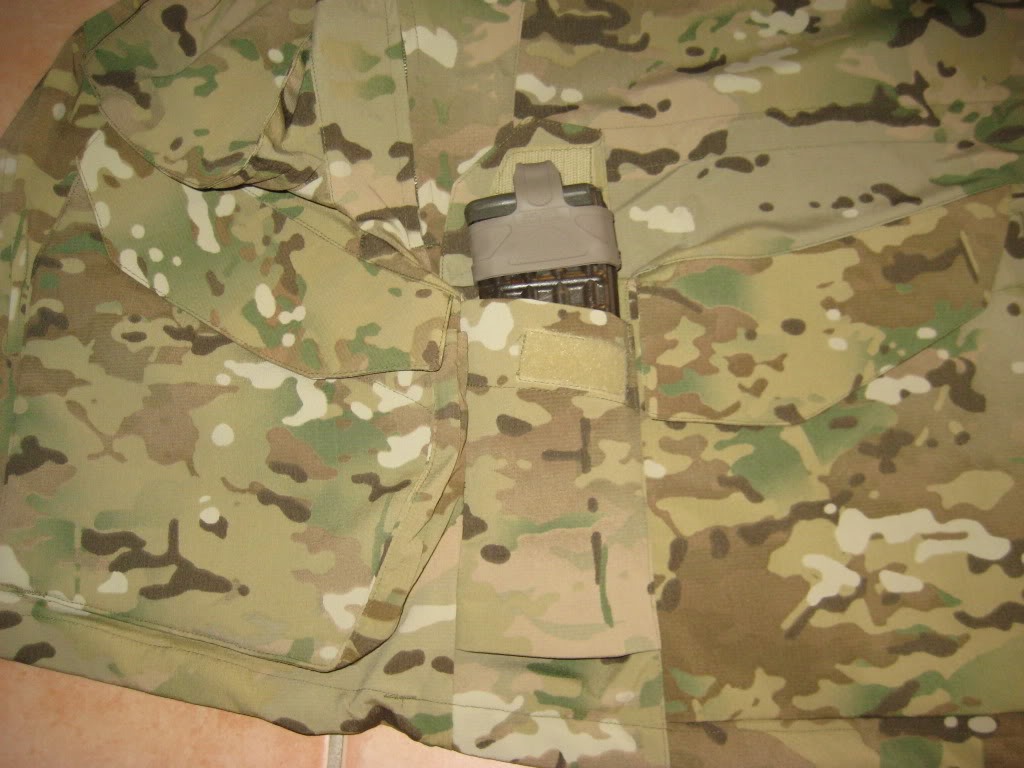 On the small of the back, is a large poacher's pocket, secured with velcro. This poachers pocket is broken up into two halves, with separate access from each side. Interestingly, the flaps are angled to allow easy access whilst being worn. There is also a magazine pouch in each poacher's pocket.
These poacher's pockets are large enough to carry a 1L Nalgene water bottle or American pattern 1Qt canteen.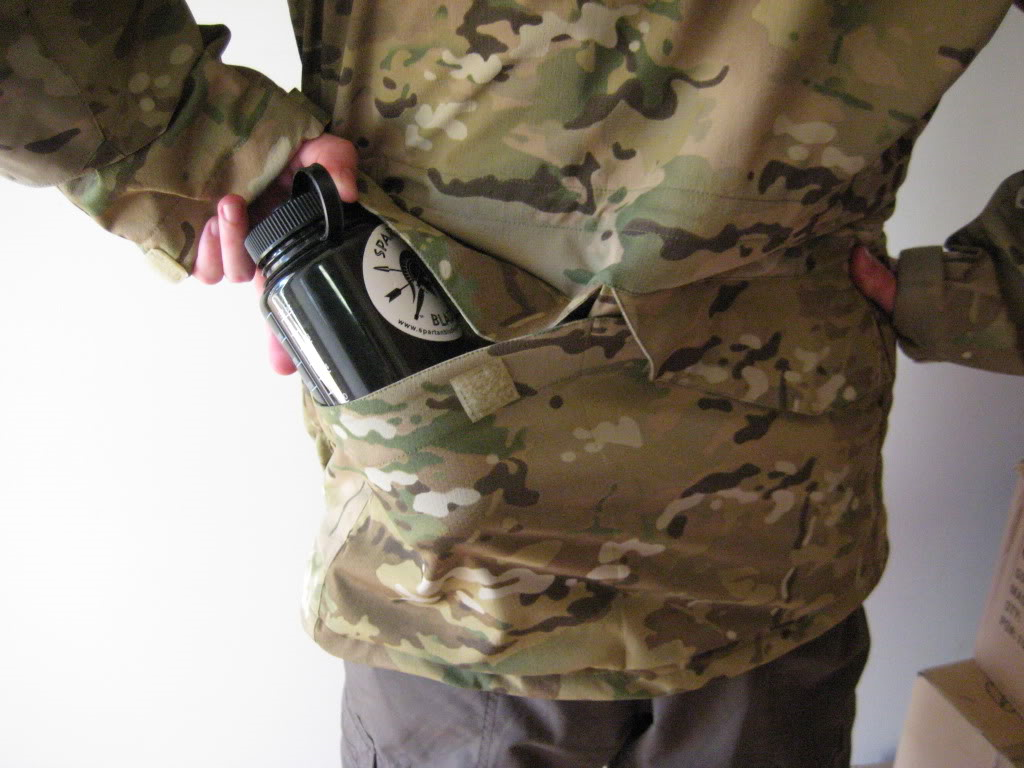 Collar is quite large and stand-free to prevent draughts blowing down the neck.
HOOD –
The hood is a removable item, held on with Canuck slotted buttons. The hood is lined with the same brown fleece as the hand warmer pockets. The colour is nice, avoiding giving a flash of high visibility lining material to the world.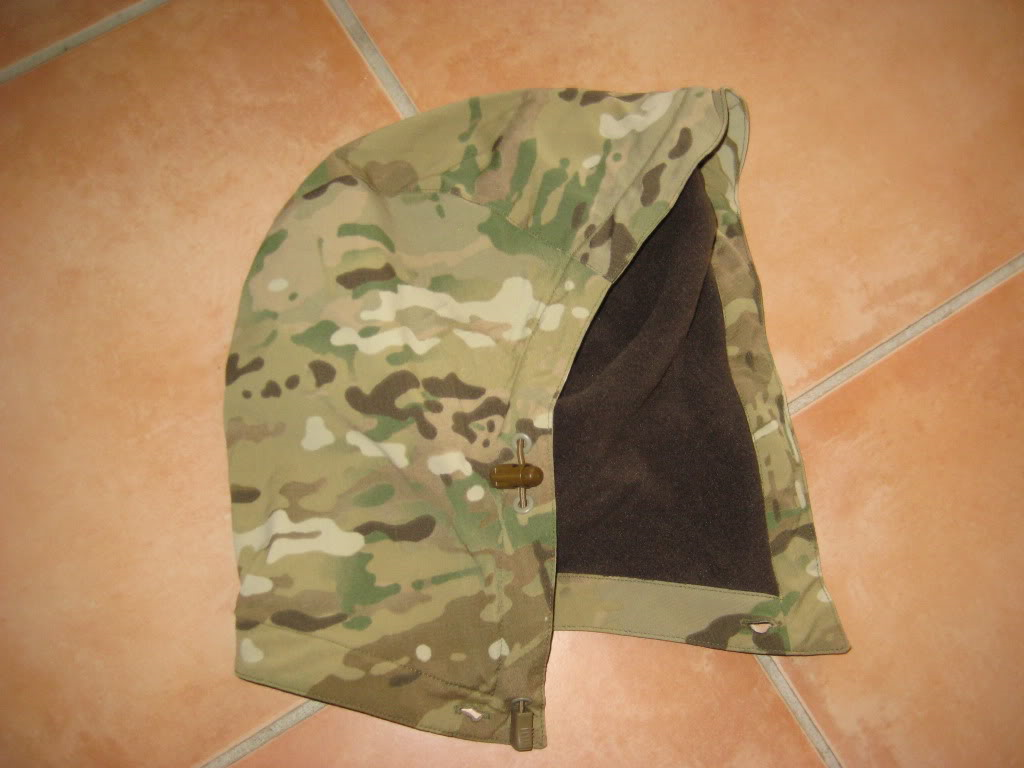 Whilst generously sized to allow full head movement, the hood will not allow a helmet to be worn.
The weather seal under the chin, whilst not being of a softer material like many high-end ski jackets, still feels good against the skin whilst the head is moved about. Since the main body material is quite soft anyway, this isn't considered an issue.
To prevent heat loss, and ensure full peripheral vision, the hood has 4 draw-strings for tensioning.
SLEEVES –
The cuff is adjusted with a Velcro tab.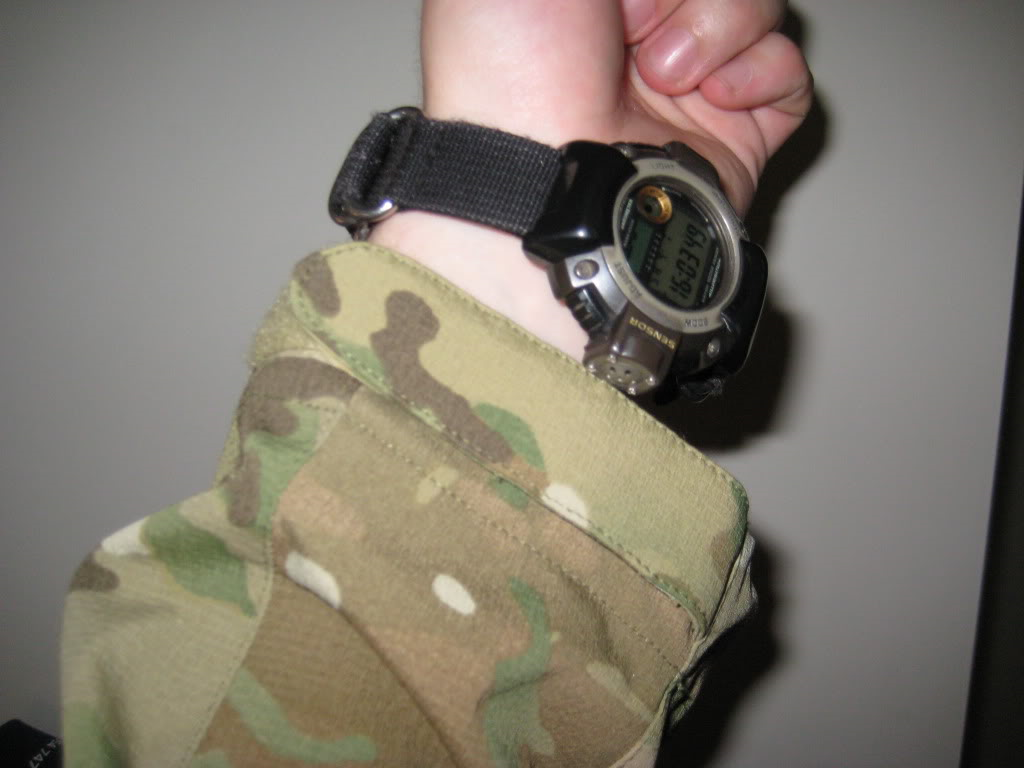 Each elbow has a contoured patch of slightly heavier and abrasion resistant cordura for all those fun activities of living in a military environment, like crawling on the ground and lying on elbows.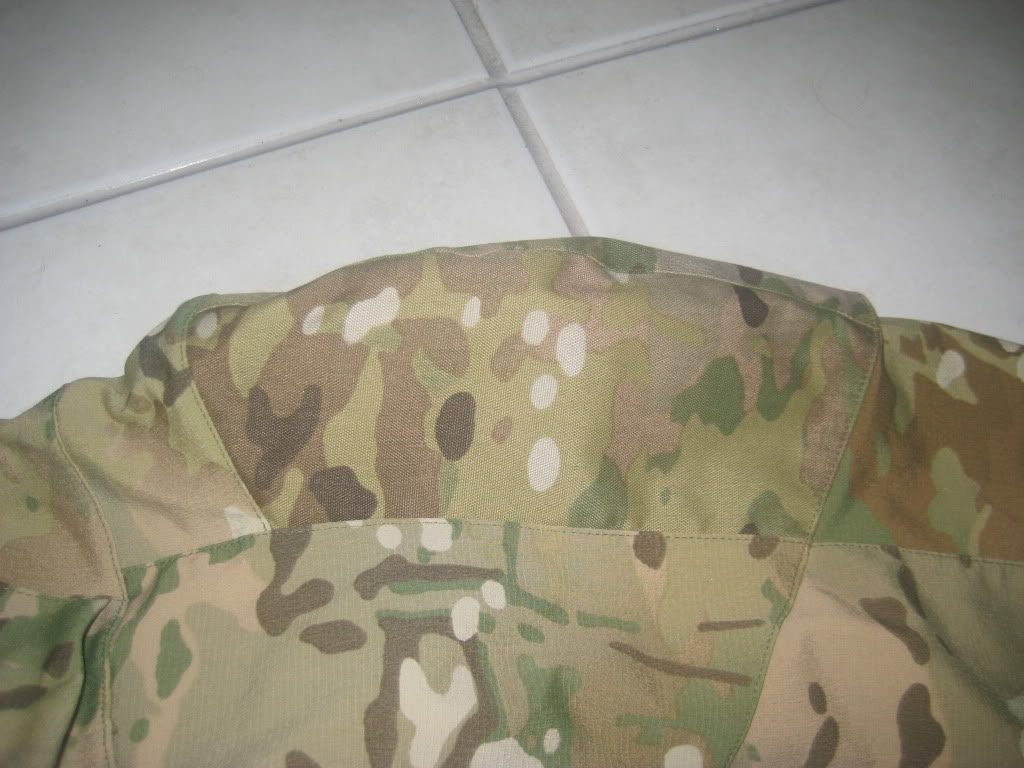 Arm pit zips are fitted for venting for after high heat generating activities. These zips are double tabbed to allow opening in any direction. The really unique feature of these pit-zips are the mesh lining that allows easier donning of the jacket (ever tried putting on outer layers in a hurry in the dark with people screaming "STAND TO!"?), and prevents ingress of foreign matter like snow, or bugs.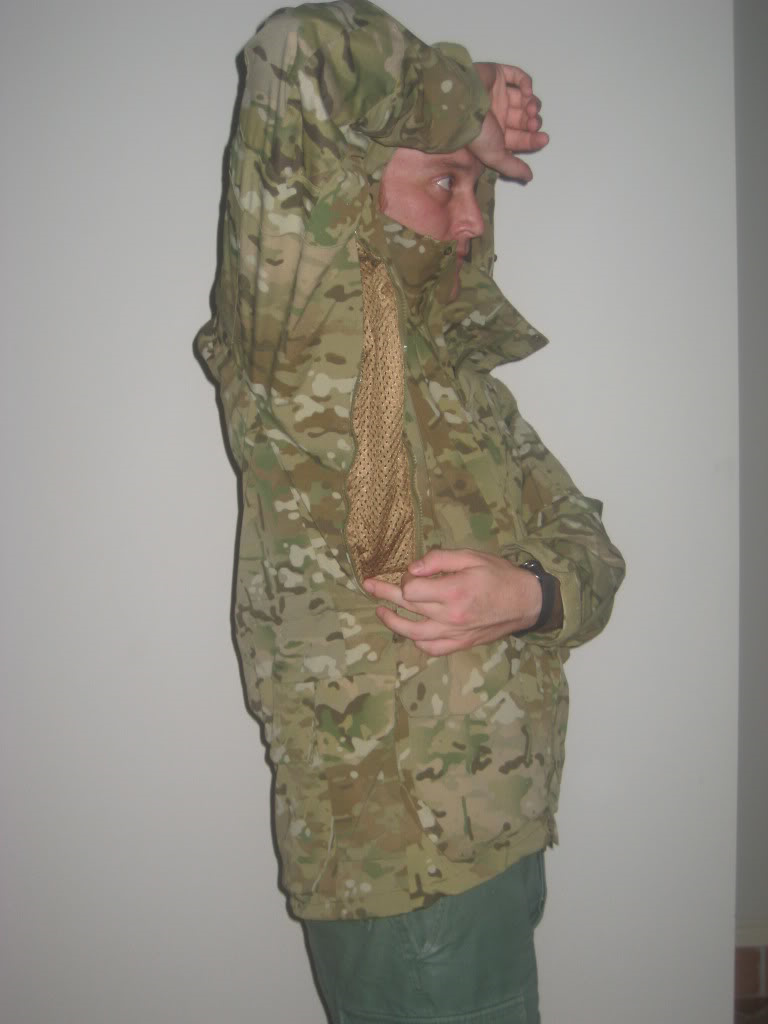 Each sleeve has a bicep pocket secured by a zip. Each pocket has a large 4x6in velcro pile area for morale and ID patches.
The shoulder is a Raglan cut, meaning that no seams will be resting on the body should heavy pack harnesses be worn.
PERSONAL ASSESSMENT:
Unfortunately, I haven't been able to fully assess this smock in the great outdoors, due to real life time constraints, like planning a wedding, and the wrong kind of weather in my AO.
I believe that this smock is intended to be worn under or over combat load/armour if need be. Since the smock I received was a medium size, rather than the normal large I prefer for field wear, it was unable to be assessed being worn over fighting load.
Unlike the traditional combat smock, the Vertx smock certainly fulfils its intended use as a wind-proof, water-proof and breathable outer shell.
I checked the water resistant ability of the material by forming the smock into a depression and leaving a cup of water in there for a few hours. This is by no means the correct and proper test for assessing a materials abilities to resist water, but it gives a decent idea.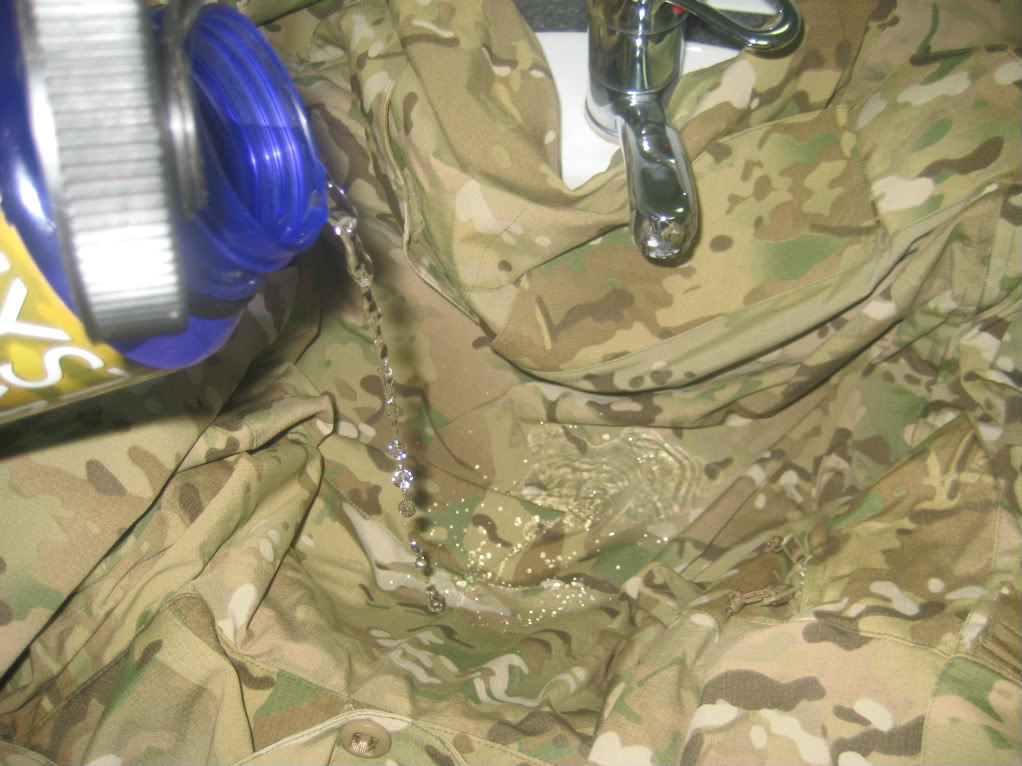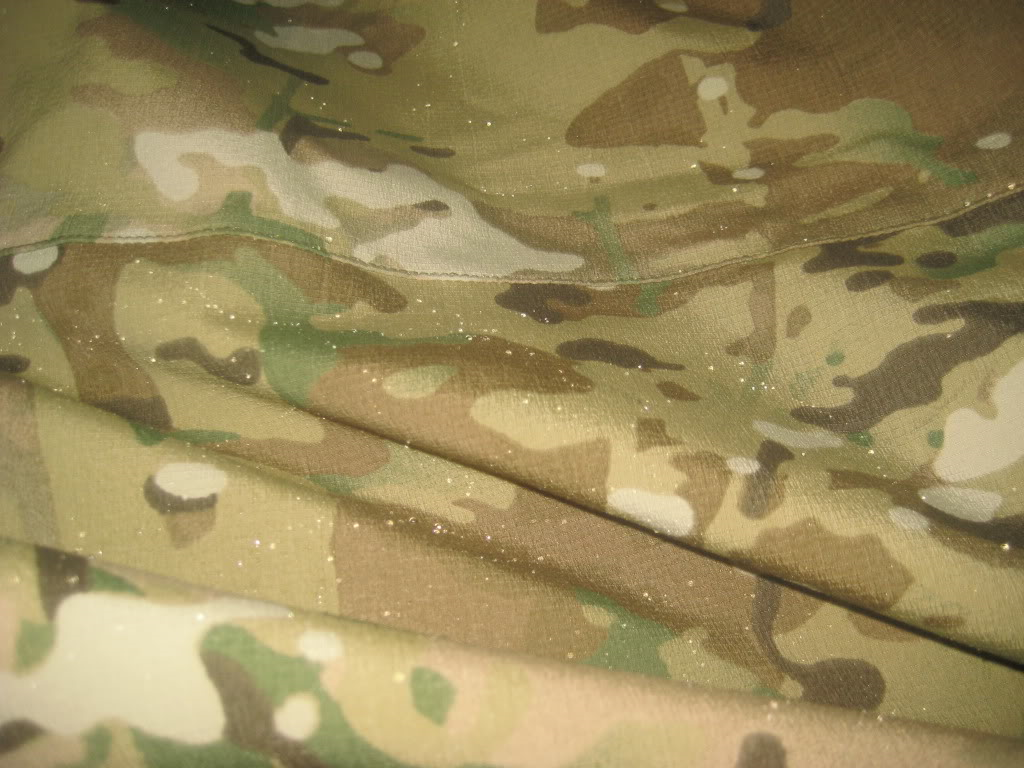 For those trained in the European method of carrying survival items in one's pockets, it certainly aids in that goal with the amount and placement of pockets. A total capacity of six rifle magazines can be safely carried within the dedicated inner pockets. It should be noted though, that the usage of a smock is more akin to a heavy shirt in those slightly colder environments. Some blokes I know from the British Army suggest that a smock is worn as an outer layer, with a t-shirt or thermal layer worn underneath depending on environmental conditions.
When it's cold enough, I will be trying out this smock with a merino t-shirt to see how it performs. I'm seriously considering taking this with me on a wander along the Overland Track in Tasmania later this year, but there's one negative on this plan that I'll discuss in later sections.
I'm always looking to reduce the weight and bulk of my load, by maximising the functionality of my equipment. The Vertx Multicam smock would certainly aid in that goal. The shell material also feels like it could be quite useful in protecting under layers of more fragile fabrics such as fleeces and puff jackets.
All up, I've been sufficiently impressed during this very short examination that I'm going to be acquiring one of these for myself.
PROS –
The outer shell is very lightweight, and possesses amazing properties. I have been very impressed with the ability of the shell to resist water from the elements, whilst being able to wick, and then breathe water vapour away from the wearer.
I'd be very tempted to suggest that this could double as a raincoat for short to medium periods. More investigation would be needed before I make a concrete statement about this though.
The design details on the pockets are very nice, allowing far better access to the pockets than many competitors. This is especially noticeable with the split poachers pocket. Being able to easily access these on the move whilst the jacket was being worn was noticeable.
The removable hood was another very nice touch. The ability to configure the smock to personal taste is a bonus. Oftentimes, a hood can get in the way of load bearing equipment harness and other items being worn and carried. Some people may prefer to have a beanie easily to hand for those moments when the climbing or combat helmet is removed.
As a bloke I know suggests in his sig-line online: It doesn't need a damned hood!
Nice to see Vertx paying attention.
CONS –
The Velcro ID panels on the sleeves are open and exposed to plant and grass seeds. Having some sort of covering device is a feature that I really appreciate on my SORD smock.
I like the Canadian style slotted buttons, but these smaller ones used on this smock didn't seem as good as competitors offerings. The smaller diameter was nice, still allowing gloved hands to use buttons, but the tape these buttons are mounted to seems to be a little bit lightweight for the task.
By this, I mean that the buttons felt a little bit fragile while being used, and have a tendency to twist about on the webbing strips too much. I think this could be improved by a slightly heavier/stiffer webbing tape for these buttons.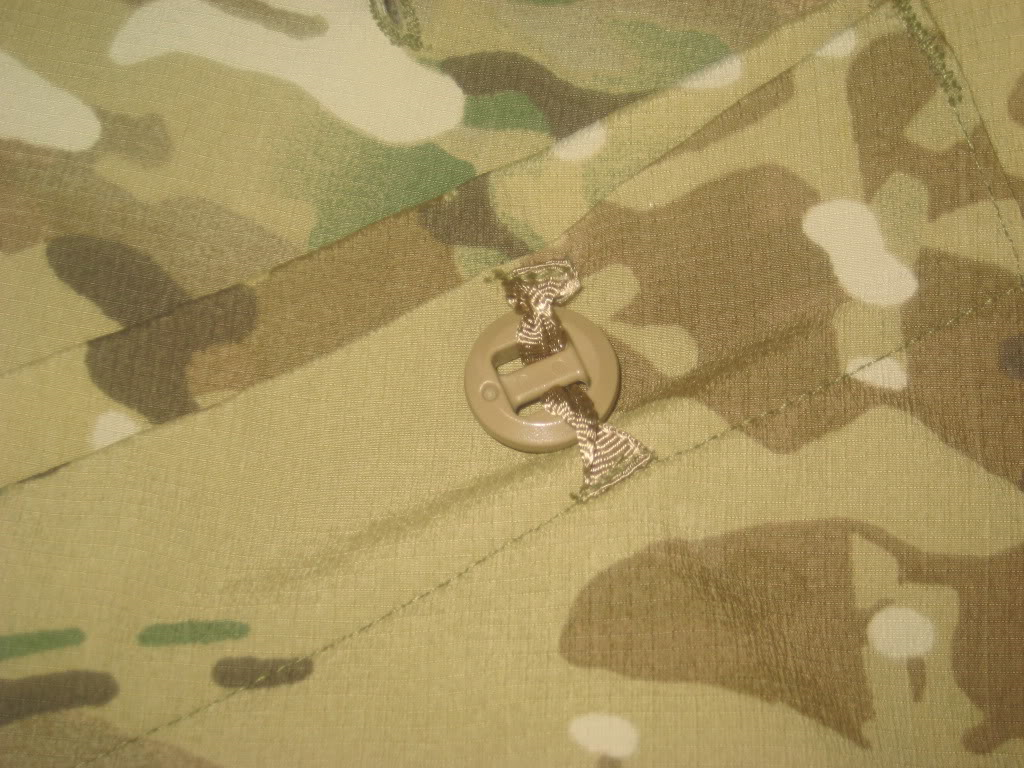 It was noticeable during the initial test wearing that the bicep pocket zips were difficult to use easily, due to the design of the sleeve around the upper arm. This seems to be a result of the cut of the smock to allow ease of movement and articulation. A small point, but something to keep in mind when stowing items that may need to be accessed on a regular basis or in a hurry.
Probably my biggest gripe at the moment is colour availability. Currently only available in Multicam, which is a really nice pattern, but for me nowadays is completely unsuitable. I don't wish to do my walking in camouflage patterns nowadays. I can imagine that there will be quite a few foreign forces and various units who don't use multicam will also be looking for alternative colours. When Vertx makes these smocks available in more colours, then I will rush out and burn my credit card as fast as I can.
PERSONAL SUMMARY:
All up, a very high grade smock that offers a great deal.
I've been sufficiently impressed during this very short examination that I'm going to be acquiring one of these for myself when Vertx releases them in different colours.

Posted in Clothing & Footwear, Military, Military Gear, Wet Weather by 22F with 6 comments.