PRODUCT: Combined Operations Infantry Rig
MANUFACTURER: Smamit,Israel
DESCRIPTION: A custom made non-modular, split front chest rig. The layout is very reminiscent of the old South African M83 vest that has mated with the TT 2-piece MAV. All of my mates who have examined this rig describe it as a cut down M83, stripped down to bare necessities.
REVIEW NOTES:
This was one fo the first reviews I've written for submission on a few discussion forums. I have posted it here in a slightly updated format.
This was bought with my own funds, in that never-ending quest for custom cool-guy kit.
LAYOUT: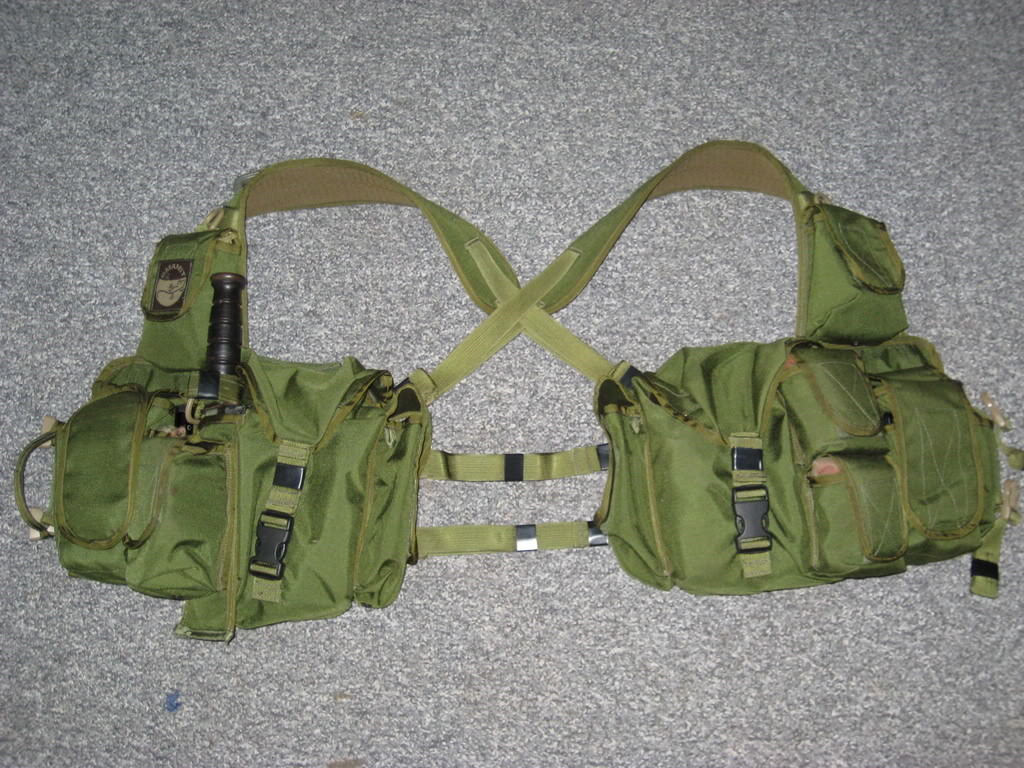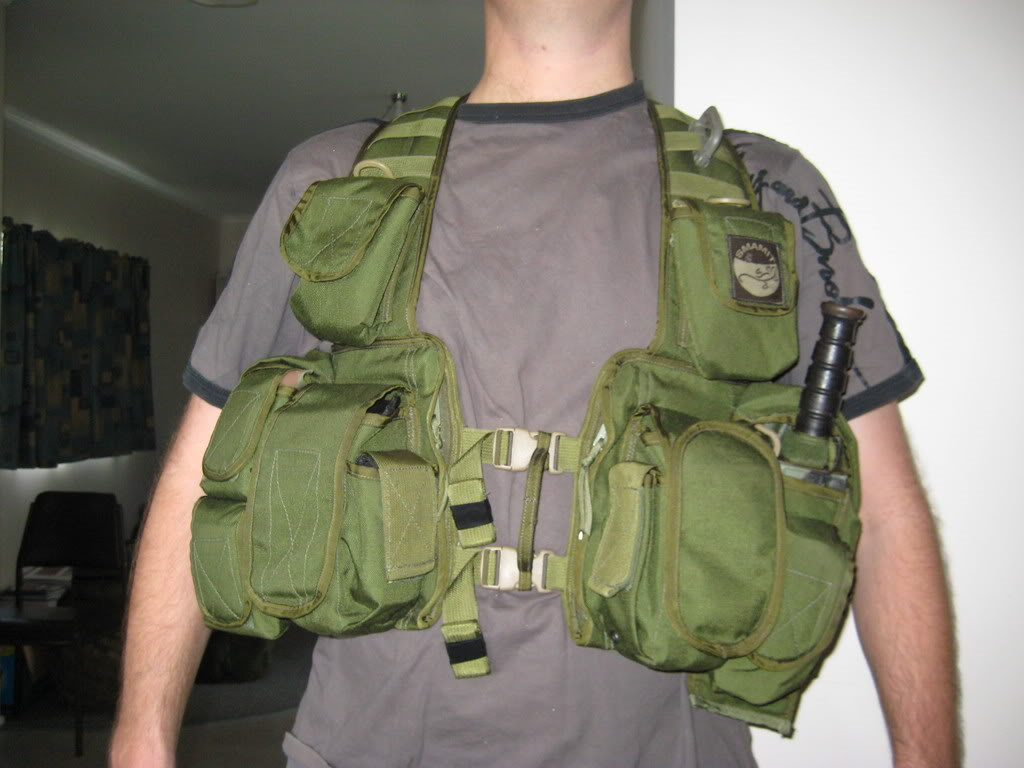 1. Materials – IR resistant 1000D cordura. In fact, there was a slight delay with Adam getting this rig to me, due to the fact he used a brand new IR treated cordura from the UK. As always, it's great to see this attention to detail and service.
2. Carrying Capacity– Adam from Smamit lists the carrying capacity of this rig as:
10 M-16 Magazines
2 Hand Grenades
1 Smoke grenade
2 British army bottles with metal cooking cup (cups, canteen)
1 combat knife / bayonet
1 clear Radio code pouch
2 FFD's
2 maglight / marker pen
3. Layout – Left Hand Side
From inboard to outboard.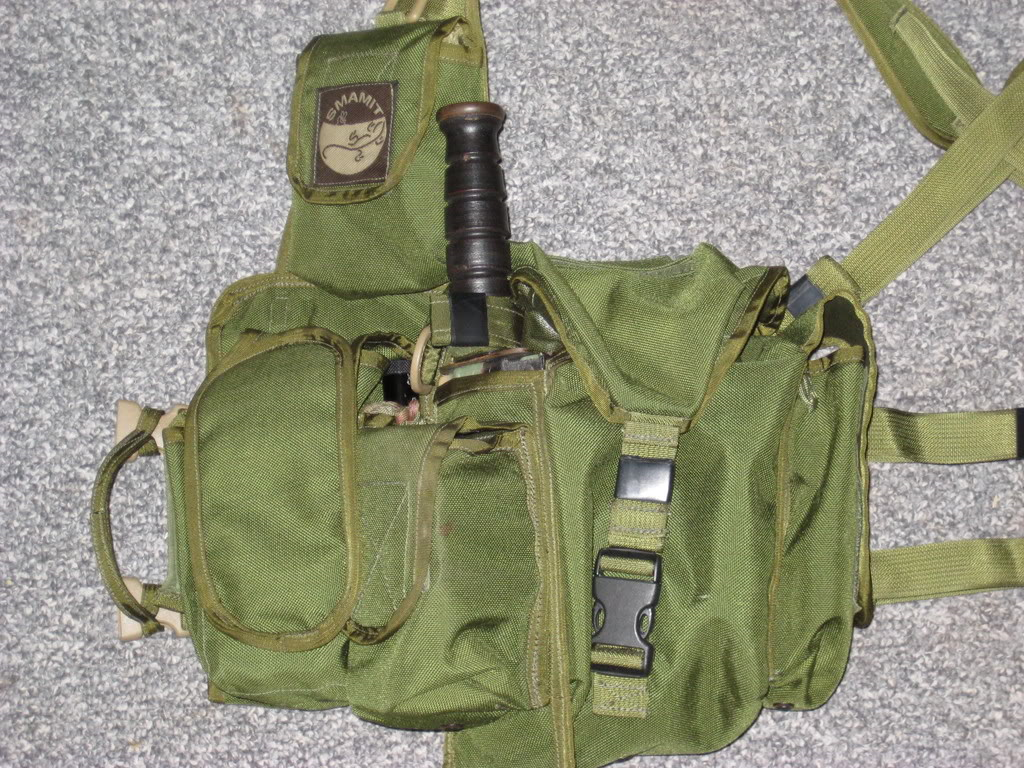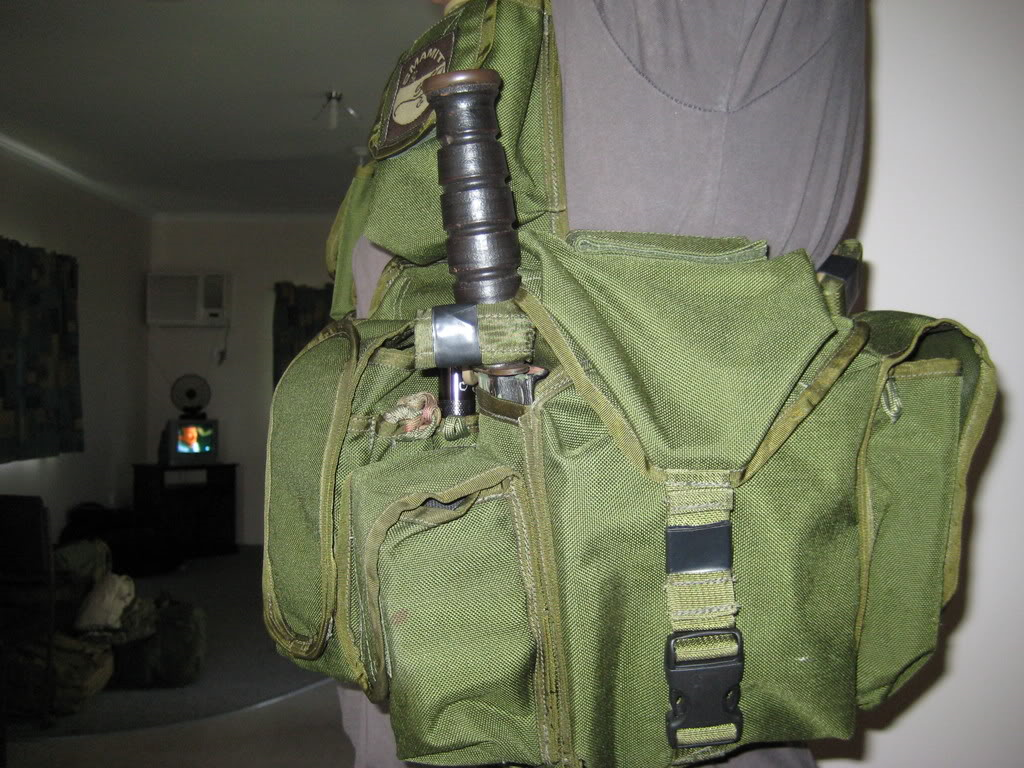 A zip pocket for maps and other sundry items. There are elastic loops in this area for morphine vials and other small items.
A magazine pouch (accepts 3x M16 magazines), secured with velcro. Magazine pouch also has a small utility pouch (surefirelight/pistol mag/multi-tool) on one side, with two small pockets for pens or other long tube like objects on the other. I keep my AA maglite and whistle in these. Interesting to note that the lid of this pouch also has a clear window for storing radio callsigns and other small documents. This could be used to carry ID cards. Please refer to the photo.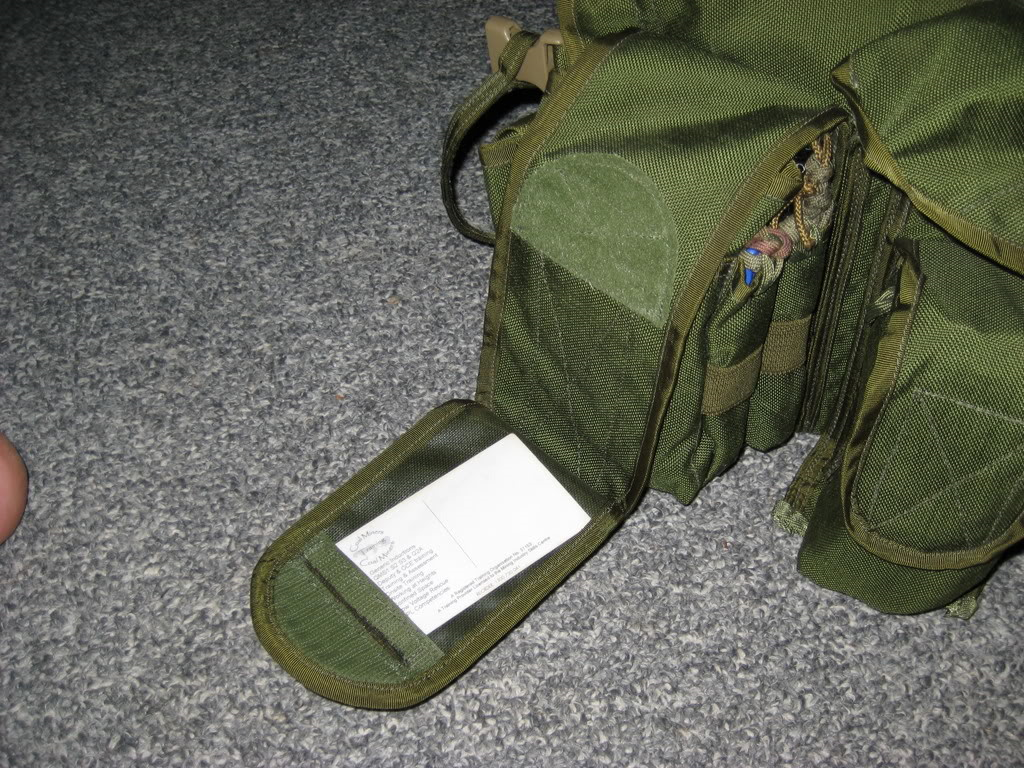 A large general purpose pouch that is designed to carry a Brit water bottle, secured via Fastex clip (no, not fatsex!!). In the pouch is a small inner pocket to do just this. I prefer to use the old American pattern 1qt canteen (old habits die hard). There is also plenty of room to carry other things in this pouch, such as MBITR/PRR type radio. The lid of the pouch is slotted for this purpose.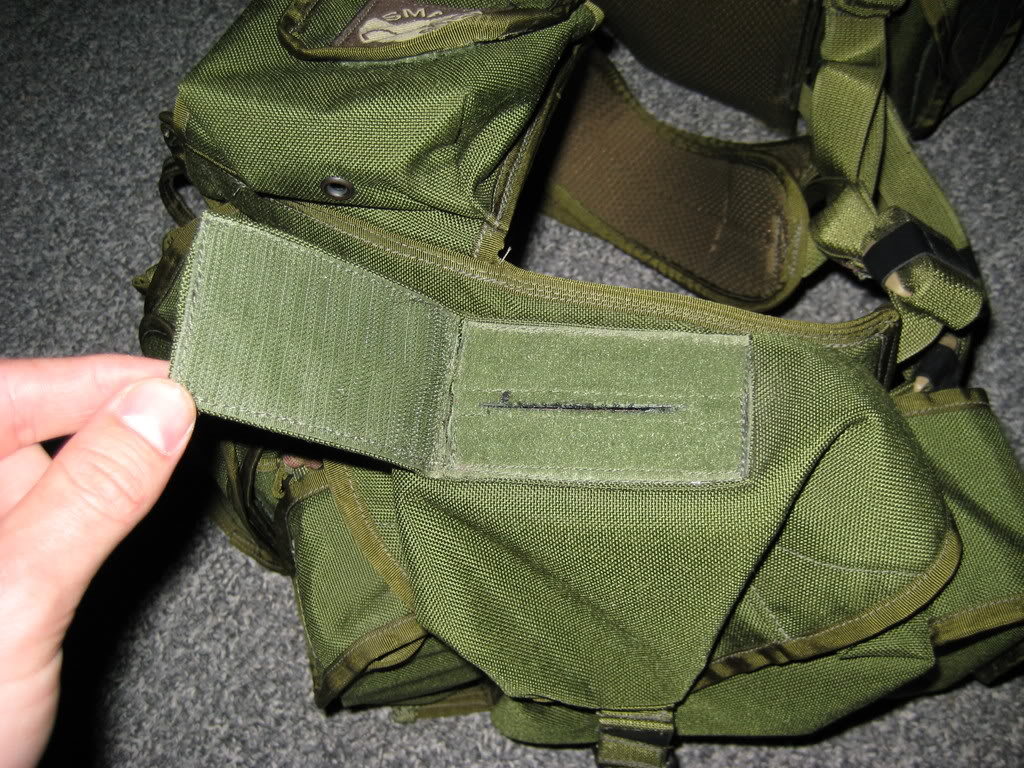 On the forward facing portion of this large GP pouch is a smoke grenade pouch and a pocket for a knife sheath. I like the idea of this knife sheath. I currently carry my Camillus KBar in a cut down kydex sheath. It really does make use of available real estate much better, whilst answering one of my few pet hates for chest webbing and vests – nowhere to easily carry a decent sized knife or bayonet. This would be ideal if unit SOP's require you to carry a bayonet.
On the rearward facing of this large GP pouch is another magazine pouch (2x M16 mags).
A small pouch on the harness. I have my silva compass living in this one.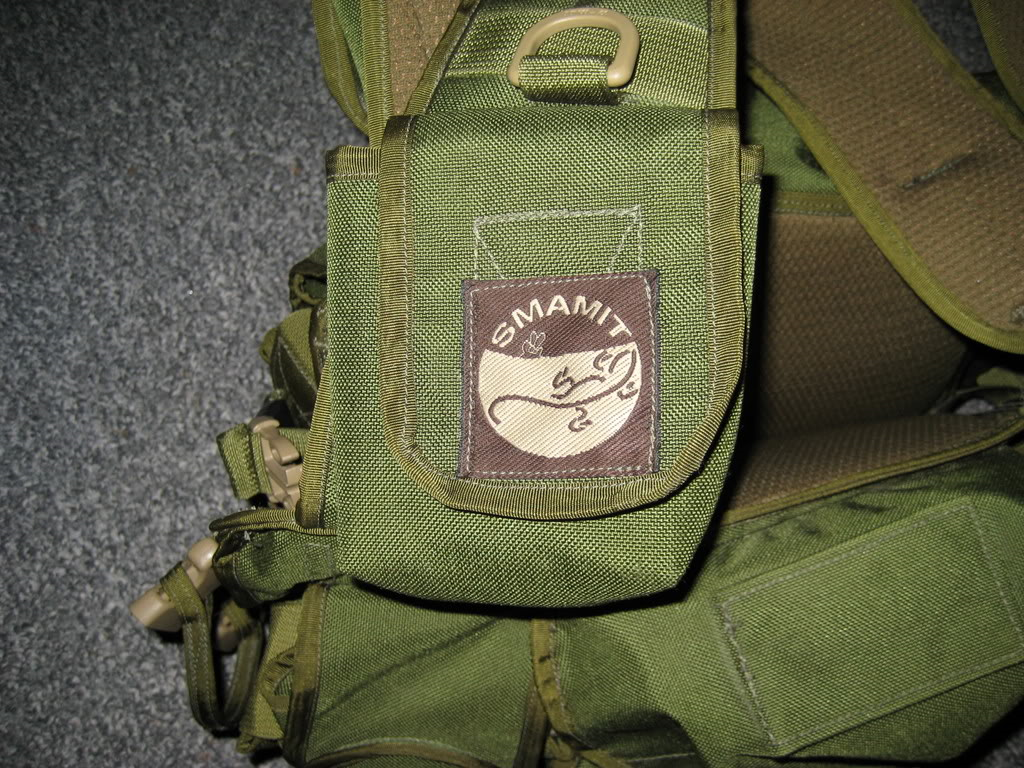 4. Layout – Right Hand Side (practically mirrored from the left)
A zip pocket for maps and other sundries.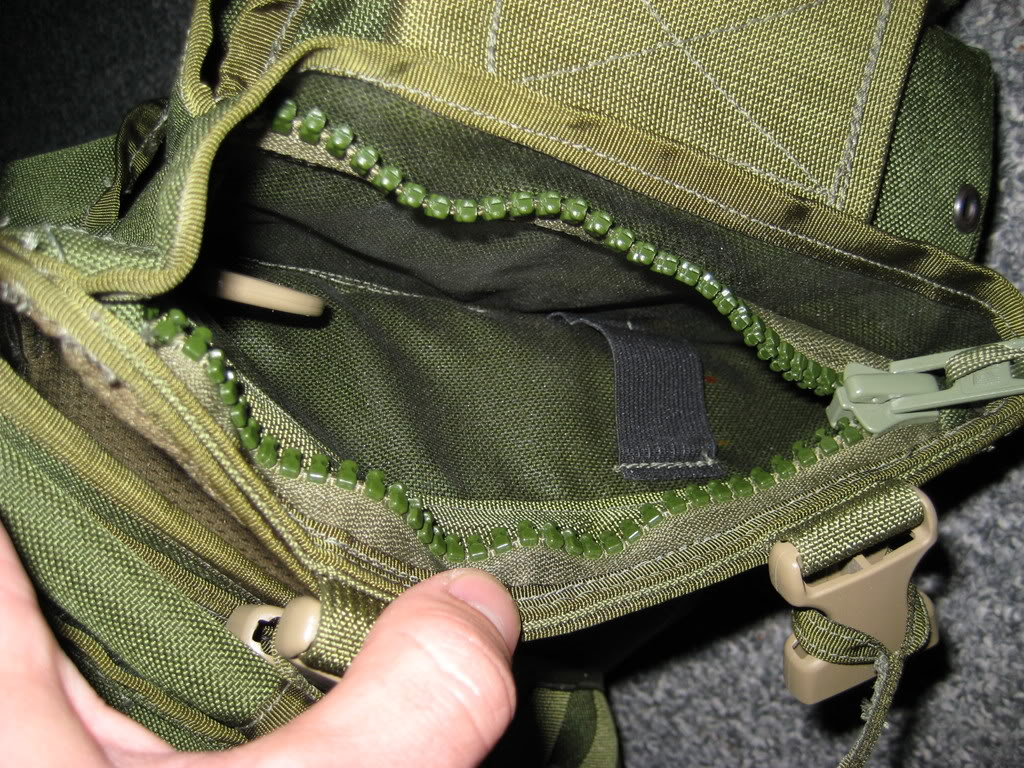 A magazine pouch (3x M16 mags) with 2x small utility pouches on the sides (surefirelight/pistol mag/multi-tool). I keep my small 10x power monocular and Magellan GPS in these ones.
A large general purpose pouch that is designed to carry a Brit water bottle, secured via Fastex clip (no, not fatsex!! No more ugly women for me thankyou, I'm no longer bound by my oath of service to wake up with ugly women). In the pouch is a small inner pocket to do just this. Again, there is plenty of room to carry a canteen and other sundries like weapon cleaning kit, a meal or two and other small essential items. Right hand side is where I carry another 1qt canteen, with cups canteen and small nestling hexi stove. Nestled alongside is my emergency brew gear and some beef jerky.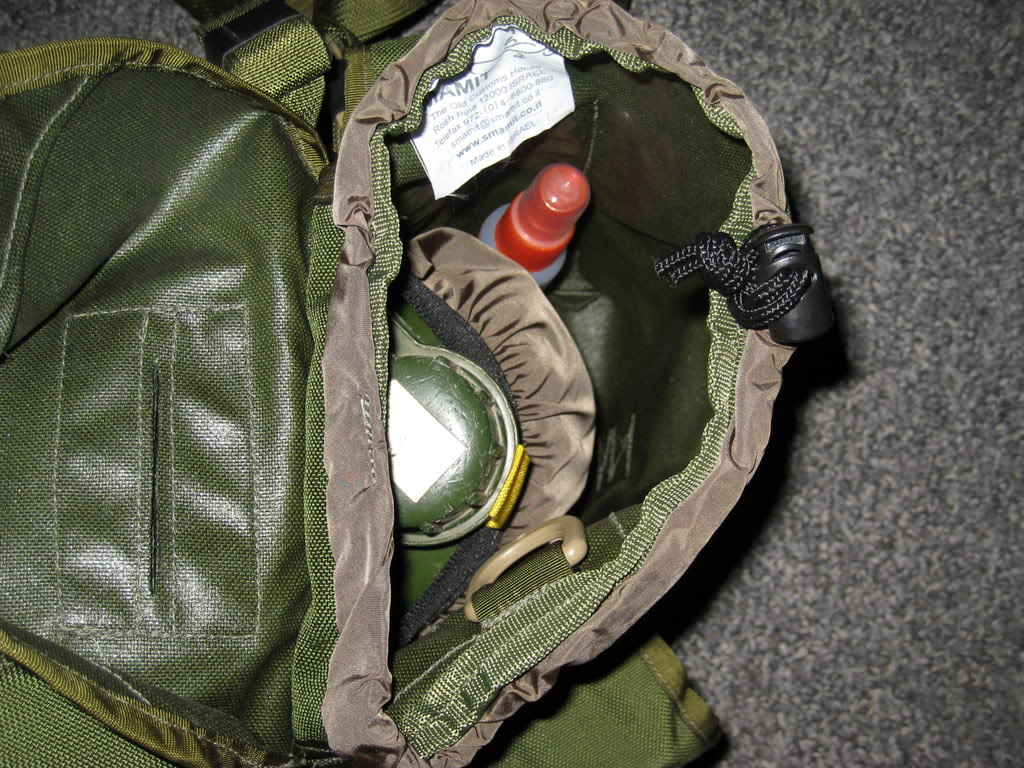 On the forward face of this pouch are two fragmentation grenade pouches. Since I no longer carry frags, I put my shell dressings in here. On the rearward face is another magazine pouch for 2x M16 mags.
A small pouch on the harness. Since this interferes with shouldering a weapon, I only keep small items that would normally go into my pockets when I start getting ready for bush.
Both primary magazine pouches will accept 3x M-16 type mags, or 2x F88 (AUG) mags comfortably, but can be forced to carry 3x F88 mags (it's a bloody tight fit though).
A noticeable feature of this rig is that all pouches have either plastic D-rings or fabric tie-down points (loops) for kit security. If you're anything like me, I hate having controlled items sitting unsecured in pouches.
A point to note with pouch opening methods. If it's a general-purpose pouch that will likely to be constantly accessed, such as water, it's a silent closure, faster clip, or zip. Ammunition or fun storage is via Velcro, 'cos after all, by the time you need that extra mag, every bugger in the area already knows your current loc. While you may already be familiar with how to store guns and ammo safely when not in use, it is important to understand the functions of the rig when you are making use of it for your weapon and ammo storage.
PERSONAL ASSESSMENT:
Like all of us, I've been looking for several features in load bearing equipment to make it just perfect (or as perfect as one can humanly achieve) for my needs.
My requirements for webbing have been developed by my time in service as an infantry recon scout in a medium cav regt. The job required a mixture of mounted and dismounted work, with and without packs. Since I no longer serve, but still have an interest in all things kit (and let's face it, because I bloody well can have it), I've managed to encapsulate all my hard won experience into my uber rig, for hunting, end of the world as we know it, the next zombie uprising, or what have you.
So, what is it I need from load bearing equipment??
Must be able to carry canteens. Sorry kids, I don't like camelback-type water bladders on my webbing. Such items are great in my pack, just not in my fighting load. I've always preferred canteens for their strength against hard knocks and as flotation aids when crossing creeks. They also have a great secondary use for throwing at dopey diggers who don't pay attention to bloody field signals whilst on patrol (comms rock, anyone?)
Must have decent means of carrying a fixed-blade knife. As mentioned previously, I really dislike that one point of most chest rigs and vests. In particular, I don't like running too much on my first line. Such items only include a zippo lighter, folding blade, lip balm and other odds and sods. With this rig, the blade is readily available for drawing by my left hand. I've been practising a LOT of drawing to make sure I don't muck it up. Due to the design of the rig, blade access is still unhampered when large pack is on as well, for those moments in life when something needs to be cut. Bonus!
Must have as much area of the body free for heat dissipation as possible. This rules out a large amount of rigs. I don't wear armour, never really likely too, so I may as well as be comfortable as possible. Heat retention in the Australian scrub is a killer. Heat full stop is a killer, as most of you in harm's way already know. The design of this Smamit rig means most of the pouches and rig is on the chest or under the arms. The back, and most of the upper chest is essentially clear for heat dissipation.
Must be easy to don/doff. I used to wear a small chest rig (3x double mag pouches, reminiscent of an NVA chest rig) and belt webbing when I was serving. It was always easy to get my belt rig off when I needed too, but a pain in the backside to get my battle bra on or off in a hurry. The Smamit rig has a nice little fabric loop linking the two fastex clips on the front to make it a quick release if the rig needs to be dumped in a hurry. The convenience of vest in a chest rig package. What's not to like??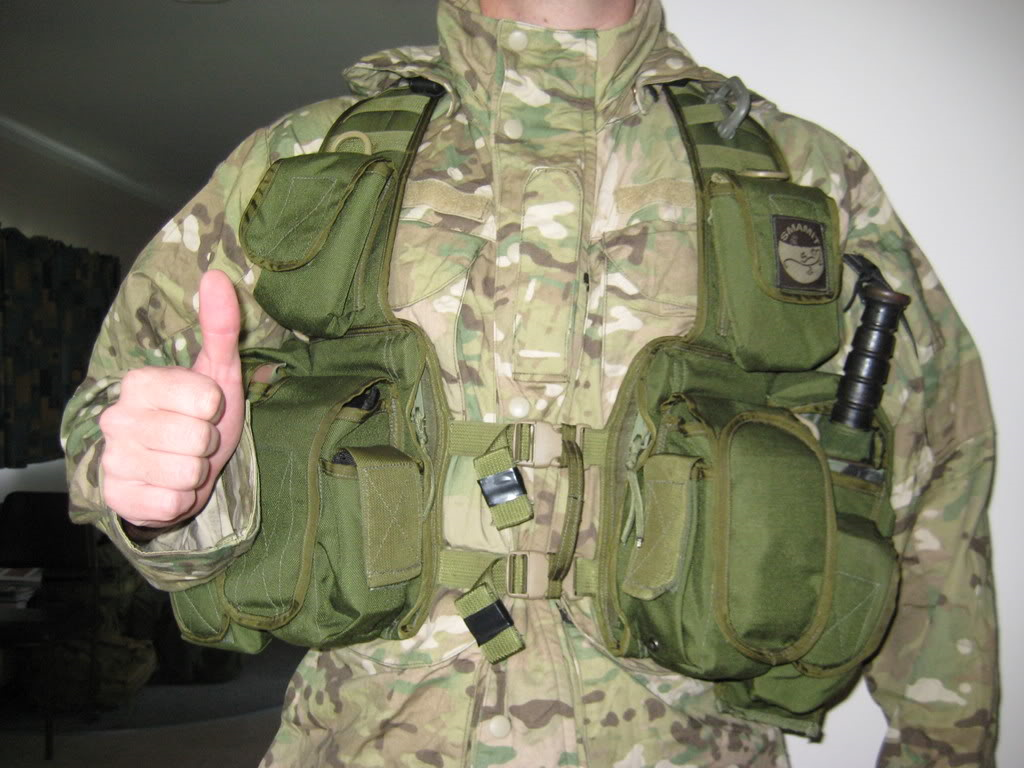 Must be compatible with my pack. Please refer to my review on the DG-6. Another small point I don't like about vests, is that because I'm such a skinny streak of pelican poo, most of them don't integrate too well with a large pack. This rig is good, fits quite nicely with my cool-guy pack.
So, with all these requirements, how does the Smamit Combined Arms rig stack up??
Quite bloody well in my opinion. Since I now have bugger all chance of deploying, or doing the exciting things I used to do whilst playing soldiers, I'm really wishing I had this rig back in the bad old days.
Attention to detail and construction quality is great! All the smaller pouches (ie. Non-ammunition storage areas) have elastic loops inside to secure small items, as well as tie down loops for dummy-cording kit to yourself. I hate losing controlled items or donating to everyone else's kit fund. By the looks of it, Adam has also experienced this. About the only thing I would do to mod this rig further is perhaps rig up some para-cord pull tabs for the magazine pouches. I'm still tossing up whether to do this.
All up, this is a comfortable rig. One can tell that Adam has significant tailoring experience and good understanding of kinematics (fitting stuff to the human frame). Whilst being worn when properly dialled in, this rig feels very different to any other load bearing equipment I've ever worn, including other custom made rigs. I suspect that what I've been wearing for many years just hasn't been made with the same understanding and design skills.
SUMMARY:
All up, I give this rig and Adam from Smamit two thumbs up!! I'm in love with it, wore it around the house for the first three weeks I got it. In fact, I still wear it around the house when I get a chance. Oops, slip up on my part. I've even received VERY strange looks from the Sheeple when I wear it on my training walks around Brisbane and the coalfields in central Queensland. The service and communications from Adam was also excellent.
As an update since this review was written, it should be noted that Adam of Smamit is now no longer on this world with us. He tragically lost his battle with lung cancer a couple of years ago. I know, like any good paratrooper, he'll be sitting on the RV in Valhalla. Hopefully he'll have followed RV actions-on and have a cold beer, a comfortable chair, fresh stories and new comrades to share them with when the rest of us walk into the RV.

Posted in Custom, Military, Packs & Webbing by 22F with 2 comments.