SITUATION:
Opportunity and desire to go walking came up again.
I haven't been able to go for any long range walks due to recovering from illness, and real life things like work and the wonderful experience of getting married seemed to keep popping up and delaying planning. Despite all that, this Iceland waterfall is still on my bucket list. I've been thinking of ways on how to navigate around Iceland, should it be a car? Or maybe it would be a lot of fun to go camping and rent a camper van from companies like Rent.is? Whichever one I go for, it will be an amazing journey to take.
So it was decided to start preparing for a long walk again. The biggest difference for this trek, was being able to introduce my darling wife to the joys of getting away from civilisation.
A great many destinations were discussed and evaluated for suitability. The Overland was decided upon. There were a couple of reasons for this, primary amongst them being I was likely to have a couple of inexperienced walkers, who I wanted to introduce into walking somewhat slowly – since due to work commitments, we weren't be able to spend a great deal of time on lead-up walks overnight in the local areas around our home. Since I'm fairly familiar with the Overland from previous trips, and the comfort level of the huts (with attendant toilet facilities), the idea was fairly easy to sell to everyone, especially my darling wife.
It was also an excellent opportunity to show my beloved what I consider some of the most beautiful spots on this earth.
TEAM COMPOSITION:
The original cast was invited to attend this walk was bigger than Ben Hur. But due to real life getting in the way for quite a few people, attrition was quite high.
We crossed the line of departure with a team of three: my darling wife, "baby" brother and myself.
I'm not sure if my Minister for War and Finance (aka my beloved wife) was aware of just how many fart jokes she'd be subjected to.
EXECUTION:
Prelim Moves –
Flying from Townsville to Hobart via Brisbane made for a long day of travelling.
Thankfully, our pre-booked accommodation at Rydges ensured we had plenty of time for those last minute acquisitions such as acquiring stove fuel and that most important of pre-walk supplies: a few fortifying beers and the absolutely freshest seafood available.
Infil –
A slight change for me this time around, was our transport to trail-head. Since I'm getting older and increasingly less tolerant towards the vast majority of the public, instead of taking public transport, I booked a charter bus with a local company.
Graeme of Tasmanian Wilderness Experiences provided excellent service. As a walker himself, he knows what the average tyro walker on their way to the world heritage walking areas of Tasmania need. We were fortunate, that being off-season, his darling wife Carol was along for the ride. Good times and great conversation was had.
Of course, Graeme has the same opinion of sausage rolls from a country bakery that I do: they're an absolutely essential element of a road trip!
So if you need transport from Hobart to the walking trails, give Graeme a yell, you won't be disappointed. He can be found at:
Main Event:
So our bus trip with Graeme and Carol was completed, and the team was deposited at Dove Lake with the beautifully imposing Cradle Mountain in the background.
For me, it was business as usual. For my team mates, it was imposing. Not that surprising since this was their first real long distance, multi-day walk.
The biggest question of the morning: "We're not going to have to climb THAT, are we?"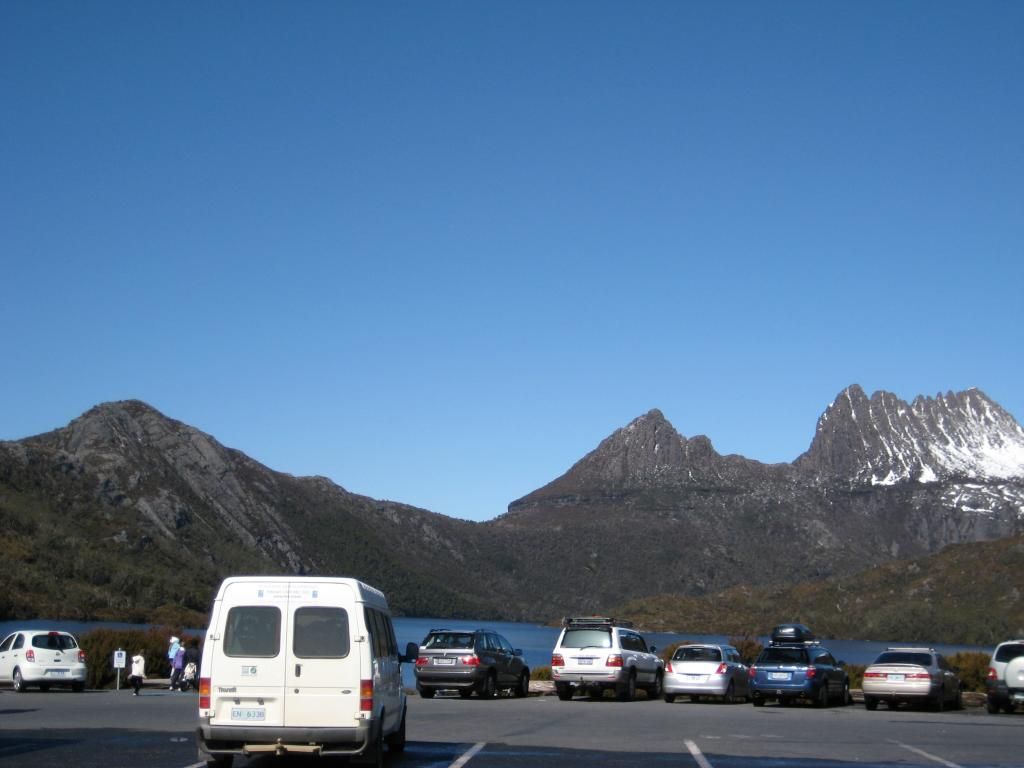 Day 1 (Saturday, 15 Sept 2012): Dove Lake to Scott Kilvert Memorial Hut.
The view from the carpark at Dove Lake was somewhat imposing.
Whilst it's a short leg of about six kilometres, the climb is pretty intense. My darling wife almost had "a moment" halfway up Hanson's Peak, but recovered well and powered over the mountain.
The climb just reinforced that my physical preparation this time around wasn't all that it should have been. Oh well, real life gets in the way.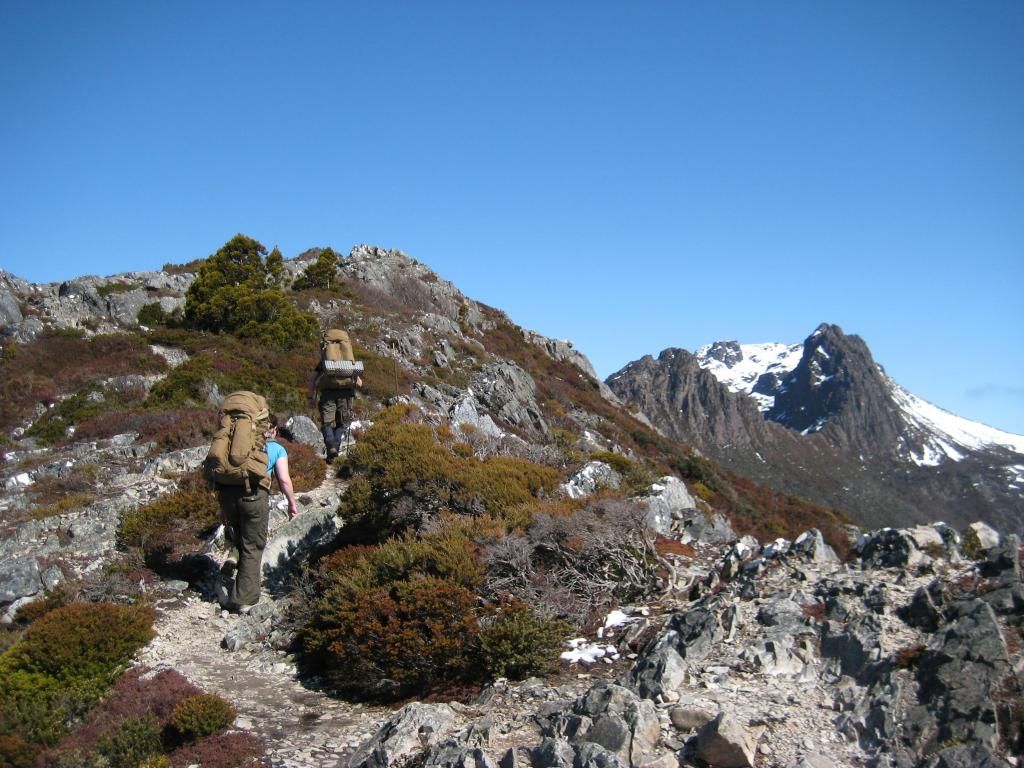 Reaching Scott-Kilvert Memorial Hut was again an eye opener. Instead of the empty hut we were expecting, there were two families with young children scampering all over the place. It would have been a wonderful experience for the kids during their school holidays.
Thankfully, these kids were really well behaved and lovely, which wasn't the case with a few other children we came across on this trip.
Day 2 (Sunday, 16 Sept 2012): Scott-Kilvert Memorial Hut to Windermere
The views that I've seen on previous trips weren't quite in evidence due to the severe storm blowing a gale during our ascent up Lake Rodway track to Cradle Cirque. When the cloud cleared, the view was fantastic. Visibility was low, sleet and snow blowing sideways. It was a miserable segment of the track, until we could get below the snow line. Even the track was difficult going with a significant build-up of snow drifts and large rocks that proved to be unstable underfoot.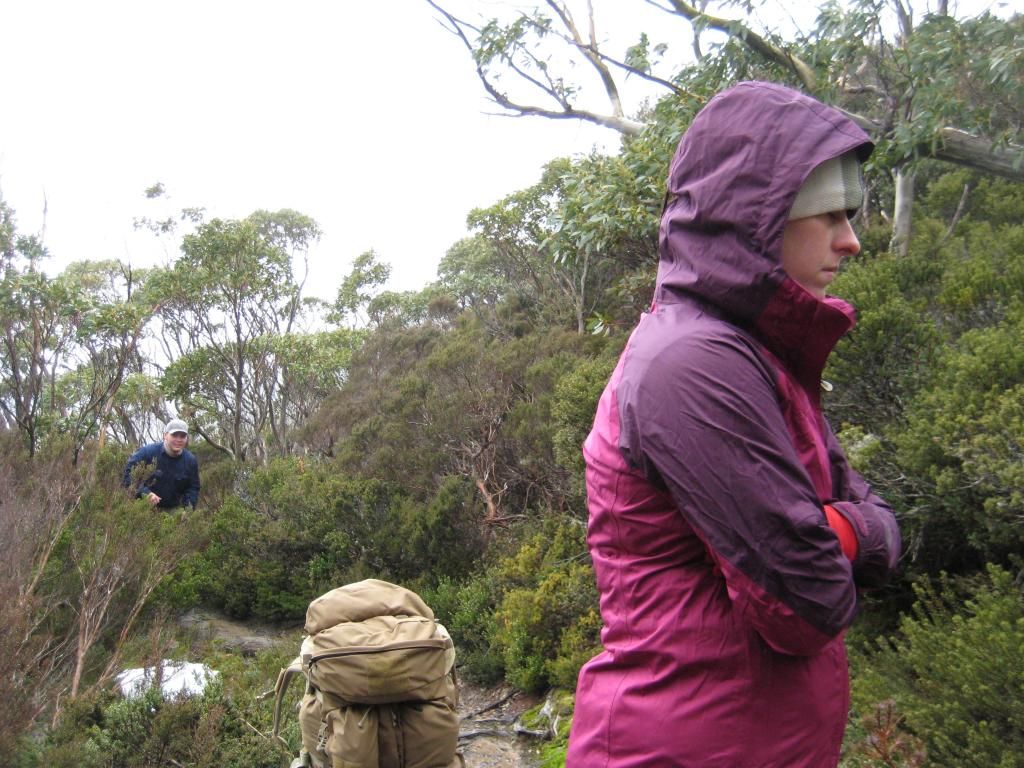 We lunched at Waterfall Hut, coming across a couple of local walkers that we passed pleasantries with.
It was a long walk across the moor in miserable weather to Windermere Hut, where we pulled up for the night.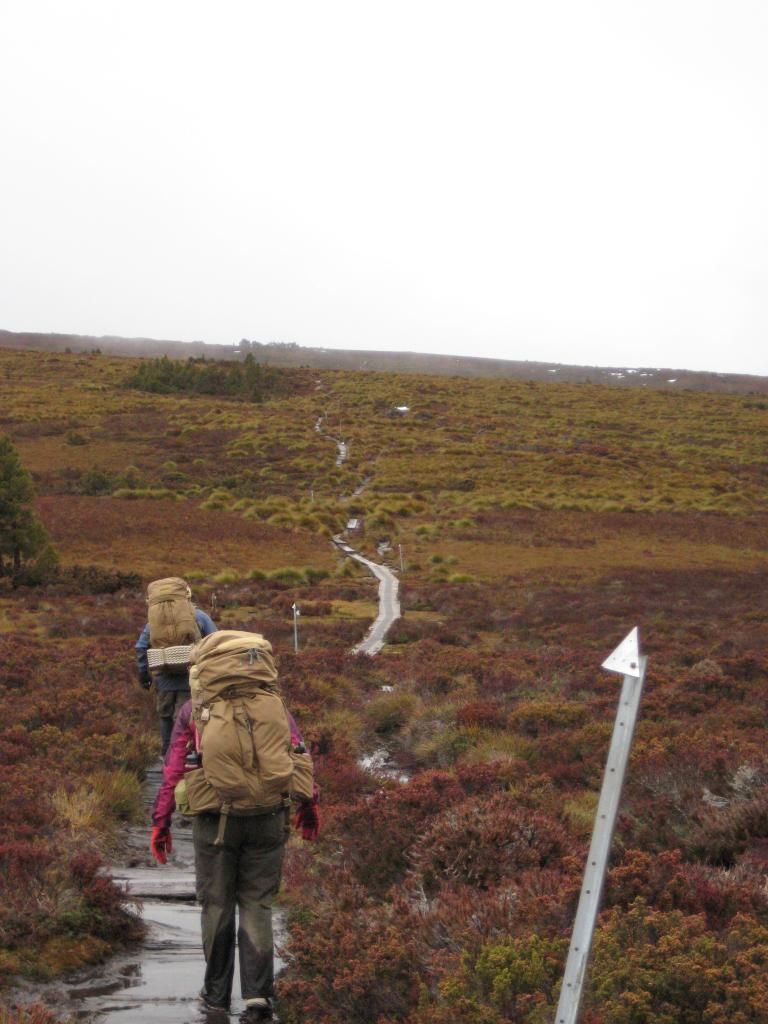 It was a crowded hut that evening, a sign of things to come, but at least it was nice and toasty with so many warm bodies in the place.
Day 3 (Monday, 17 Sept 2012): Windermere to New Pelion
A long day at 17 kilometers. The first half of the day had some really nice views again. The second half of the day was quite muddy, the amount of mud was somewhat of a shock to my travelling companions.
The view was fantastic as we sat on the porch of the New Pelion hut looking back over the ground covered enjoying a quiet genuflective cigar – one of those small vices I like to enjoy out bush. It was a nice moment, to sit down and enjoy a Cuban cigar with my "baby" brother (who happens to stand half a head taller and a fair bit broader than me).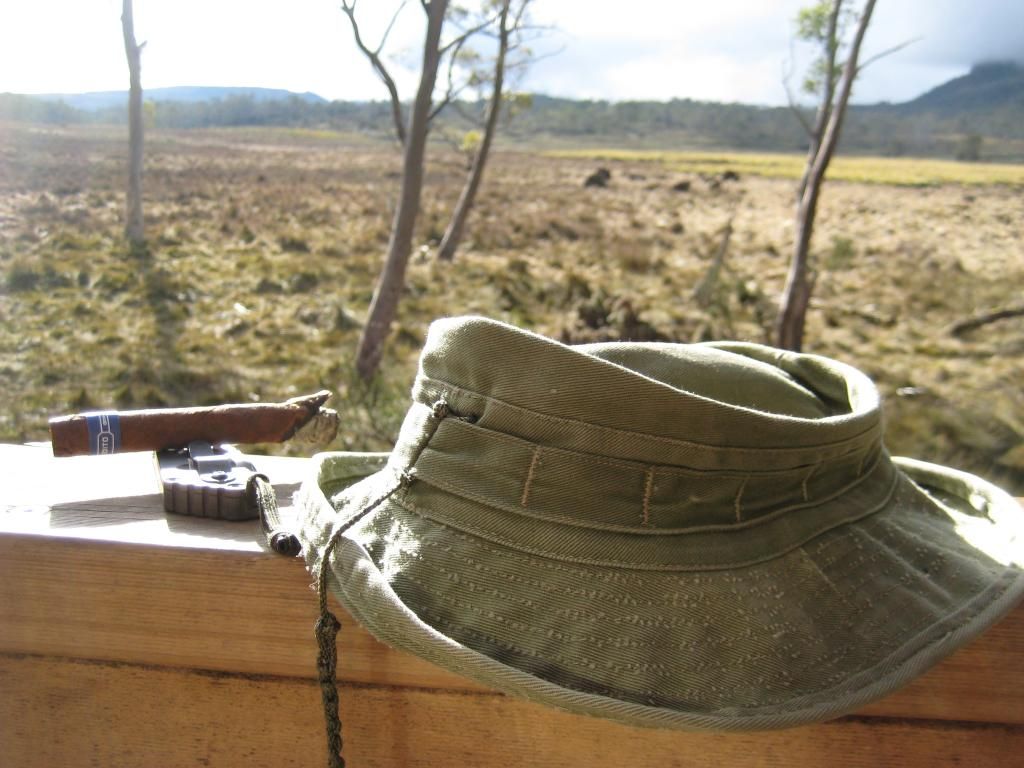 The larger hut size at New Pelion allowed people to spread out a bit more and enable enjoyment of their own space, which helped calm everyone down.
Day 4 (Tuesday, 18th Sept 2012): New Pelion to Kia Ora
It was a pretty short day walking into Kia Ora of 8 km's. Weather had closed down a bit, with overcast conditions and the beginnings of heavy rain.
Thankfully, after some real effort, the coal fired stove was going nicely, allowing everyone to start drying out clothes and equipment. One of our fellow hut denizens didn't seem to realise just how much effort had gone into making things comfortable for him and his family.
Such was the conditions, that Kia Ora was a very crowded hut.
There was family with fairly young children (mostly early teens) that were running around helter-skelter through a very small, confined hut. Since there was a very hot coal-fired stove, a variety of clothing and equipment hanging up drying, a myriad of boots laid out on the ground drying, and more than a few hot stoves with hot boiling food contents, I was a wee bit concerned about a child tripping over and catching severe injuries.
Another family seemed to think it was a really good idea to feed caffeinated beverage products like coffee to young children (no more than 12 years old) just before bed, and then wonder why the child wouldn't go to sleep and kept wanting to run around screaming it's head off…
In the immortal words of one of our fellow walkers, from a group of older female walkers that we referred to as "The Ladies": sometimes, civilisation follows one out into the bush.
Once the coal-fired stove was roaring along nicely, and plenty of warm bodies, it was a nice warm hut though.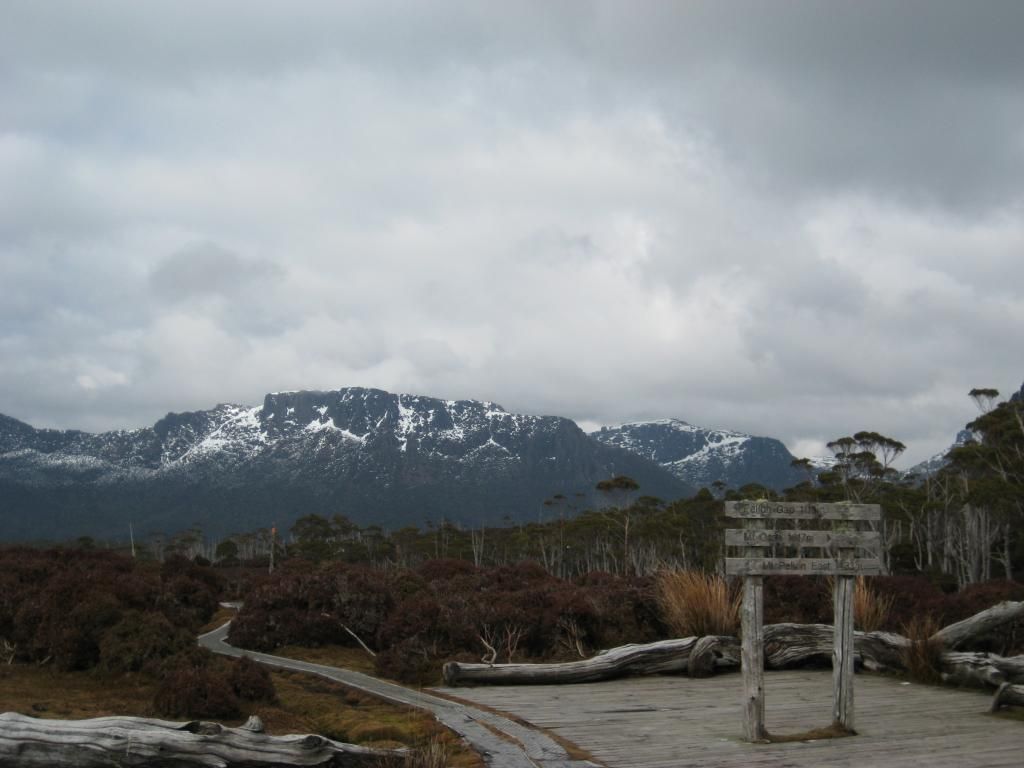 Day 5 (Wednesday, 19 Sept 2012): Kia Ora to Narcissus Bay
Due to the crowded conditions in Kia Ora, the team had a quick confab to determine the best course of action to leave the madding crowd behind at Windy Ridge (now renamed the Bert Nicholls Hut – it struck me as the height of irony that Tasmanian National Parks is venerating a poacher and fur trapper, quite unlike what they support nowadays) and push on through to Narcissus Bay.
We were very impressed with the new Bert Nicholls Hut, it was brand spanking new, and a large facility that could comfortable house a large number of walkers with dedicated drying facilities.
That course of action meant a pretty long day of 17 kilometres. Thankfully, the leg between Windy Ridge and Narcissus Bay is a fairly easy, flat walk. This was one of the few times the team split up to travel at their own pace. I suspect Baby Brother just wanted to get his feet up and rest. I however, had a desire to really enjoy the southern part of the track. So I was snurgling along at a nice, comfortable patrol rate of about three kilometres an hour, just managing to catch a few animals coming out of their burrows that my companions had scared away in their passage. I wanted to drink in the sights and smells, since it's likely to be a very long time before I return to the Overland again. It's not that I'm over it, but there's so many other walking destinations I want to experience, and sometimes, the memories of past Overland sojourns with old friends who are no longer a part of my life was a bit much to bear.
Our stay in Narcissus Bay was a very nice, relaxing night with only a small amount of people which facilitated some nice conversation.
I consider Narcissus Bay one of the most beautiful spots on this earth, so it was really nice to be able to show and share that with my darling wife.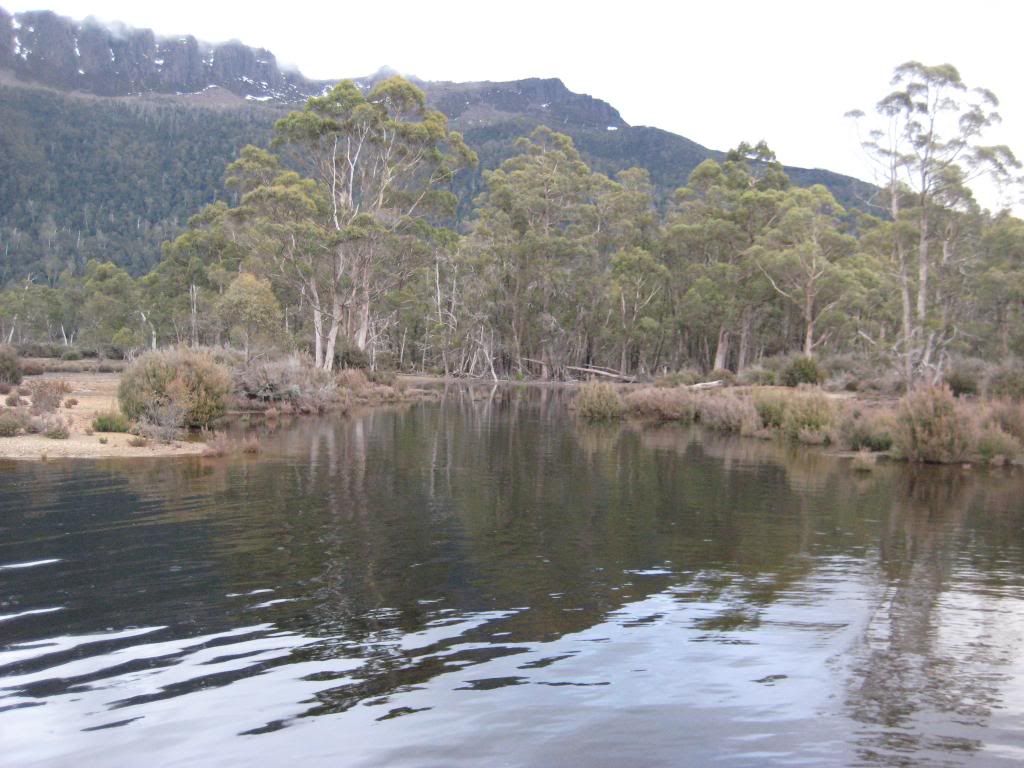 Day 6 (Thursday, 20 Sept 2012): Narcissus Bay to Echo Point
A very short walk, we'd decided to pull into Echo Point Hut for a rest day and enjoy a hut without the crowds.
Although it must be said, that the hut at Echo Point is somewhat "quaint" and "rustic". Thankfully, the toilets have been upgraded, and we never saw evidence of any rats or vermin which are known to be a hazard.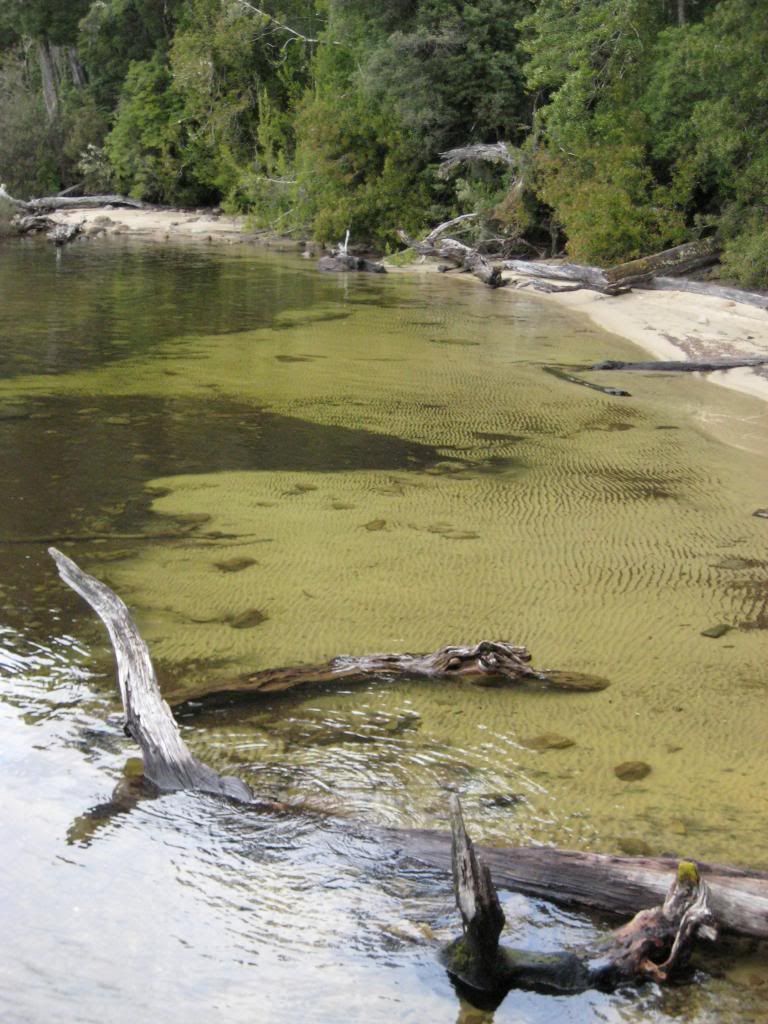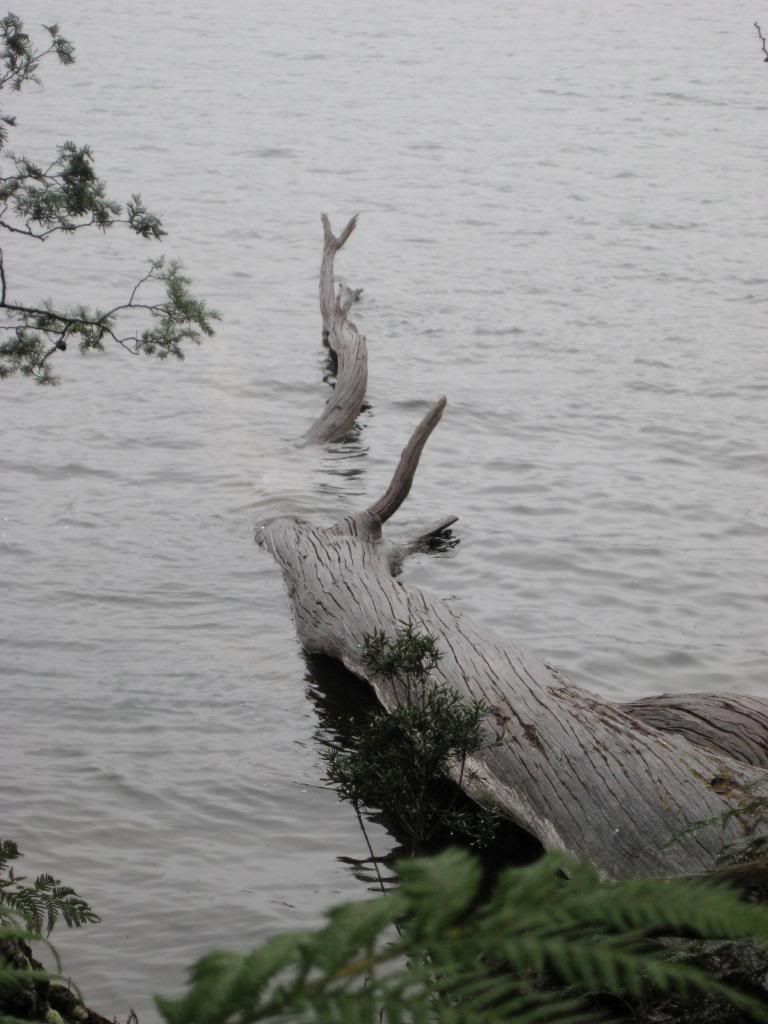 Day 7 (Friday, 21 Sept 2012): Echo Point to Lake St Clair Visitor Centre
The last day of walking was pretty long. Leeches were being fought off, rain was coming down, injuries and blisters were in evidence.
But being able to walk (well, she walked. I dragged my broken carcass along) into the Lake St Clair Visitor Centre hand-in-hand with my beloved wife with the sleet coming down was really nice.
The hamburger, chips and beer went down a treat.
Exfil –
Marry-up with Graeme and Carol had us on a magical mystery ride that seemed to be a short cut into Hobart. It was another great ride with them, having some civilised conversations and exchanging walking stories. They left me with the wander-bug to walk Iceland, which they'd only just completed.
Post-walk movements:
Another sign of advancing maturity, is I've now turned into a "flashpacker". We spent a couple of days at Rydges in Hobart to unwind, and over-indulge in fine booze and the freshest seafood possible.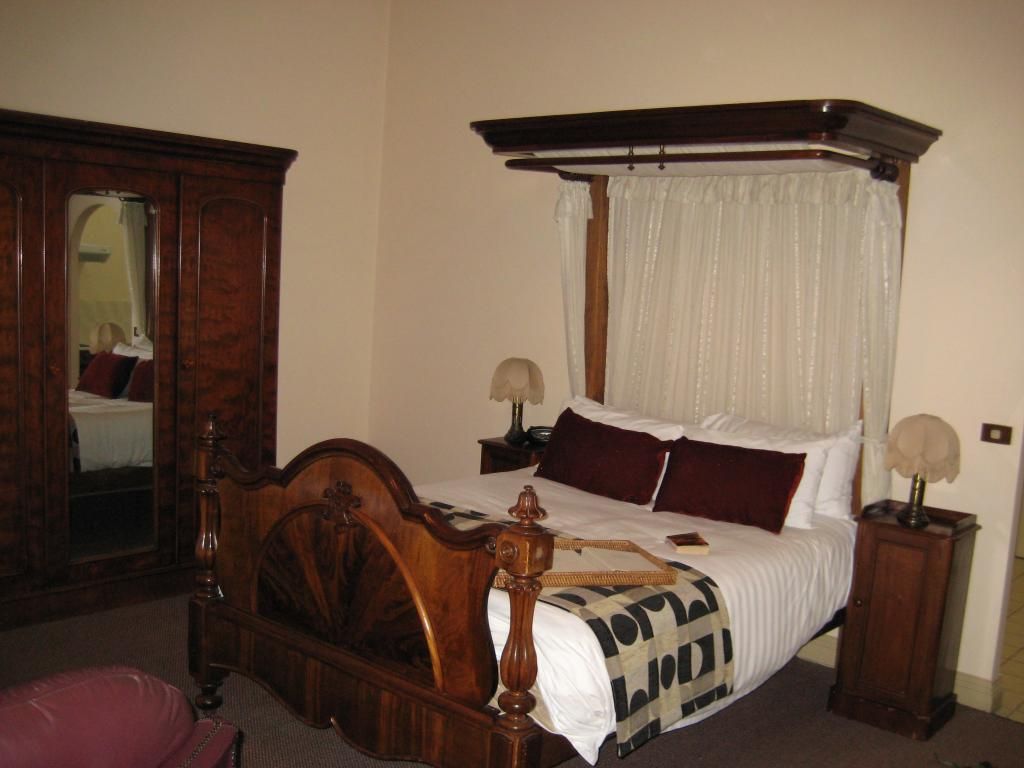 ADMIN & LOG:
As per usual for this walk, the team was loaded up for seven days in the wilderness.
The only real changes to equipment for this year, was the use of Mystery Ranch backpacks. These were: Wolf Alpha (worn by my wife), a 6500 (worn by myself) and a Tacticplane (worn by baby brother).
A more detailed review of the Mystery Ranch 6500 pack will be completed in the near future.
The team also carried two types of liquid fuel stove. My old stand-by MSR Internationale performed as per usual. Baby brother was carrying his brand new Optimus Nova. The Nova had quite a few improvements in design over my old MSR, which in my mind make them much more safer and efficient to use.
Sleeping bags used by my compatriots were the Sea to Summit Trek III and Traverse XTII. No problems were reported with these down filled bags, and were very warm for the users.
I carried my usual Crossfire ECW lamalite (synthetic) fill bag with its lightweight goretex external shell. As per usual, this bag kept a Queensland cold frog nice and toasty in some really cold conditions.
Thermal underwear was a mixture of equipment. I wore a Missionpac zip polo during the night as a thermal layer, and a Missionpac merino t-shirt under my BDU shirt during the day. Both items worked really well.
Boots worn were a pair of North Face ladies mid-height hikers lined with XCR goretex, Meindl Desert Foxes and Crossfire Peacekeeper Plus.
Rations carried were a mixture of commercially available freeze-dried hiking rations, and a variety of common grocery items.
Breakfast would consist of some beef jerky, roll-up fruit bars and a brew.
Lunch would be satchets of flaked tuna on tortillas.
Dinner would be a dedicated hiking freeze-dried packet, supplemented with the boil in a bag flavoured rice found in most shops.
LESSONS LEARNED:
Physical preparation for myself was a bit lacking this time. Advancing age and long hours at work doesn't help with climbing mountains with significant weight strapped on.
From my darling wife:
Encourage team mates to bring their own damned snacks, and not give away your own.
It was good to have another dry set of pants to change into at the end of the walk.
Bring ear plugs to block out snorers.
Bring more underwear than you initially think.
Dry shampoo was a great morale raiser at the end of the day.
Never agree to lead the team when there's snow or mud coming up – it's a far better idea to let your husband slog through the hard stuff, and find the best path. [Ed.: Although my observation corollary to this lesson learned is that sometimes, years of experience picking one's way across obstacles STILL annoys the wife.]
Baby brother discovered that freeze-dried hiking food for every meal can get somewhat monotonous, despite some of the really nice premium menu items on offer nowadays.
Since I don't have children, and really wish to enjoy my time before they come into my life, investigating if school holidays occur at the same time as my holidays will be more stringently conducted in future. It's not that I don't like kids – it's just I don't like everyone else's kids.
SUMMARY:
A really enjoyable walk.
Although, now that I have completed this walk three times, I'm thinking it will be a very long time before I return to do it again. There are more walks I'd like to do, in other parts of the country. Also, there are so many on my wishlist for outside the country, particularly in Arizona, USA. The Vermilion Cliffs and their multiple trails looks amazing, though I have to admit I'd need a tour guide for The Wave AZ, as it looks very tough.
It was a magical time being able to show my wife and brother some of my favourite spots on this earth.
ACKNOWLEDGEMENTS:
We'd really like to thank Military Gear and Tasmanian Wilderness Experiences for their help and assistance for this walk.
And most of all, my baby brother and darling wife for joining me on this walk. It simply wouldn't have been the same without you.

Posted in Civilian, Long Range, Trip Log by 22F with 4 comments.