It's been two years since I last attended SHOT Show in the adult entertainment capital of Las Vegas.
Once more, the sheer size of the venue and the amount of vendors and attendees was overwhelming. I actually got lost a couple of times during my wanderings. It looks like over 62 000 people passed through the gates this year.
Some factors affecting the industry have been constant. The international economic situation and the American economy in particular has been one of slow and recessive tendencies.
Given the latest shooting tragedies in the US, there was a great deal of concern from the firearms industry about what changes can and will occur to them in such a time of economic downturn.
The US firearms industry is preparing itself for a fight for survival. It's still at the tops of everyone's minds how much the 1994 Assault Weapons Ban affected sales and future of the industry when that legislation was enacted.
My personal opinion? Despite the gnashing of teeth and wailing about "saving the children" from the Left, I don't see how with an ailing economy, just how much money and government revenue is being generated by the firearms industry, that any gun bans concocted by the Left will have any meaningful impact.
Despite this, many firearms manufacturers are scaling up production as we speak, to get as much product as possible out into the market before any possible bans. An example of this I was told about is companies like Magpul are getting as many PMAG's completed and out the door as possible to answer consumer demand.
There is also the concern that the deployment and operational tempo of the last decade is slowing down and that in the minds of our political masters, peace is breaking out- with all the attendant budgetary cut-backs and complacency to military training and equipment that this entails.
Despite all the doom and gloom, there was still a great deal of optimistic thought from everyone I came across. Like anything in life, external factors wax and wane just as they always have.
It was a good time for me, being able to catch up with old friends and make acquaintances with new ones.
Such was the case with Battle Systems. Readers will be more than familiar with the fact that I have reviewed a couple of products from this new start-up company previously. I was able to meet with the team behind the name, and found them to be really good blokes. Amongst other things, they have been working on expanding their product line-up, and also been conducting some continuous improvement on their current products. Such that the boys are making efforts to make their individual light weight marker panel multi-spectral via active and passive means. Being able to observe and participate in their business development was simply amazing, and very satisfying to see. The social interaction was great, from what I *allegedly* recall. I'm really looking forward to continuing the relationship between Packs and Beyond and Battlesystems in the future. I can't wait to be catch up with them again.
Another small start-up company that I was able to meet up with was Oneiros. I'm going to be running their Load Lifter Panel (LLP), which is a NICE frame accessory through its paces in the very near future. It was a pleasure to meet with the team behind Oneiros, and I look forward to giving their LLP a run and publishing the review.
Now, I know you're asking about other general trends that I saw, right?
The big trend I did see was the move towards lightweight load bearing equipment solutions. Since operational loads are approaching stupid amounts, often in excess of 60 kilograms for many units, the move to reduce these loads as much as possible is being gratefully received by many end-users.
In order to carry a load in excess of 60 kilograms, this means a significant portion of the load carried is simply load bearing equipment. This leads to a spiral affect, the heavier the load, means a higher requirement for harness and backpack to carry it, leading to an increased weight of material to carry it all. Such that a significant portion of any load is simply the collection of cordura, straps, buckles and metal fittings required to construct fighting load harness, magazine and equipment pouches and rucksacks to carry all that equipment with.
So, using the latest in computer aided design and space-age materials, significant weight savings can be made to the load carried, whilst still maintaining the modularity and ease of replacing or customising the load to the individual.
This was one of the most significant trends I saw across the show from many vendors.
Outlined below are my thoughts and random recollections.
Equipment:
ATS
Amongst their new line-up new for this year's SHOT show, ATS unveiled their split-front chest rig for 5.56mm STANAG magazine fed weapons.
This rig is made of 500 denier material and MOLLE compatible.
I'm a big fan of the utility of split front chest rigs, and am always looking around at new ones.
Lightweight materials feature pretty heavily in the new lightweight dump pouch. It's made from 30 denier rip stop material and folds up incredibly small for a low profile on the fighting rig when not needed.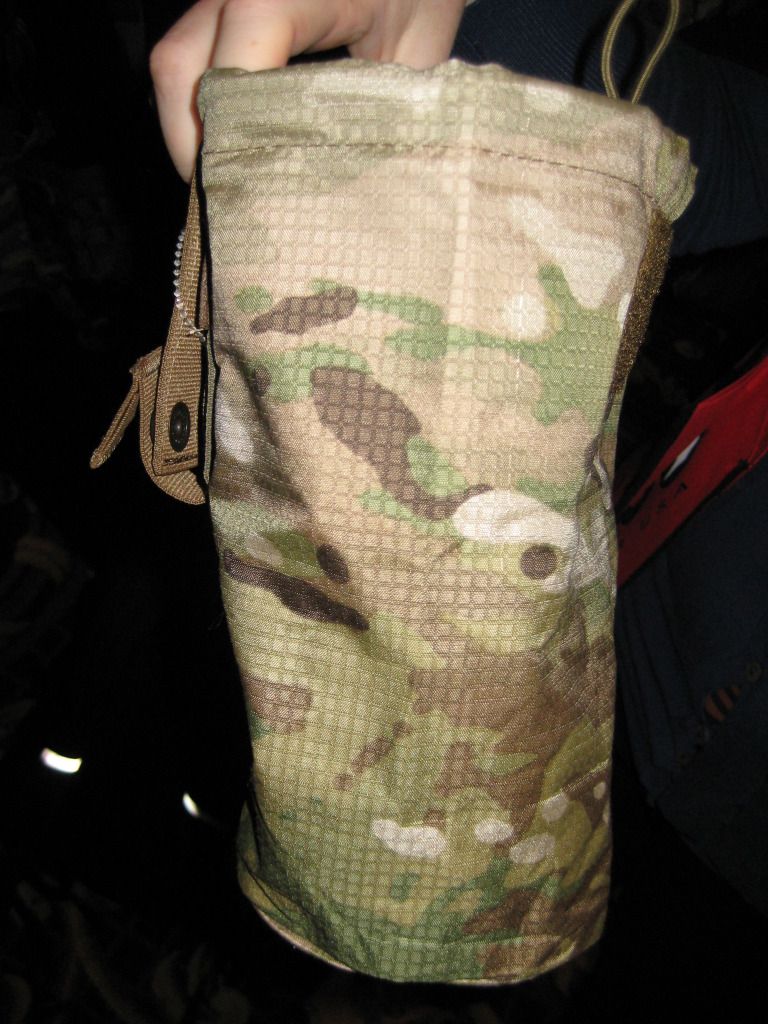 A new warbelt sheath has now been issued an NSN for issue into the American military logistical system. This MOLLE compatible warbelt sheath is open at the bottom to allow pistol holsters and other drop-leg sub loads to be attached to the inner rigger's belt without having to cut out access portals in the warbelt sheath itself.
ATS also has a belt-mounted pouch system for individual first aid kits. The SOF Bleeder Pouch, Tearaway is a MOLLE mounted tearaway individual first response trauma kit. It seemed a good size compared to other IFAK's I've seen around the market.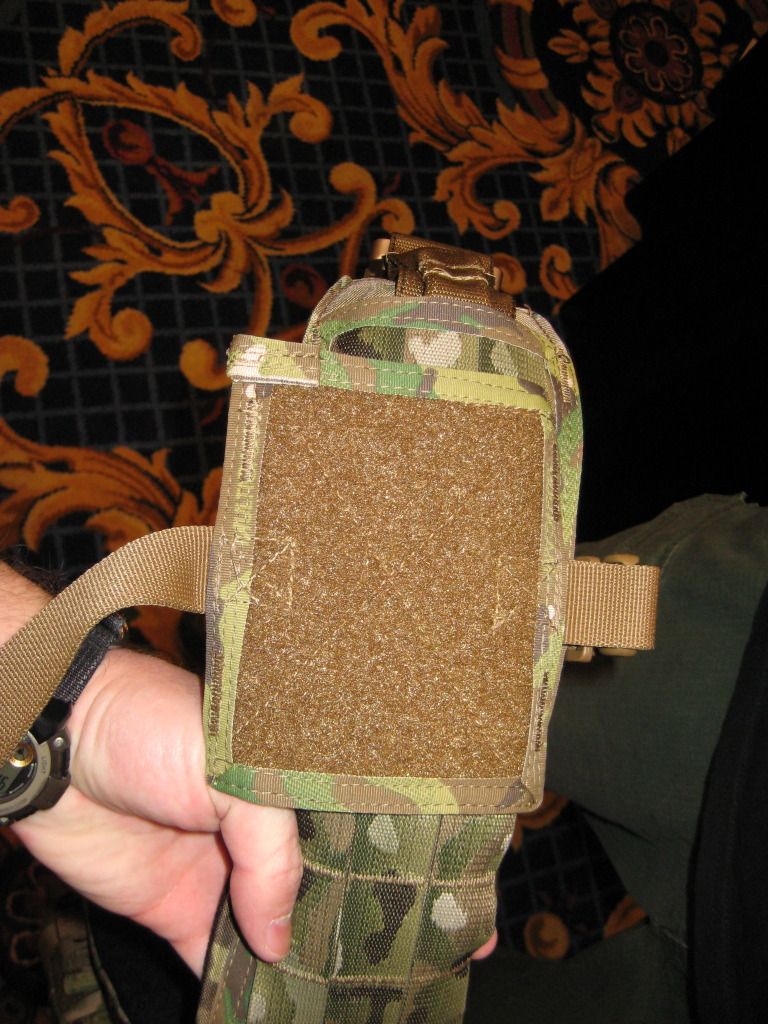 The new 2nd generation Cobra assault pack is going to be released into the market in the near future, which is a smaller, cut down version of the venerable RAID pack. The Cobra 2 will be available in the usual selection of camouflage patterns as well as the new ATACS-FG.
I'm hoping to be able to review this exciting new pack when it becomes available.
The Legion riggers belt with steel triangular anchor point is also available. It works very well with their warbelt sheath as well.
The final item I was shown by ATS was their new prototype plate carrier, tentatively named the "Gunfighter". It looked pretty good from my limited experience.
Hyperstealth
This is a company that drew the eye of my companions as we wandered past. Hyperstealth has a new camouflage pattern that has just been included in the final four down selects in recent US Army camouflage pattern trials. It looked alright to my eye.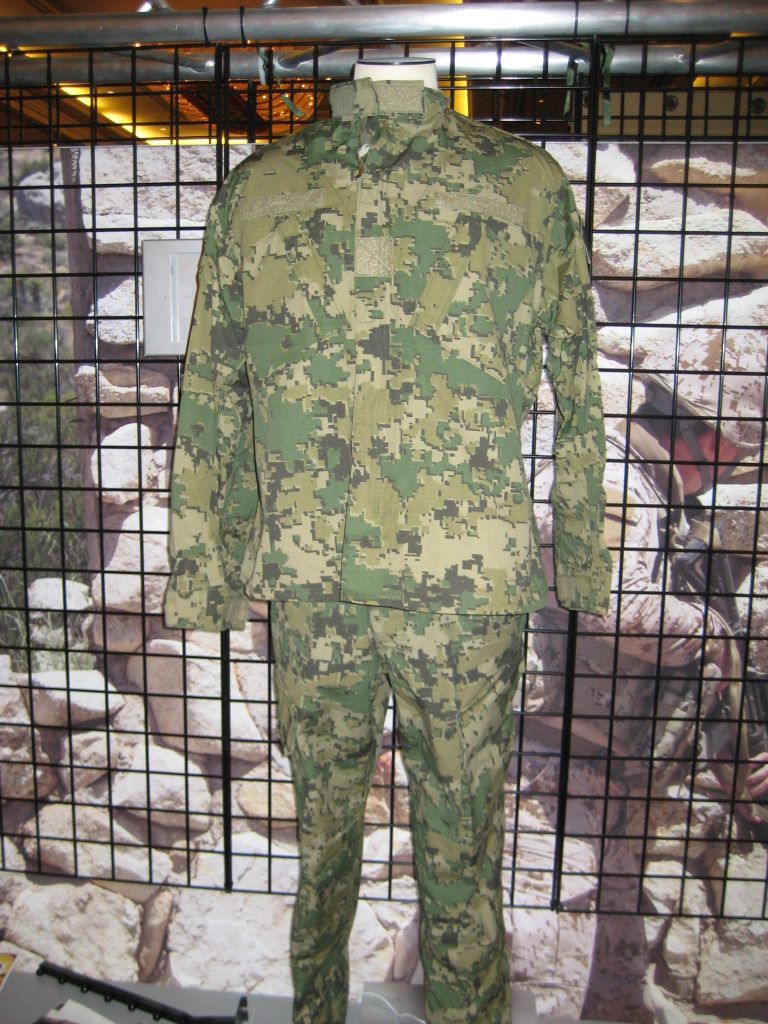 This company is also responsible for the latest New Zealand Army camouflage pattern, of which we were shown a swatch of material. In the flesh up close, it looks like an effective pattern.
I was trying really hard to control myself about making any jokes about sheep to the Canadian reps – but being ex-Canuck military, they beat me to the sheep punch line for our Kiwi neighbours and allies.
Crye Precision
The biggest thing I noticed in the Crye stand, besides the calendar sales stall with many nubile young ladies, was the new load bearing harness that could be customised for whatever mission the wearer needed, having the ability to add or delete armour packages and equipment pouches as needed.
I understand that this is a big theme or trend for many companies at this point in time.
Arcteryx
The new Khard 30 daypack was on show. It seemed another solution to access the entire contents of the daypack for various roles and ease of use.
Mystery Ranch
It was really good to catch up with the Mystery Ranch crew again.
Some new developments for the boys from Montana is the alliance with North American Rescue to provide a bundled package of a Mystery Ranch IFAK pouch stocked with important life-saving equipment correctly selected and sourced by experts in the field. North American Rescue is even capable of providing training to make maximum utilisation of the enclosed life-saving equipment. A very good option.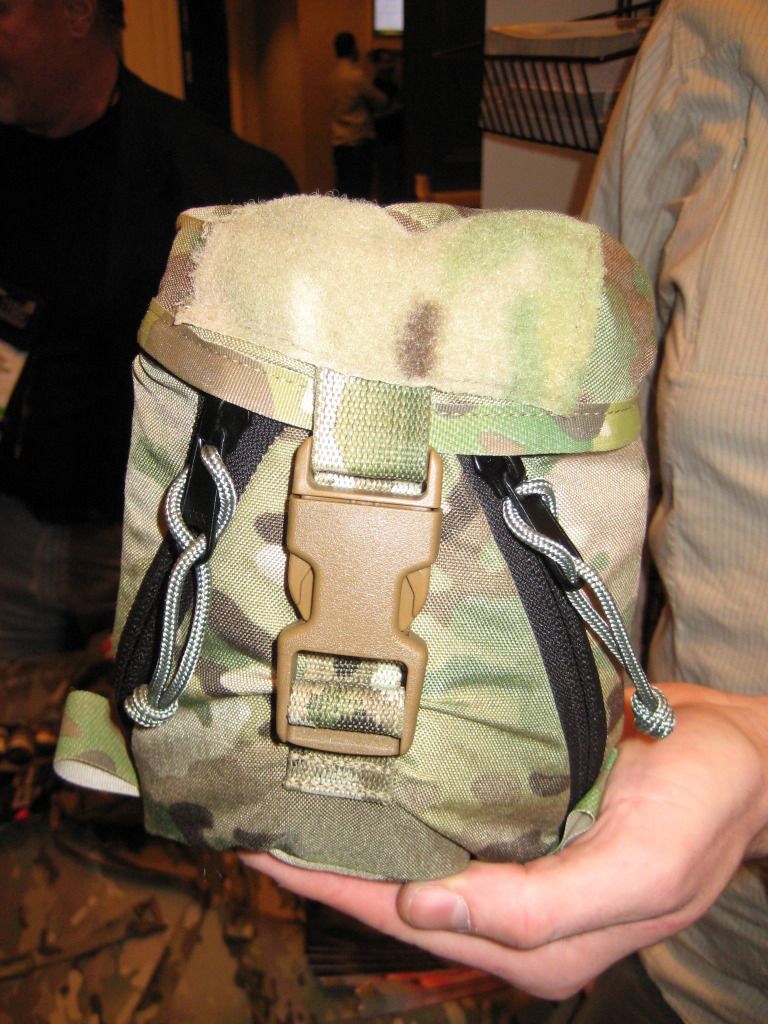 The MR line is being offered in a variety of new camouflage patterns. One I was able to see was the new Lupus pattern from Orion Design group.
The new development of the venerable 3 Day Assault Pack, the slightly smaller ASAP, which I was able to examine in Melbourne at the recently held Land Warfare Conference has also been confirmed as becoming available to the marketplace.
Another new product confirmed available to the public is the new beaver-tail accessory for MR packs is the Stick-it.
VERTX
I first met the international rep for VertX at the latest Land Warfare Conference last year. It was lovely to catch up with Andy again and hear the latest from him.
Vertx has a few new products that they're pretty excited about this year.
The new combat smock, of which I have reviewed the multicam version previously, has been released in a new colour, tan. Whilst it's exactly the same cut as its multicam brother, the new tan material is slightly different, being lighter, but no less technical. I see one of these in my future should I venture into colder areas for walking.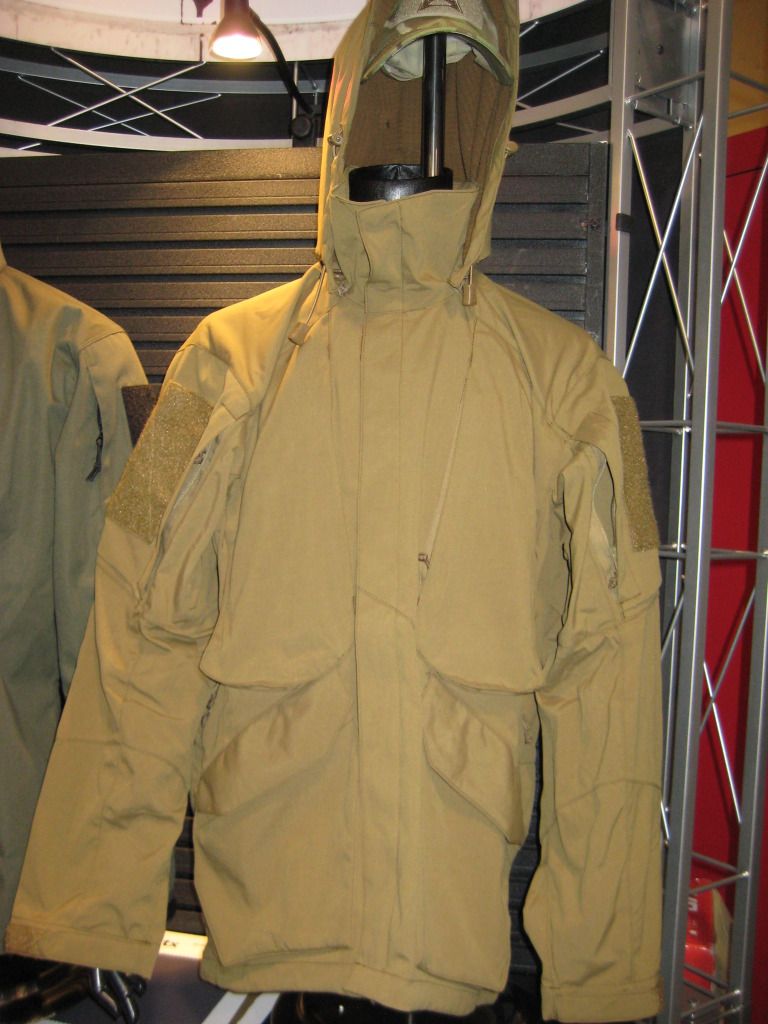 Like many others at the moment, VERTX are taking up the new Kryptek camouflage pattern for their line of field clothing.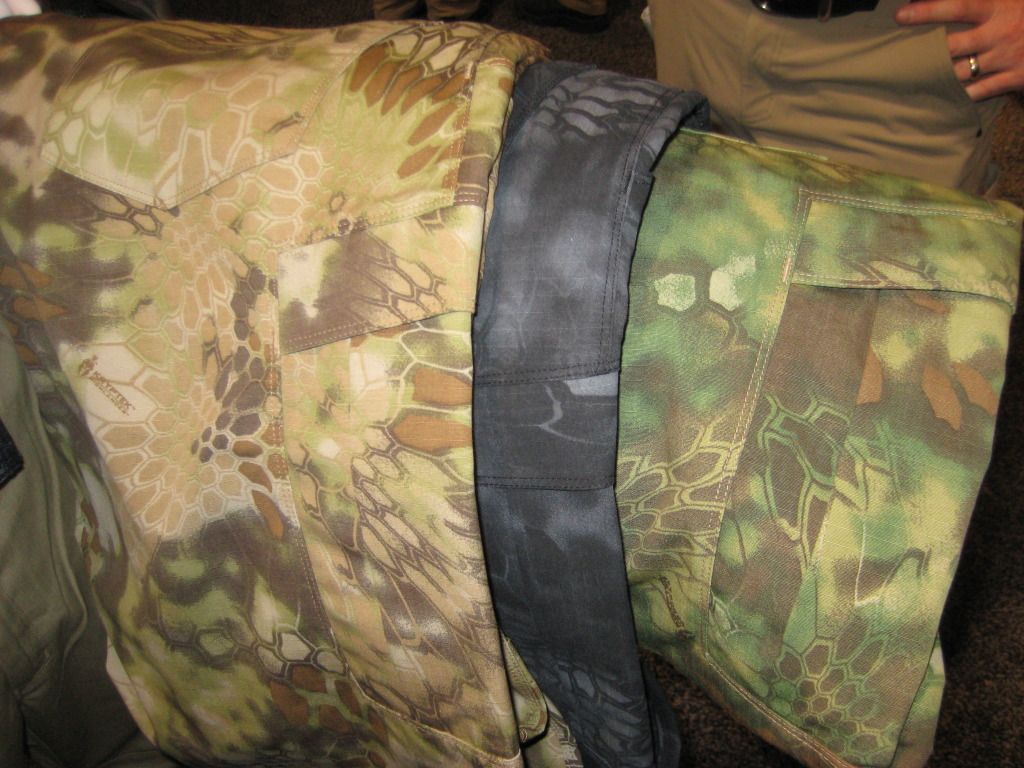 They also had a "thin" rigger's belt with cobra-buckle like device that will fit in normal belt loops. Like many, I like a rigger's belt to hold up my pants, but find certain thicknesses are overkill if not actually using the rigger belt to carry large amounts of equipment such as pistol holsters and drop-leg sub-loads because the belt becomes difficult to remove from pants for day to day wear. This has been solved by this new belt.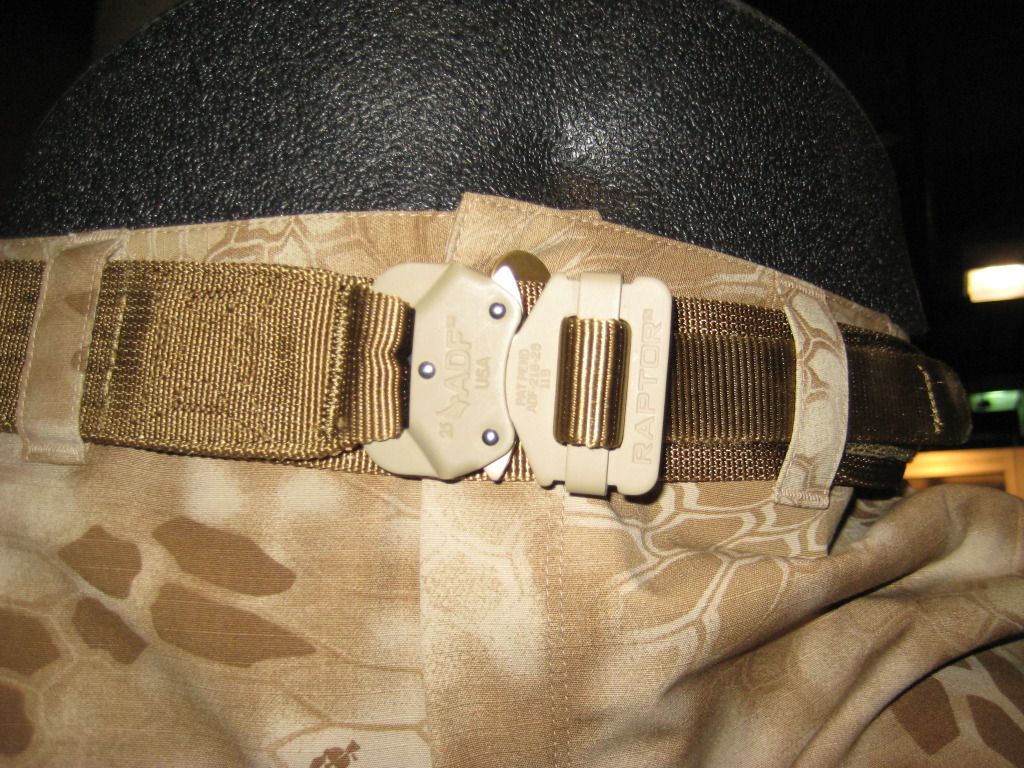 One jacket that particularly grabbed my attention was the Integrity Base Jacket. This is a two part jacket system, comprising of a natural material zip-in liner to a fully water proof outer jacket. It's a very lightweight jacket system for cold weather use. Features include compatibility with the combat smock and pit zips that extend all the way down to the hem to allow access to duty belt weapons and equipment as used by many police forces. This is another item that is on my future shopping list simply for the lightweight warming properties it brings.
For many of us, business or duty attire consists of a polo shirt. Vertx has added charge cotton to their line, which is a wickable, fast drying cotton material. Since I spend a great deal of time in hot areas in such attire for my day job, this is another item I will be looking at for my personal use.
It is well known the ADF issues such lack-lustre cold weather clothing, unless one happens to have received deployment orders, so the next item of clothing I was shown has some relevance. In the ADF, a great deal of cold weather clothing is bought at members own expense, in order to have a workable system that draws upon modern materials and design. Hence, this sweater with its knitted external appearance and internal fleece lining looks like it will match DPCU and multi-cam quite well.
The last clothing item I saw at the VERTX stand was their new combat shirt. Unlike many of the current crop of modern combat shirts to be worn underneath combat body armour (CBA), the main body of this garment is extremely resistant to abrasion and catching Velcro hook sections. As part of the user feedback received, VERTX has made the cuff of these combat shirts larger to allow end-users to roll the cuffs easier.
Kifaru
After many years of trying, I finally managed to meet one of the major personalities behind Kifaru – Mel. He's a lovely bloke, and was able to give me a run-down of what's new for them this year.
Their new Bikini Frame is a lightweight external frame solution capable of carrying 100+ pounds (45+ kilograms). It looked like another good lightweight solution to load carrying problems. It should be noted that this frame is only compatible with Kifaru pack bags and accessories however.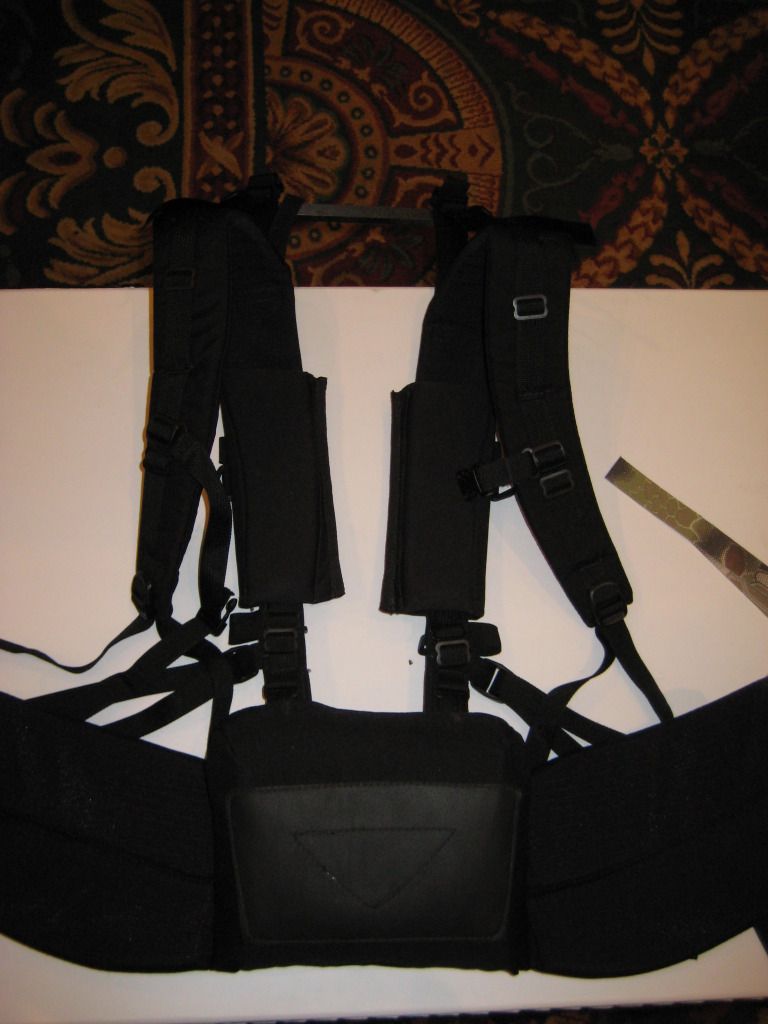 The newest pack bag made by Kifaru to take full advantage of the lightweight Bikini frame is the High Camp. This was designed for those wishing to have a pack bag that saved as much weight as possible, whilst still being modular enough for most possible end-users and mission profiles. With attached Bikini Frame, this 500 denier pack weighs in at 4.5lbs (approx. 2kg).
That's not a bad weight for a full sized hiking pack with full hip belt harness.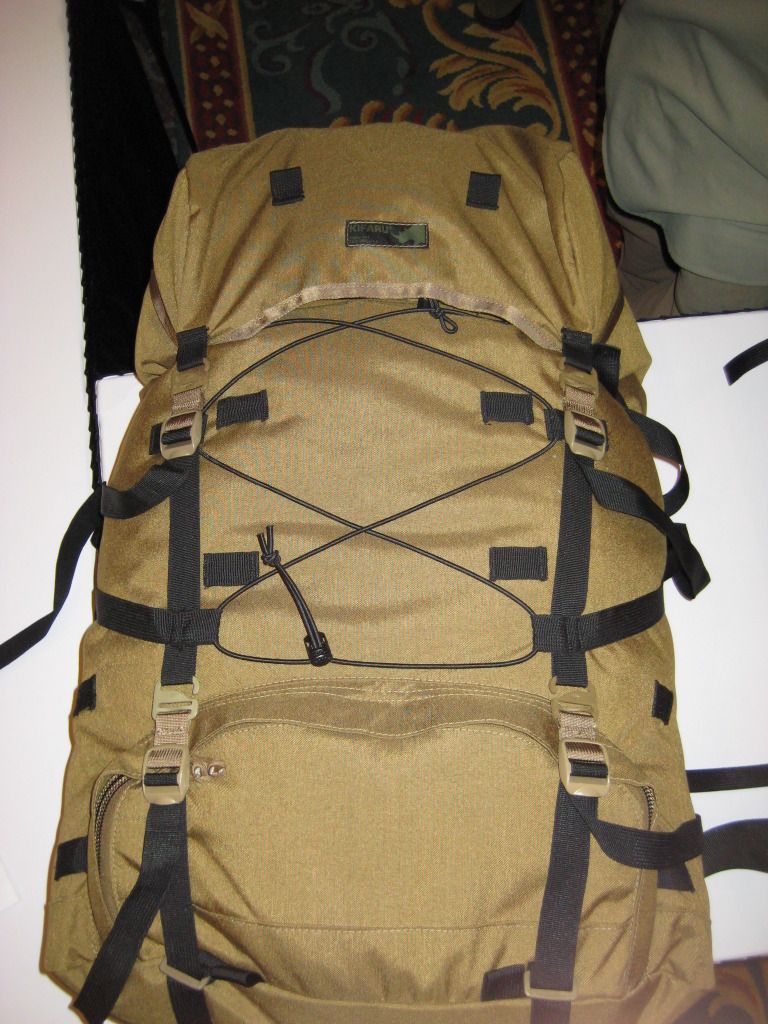 Like other major manufacturers, Kifaru is moving to newer camouflage patterns on offer to the market and making the Kryptek pattern an option for pack material.
Mel also demonstrated their Armour Grip System (AGS). An alternative to the same problem that modern military users now need to allow for wearing a large pack in conjunction with combat body armour, the Kifaru AGS allows the wearer to configure the pack harness to suit body armour plates with a velcro secured bolster system that folds up or away as needed. From my initial examination, it seemed a viable idea, if only possessing a slight weight penalty.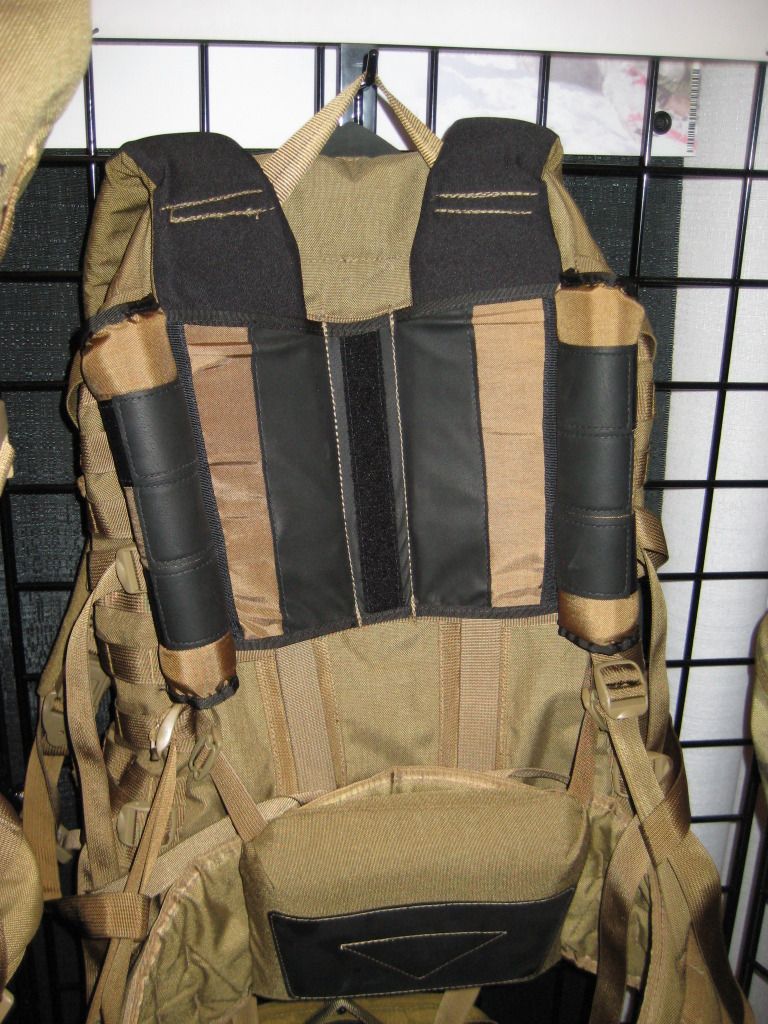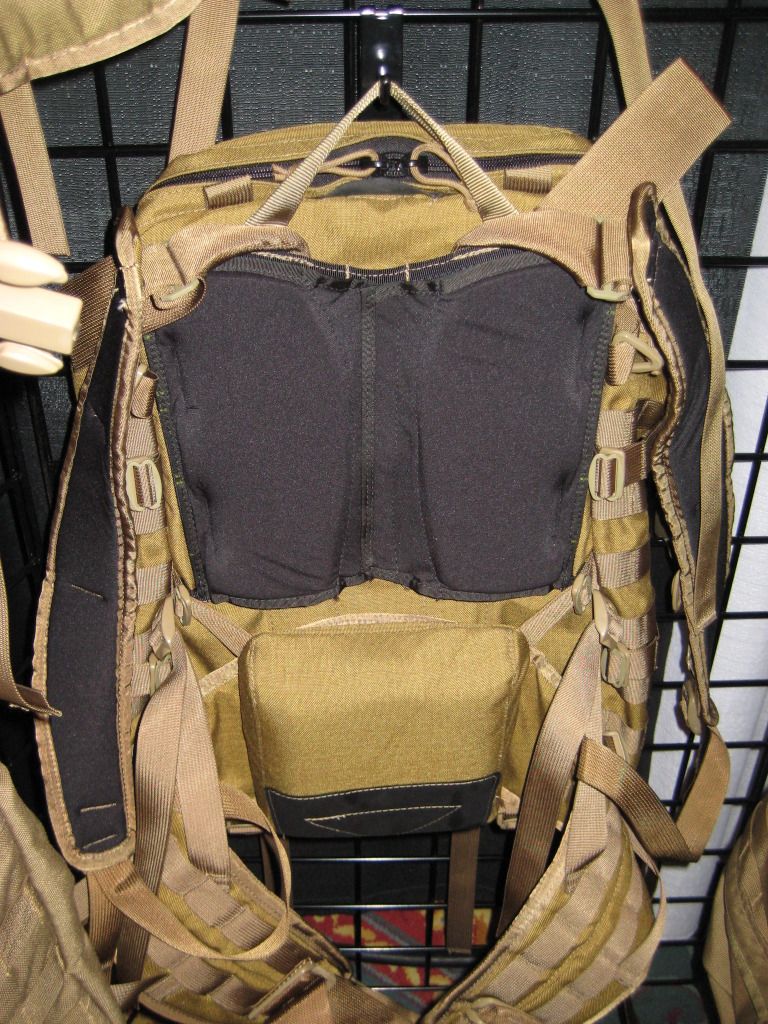 For those of you who have used the Xray pack, and thought it was just slightly too small, Kifaru has now released the Xing (pronounced Zing) which is a slightly larger XRay with a 22inch (550mm) main body (compared to the 17inch main body stays of the XRay). The pack has a 16inch (400mm) access panel to organise the internal load.
For those interested in the mainstay of the Kifaru line, there is a new model Zulu released. The Zulu was the pack mentioned by quite a few of my old American friends that introduced me to the Kifaru line, it was on my shortlist for a new pack for many years. Somehow, I never had the time or monetary resources to acquire one. This year's model offers a new twist does away with the PALS columns on the side of the pack, and replaces these with a collapsible, tuck-away side pocket. When empty, these pockets sit flush against the pack, preventing snag hazards in close country, yet bellow out when in use. The bellow design when filled, still gives a reduced snag hazard in close country compared to MOLLE mounted pouches on the sides of the pack. Looked like a really nice design.
For the smaller end of the product line, the Zippee has been released. This is designed as an assault pack that can be mounted direct to armour carrier of the wearer, it has side access panels and is essentially a gunned up Escape & Evade pack.
The last item Mel demonstrated to me was the Woobie Express. This is a development of famous Kifaru Woobie. The Express is cut as a poncho to allow a user to wear the Express to be worn over fighting load during short halts whilst still allowing access to worn equipment and still be able to rapidly removed and packed away when necessary. It answers a particular concern to many deployed to colder areas and trying to balance staying warm with rapid response to stimuli in a field environment.
Rocky Boots
The Rocky booth was offering a professional fitting of these great boots by some absolutely delightful attendants. It was the first time I've been able to examine these boots up close and personal. I know, I know, the product has been on the market for several years now, but this is the result of being forced to live in some of the remotest parts of the country for work purposes. We've only just discovered that there's this thing called colour television, and that the local footy team has purple and white jerseys.
The foot bed of the S2V boot has to be experienced to be believed – it was THAT good.
They have an abrasion resistant panel on the instep for roping, a workable air pump that functions using foot movement to remove excess water from the boot, and a really nice tread pattern.
Whilst they're intended as shorter range boot or for water Ops, and as such would not be a complete replacement for such general purpose combat boots such as the Crossfire Peacekeeper that I currently wear, I'm going to be acquiring a pair of S2V's in the near future.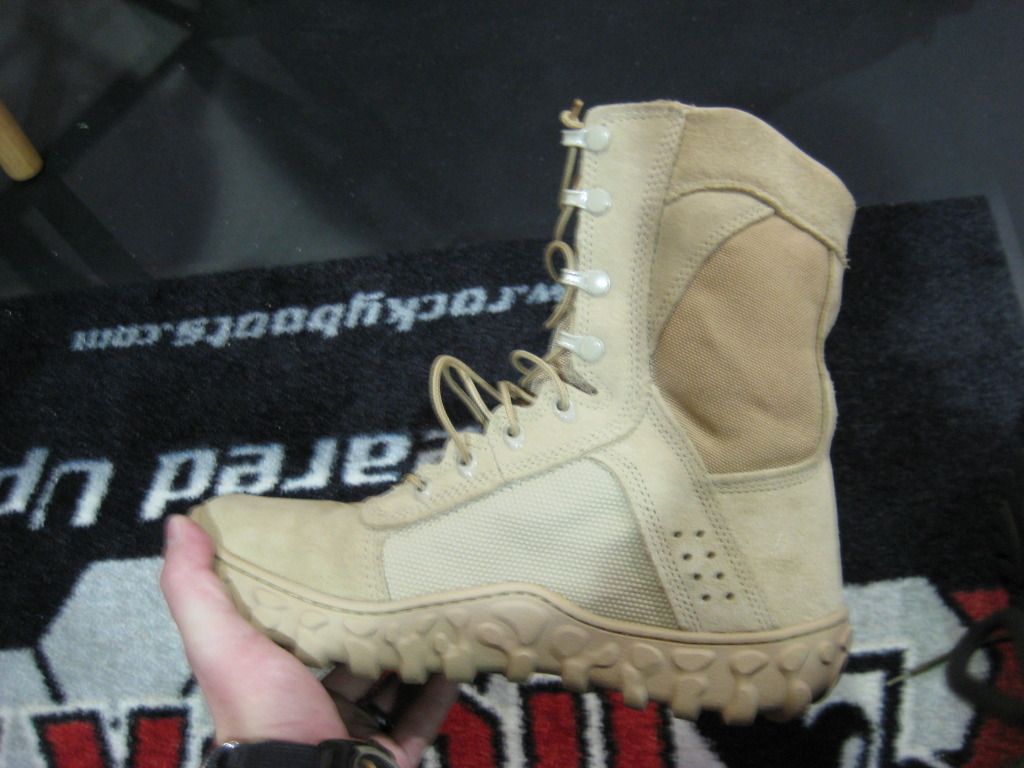 Blue Force Gear
This is a company I've been watching with some excitement for the last few years.
Their stand was a pretty busy one during the show.
BFG has been very busy with lightweight load carriage solutions. Their latest technological innovation, is called "Helium Whisper". Using a proprietary high performance laminate material called ULTRAcomp, which is very thin, laser cut and can outperform 1000 Denier cordura and only half the thickness of an American dime. This is an amazing material that eliminates the weight penalty inherent in many modular designs, where a matrix of material is placed upon a backing of material.
Currently available in four platform options: the PLATEminus (plate carrier), RACKminus (chest rig/battle bra), SPLITminus (split front chest rig) and BELTminus (belt rig).
The last three of these rigs hover around an average weight of 250grams – an amazing weight saving with all things considered. There are also a range of pouches using this technology as attachment options. In a world where operational loads are now approaching stupid levels, and ounces equal pounds, where pounds can mean pain and joint injury, weight of cordura used in load bearing systems is approaching significant levels. Here then, is a solution to reducing the amount of weight carried. This is a technology I will be watching closely in the future.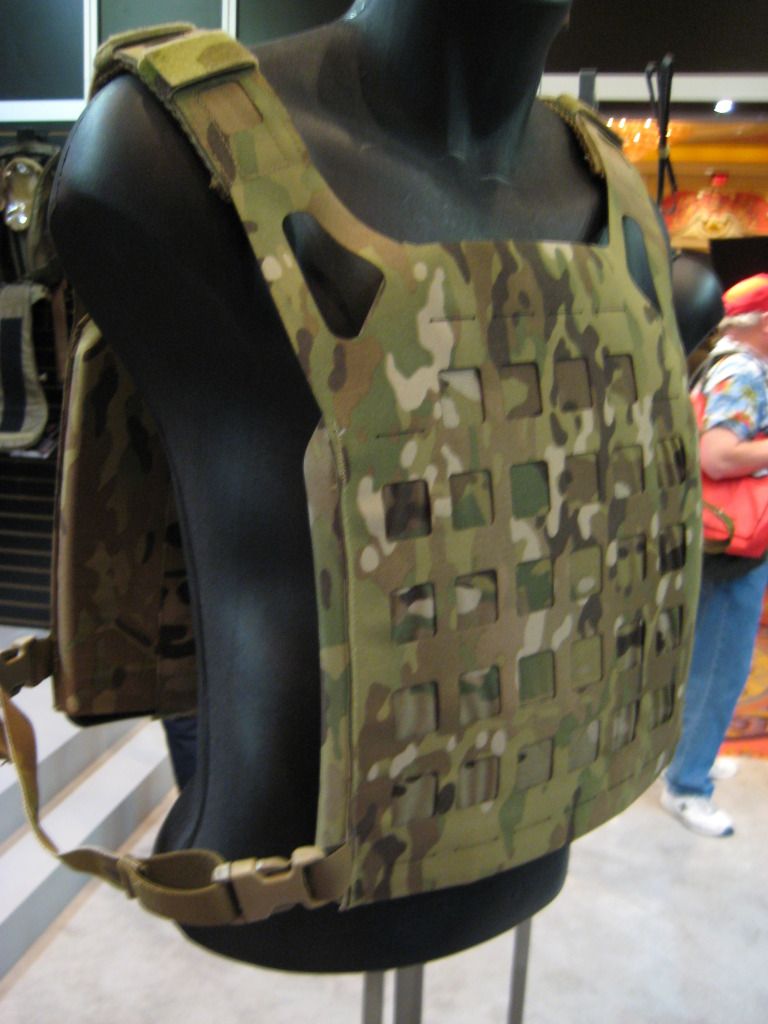 The last item Blue Force Gear showed me was their new Hive satchel. Apparently designed for a customer who had a requirement to carry short barrelled small arms in an easily accessed visually low profile bag that didn't scream out to the surrounding public that the carrier was armed and dangerous. Such things as executive protection and under-cover work springs to mind for applications of the Hive satchel. The sample I examined was able to be swapped over for left or right-handed users, and have an ambidextrous pouch for storing a service sized handgun, with torch and other daily necessities with a main compartment that allows easy access to the short-barrelled long arm with its attendant ammunition and accessories.
Since I have need of a decent nappy/diaper bag in the very near future, I will be acquiring one very soon.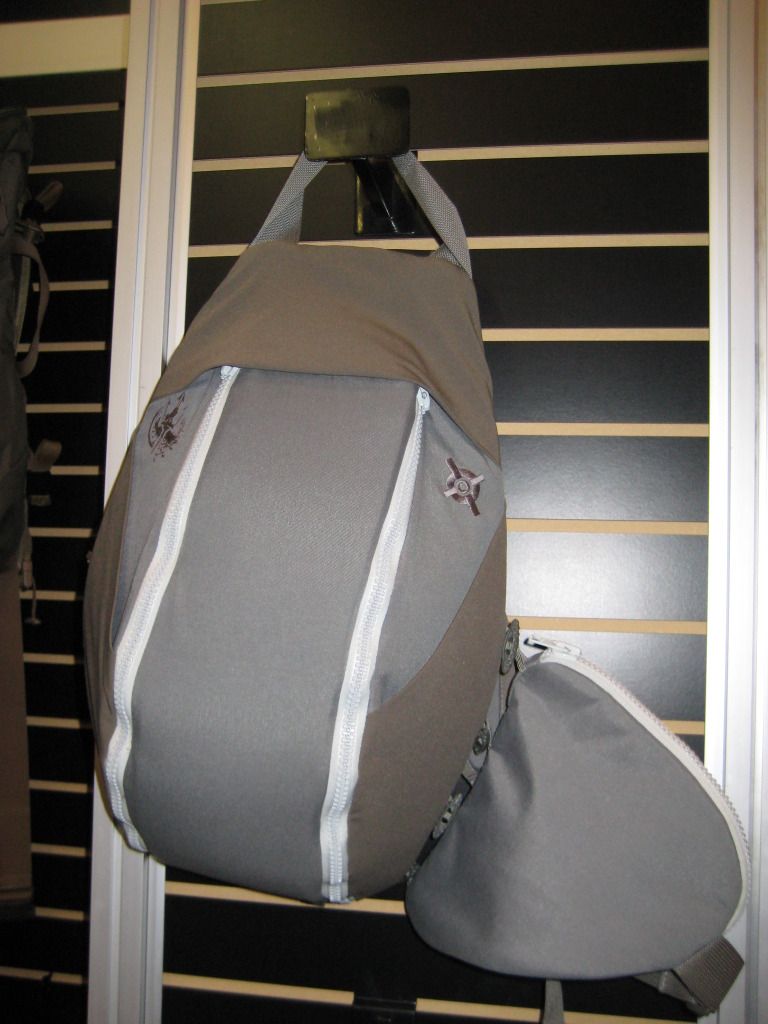 I've had opportunity to use a few Blue Force Gear items and have been very impressed with their quality.
Firearms
As per usual for SHOT Show, there are small arms and accessories everywhere! Most important in the American market is the AR-15 family of weapons.
So many companies offering such a myriad of variations, that I was absolutely saturated. The problem being for me as an Australian, that since I can no longer own so many of those wonderful items, it's simply not worth getting overly excited over anymore.
Having said that, one company that stood out for me was Adam's Arms. Whilst I have no idea if this company makes rifles and carbines for "hobby" casual use or "serious" service applications, I did come across their gas system conversion for the AR-15. The standard AR-15 is gas operated by what is known as a direct impingement system. This is where propellant gases are tapped off from the muzzle as the round passes down the barrel and redirected to the bolt group in order to cycle the weapon for the next shot in the operating cycle.
Other weapons use what is known as a gas piston, where the propellant gases are tapped off to propel a gas piston or operating rod to actuate the bolt for the next shot. This keeps the receiver group of the weapon somewhat cleaner and free from hot gases that can affect service life of internal parts.
So many companies are making gas piston conversion kits to change the direct impingement system of the AR-15. Adam's Arms in particular, makes a conversion kit that seemed particularly user friendly to me. It was extremely easy to flick the gas plug over from a "normal" gas setting to a "more" gas setting that may be needed after prolonged firing and fouling may be blocking the system. All this could be done with gloves on, and without burning delicate fingers that I have experienced from service weapons in the past.
One vendor that really drew my attention though, since I'm in the process of gaining my target shooting licence again, was Wild West Guns. They specialise in custom gunsmithing and accessories for lever-action rifles and carbines. Since I'm looking at a lever-action Marlin 336 in .30-30 for my own hunting and target shooting competition, I was amazed at what could be done to the old cowboy rifles. I have gained some inspiration for setting up my ideal rifle.
Another rifle that drew my attention was the CZ550 Urban Counter Sniper Rifle. Whilst the name does nothing for me, the features of this rifle certainly drew me in. The Czechoslovakian company CZ has a solid following in the target and hunting communities down under for their high quality rifles. This rifle in particular was fitted with a heavy bull barrel with a Surefire muzzle brake. A synthetic stock and detachable box magazines put this rifle in competition with the Ruger Gunsite Scout, which I have also been keen on examining.
Whilst it was quite hefty, the CZ550 Counter Sniper wasn't obnoxious in its weight. Replace the factory stock with another synthetic stock from something else available in the CZ line, and a nicely weighted rifle with very useful features could be had.
All up, a great time was had by all. It was one of those weeks I couldn't believe passed so quickly. The recurring memory of SHOT Show for me, is a great deal of walking, talking and hurriedly grabbing food.
I hope this keeps you all entertained, and slavering at the prospect at new and shiny kit.
Questions, queries, or doubtful points?

Posted in Blog by 22F with no comments yet.