ITEM:   Commander 5L Hydration Pack
MANUFACTURER:         Source Tactical
DESCRIPTION:
A small combination hydration pack with inbuilt facility to carry 3 litres of water in a bladder, and 5 litres of cargo capacity. This is the little brother to the Assault 10L reviewed previously.
REVIEW NOTES:
This item is kindly provided by Crossfire.
Despite acting as something of an agent for Crossfire, I have received no financial compensation for this review. Like any previous review with supplied equipment, I have conducted the review with the proviso that I will be painfully honest in my assessment of this item.
The Source Commander pack will be returned to Crossfire on the completion of the review.
Prior to this review being completed, I believe this hydration pack has been superseded by a slightly larger model with 10L cargo capacity.
SPECIFICATIONS:
Materials
Main body – 1000D cordura
YKK zips, and these all have cord pull tabs.
Fastex clips
Webbing tape
Dimensions
Weight – 925g (2.05 lbs)
Length – 450mm (17.7in)
Width – 240mm (9.4in)
Depth, bladder compartment – 40mm (1.6in)
Depth, pockets – 50mm (2in)
Length, bottom pocket – 180mm (7.1in)
Length, top pocket – 240mm (9.4in)
ATS RAID on the left, Source Commander on the right.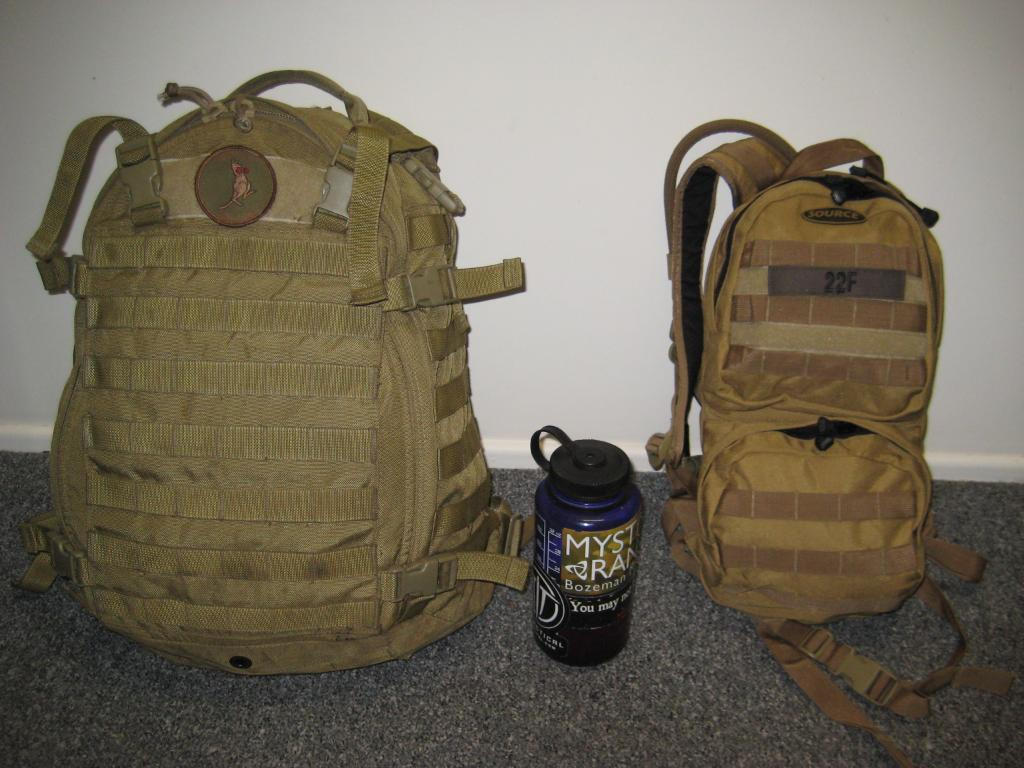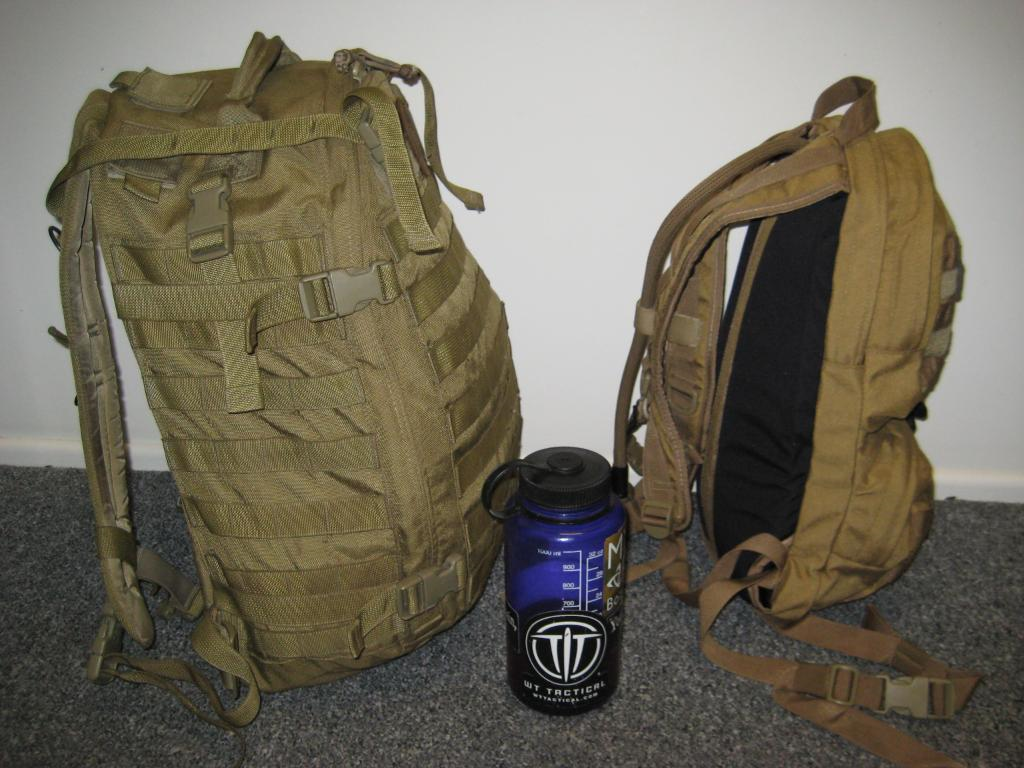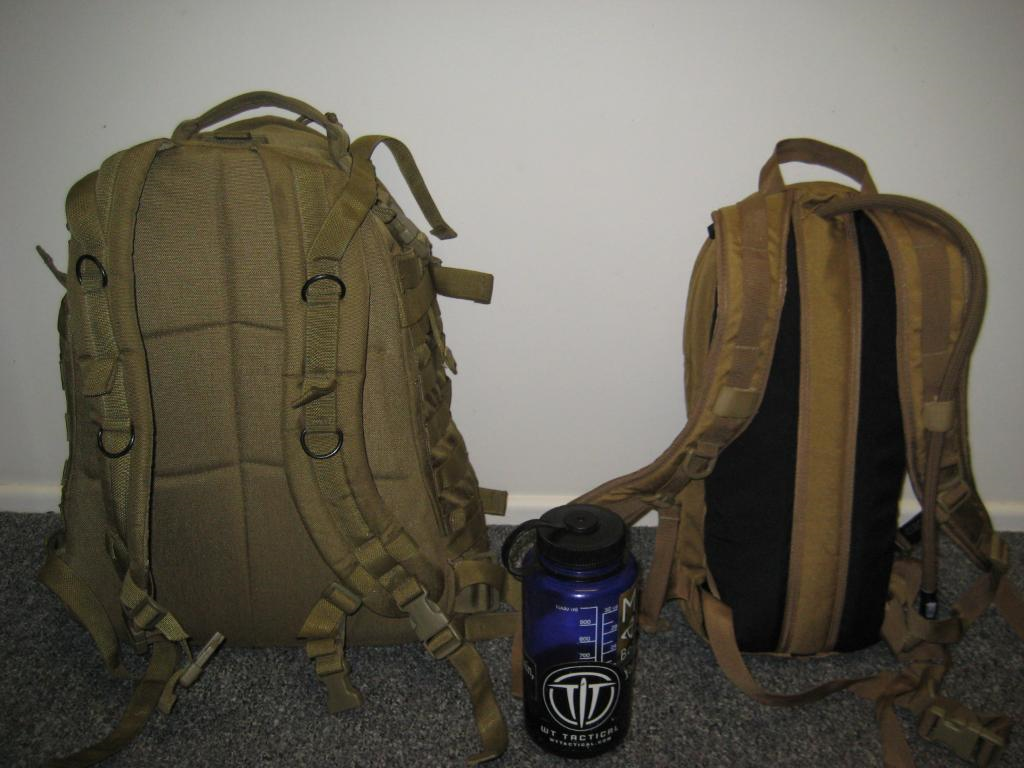 LAYOUT: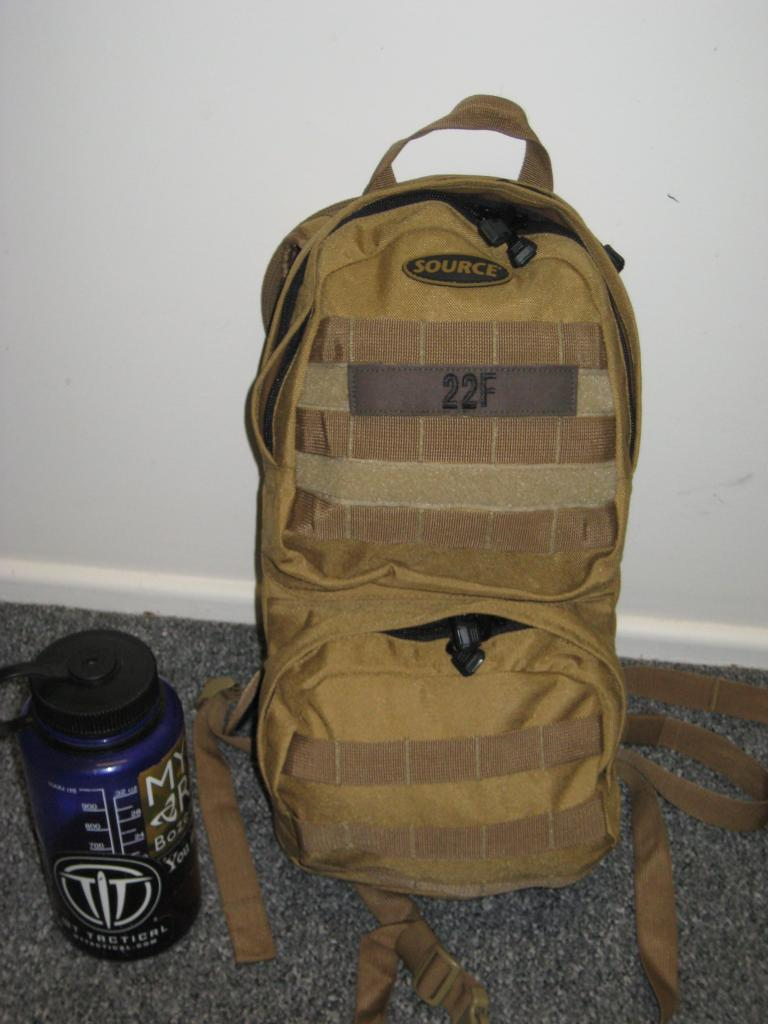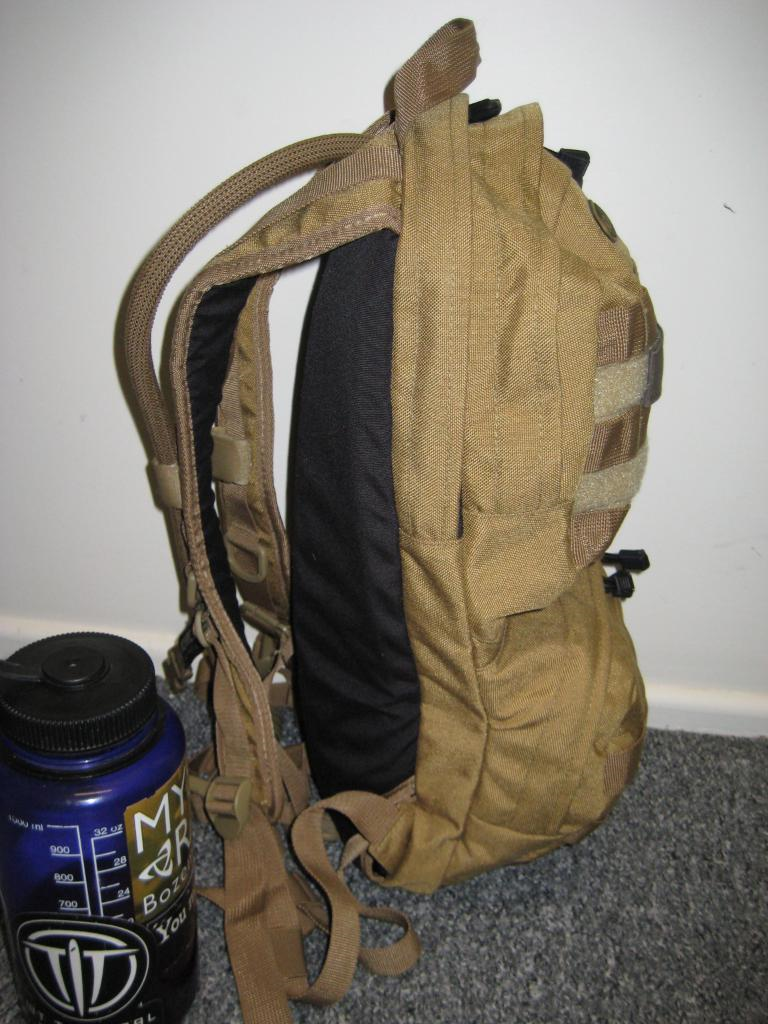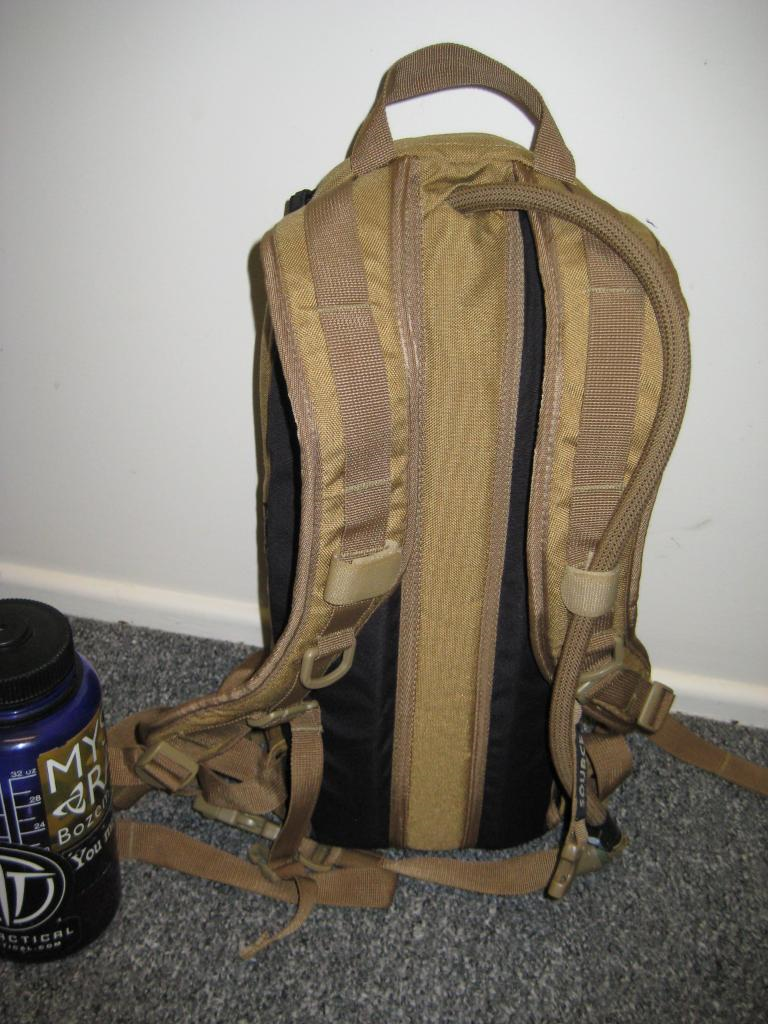 Harness –
Harness of the Commander is a simple gently contoured affair. The lining against the body is cordura. There are two cushioned areas forming a channel for sweat wicking purposes.
The shoulder straps have an adjustable sternum strap and loops for allow the hydration hose to be secured so it doesn't flop around as a snag hazard.
Elasticated tubes are fitted to catch and secure loose running ends of the shoulder straps.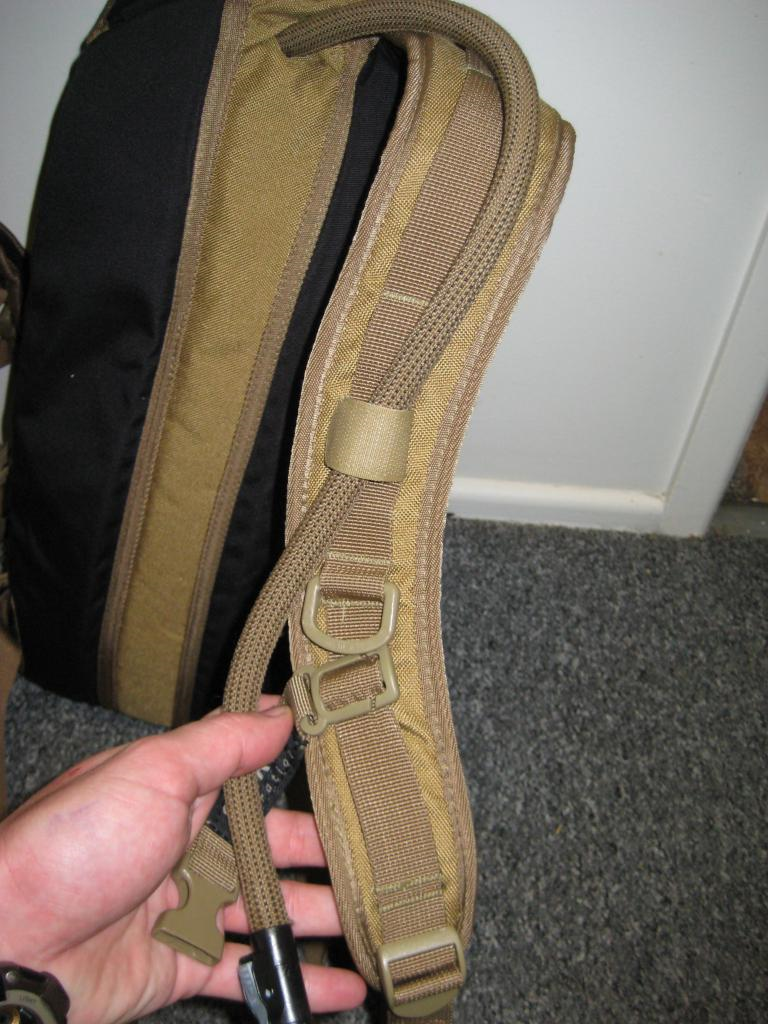 There is a hip harness consisting of a webbing strap with fastex buckle.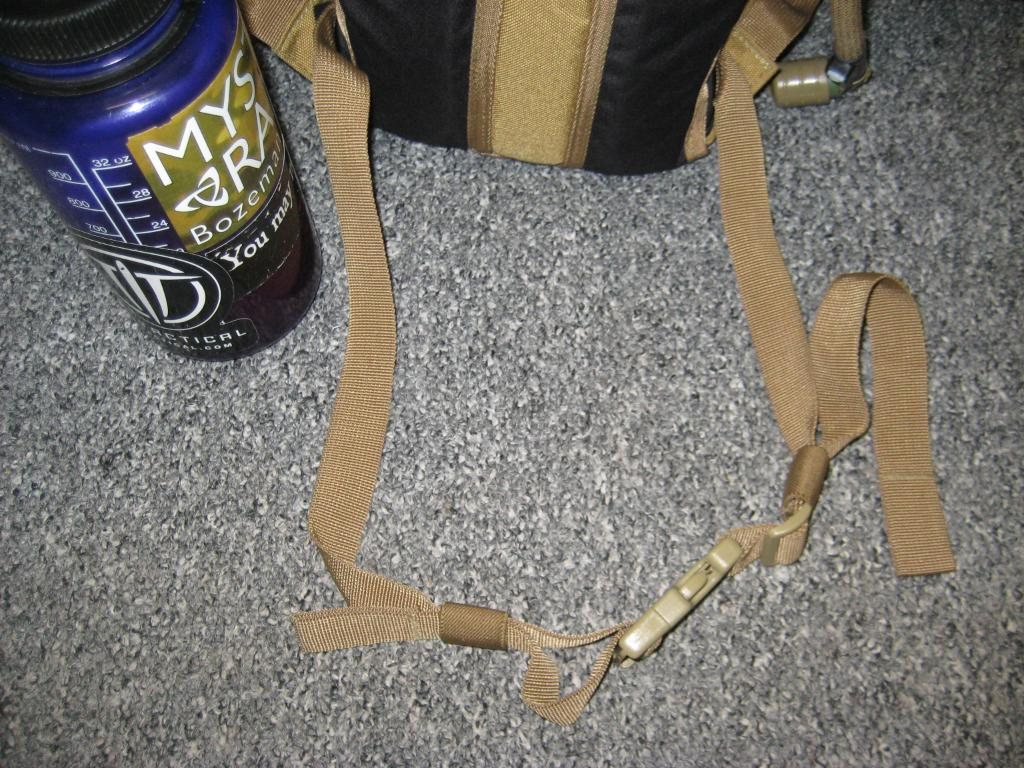 Rucksack –
The bladder is stored within a main compartment, secured with clam shell-type double zipper at the top. The whole main compartment is lined with insulating foam to both protect and the bladder and insulate it from extreme weather.
A velcro loop at the top of this main compartment is used to secure the bladder within the pack.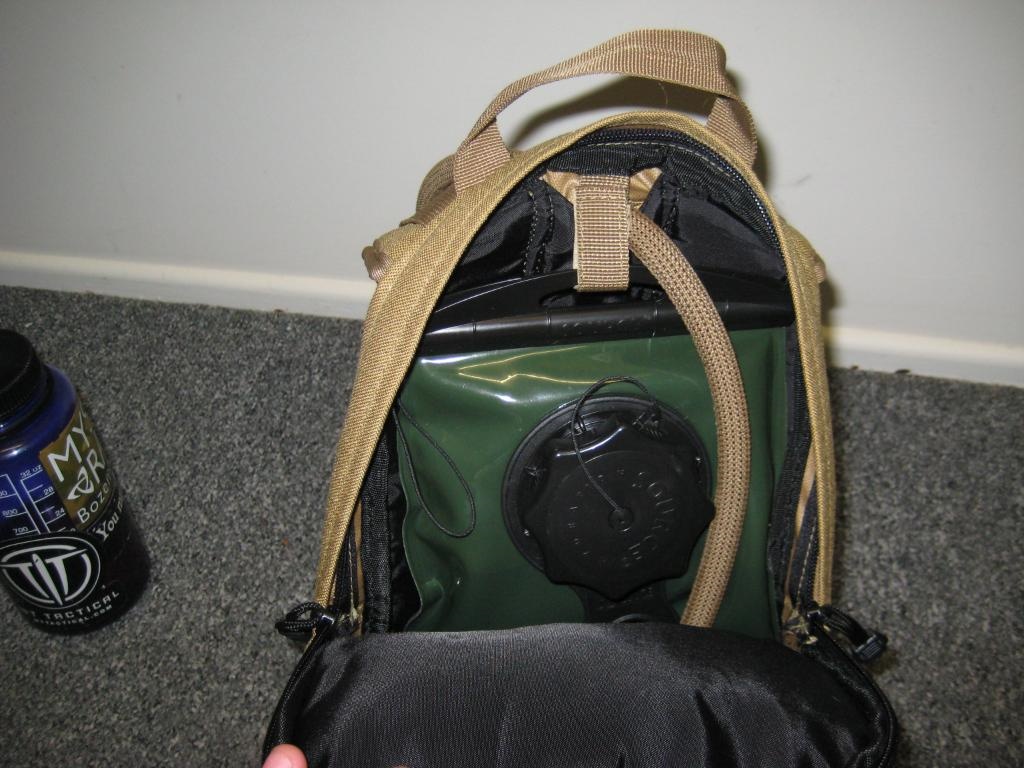 On the outside of the pack are two zip secured pockets.
The top pocket has PALS channels and pile Velcro for morale and ID patches. Inside is some internal organization of bungee pouches for a couple of STANAG magazine sized articles and other small admin items like pens, a small zip sealed sundries pocket and a lanyard for securing keys.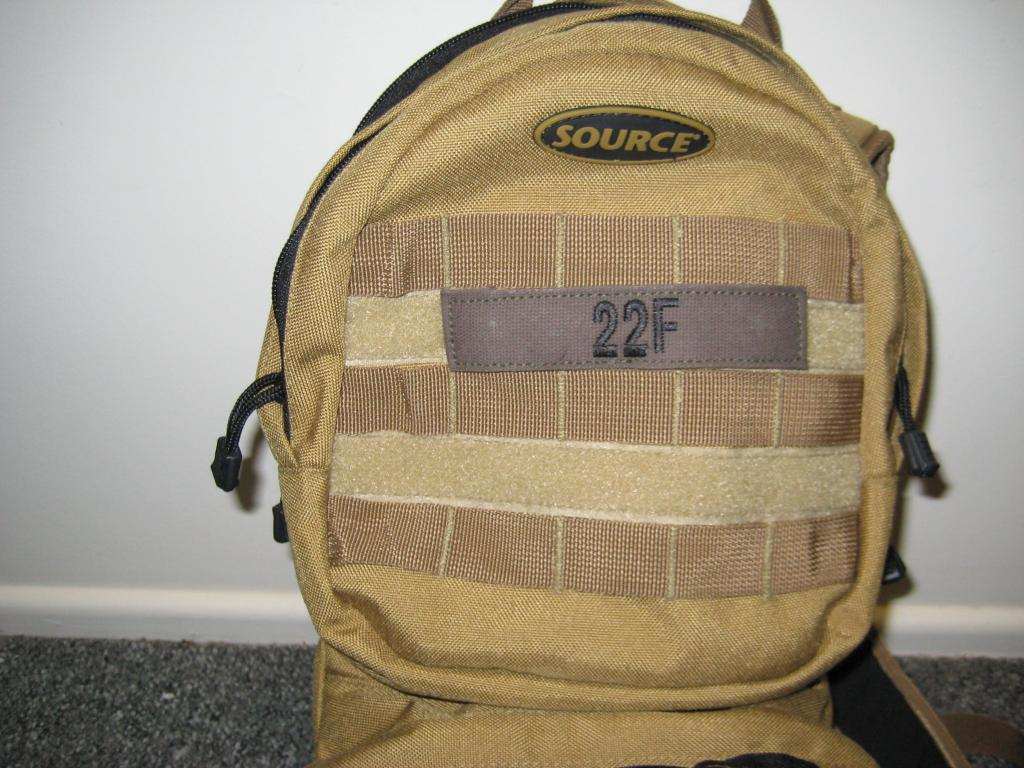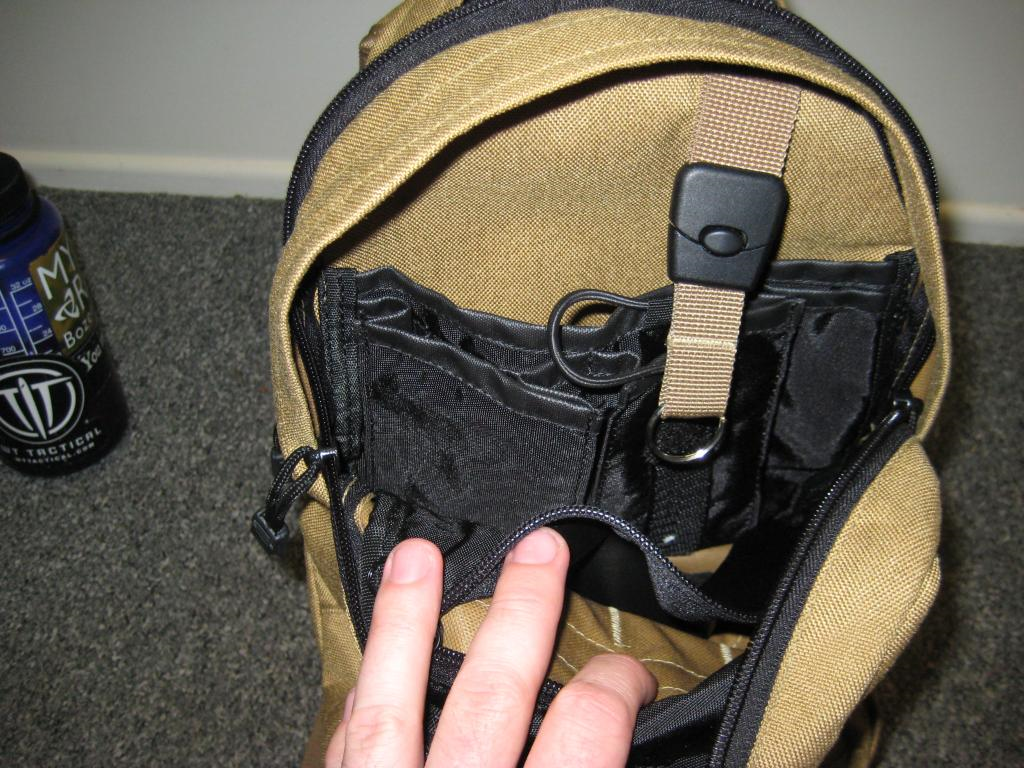 The bottom pocket is very similar to the top one, but without the velcro and internal organization.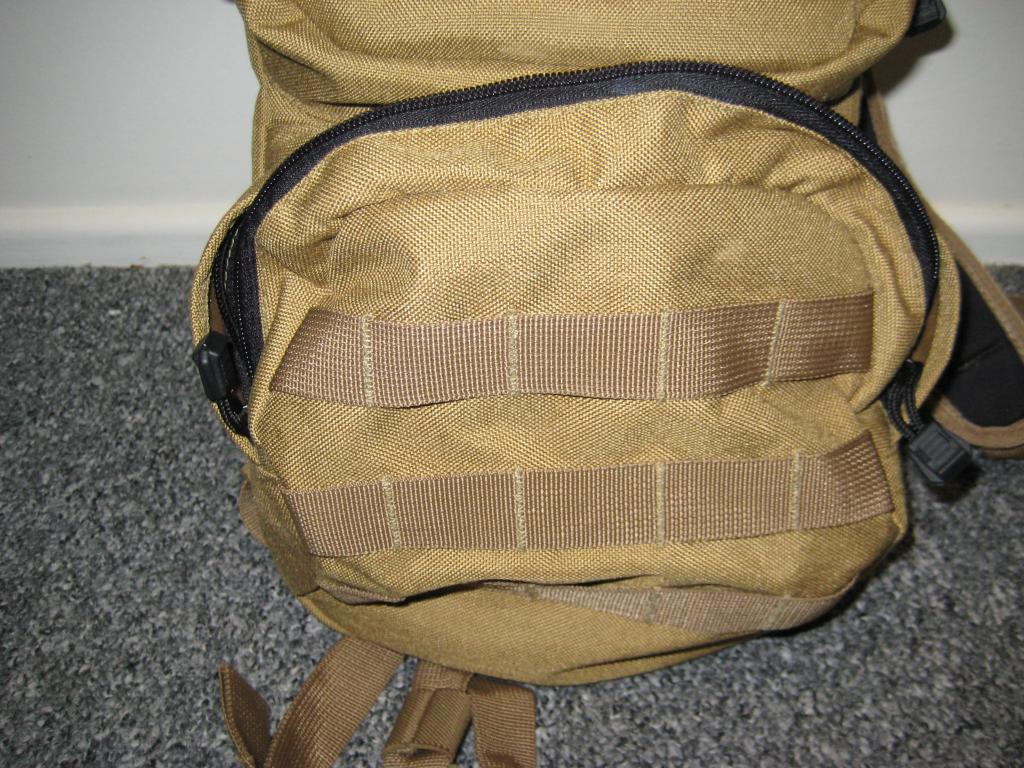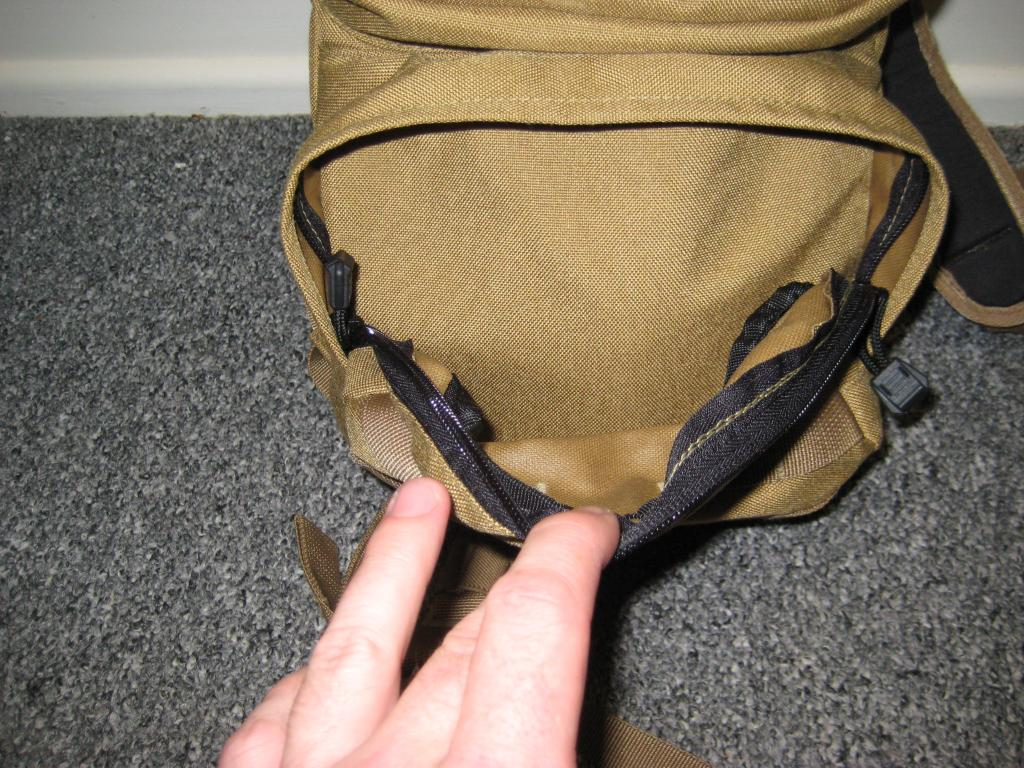 All zips are fitted with cord pull loops.
Bladder –
The Source bladder continues to impress me as I keep using it.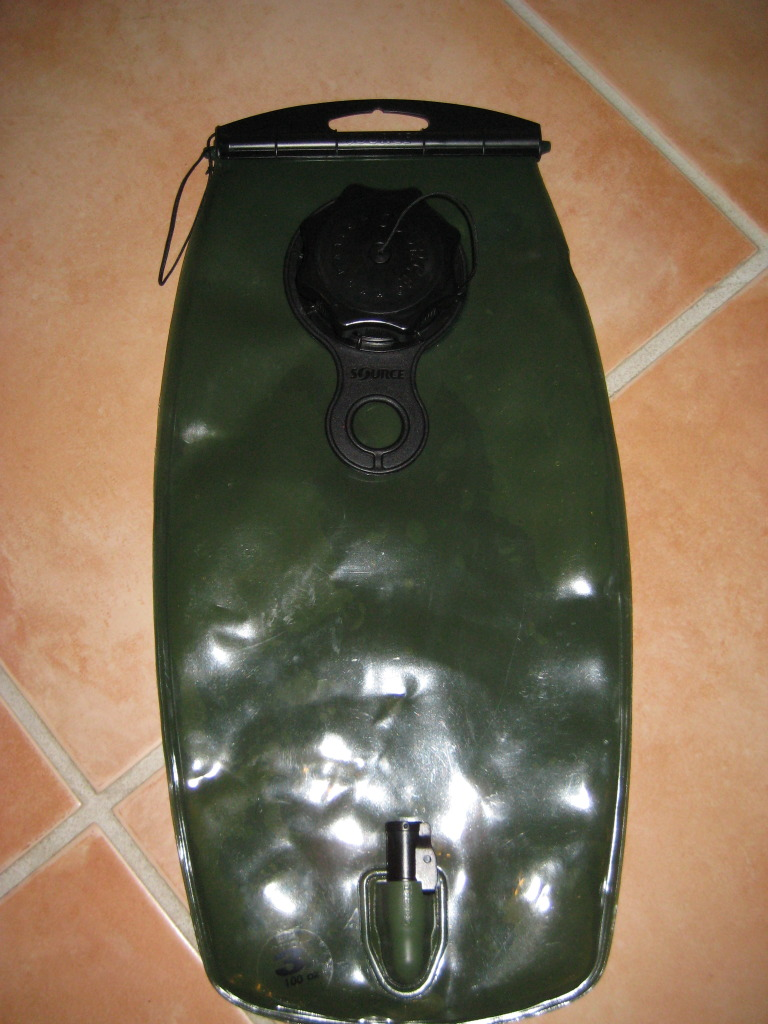 Like most hydration bladders, it has a screw top lid approximately three quarters of the height of the bladder. It also has a fold-over seam covered with a bracket to allow ice cubes to be added to one's water supply and easier access to clean the bladder after use.
This fold over access also acts as a designed fail-point should the bladder be subjected to excess pressure.
If the bladder was to be crushed, which is entirely common in a military environment, this fold-over feature will simply blow out. So that the water may be lost from that bladder, but the bladder doesn't suffer a catastrophic failure, and can be simply re-filled. Even in normal life, with my amazing propensity to find concealed creek lines with my head, I've burst hydration bladders when going for a tumble.
Yet, the fold-over feature is sufficiently robust to withstand most abuse that could conceivably be thrown it's way without failing. Very nice, simple design.
The inside surface of the bladder is very smooth. According to the company, this is a glass based coating to retard microbial growth on the bladder surface. My knowledge of microbiology gained from the food manufacturing industry suggests this would be very nice in a field environment, since microbial colonies tend to gain stronger anchor points on a surface that is full of holes and a rough surface that is inherent in many plastic films.
The QMT (Quick Mate Technology) system is a very impressive feature.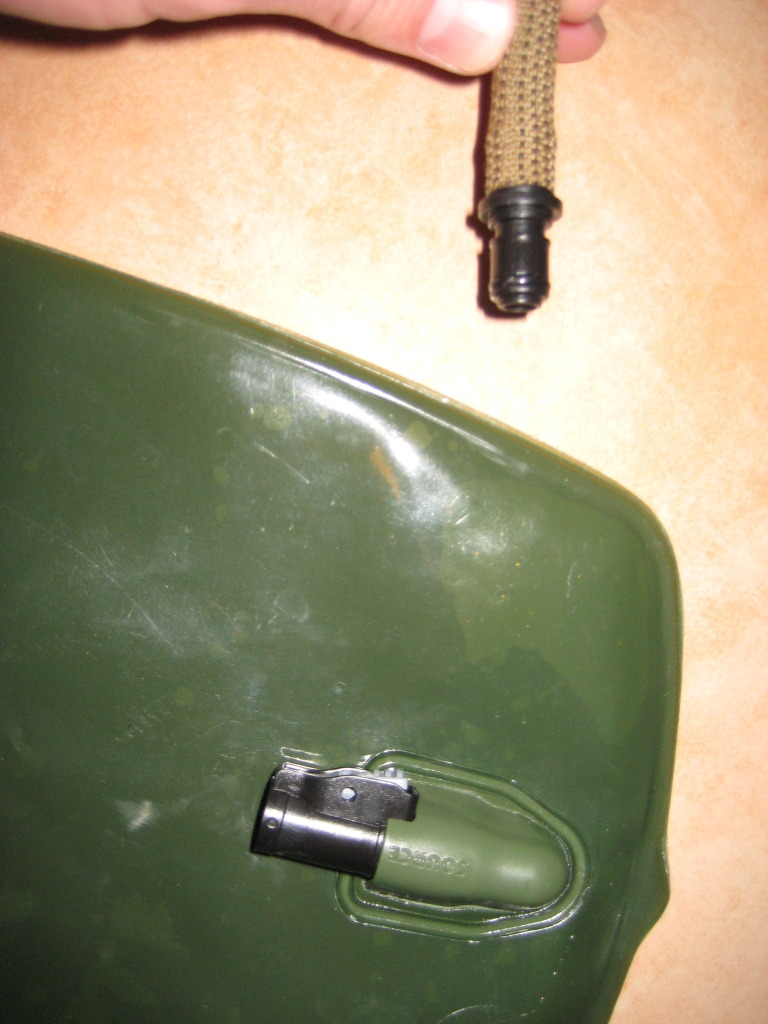 This allows hoses, bladders and other accessories to be quickly and easily detached or added to the system as required. Currently, Source lists six options for integration to the system:
CBRN gas mask (Avon or M40) – not reviewed by myself. The only time I could possibly need such equipment nowadays is if stuck in a confined space with my baby brother again.
Pressure pump – not reviewed by myself.
UTA (Universal Tap Adaptor) – reviewed by myself.
The UTA is a rubberised attachment that allows the bladder to be filled from common water receptacles, such as water bottles, and taps (faucets for my Northern Hemisphere readers).
It allows the bladder to be refilled, without taking it off the body, or having to access the bladder itself, which can reduce the amount of possible contaminants being introduced into the drinking supply.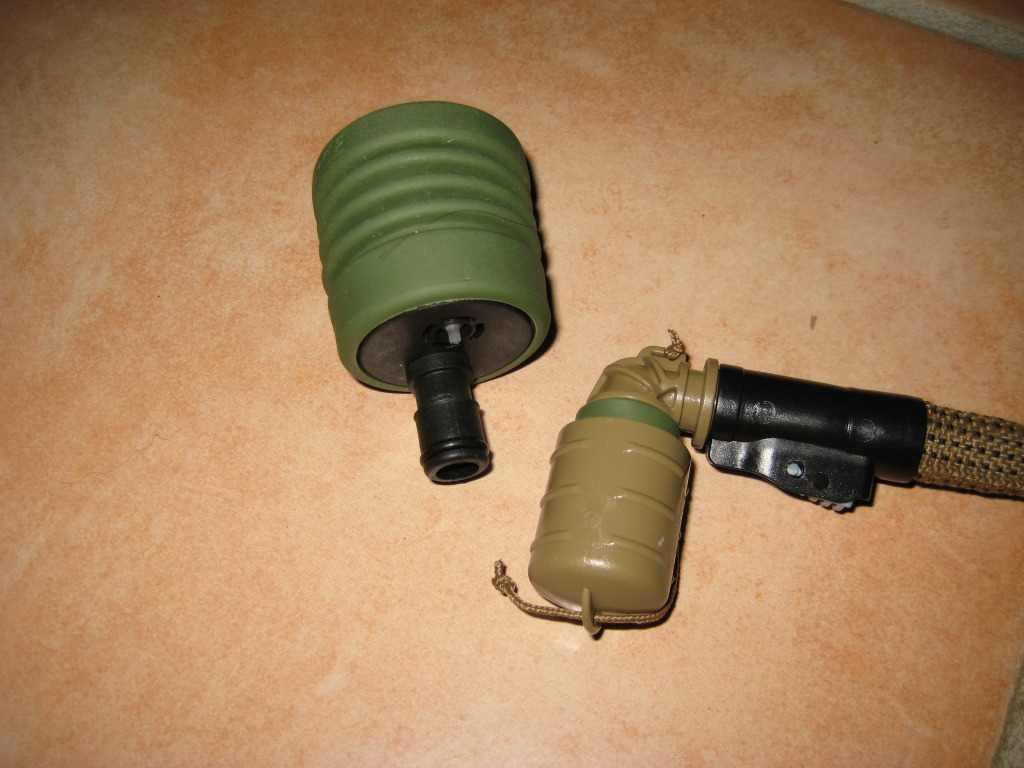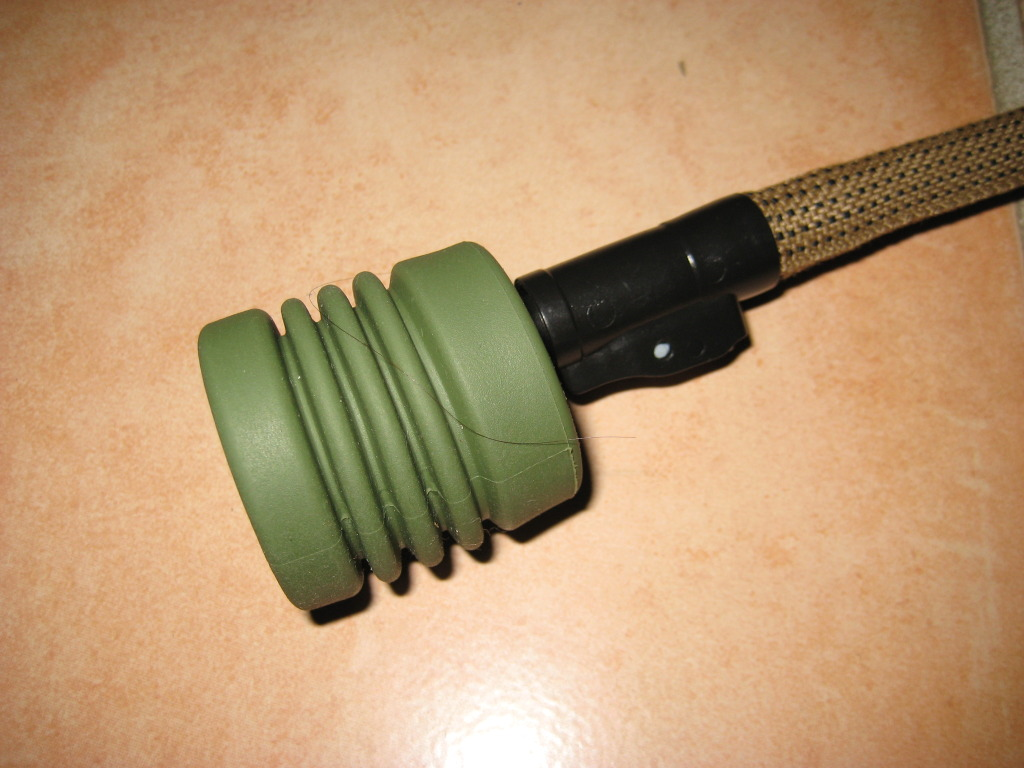 4.  Storm/Helix drinking valve – only Storm valve reviewed. The Storm valve allows a bite valve more like that supplied by other market competitors such as Camelbak.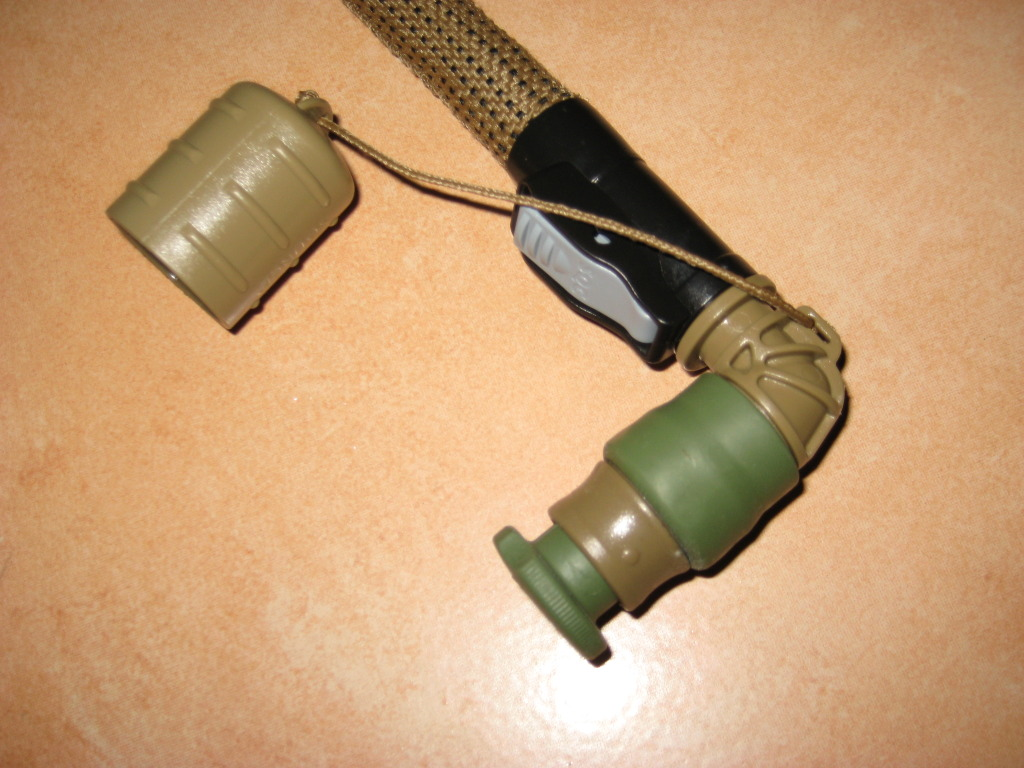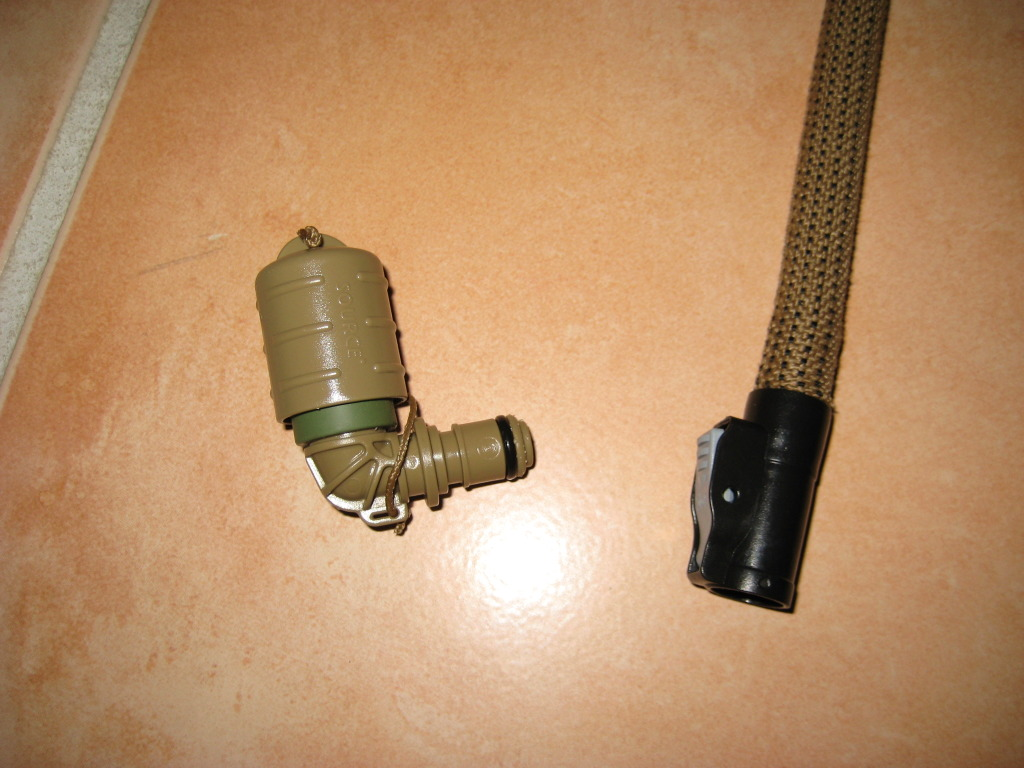 5.  Inline filter – not reviewed.
In addition to being able to add components to the system, it is an easier method to refill the bladder, or replace broken/damaged components as needed.
PERSONAL ASSESSMENT: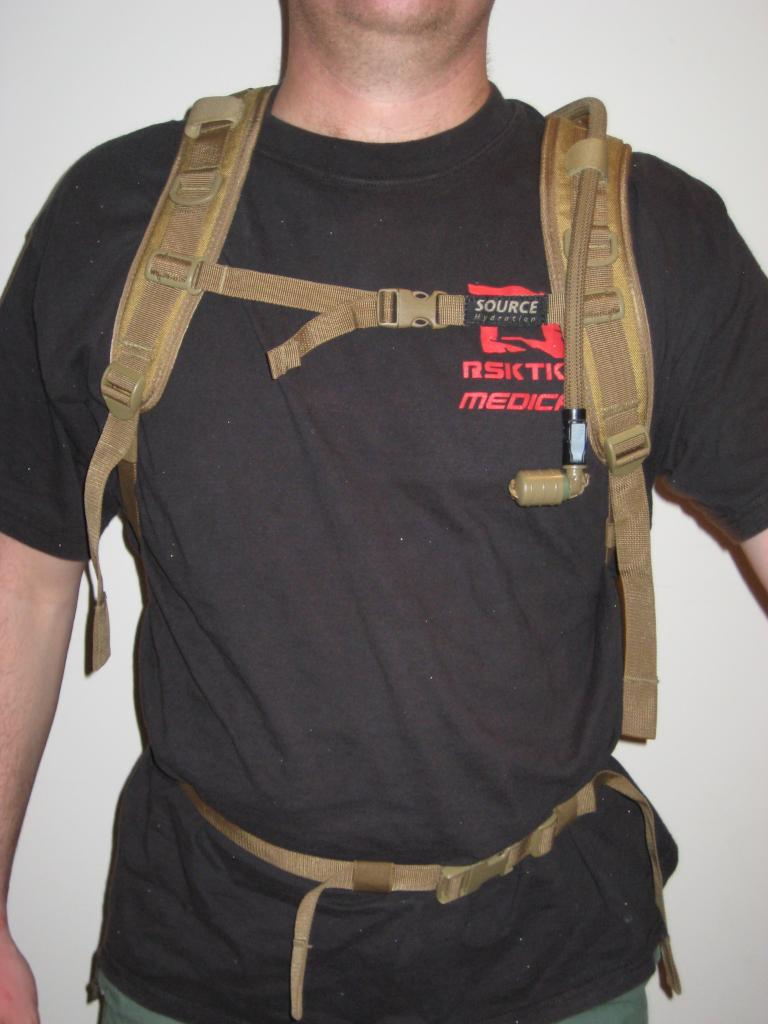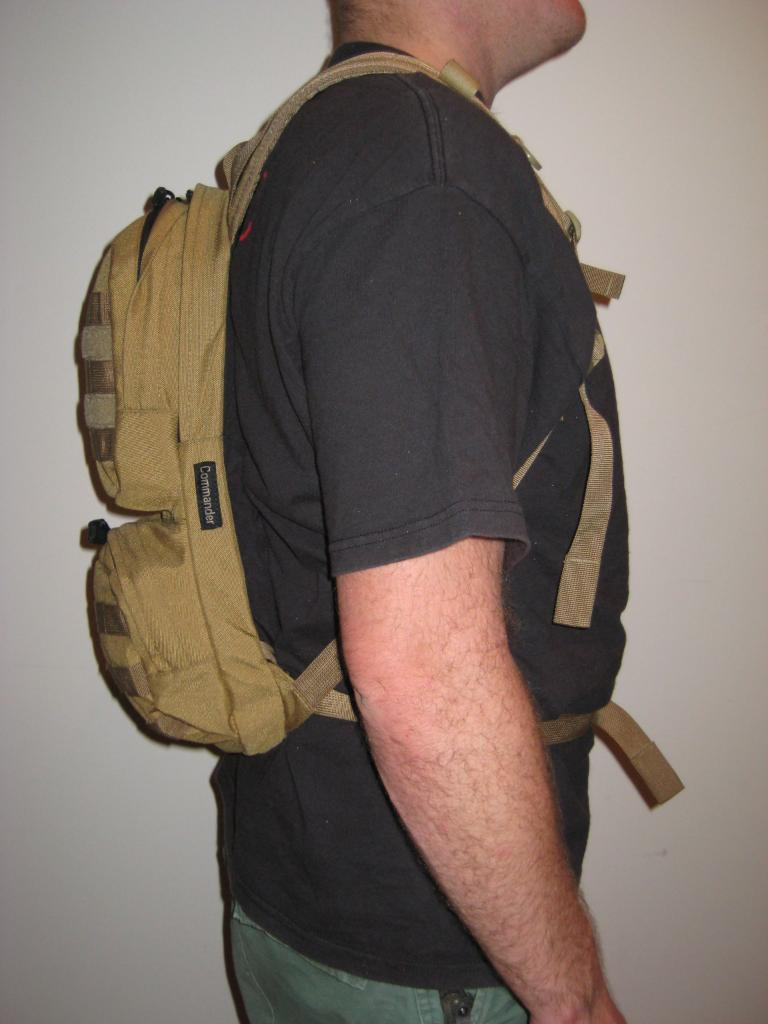 I have had opportunity to wear this hydration carrier on my training walks. I have been up and down Castle Hill in Townsville, as well as several day walks around the North Queensland region.
It will fit into a large patrol pack's main compartment or under the main lid quite nicely. Although as an assault pack, it lacks real cargo capacity.
The size of the cargo area means such daily essentials when training can be carried. Such items for me include keys, phone and wallet.
There is some capacity to piggy-back more pouches onto the PALS channels, such as a couple of magazine pouches and other miscellaneous accessory pouches. The size of the pack precludes going wild and overloading it with accessory pouches however.
With the QMT system, individuals can hook up their personal hydration bladders to fixed structures, to replenish personal supplies. This would have been a great thing to have when my patrol would be mounted in the back of an APC (Armoured Personnel Carrier) after some of our dismounted tasks. Whilst the car would be rolling, we would be replenishing our consumed stores from supplies we held in the back of the vehicle. So, water, rations, and ammunition would be topped up whenever we mounted up.
Pros –
The Source bladder design is very nice for convenience of re-filling. I like the design for being able to replace components when they break or fail.
The fold-over feature on the bladder is particularly impressive. As mentioned, it can act as a designed failure point should he bladder be exposed to crushing damage. The fold-over will act as a pressure relief valve, losing the water, yet the bladder will not be permanently damaged. Simple, effective design – I really like it.
The UTA is one of those simple accessories that makes one slap themselves in the face and ask "Why didn't I think of that?".
The pack is well made, and of high grade construction.
Cons –
The lightweight hip belt is not considered to be useful for any load transferrance. Considering the cargo capacity of this hydration pack, and its intended usage, this is not considered a deal breaker.
There is no sweat-wicking material on the harness against the wearer, meaning sweat and moisture is locked to the wearer. For such a small harness, this may not be a huge problem, but I know it may be a selection factor for some.
SUMMARY:
Quite a nice little pack, provided it's used within its design parameters.
The Source bladder and its QMT is a really nice system.

Posted in Civilian, Crossfire, Military, Packs & Webbing, Short Trip by 22F with no comments yet.