ITEM:    Bush Ranger Daypack
MANUFACTURER: Wilderness Equipment
DESCRIPTION:
A simple, no-frills 43L top loading daypack, made of 1000 Denier cordura.
REVIEW NOTES:
The Bushranger has been kindly provided by Military Gear.
I have received no financial compensation for the review of this item. I have done the review (like many with supplied equipment) with the proviso that I will be painfully honest in my assessment of this item.
Unlike some of my recent equipment reviews, the Wilderness Equipment Bushranger has been used under real world conditions.
SPECIFICATIONS:
ATS RAID on the left, WE Bushranger on the right: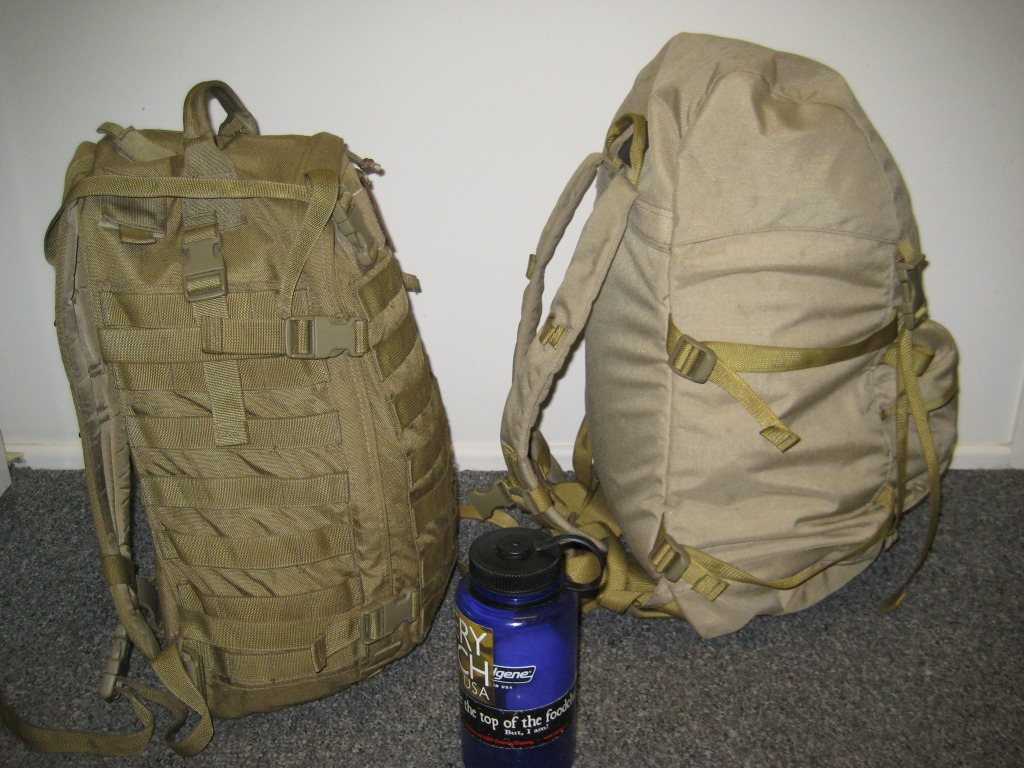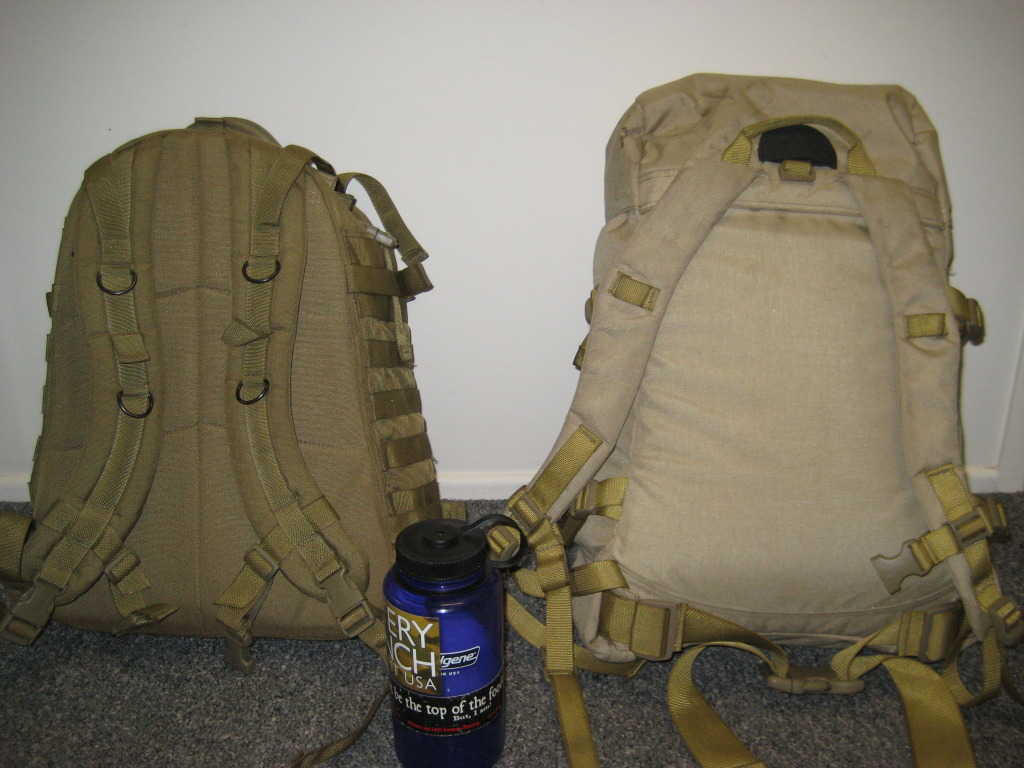 DIMENSIONS –
Capacity: 43L (2624 cubic inches)
Weight: 1.15kg (2.5lbs)
Height: 550mm (21.6in)
Width: 300mm (11.8in)
Depth: 280mm (total), 200mm (main compartment), 80mm external pocket
MATERIALS –
1000 Denier cordura
Buckles, webbing tape
YKK zip
Aluminium stave for the frame
LAYOUT:
HARNESS –
Contoured shoulder straps are fitted. There are loops to allow routing of hydration bladders and other accessories.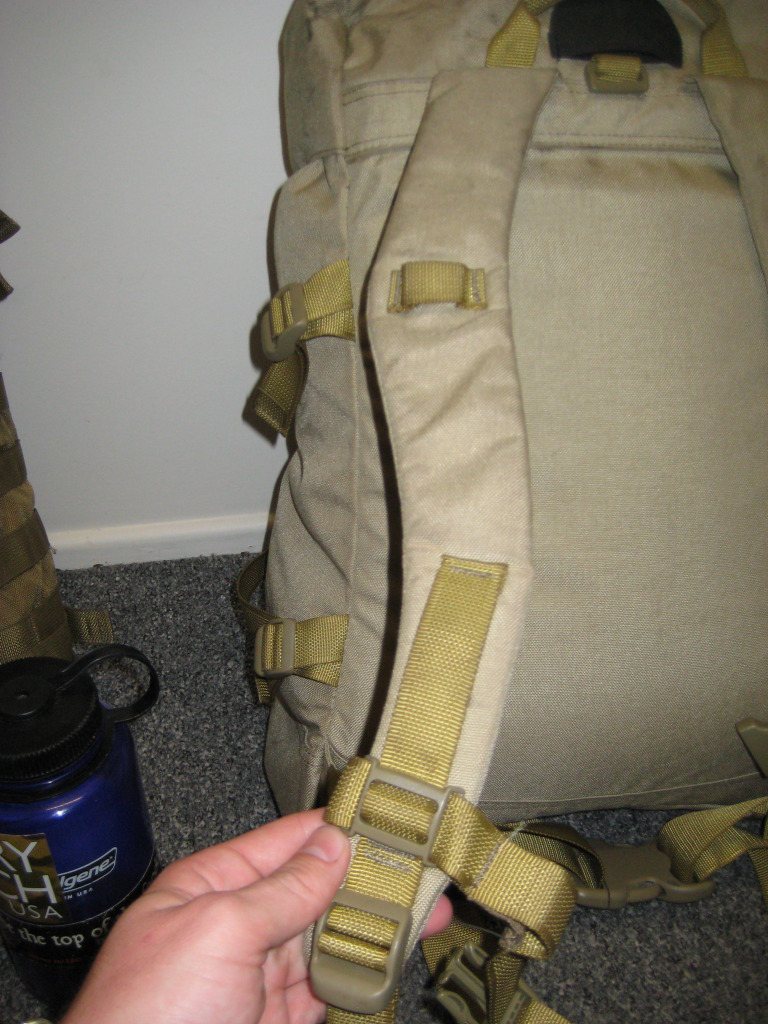 A simple removable webbing hip belt is fitted.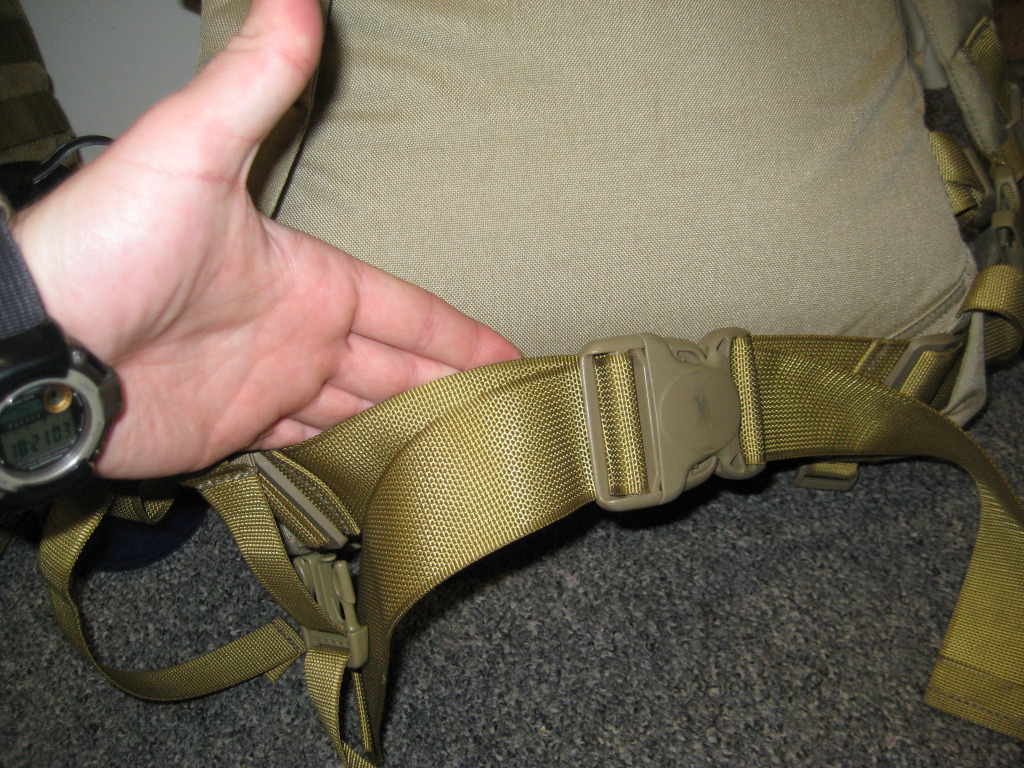 There is no sweat wicking mesh liner, instead the main body material of 1000D cordura is used throughout this packs construction. Down the bottom of the back panel is a double layer of cordura to protect against abrasion.
FRAME –
Inside the main rucksack is the frame system. As supplied, there is an aluminium stave across the shoulders to aid the pack in maintaining its shape when carrying a load. It is surprisingly comfortable if the wearer does their job and packs the load properly.
There is also a velcro sealed pocket the entire length of the back with a sheet of foam to pad the wearer from the load, that will accept a kydex frame sheet should it be required.  This pocket can also be used to store maps and other documents.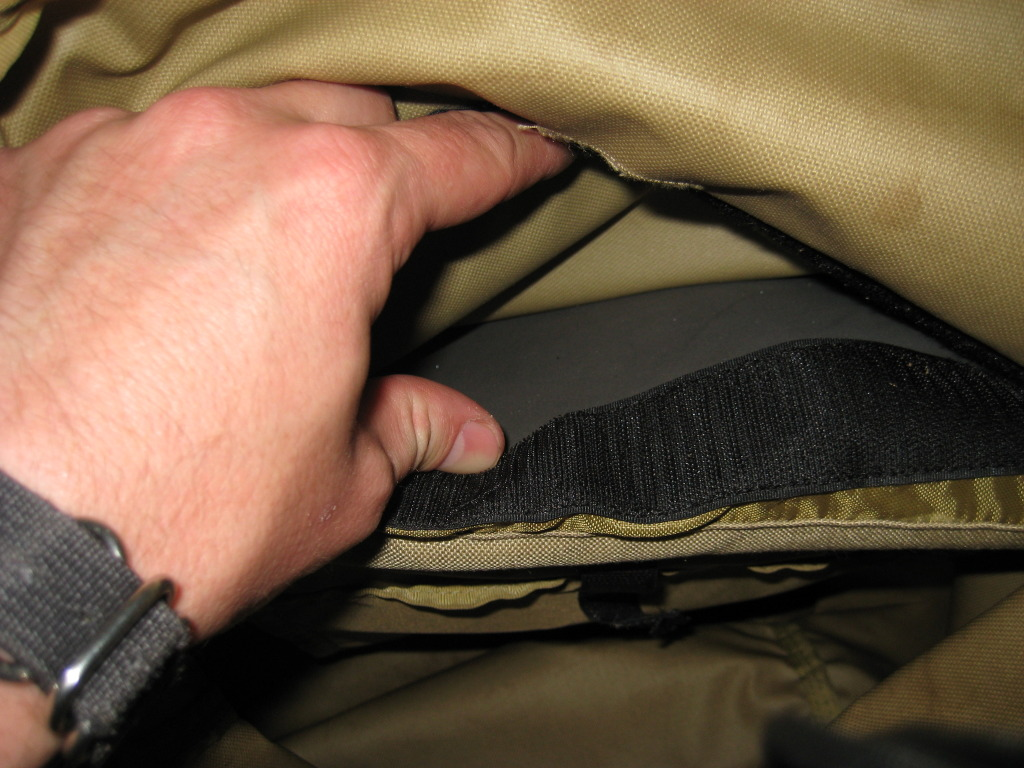 RUCKSACK –
For such a simple rucksack, there are some interesting design points.
The lid is a highly shaped flap with two female fastex clips and loops to allow more secure locking off using the running end. Underneath is lined with a lightweight nylon material similar to taffeta. It offers abrasion resistance by a low friction interface for access to the main compartment.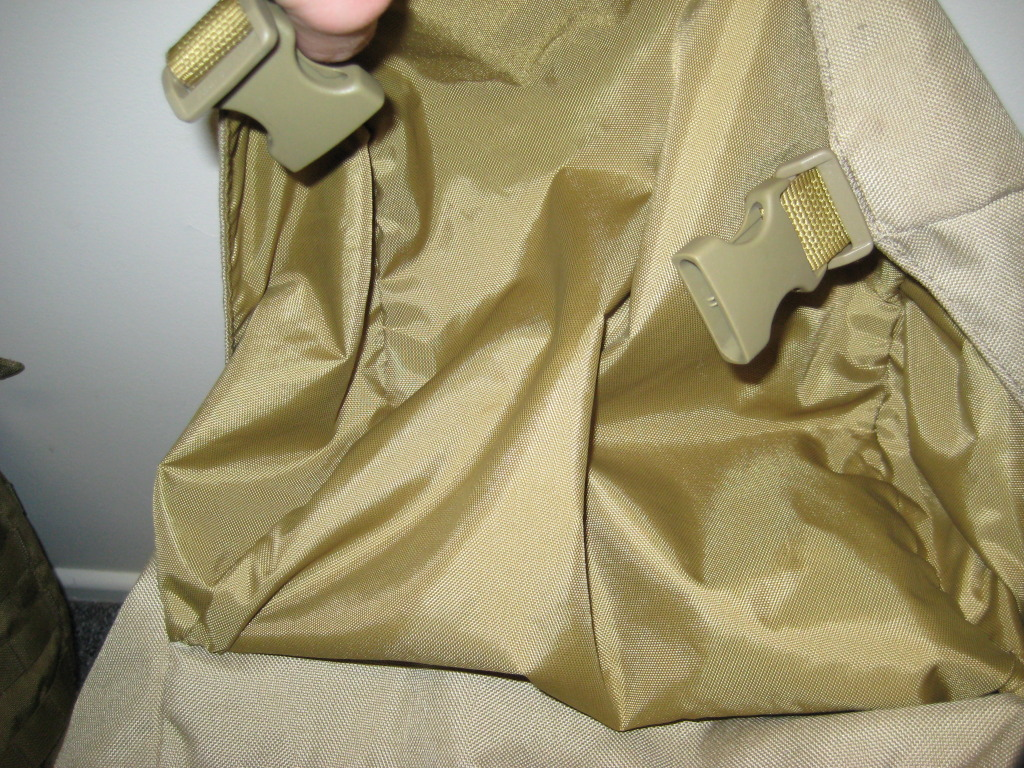 The main body has a draw-cord secured throat. The throat itself is angled very nicely in a way that prevents the contents of the pack being lost when the lid is undone, and also prevents the packbag from becoming distorted when fully sealed.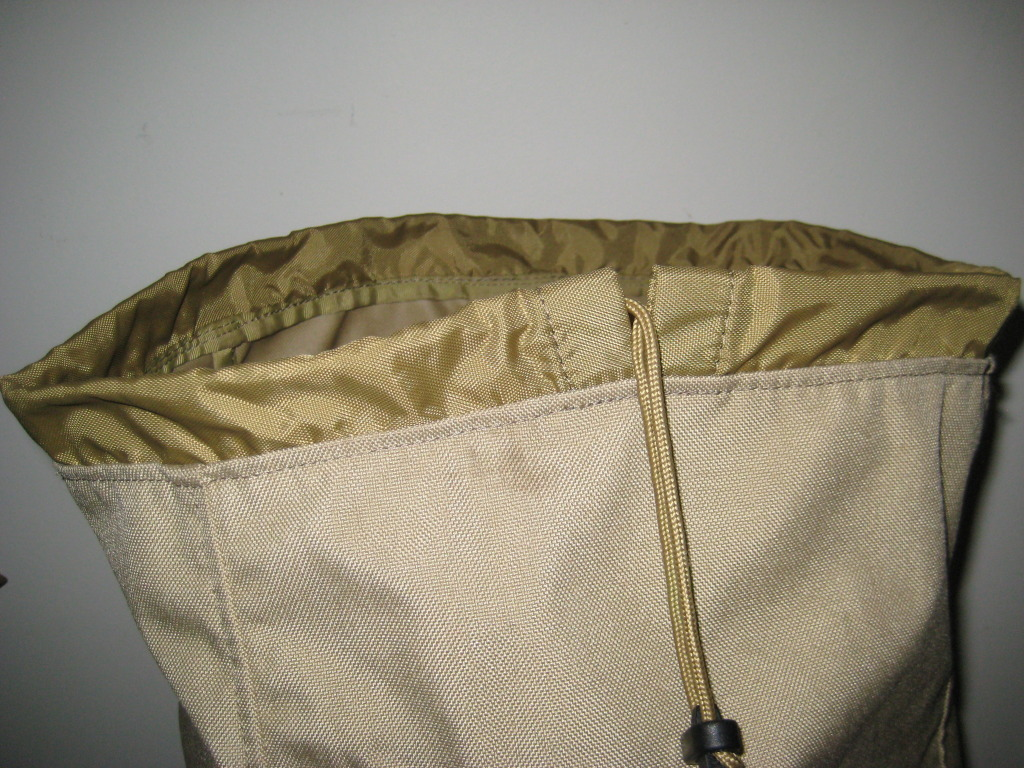 There are two compression straps on each side of the main ruck to control the pack when under packed. They also help in stowing oversize objects.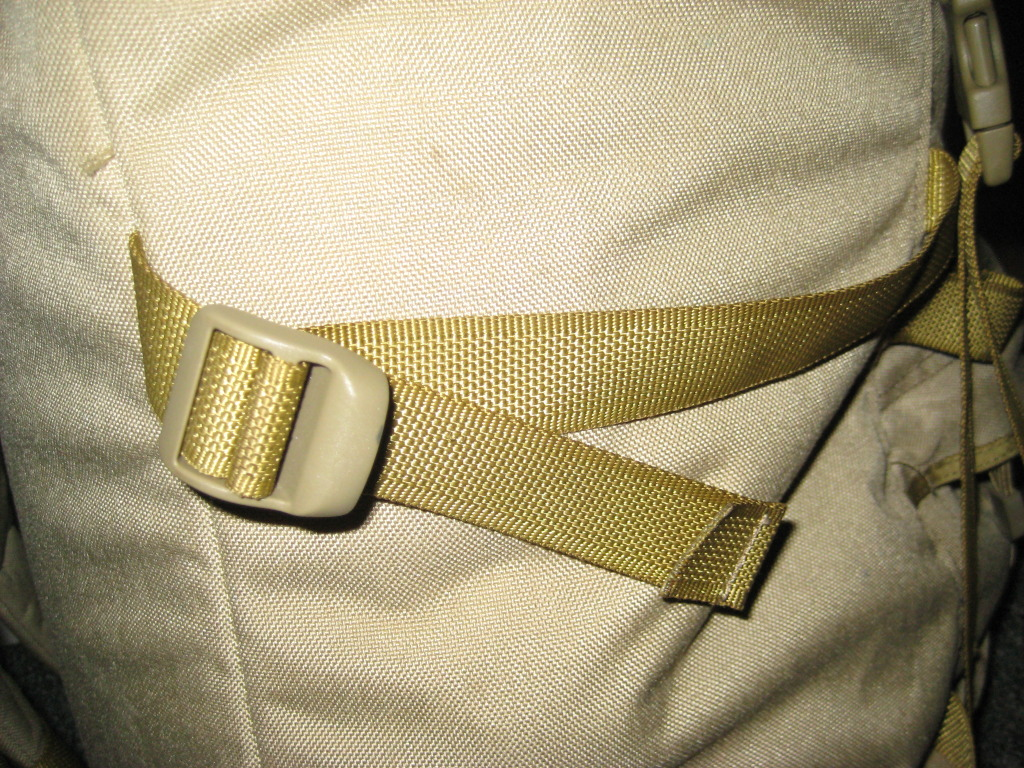 On the outside of the rucksack is a small zip secured pocket for small sundry items. The zip has a cord zip pull. Above external zip pocket is some more small loops to secure equipment to.
On the bottom of the external surface are four loops to secure equipment like sleeping mats and raincoats.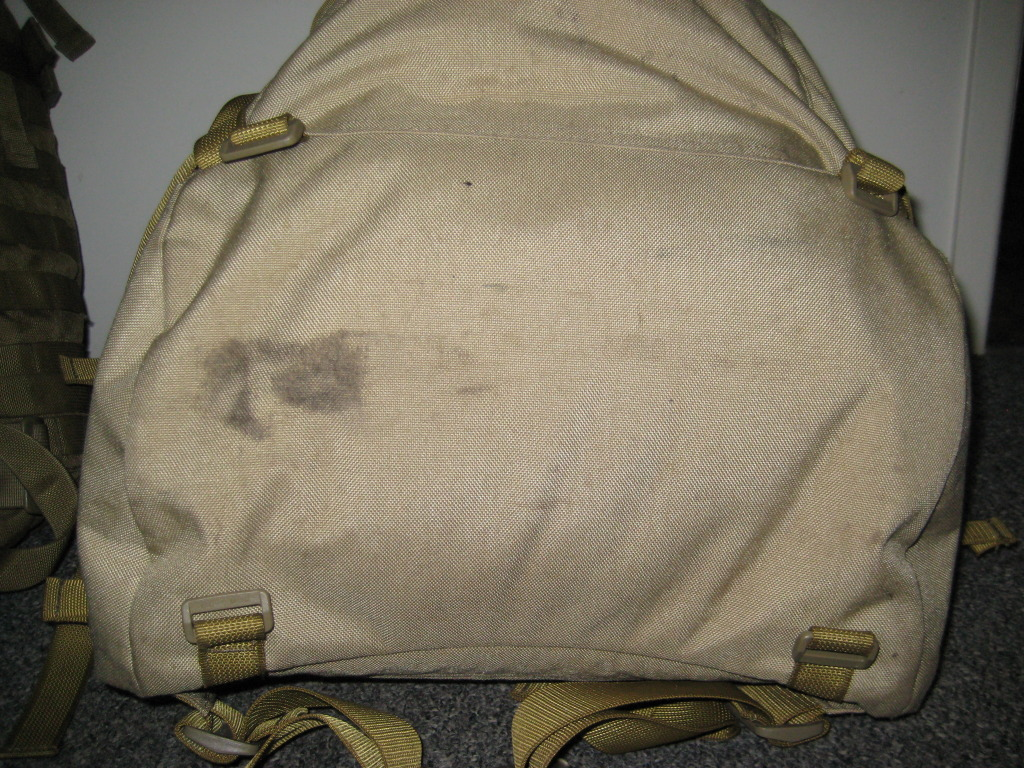 In line with its simple design, there is very little internal organisation in the main compartment. There is a pocket for a hydration bladder, secured with a velcro strip.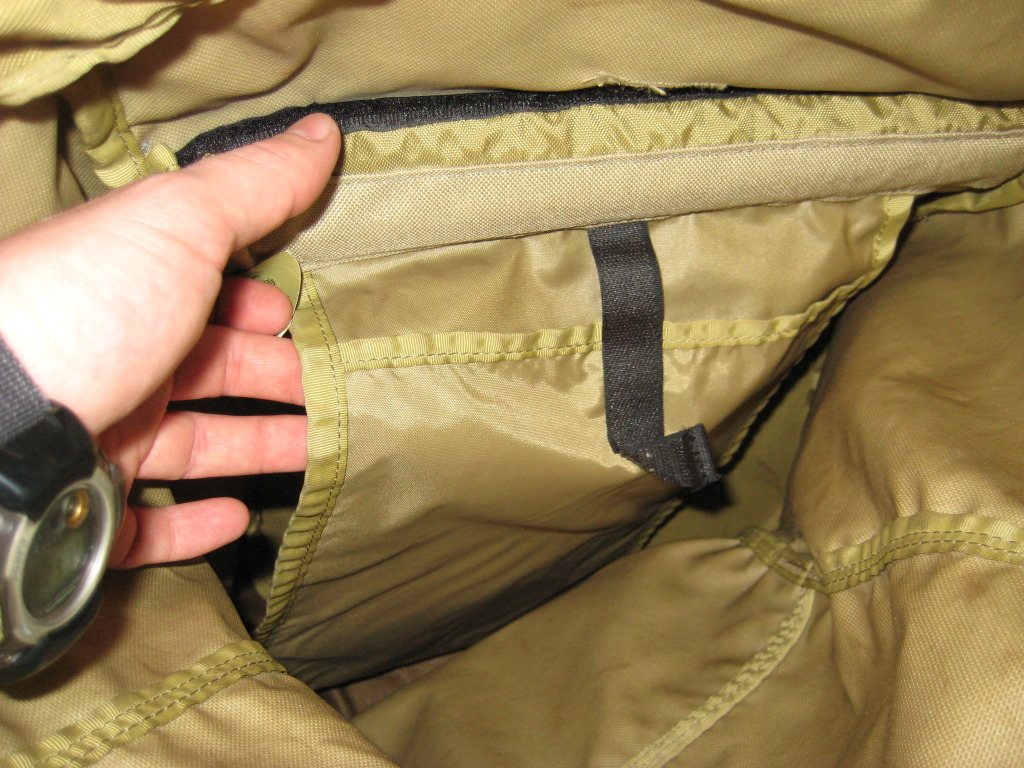 There are a couple of sewn slits and a hyphalon port to allow a hydration hose to be routed out to the wearer near the small drag handle.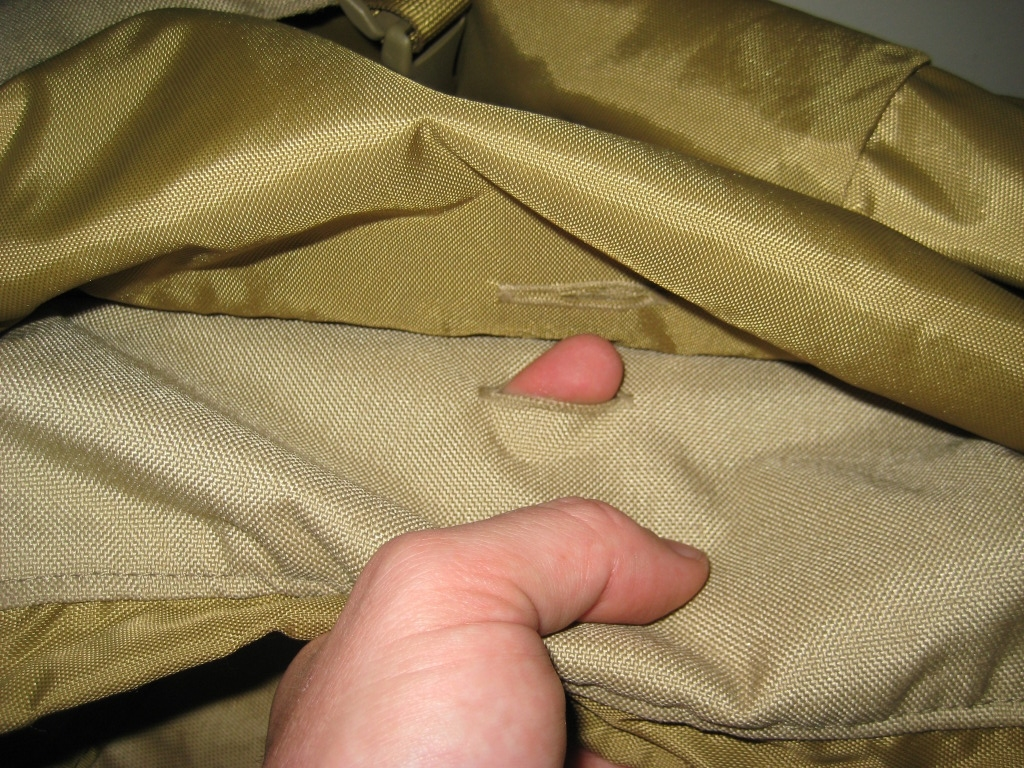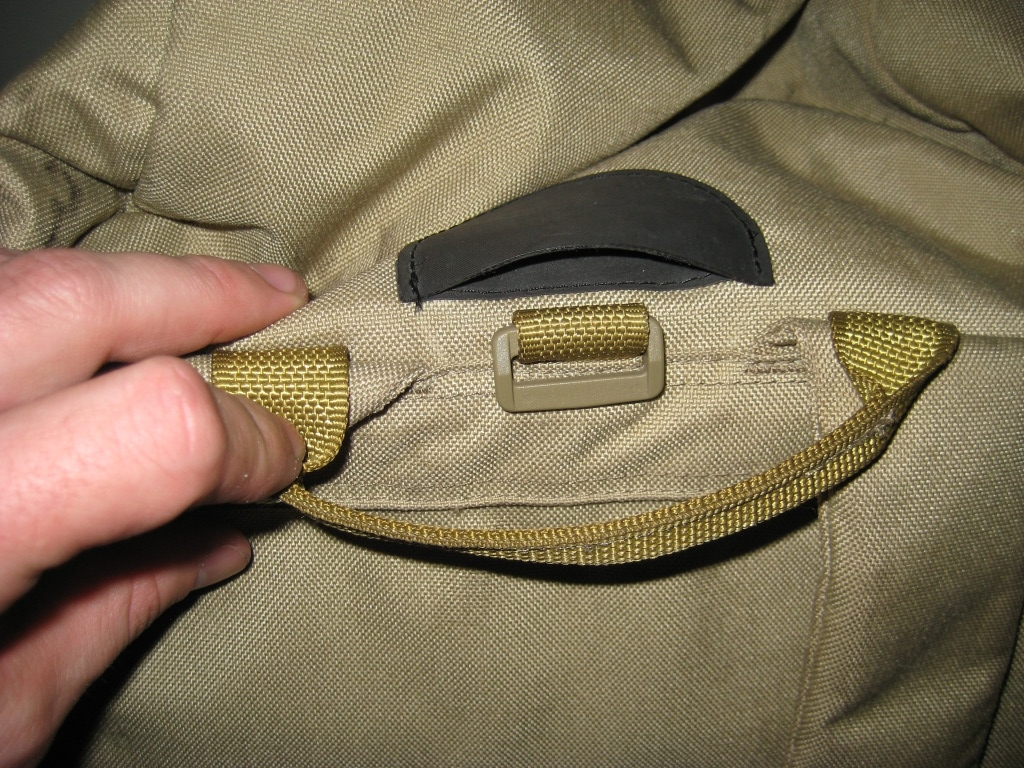 PERSONAL ASSESSMENT:
The Bushranger is a simple, basic daypack. It's also the military version of the Contour, made by the same company with a change in material from canvas to 1000 Denier cordura to better suit service life.
Whilst I consider this pack a simple and basic "no-frills" item, don't think of it as cheap and nasty. I've appreciated the design ability of Ian Maley from Wilderness Equipment for a long time. His designs tend to be very subtle, and I find personally to be well suited for my style of walking.
In an industry where equipment that isn't bright day-glo and full of fancy gimmicks is seen as boring, Ian's designs have a purity and thoughtfulness behind them that take the average self-proclaimed expert bushwalker a moment to realise and appreciate – if they even get it.
This then, is one of those classic WE designs. Don't get me wrong, I don't think the Wilderness Equipment line is a panacea for every problem, or end-user. In many cases, Ian's harness system isn't for everyone, but I find it works for my build and body. Whenever possible, Wilderness Equipment will have features on their equipment that has multiple uses, whether to account for failure, or for those unforeseen circumstances in life. In this case, THE Bushranger a very simple and elegant pack.
I've been using the Bushranger for a range of activities over the last few months. It's been used as:
A daypack for work, carrying a change of clothes and toiletries for when I knock off and wish to get out of my coal dust covered hi-viz monkey suit.
It's been dragged around for a 4 day weekend trip to Darwin for a mate's wedding. I'm sure I don't need to tell my readership just how hard that part of my kit reviews are when I'm sitting by a pool, drinking beer.
Daywalks in various National Parks. Perhaps the most memorable was the Mandu Mandu Gorge in Cape Range National Park with my darling wife on our road trip across the country from the left side to the right side. Also on that trip, it was used as a "bail-out" bag, with immediate emergency supplies for two of us should anything un-towards occur. In this case, I was carrying two goretex raincoats, emergency rations, a litre of water each, my MSR Internationale fuel stove, first aid kit, sunscreen and bug repellent, eating irons, and my "escape belt" with Strider SOA, survival kit and multi-tool attached.
During use, I have found that the fit and the way this pack interacts with the body is very good for such a simple, austere design.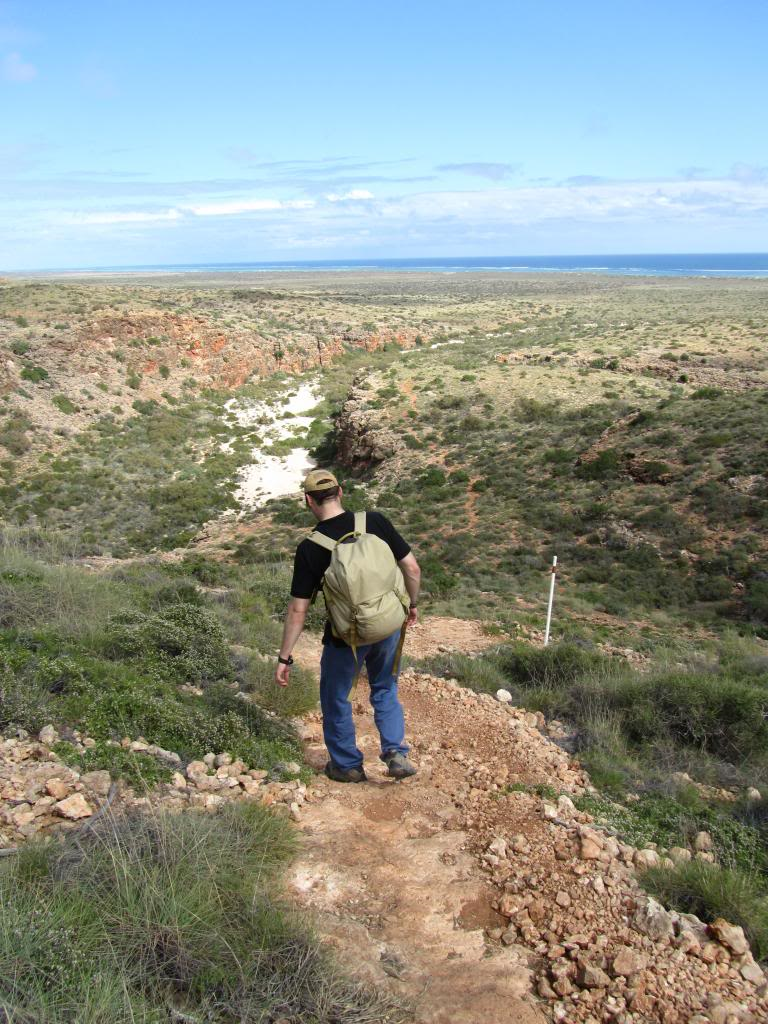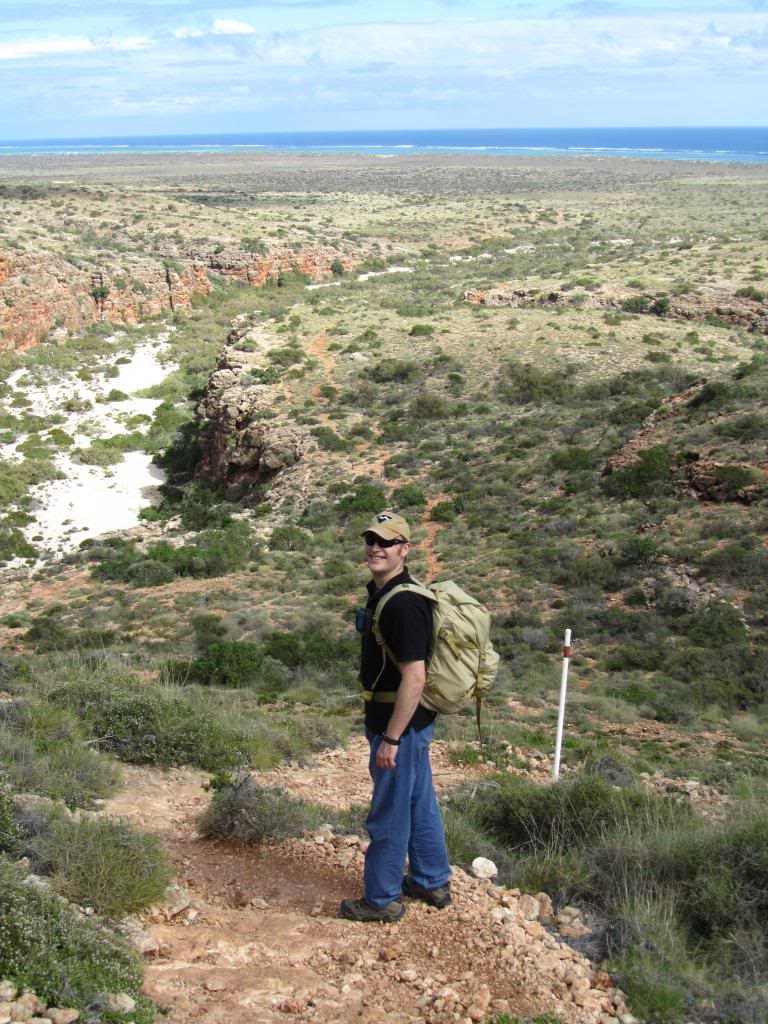 Within a military environment, I can see the Bushranger being easily stowed in the top of the patrol pack if not fully loaded. It's big enough to carry most items needed for "patrol order, heavy" depending upon climactic and mission factors. It could easily carry such essential things as warm clothing layers, and extra ammunition that tend to be needed.
It could also have some utility as a vehicle mounted go-bag, carrying everyday essentials.
PROS –
The harness on this pack is particularly good, given its basic design. The hip-loading belt whilst very basic still works very well to relieve and properly adjust the load. Providing the user does their part and balances the load as well as they can.
Comfort whilst being worn, provided the load is packed properly, is very high. The pack literally felt like it was a part of me whilst being worn.
The options in the harness to cater for different tastes and desires is also a nice touch. Whilst I'm not generally a fan of the American trend of using kydex pack frames, the Bushranger can have one put down the back of the harness if that's your kink.
Construction, as per usual for WE is top notch. The little design features that are inherent that make life easier for the user is also a sign of the experience and attention to detail the designer has.
CONS –
About the only major thing I can think of against this pack, is the length of the harness straps. I'm about average size, at 5ft 10in (or 11 inches depending on how uncompressed my spine is). Whilst wearing the pack in shirt or light jacket at most, I found the harness straps a little bit short for my liking. This could be a major problem if the Bushranger is to be worn with combat body armour. Since we're not going to see this essential PPE disappear anytime soon, this would need to be something fixed on successive runs of this pack.
This is magnified by the fact that the backlength of the harness can not be adjusted, due to the simple design parameters of the pack.
I'd also like to see the back fitted with some sort of 3D mesh to allow sweat to be wicked off the back. But this would significantly affect the price and weight of the pack, upgrading it away from it's simple and basic design premise.
The lid design doesn't really lend itself to a very big expansion of the load. Although to be honest, this also prevents the user from overloading themselves, or force them to grab a more "beefier" pack better intended for the bigger load. It could be seen as forcing the user to abandon their daypack for a proper patrol pack during the planning phases of the mission.
SUMMARY:
A simple, top loading pack that has very subtle design features. The Bushranger lacks quite a few of the features I generally like to see in a pack design, but given it's intended design and usage – this is perfectly acceptable in a low cost pack option.

Posted in Civilian, Military, Military Gear, Packs & Webbing, Short Trip by 22F with 6 comments.