ITEM: Tasman Hybrid Travel Pack
MANUFACTURER: OnePlanet
DESCRIPTION:
A hybrid travel pack that is designed to be used for adventure trekking in the wilderness, or backpacking (dare I say even "glamping") through the urban jungle.
Hybrid packs can be stowed as "normal" looking suitcase or duffel bag type luggage, with a hide-away harness feature that allows hip loading backpack to be used for full carrying comfort. Other sites like https://planettravelerusa.com/ often recommend hybrid packs for adventures in the outdoors, so it's not hard to see why the Tasman was designed as one.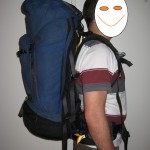 REVIEW NOTES:
The Tasman is an older model and was borrowed off an old uni classmate who has used this pack on his international adventures to The Old Dart, as he participated in the classic Aussie rite of passage of a working holiday to London.
It will be returned at the end of the review.
SPECIFICATIONS:
ATS RAID on the left, OnePlanet Tasman on the right.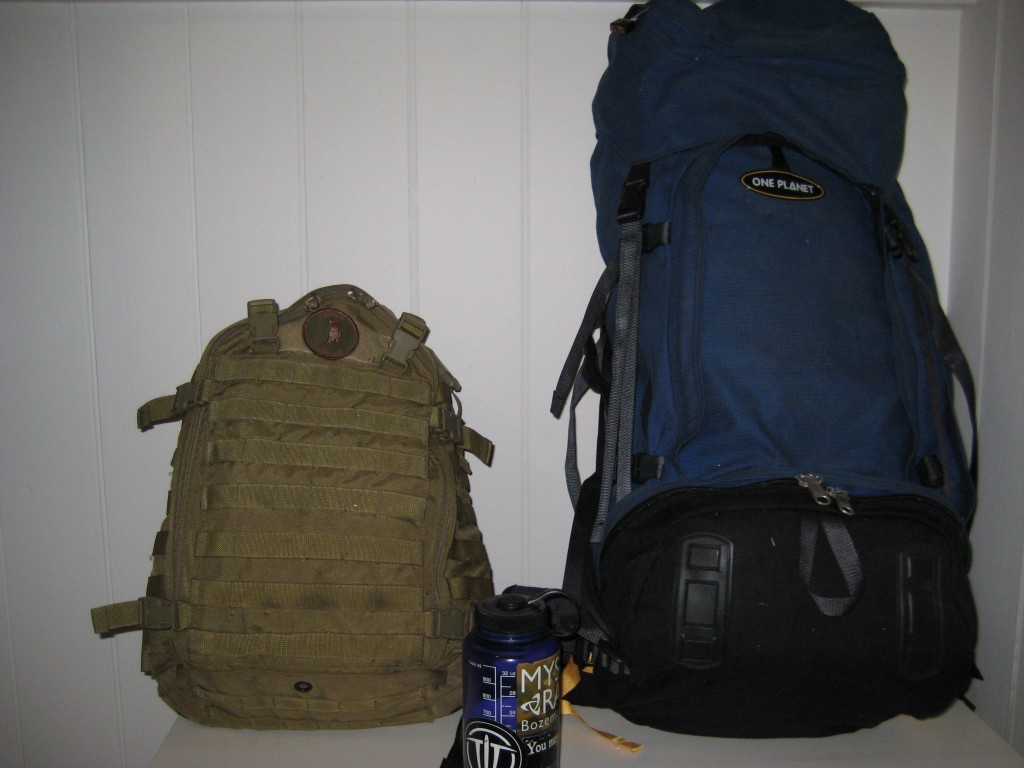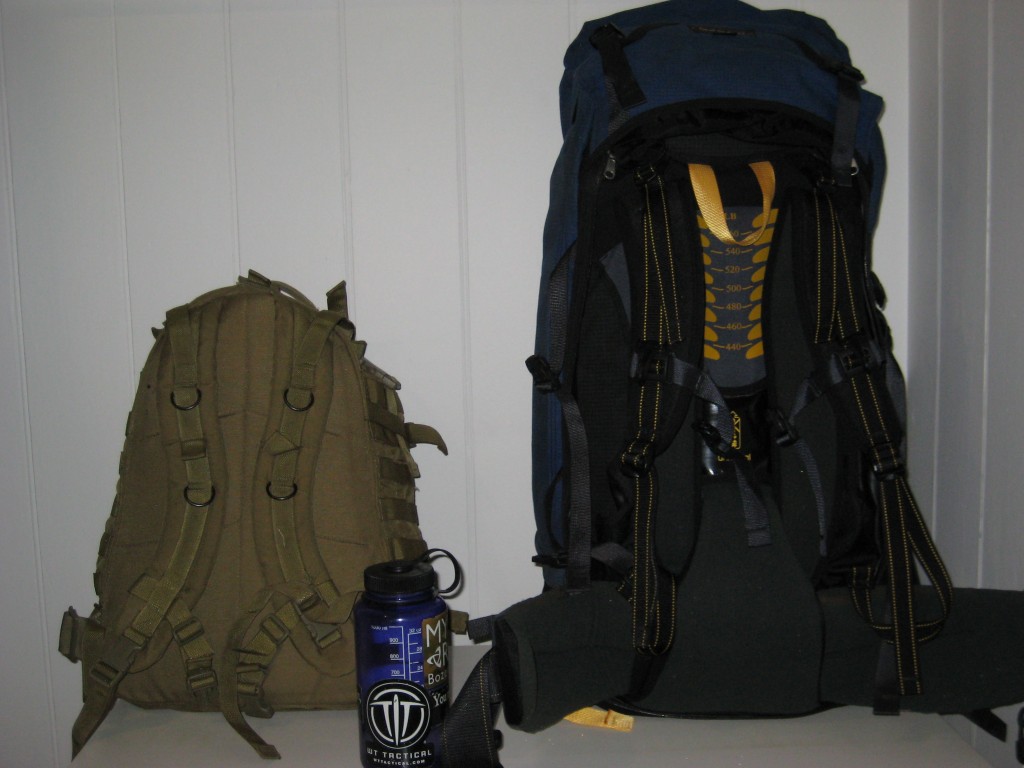 DIMENSIONS –
Please note that these measurements are only an approximation using my sewing measuring tape. They are also a minimum measurement, not accounting for the expandable nature of this pack. For truly accurate measurements, please refer to the manufacturer.
Height: 850mm (approx. 33.4inches)
Width: 460mm (approx. 17.9inches)
Depth: 330mm ( approx. 13inches)
Capacity: 90L (approx. 5484 cubic inches)
Weight: 4kg (approx. 8.81lbs) minus daypack
MATERIALS –
Main body is waterproof canvas
Harness lining is a soft foam
Aluminium staves for the frame
Cordura on high wear points
Webbing straps
Fastex clips and triglides
YKK zips
LAYOUT:
With harness stowed.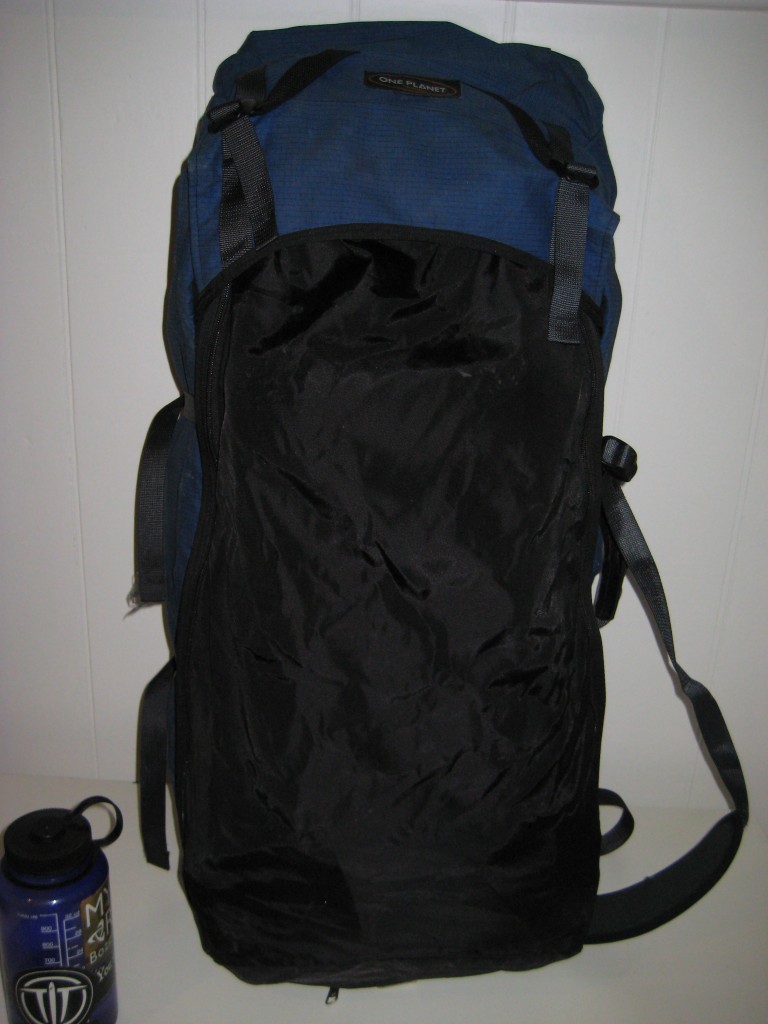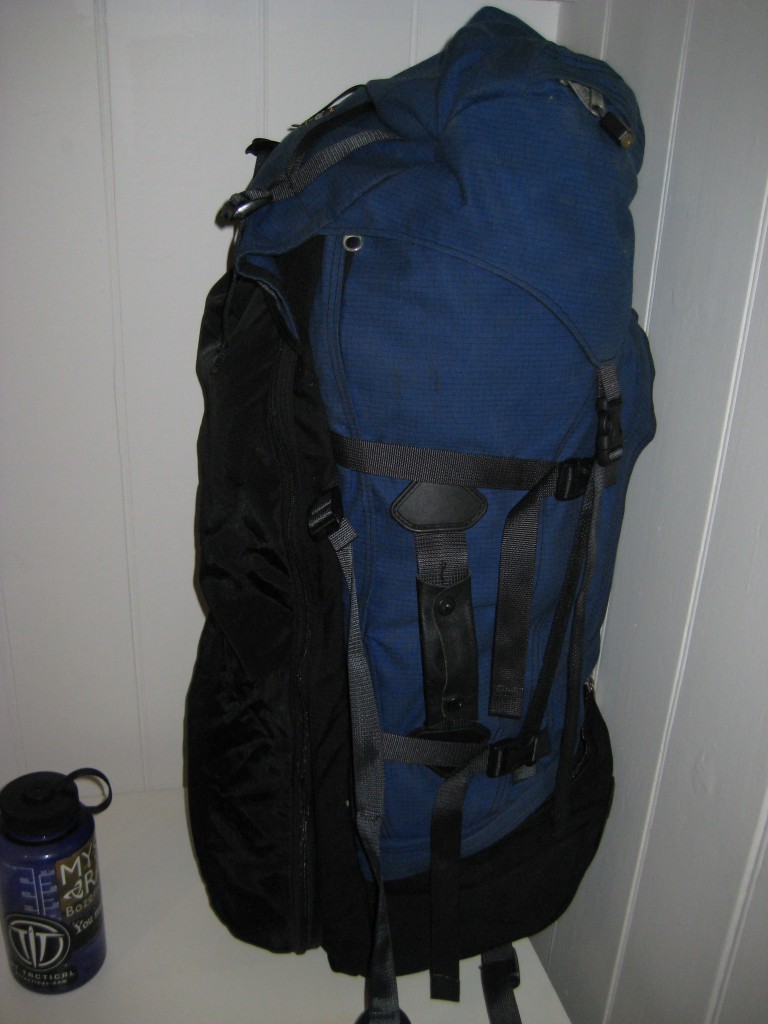 With harness ready for use.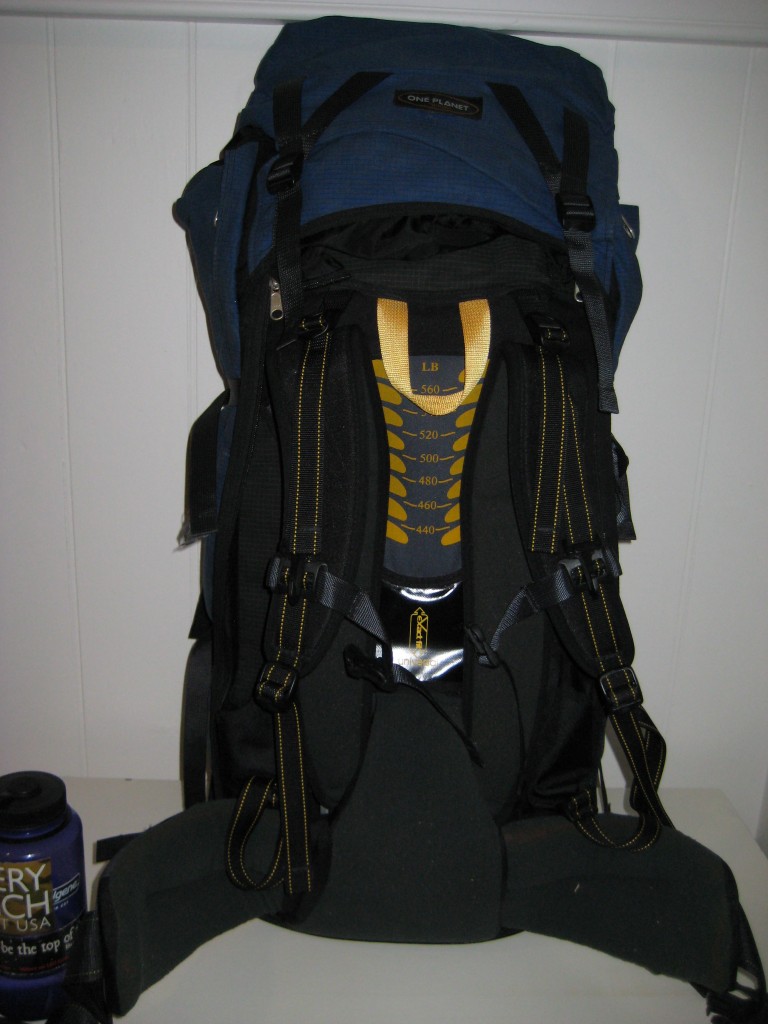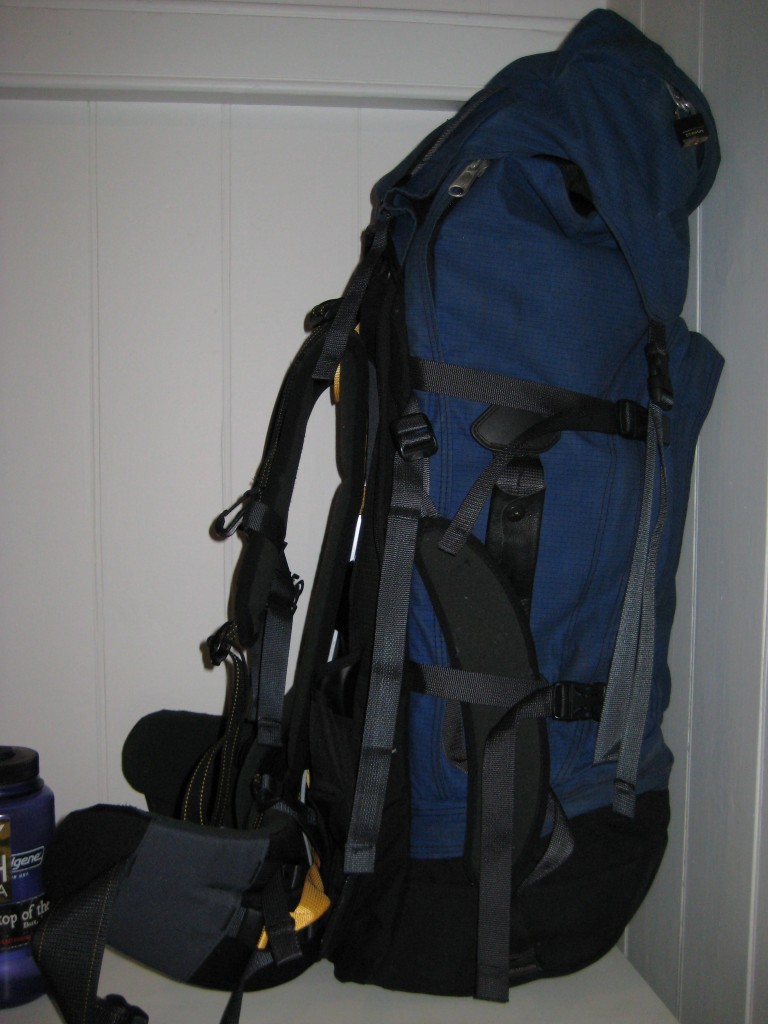 FRAME AND HARNESS –
The Tasman uses OnePlanet's Exact Fit harness system. According to the label on the hipbelt, this is a uni-sex design to accommodate both male and female end-users.
The frame is composed of two contoured vertical aluminium staves, with a couple of cross pieces.
The harness straps are contoured, and lined with a plush, soft sweat-wicking felt material. Easily accessed load lifters are fitted at the junction of the shoulder. A height adjustable sternum strap is fitted. There are gate clips to allow the daypack to be attached to the front of the harness for security and balance purposes.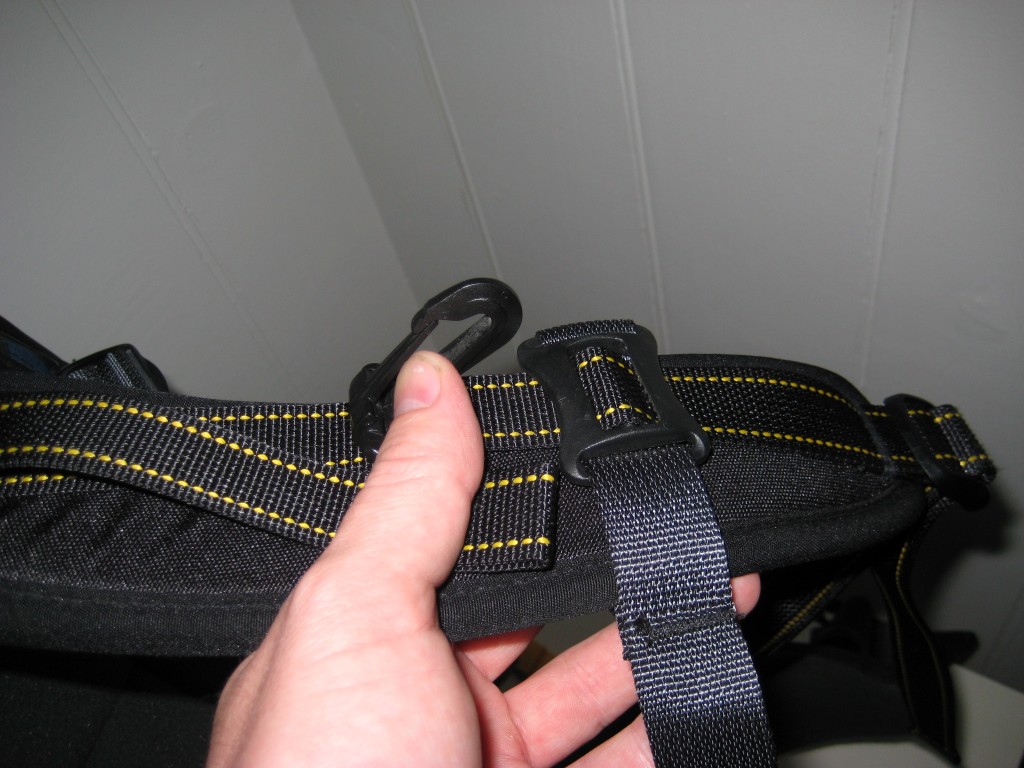 Surprisingly, the bottom end of the shoulder straps are anchored via tri-glide buckle, making them field replaceable. I'm just not sure how secure or suitably load bearing such an arrangement is, unless the running end is doubled over.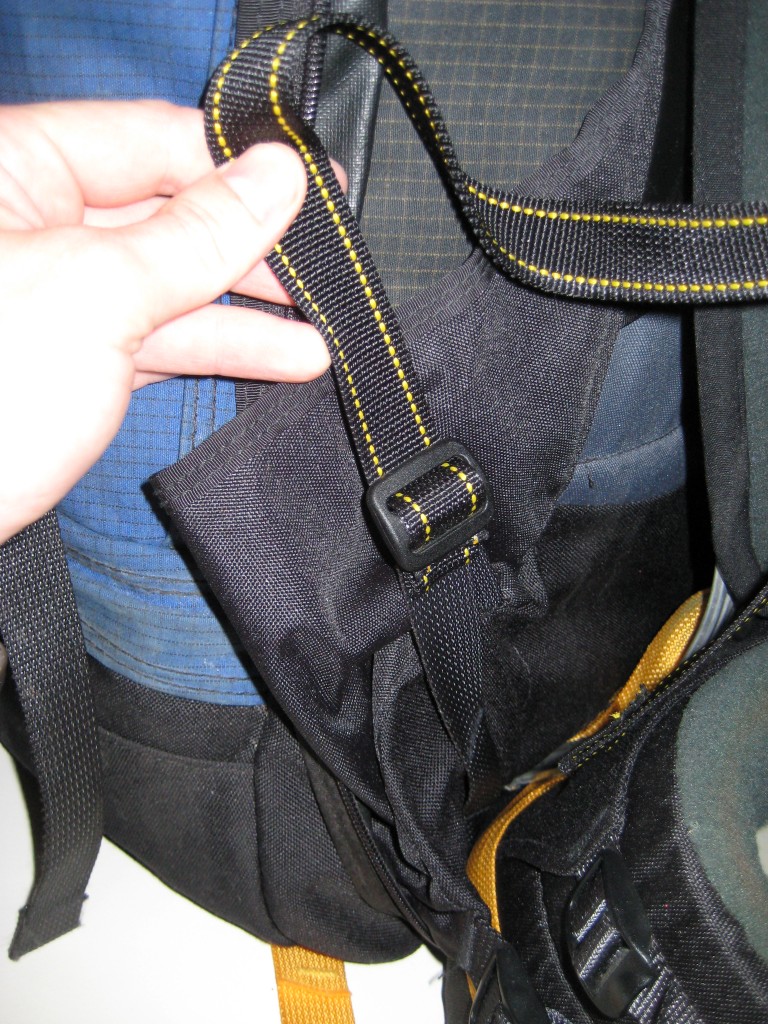 Backlength can be adjusted by the wearer via a webbing strap system located on the hip belt. These back length adjustment system straps are bright yellow, compared to the black webbing of the rest of the harness in order to distinguish the function.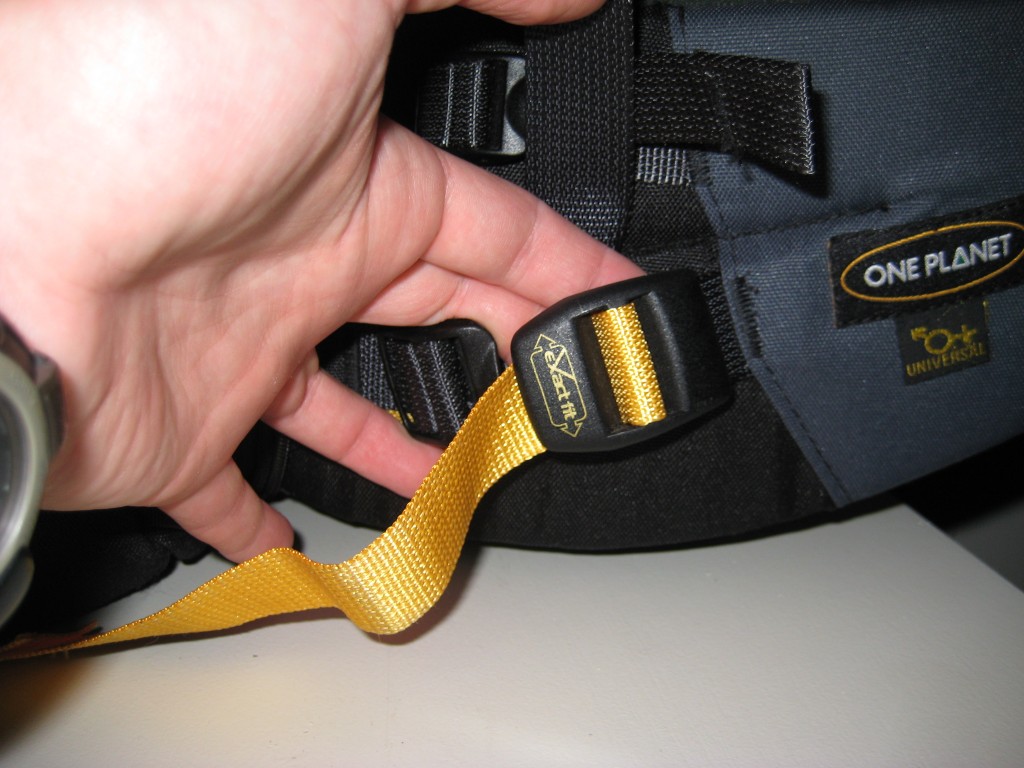 The hip belt is padded, and lined with the same very soft plush material as the shoulder straps.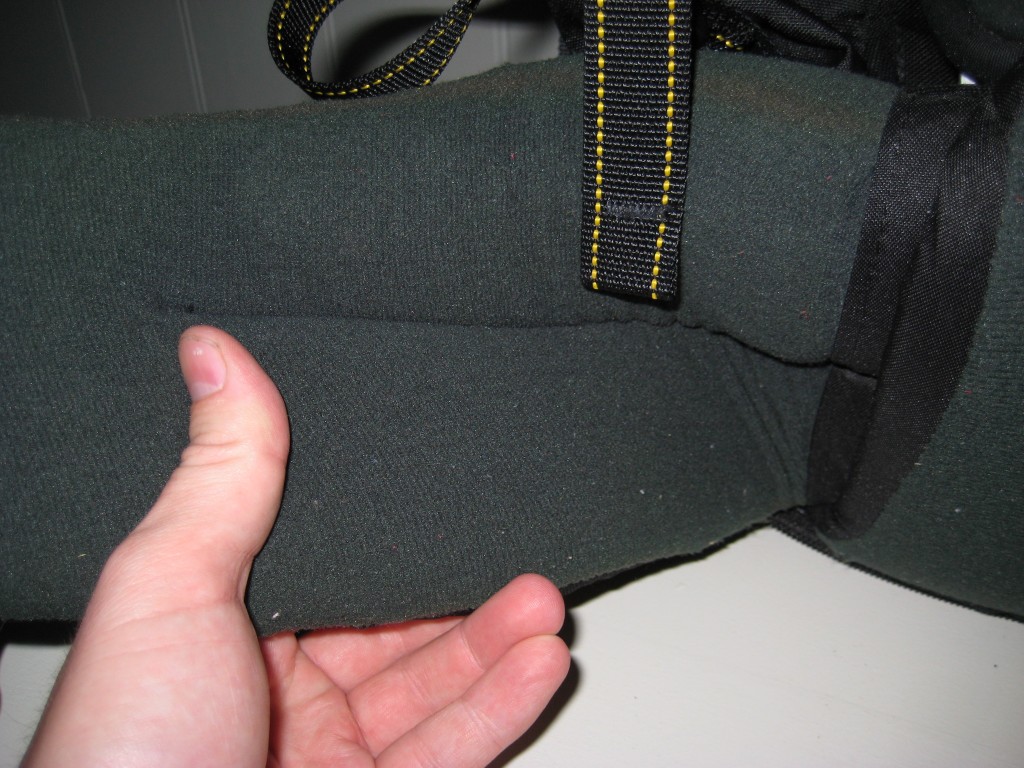 The belt can be adjusted for the wearer via double webbing straps to suit different hip structures found on male and female bodies. This makes it a compromise and a hybrid design.
There are also two water bottle pockets at the base where the hipbelt joins the rucksack. A nice touch for those who may take this pack on real treks off the beaten track. One litre Nalgene bottles are held by these pockets, although somewhat difficult to insert.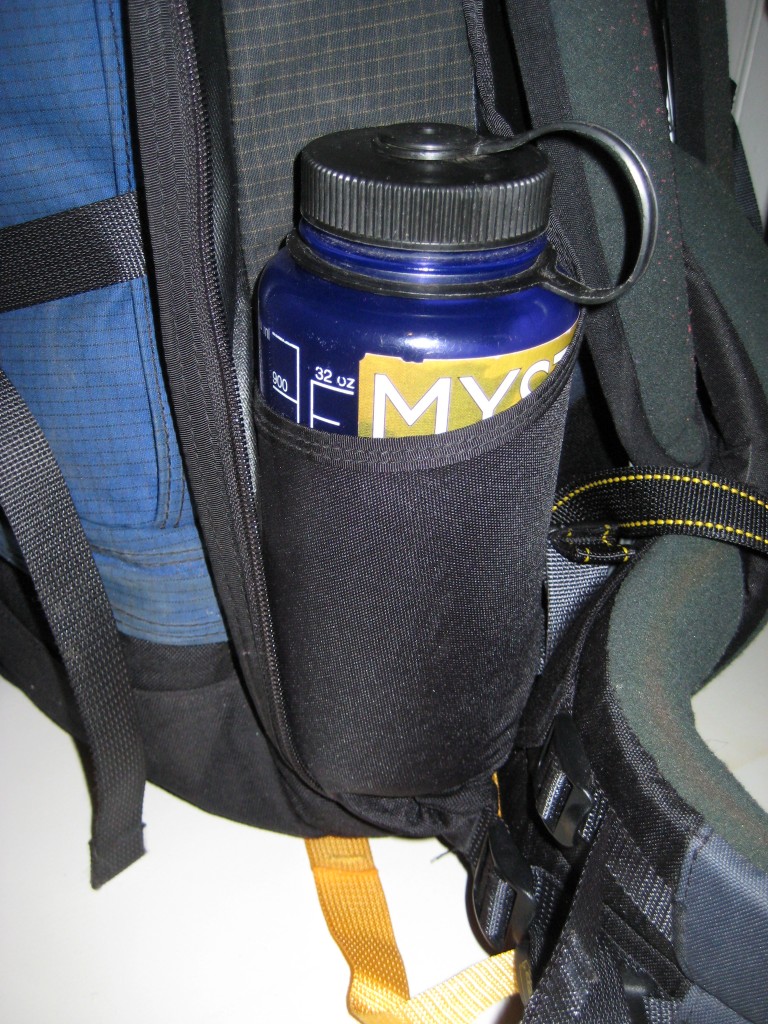 The entire harness system can be hidden away by a fold-away zip panel to prevent handling damage to the harness and answer that very famous requirement of certain accommodation of not allowing unsavoury backpackers into their "fine" establishment.
RUCKSACK –
The lid seems to be a semi-floating design that also incorporates a pocket to stow the harness zip-away flap.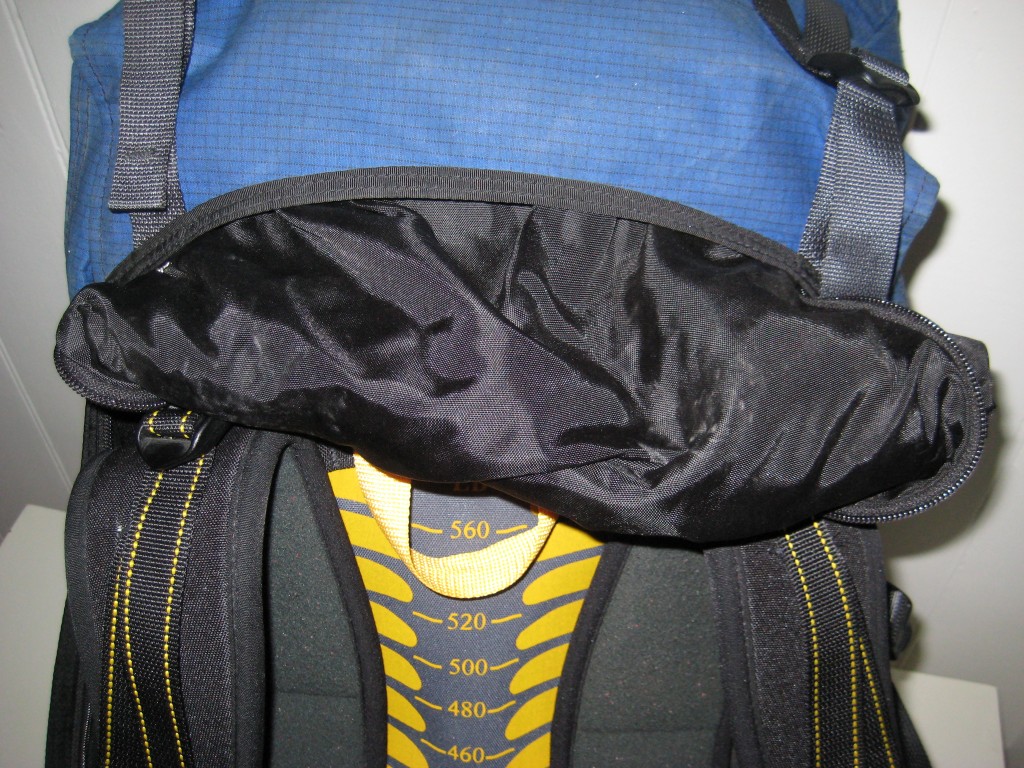 There is a clam-shell, zip accessed pocket on the top external surface lid.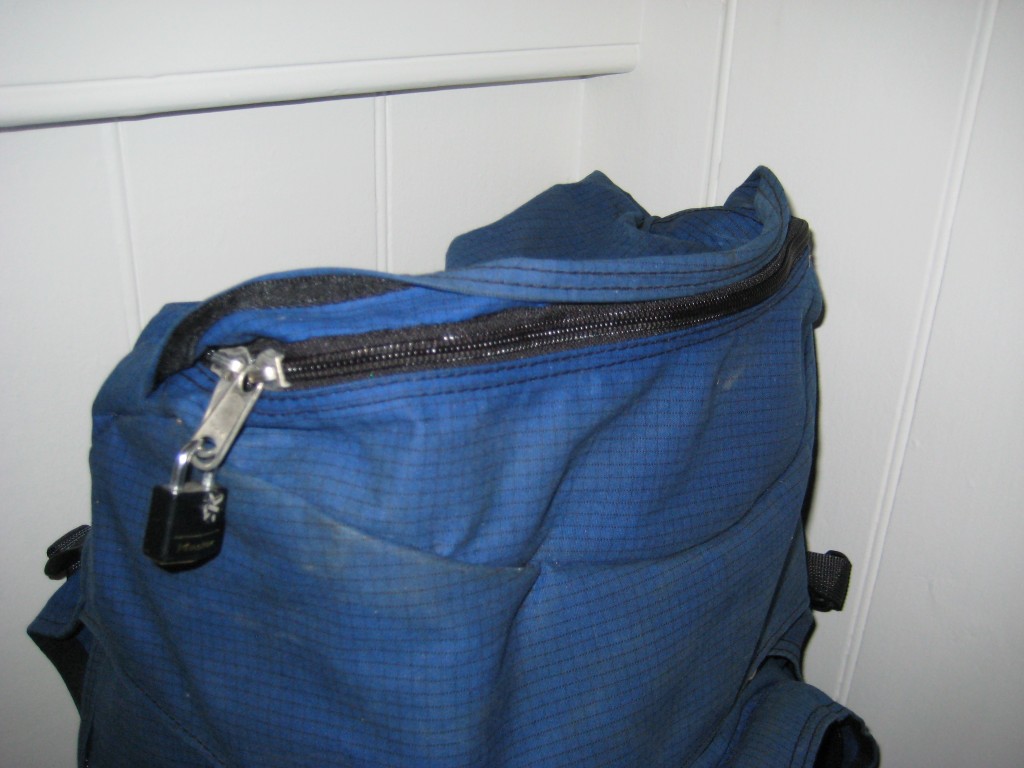 The bottom surface of the lid has a zip pocket for small sundries underneath.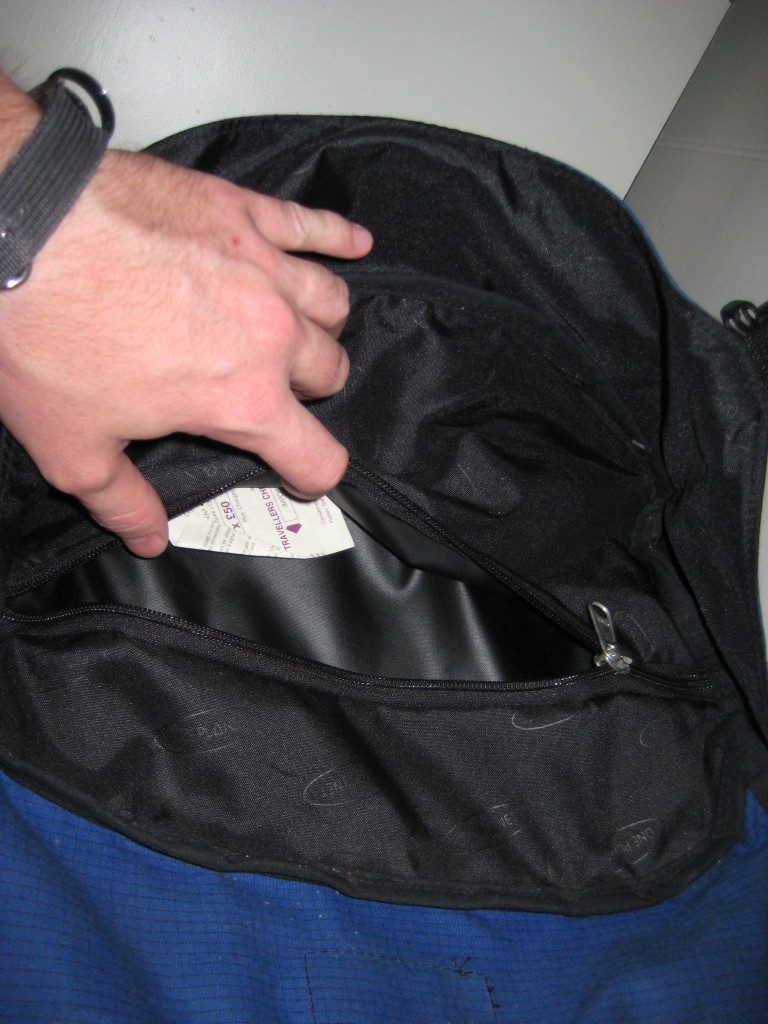 The actual rucksack main body is a hybrid top-loading design mated with panel-loading accessibility. It's divided into two compartments – the main body and a sleeping bag compartment.
Internal organisation is limited to a zip access shelf between the main compartment and the sleeping bag compartment. This zip-access shelf does not fully seal each compartment from each other, since there are gaps to allow long items to be stowed within the pack.
At the top of the rucksack is a double draw-string secured storm collar and tension relief strap. Interestingly, the storm collar is also secured by a zip that can be locked with small padlocks.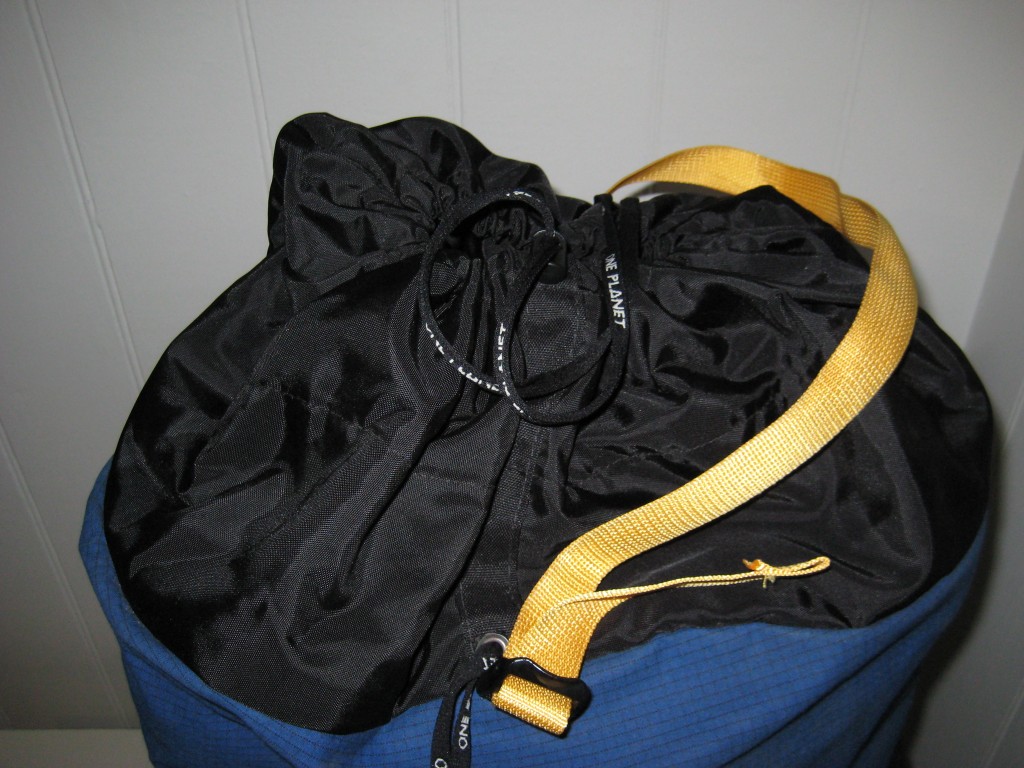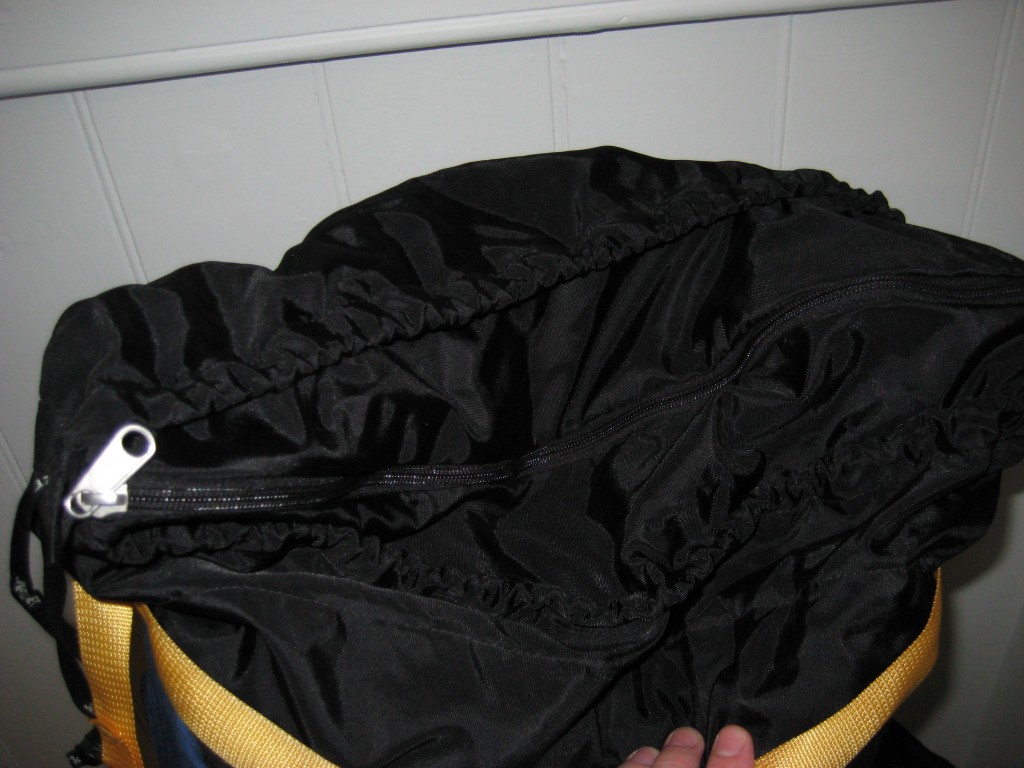 Laying the Tasman down on it's harness reveals a large zippered panel allowing the pack to be used as a panel-loader. This access zip is also fitted with fittings to allow it to be locked during transit. On top of this panel, is another zip to allow the removable daypack to be secured to. This also has fastex buckles to aid in securing the daypack.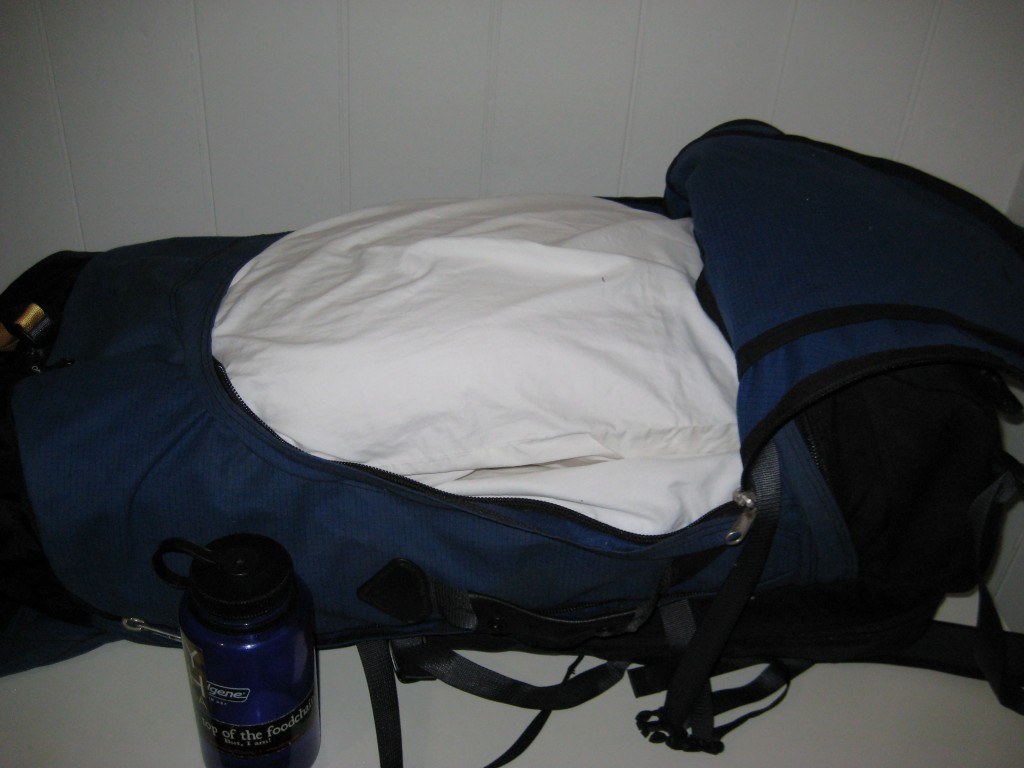 The bottom of the Tasman has another lockable zip to access the sleeping bag compartment. There are rubber attachments (very basic alpine racking) to allow some external stowage of such items as sleeping mats to be tied to the pack.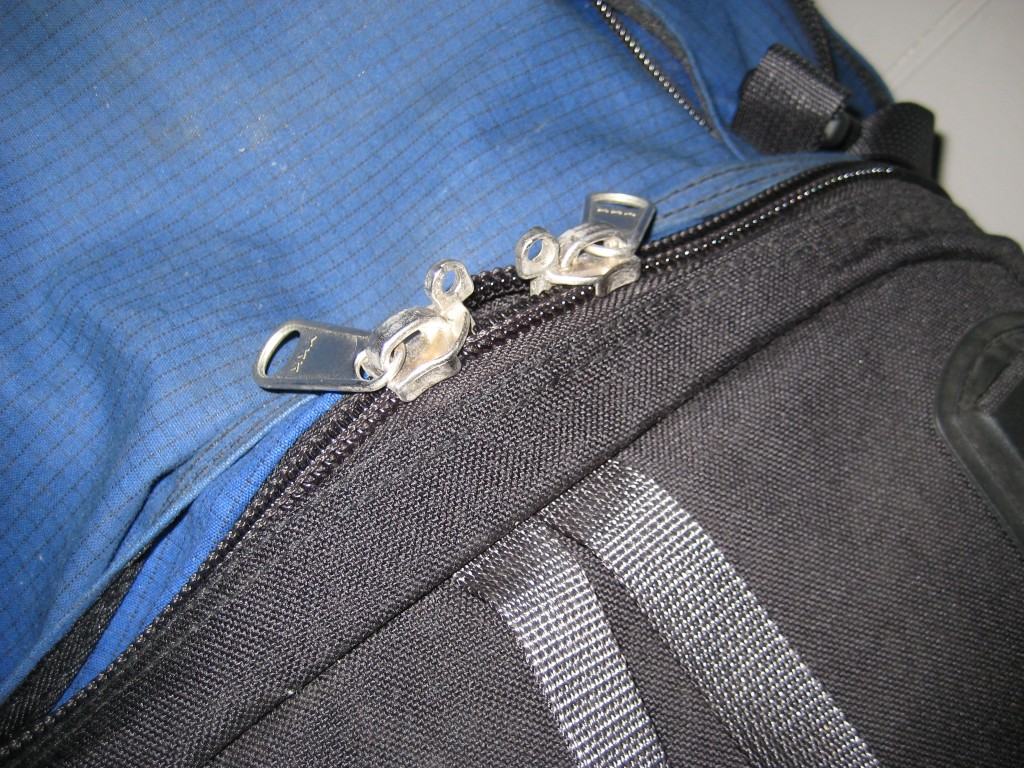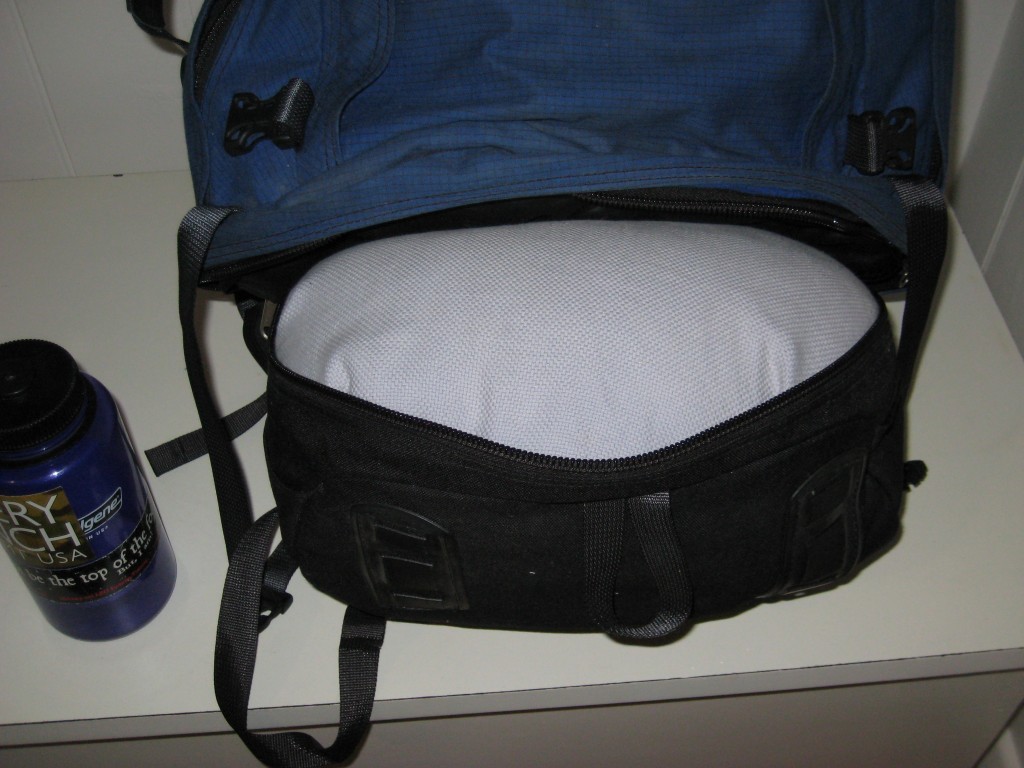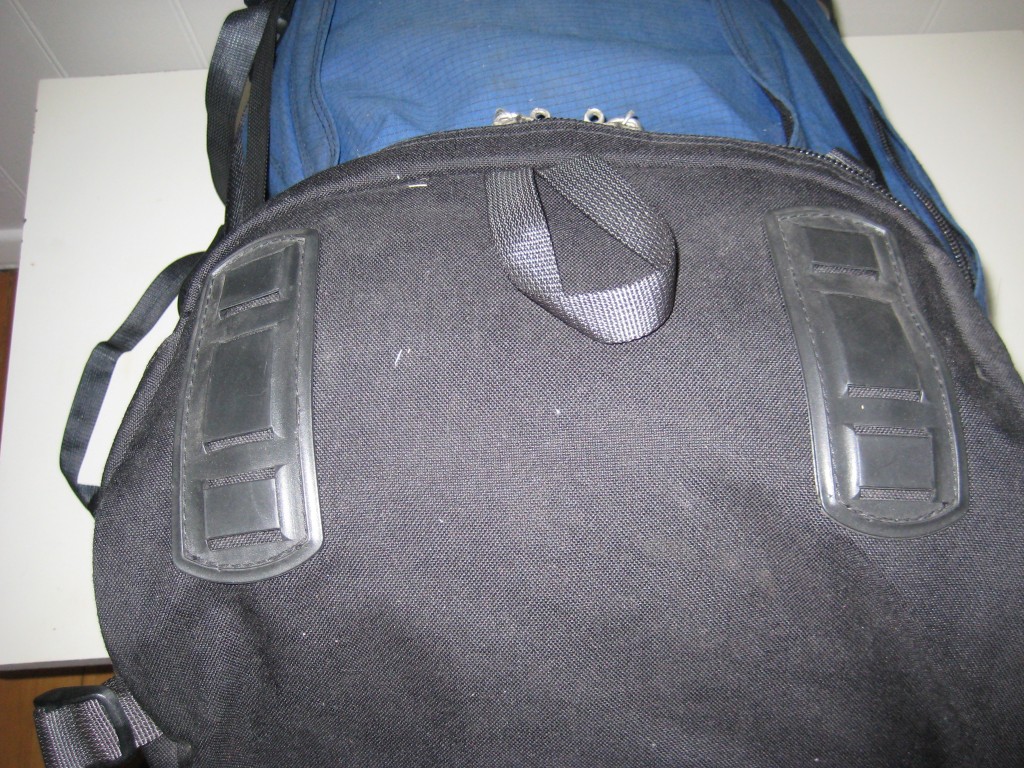 The sides of the Tasman a large zip on each side, to allow the volume of the pack to be tailored to the load. Zipped up, and the main body is compressed by an inch or so. I don't really understand the purpose of these full-length zips, since they add complexity and weight for a function that can be just as easily answered by the two compression straps also on each side.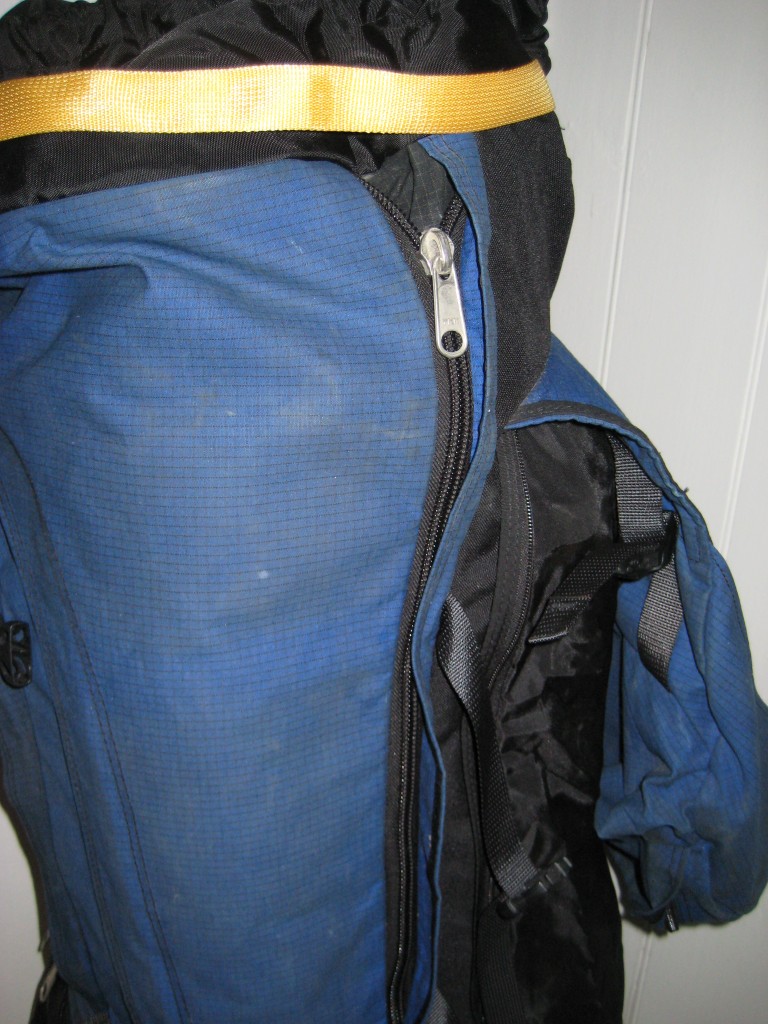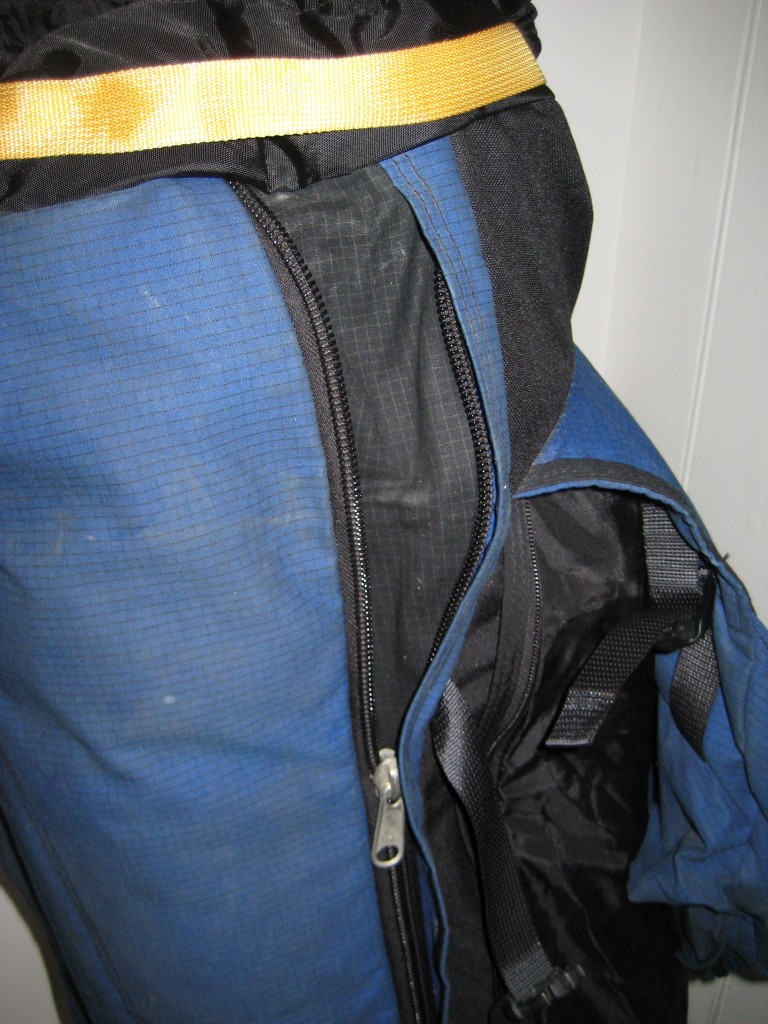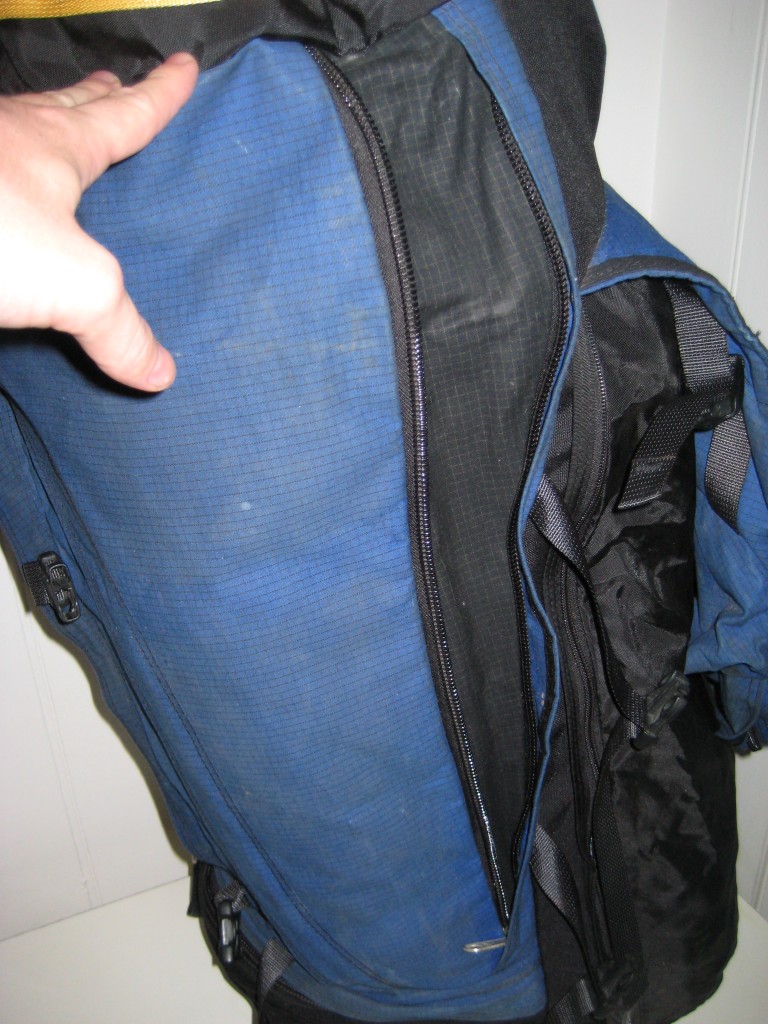 There are also pockets at the bottom of each side, to allow long objects to be stowed and held by the compression straps.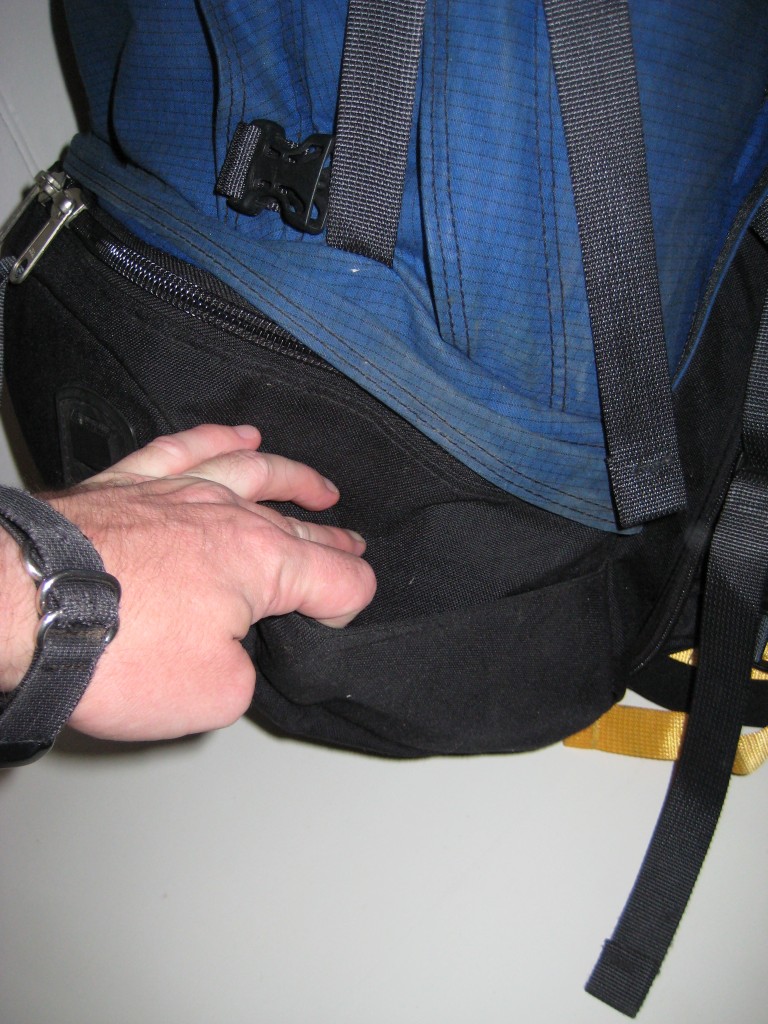 On the left hand side of the Tasman, belying it's hybrid design is a carry handle and shoulder strap to allow the pack to be easily transported when the harness is zipped away and hidden.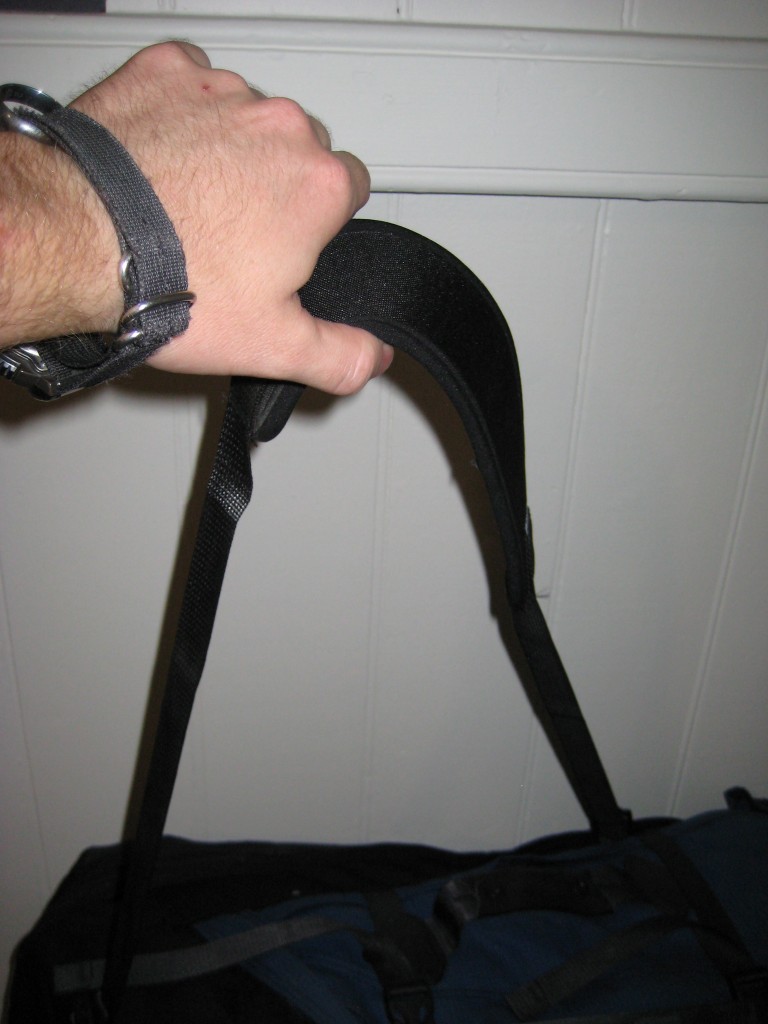 ACCESSORIES –
The Tasman comes with an easily mounted zip-on/off daypack. Due to the equipment donor liking this daypack so much, he uses it as his every-day pack to carry essentials to work. Hence, this item was unable to be examined for this review.
The back of the rucksack has a dedicated area to dock this daypack. It can also be hung from the harness should the necessity arise.
PERSONAL ASSESSMENT: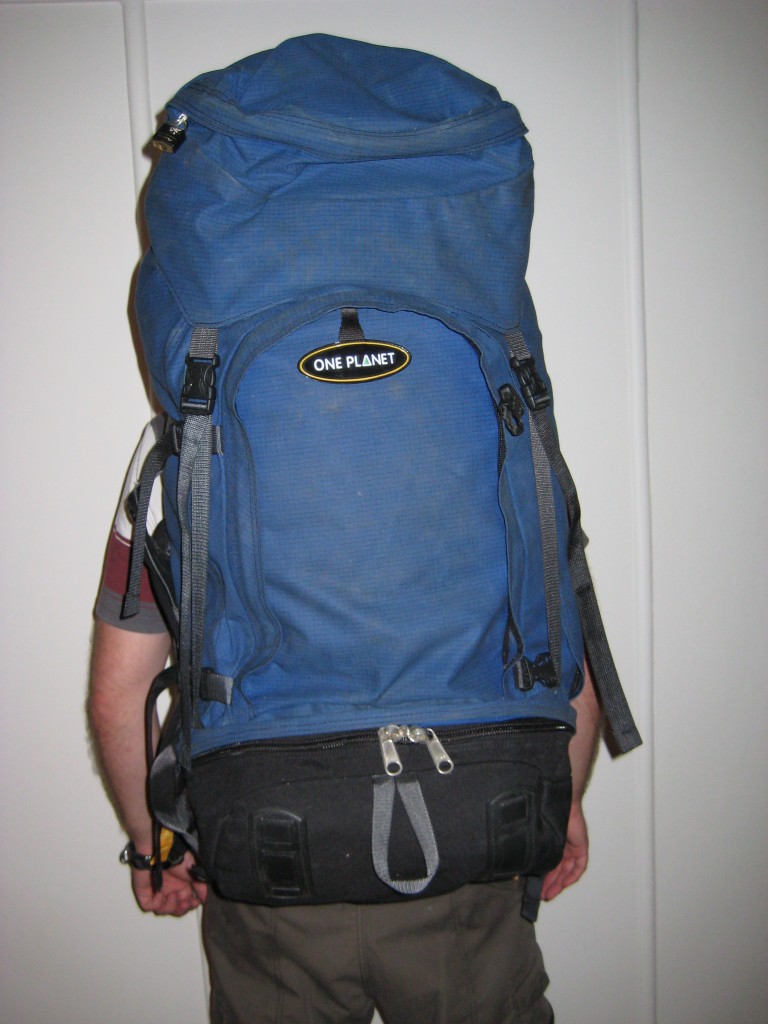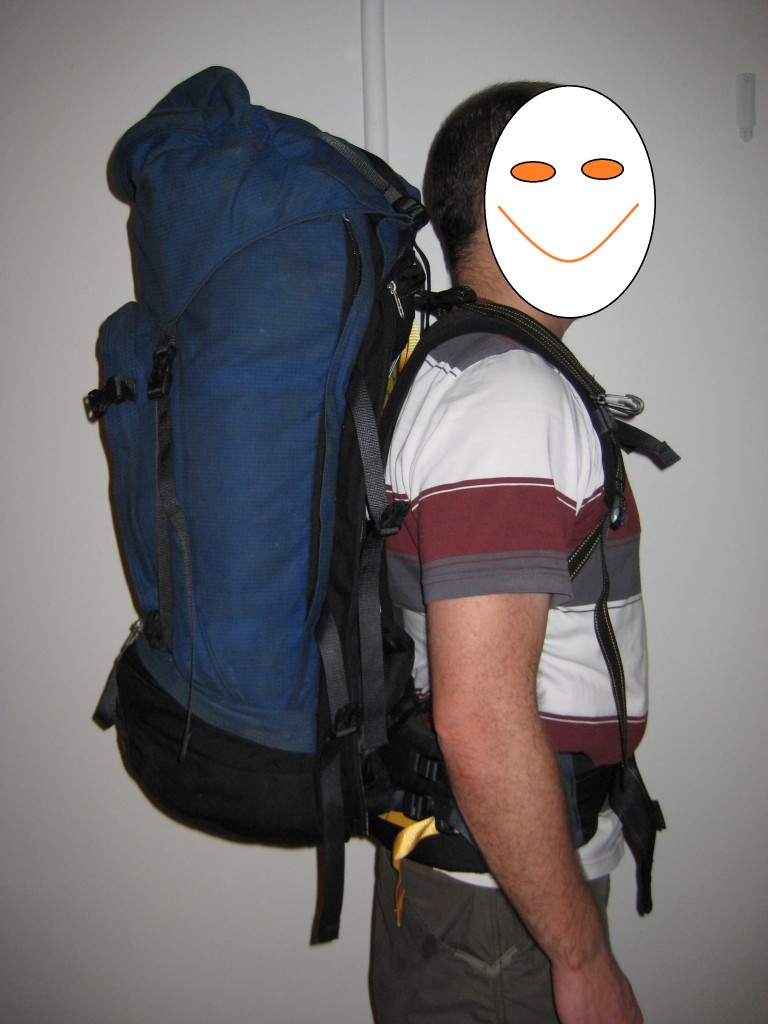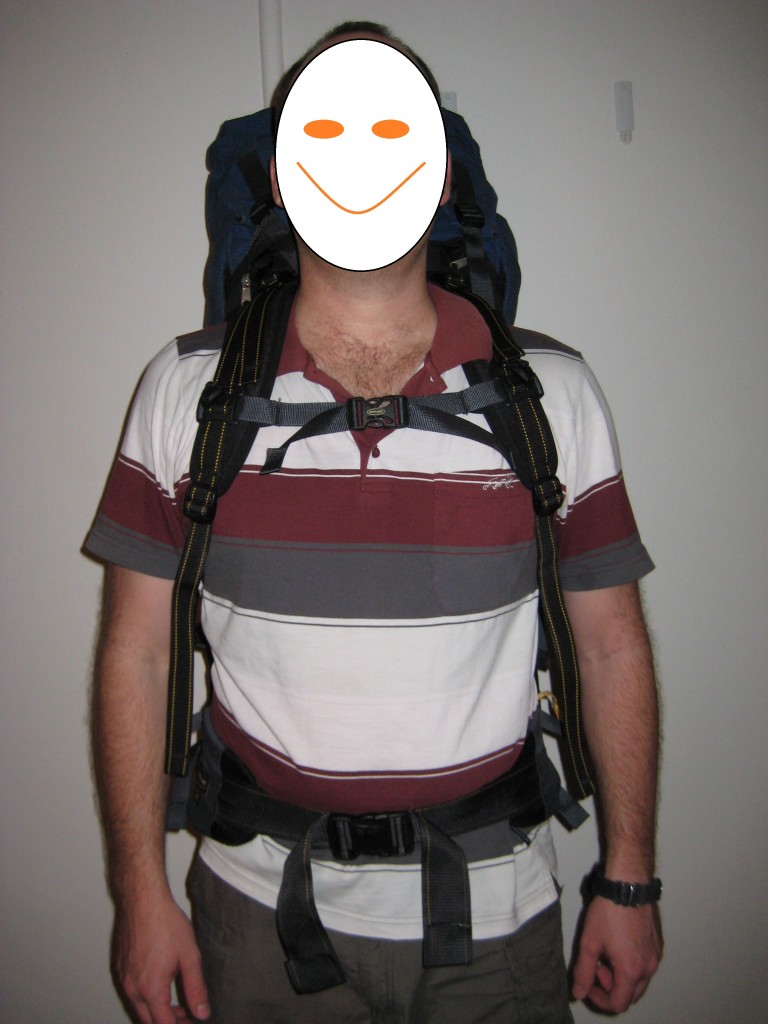 I've been using the Tasman for a little bit of domestic travel around the country and training walks.
The domestic travel was using this pack as intended and designed. Zipping up the cover over the harness to avoid damage from airport baggage handlers, and still having a decent harness for carrying the load. In particular for me at the moment, now that my family is travelling with a young baby, it's imperative that I be able to secure my luggage comfortably and securely to be better able to deal with the little one's baggage and equipment.
For the purposes of this review, training walks have been conducted. Over 80 kilometres have been logged with this pack, with a total weight carried during the review period of 27 kilograms.
It should be noted though, that I'm not a big fan of "hybrid" nor uni-sex designs. I feel they give up too much for the desired compromise of end-users and conditions.
My preferred luggage for travel is either a duffel bag, or a hiking pack (generally my Mystery Ranch Wolf Alpha) stowed in a pack bag to prevent damage during transit.
PROS –
General design and execution is quite good.
The canvas main body provides a great deal of abrasion resistance from the usual hazards inherent in travelling.
Changing the configuration of the travel pack is quite easy and useful.
Accessibility to the carried load is quite good, with a plethora of zips. I'm just not a fan of zips for load bearing equipment. Despite this, it should be fine for this application.
CONS –
I wasn't overly impressed with the harness on this pack.
The first major factor I noticed was the lining material is considered too soft and fluffy for serious use in the outdoors. It's fine if the pack is only going to be used for short durations in the urban jungle, but I would consider it completely unsuitable should this pack be taken into any environment more serious than that. I don't think the material would hold up to long term usage, especially in any jungle or other environments with thorny plants.
I'm not sure about the running end of the shoulder straps being secured with tri-glide buckles as well. For my usage, these running ends were doubled over to prevent them slipping through the tri-glides. I'm not sure about those end-users who may not have as much as experience or paranoia of equipment failure.
During wearing on long distance training walks, I found a slight looseness at the top of the harness and my shoulders, leading to some discomfort and muscle strain. I'm not sure if it's the harness itself, or whether the pack is just the wrong size for me. Since I haven't been properly sized for this pack, this is a distinct possibility. There is also the possibility that this harness just isn't suited for my build, such is the reality of such a uni-sex design and differing philosophy behind different proprietary designs.
I didn't particularly like the harness adjustment for backlength, and don't consider them to be easily used. They were a little difficult to adjust properly by myself. Being fitted by properly trained shop assistants on initial purchase would negate this minor quibble.
Strap management seems to be neglected. Although the zip away panel to cover the harness is great to reduce snags and damage from airport baggage handlers, it appears there's been no thought to reduce the chance of straps and other external fittings from damage under the exact same conditions.
PERSONAL SUMMARY:
Despite the inherent compromises in the design of such a hybrid pack, this one isn't too bad. It's just the small details and the compromises in the design that prevents me from giving an unreserved approval.

Posted in Civilian, Long Range, Packs & Webbing, Specialist by 22F with 2 comments.