ITEM: Dugout Bivvy Bag
MANUFACTURER: Crossfire Australia
DESCRIPTION:
A single-person, single-skin tent or bivvy bag made of breathable laminate eVent material.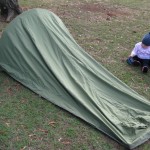 REVIEW NOTES:
The Dugout has been graciously provided by Crossfire Australia for review.
Make sure you tell the great team at Crossfire what and who pushed you over the edge should you decide to purchase this item.
LINK:
http://crossfire.com.au/shop/dug-out-bivy-bag/
MATERIALS:
Main upper body is eVent laminate, originally designed for raincoat material.
The lower body is waterproof nylon.
Shock-corded alloy hoop.
Insect mesh
YKK zips.
DIMENSIONS:
Length – 2.3m (approx. 90.5in)
Width – 1.08 m (approx. 42.5in)
Height (setup, with pole erected) – 66 cm (approx. 26in)
Weight – 1.6kg (approx. 3.5 lbs) with tent and poles
ACCESSORIES:
Dugout bivvy bag supplied with a shock-corded pole, some spare guy-line, four very nice high quality alloy pegs, and a swathe of patch material for repairs.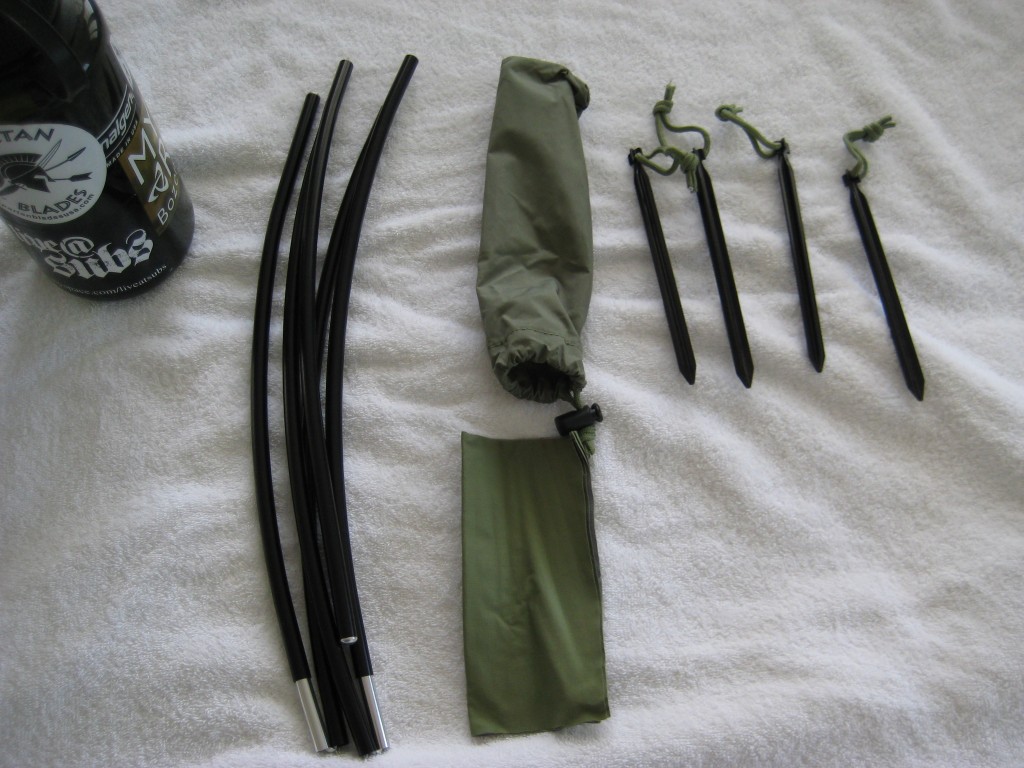 There is also a small, velcro secured accessories pouch that attaches to the inside of the Dugout to aid in personal stowage of essential items at night, such as torch, personal media player and what have you.
LAYOUT:
The Dugout is a single person tent or Bivvy Bag made of breathable laminate eVent material.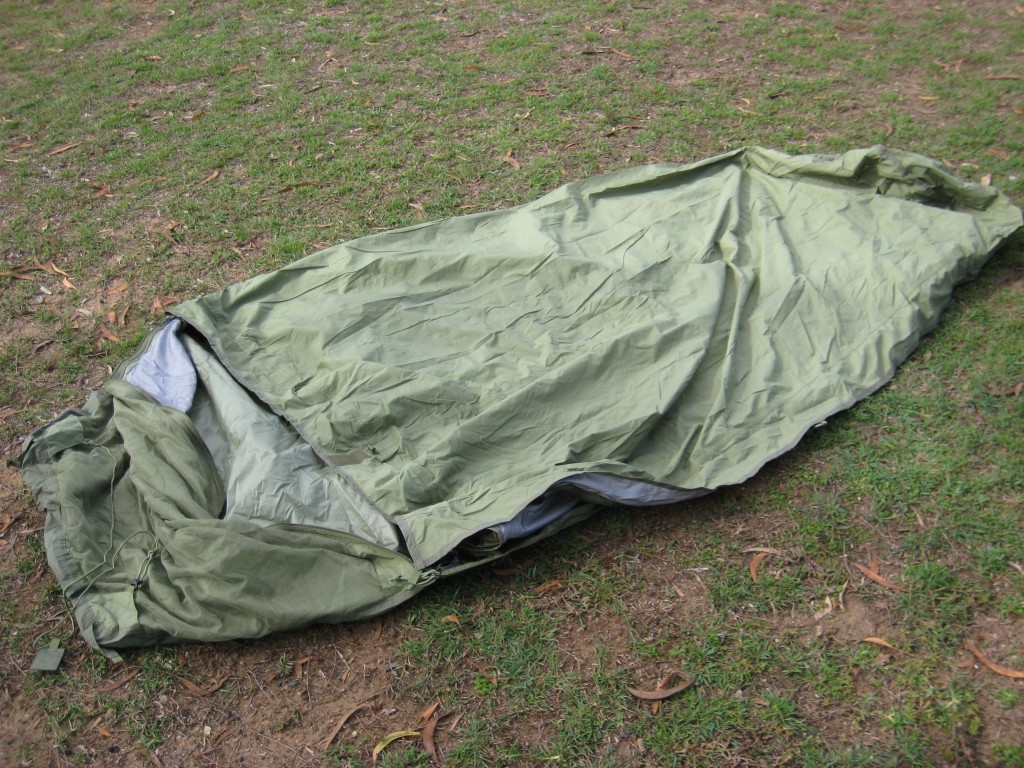 It is of hoop tunnel layout. In that there is a hoop about three quarters of the way up the main body where the shock-corded hoop can be inserted to keep the roof off the wearer.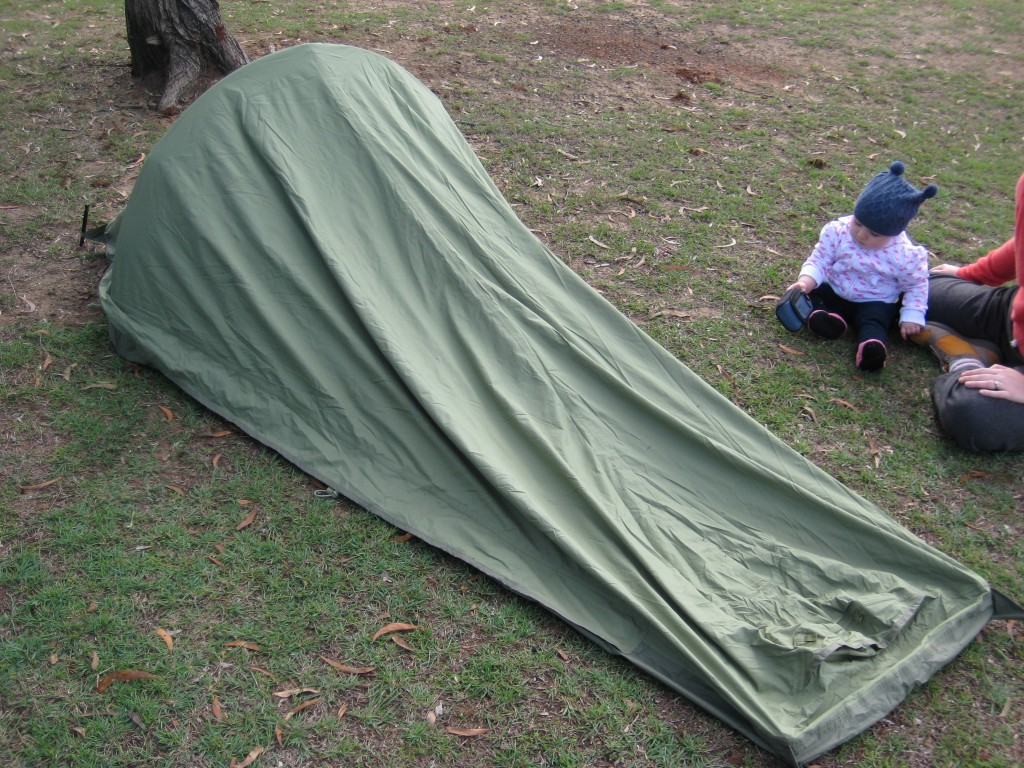 With the hoop pole in place, there is a guy-line that connects to the top of the tent to allow the pole to be free-standing. This guy-line is secured by a patch of velcro to allow egress from the Dugout in a hurry, without snagging the occupant.
Pole attachment: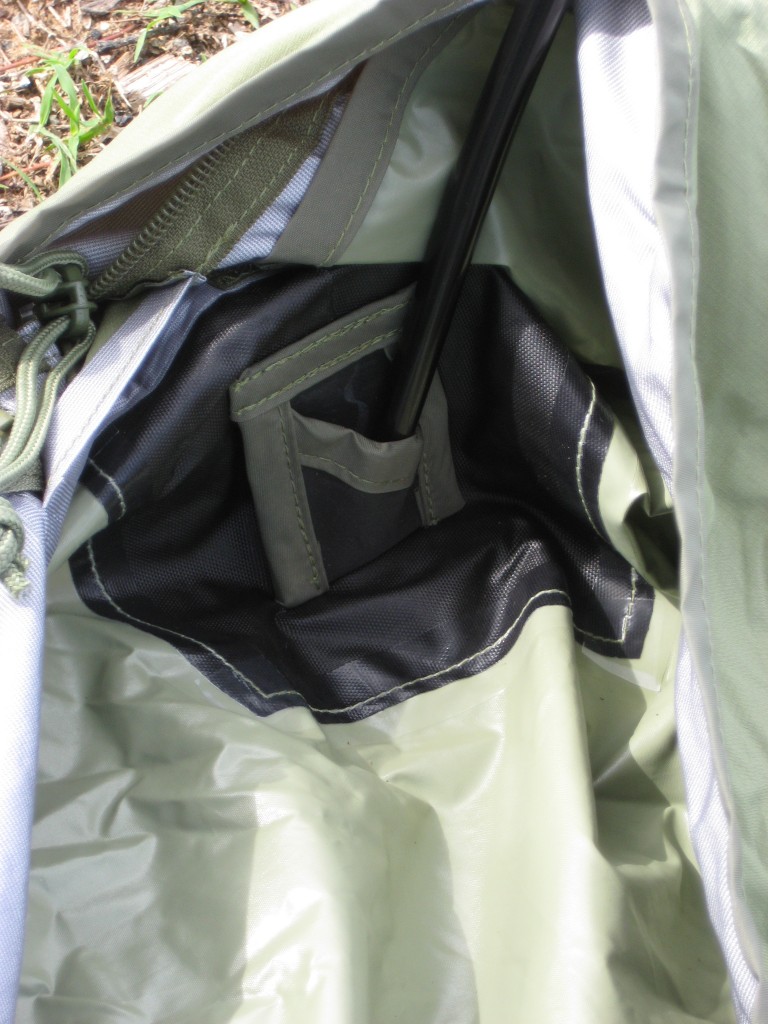 Hoop pole in place: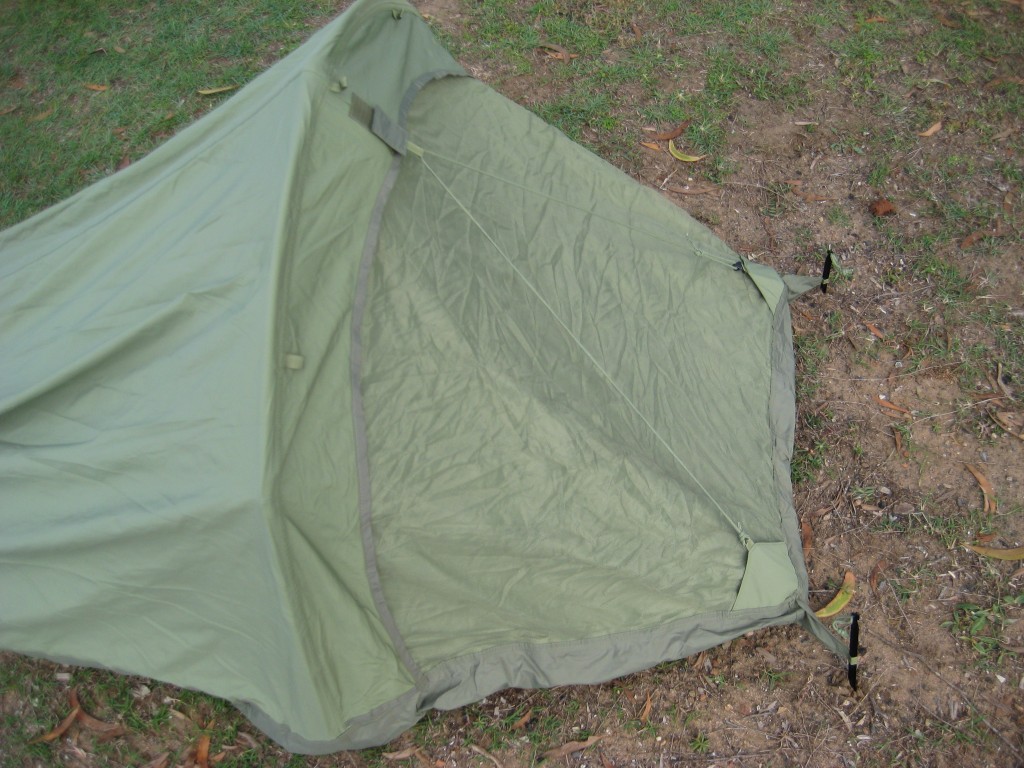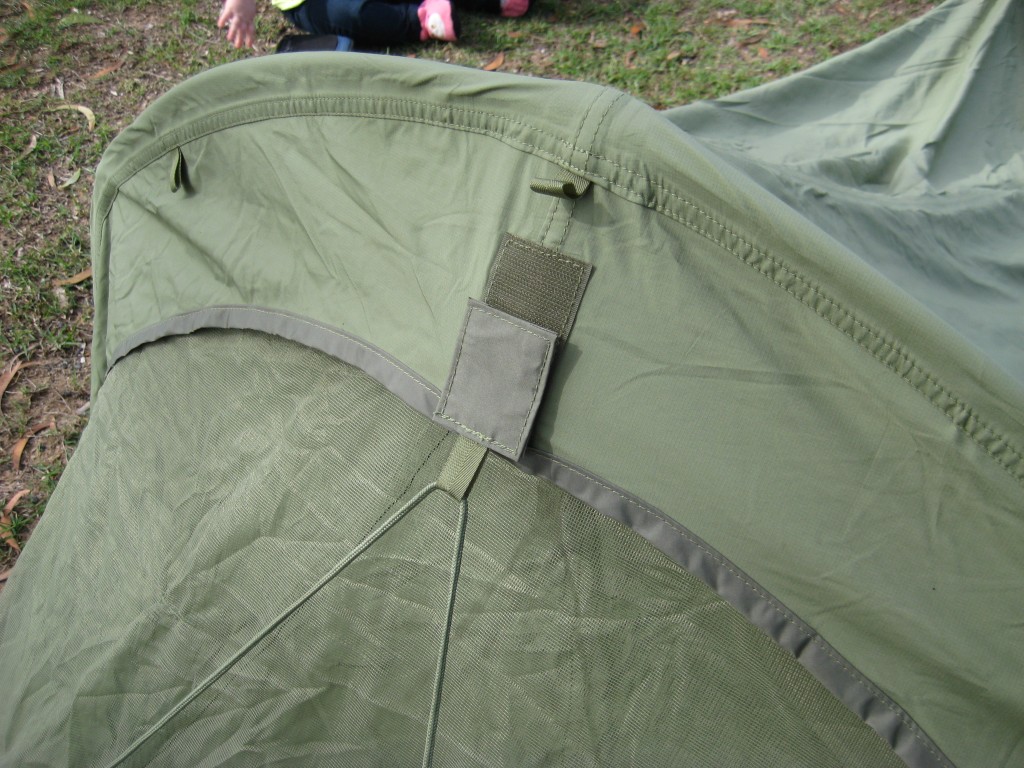 The top half of the main body is made from eVent breathable material, as used in many raincoats. This gives a good compromise between strength, resistance to field conditions (such as abrasion) and weight.
The lower half of the main body is an abrasion resistant, waterproof nylon.
Seams are all taped.
Externally, there are loops at feet and head for pegs to anchor the tent down in windy conditions.
Unlike many competitors, the insect mesh is external, which means the user isn't choking on it when not in use. This a particularly strong selling point for me, since I've spent many years fighting the insect mesh on other bivvy bags when sealed up for cold conditions.
When using the insect mesh, the weather-proof eVent seal can be dropped behind the users head, preventing snagging and choking. A very nice design point.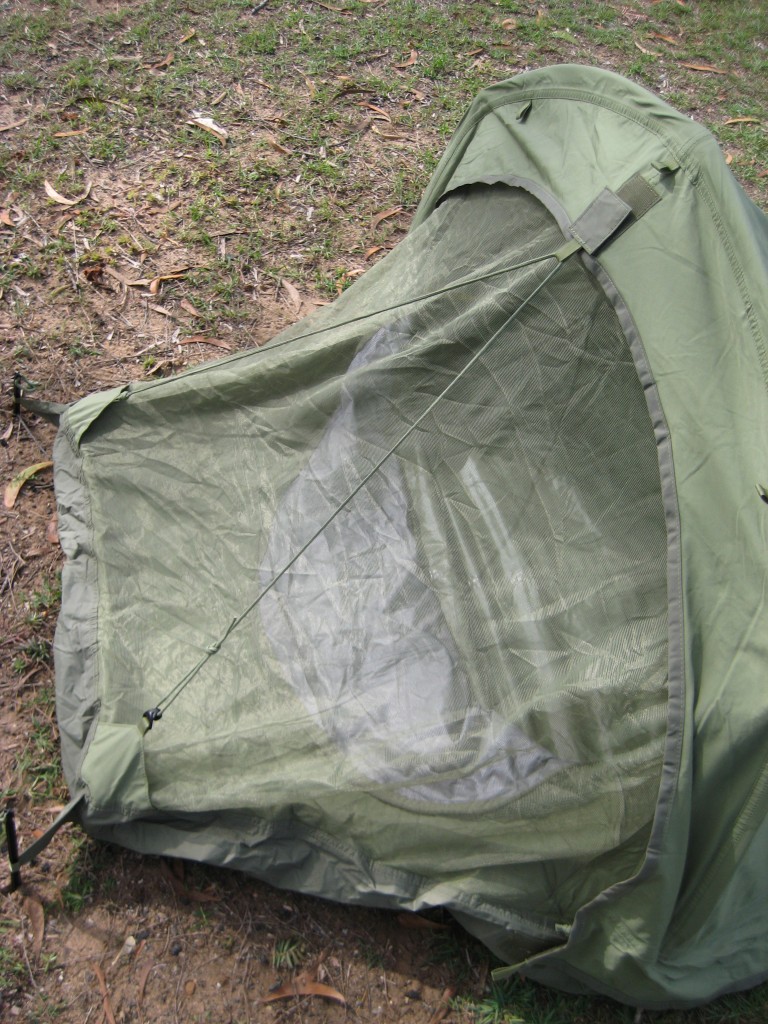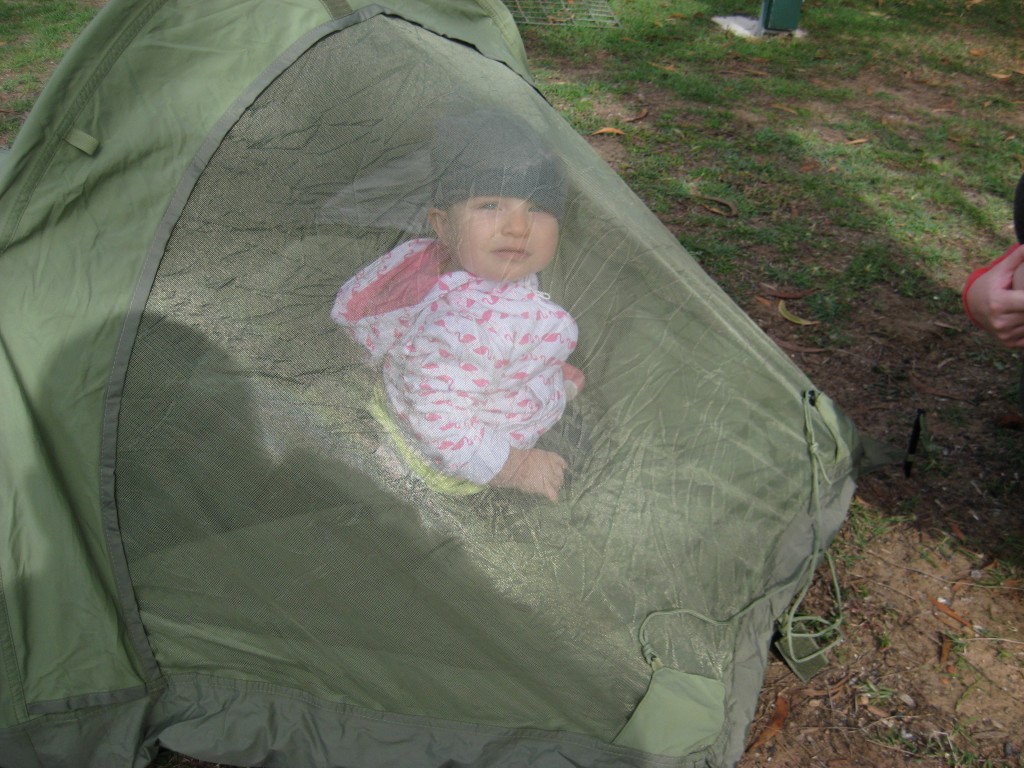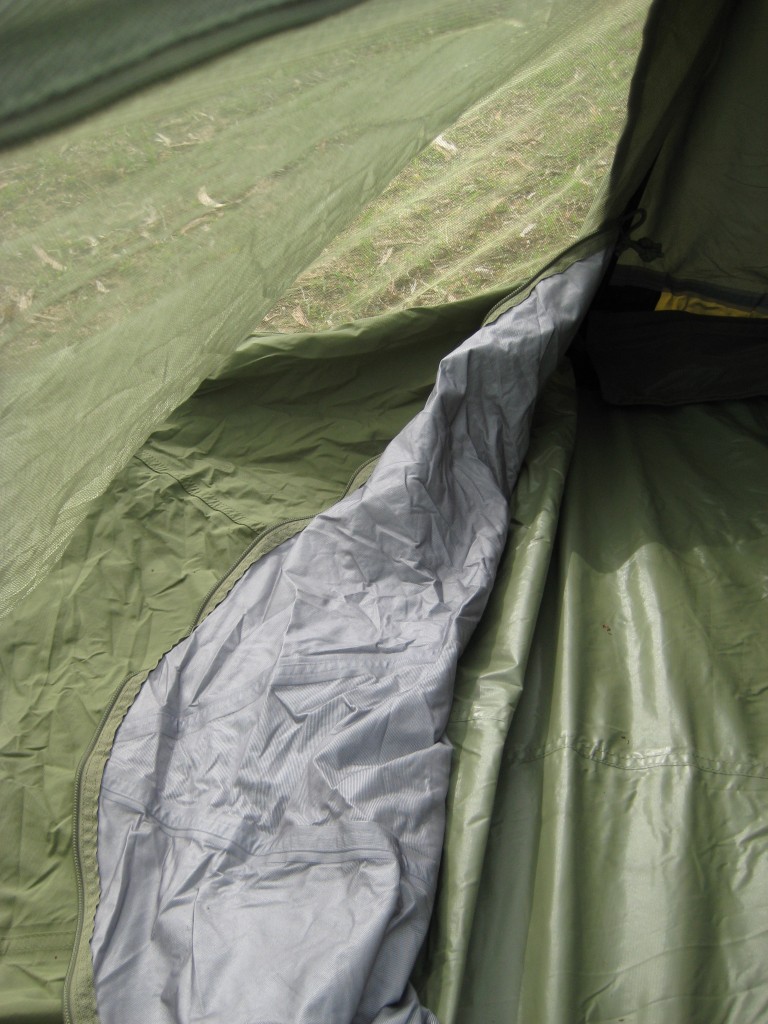 Unlike many other single-person tents or bivvy bags, the Dugout has two zips for access. There is the traditional zip across the chest, where the insect mesh can be used. The only problem that I and others have found with this chest zip, is accessibility can be compromised. Especially in tight spaces found in very close country, or when noise and movement needs to be kept to a minimum. It can be difficult to climb in or out of the shelter without blowing out zips or making too much noise.
To aid in this access and egress, there is a second zip, running along the right side. Unusually, this zip is of bail-out design, enabling quick, unfettered egress for those anxious "Stand-to" moments in life. When needed, it's also very easy to recondition the zip back to normal use.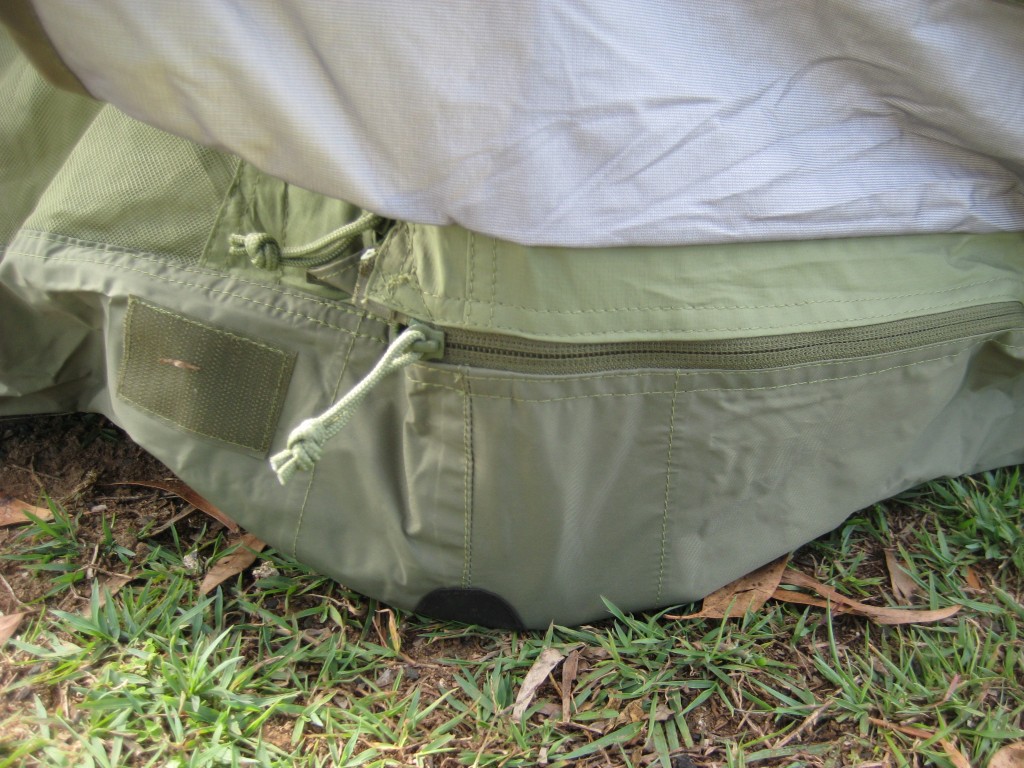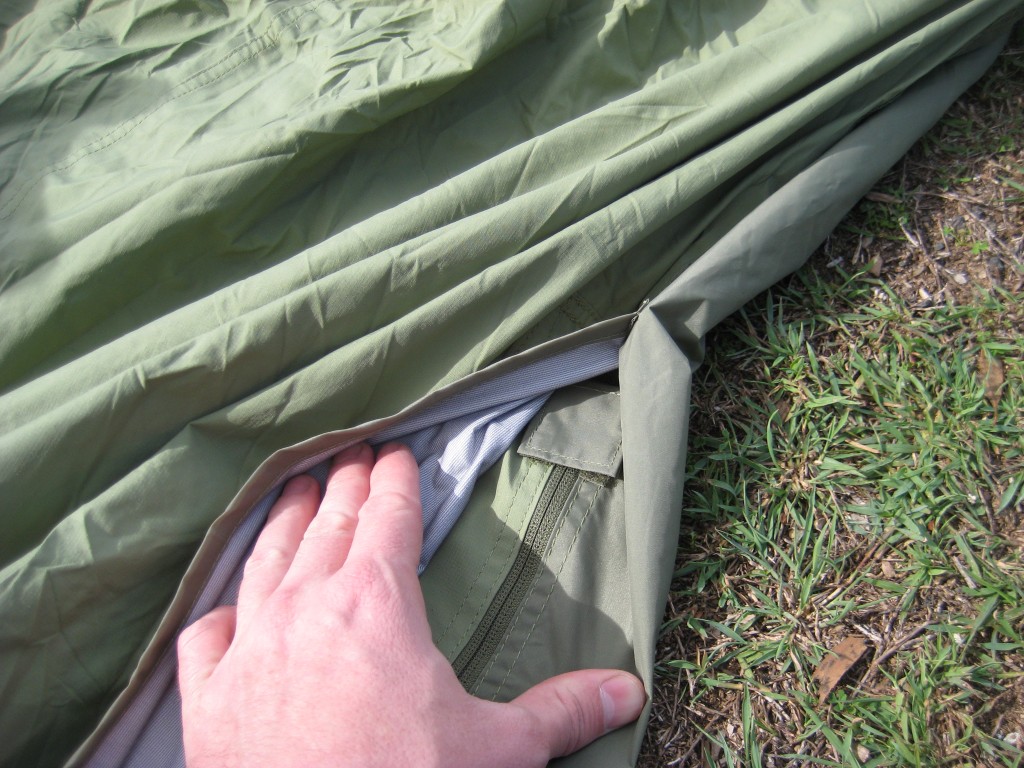 PERSONAL ASSESSMENT:
I've had opportunity to use the Dugout in some really rough terrain and wild weather.
The beauty of this design, is that it can be setup as a single-person tent, or if feeling lazy: not erected, and used as a bivvy bag.
I've used it in both modes.
It was in the Mackay Highlands, whilst doing the Great Walk up there in the Eungalla area, that I first used the Dugout.
I was fortunate (although I wasn't thinking that at the time), that the weather after Cyclone Yasi was sufficiently wild that I was able to test the weather-proofing of this tent. It rained most of the night for the long weekend, whilst in rainforest, so it was a fairly decent opportunity to test water permeability and general useability. It worked pretty well for the short trip I was on. Longer assessment has been unable to be completed, due to real life getting in the way.
PROS –
It's a decent size for a single person tent. Sufficient space is inside for one person and their equipment exists.
The eVent laminate material used in it's construction is quite light for it's size, and gives excellent breathability and water resistance.
The bail-out zip is a great feature.
Construction and design is of a very high standard. A particularly impressive design point is the insect mesh/entry area. In cold climes, when fully sealed up, the insect mesh is not actively attempting to choke the user. Ergo, when the weather is slightly warmer, or the user wishes to experience more ventilation, the full weather seal drops to the floor without being an impediment.
The Dugout is very simple to erect. One of the main reasons I don't particularly like tents is the time and effort required to erect shelter. This dislike of most tent designs is negated by the simplicity of the Dugout's design.
CONS –
I'll be honest, I'm not a fan of tents whilst out in the wilds. I prefer sleeping under the stars, a hootchie (groundsheet/basha) or my Hennessey hammock when the weather closes down and it starts raining. I get a bit claustrophobic in the tight confines of a tent.
Since the Dugout was billed to me as a bivvy bag, it seems a little bit too large for that role. For me, a bivvy bag only needs to be large enough to slip over my sleeping bag or sleep system, and be easily stowed away in a hurry and not take up much space in the backpack. This is especially important for military usage, but not as much of a priority for civilian bushwalkers.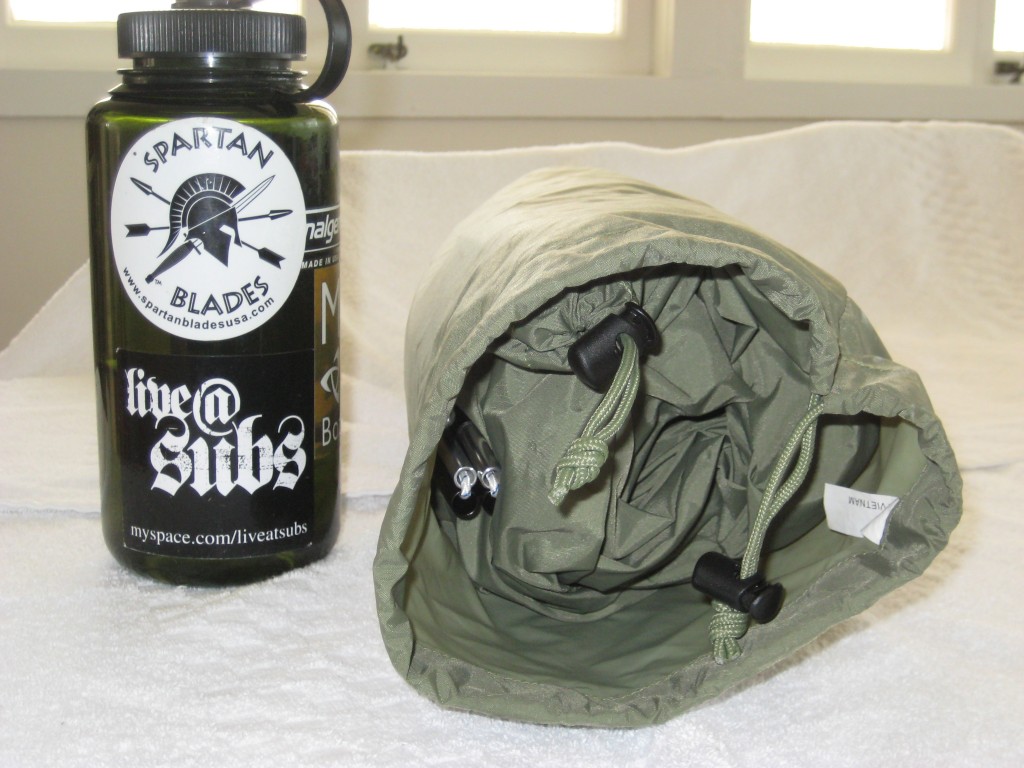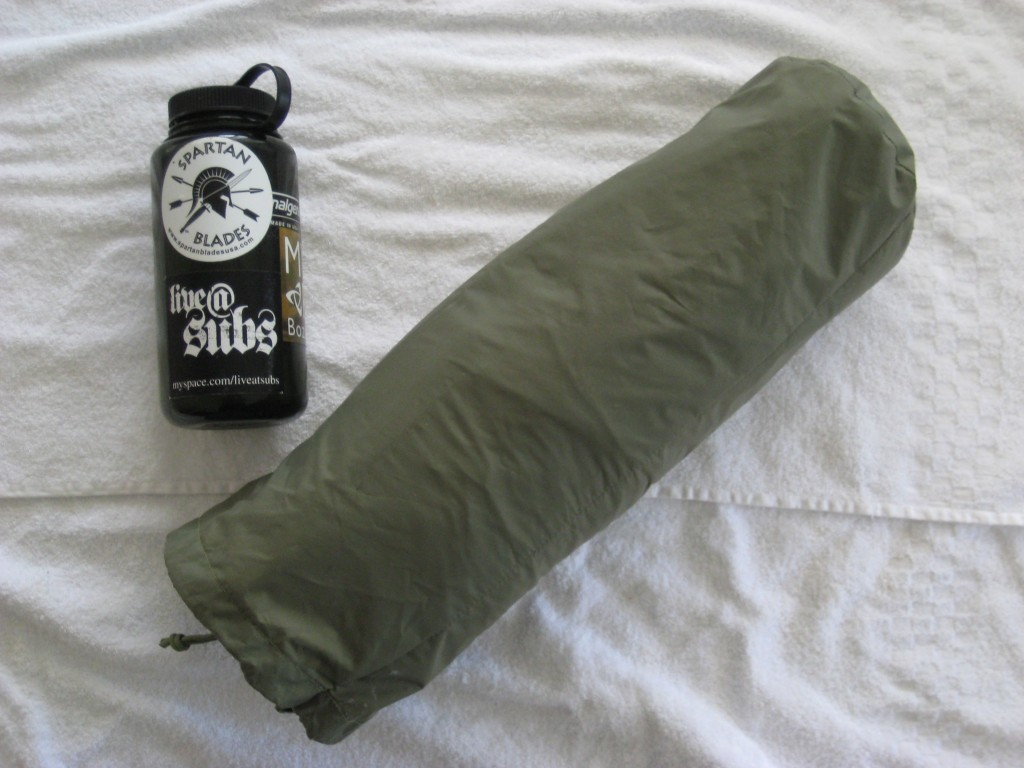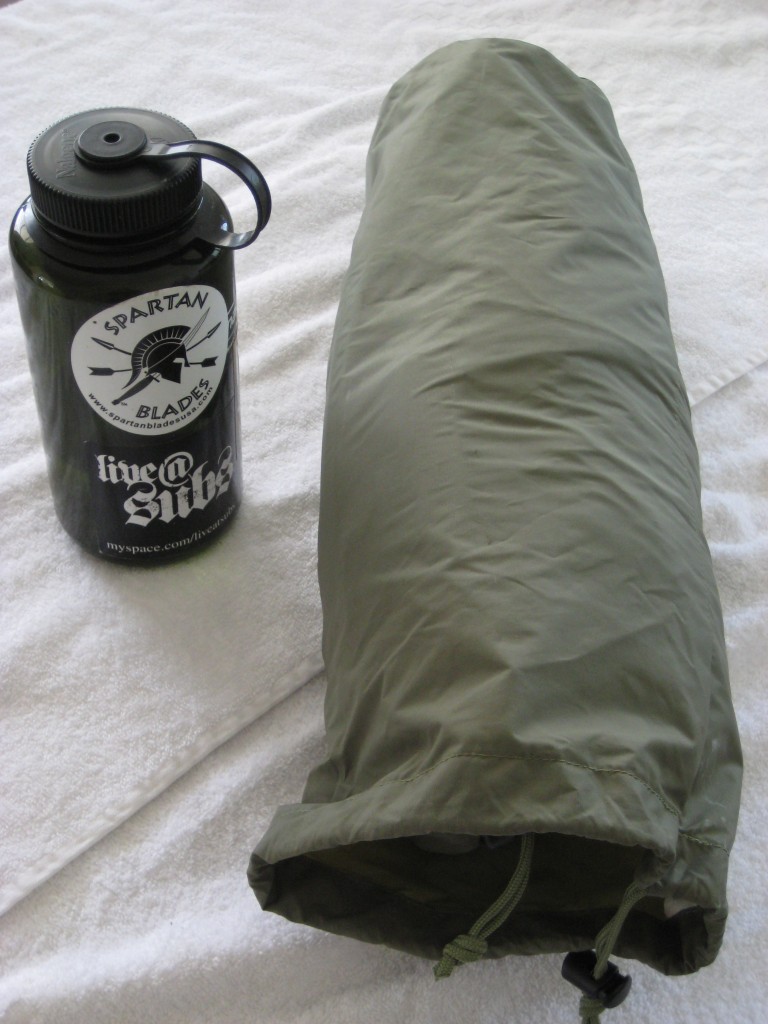 My general usage of a bivvy bag is to have my equipment laid out around me for immediate use. Such that when waking up, it takes very little to strike camp and be on my way. In a military setting, this means using my webbing (fighting order) as a pillow, with my pack right next to me head, ready to have sleeping system rolled up and shoved in upon awakening.
Whilst bushwalking on my time, I still keep my pack and boots near my head ready for immediate donning and pack-up to strike camp.
I find the stowed size of the Dugout to be a little bit too large, both in stowed size and when in use, for my desired usage. Your tastes and usage may vary, particularly if you like having personal equipment stowed in the shelter with you.
The other thing to remember about permeable barrier materials like Goretex and eVent, is that they require a certain temperature gradient between inside and the outside surface to function properly. It's preferable to have a warm body on the inside, and a significantly colder exterior in order to maximise the breathability of the barrier. This means that a Bivvy Bag is not the panacea for all conditions and environments. The breathable membrane of a Bivvy Bag is of far more use in the mountains and temperate areas, than in the tropical jungle. Horses for courses, or – use the correct kit for the environment.
SUMMARY:
Whilst an excellent single-person tent made of an incredibly breathable/permeable barrier material, my personal kinks and foibles prevent an unreserved approval. Don't get me wrong, it's an excellent piece of kit, it's just that I don't like it for the way I prefer to travel and sleep whilst out bush.

Posted in Civilian, Crossfire, Military, Sleeping & Shelter by 22F with 3 comments.