ITEMS: SpadeLock and Stick-it Pack Accessories
MANUFACTURER: Mystery Ranch
DESCRIPTION:
Accessories to aid in external and internal organisation of a Mystery Ranch backpack.
The SpadeLock system allows internal organisation whilst the Removable Stick-It aids in external stowage.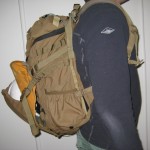 REVIEW NOTES:
Both items are graciously supplied by Mystery Ranch. Without their assistance, this review would not have been possible. So go and check them out, and let them know how much my reviews help influence your purchasing and kit selection processes.
Both items have been used extensively over the last few months.
I will break this review up a little differently to my usual format, to reflect two items.
LINK:
Go and check out the links on Mystery Ranch's own website. Don't forget to tell them who sent you.
LAYOUT:
SPADELOCK
The SpadeLock accessory is an aide to internal organisation within the range of Mystery Ranch packs.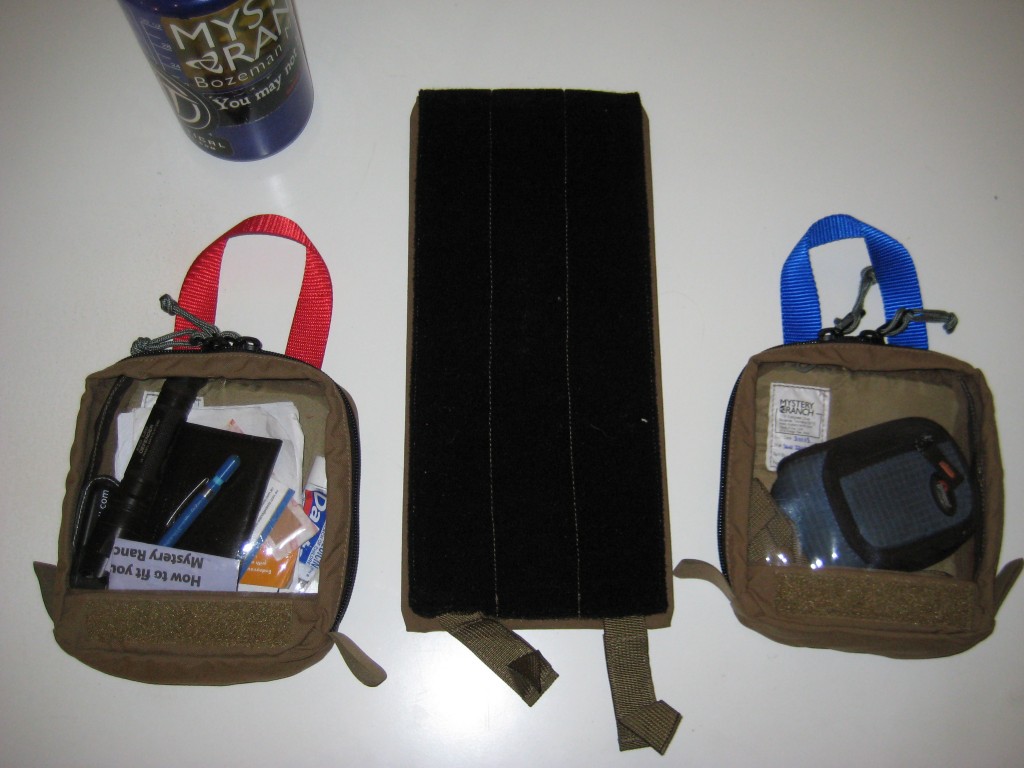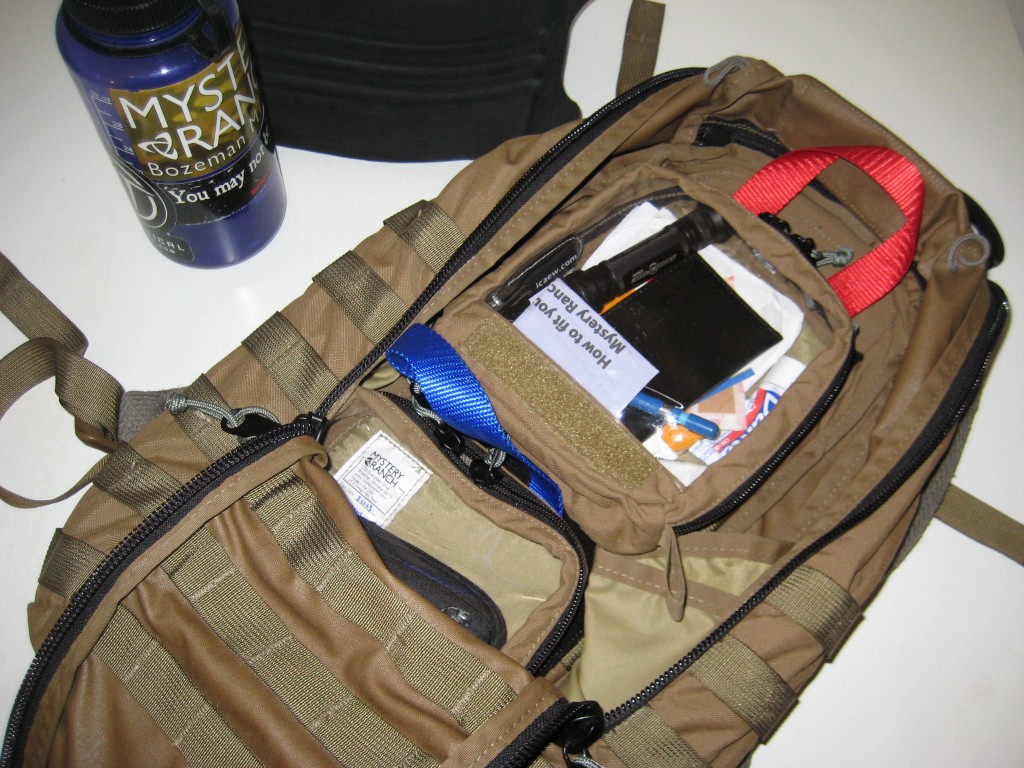 It is essentially a detachable rigid backboard, that has a field of velcro pile to allow other accessories to be attached to it.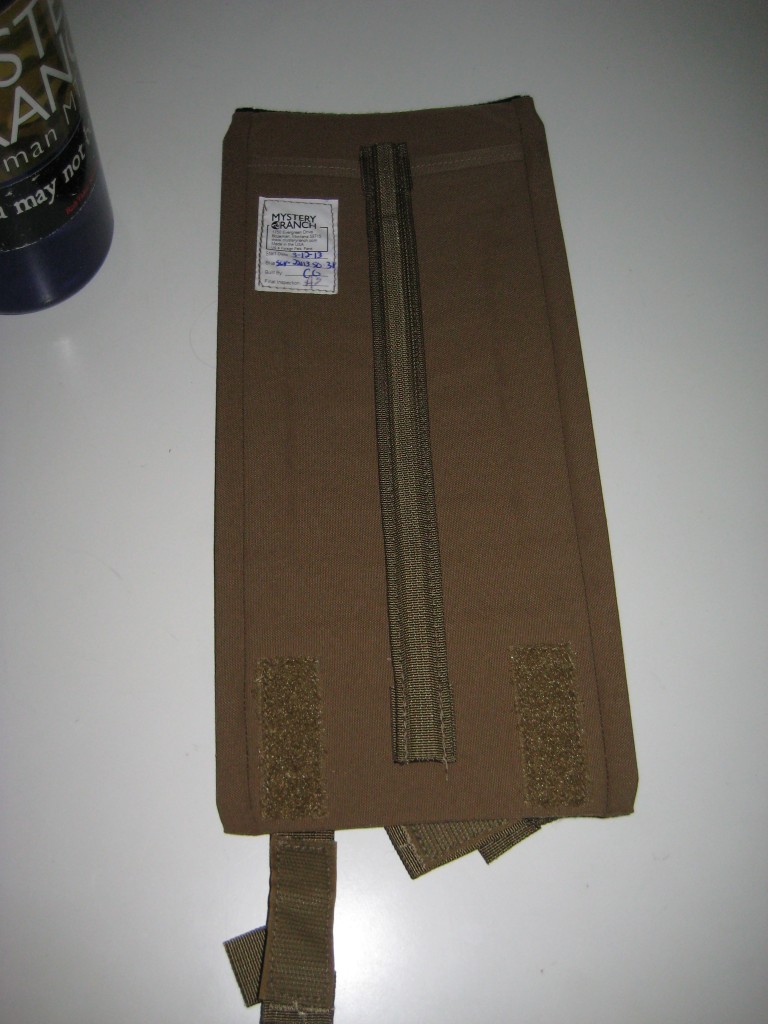 In simple terms, the SpadeLock system consists of a loop of fabric on the internal surface of the backpack. The inside surface of this loop has a feild of velcro sewn onto it to allow secure attachment of the backboard.
The backboard is attached by using the Mystery Ranch yoke framesheet adjuster from the pack harness itself.
Framesheet removed from pack harness, ready for installation: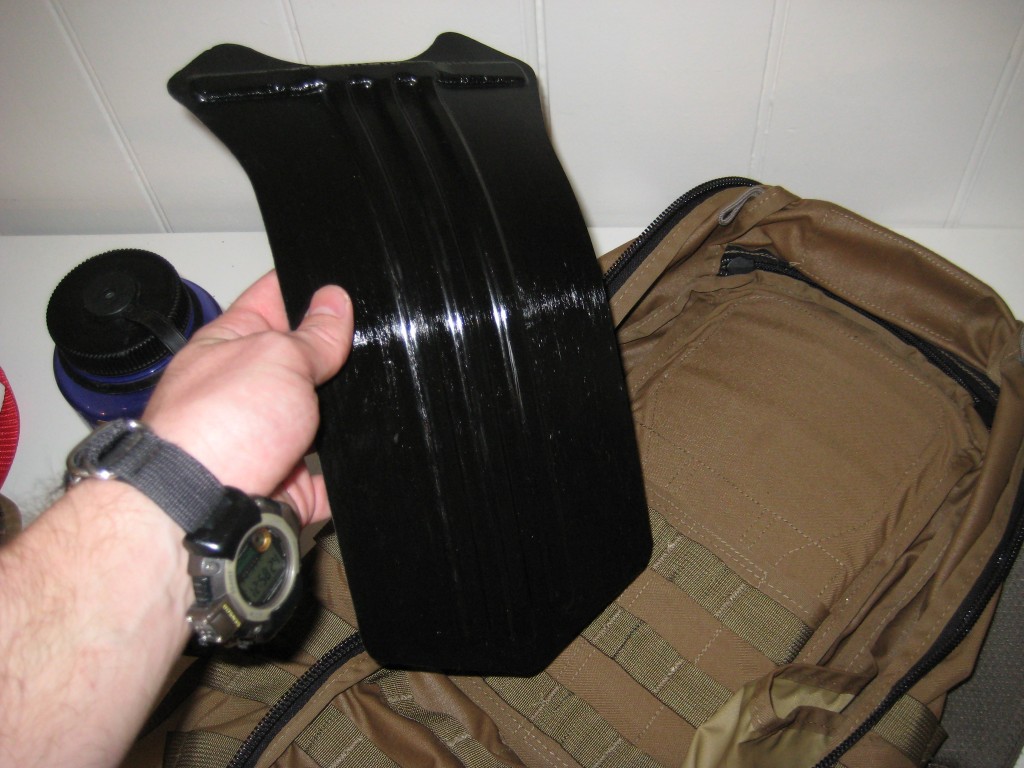 Framesheet inserted into tunnel for SpadeLock to be inserted: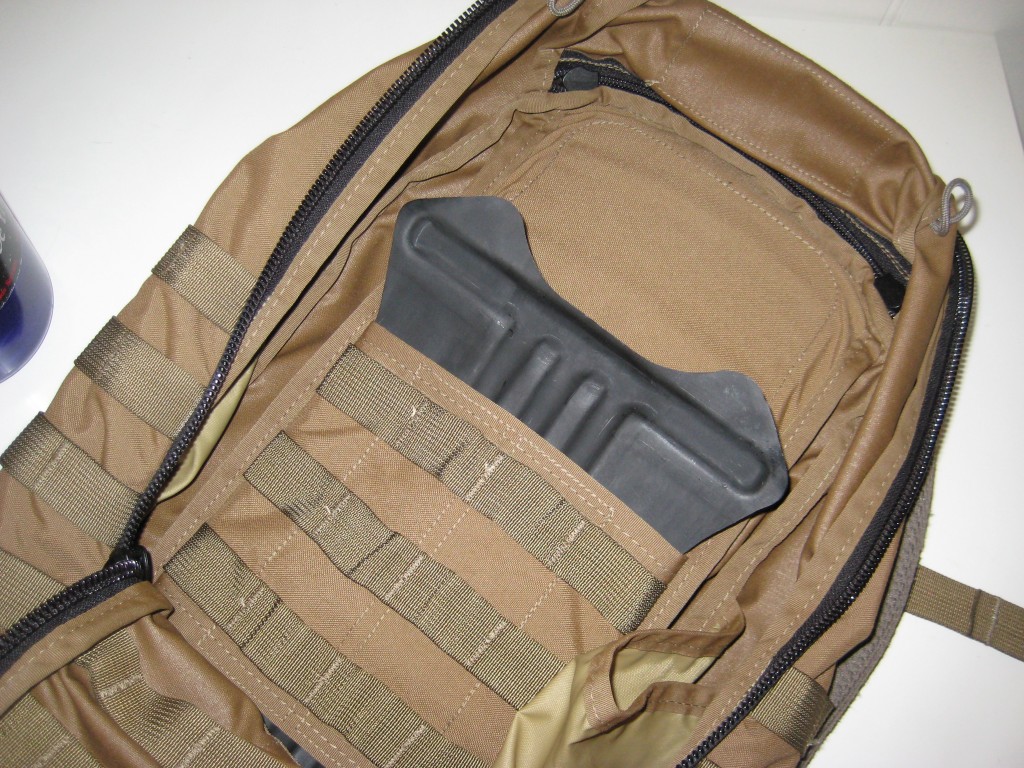 SpadeLock inserted, and framesheet removed: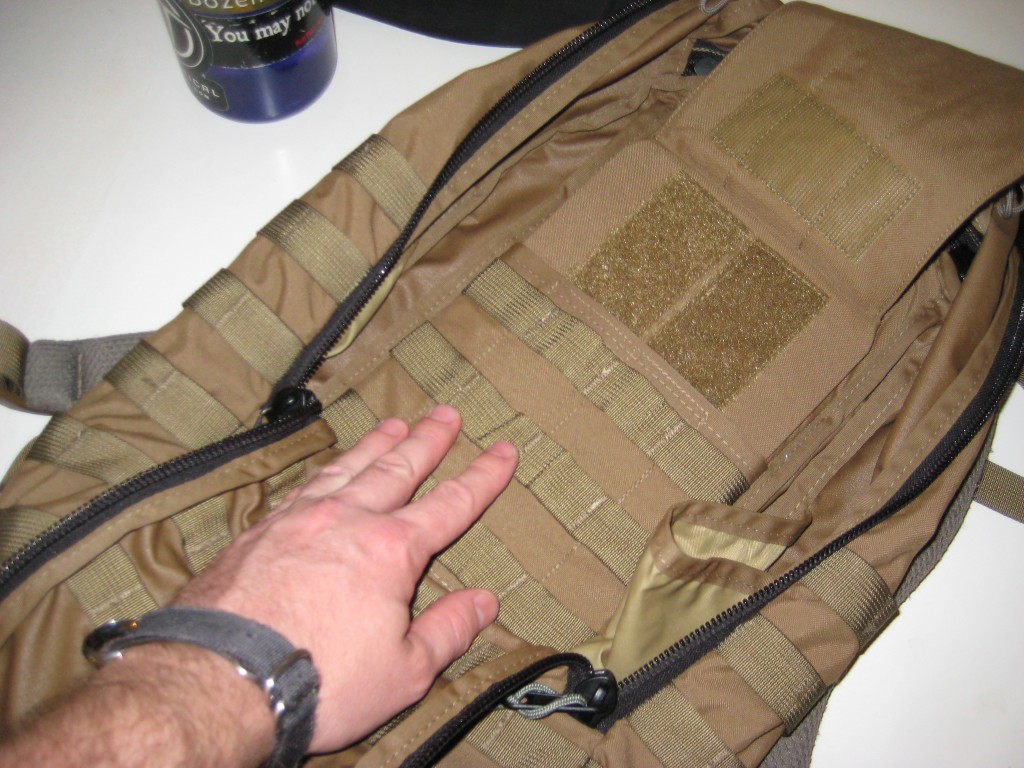 Velcro panel folded over ready for use: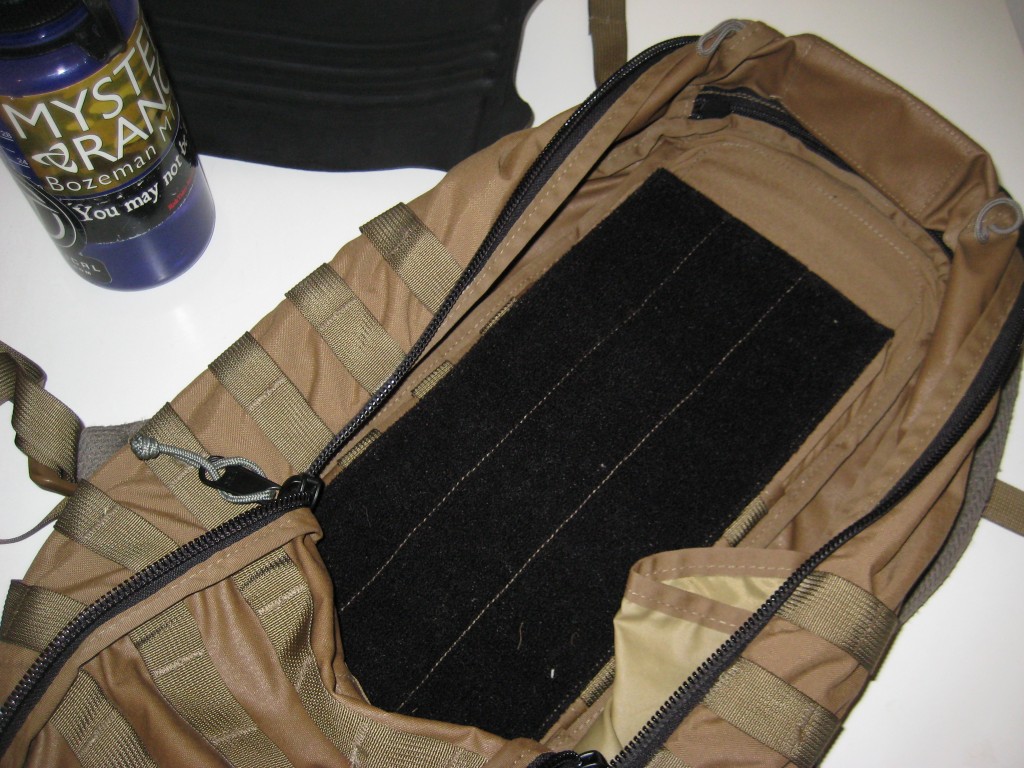 Supplied with review with this SpadeLock system was a couple of pouches. These are the same pouches that I reviewed with the Mystery Ranch RATS pack (seen HERE). These pouches are velcro backed, allowing quick don/doff, have a clear window to easily identify the contents. Each pouch also has a colour-coded handle, and a velcro pile field below the clear window for nametags and other identifiers.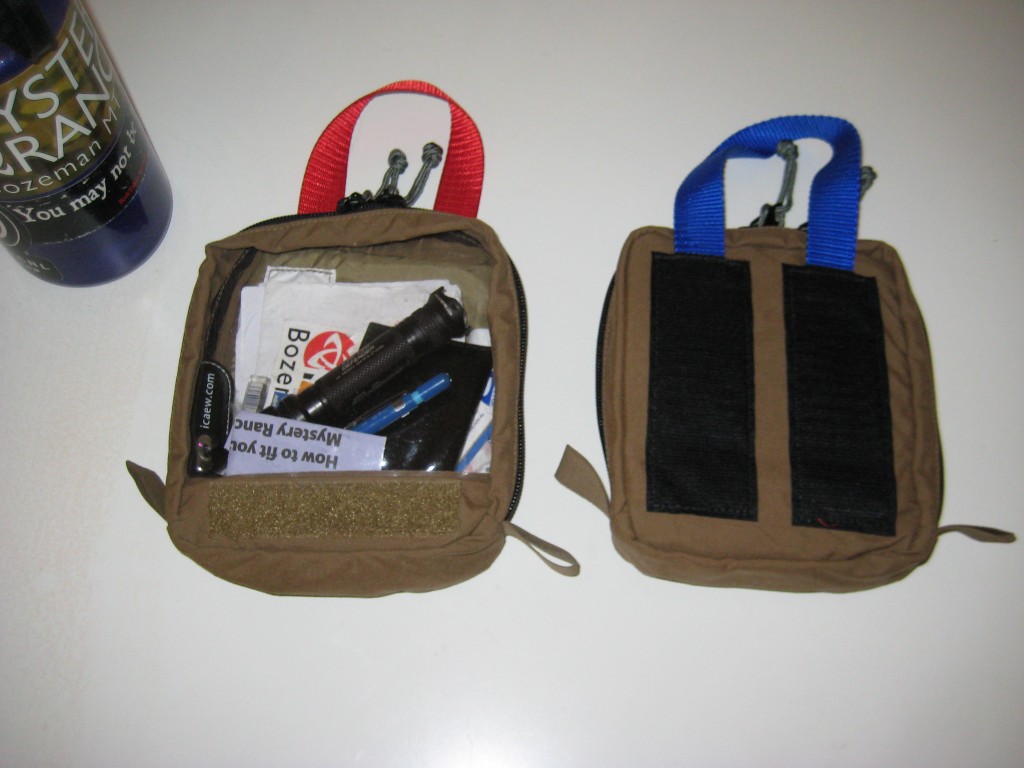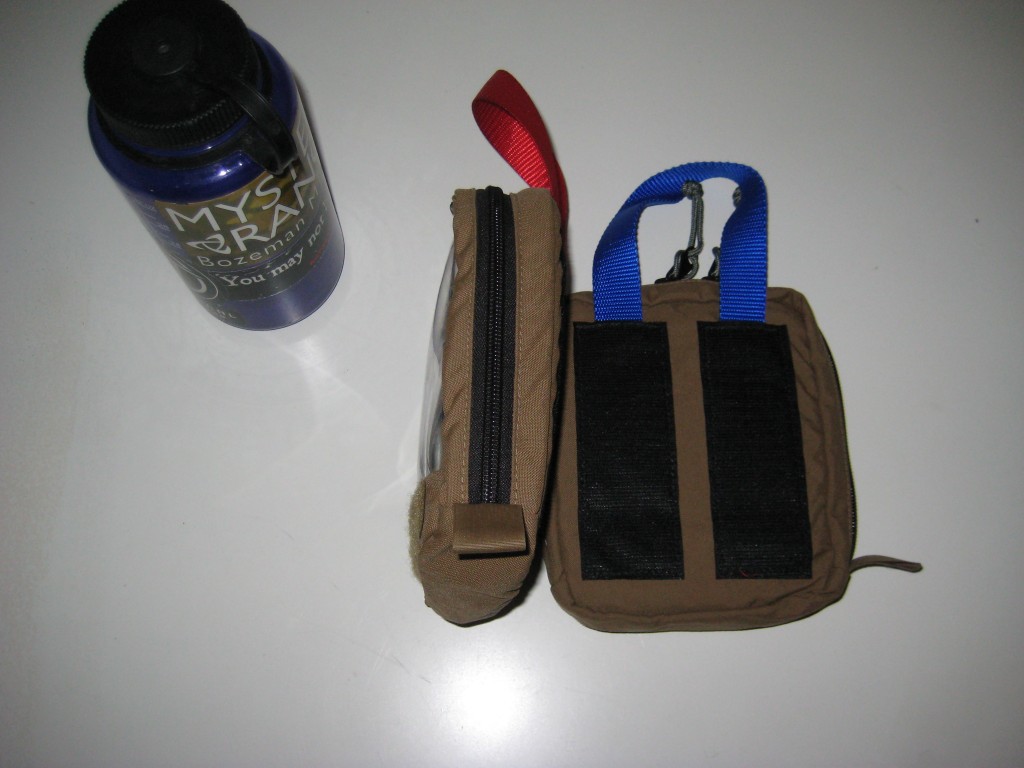 Other SpadeLock accessories include a laptop pocket, a manpack radio and would accept other company's velcro backed pouches.
For a pack that may not have much in the way of internal organisation, this is a nice little accessory to better aid in organising the load. In addition, it allows some of the smaller packs in the Mystery Ranch range to be used as an aid bag for medics and other first-aiders, whilst being smaller than the other dedicated first-aid packs that Mystery Ranch offer, such as the RATS and ROUS.
REMOVABLE STICK-IT
The Stick-It is an accessory to aid in external stowage of the daypack. It looks to be designed to carry light and medium items and most especially items like helmets on the outside surface of the pack securely.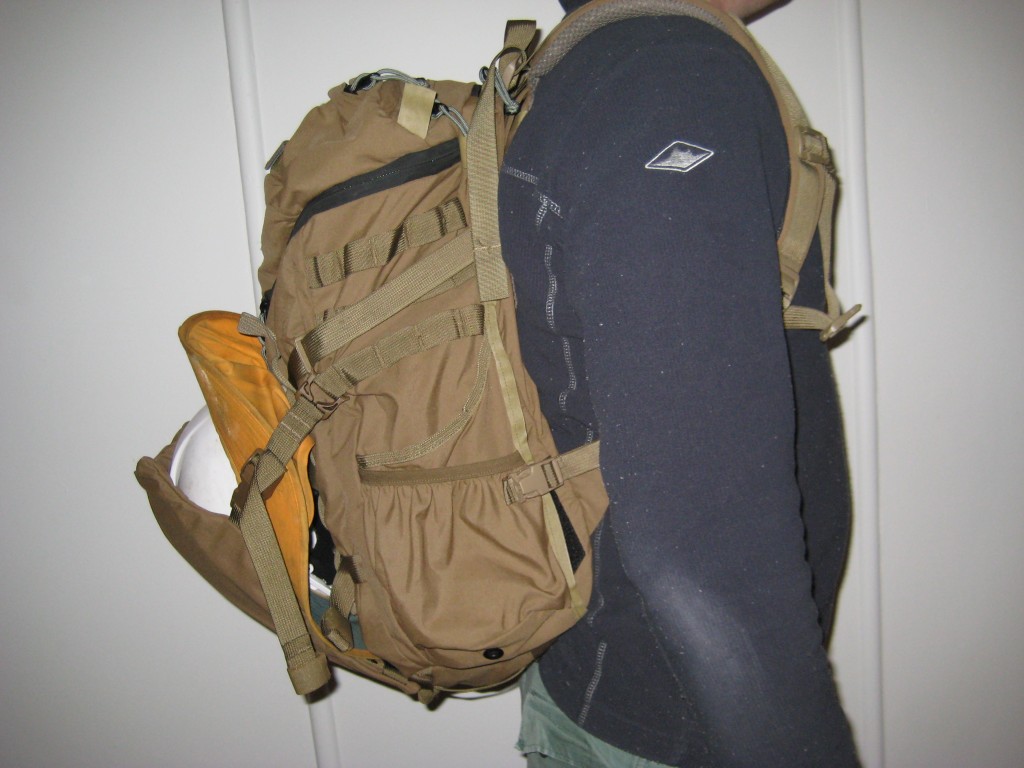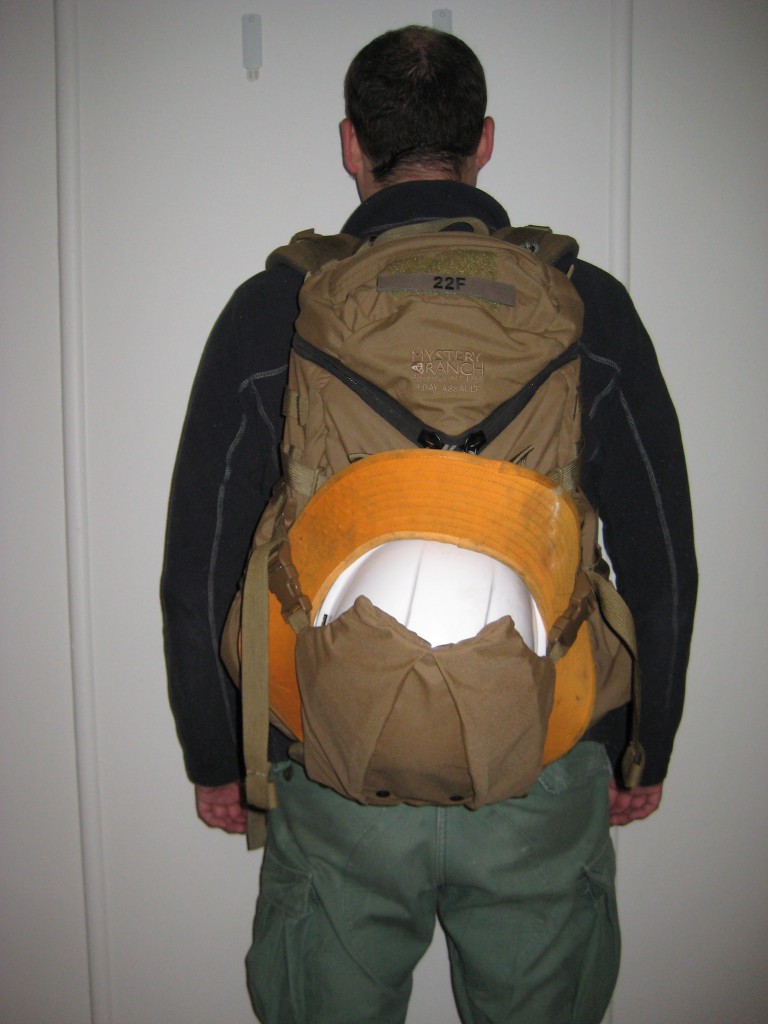 It's an easily attached item, via push-stud loops onto PALS channels and removable fastex clips that attach via external PALS loops.
Removable fastex clips: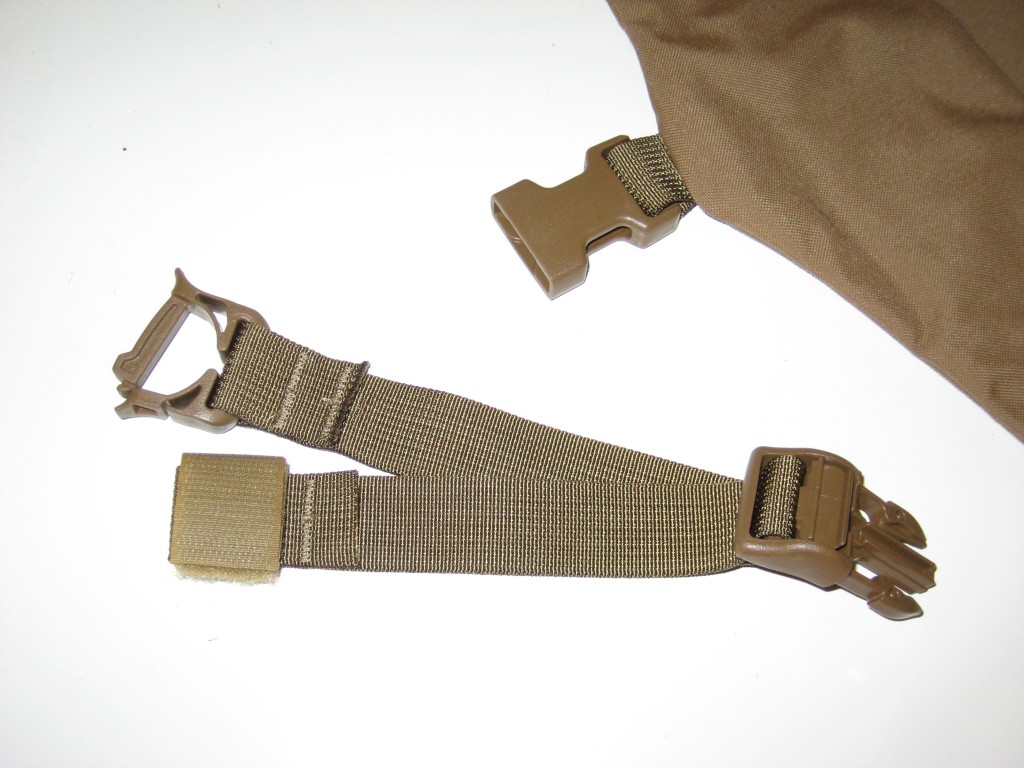 Anchored to pack: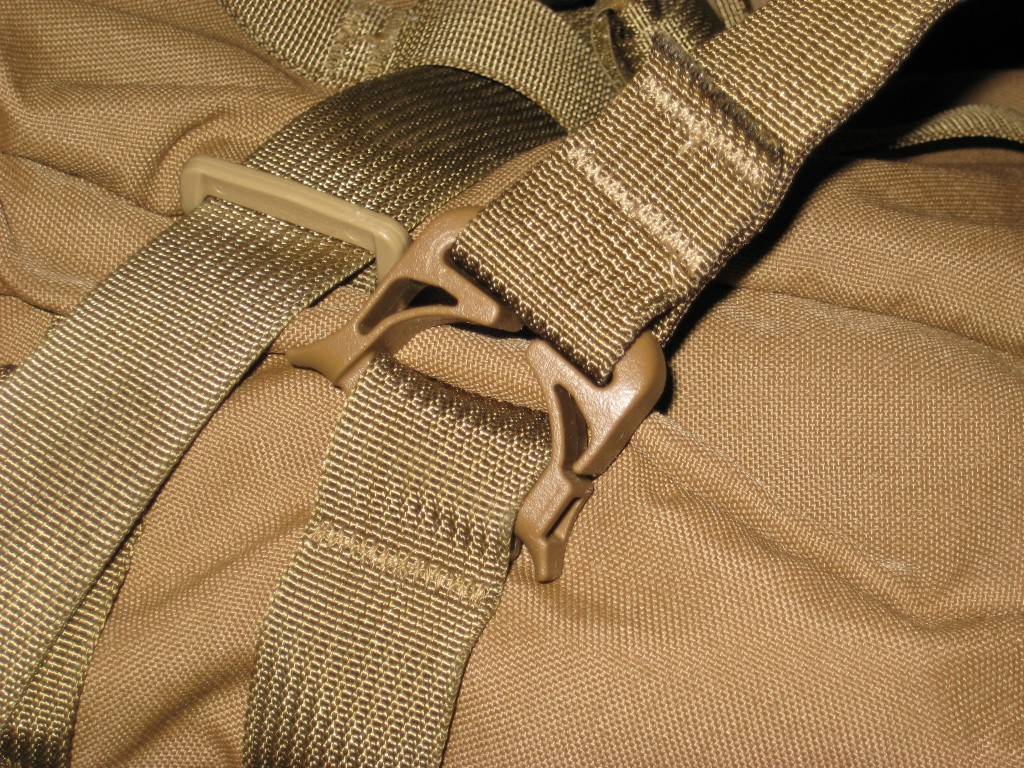 The push-studs secure at the bottom of the pack, and with the quick release buckles allow the Stick-It to be flipped over, out of the way when the contents of the pack need to be accessed.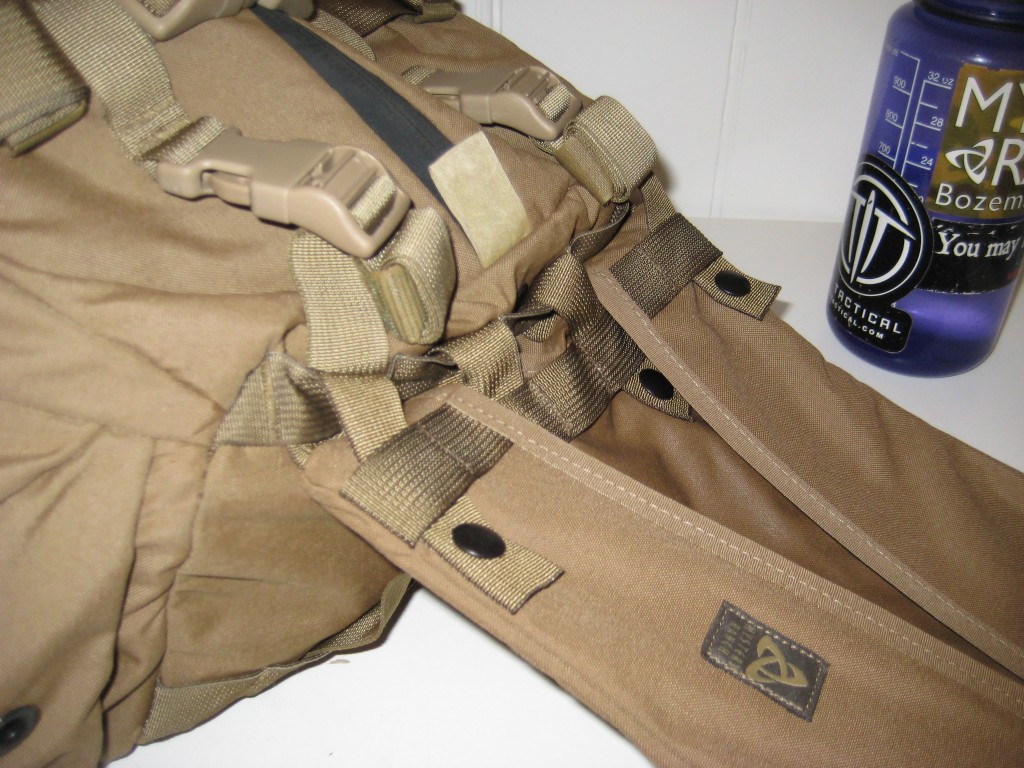 I have used mine to carry safety helmets for work, quick stash access for rain jackets and other hardshell clothing, and for extra layers that were necessary early in the day but needed to be removed as the day warms up. It will work just as well for heavier combat helmets.
The cut and design allows the Stick-it to expand in order to cover and contain bulky items being stowed within, ensuring security against loss and will shrink/refold when those items are removed.
Just like any Mystery Ranch produced item, construction and design is top notch.
Although it should be noted that smaller items will likely fall out of the Stick-it.
PERSONAL ASSESSMENT:
Both the Spadelock and Removable Stick-It allow more organisation of the carried load and make life somewhat easier for the end-user.
The SpadeLock allows far more internal organisation of a pack, and allows one to better tailor their load. It also has a great role in adapting other Mystery Ranch packs to be used in other roles, such as a medic pack, rather than a dedicated item such as the RATS.
I've been using my SpadeLock to organise all those small, daily needed items I carry for work, without having everything in just a big pile down the bottom.
The Stick-it has proven useful in situations where helmets need to be securely carried, without losing a great deal of internal volume of the pack. Like most essential items of PPE, helmets shouldn't be allowed to swing freely or unsecured, for fear of damage that limits the service life. I'm one of those people that wears a helmet on a regular basis, but hates wearing them any longer than absolutely necessary. Hence why carrying solutions for such vital pieces of PPE are a great thing, increasing convenience in my life.
PROS –
Like any Mystery Ranch item, construction and design is top notch.
The modular approach to their pack range ensures that features that are needed for your particular situation is easily solved.
Both items can make one's life much easier.
CONS –
Not a great deal of complaint for these items.
The biggest I can think of for the Spade-lock system is the great swathe of pile material for the velcro. This can lead to problems in a rough field environment in the Australian experience, picking up all manner of grass seeds. It's upon return to Australia, or even leaving/entering certain areas of the country that are under quarantine due to noxious introduced pests and weeds, that ensuring the Velcro pile is clear of all grass seeds can be a painful experience.
Due to it's design, the Stick-it really is only useful for helmets and other really bulky items. Smaller items are likely to fall straight through the sides.
PERSONAL SUMMARY:
More useful and well thought out accessories from the crew at Mystery Ranch.

Posted in Civilian, Military, Mystery Ranch, Packs & Webbing, Specialist by 22F with 1 comment.