ITEM: Velo 8 Hydration Pack
MANUFACTURER: Eiger
DESCRIPTION:
A very basic, bare-bones hydration carrier.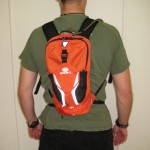 REVIEW NOTES:
The Velo 8 has been kindly supplied by our friends from Hartowijaya (link HERE).
I have done the review (like many with supplied equipment) with the proviso that I will be painfully honest in my assessment of this item.
It should be noted that the Velo 8 didn't come with a hydration bladder. One of my spare Source bladders was used in conjunction with carrier for this review.
LINK:
http://www.eigeradventure.com/content/velo-8
SPECIFICATIONS:
MATERIALS –
210 Denier main body
Mesh for harness
Polymer Clips and sliders
DIMENSIONS –
Height: 43cm (approx. 16.93 inches)
Depth: 10cm (approx. 3.93 inches)
Width: 21cm (approx. 8.27 inches)
LAYOUT:
ATS RAID on the left, and Eiger Velo 8 on the right.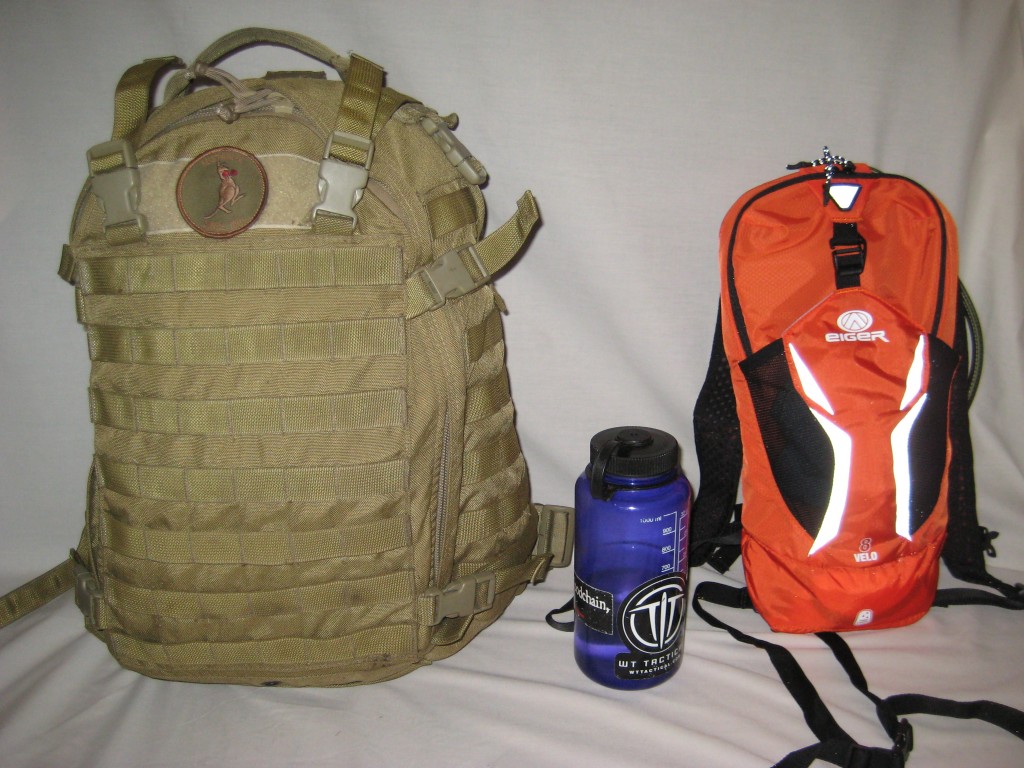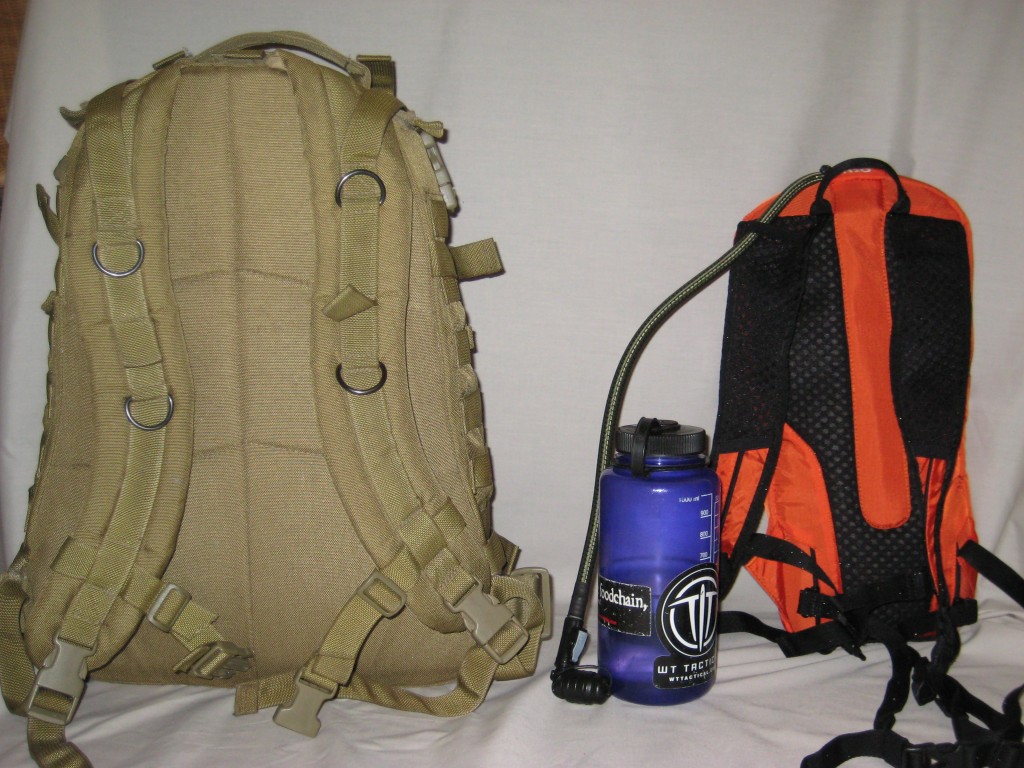 FRAME AND HARNESS –
As befitting its intended use, the Velo 8 has a very lightweight harness.
The frame consists of two padded cushions covered with a mesh that runs down either side of the spine and terminates in a lumbar pad.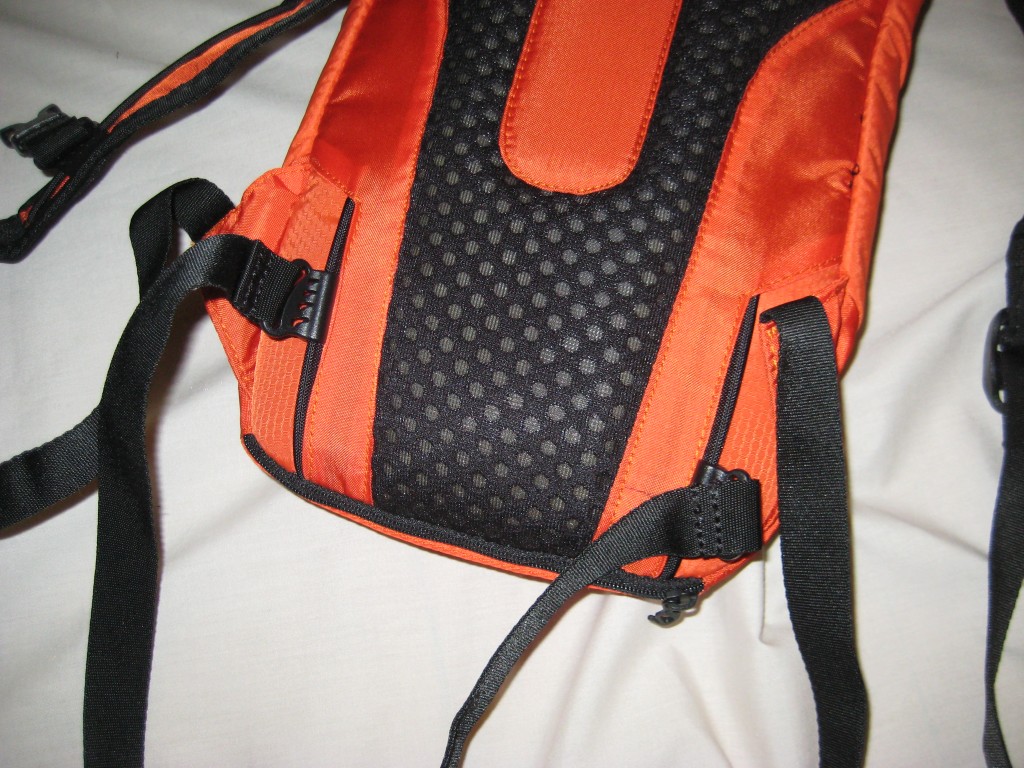 It was immediately noticeable that the frame is heavily insulated to prevent heat and sweat from the wearer being transferred to the hydration bladder – a sign that the designers have kept their local tropical conditions in mind. A very nice touch. This insulation also gives some much needed stiffness to the pack whilst not interfering with comfort.
The straps are the same mesh material, allowing very little heat retention to the wearer. This mesh is also pretty quick drying.
An adjustable sternum strap and elastic loops to control the hydration bladder hose are also present.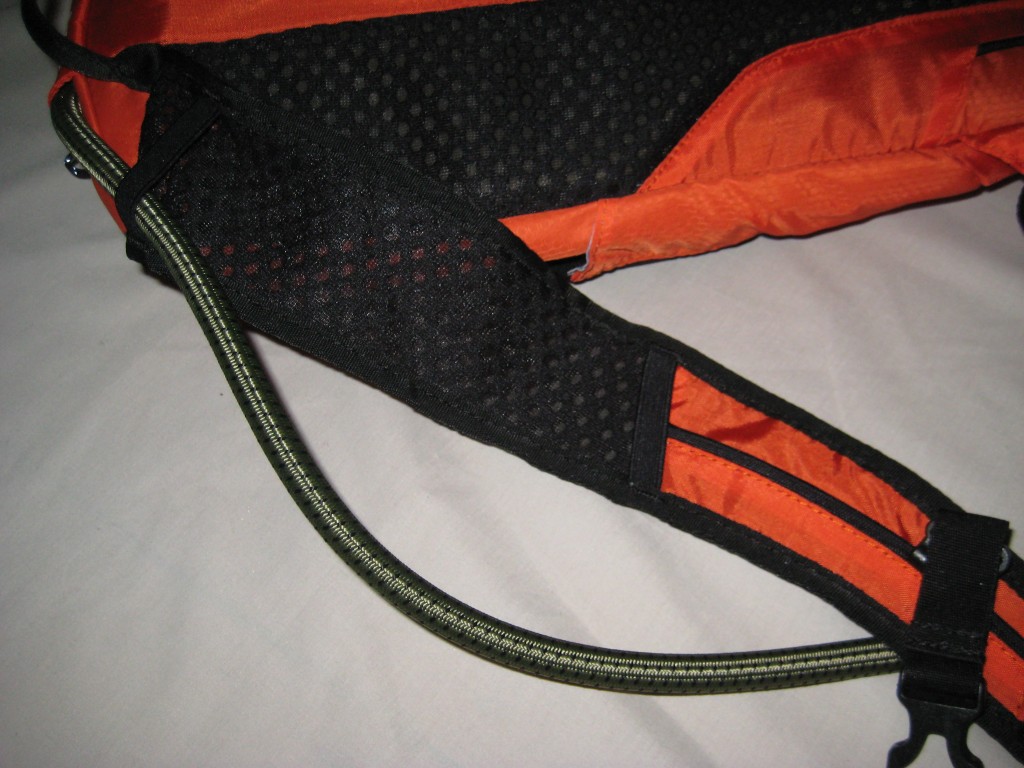 A small carry handle is attached at the top of the harness.
A very lightweight hip belt is fitted, although with such light weight that this hydration bladder is intended to carry, I personally don't see a need for it. Thankfully, it can be removed should that be desired.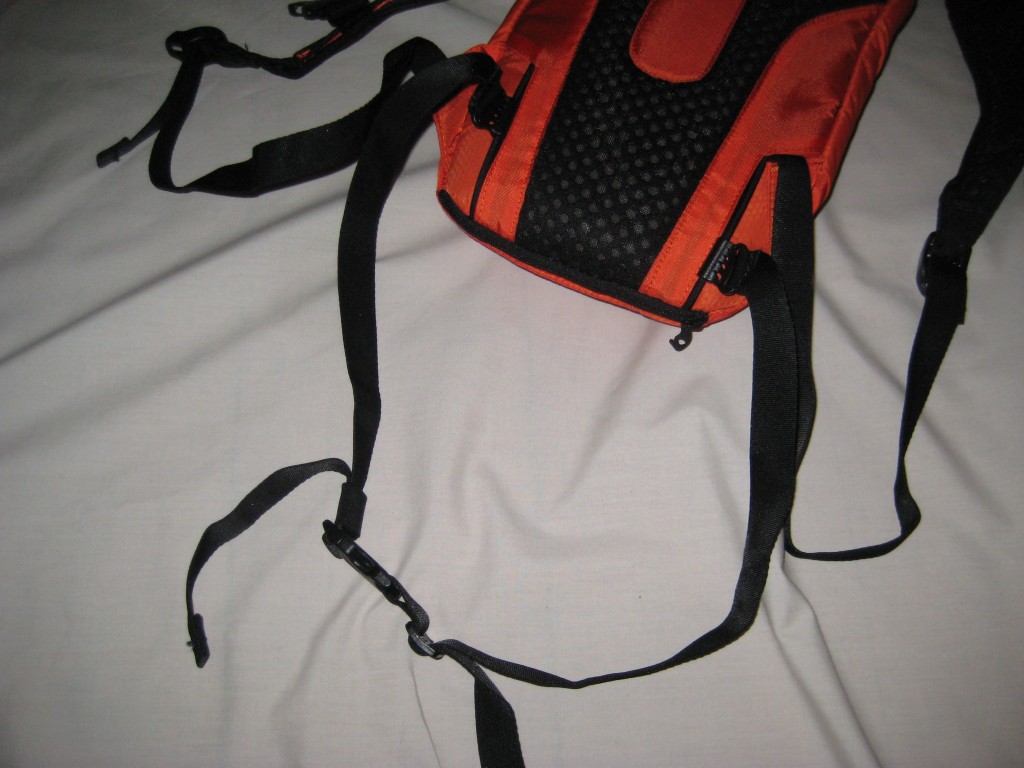 RUCKSACK –
Of very basic layout, the rucksack is constructed of lightweight high–visibility material with patches of printed highly reflective paint.
It has a main compartment for the hydration bladder, with a small, elasticised pocket to place the bladder into, and a small velcro loop to secure the top of the bladder to prevent movement.
At the top of the main compartment is a port to feed the bladder hose through.
This main compartment is secured with a dual headed zipper, fitted with shrink-wrapped ends.
On the front of the Velo 8 is a small open topped expandable pocket, suitable for storing keys, wallet, phone and other daily essentials. It is secured with a plastic G-hook. This pocket could also carry a very lightweight rolled up rain-proof garment.
Located at the very bottom of the rucksack is a stowable rain cover in a zip secured compartment. It is not attached to the pack in any way, and can be used to cover other things that may need to stay dry or be removed from the pack entirely in order to save weight and bulk.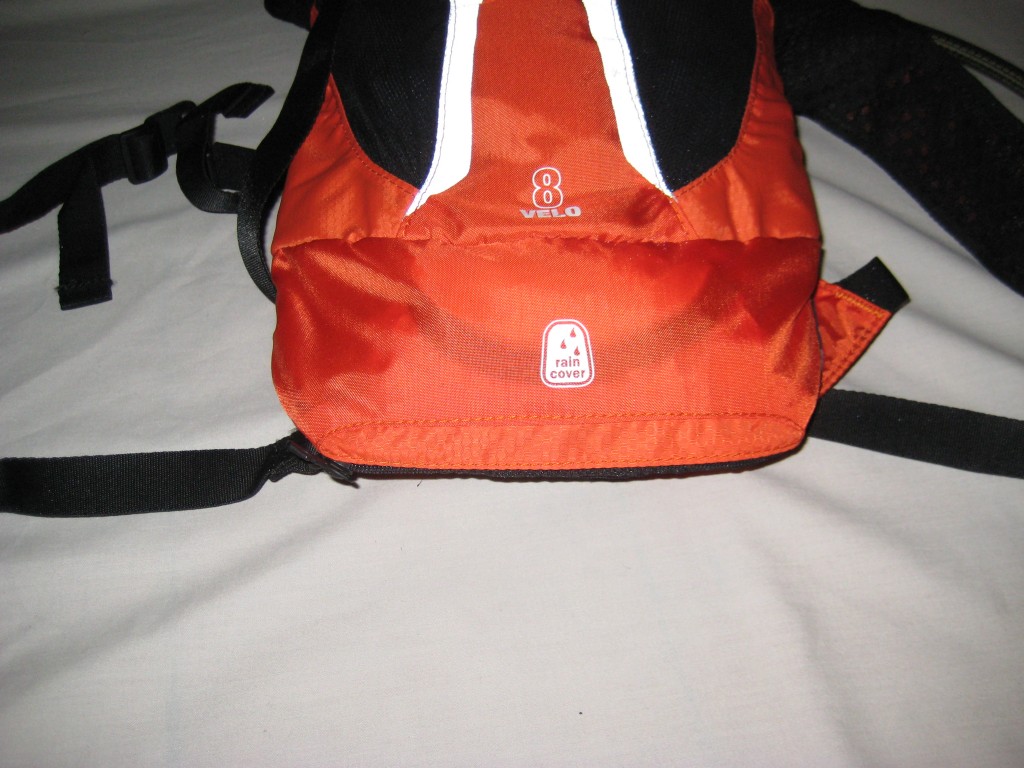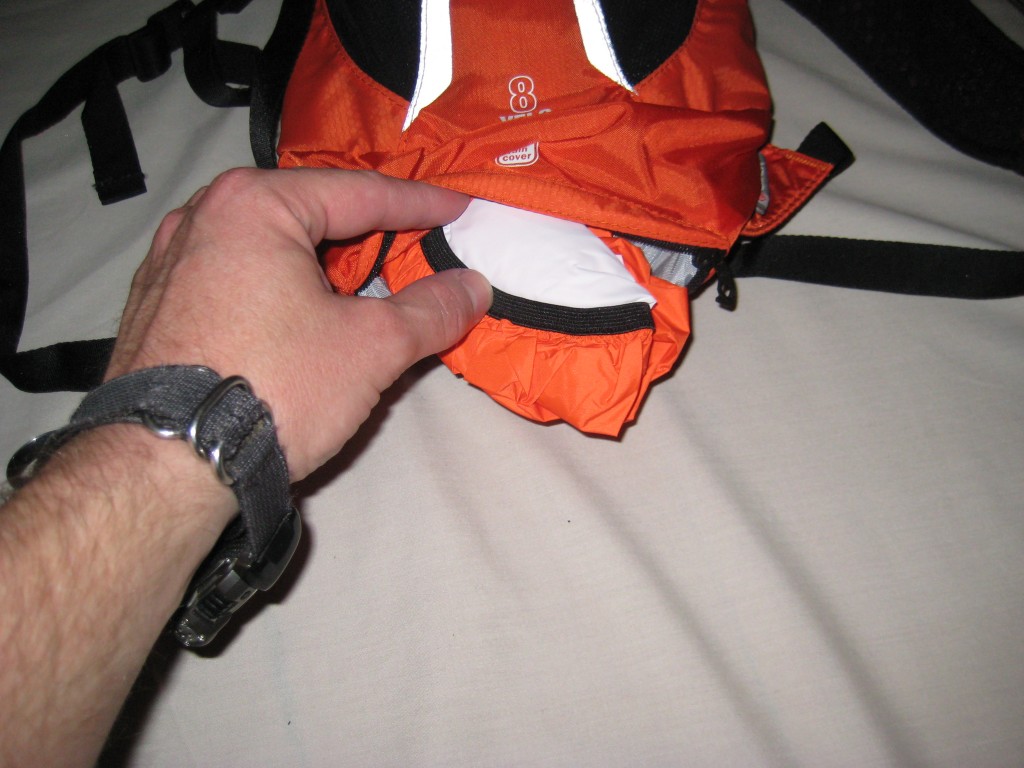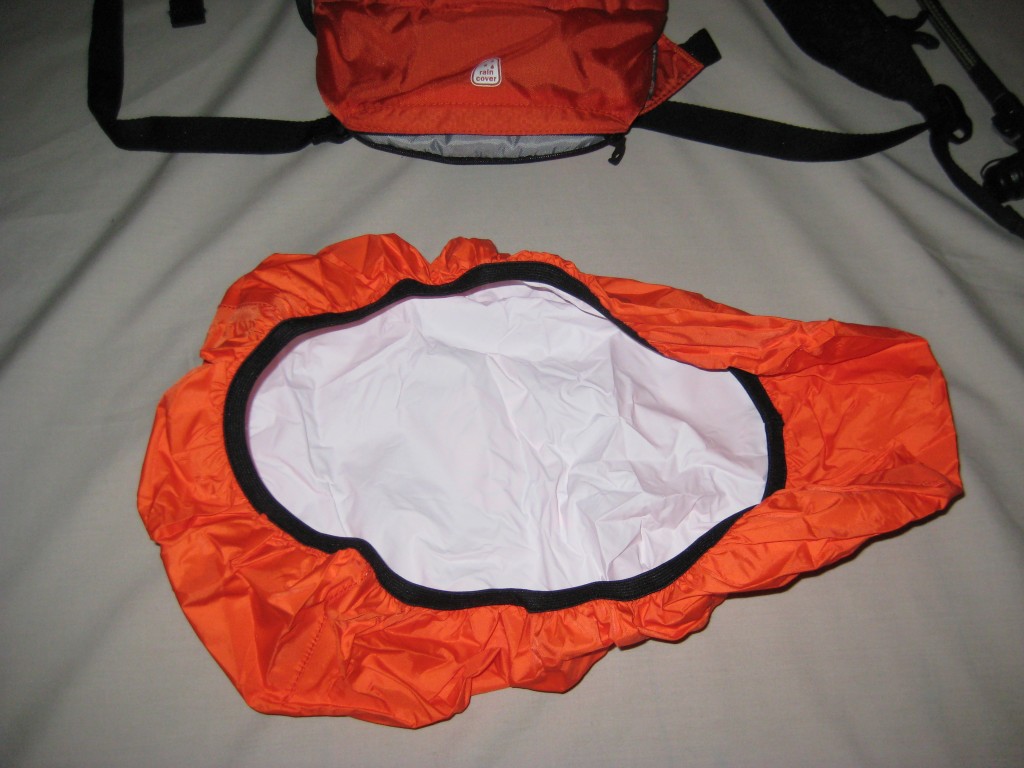 I found this a nice touch, given that the Indonesian Archipelago can experience some momentous rainfall during wet season.
Whilst empty, the zippered compartment could also be used to stow things, such as wallets, out of sight from the idle and curious.
PERSONAL ASSESSMENT: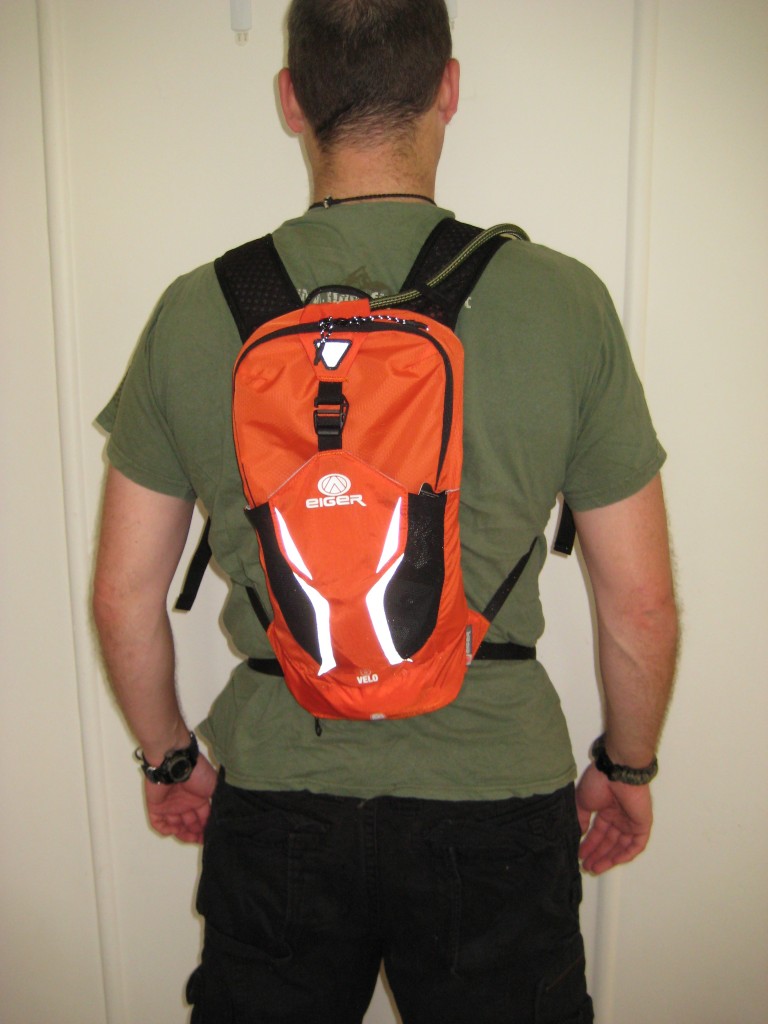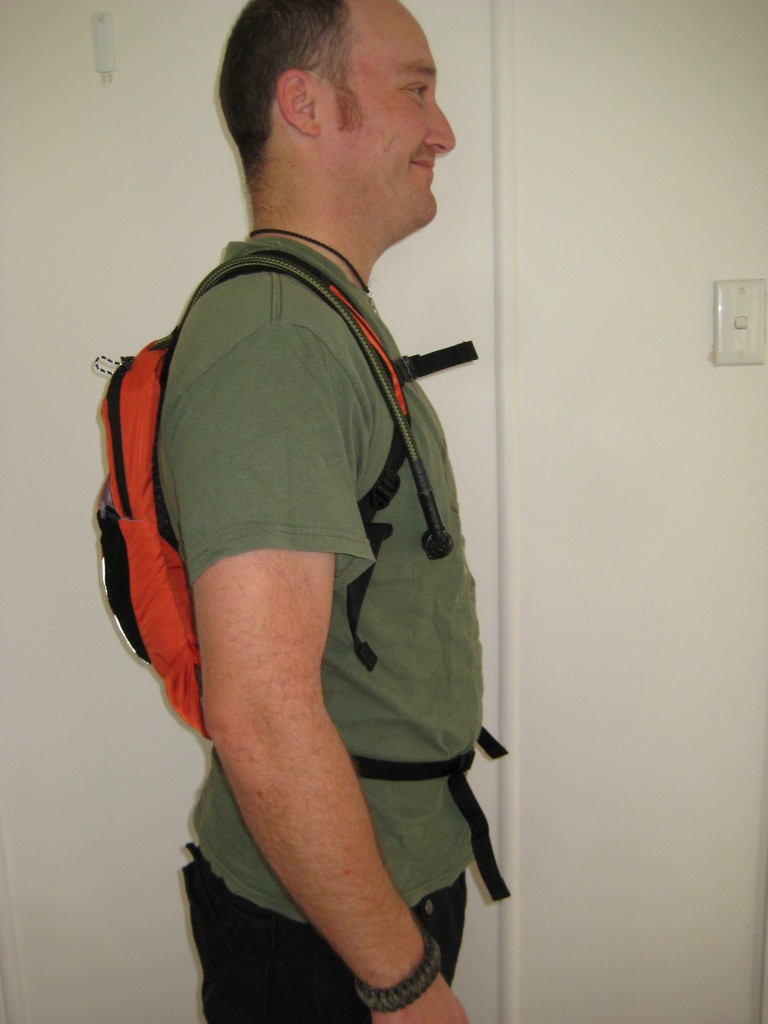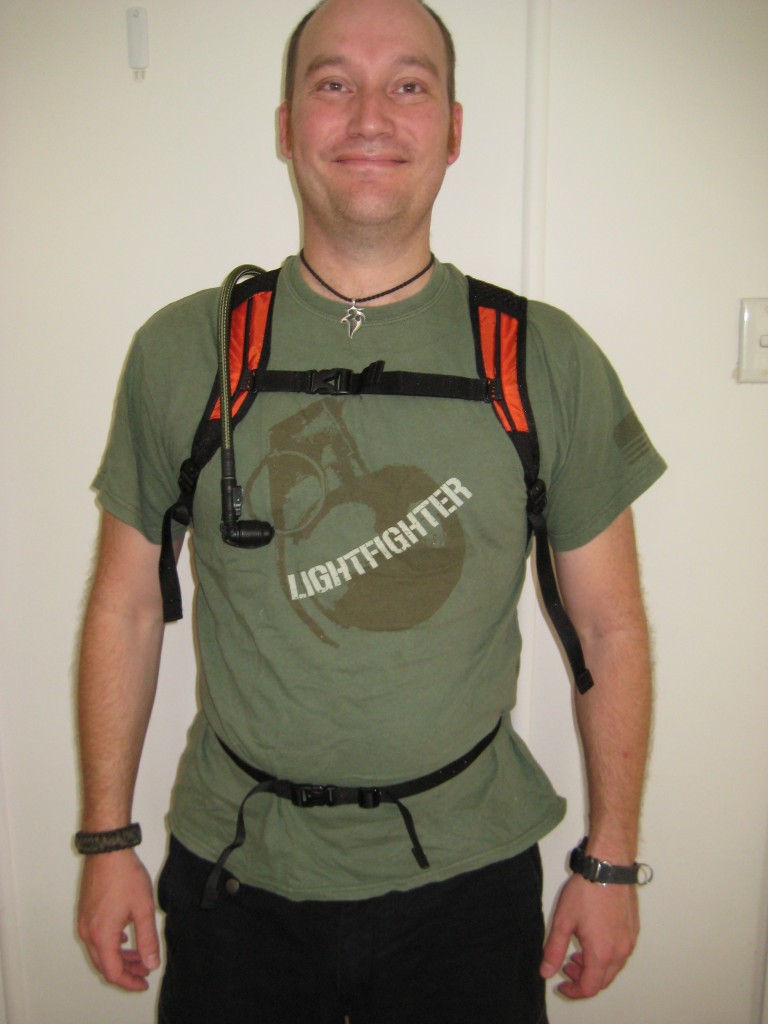 This review is a little bit different than my usual.
Whilst I normally espouse the wisdom of paying top dollar for the best possible equipment for heading into the wilds, that isn't always necessary, especially if the intended usage isn't going to be that onerous or hard going.
It could even be quite applicable for professional usage in industries where high visibility personal equipment is a requirement. A great example of this would be from my time in the coal mining industry, where a decent and cheap piece of kit is needed, but where a high risk of destruction or theft means a high-end item may not be advisable.
The Eiger Velo 8 then, is a great example of great bang for buck for light use around civilisation, or on trail usage, although I suspect it would do quite well for hard use as well.
As noted, this hydration carrier was provided by our friends from Hartowijaya. It was on their travels around the Archipelago that they noticed an Indonesian company, staffed by like-minded outdoor professionals who have stepped up to provide their local market with a range of equipment ranging from basic entry level outdoor equipment for those wishing to get out of the urban jungle and experience the thrills and soul cleansing of the great outdoors, up to expedition quality for the outdoor professional. It would seem to my limited exposure that they are attempting to fill the same niche as Mountain Designs do here in Australia.
According to their website, Eiger has been in business for some time, and have recently been recognised as an Indonesian market leader.
Whilst the Velo 8 is cheap and cheerful, surprisingly, it's really good kit. For the price, the quality is excellent.
I would consider the Velo 8 a really good general purpose item, especially for those of my Indonesian readers who may wish to support a local business, or those on a limited budget. I can still recall vividly being a broke undergraduate at university wanting to buy some affordable, yet quality, gear.
For the price, it would also make an excellent purchase as a "loaner" (to lend to others to introduce them into the hobby), or a spare should one's expensive primary pack get damaged or stolen.
For the purposes of this review, the Velo 8 has had one of my spare Source bladders placed within. It has been used on a personal basis for walks around town, whilst pushing a pram and entertaining my little one. I have also used it on my regular three kilometres training runs.
For professional usage the Velo 8 has been used in Queensland summer heat on construction sites and static traffic control points.
PROS –
Very well made, and I consider it very good value for money.
Even on such a basic hydration pack, there are some interesting features that reflect the local conditions faced by its intended target market.
CONS –
I have some doubts about the long term durability of some of the materials used, especially the expander mesh used in the pocket on the back. But considering the low cost, the whole pack is easily replaceable.
The G-hook used to secure the expandable external pocket means this pocket is open-topped. This is great for ease of accessibility, but I feel it detracts from the usefulness of the pocket since it doesn't fully secure the small items contained within from falling out during any sort of rigorous activity.
SUMMARY:
A really nice little hydration pack that is light on the wallet, but heavy in quality.

Posted in Civilian, Miscellaneous Equipment, Short Trip, Specialist by 22F with no comments yet.