PRODUCT: UP (Under Pack) Belt
MANUFACTURER: OV Innovations
DESCRIPTION:
A slimline, light-weight pants belt intended to integrate with equipment worn over the top, such as a pack harness.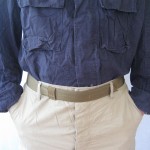 .
REVIEW NOTES:
The UP Belt has been graciously supplied by our old friends OV Innovations for review.
Like any review of supplied equipment I have done the review with the proviso that I will be painfully honest in my assessment of this item.
Please don't forget to let our suppliers know how much you appreciate their collaborative efforts with us, and if this review has aided in your decision to purchase this item.
.
.
LINK:
http://ovinnovations.com/collections/all/products/up-belt
.
.
MATERIALS AND LAYOUT: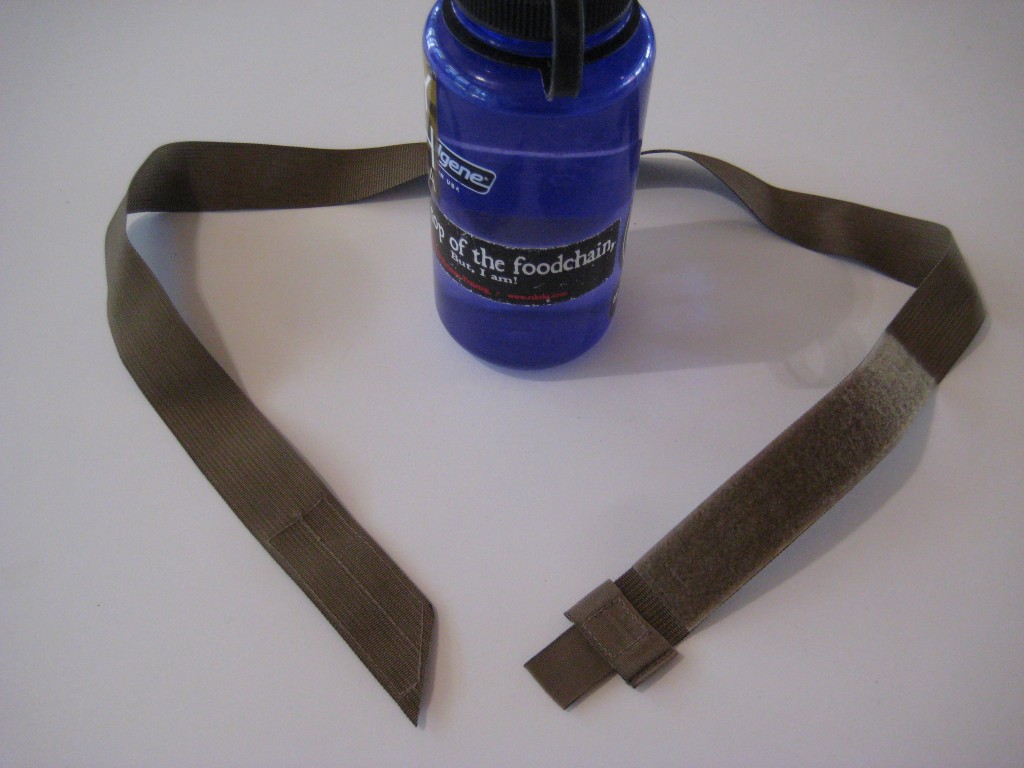 .
The UP Belt is of very simple, light-weight construction, using a length of 1.5inch wide webbing tape.
Instead of buckle hardware, like most other conventional belts, the UP utilises a strip of hook and loop velcro and a webbing guide loop to adjust fit and tension.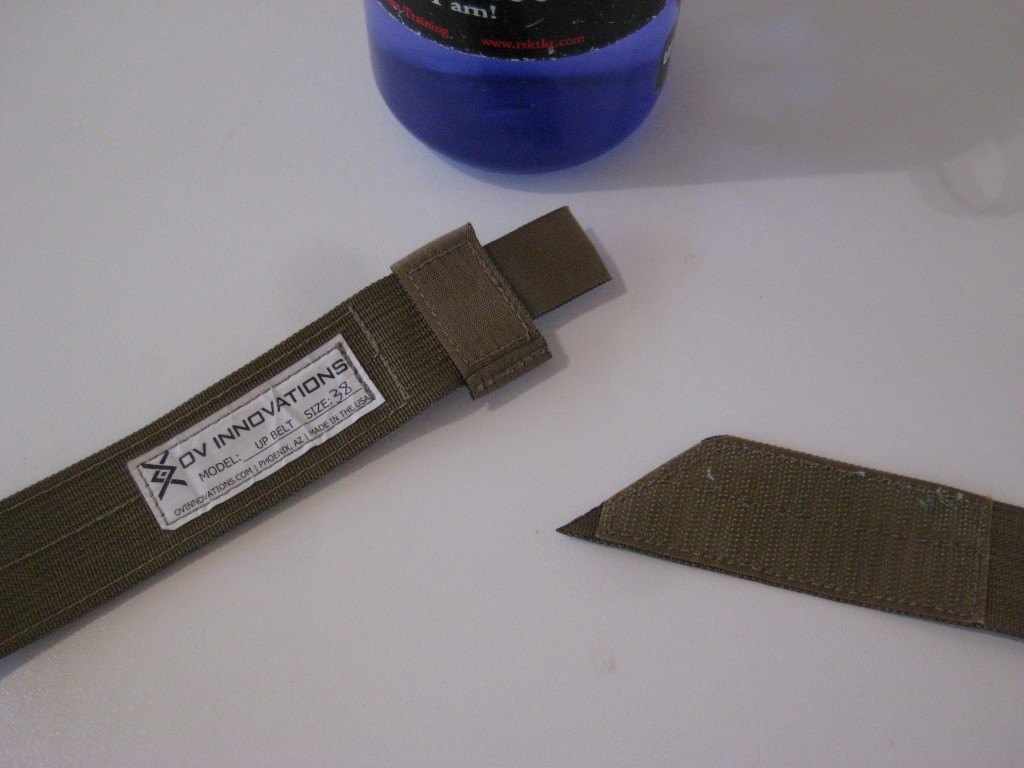 .
The design and length of the velcro allows four inches of adjustment.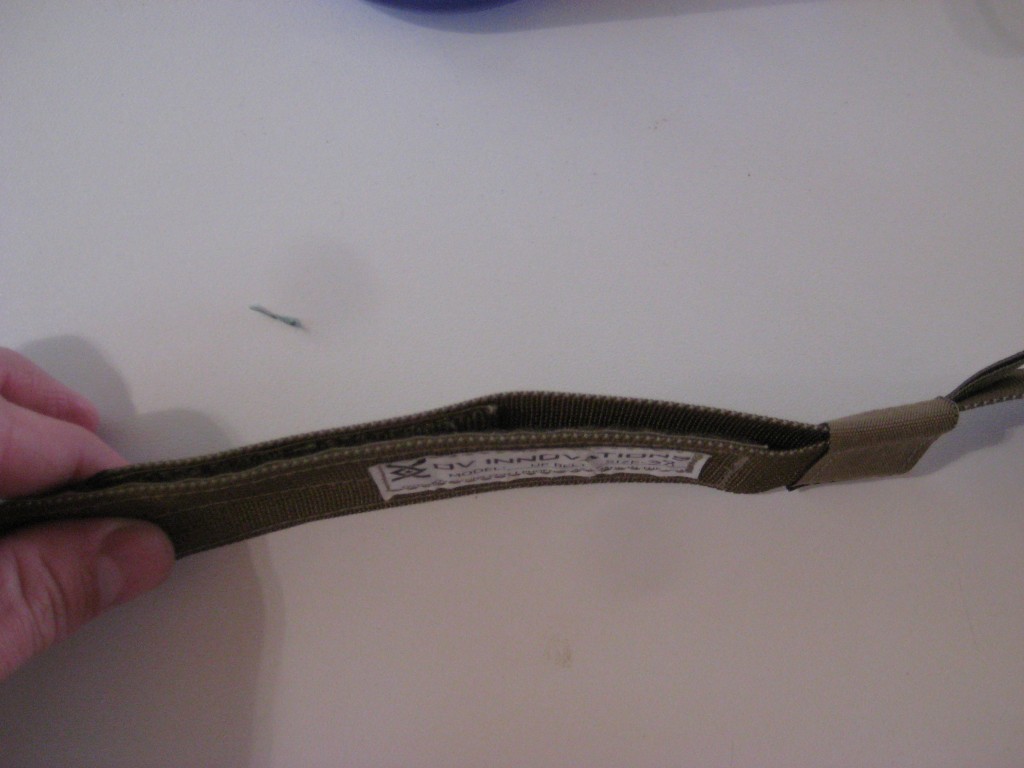 .
.
PERSONAL ASSESSMENT:
The arrival of the UP Belt came at a good time. For some years now, I have been looking for a pants belt that isn't overly bulky, and which does not interfere with other worn equipment such as chest webbing, body armour or hip loading belt on a patrol pack harness.
Worn without equipment: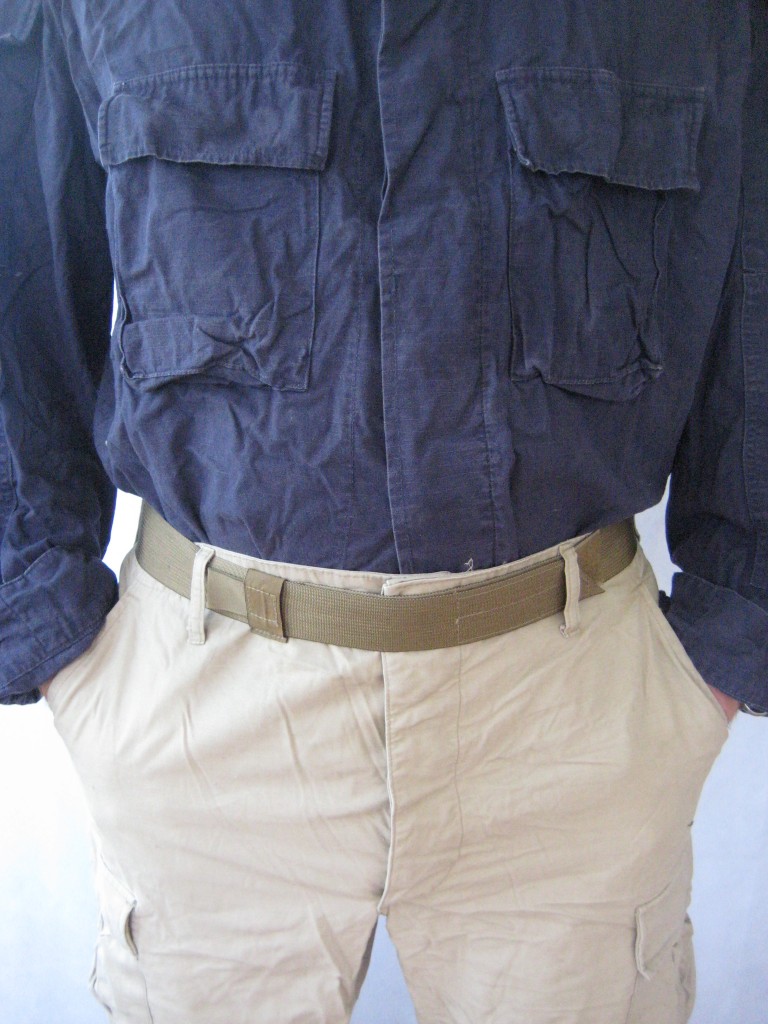 .
Worn with chest webbing: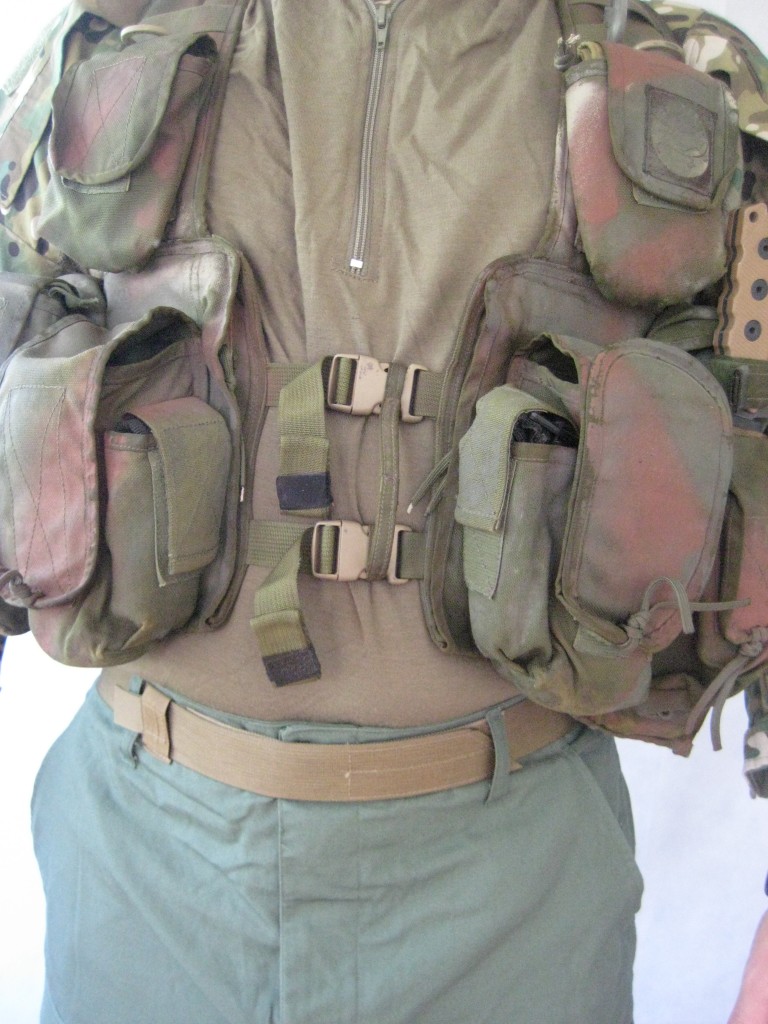 .
 Worn with Combat Body Armour: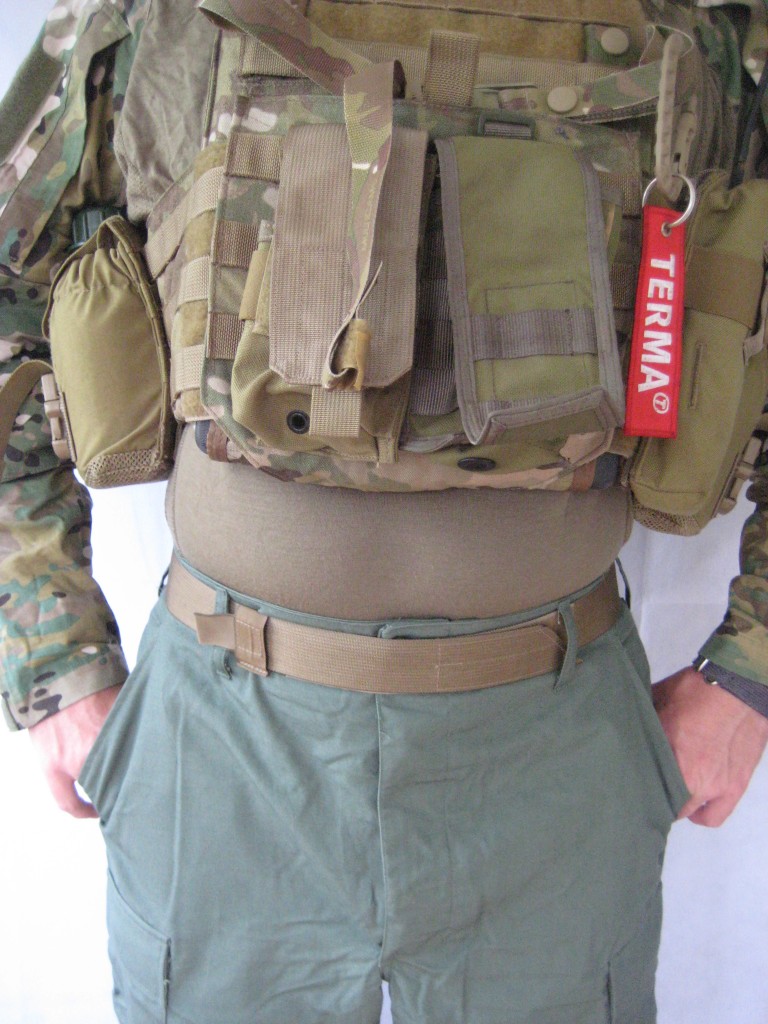 .
Worn with Combat Body Armour and Mystery Ranch BASE (review seen HERE):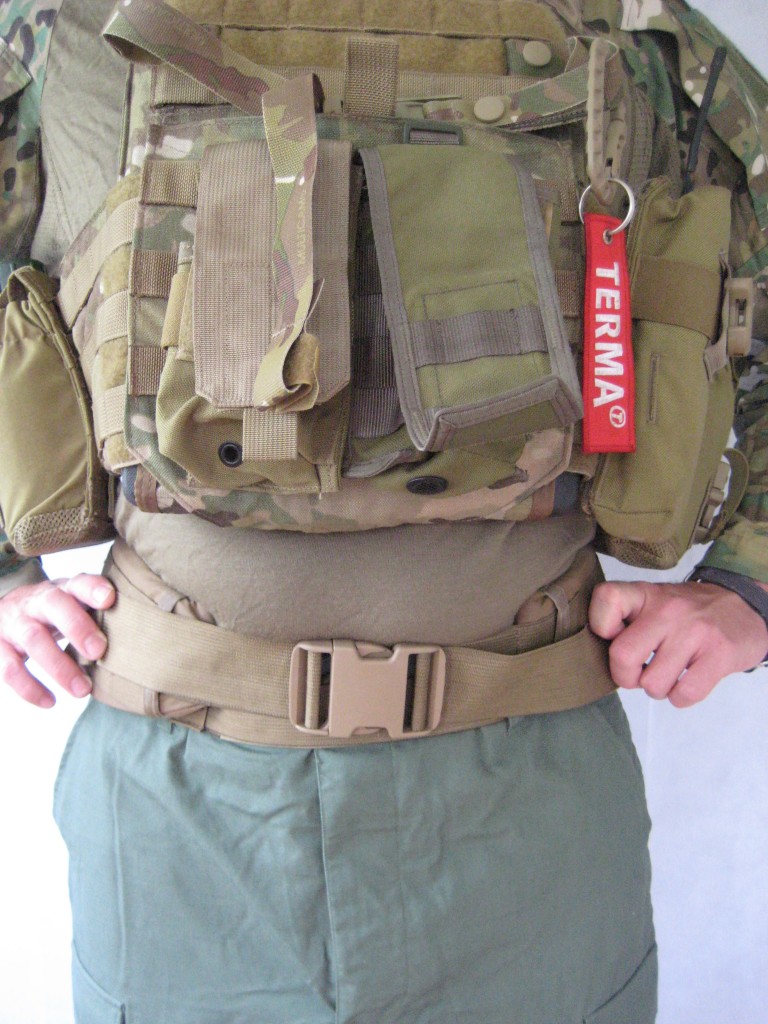 .
Worn with pack harness: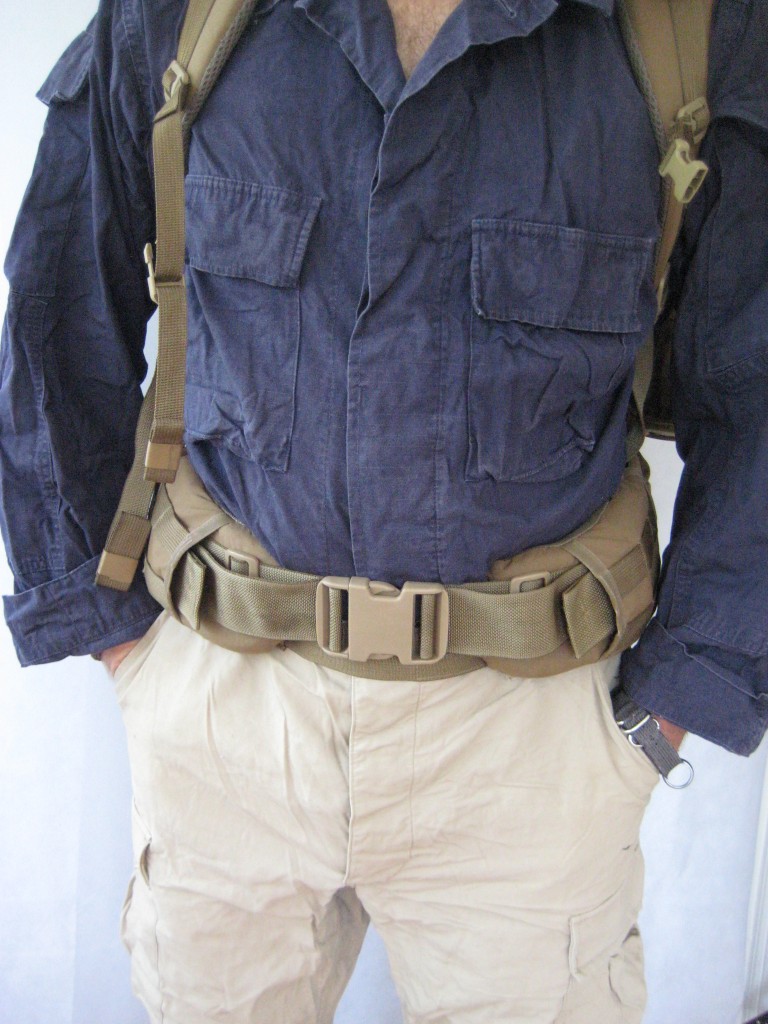 .
Rear view, worn under pack harness: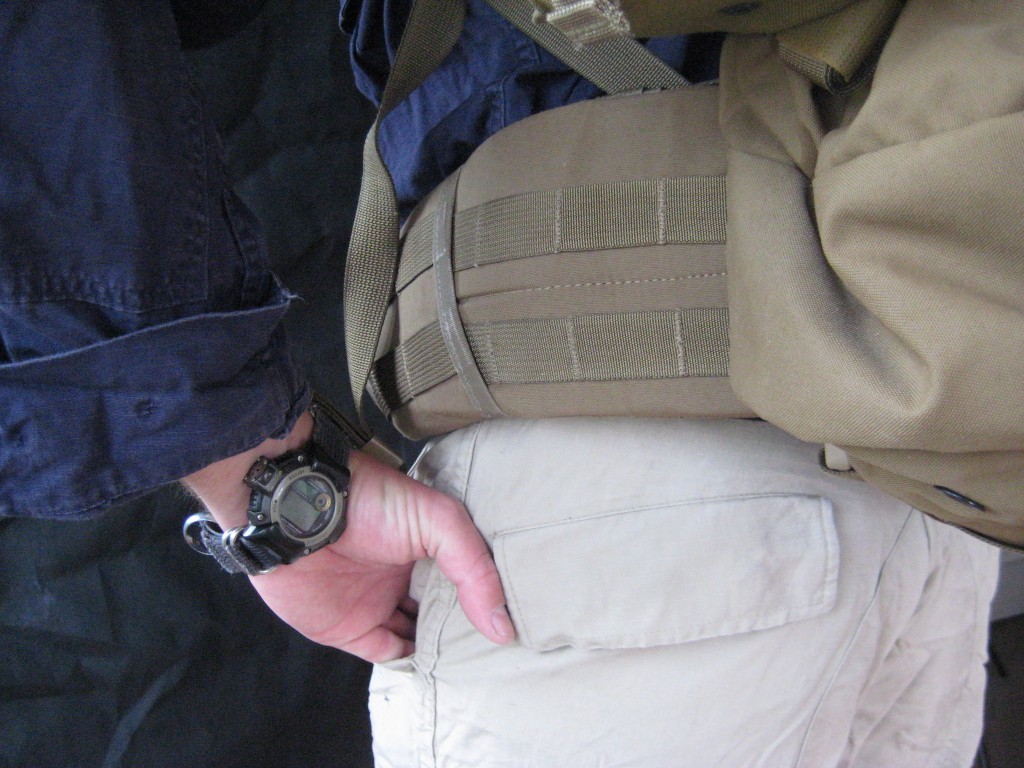 .
Other examples I've tried over the years have been a single layer riggers belt fitted with a Cobra buckle, and the Kifaru Garment belt.
UP Belt compared to Kifaru Garment Belt: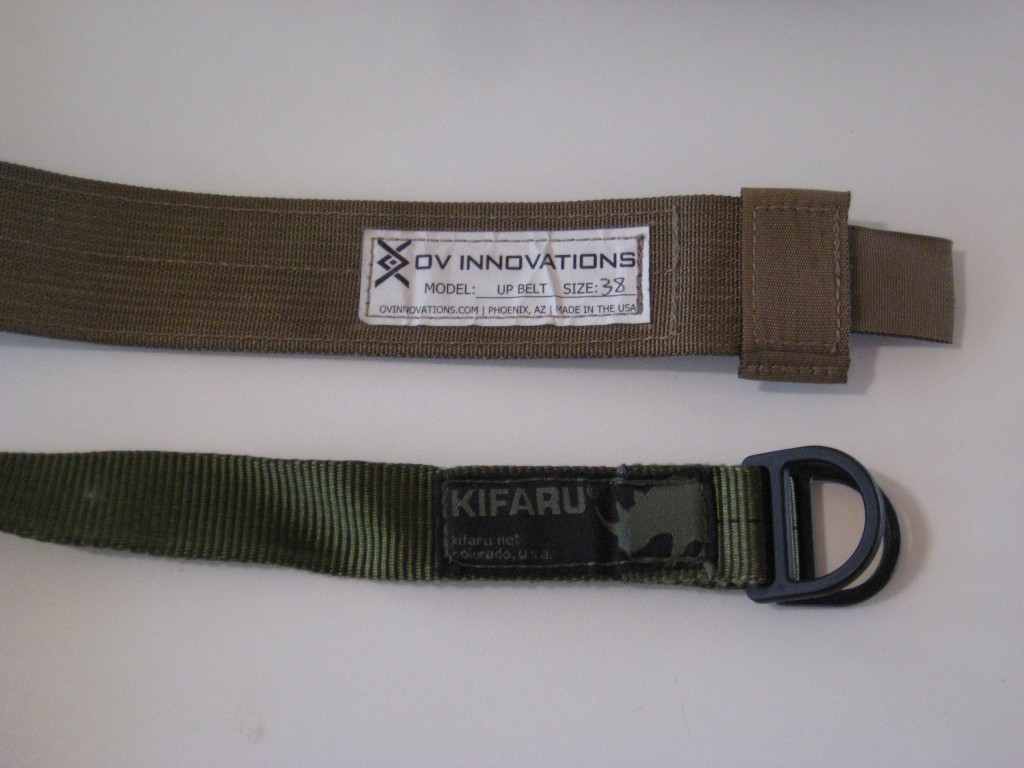 .
UP Belt compared to a Cobra-buckled Rigger belt: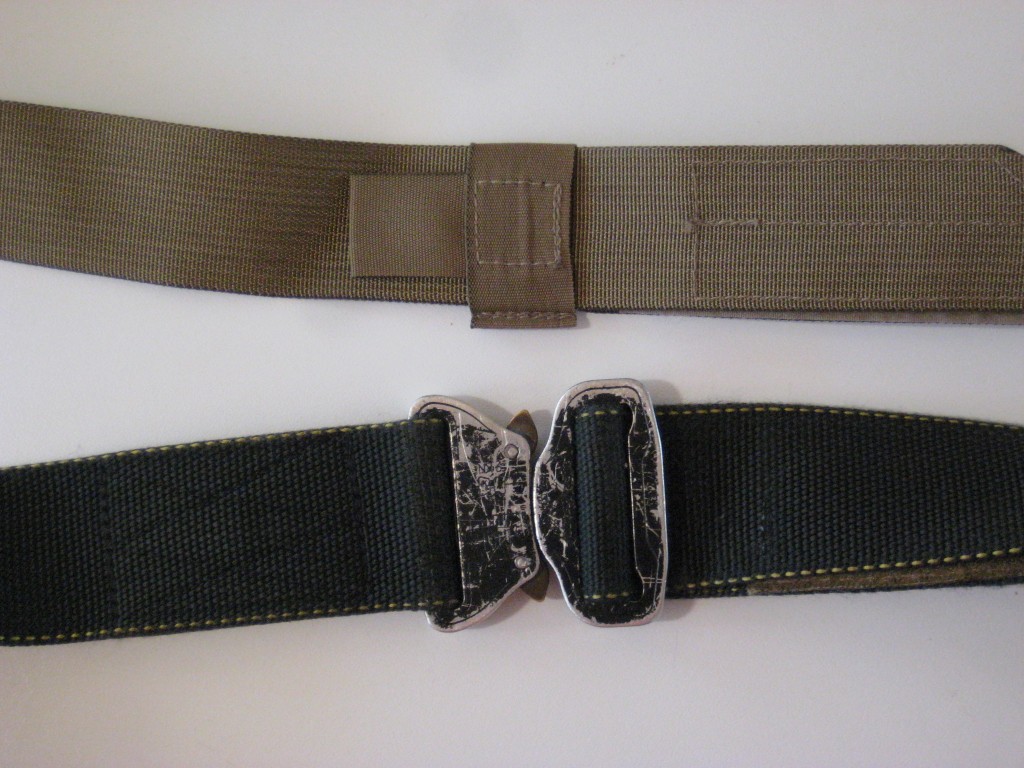 .
I found the riggers belt fitted with Cobra buckle to be too bulky, and it interfered with other equipment worn over the top. The Kifaru Garment belt was too thin and ended up cutting into my waist after short periods.
The UP Belt is a nice compromise between the two extremes.
I've been using the UP Belt for the last couple of months on a day-to-day basis with jeans, King Gee work pants and BDU pants.
Other activities, such as walking, running, climbing and rifle shooting were also undertaken.
I also experimented using it while pack-walking with body armour (approximately 14kg's or 30.9 lbs), both with and without the Mystery Ranch BASE, chest webbing (approximately 10kg's or 22 lbs) and full patrol pack of 25kg's (approximately 55 lbs).
I have also worn it as an underbelt beneath a pistol belt (aka duty belt) and holster.
The UP belt has been found to live up to its promise as a slimline design that interacts well with equipment being worn over the top of it.
Unlike some other thicker belts I've tried in the past, there was no juggling of belts and buckles – which can be an issue when using thicker items like Cobra buckled riggers belts.
.
By being able to sit under other equipment, chafing and general discomfort is avoided.
.
PROS –
The lightweight construction of the UP Belt is great for wearing under various other equipment harnesses without biting into the body.
High quality construction, and the price from OV Innovations is good too.
.
CONS –
Due to its thin and lightweight construction, the UP Belt may not be the best solution when stiffness is required. This was particularly noticed when worn in conjunction with a duty belt and pistol holster.
This lack of thickness and stiffness can sometimes lead to collapse of the belt when worn under load for long periods.
.
.
SUMMARY:
A very nice, light-weight belt that should become a serious option for those requiring a pants belt to be worn under other equipment.
Personally, it would seem that my search for a good pants belt is over.

Posted in Civilian, Clothing & Footwear, Military by 22F with 2 comments.