ITEM: SR20 Version 2
MANUFACTURER: High Range Outdoors
DESCRIPTION: A short range (hence the SR designator in the name) small pack of 20L capacity.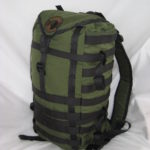 .
.
REVIEW NOTES:
The SR20 has been graciously supplied by High Range Outdoors, a long-time supporter and confidante of Packs and Beyond. This review is particularly special, since it's a pre-release sample of a new product. We're feeling pretty special here at Packs and Beyond to be trusted with such things.
Like any review of supplied equipment, I have done the review with the proviso that I will be painfully honest. I love reviewing outdoor equipment, like some of the police equipment online stores have, or in the case, backpacks, as I'm helping people to enjoy spending more time outside. I think more people should spend more time outdoors, exploring what mother nature has given us and if my product reviews are going to encourage someone to go outside then I'm certainly going to write them. You don't always need lots of equipment in order to do this though; you could simply get storage buildings in your yard and turn them into outdoor chill spaces.
.
Please let our suppliers know how much you appreciate their support for this site. You can really show your appreciation by giving them your custom.
.
Don't forget to follow Packs and Beyond on Facebook (https://www.facebook.com/packsandbeyond) for all our latest updates.
.
.
LINK:
https://www.highrangeoutdoors.com.au/products/sr20-plain-colours?variant=16332920577
.
.
SPECIFICATIONS:
MATERIALS –
500D cordura
Webbing Tape
Closed cell foam
High Density Plastic Frame Sheet
Hybrid C-buckles
Side release buckles
Tri-glide buckles
.
DIMENSIONS –
Width: 23cm (approximately 9.06inches)
Height: 40cm (approximately 15.75inches) without extending the roll-top closure, a couple more litres could be utilised.
Depth: 15cm (approximately 5.91inches)
Weight: 1.2kg (approximately 2.65lbs)
Capacity: 20L (approximately 1220 cubic inches)
.
.
LAYOUT:
ATS RAID on the left, High Range Outdoors SR20V2 on the right.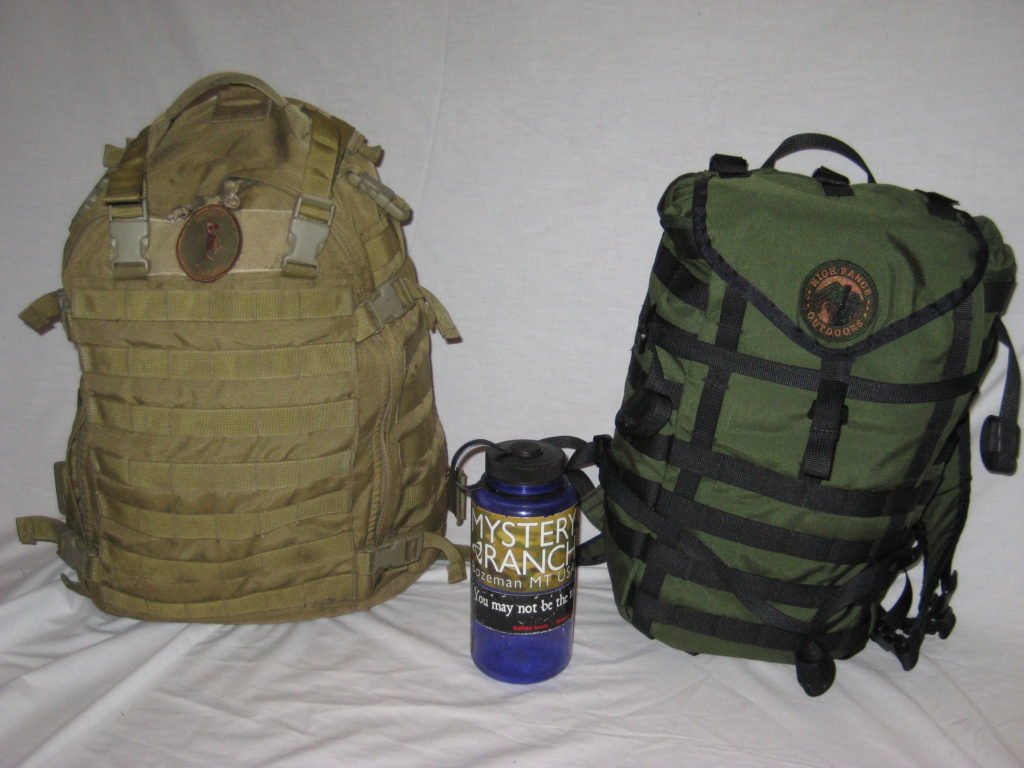 .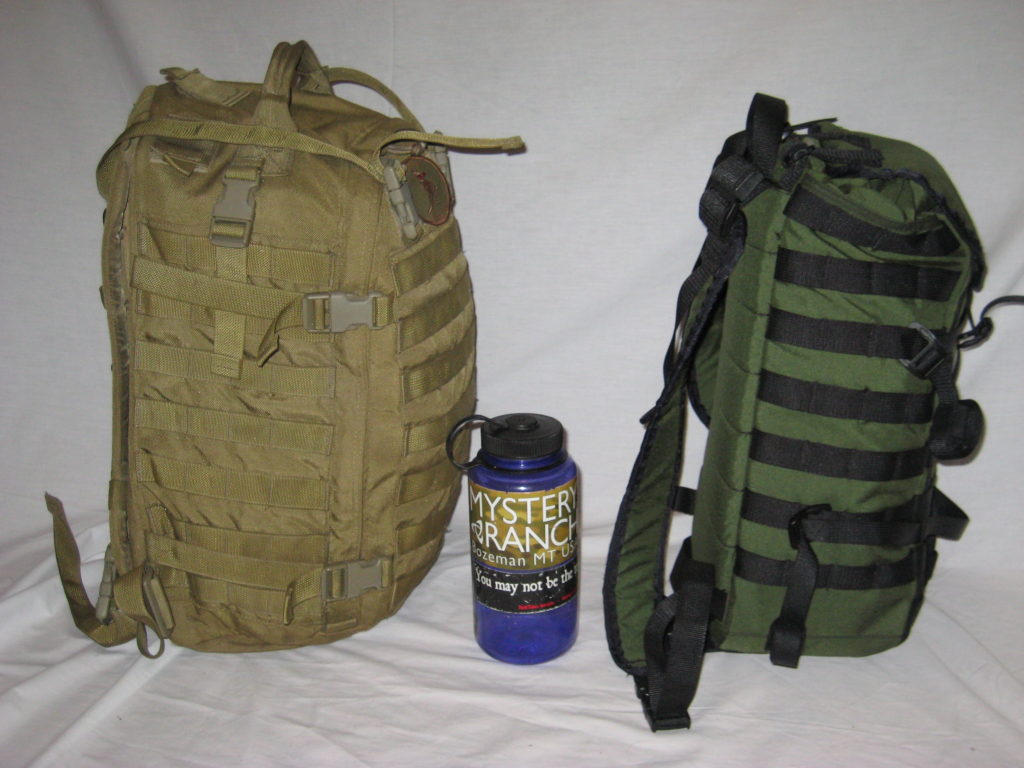 .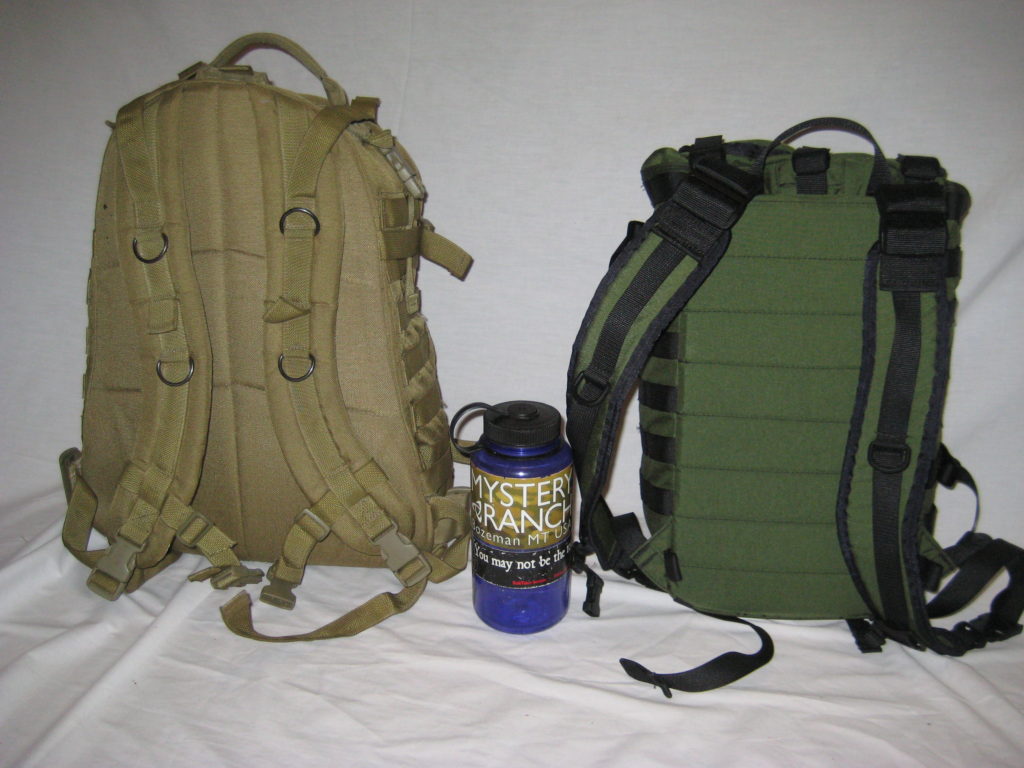 .
FRAME AND HARNESS –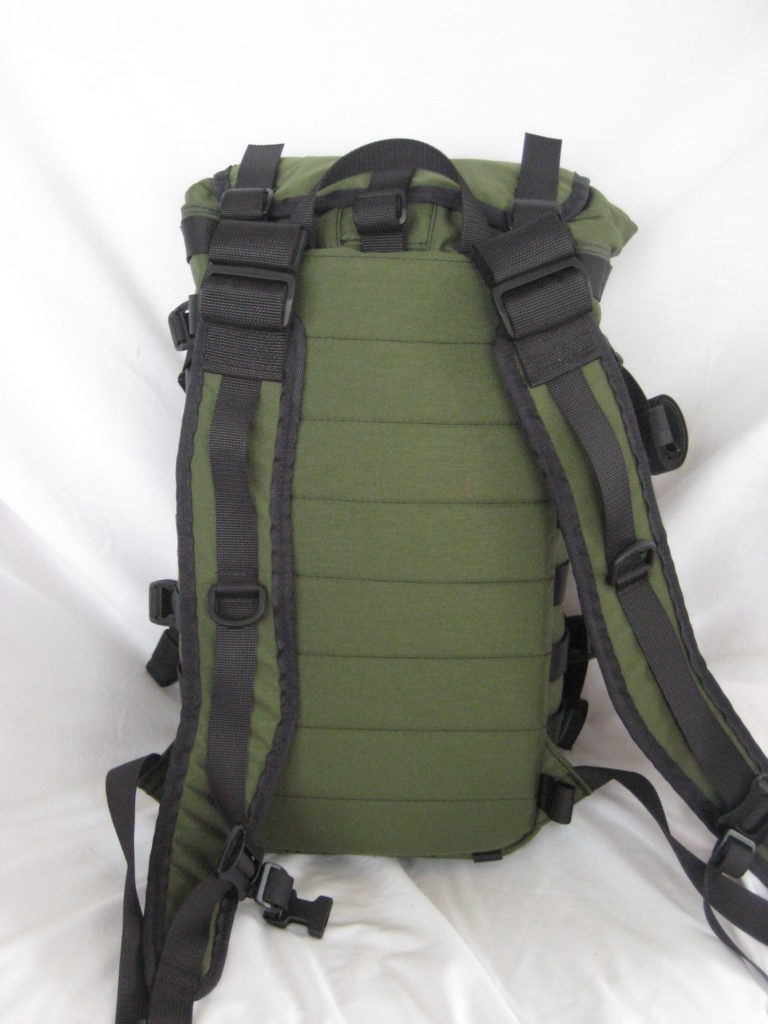 .
A removable plastic frame sheet is fitted to the SR20. When fitted, it adds some necessary rigidity to this small pack.
The interface between frame and wearer is closed cell foam with a veneer of 500-Denier cordura to provide some padding from the load to the wearer.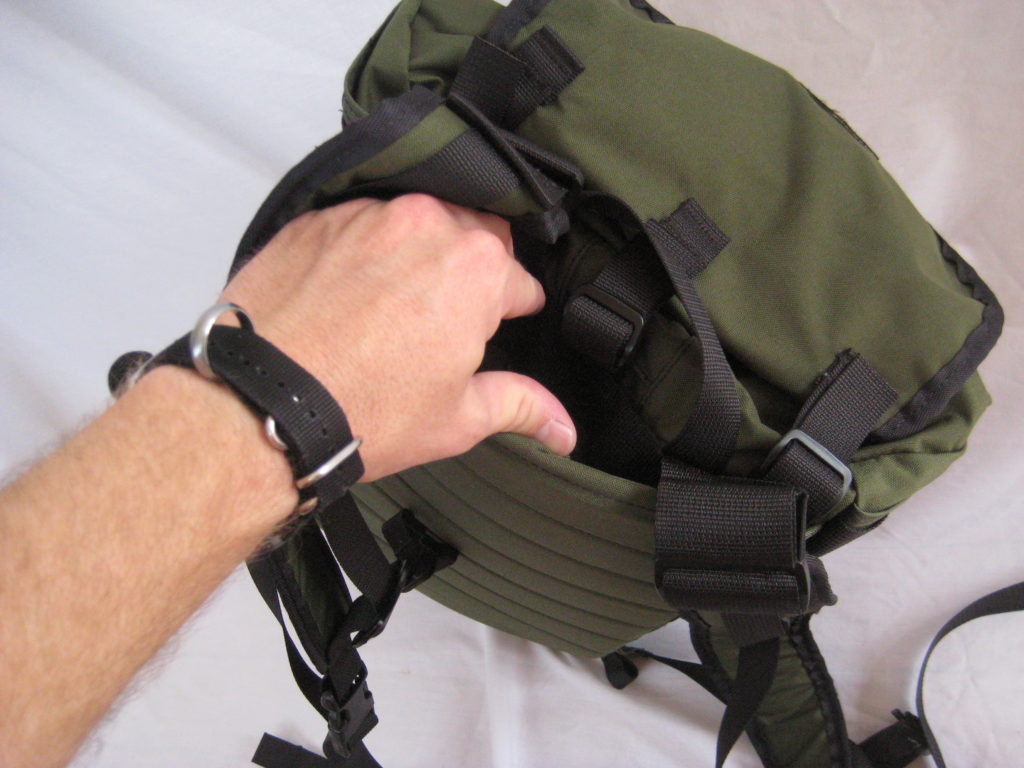 .
The removable harness is contoured for ergonomics. On each shoulder strap a D-ring is fitted to anchor equipment. Each harness strap also has an attachment point for the removable sternum strap. Options exist for several buckles to be fitted at the end of the harness straps. As this pack was prepared specifically for me, I opted for quick release Fastex buckles.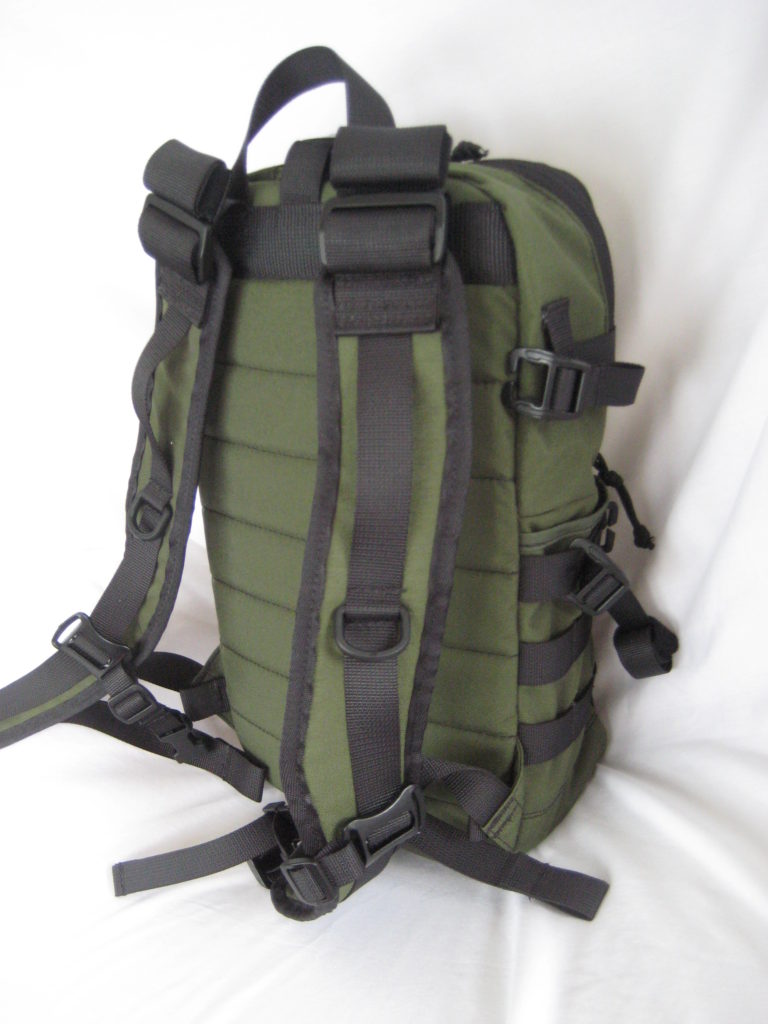 .
There is capacity for a lightweight hip belt to be fitted via loops at the bottom of the harness attachment points.
.
.
RUCKSACK –
Starting at the top of the SR20, the lid is a removable floating design. It's a really nice design that allows for correct lid placement independent of load volumes in the main compartment, as well as customisable options later.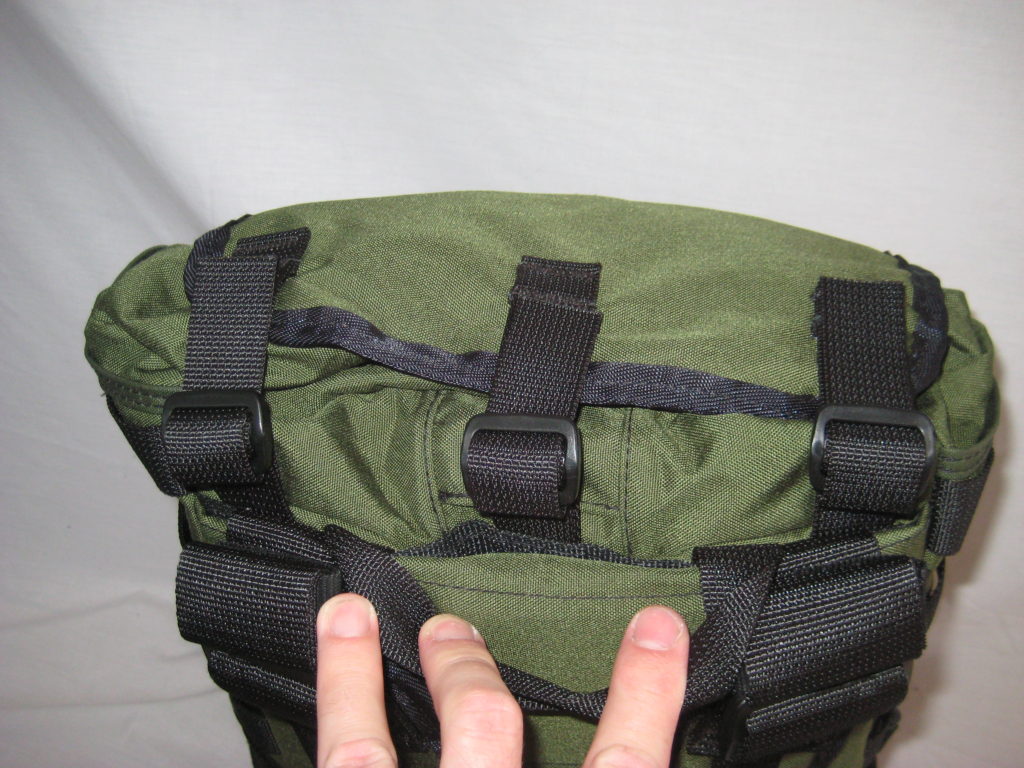 .
Under the very eye-catching branding for High Range Outdoors, is a small zip-secured pocket for storing small items.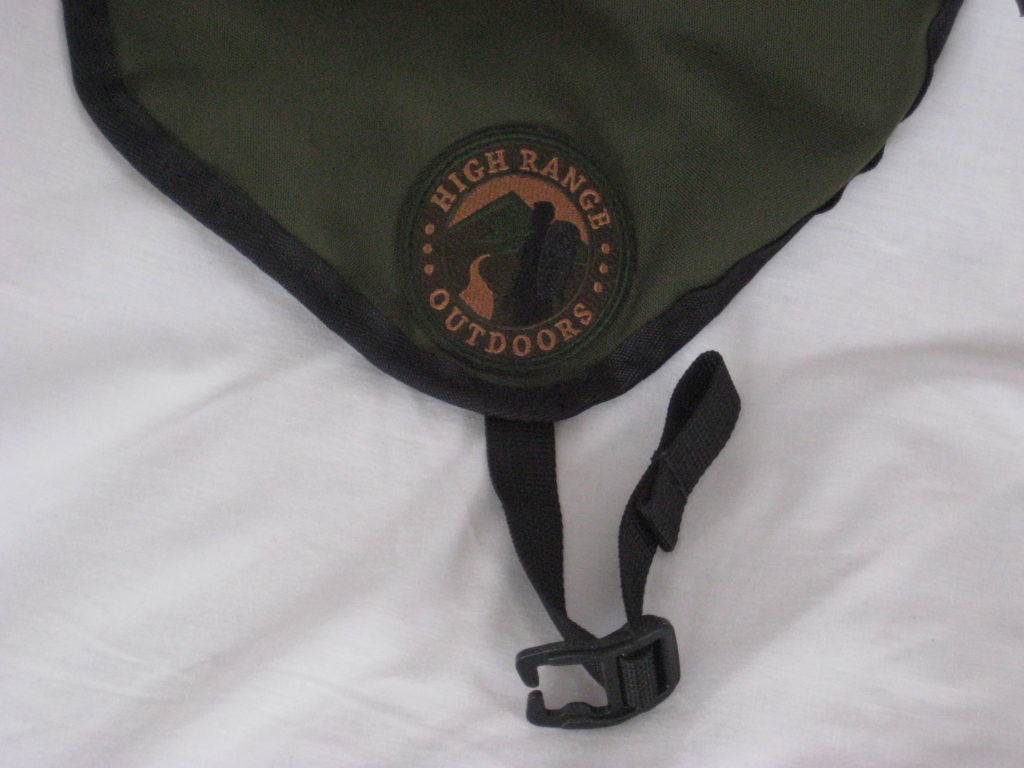 .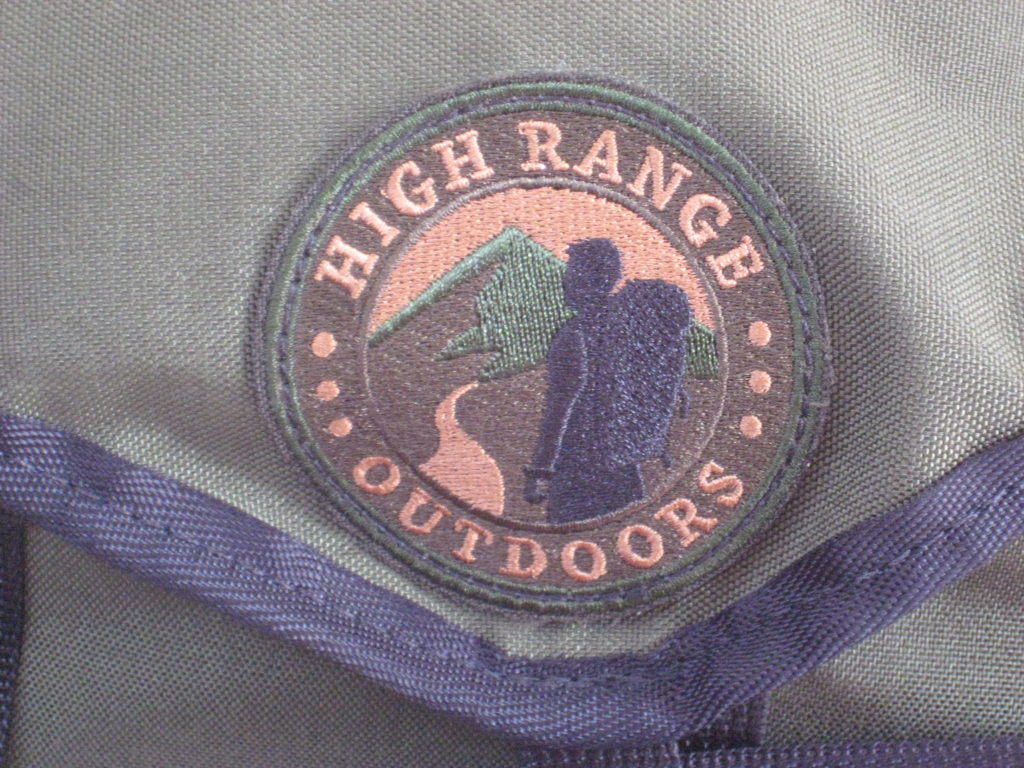 .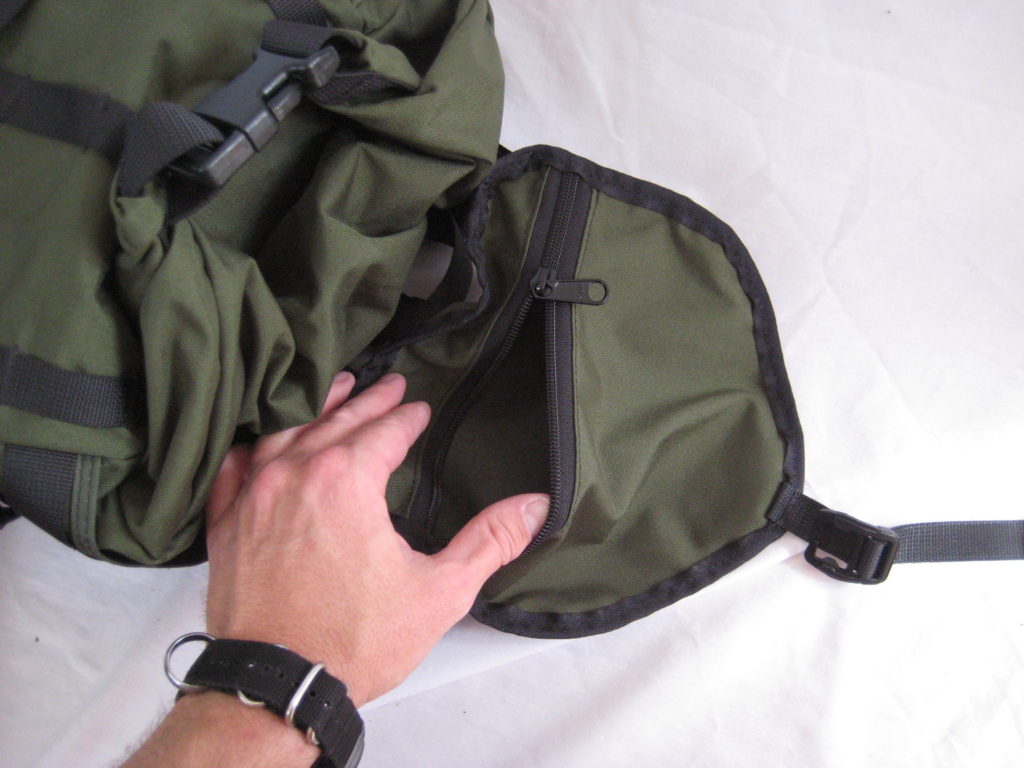 .
The lid is secured via a unique and custom designed method from High Range Outdoors: a hybrid plastic/aluminium C-clip, which is very easy to use with daisy chain webbing tape.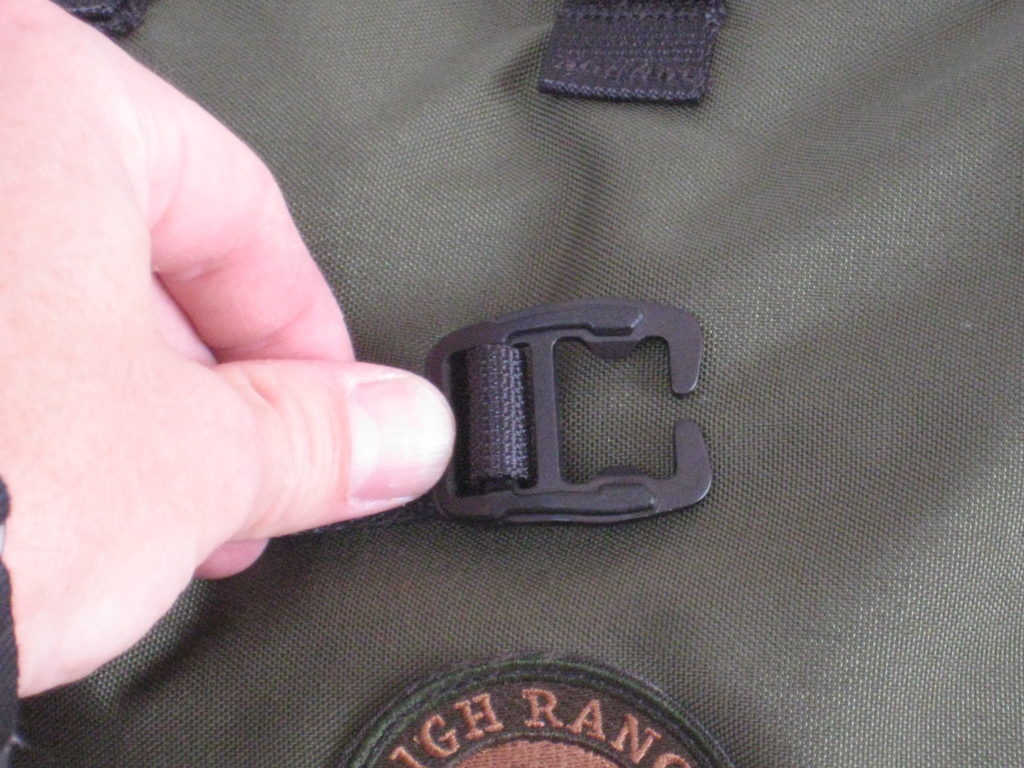 .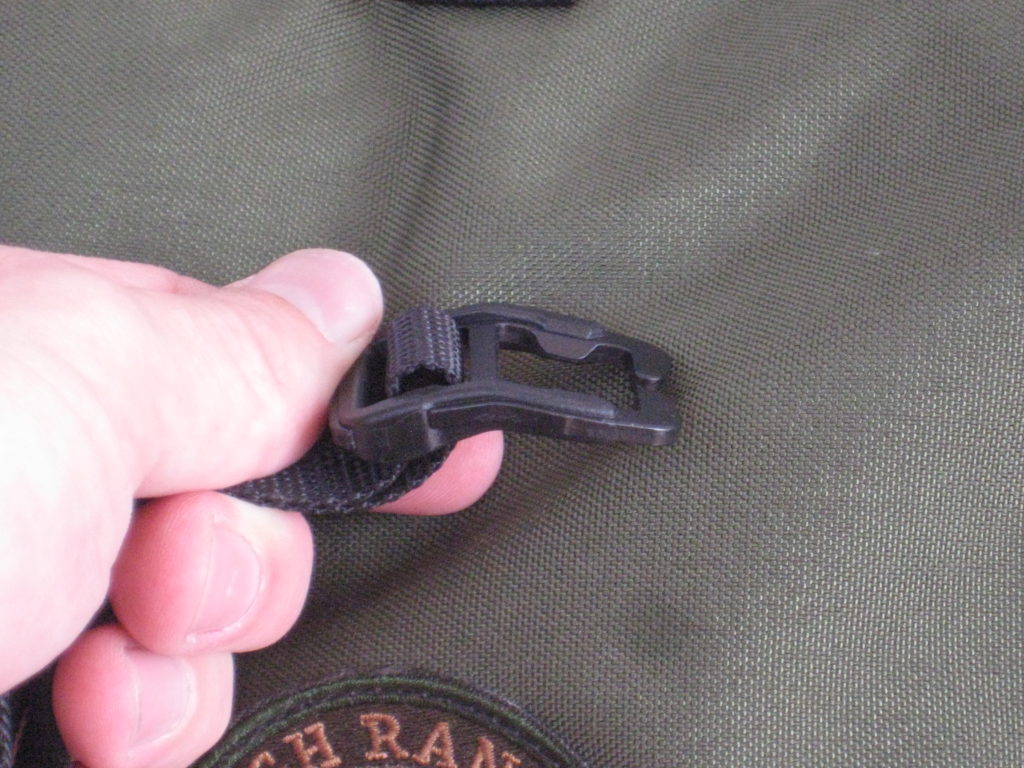 .
C-clip being attached to secure the lid, Step 1: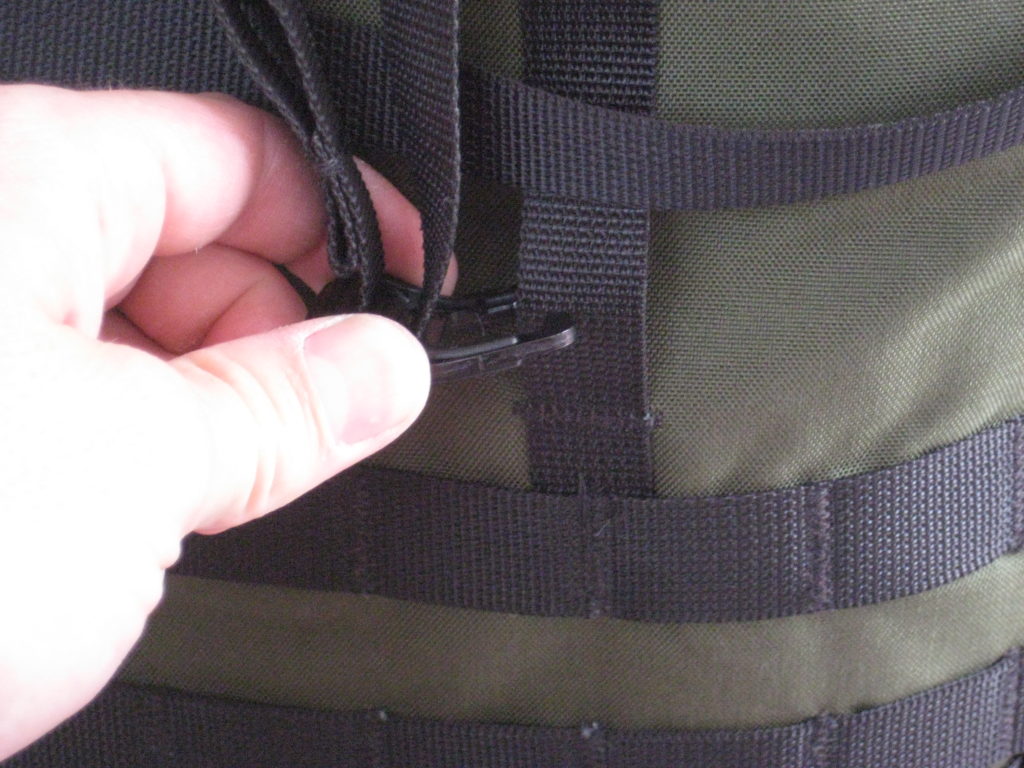 .
Step 2: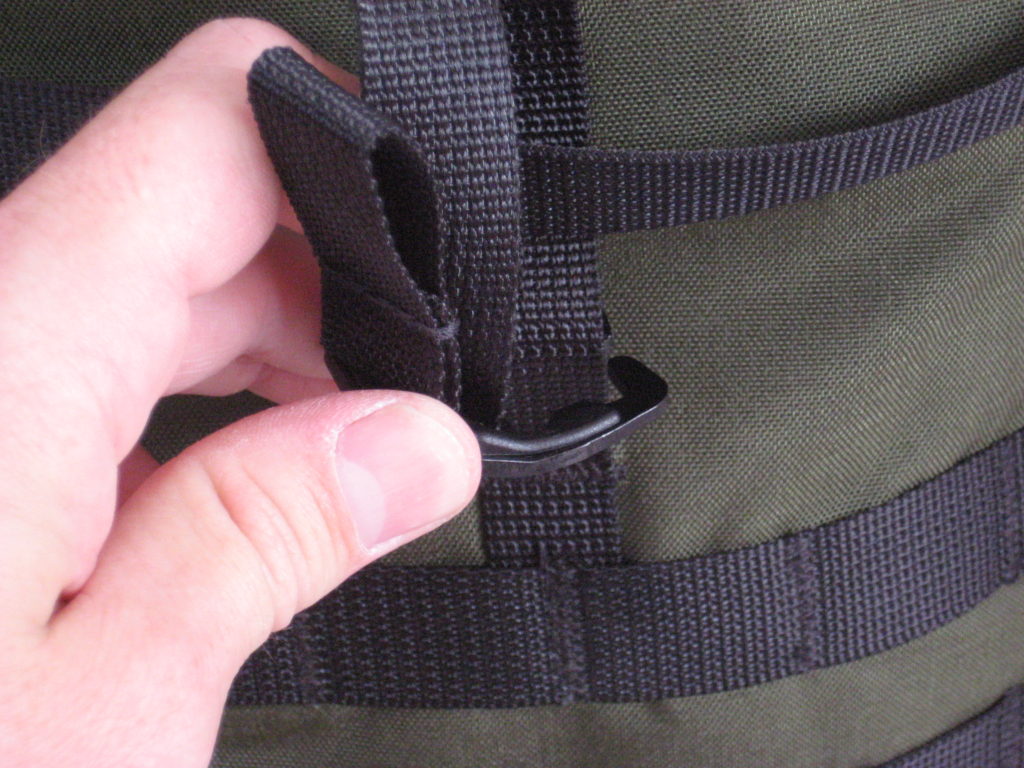 .
Step 3, complete: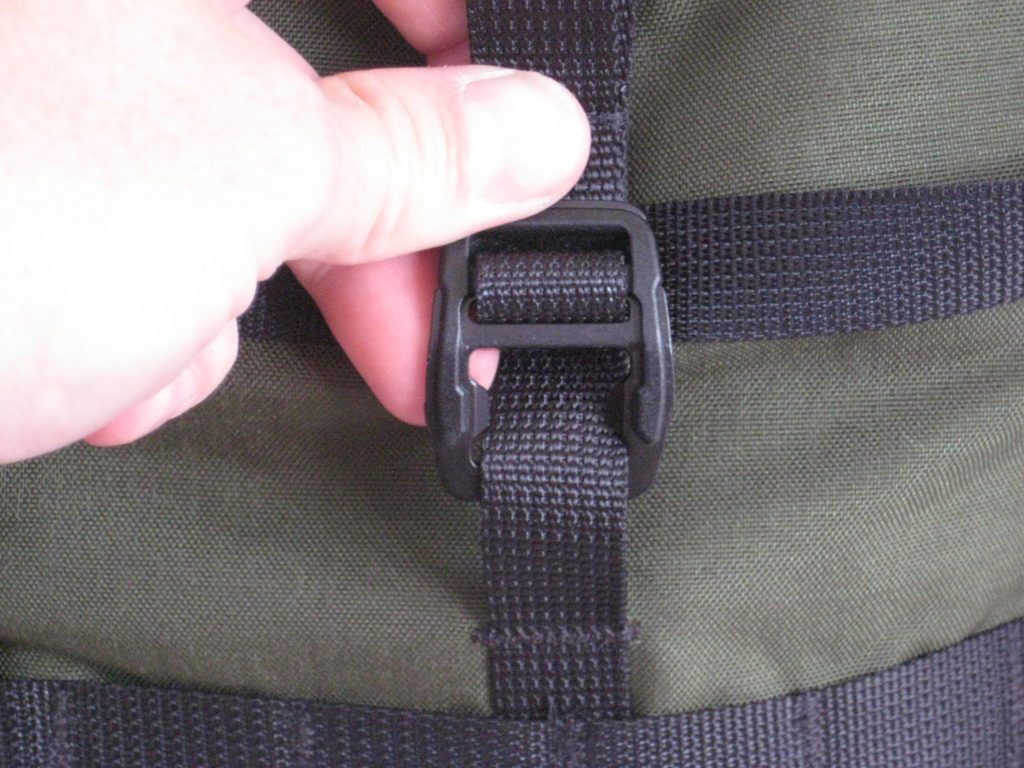 .
A simple webbing tape carry handle is fitted at the top of the harness, with access into the frame sheet pocket also at this juncture.
The main compartment is secured by a roll-top closure – a signature feature for High Range Outdoor, since they don't like losing gear out scrub.
.
The outside of the rucksack has plenty of capacity for modular customisation, with 4×7 MOLLE channels on the sides, and 6×4 on the back panel.
The bottom of the SR20 has daisy chain webbing straps to secure loads.
On each side of the main external surface sides, is a full-length pocket for long, thin items. I can think of these side pockets being useful for such things as radio antennae, or foldable fishing rods.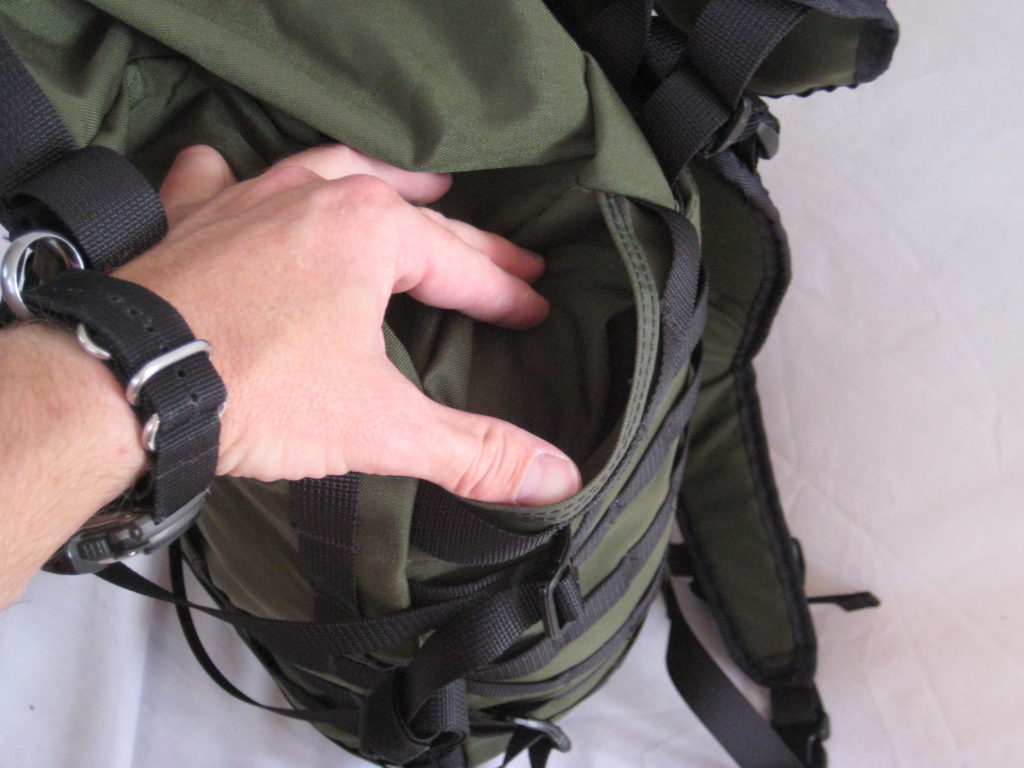 .
Inside the main compartment is a hydration bladder pocket, with hardware to ensure the hydration bladder is properly secured without hanging loose.
The bottom of the SR20 is double-lined for abrasion resistance.
.
.
PERSONAL ASSESSMENT: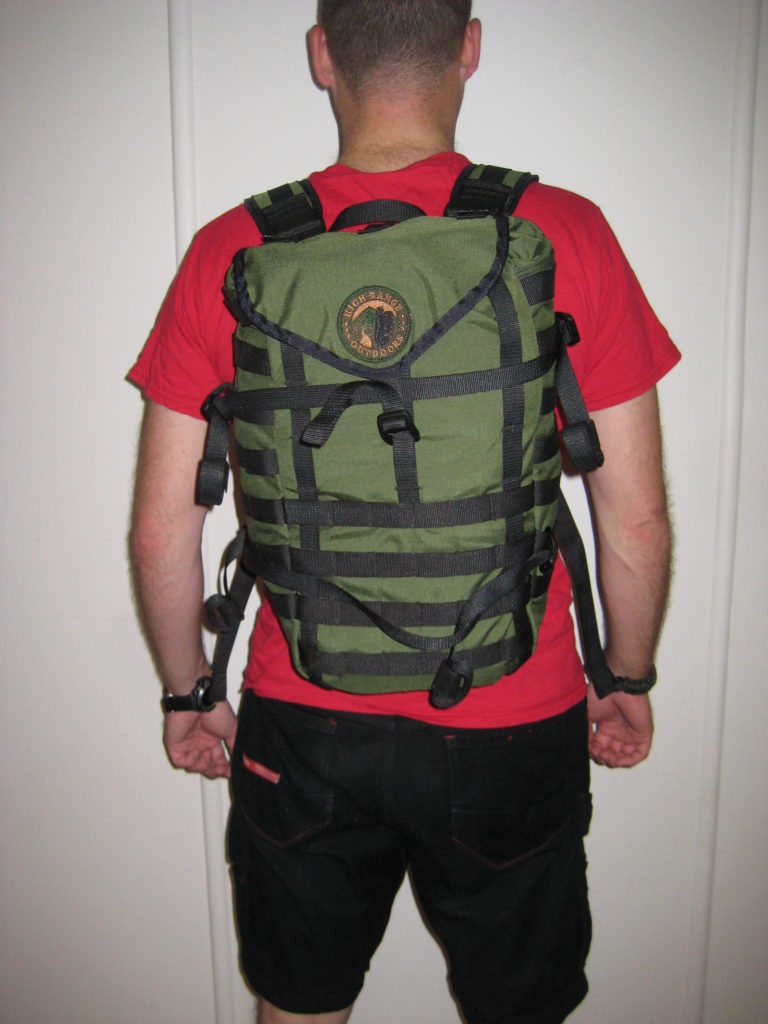 .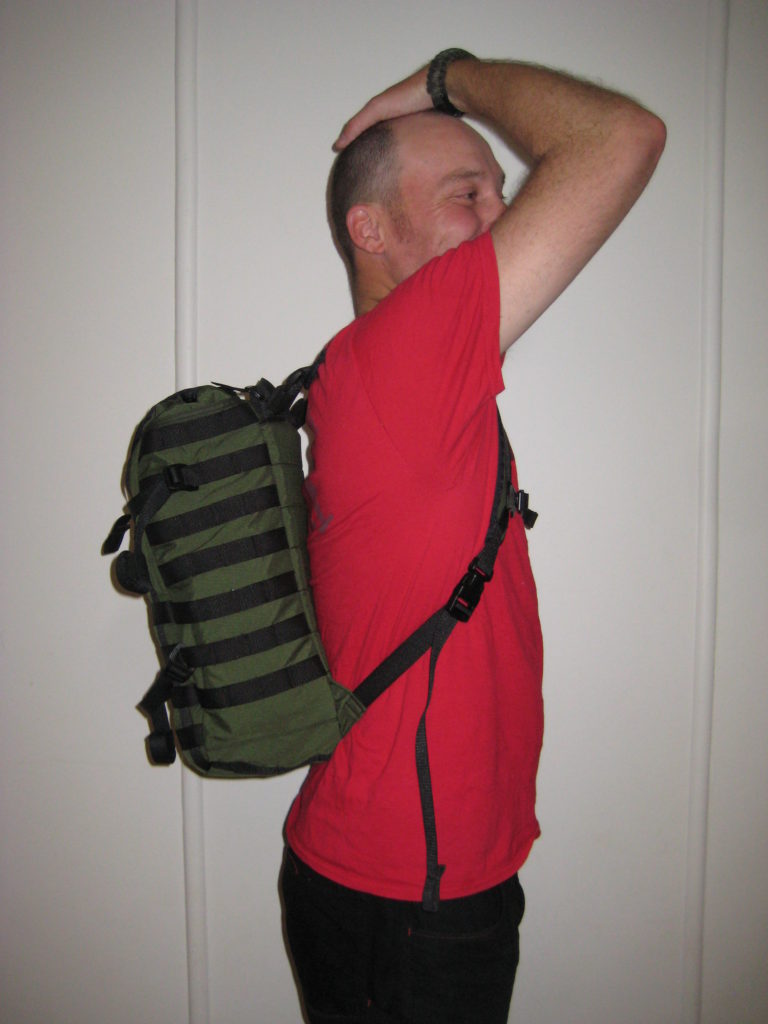 .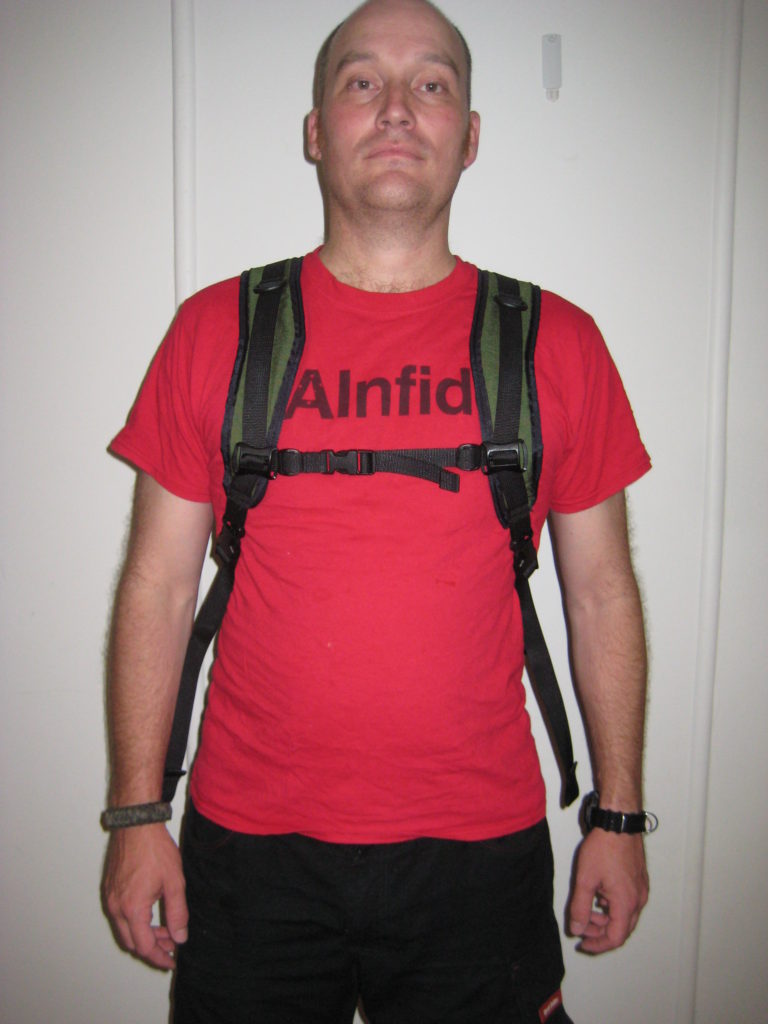 .
Benny from High Range Outdoors is a man who had spent some hard miles under harness and knows exactly what he wants from his equipment.
This is shown by the high level of attention to detail for both design of this pack and its construction. It's a nice, simple design with Benny's own flourishes provided by his experience.
.
Usage of the SR20 for this review has been for three applications.
The first application has been as an "admin" bag for personal kit and administration records in my new-found duties as a scout leader. Therefore, small items such as a first aid kit, water bottle, and records have been carried for a couple of months.
.
The second application has been as a nappy bag now that my family has welcomed our second child into the world. Admittedly, using a baby nappy backpack from Baby Luno would be more functional.
Carriage of nappy wallets, a water bottle and other odds and sods for short range trips with a three-month-old and three-year-old has proven an easy task for this flexible little pack.
.
The third application has been in its original design intention as a "Go-bag" carrying essential survival equipment on a couple of long distance road trips undertaken for work.
.
In all these applications, the small size has been of great benefit.
Other practical usage for this review has been training walks of 5 kilometre distances, over approximately ten occasions loaded up with typical equipment (cold weather clothing, water, first aid kit and other odds and sods).
Whilst worn, the SR20 sits very comfortably within the shoulders whilst being worn. Acting as a scout leader, it's been small enough to place minimal impediment on my movement whilst moving rapidly chasing after hyperactive young scouts.
It's also been very good when worn in conjunction with the Baby Bjorn Baby Carrier (Review seen HERE).
Look for the SR20 being used abroad as I'm planning on using it as carry-on luggage for some trips to the United States in the New Year for SHOT Show and other trade shows in 2017.
.
PROS –
A very well-made and designed little pack that sits well, rides comfortably and works very well for its intended role.
.
CONS –
I'm not a huge fan of the roll-top closure, but that's only a personal foible of mine.
If the roll top closure really doesn't float your boat, the option of a draw-string closure is also offered by High Range Outdoors.
.
.
SUMMARY:
High Range Outdoors has delivered an excellent small pack that can fit all those niches required of a small pack.
I'm really looking forward to using it on a couple of work trips to the United States next year.

Posted in Civilian, High Range Outdoors, Military, Short Trip by 22F with no comments yet.