SHOT Show 2017 was held on 17-20 January, with a range day on the 16th.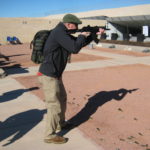 After a hiatus of several years, due to real life getting in the way, Packs and Beyond had an opportunity to attend thanks to a long time supporter: Crossfire Australia (http://crossfire.com.au/)
This year, was a sponsored trip for Crossfire Australia as an agent and representative/ambassador, and as a thank you from them to Packs and Beyond for a great deal of work done for them. There will be more information about the purposes of this part of the trip further down the track in the near future.
Let me take this opportunity to publicly thank Crossfire Australia for the chance to attend SHOT Show. It was a great week that allowed me to relax from the rigors of real life and my day-job.
.
In previous years, I've written my round-up in one large article. Due to time constraints, and to trial a new format, I'm going to be doing the round-up in smaller, digestible chunks of a few interesting products at a time. Let me know what you think about this.
.
Alright then, let's kick this off.
.
RANGE DAY (Law Enforcement/Military)
Because SHOT Show is all about the shooting industry and products that support it, the range days are a large part of the pre-show itinerary.
There are two range days: the media day (for the great mass of media and shooting public) and the LE/Mil (Law Enforcement/Military) Range Day.
To be honest, since I'm no longer serving or involved in procurement of small arms systems, most of this day was simply a chance to have shoot with stuff I used to. So forgive me if I don't concentrate too much on the details for this one.
For once in my life, I managed to use some contacts to my advantage and bribed/begged my way into the invite only professional Law Enforcement and Military Range day. It should be noted that this is intended for professionals from those industries, not the public. Hence why some of the toys available were restricted from the general public. Because of the professional aspect, it was a very relaxed day by the Las Vegas Police Department at their excellent range facility on the outskirts of town. The views were beautiful as well, which highlighted some of the essential differences between the military and police services.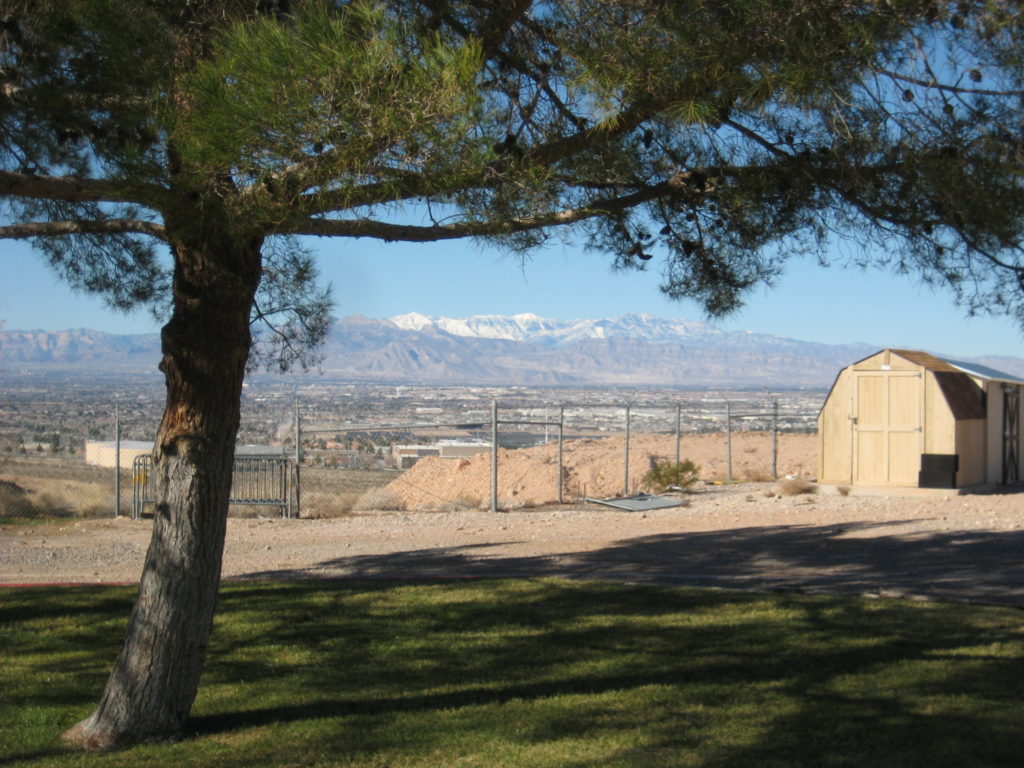 .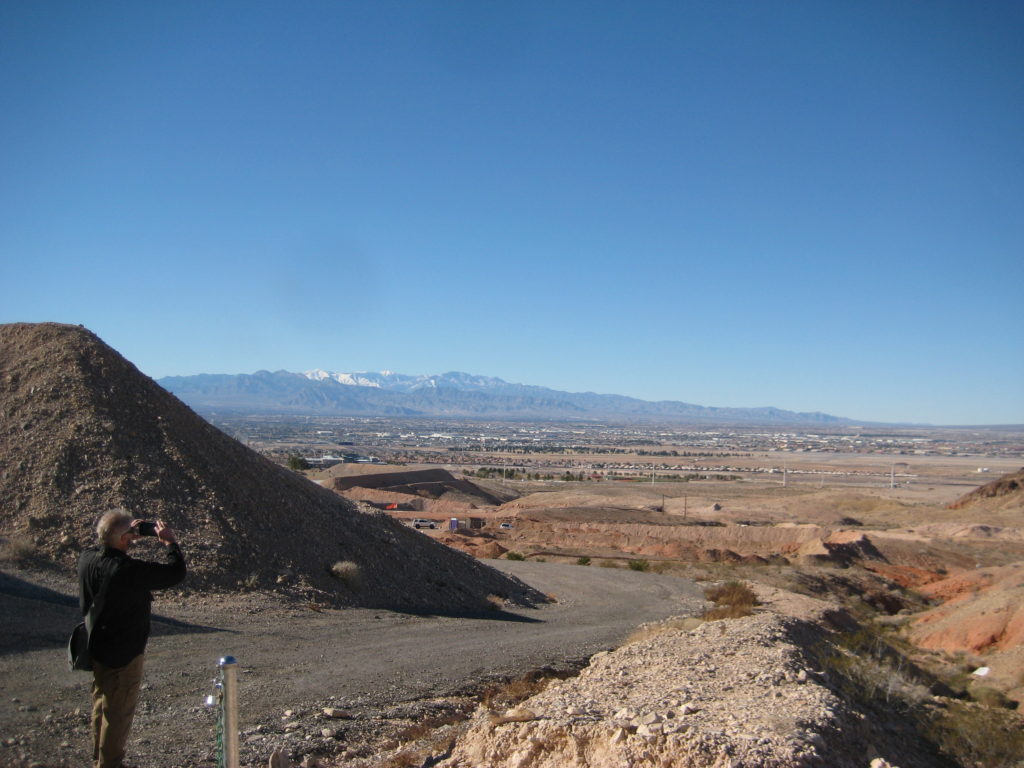 .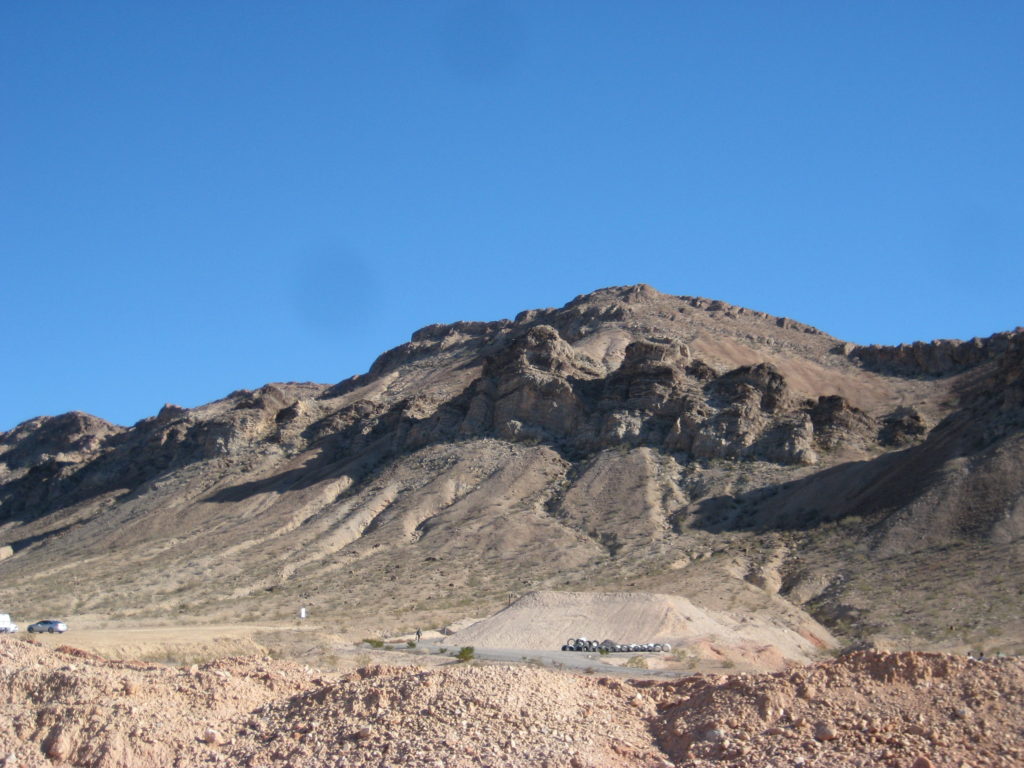 .
We started the day at 2nd Amendment Arms stall. They're a gunsmith/workshop getting into assembling and manufacturing of AR-pattern rifles. What they had on display was their offering sin 5.56mmand 7.62mm NATO.
The 7.62 AR was interesting in that the recoil was barely noticeable from the 5.56mm version. Some good engineering went into the gas, buffer and spring systems.
Here, the proprietor of Tactical Advantage Queensland (TAQ) is about to break the display rifle: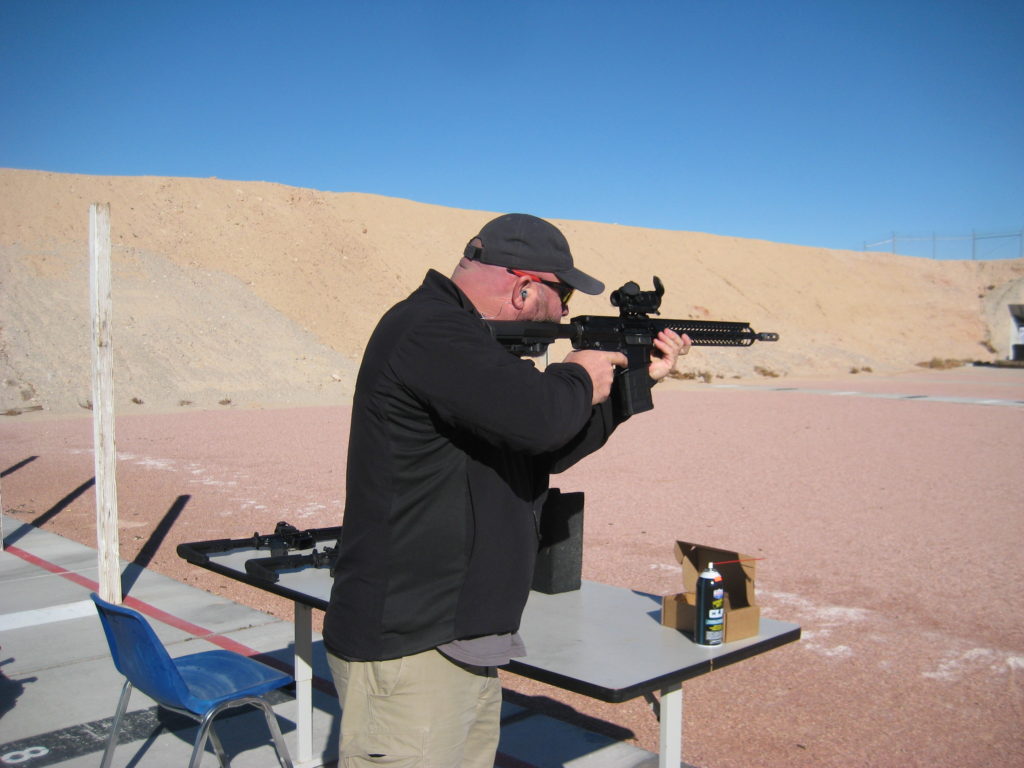 .
CZ USA had the best range set-up of the day, and one of the friendliest.
All of their pistols and several of their long arms for Law Enforcement use were available to be tried out.
Opportunity was taken to try out the CZ Scorpion SMG (Sub Machine Gun) in 9mm. All of the samples that CZ brought with them to the range that day were suppressed. I was particularly impressed with the sample I used, with a suppressor under the accessory rail and a mini-Red dot sight fitted.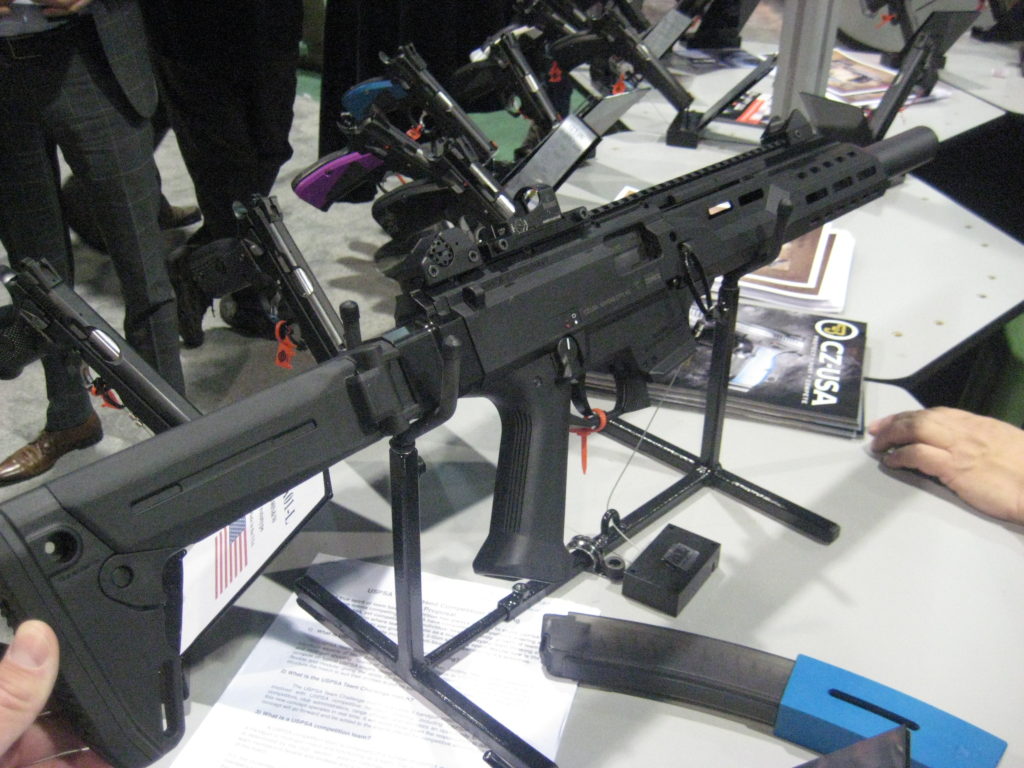 .
It was the first time I've ever shot suppressed weapons, and the first time in fifteen years (since leaving ADF service) that I've shot fully automatic weapons.
The Scorpion was a fun little weapon, but my heart still yearns for short barreled rifles. I prefer slightly more punch and range than pistol caliber long arms. The CZ Bren was in 5.56mm NATO.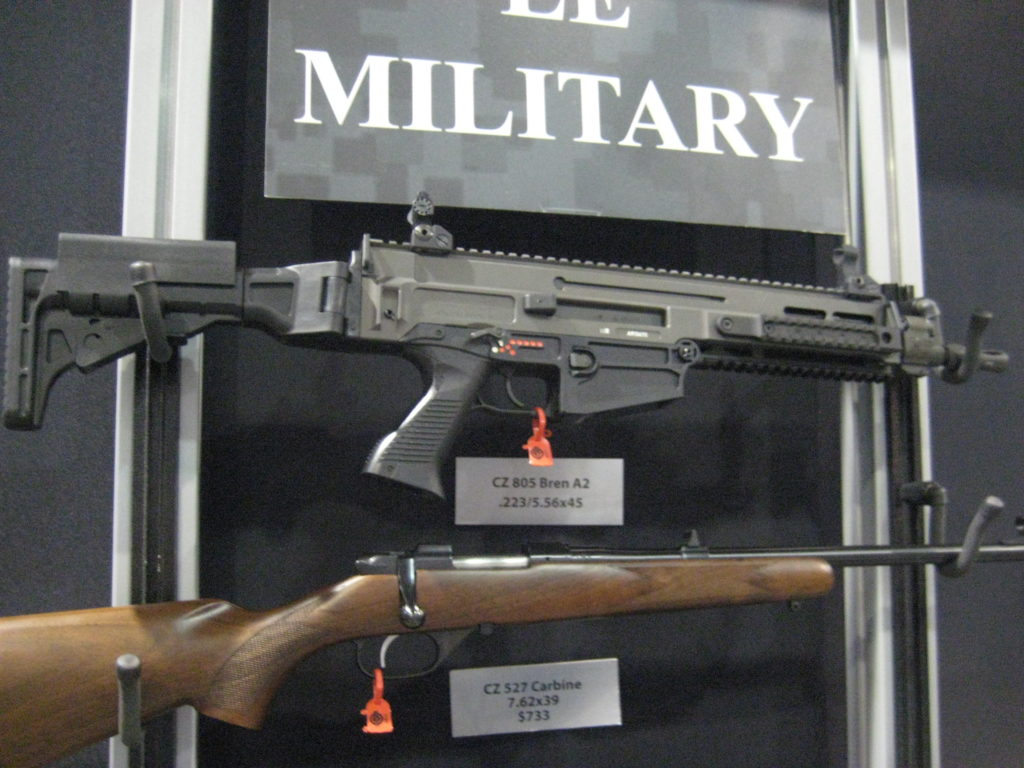 .
These CZ products showed some really good engineering, being field stripped down to only three components: the trigger group, bolt group and receiver group. Simple, reliable and good ergonomics.
As my colleague observed, the Czechs are coming back with a vengeance after 50 years of oppression under the Big Bear.
CZ is also offering their P-10 compact. It's being offered as an alternative to the Glock series of pistols. According to the two police instructors next to me, it's got all the features that most shooters would have done after-market to a Glock. The grip is nicely stippled to prevent slipperiness, and the trigger is much better than a stock Glock. The P-10 will also apparently fit into Glock holsters.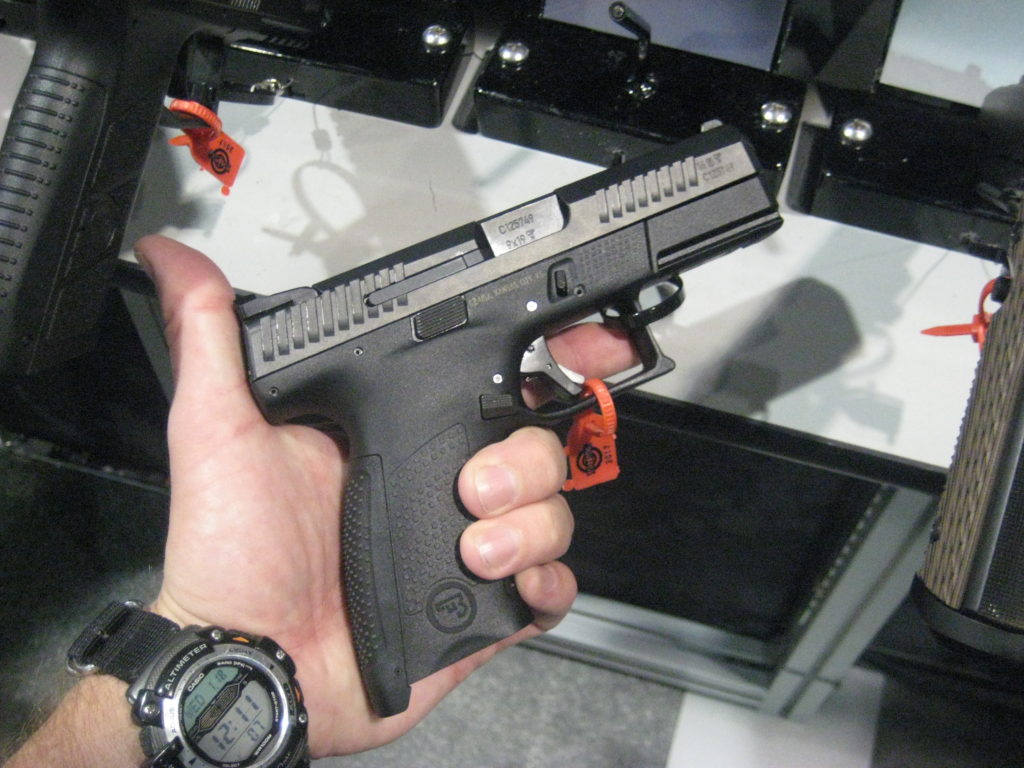 .
I'm planning on getting my handgun license later this year, and if the P-10 is offered in an Australian compliant barrel length, I'm going to be looking very favorably at it.
Since I'm going to be in the market for a .223Rem/5.56mm bolt action rifle later this year, the Vortex Optics stand was particularly relevant for me.
Vortex's new red dot optics fitted to pistol caliber AR-pattern carbines were tried. I'm not a great fan of the circle-dot reticule as originally found on the EoTech series of holographic sights, but I can see why some like them.
I also had a chance to examine and use the Razor HD 1-6x24mm illuminated variable. A SFP (Second Focal Plane) reticule with MOA or Mil Rad hash marks (I'm still not quite sure which one I was playing with). But it was quite a nice optic that I can see later in my future.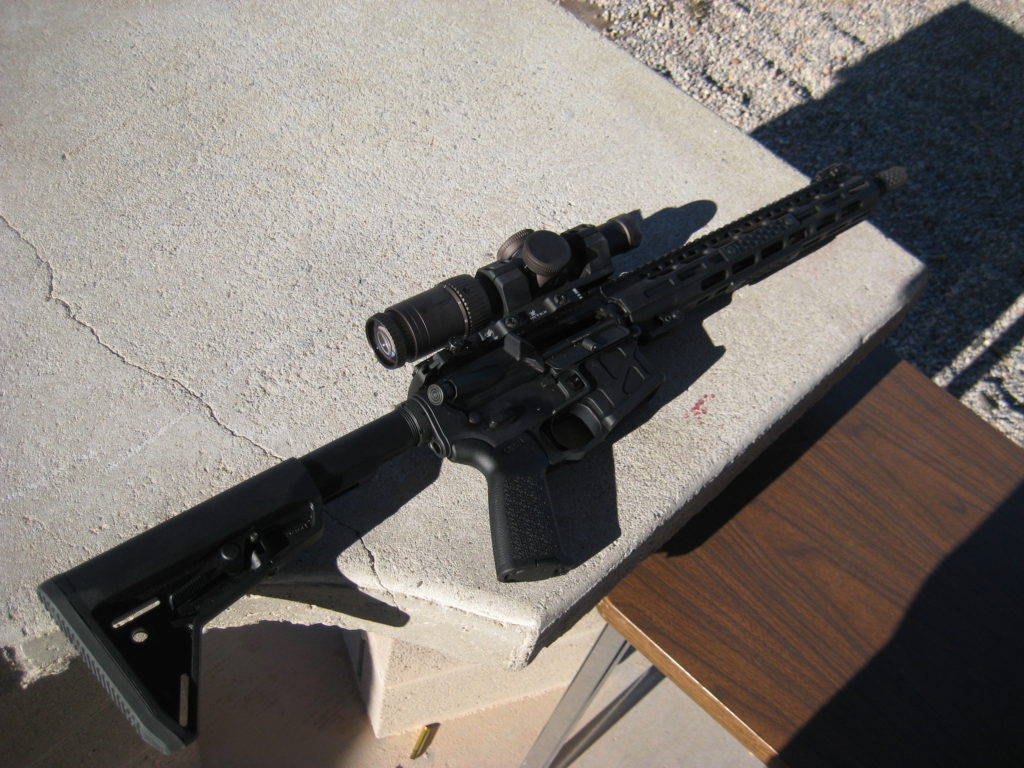 .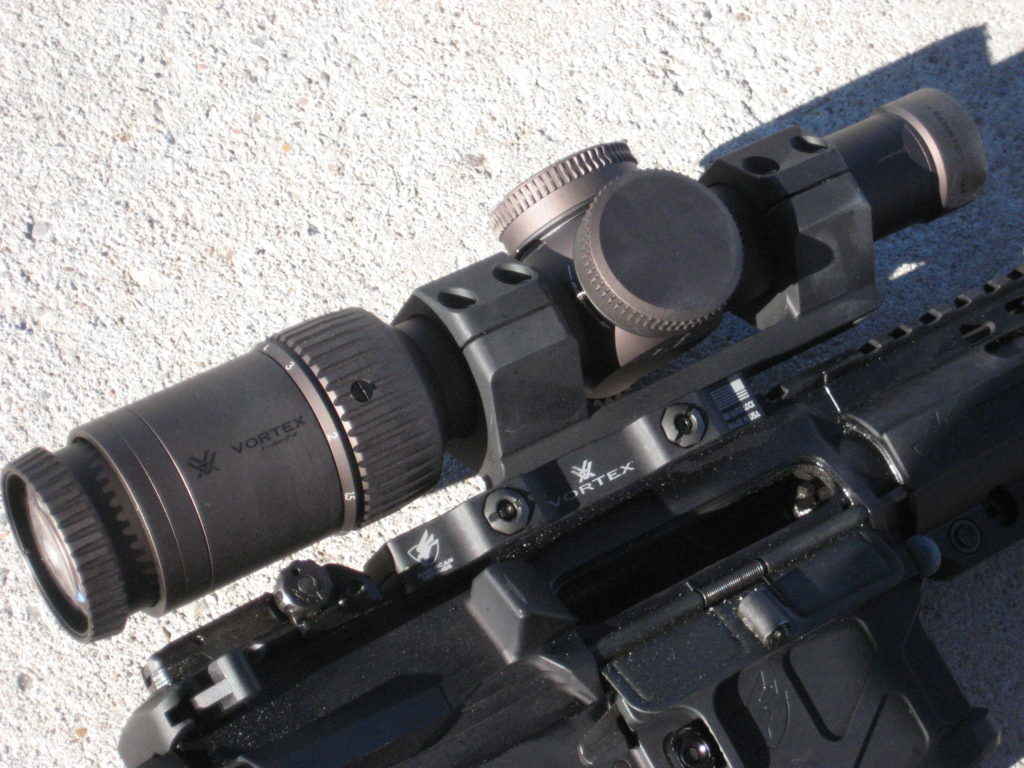 .
Other weapons we were able to examine were suppressed AR-15's, and a couple of AK variants.
The VEPR is a 12 gauge self-loading shotgun based on the Kalashnikov action. A five round detachable box magazine made reloads very quick.
It must be a recurring theme for the day, but here's the proprietor of TAQ breaking the demonstration VEPR 12 gauge: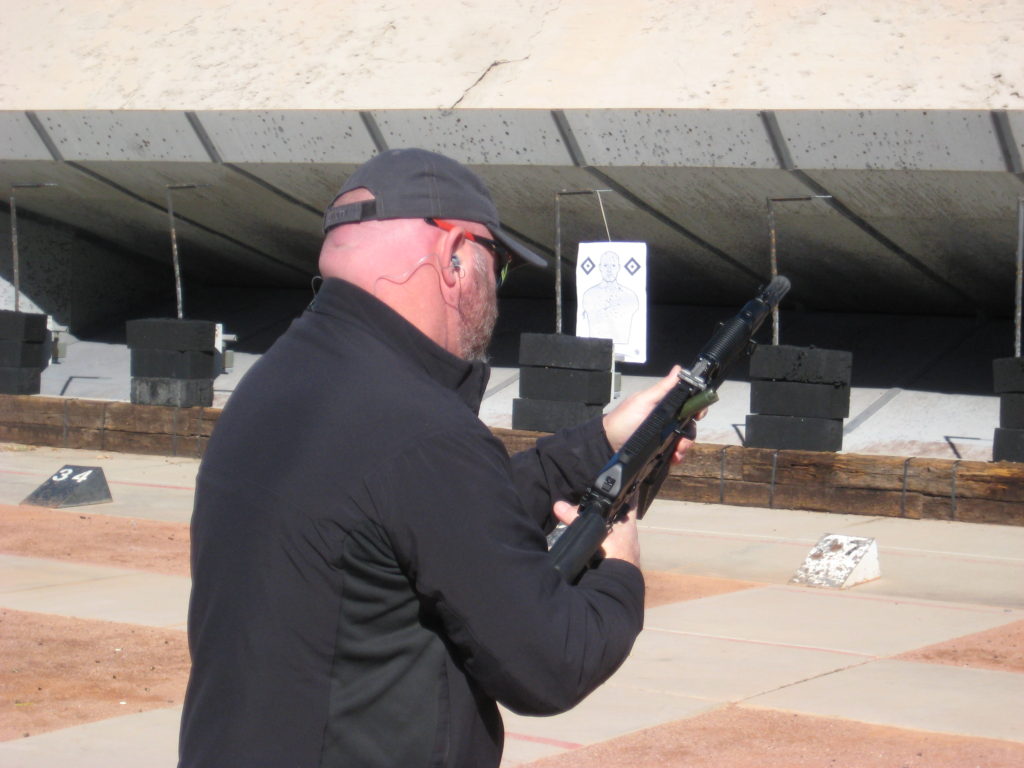 .
Another VEPR was the AKSU length carbine. Unusually, this was in 7.62x39mm. Under American legislation, this is classified as an SBR (Short Barreled Rifle) due to it's barrel being under 16 inches.
This little carbine, whilst a bit rough in terms of construction and ergonomics still impressed me with it's functional reliability and ejection pattern. It was throwing expended brass casings over 15m away and hitting the wall beside us. It would make a great little backpack gun for when discretion is advised.
Here I am (with some good friends in the background), using the VEPR AKSU variant: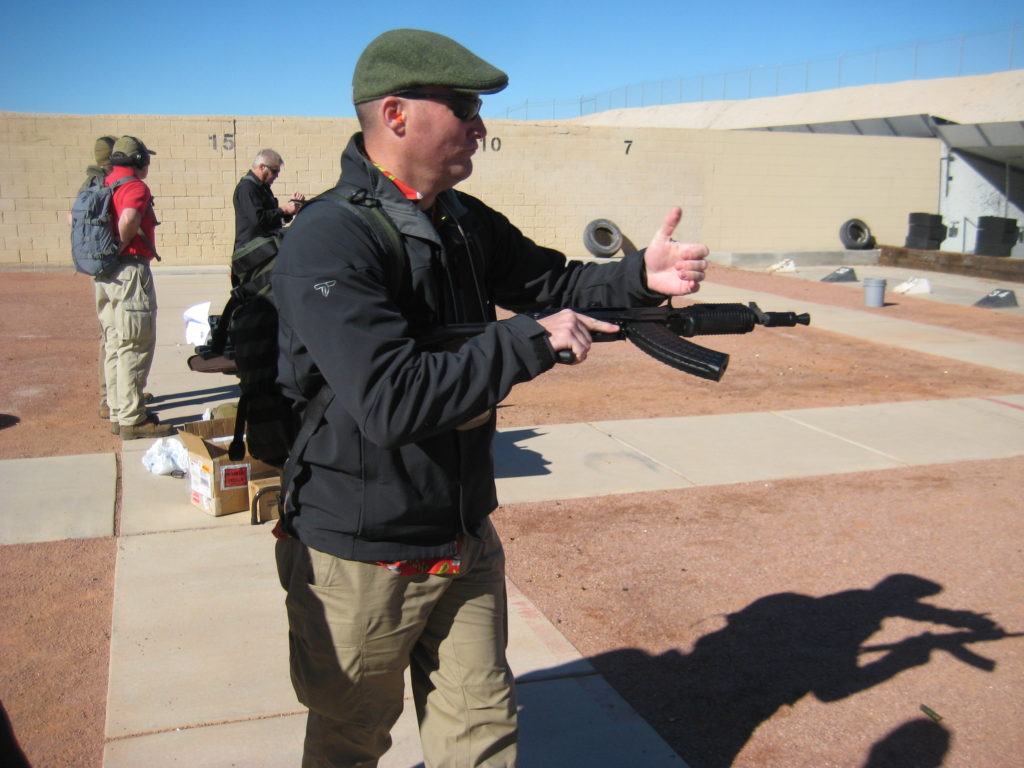 .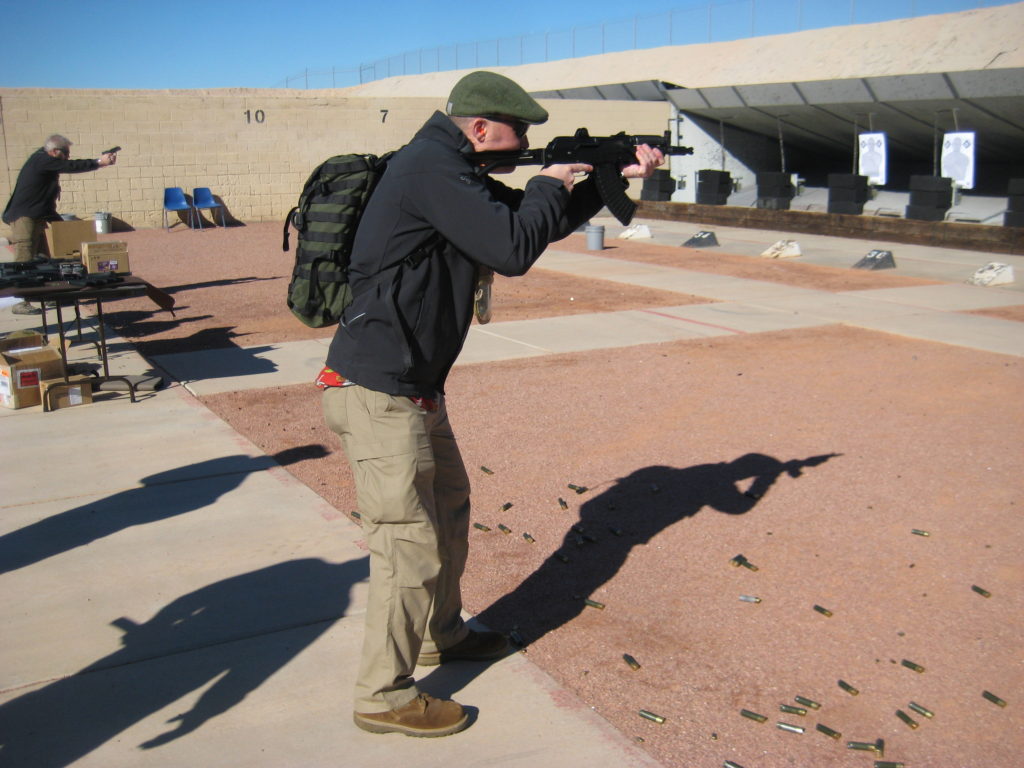 .
Here, my colleague wearing his Crossfire corporate attire (the after hours version) takes aim with a lightweight AR system: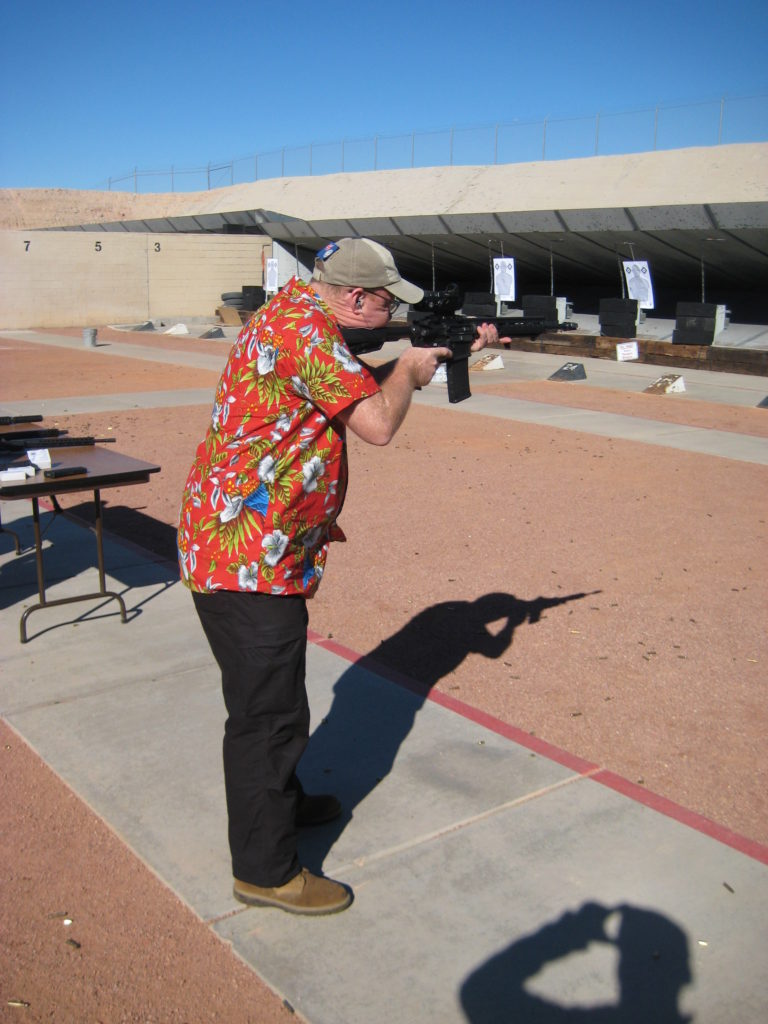 .
Here I am with the same system.
.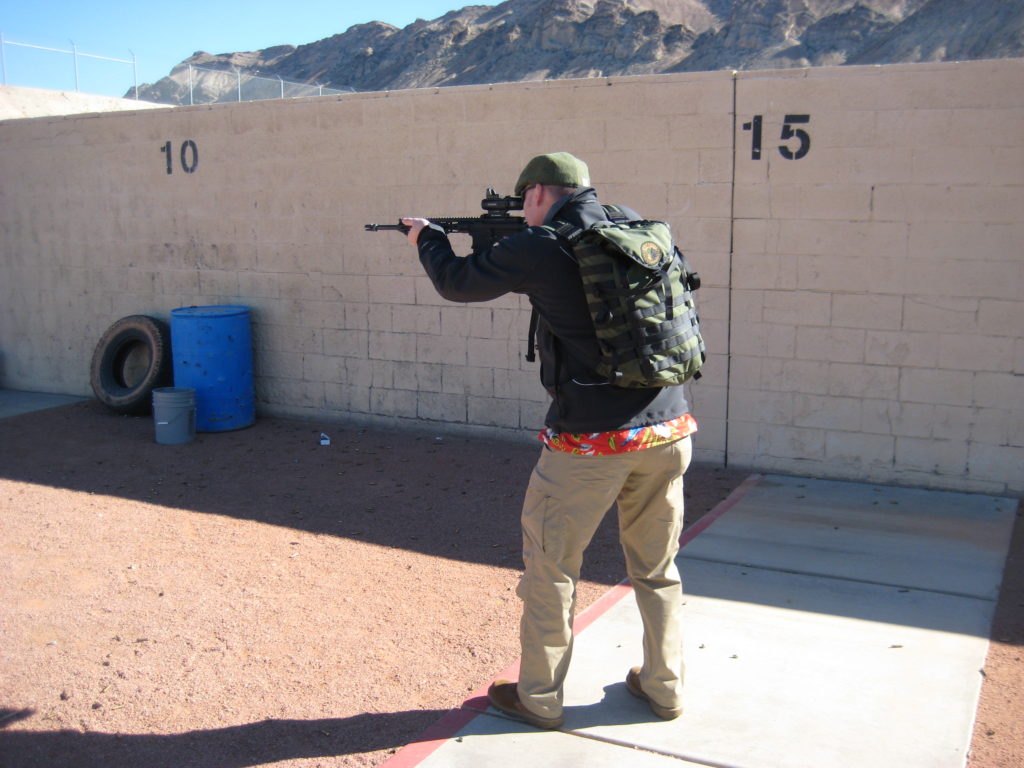 .
In all, it was a really good day in the sunshine talking with people who really enjoy their shooting. The friendly banter and abuse was flowing freely between vendors and punters. Although I did manage to provide a great deal of entertainment to everyone around me as I kept trying to load magazines into my armpit. Such is the ingrained memories of using F88/AUG whenever I shot self-loading rifles.
.
In the next installment of the SHOT Show round-up, we'll start looking seriously at products at the show that drew my attention.

Posted in Blog, Civilian, Military, Trip Log, Weapons usage and accessories by 22F with no comments yet.