Just like last year, I'm planning on presenting my observations of SHOT show products and companies in several parts. Both to make it easier to write and digest for you, the reader.
Let me know if you like this format.
.

Something I am going to attempt to convey this year is the interactions with people of our tribe.
It's one of those events where there's a lot of cool toys and gear, but the most satisfying thing about the entire trip is meeting like-minded people from all over the world who are so passionate about the industry they're in, their service to their country and community and passionate about quality gear for sport, hobby or duty.
.
I can't even begin to describe to a neophyte just how big SHOT Show is. There are miles and miles of companies hawking their wares. Do realise that this a trade show, not for retail or end-users. Hence why most of the interactions are business to business based, such as trying to entice capital and investment into new projects from start-up companies and inventors.
For myself and a colleague, SHOT Show is a work event where we attend on the behest of Crossfire Australia and act as agents for them in meetings with suppliers and also search for new products.
Packs and Beyond would like to thank Crossfire Australia for the opportunity to attend SHOT Show and allow us to conduct our own activities concurrently.
.
So, we'll move onto some of the products and companies that drew my eye.
.
HILL PEOPLE GEAR
Owned and run by a couple of brothers (Scot and Evan) who have extensive outdoor experience in the mountains and backcountry in various outdoor roles.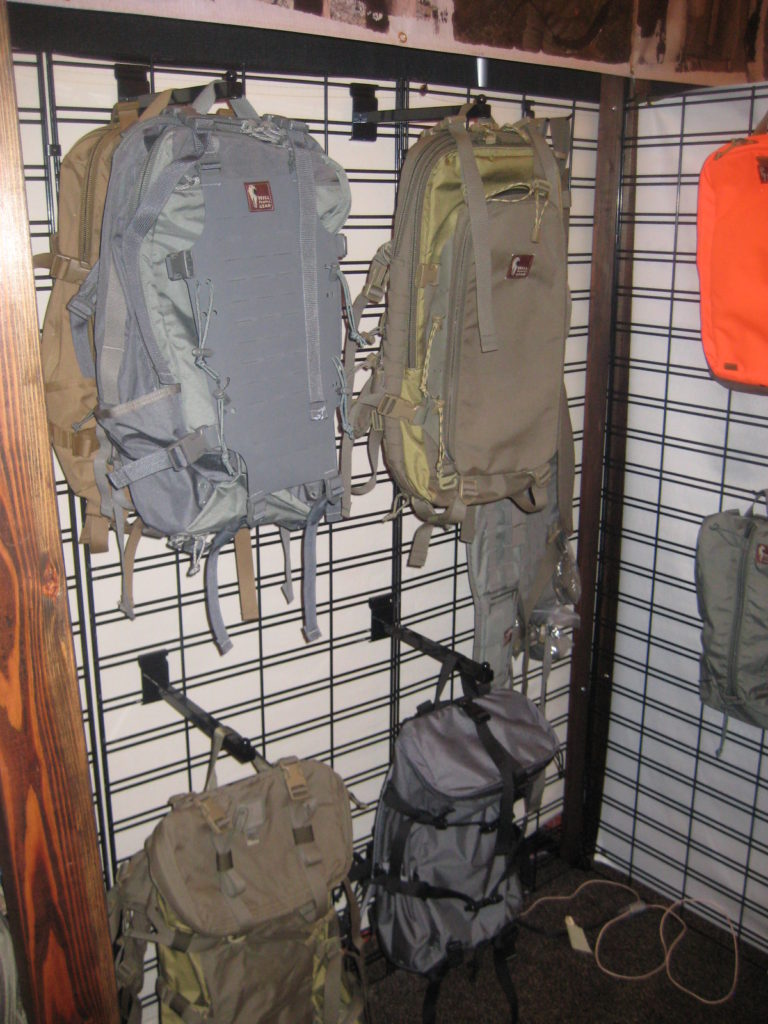 .
Their design philosophy is to have durable gear that is modular between sizes of packs. Essentially, the smaller packs can be docked to larger packs as pockets.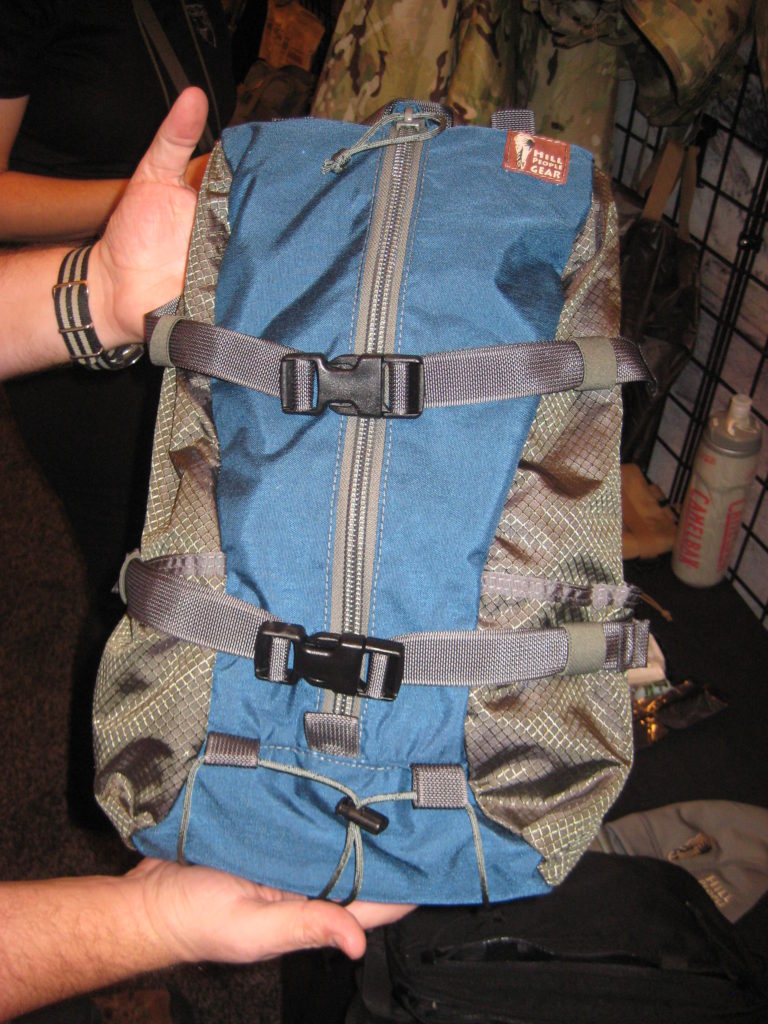 .
The Hill brothers have a similar belief that whilst the carried load in the outdoors needs to be as light as possible, ultralight design philosophies that are currently prevalent in the industry can be mis-applied at significant compromise to durability and personal safety.
.
Three factors draw my eye to the Brothers Hill:
1. Their design form and function for load bearing equipment
2. The earth tones of their colour palette
3. Innovative designs for unique products, away from mainstream trends
.
One of the most unique products that Hill People Gear produce are their Kit Bag's.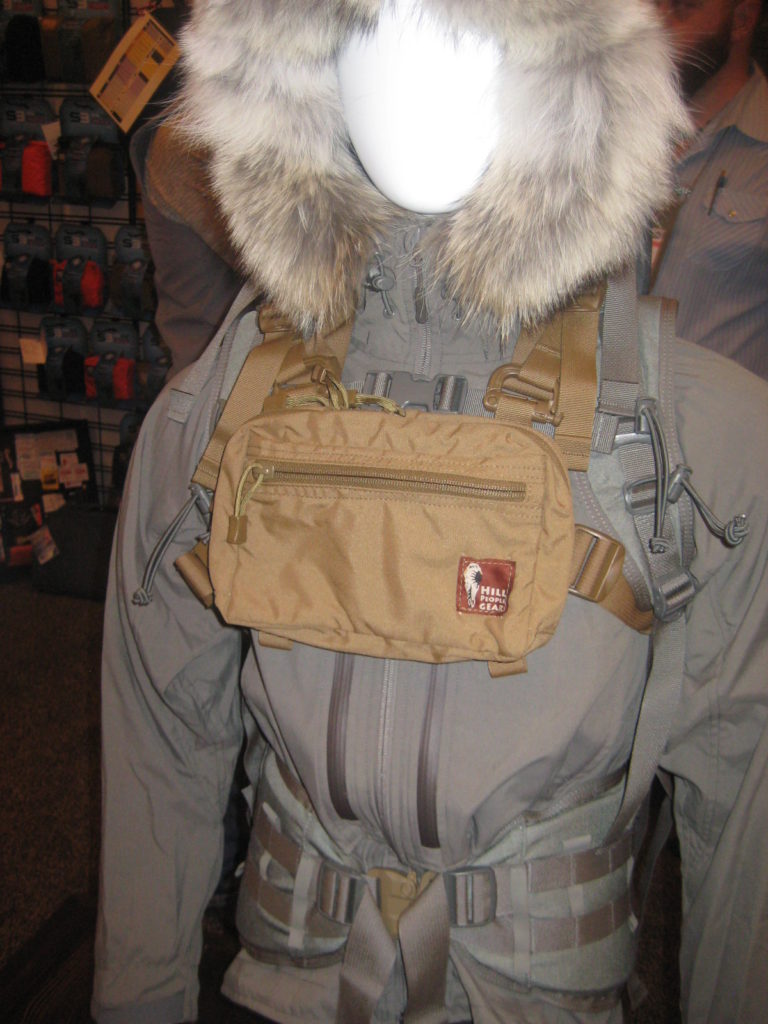 .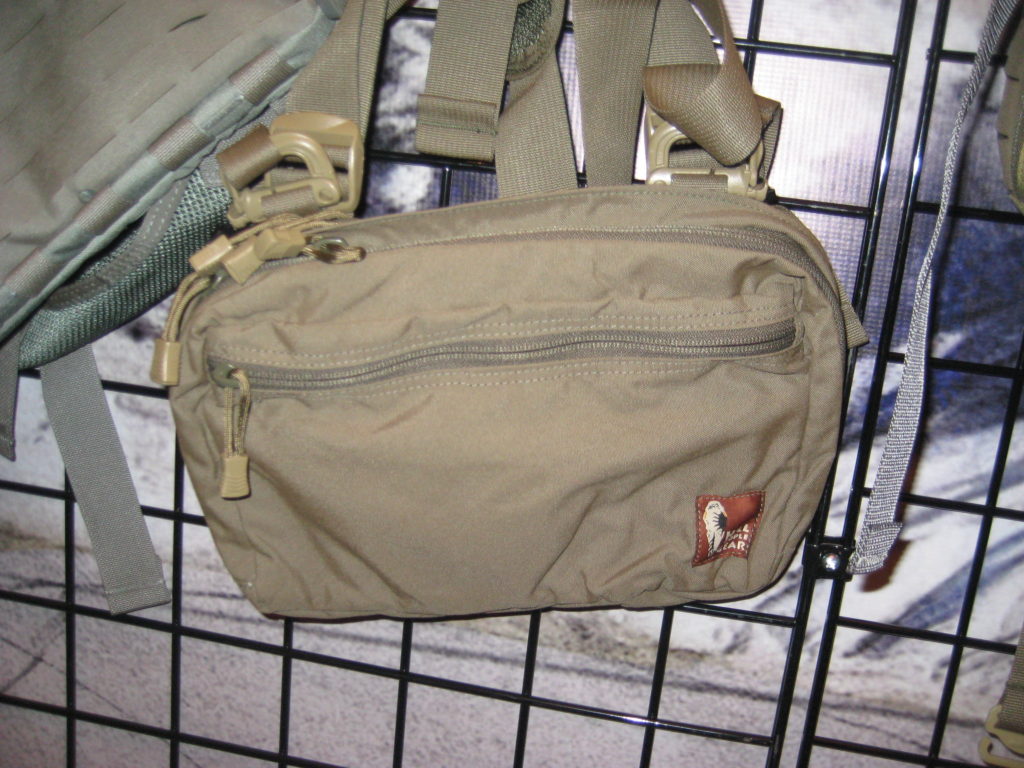 .
These are very similar to a soldier's chest webbing, for civilian bushwalkers to carry some essential items (such as navigation and survival aids, concealed pistols) without the bulk of traditional military load bearing systems. This allows the Kit Bag to be easily and conveniently worn under a pack harness and be sufficiently low profile to reduce snags.
.
Make sure to check Hill People Gear out at:
https://hillpeoplegear.com/
.
.
AIMPOINT
Two new products I noticed at the Aimpoint stand this year.
.
The first was the M5 red dot sight.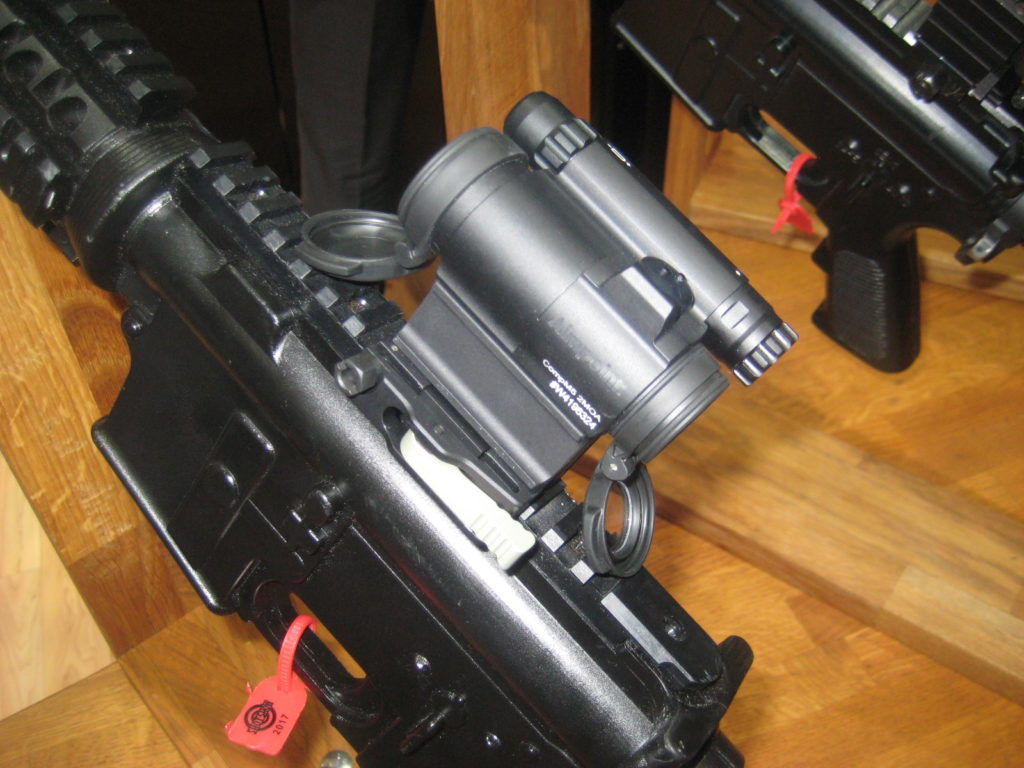 .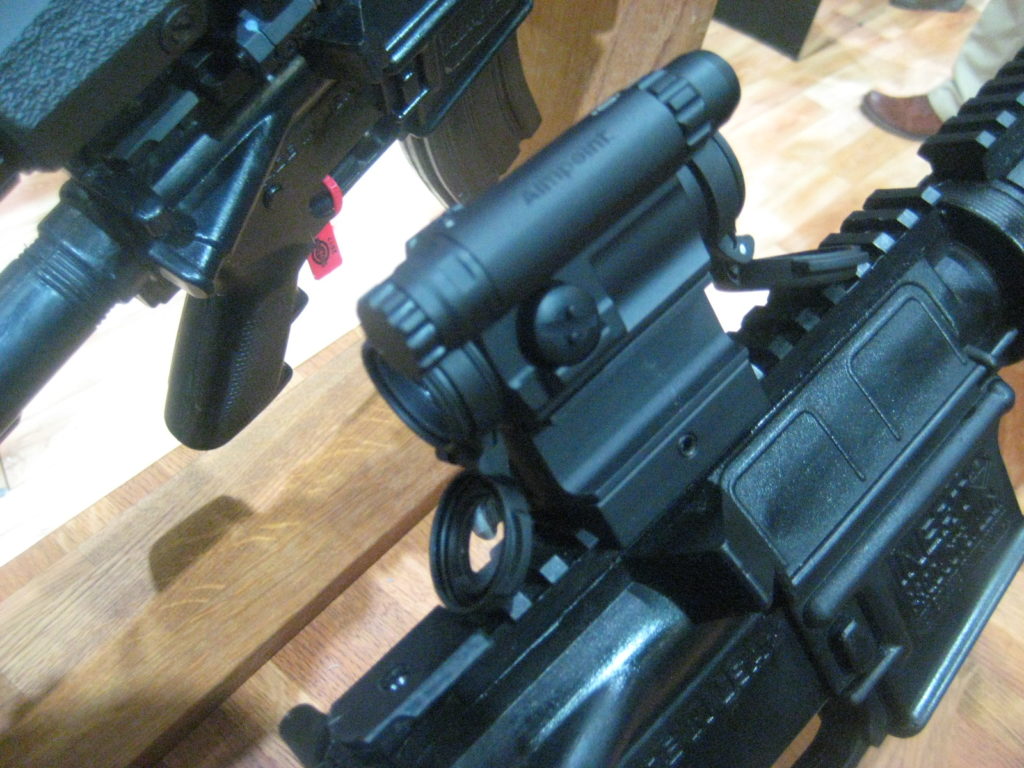 .
I believe the M5 came about due to a requriement from the US Department of State security teams wishing to have a small, compact red dot optic that used a AAA battery, instead of the CR2032 battery. Apparently, the AAA battery is easier to acquire in various parts of the world.
Weighing only 238g with mount, this M5 is comparable in size to the T1 series, but in a similar layout as the M4 series.
.
The only thing that I and my colleagues could think that we didn't like the M5 is the battery compartment placement up high on the optic body. Our suggestion that the battery location needed to be moved to the similar M4S model was apparently a repeated theme for the stand attendant.
.
The second Aimpoint that really impressed me was slightly larger, in size and application.
The FCS13RE is a new development for crew served weapons such as M2 .50calibre heavy machineguns, 40mm grenade launching machineguns (such as Mk19 or H&K GMG) and Carl Gustav 84mm recoilles rifles.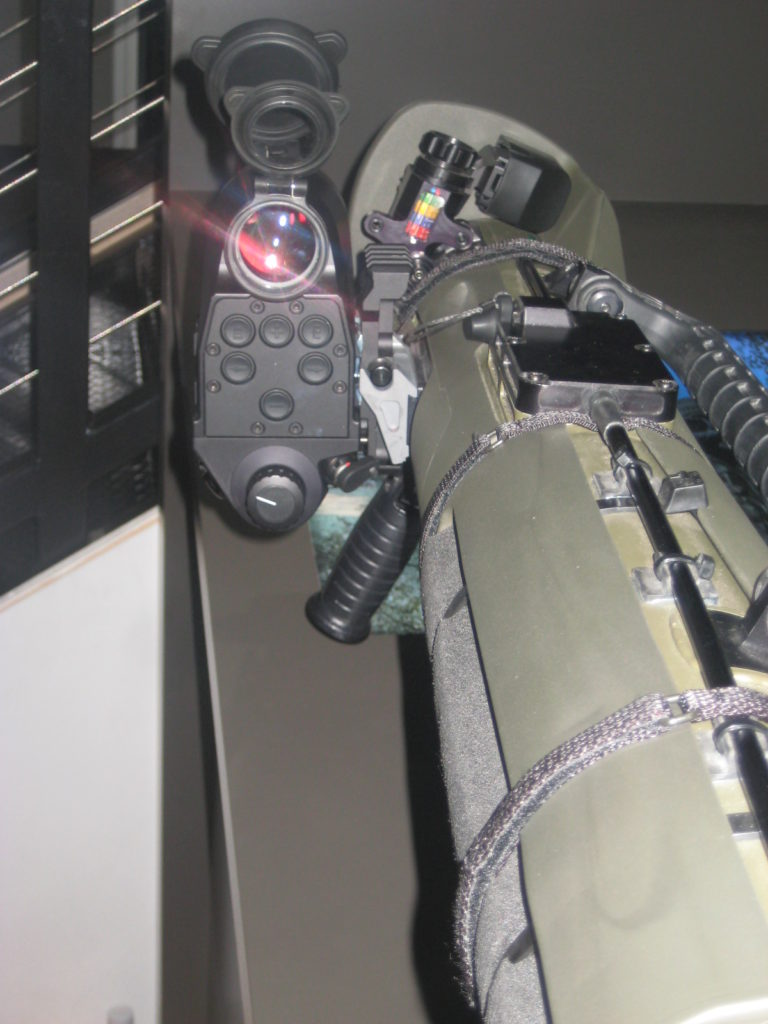 .
It is a red dot sight with built-in ballistic computer and laser range finder that can be configured for over 50 different ballistic algorithms.
Being a red dot optic, it is almost parallax free with unlimited eye relief and uses Aimpoint's usual NFE (Night Fighting Equipment) compatible technology.
The computer compensates for the ballistic drop of projectiles at measured distances, factoring in such variables as rotational drift, propellant temperature, terrain angle and designating airburst distance for appropriate munitions. It's also capable of calculating lead (point of aim) for moving targets.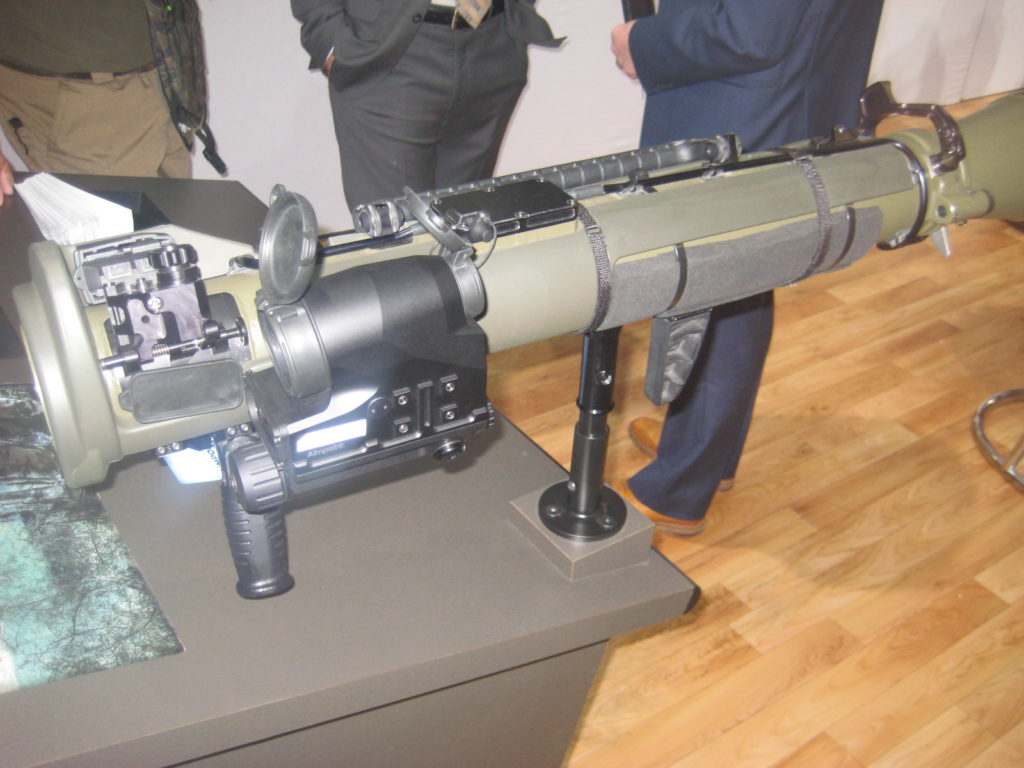 .
All this, weighing in at 1.4kg and operating off six AA batteries.
The FCS (Fire Control Computer) we examined was mounted to an 84mm Carl Gustav, a very useful short to medium range recoilles weapon that is capable of firing a variety of ammunition types from anti-armour HEAT (High Explosive Anti Tank), Beehive APERS (Anti-Personnel ie. A big shotgun round) to ILLUM.
I was first introduced to Charlie Gutsache as it's called in Australian service in the mid to late 90's when I was a young, dopey Digger.
In those days, the all steel M2 version weighed in excess of 16kg's with a basic telescopic sight.
The M4 version seen in these pictures weighs in about 8kg's including the fancy Aimpoint FCS.
This is an amazing weight reduction.
Fitted with the FCS, this old warhorse is capable of defeating a great variety of targets found on the battlefield, with an increased hit probability at a considerably cheaper cost than using something like guided ATGM's (Anti-Tank Guided Missiles) such as Milan and Javelin. It even offers serious capabilities against such threats as helicopter gunships, countering a threat that has been problematic for many light infantry units.
.i
In short, I thought the Aimpoint FCS could be an extremely useful upgrade for heavy support weapons.
.
https://www.aimpoint.com/
.
.
STUKEY'S STURDY SHOOTING BENCH
This shooting bench drew my eye due to it's simple but strong construction. The company marketing shot showed a large F150 class truck sitting on four of these benches – one under each wheel.

.
Featuring no-tool setup, rock solid lock-up, and a large working space, this looked like a great piece of gear for those wanting a good bench for the home range.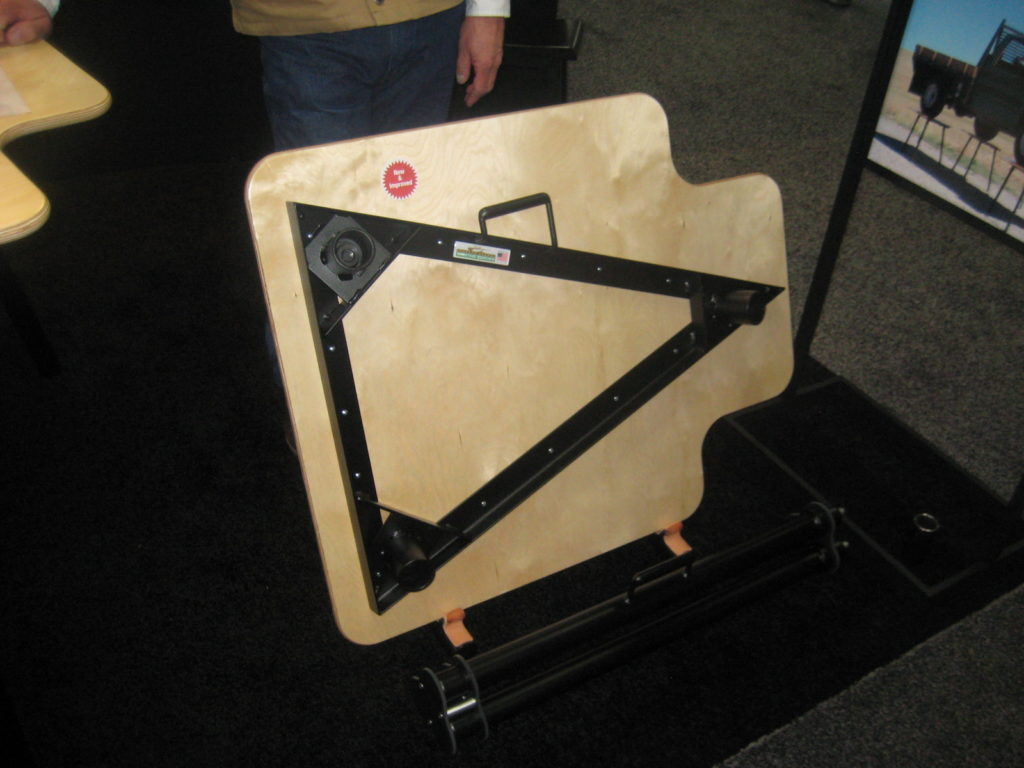 .
http://www.shootingbenches.com/
.
.
MODERN SAMURAI PROJECT
This is a company that didn't have a stand at SHOT. Instead, I was fortunate to meet the team behind it, Scott and his lovely wife Beverly. I've known the two of them via social media (especially the Primary and Secondary network) for some time, but it was great to finally put faces to names in the flesh.
.
Scott (Jedi) is the Chief Instructor, and his specialty is teaching classes in private or small groups on basic self defence and firearms.
Services include introduction classes to self-defence, including striking, grappling, firearms manipulations and shooting sports.
In particular, Jedi is a big proponent for red dot sights on self defence handguns.
Since this year was the first time I managed to experience a red dot equipped pistol, I was very impressed with the utility of this setup. There appears to be many positives factors for pistols equipped with red dot sights, chief amongst them seems to be same sight picture as the rifle/carbine and ease of use.
.
It was great to meet the Modern Samurai team, and hopefully sometime in the future hope to train with them.
.
http://www.modernsamuraiproject.com/home.html
Alright then, let me what you think.
Stay tuned for Part 3 soon!

Posted in Blog, Trip Log by 22F with no comments yet.