ITEM: Gunfighter Shirt
MANUFACTURER: Vertx
DESCRIPTION:
A budget priced, yet functional uniform shirt for high-performance usage whilst still maintaining suitable professional uniform appearance for agencies.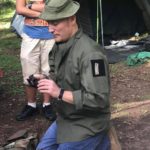 .
.
REVIEW NOTES:
The Gunfighter shirt was kindly supplied by Tactical Advantage Queensland (TAQ). We'd like to thank them for their support of this website.
.
Like any review of supplied equipment, I have done the review with the proviso that I will be painfully honest.
.
Please let our suppliers know how much you appreciate their support for this site. You can really show your appreciation by giving them your custom.
.
Don't forget to follow Packs and Beyond on Facebook (https://www.facebook.com/packsandbeyond) for all our latest updates.
.
.
LINKS:
https://www.taq.com.au/apparel-c2/mens-shirts-c18/vertx-vtx8220-gunfighter-olive-drab-p288/
.
.
MATERIALS:
6.5oz 65:35 Nyco (Nylon/cotton) ripstop
YKK zips
Elastic shock cord for zip pulls
Hook and loop
Microfleece
.
.
LAYOUT: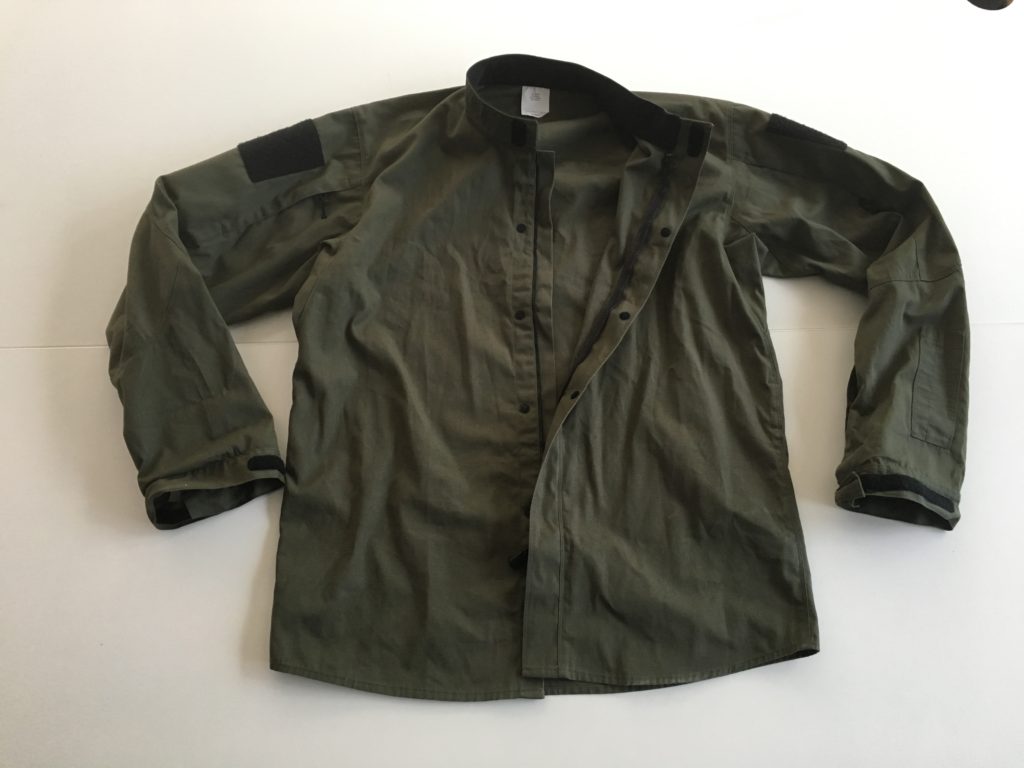 .
COLLAR –
In order to be comfortable and compatible with body armour, the collar is of Mandarin design.
The internal surface is lined with microfleece material to reduce abrasion against the wearer.
The front of the collar is secured with hook and loop.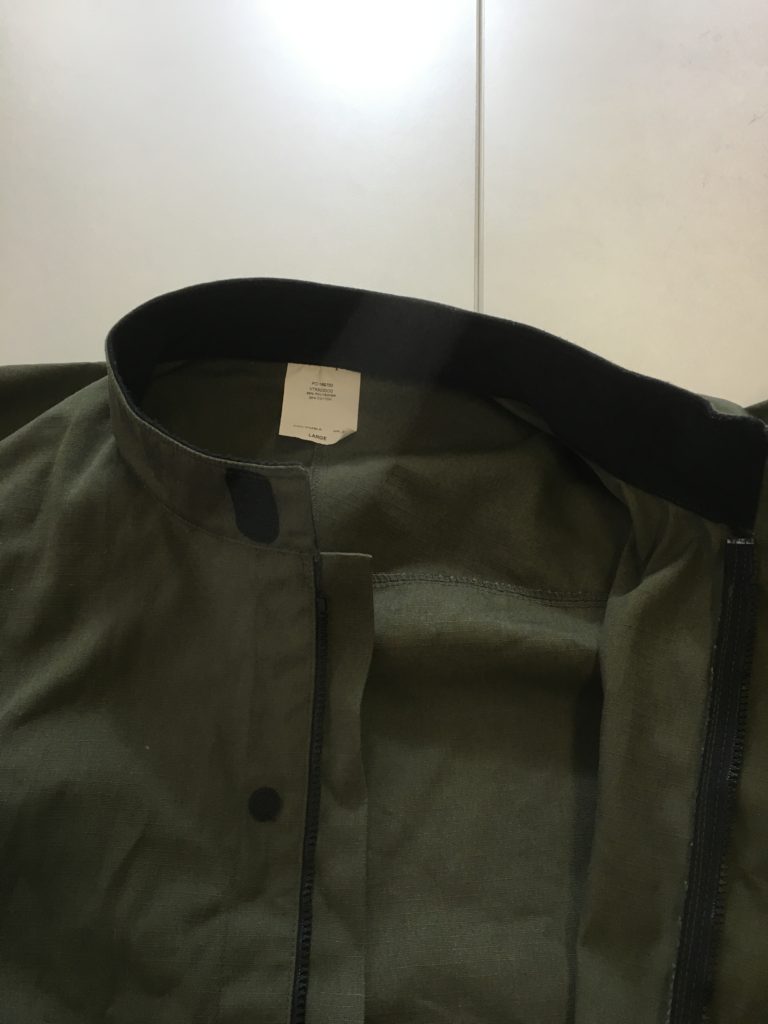 .
SHOULDERS –
The shoulders appear to be of modified Raglan cut to avoid seams under harness straps.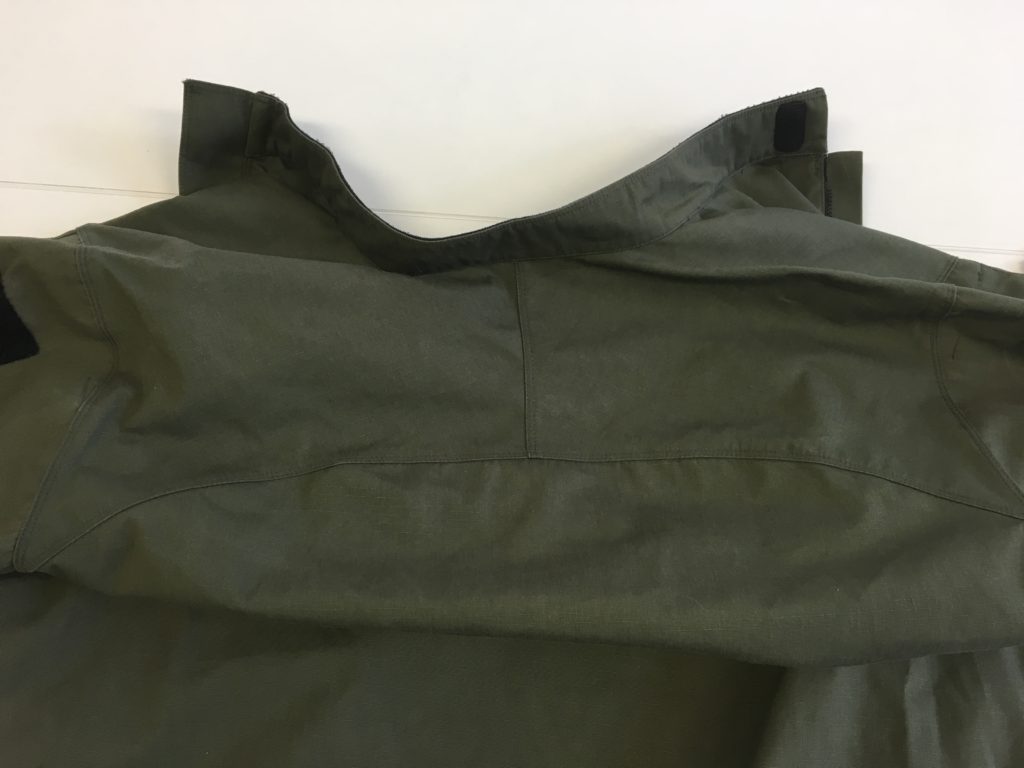 .
SLEEVES –
Each bicep has a zip secured pocket. Each bicep pocket has a patch of loop material for ID and IFF patches.
The left forearm has a pen pocket.
.
Cuffs are a split item with velcro adjustment and velcro dots to help close it up.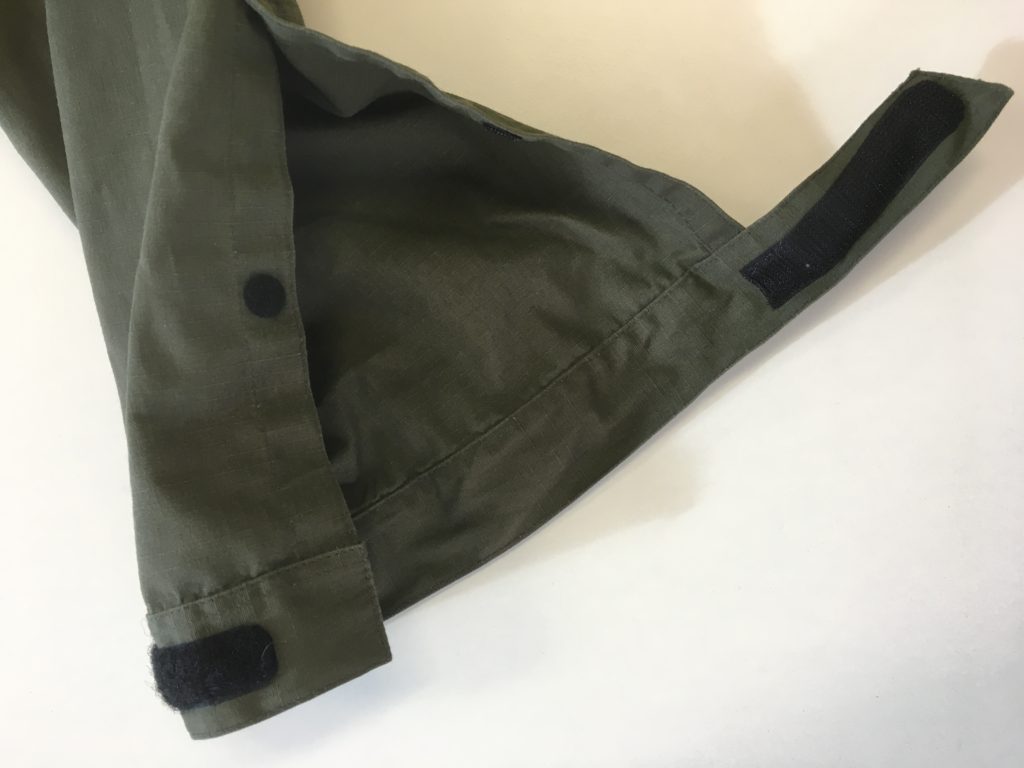 .
The sleeves themselves have an interesting cut that aids in articulation of the arm.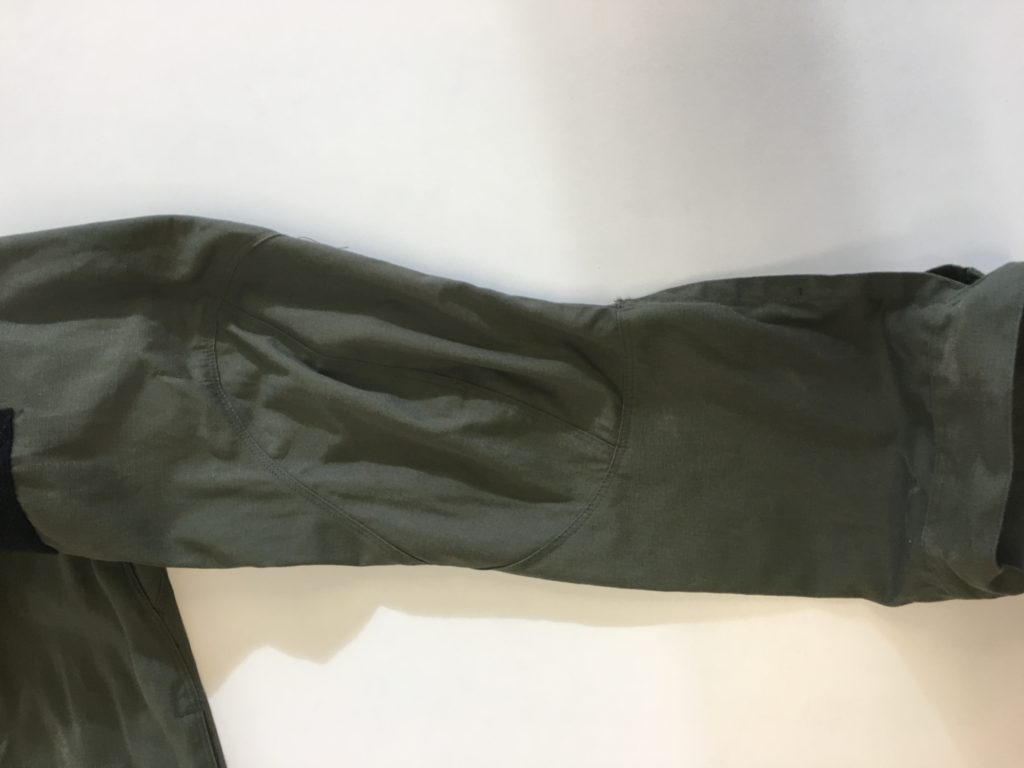 .
BODY –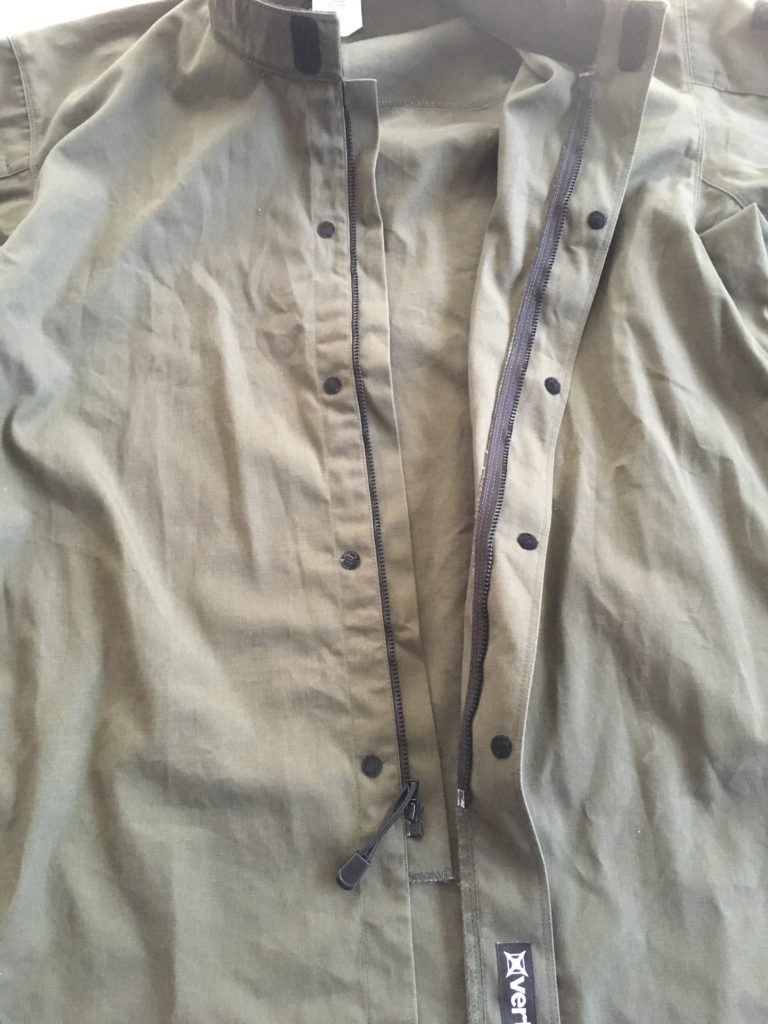 In order to aid comfort whilst being under body armour, the shirt has no chest pockets.
The cut is a slightly tailored, but not fully athletic cut to reduce bunched material under body armour carriers.
.
There are two Velcro sealed slots in the waist to route communications cables.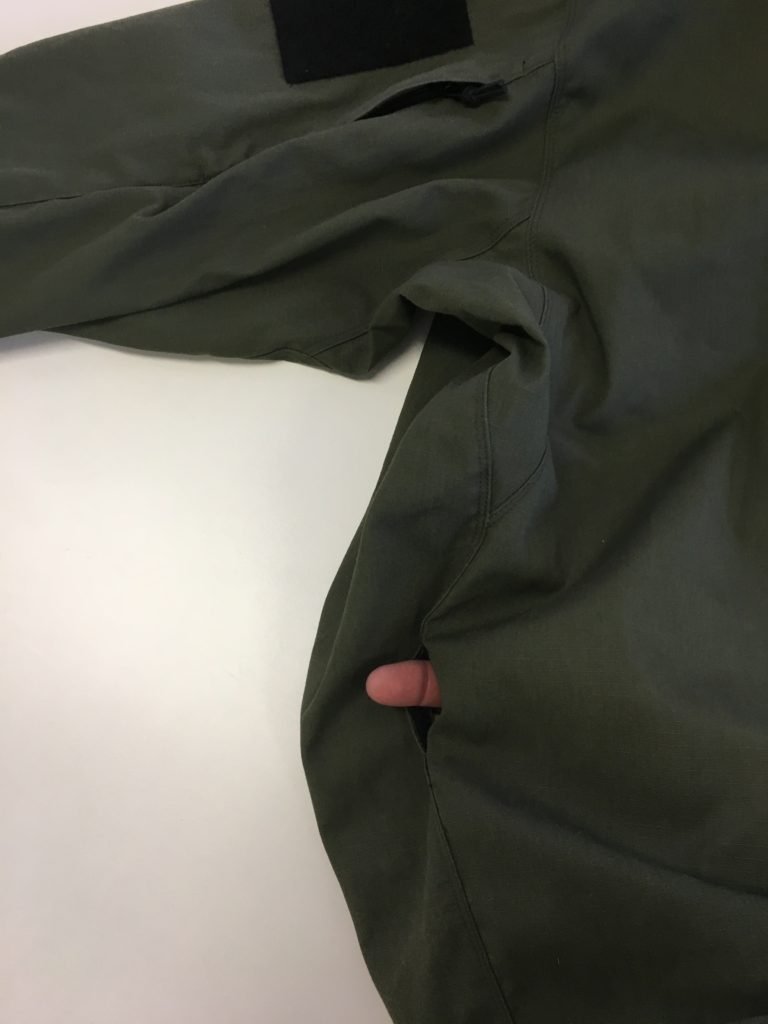 .
PERSONAL ASSESSMENT:
It should be noted that the Gunfighter is the budget end of the Vertx clothing line. Hence it is designed with reduced features and manufactured in off-shore facilities to take advantage of reduced labour prices.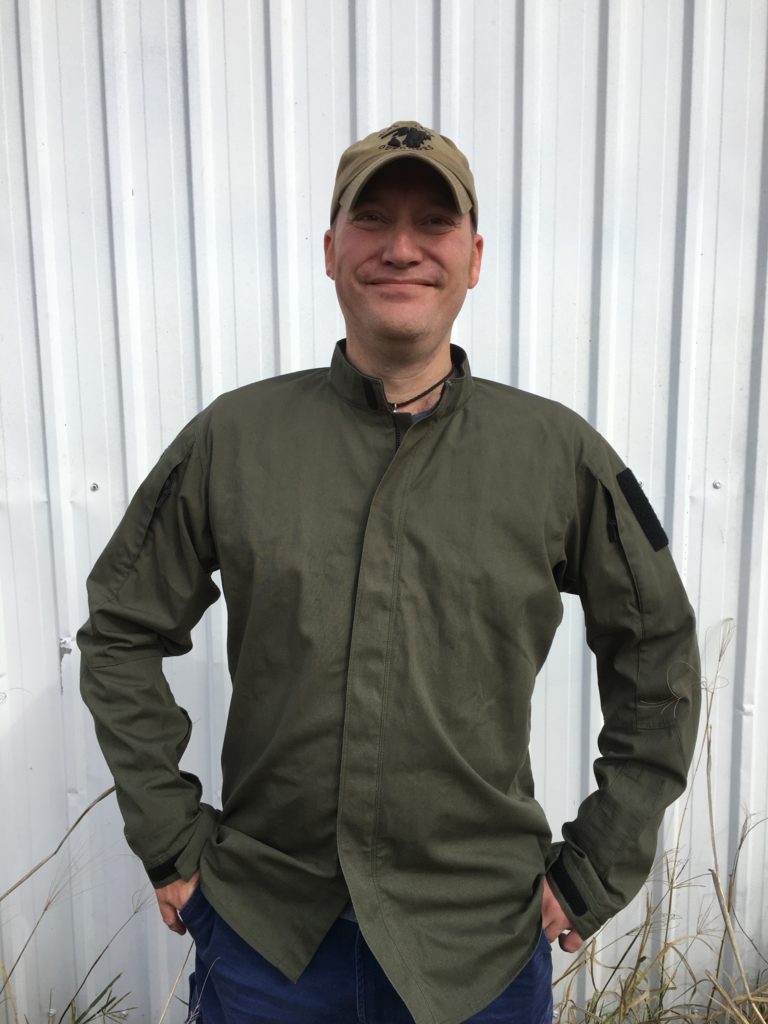 .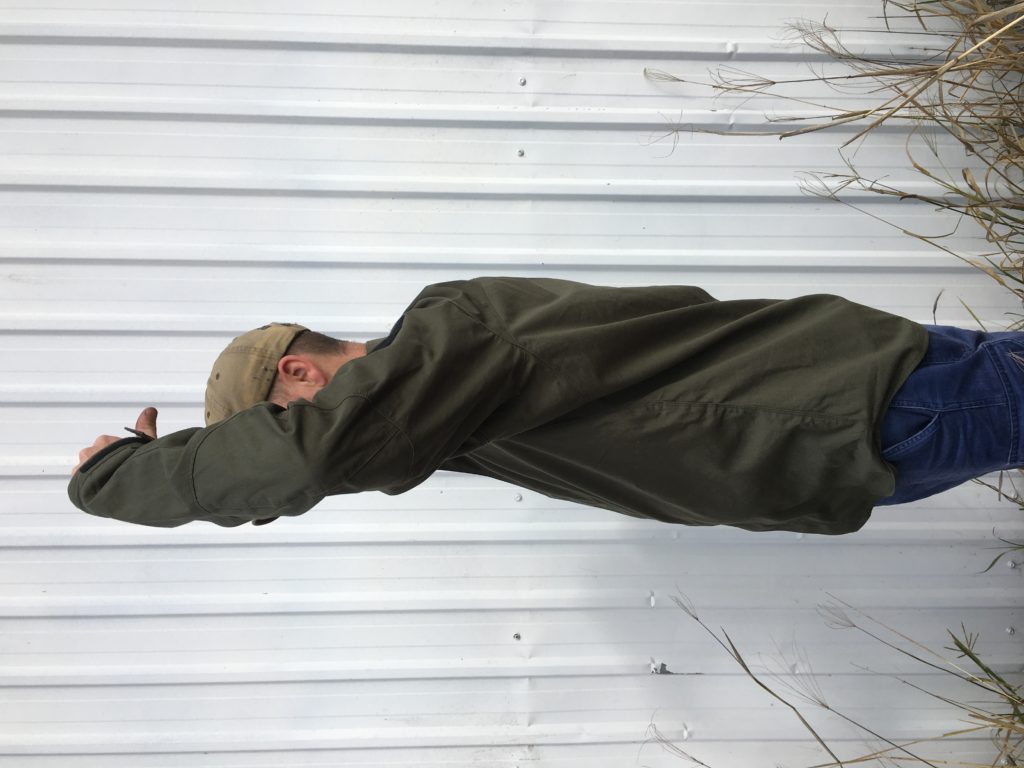 .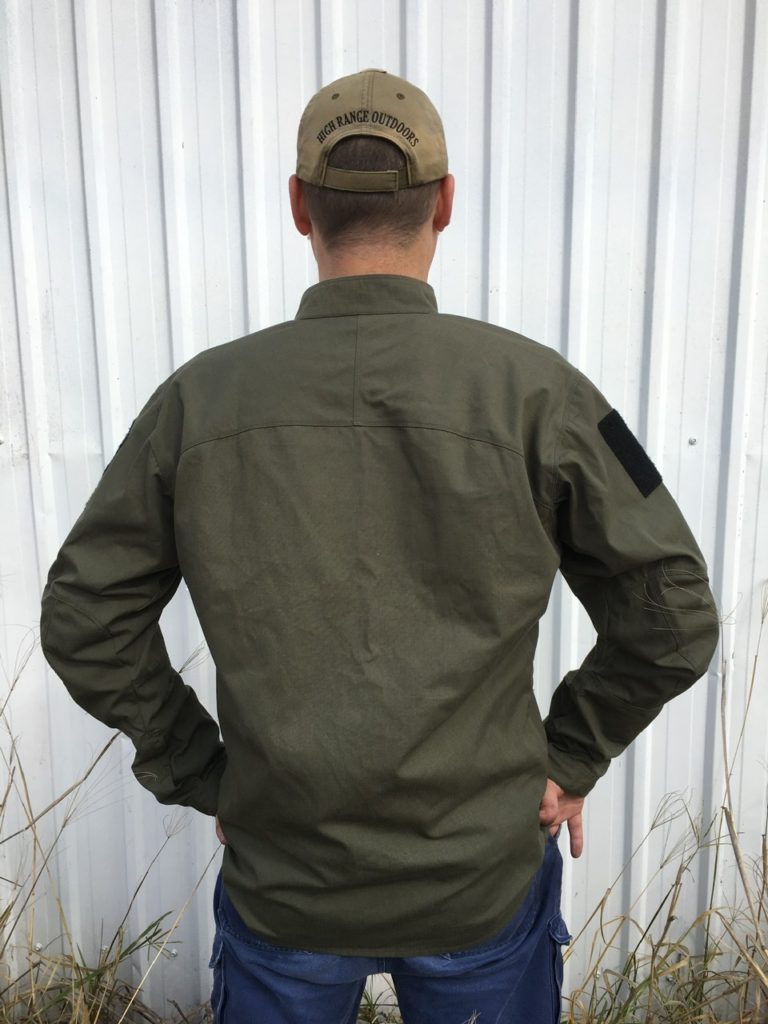 .
The Olive Drab Gunfighter has been acquired to fulfill a requirement for a bit of a knock-around, general purpose shirt when I'm not walking.
Usage so far has been as a range shirt whilst shooting on public ranges and executing my duties as a Scout Leader.
.
For such applications, the 65:35 Nyco has adequate ventilation – but not great, and increased abrasion resistance to everyday activities such as that found around camp or on the range.
In particular, concrete benches found at many local shooting ranges can be rough on some clothing. I've even been reaching back to my childhood by rolling down hill sides with my scouts.
The Gunfighter shirt has stood up to such activities quite well.
Here, the Gunfighter shirt is seen whilst on Scout Camp and I'm conducting an episode of "What's in my Pack?" to my assembled throng of somewhat impressed Scouts.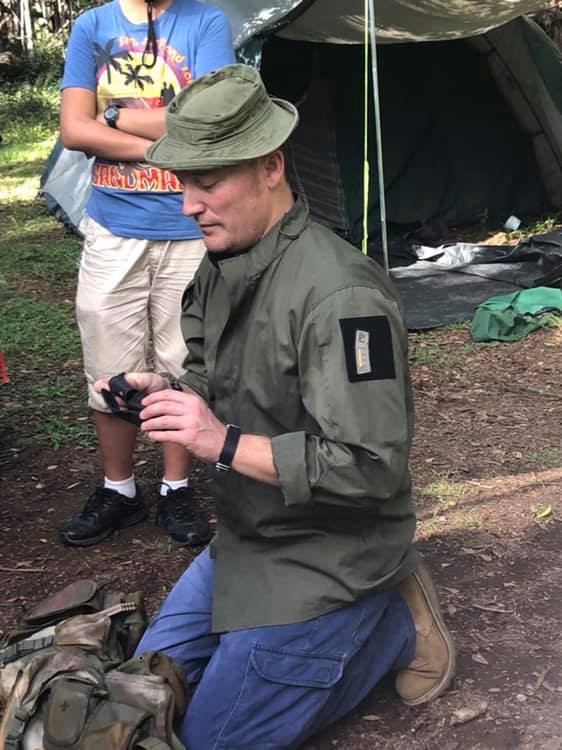 .
The articulation in the shoulders and arms has been great on the range, and not compromise my shooting position when doing such activities as zeroing off the bench or practical shooting activities.
.
Despite these inherent shortcomings, I've found the shirt quite nice. The articulation in the shoulders and sleeves is very noticeable, allowing a freedom of motion that many shirts from competitors struggle to match.
This would be eminently suitable for the intended purpose of a uniform for agencies.
Since I've been doing a lot of product testing for my design project (seen HERE) on public ranges, I've found that the cut and design of the Gunfighter shirt can add to a professional appearance. It's not that I want to dress-up's just to go and do some shooting, or to portray myself as something I'm not. But old experience suggests that one's personal appearance can lend credence to professional encounters. This shirt has helped a lot in this regard.
.
PROS –
Really good articulation of the design for dynamic activities.
As a Scout Leader, I tend to be quite active climbing and running with my scouts around camp. The Gunfighter shirt doesn't impede range of motion of my arms or shoulders.
Nor does the Gunfighter get in the way of wearing a pack harness.
Here, the Gunfighter shirt is worn underneath my Smamit chest rig (review seen HERE) and the new Crossfire DG-3A, of which a review is upcoming sometime in the future.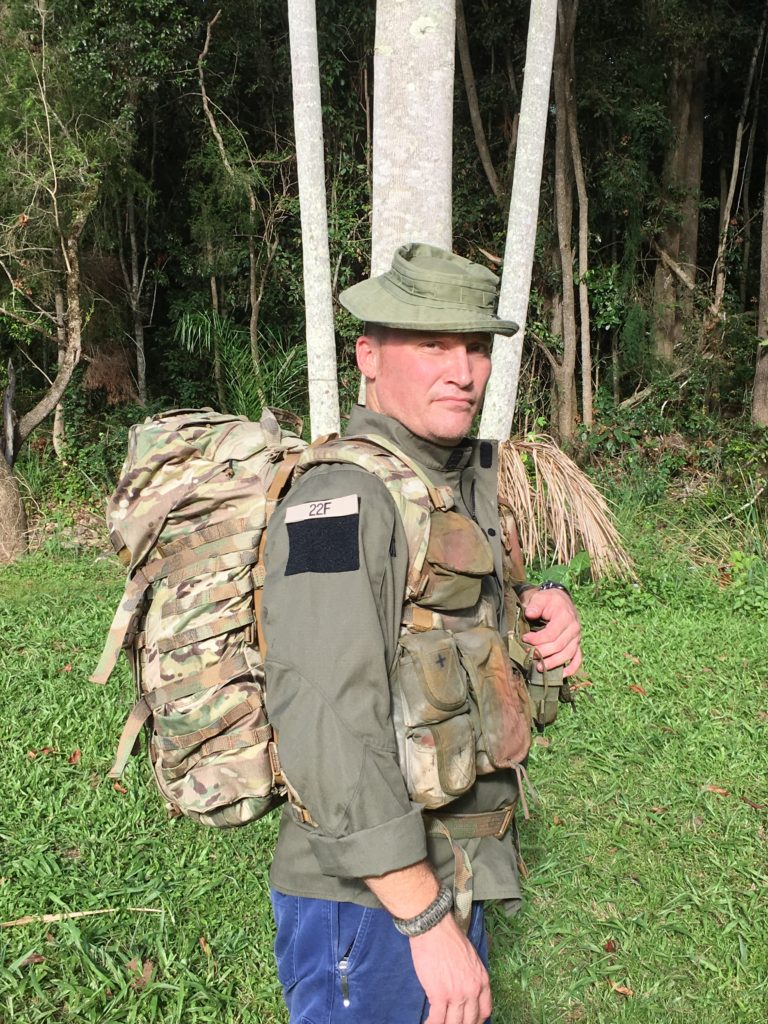 .
The material is quite rugged, and able to resist most of the day to day active lifestyle activities that will be thrown at it.
.
I really like the addition of the micro fleece material in the collar, to reduce chafing from load bearing equipment and body armour harness.
.
For a uniform shirt that is meant to be worn with load bearing equipment like packs, vests or other harness and PPE (Personal Protective Equipment) such as body armour, and look decent in the public eye, I think the Gunfighter shirt is quite a capable article.
.
CONS –
There are a couple of features I'm not fond of, mostly due to it's intended design as the budget range of apparel.
In particular, I found the use of velcro dots to secure the flap over the main body zip to be less than ideal.
.
The collar is a compromise for those who will be wearing this shirt in conjunction with body armour. Whilst wearing armour, the collar is quite comfortable and useful. It's when worn 'cleanskin' without armour or other harness, that the mandarin collar can't be folded easily to be out of the way and looking tidy. For a uniform item, this could be a concern for those with command staff who wish to reinforce a presentable image when out in the public eye.
In addition, in areas of high UV exposure such as that found here in Australia in the warmer months, the mandarin collar can't be unfolded any higher like a conventional collar to cover the exposed neck.
.
I'm not a real fan of high nylon content materials, due to restrictions to breathability. But this isn't a big issue since my purpose for this shirt isn't for walking long distances, but more for "camp attire" for fixed locations.
.
The only other major point I didn't like was the cuffs on the sleeve. Worn all the way down, the sleeves were quite adequate. Worn rolled up as some prefer to do in warmer weather or to prevent snags in equipment or rotating machinery, there were some difficulties with keeping the cuffs in place and comfortable.
For my usage, I will be getting these cuffs cut and modified to a three quarter length midway up the forearm to prevent any issues. It looks likely that the pen pocket on the left arm will be deleted by this measure, but that's something I'm willing to live with.
.
In addition, since I no longer need unit or IFF (Identify Friend or Foe) patches, I'll probably be removing the loop panel's on the bicep pockets sometime in the future.
.
.
SUMMARY:
A great shirt for multiple applications that require high-performance and presentable appearance. I'm going to be acquiring a couple more sometime in the future as funds permit.

Posted in Civilian, Clothing & Footwear, Military, TAQ, Uncategorized by 22F with no comments yet.