ITEM: MR (Mid-Range) 40 pack
MANUFACTURER: High Range Outdoors
DESCRIPTION:
Modular 40L pack that can be used for day trips or lightweight, multi-day journeys.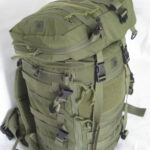 .
.
REVIEW NOTES:
The MR40 has been graciously supplied by High Range Outdoors, a long time supporter and confidante of Packs and Beyond.
Like any review of supplied equipment, I have done the review with the proviso I will be painfully honest.
.
Please let our suppliers know how much you appreciate their support for this site. You can really show your appreciation by giving them your custom and telling them who helped you make your purchasing decision.
.
Don't forget to follow Packs and Beyond Facebook and Instagram for all our latest updates.
Facebook: https://www.facebook.com/packsandbeyond
.
.
LINK:
.
.
SPECIFICATIONS:
DIMENSIONS –
Height: 450mm (approx. 17.7inches) to top of shoulder
Width: 310mm (approx. 12.2inches)
Depth: 170mm (approx. 6.7inches)
Volume: 40L (approx. 2440 cubic inches)
Weight: 1.95kg (approx. 4.29 pounds)
MATERIALS –
500D cordura
UTX side release buckles
.
.
LAYOUT:
ATS RAID on the left, High Range Outdoors MR40 on the right.
.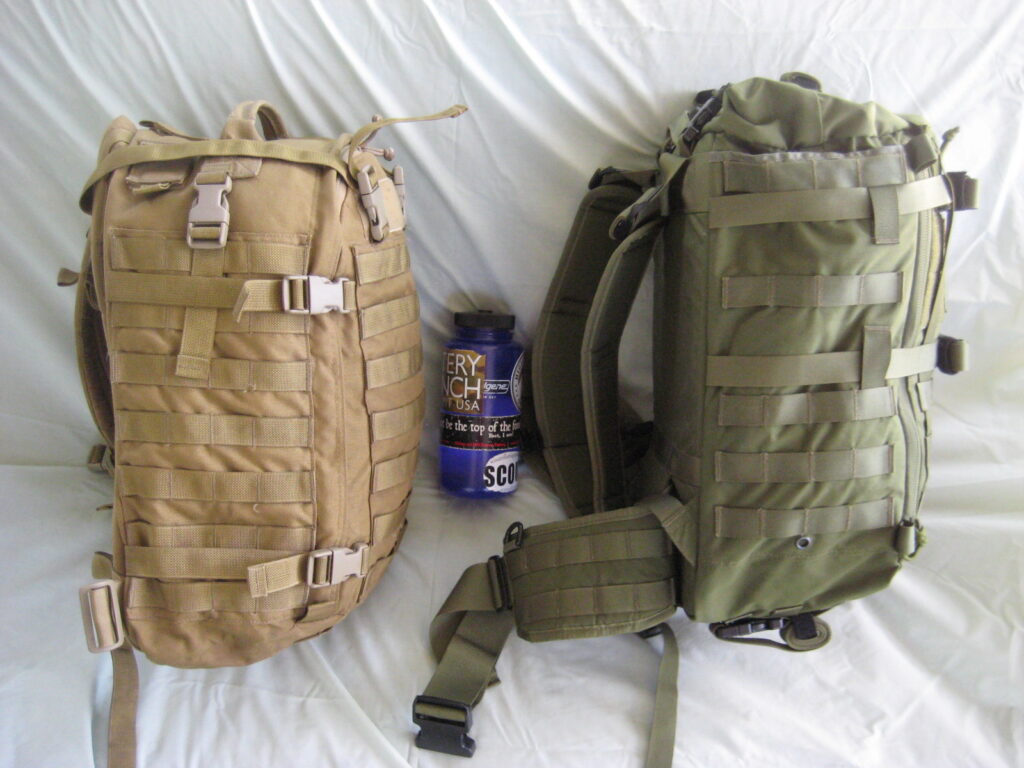 .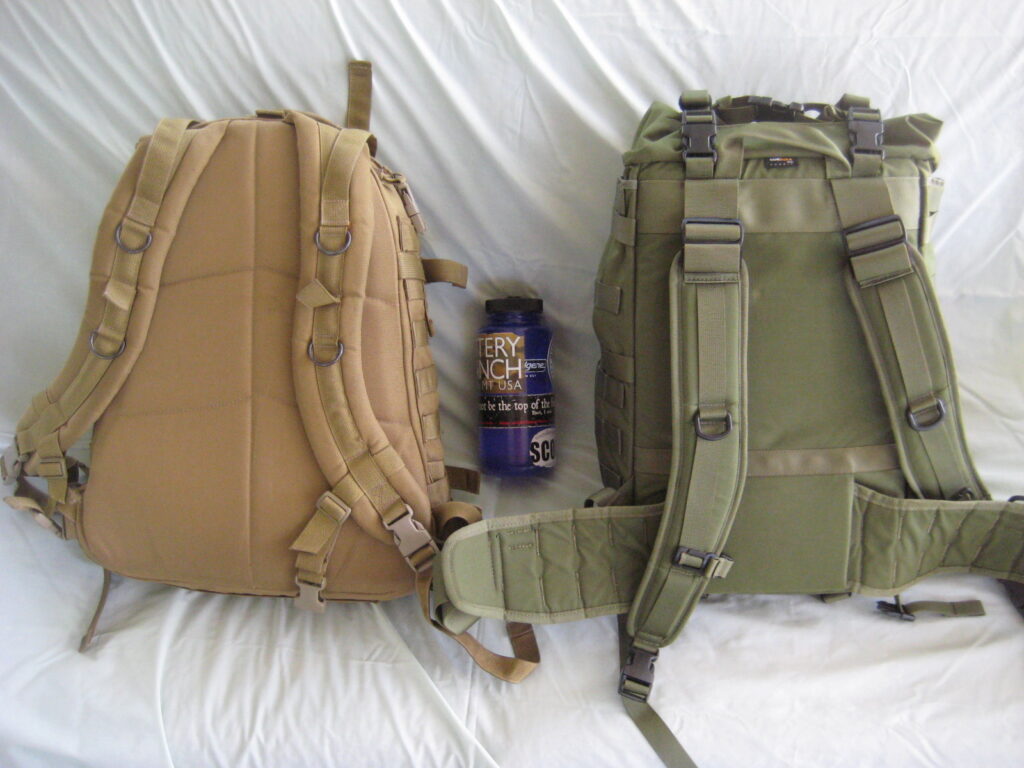 .
FRAME AND HARNESS –
The MR40 has a removable internal frame sheet, which is nicely rounded and edge taped polymer with two aluminium bar stiffeners in the X- and Y- axis.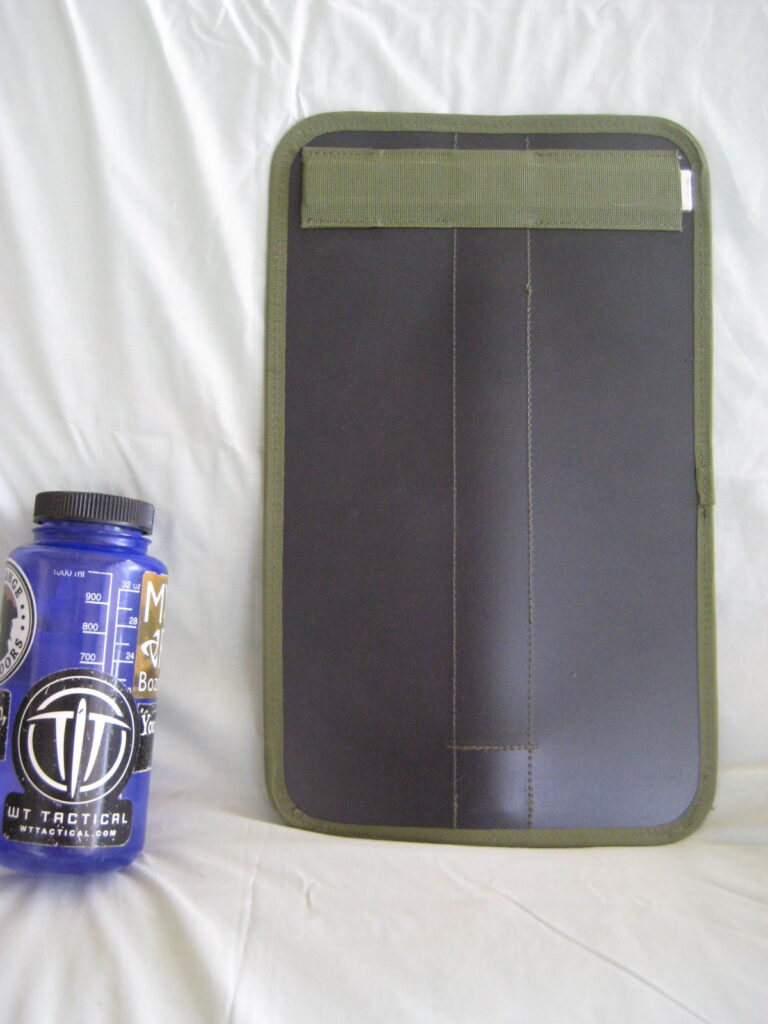 .
At the top of the frame is a solid carry handle of webbing tape.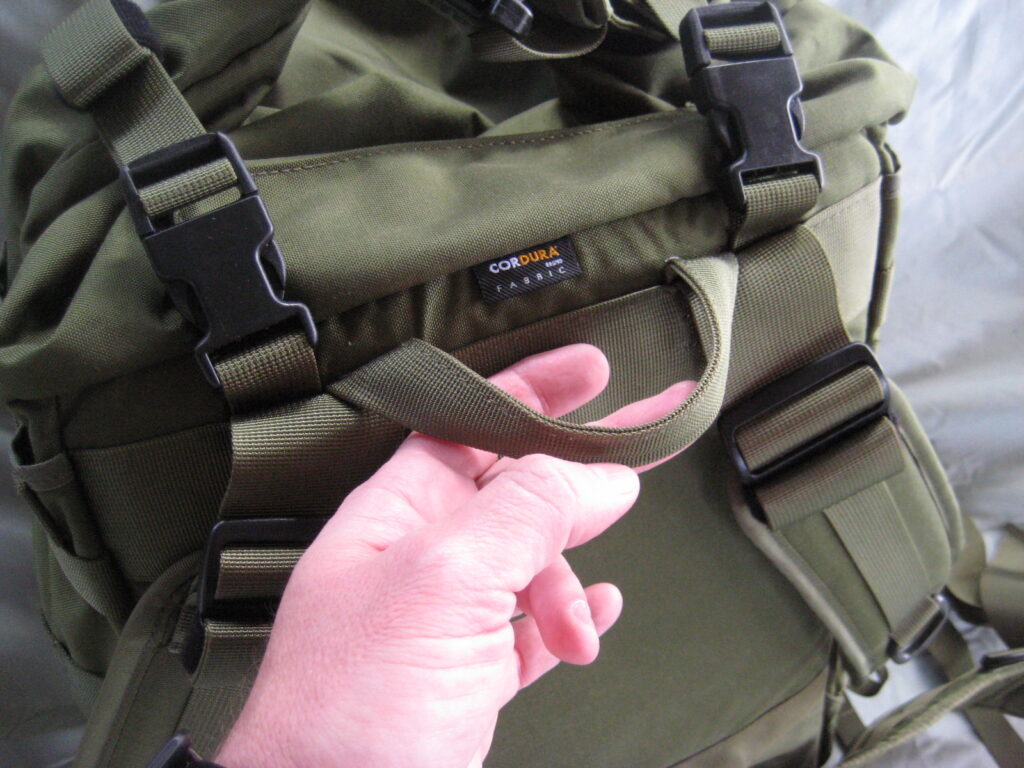 .
The contoured shoulder straps are attached via 50mm webbing tape and can be adjusted for fit against the shoulders like the old ALICE series. They have D-rings and an adjustable sternum strap.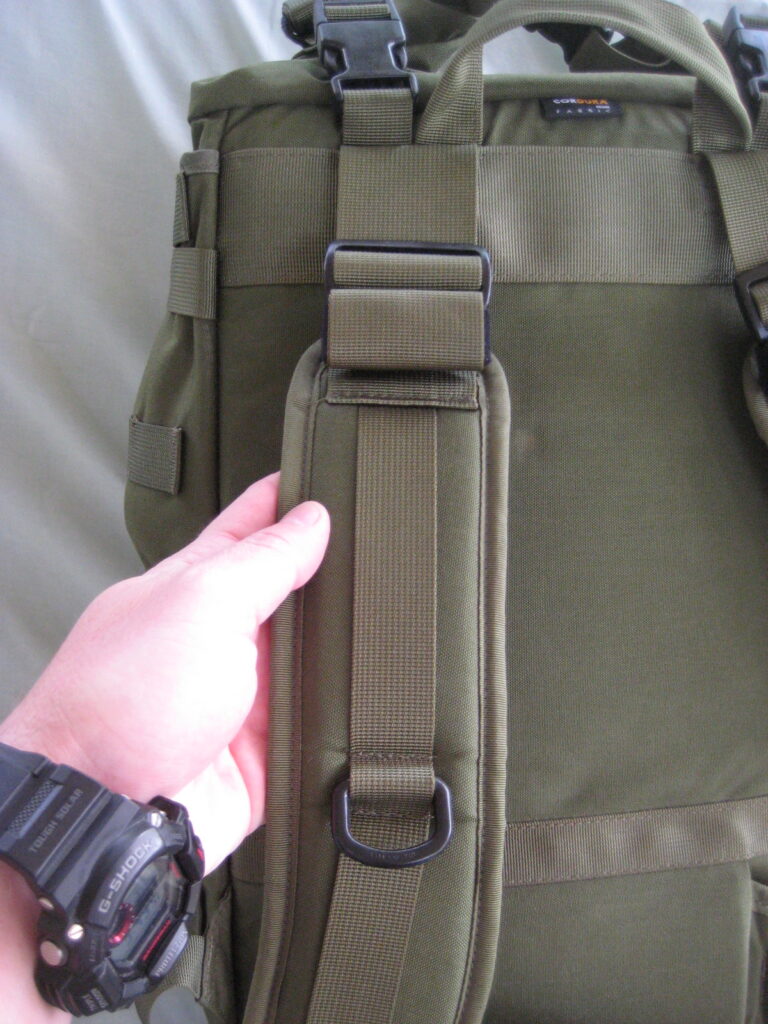 .
There is a small lumbar cushion at the base of the frame that is able to mount an optional hip-loading belt behind it. Two panels of hook and loop ensure the hip belt is secured very firmly.
.
The hipbelt is lightly padded, contoured and has PALS rows for pouches and other accessories according to the wearers requirements and desires. There are also D-rings fitted to secure equipment onto. This would be very useful for such things as a compass, GPS or small electronic device to be tied to (or Dummy-corded as we used to call it) to prevent loss.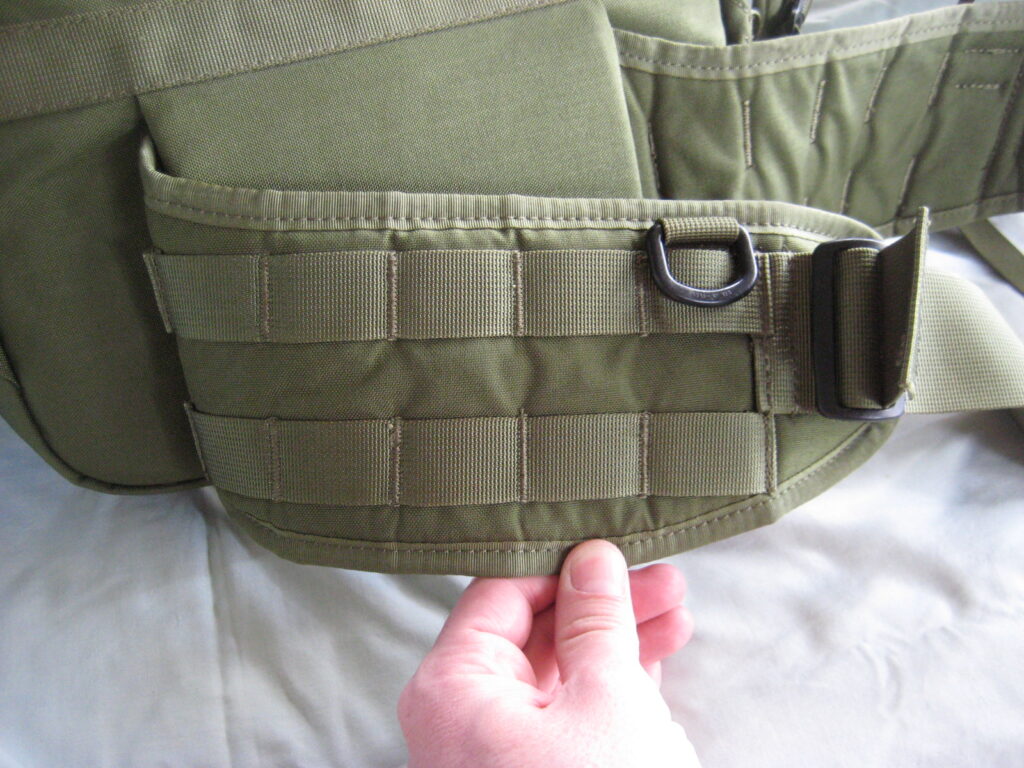 .
.
RUCKSACK –
The top of the ruck is sealed with a roll-top closure.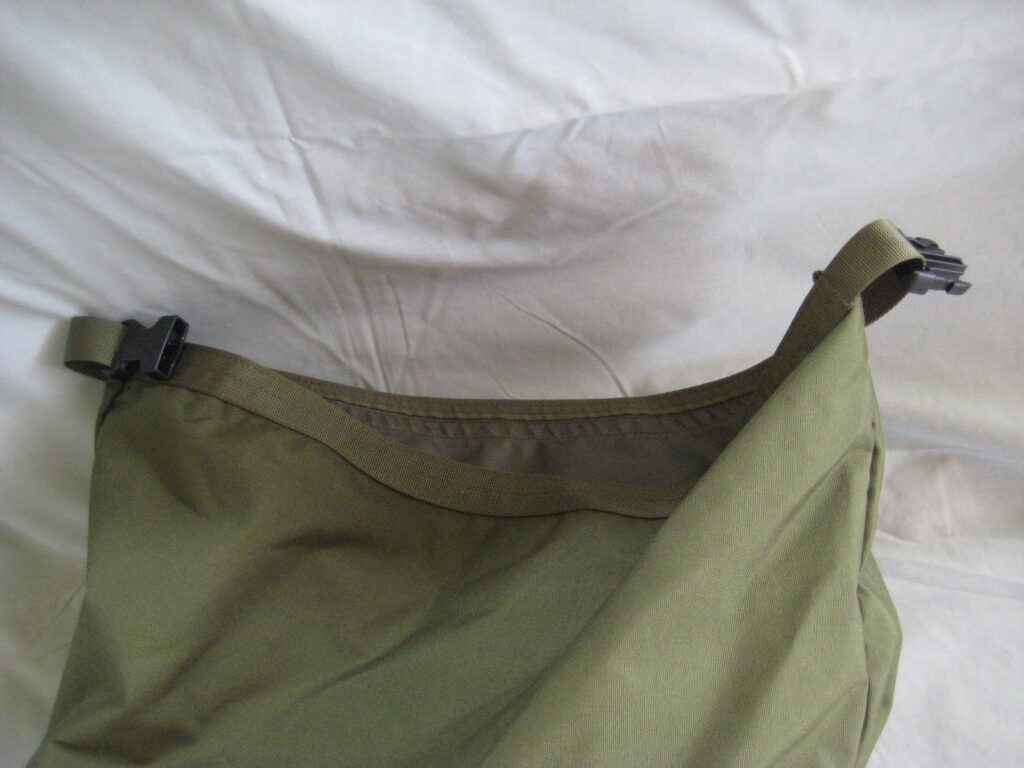 .
There is an access port for hydration bladder hoses at the top of the rucksack.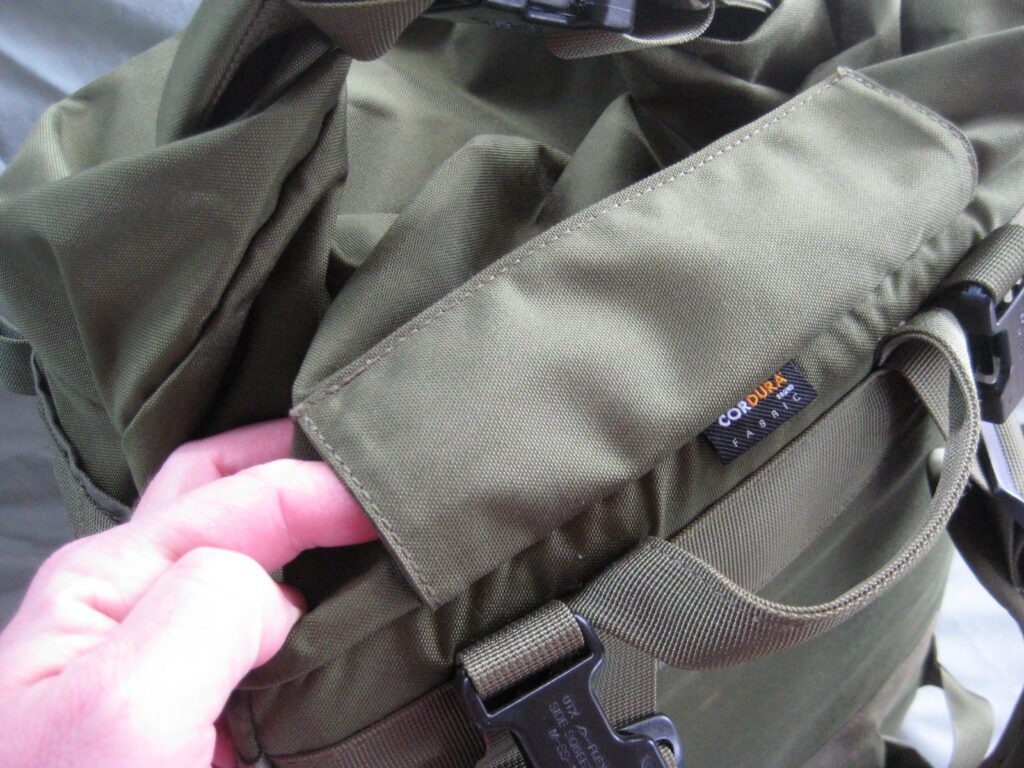 .
On each side of the pack are PALS rows for attachment of pouches and accessories.
Under each PALS panel is a pocket for long items. There is a steel grommet at the bottom of each pocket and a combination D-ring and Tri-glide buckle at the top to secure equipment.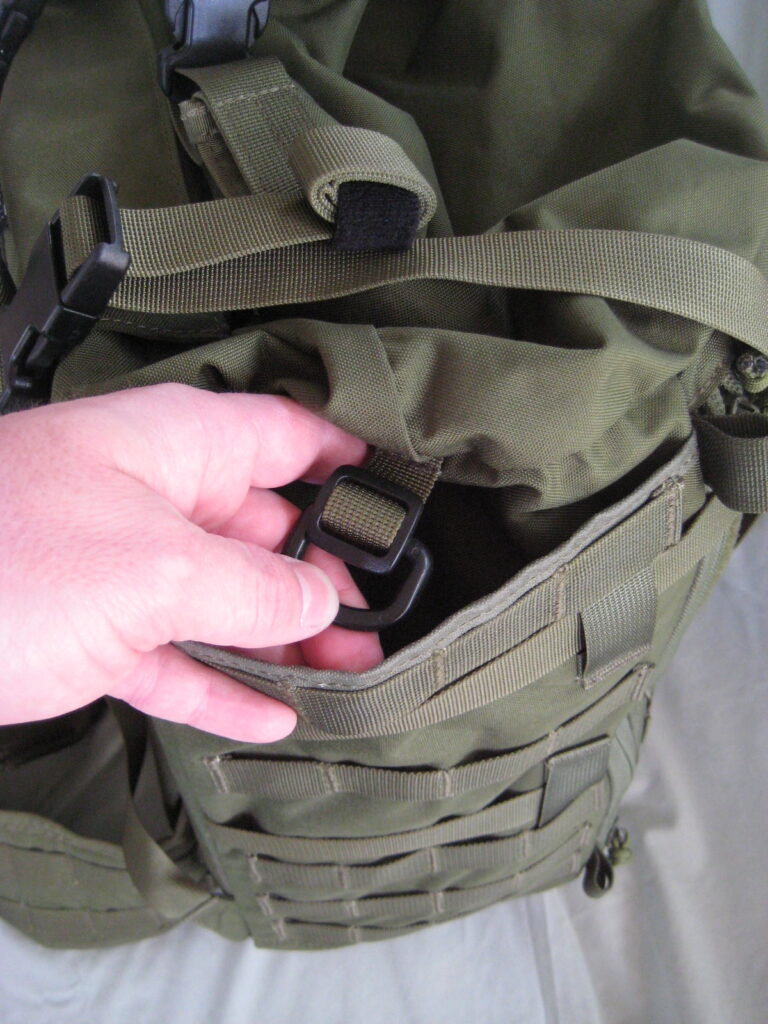 .
There are also two compression straps.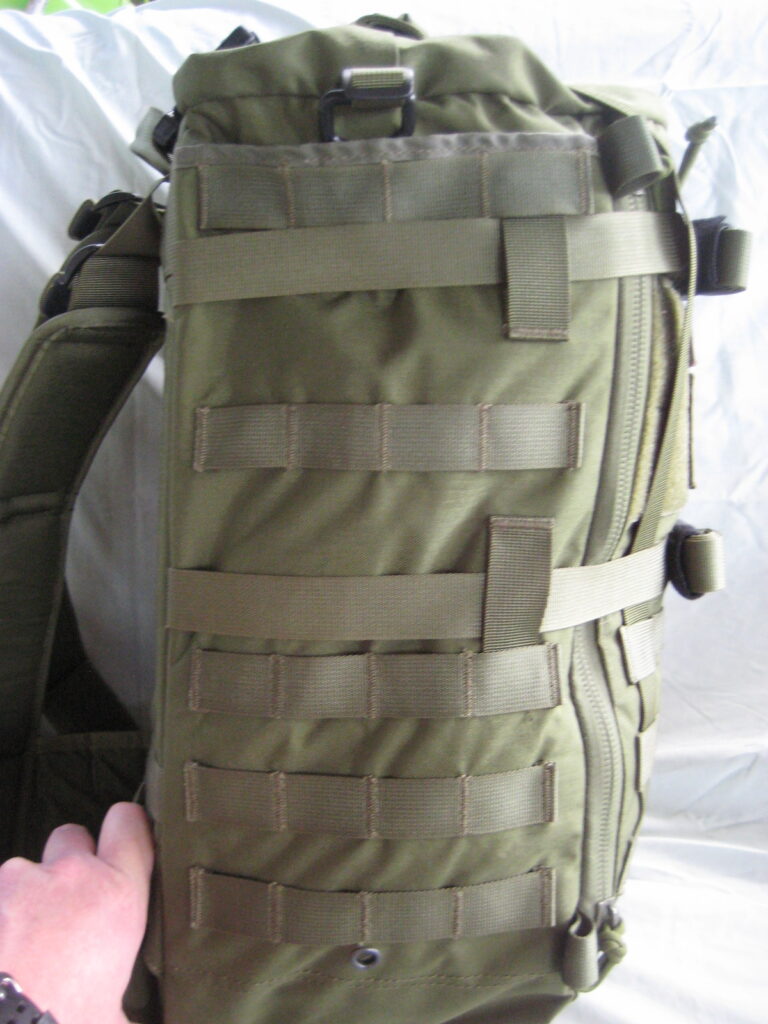 .
The back of the rucksack has two zip pockets.
The upper zip pocket is shallower at 130mm (approx. 5.1 inches).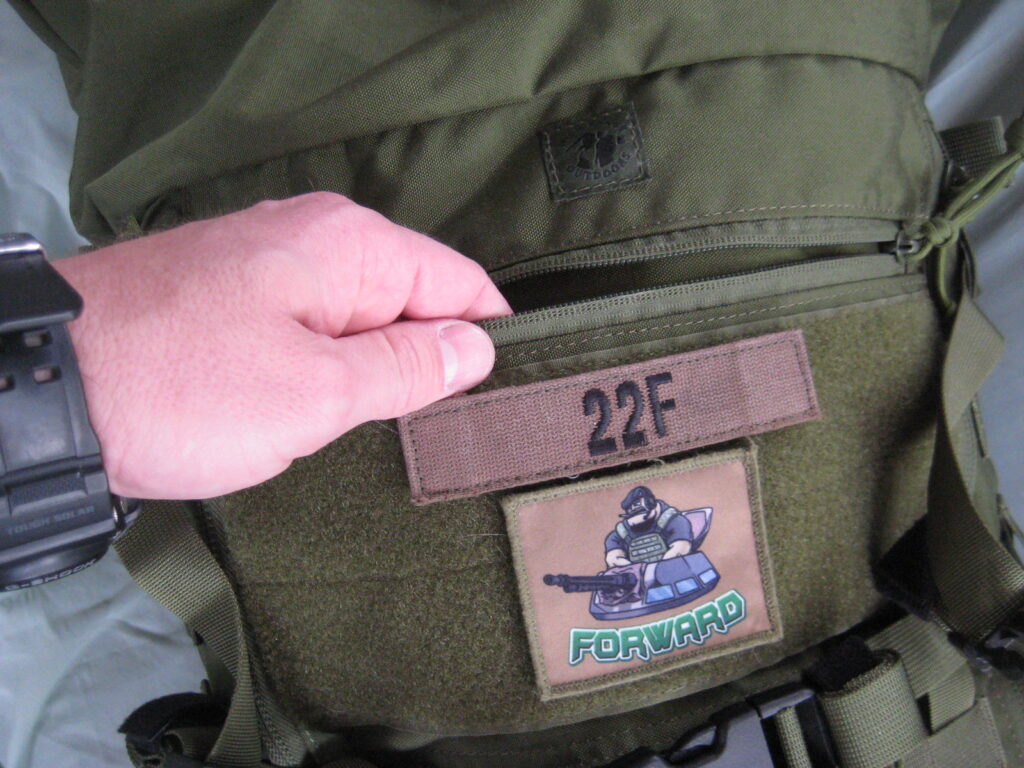 .
Between both zip pockets is a field of loop velcro for IFF and morale patches.
The lower zip pocket is deeper at 210mm (8.2 inches).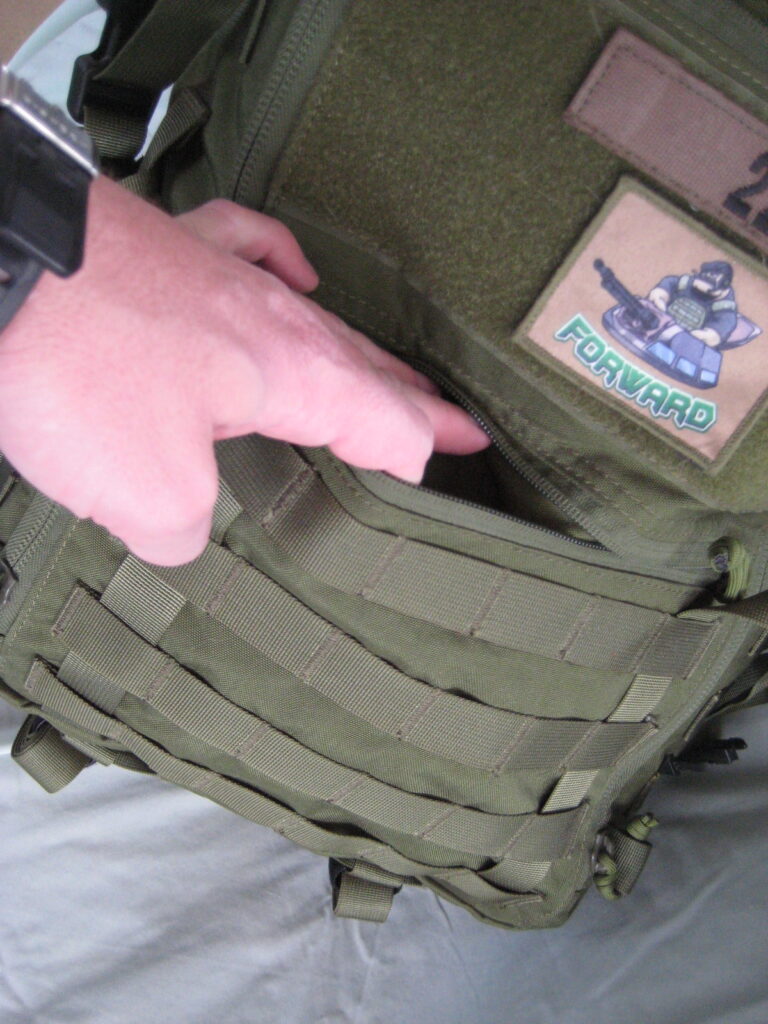 .
Beneath both zip pockets is a field of PALS loops for pouch attachment.
.
The bottom of the pack is double lined and has a drainage grommet and PALS for lashing on extra equipment.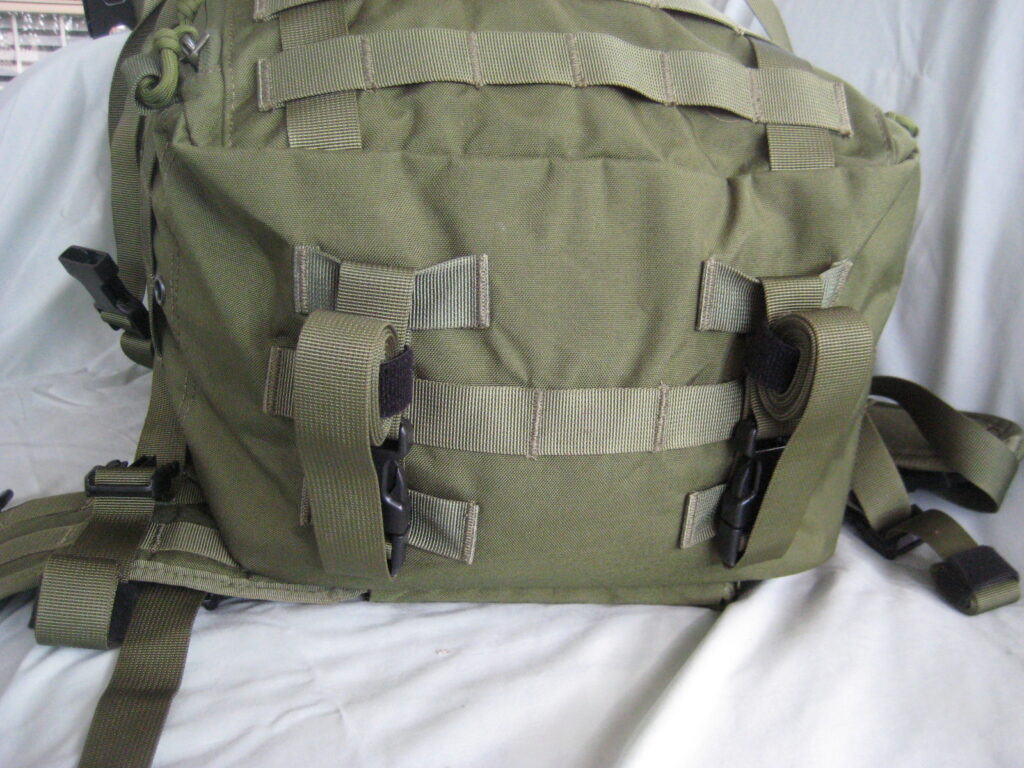 .
Access into the pack other than through the roll-top access is via two long zips on the dorsal corners. Tension relief on these zips are provided by the compression straps.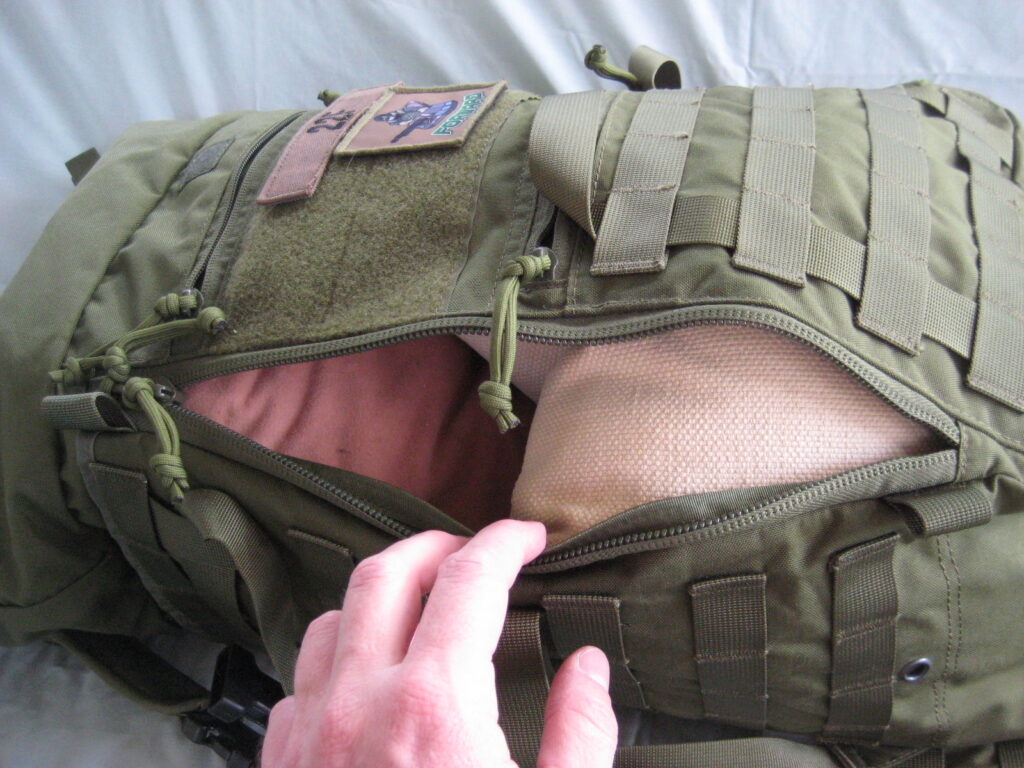 .
Internal organisation consists of a hydration bladder pocket.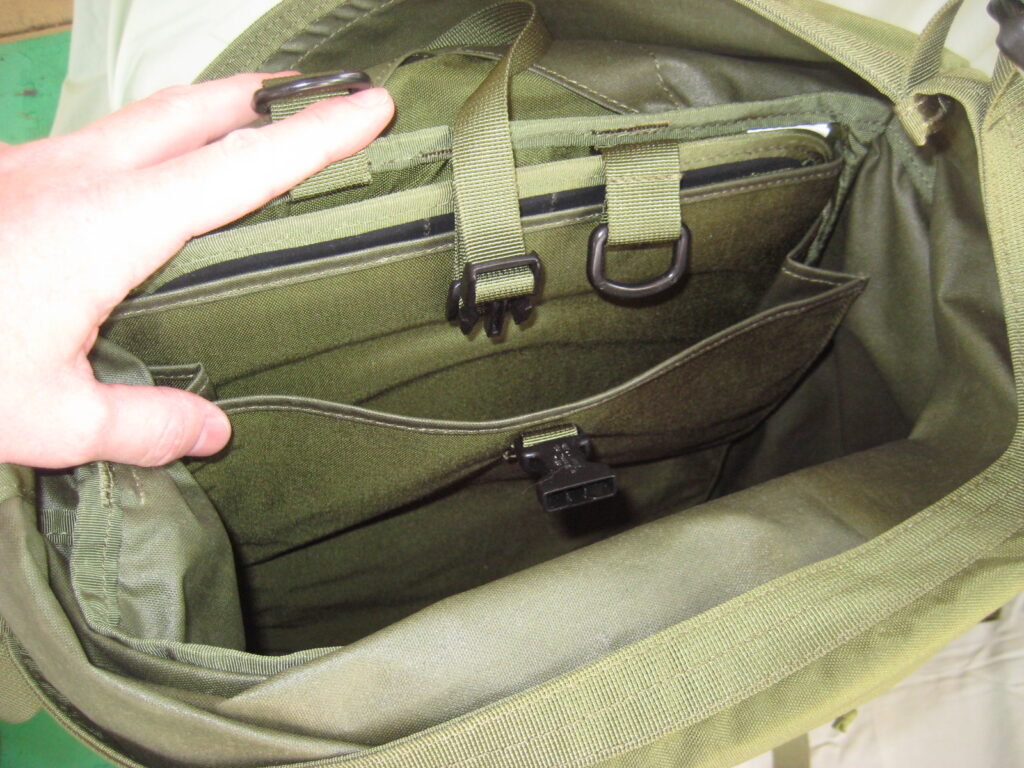 .
.
ACCESSORIES –
For the purposes of this review, High Range Outdoors also supplied their Loady beaver tail.
.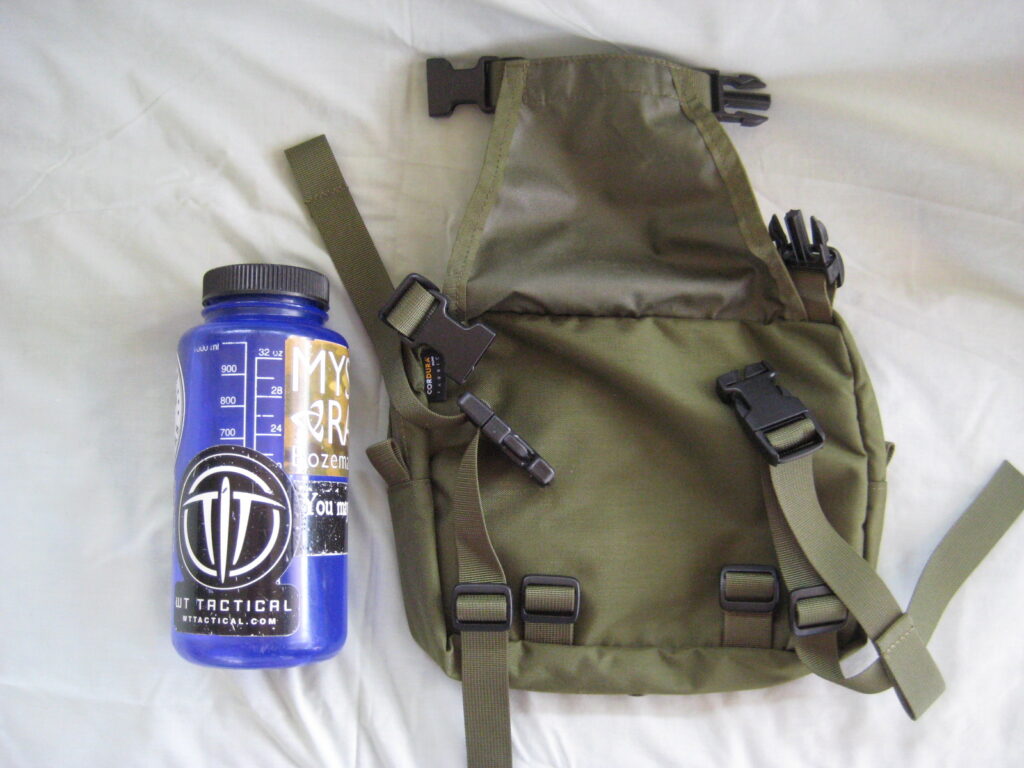 .
The Loady allows light yet bulky items to be stored on the outside of the rucksack, such as jackets and helmets that need easy and rapid access.
.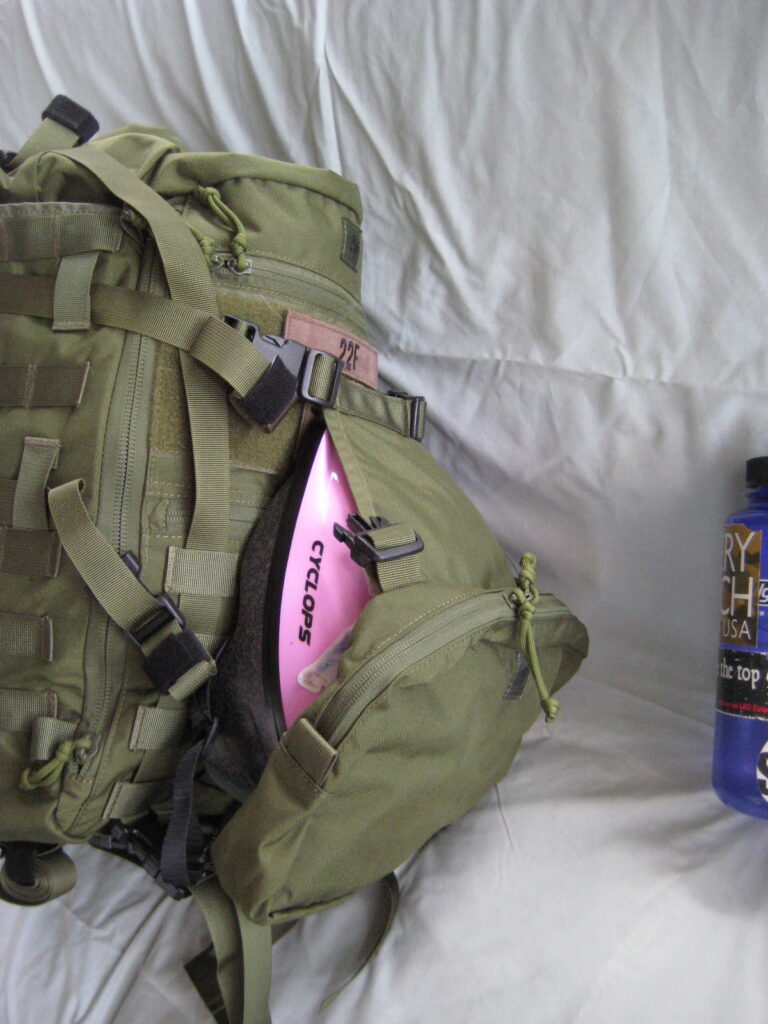 .
It attaches at the bottom PALS rows of the rucksack, and uses the side compression straps at the top end.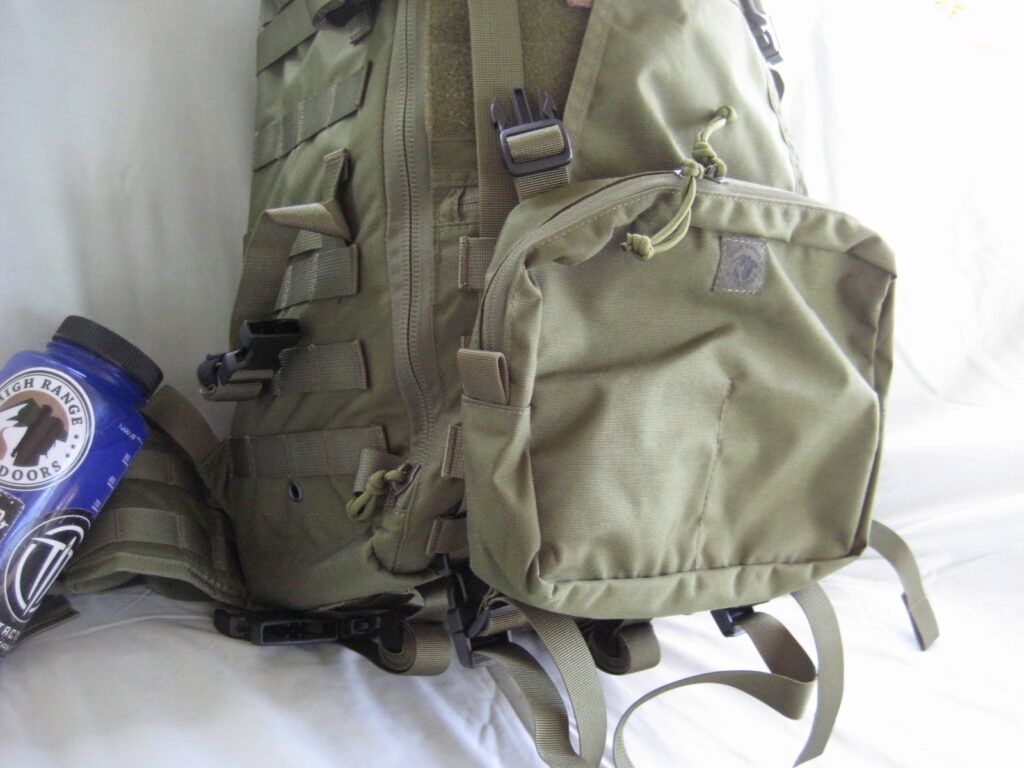 .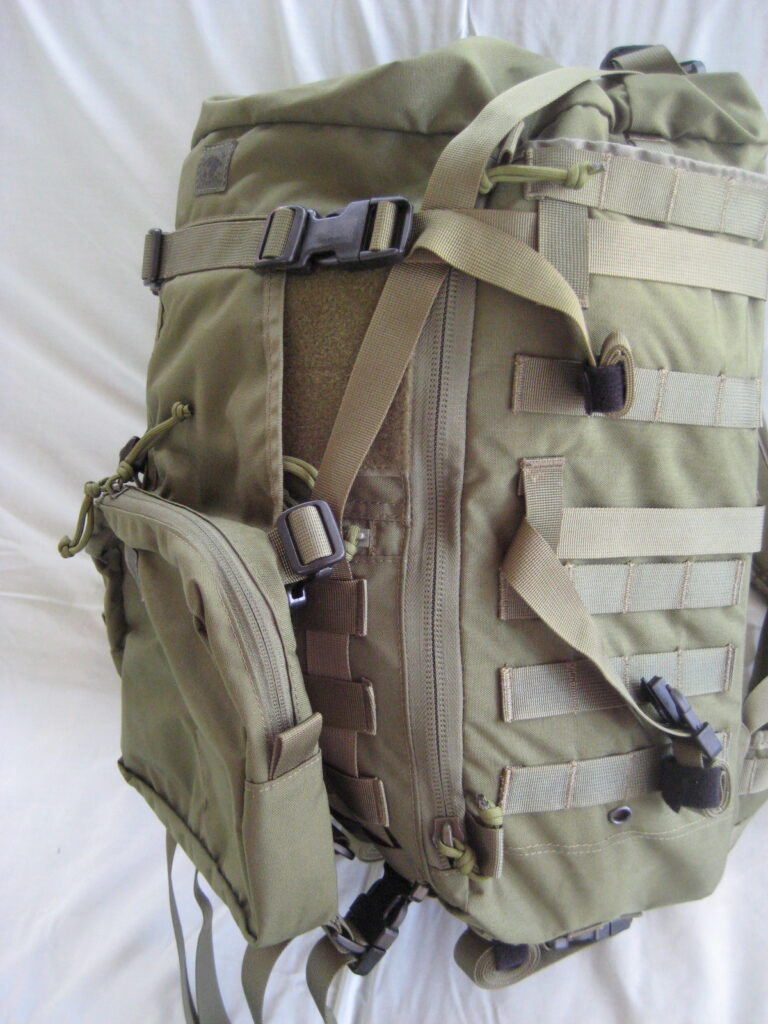 .
Unlike many beaver tail accessories, the Loady has a small general purpose pouch at the bottom. It is secured with a double zip.
Inside is some internal organisation of three larger pockets, five pen sized slots, elastic loops for ten items such as small tools.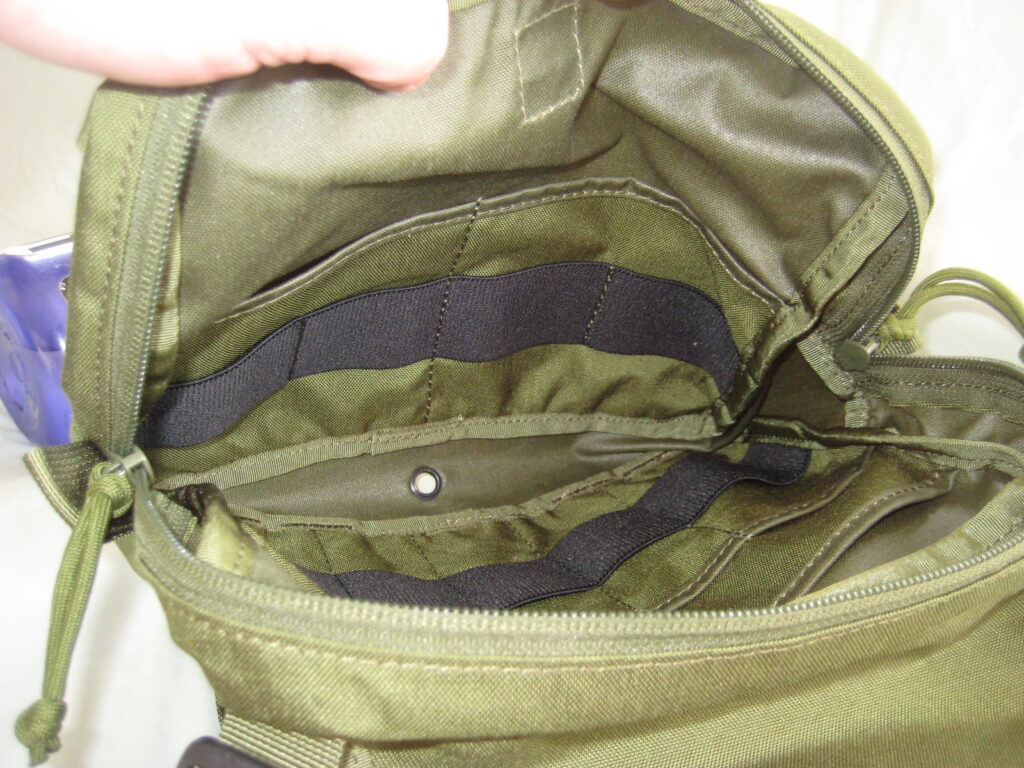 .
.
PERSONAL ASSESSMENT: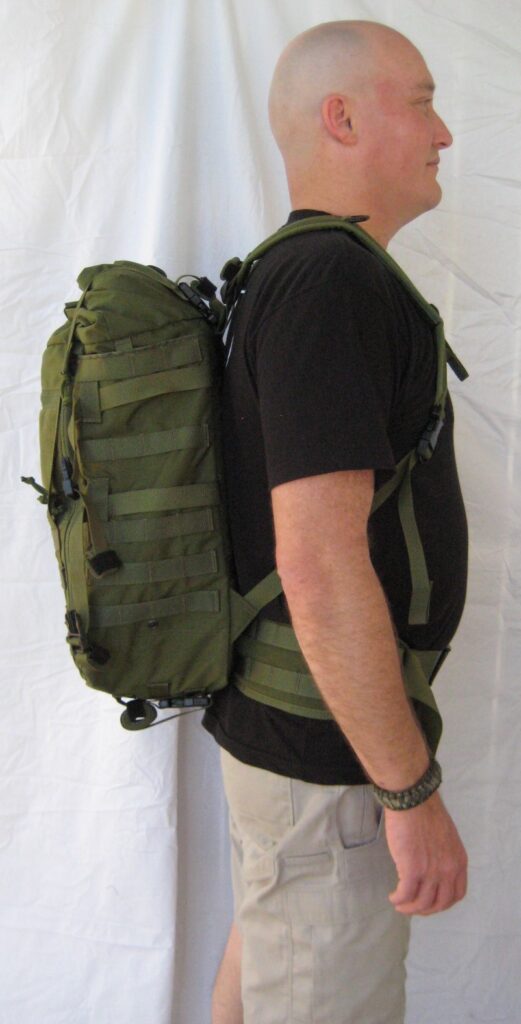 .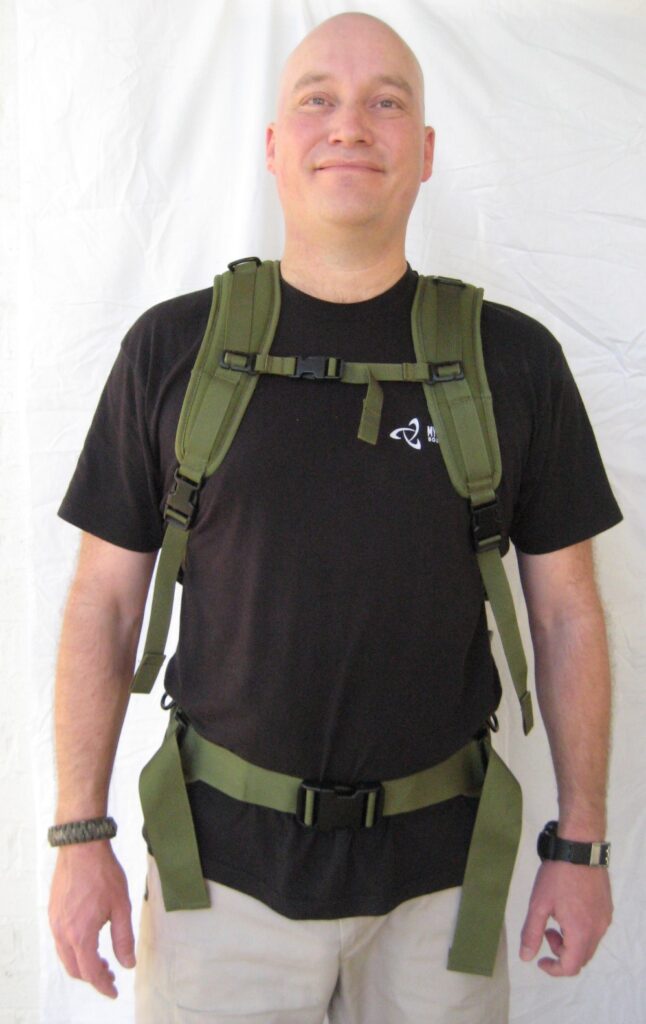 .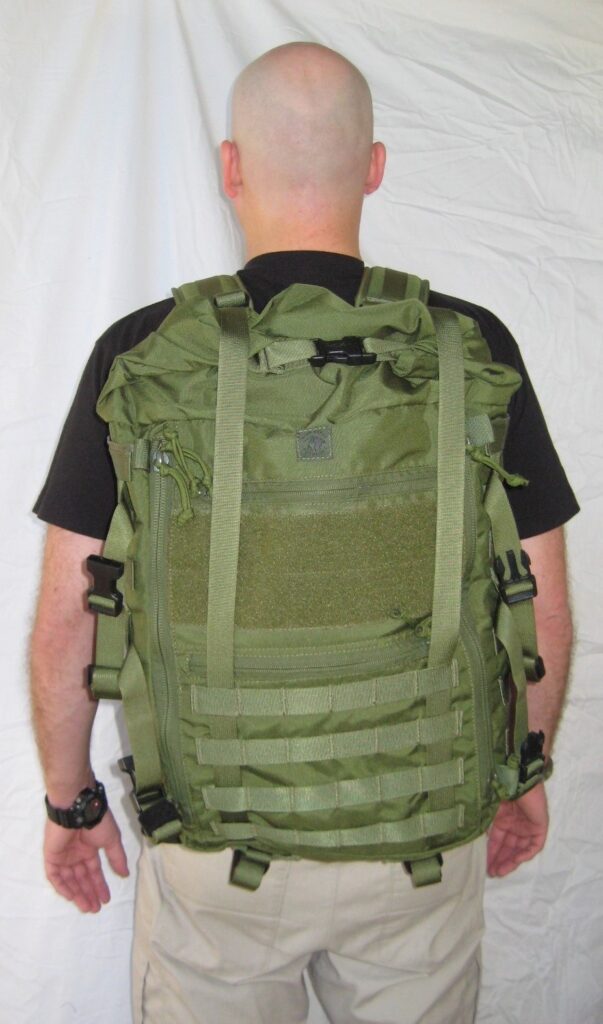 .
It should be noted that the MR40 embodies High Range Outdoors design philosophy: being able to make a smaller pack more multi-mission capable by addition of extra accessory pouches to the outside of the ruck.
This allows the user to scale the pack up or down depending upon mission requirements.
So if a longer distance trip is required, all the extra bells and whistles can be attached. Such things as the Loady beaver tail mentioned above, side pouches and the Bolt10 daypack (review seen HERE) are available. Or for shorter trips, only the basic bare pack need be used.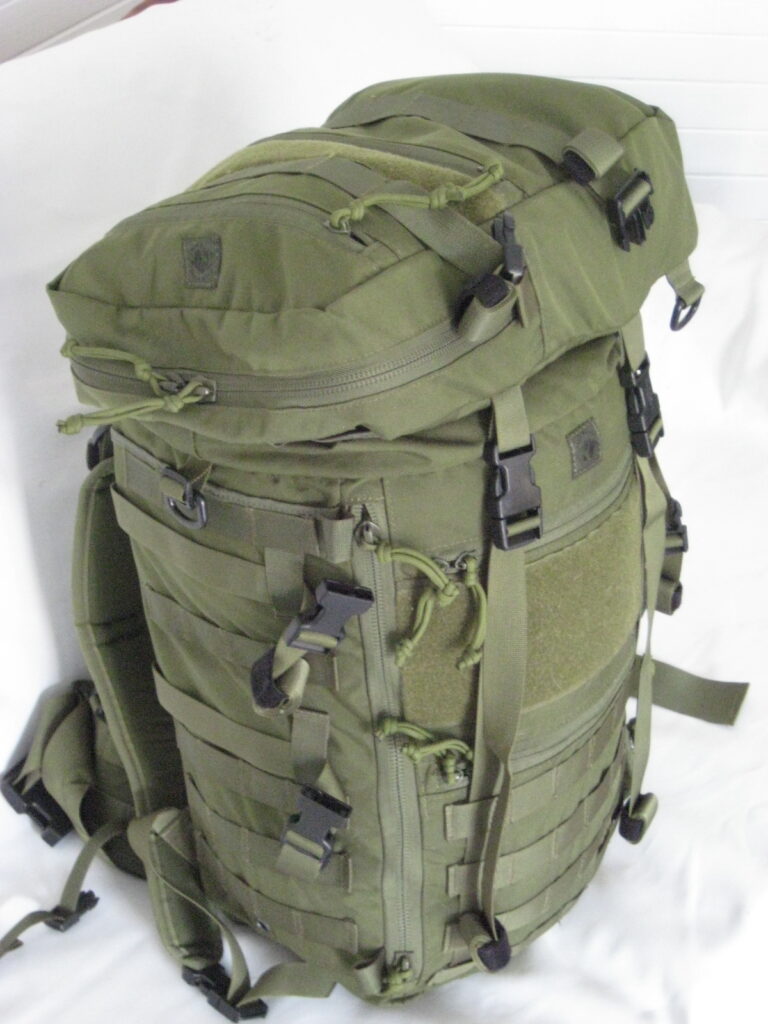 .
The MR40 has been used on training walks (approximately 40 kilometres worth) and to carry supplies for my two young children out and about.
.
PROS –
Nicely thought out design.
Great construction.
It's a great little basic daypack that can be expanded out for other uses if desired.
.
CONS –
Due to the fixed harness length, it is impossible to adjust the backlength of the MR40. But considering this really is sized as a "daypack plus", this isn't an essential. But this can be somewhat alleviated by the adjustable shoulder straps.
.
I'm not a fan of the roll top closure, but that's an essential design feature of High Range. And it should also be remembered that the MR40 is meant to be part of a modular system, so generally would have another pouch such as the Bolt10 fitted as a lid.
.
.
SUMMARY:
Yet another great little pack that can expand out to much more from High Range Outdoors.
The high quality of design always comes through with their packs.

Posted in Civilian, High Range Outdoors, Military, Short Trip, Specialist by 22F with no comments yet.