ITEM: General Purpose Jacket
MANUFACTURER: Crossfire Australia
DESCRIPTION:
A modern general purpose smock/jacket based on the venerable M-65 design.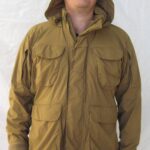 .
.
REVIEW NOTES:
This was kindly supplied by Crossfire Australia.
We'd like to thank them for their support of this website.
.
Like any review of supplied equipment, I have conducted this review with the proviso that I will be painfully honest.
.
Please let our suppliers know how much you appreciate their support for this site. You can really show your appreciation by giving them your custom, don't forget to mention who helped you make the decision.
.
Don't forget to like Packs and Beyond on Facebook as well! (https://www.facebook.com/packsandbeyond/)
.
.
LINK:
https://crossfire.com.au/products/crossfire-gp-jacket
.
.
MATERIALS:
Nextec encapsulated material
YKK zips
Micro fleece
.
.
LAYOUT: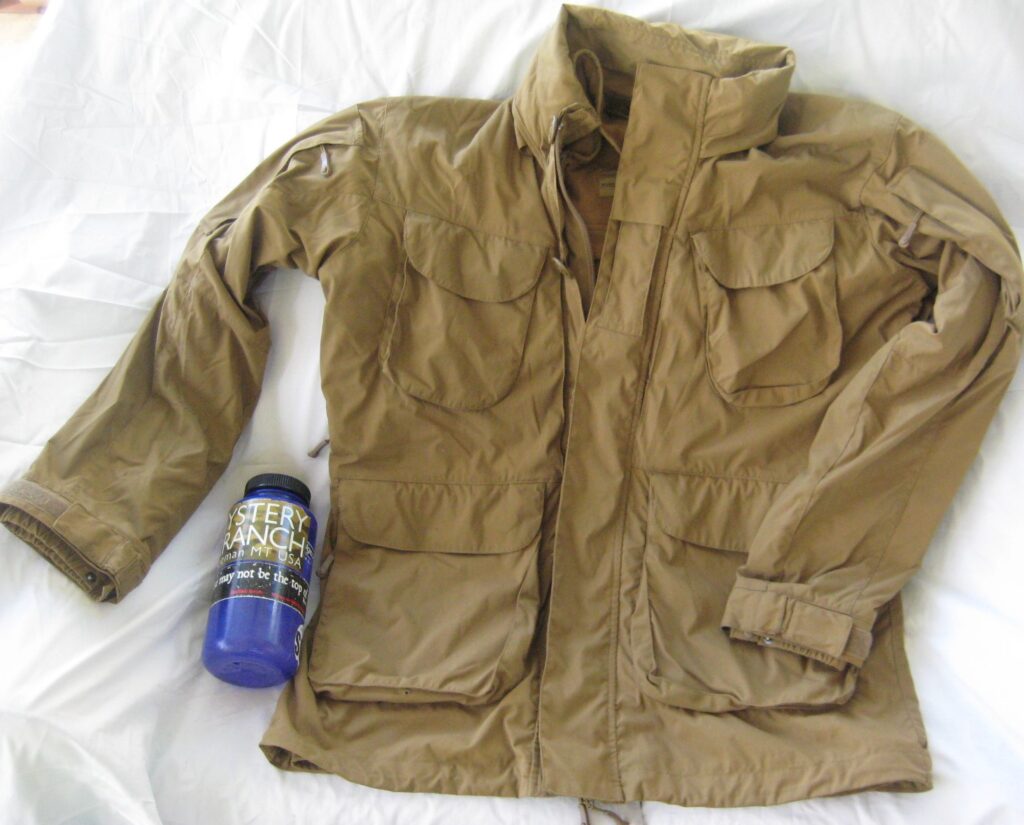 .
The General Purpose jacket comes in two components: an outer shell and an inner liner.
We'll talk about the outer shell first.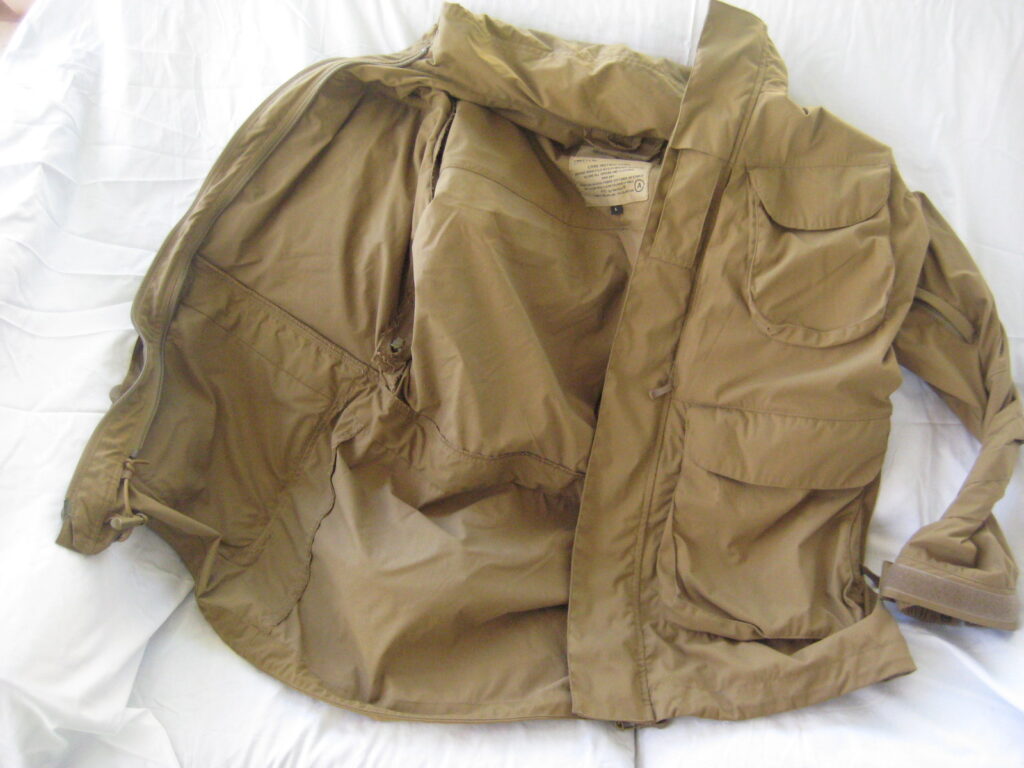 .
COLLAR –
The collar is able to stand free and upright to protect the neck against drafts. Although this ability is negated when the concealable hood is deployed.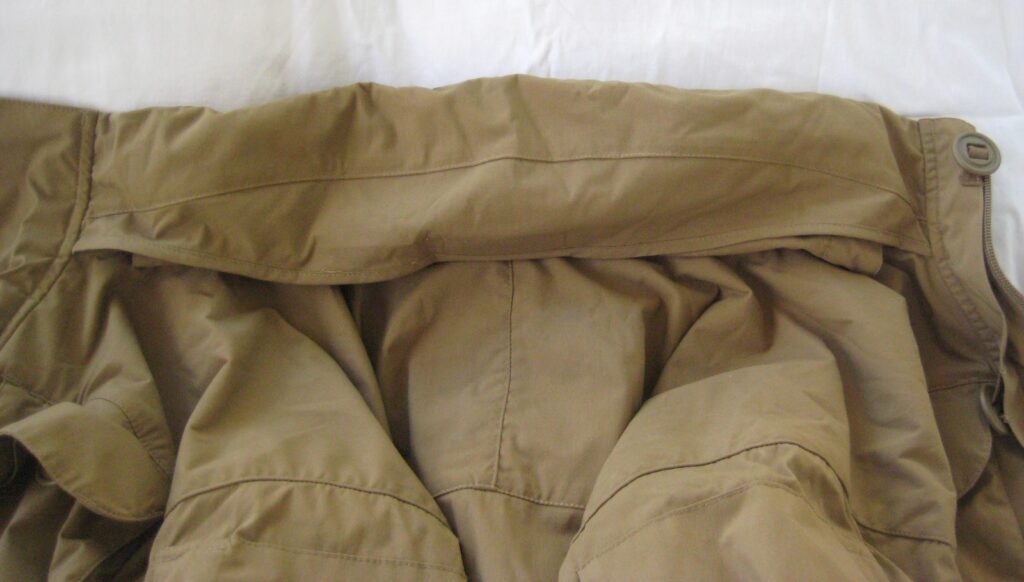 .
The hood has tension and height adjustment.
.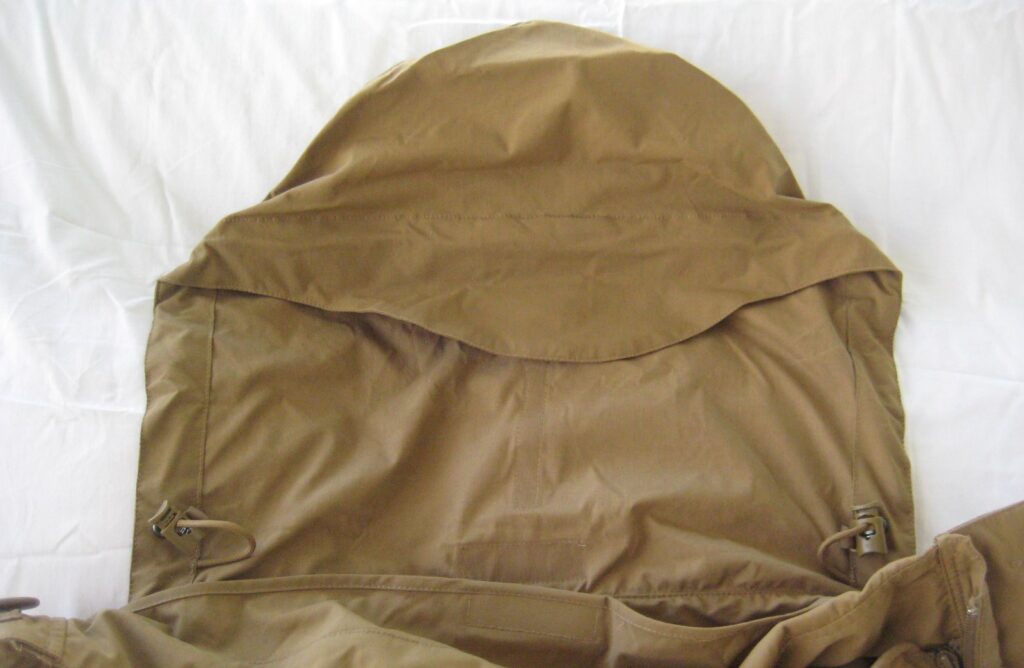 .
SHOULDERS –
The shoulders on the outer shell are of Raglan cut, meaning no seams are resting on the shoulder when load bearing harness be worn.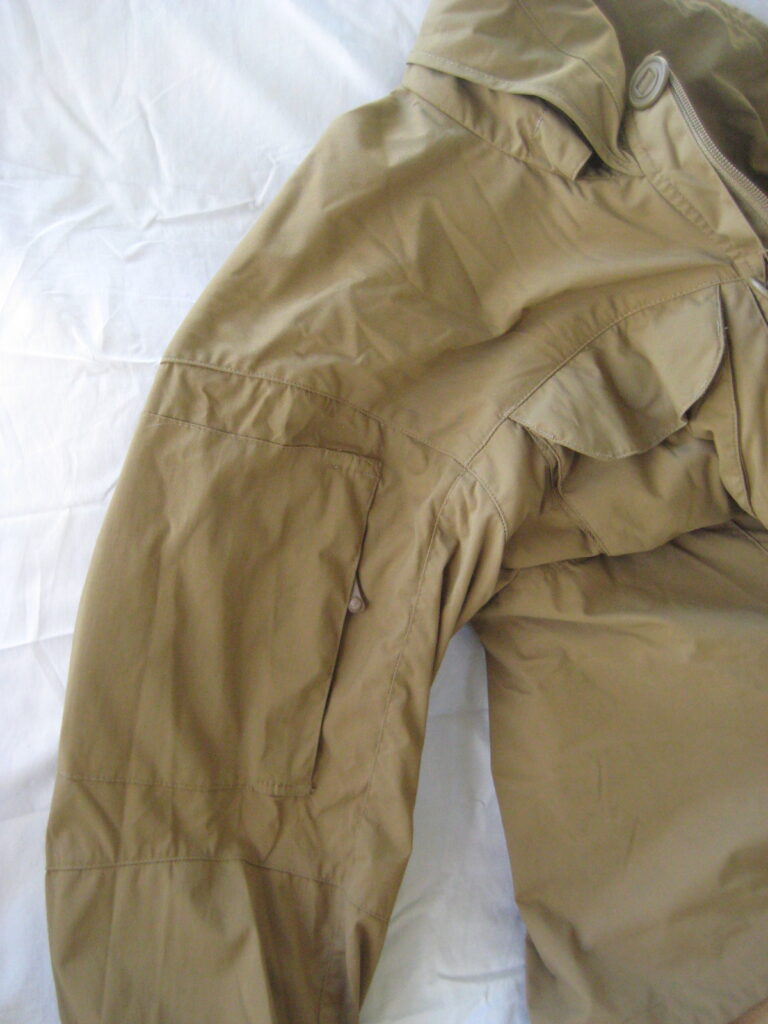 .
SLEEVES –
Each sleeve has a bicep pocket secured with a zip.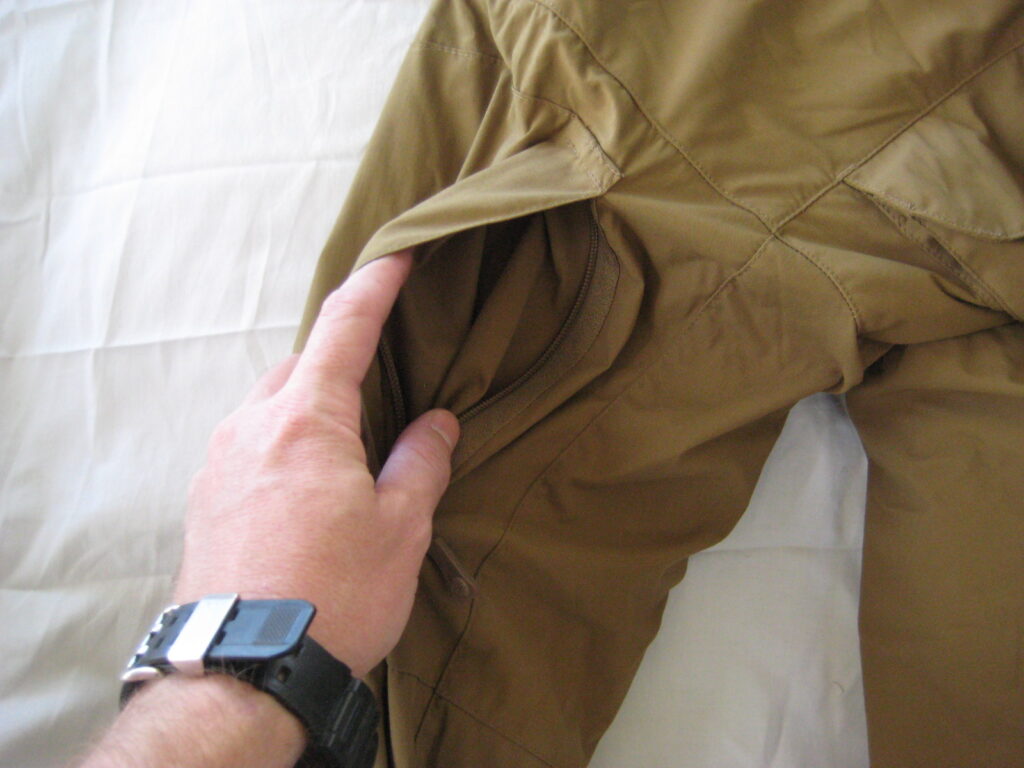 .
The elbow and forearm are reinforced with a double layer.
At the cuff are signs of the cold weather expertise behind its design.
The outer cuff can be adjusted for tension via elasticated hook and loop.
The inner cuff is elasticated and secured via push stud that is designed to prevent ingress of snow, slush and other unwanted material.
There is also a loop to allow the sleeve of the inner liner to be attached and would also allow securing of tether lines for gloves.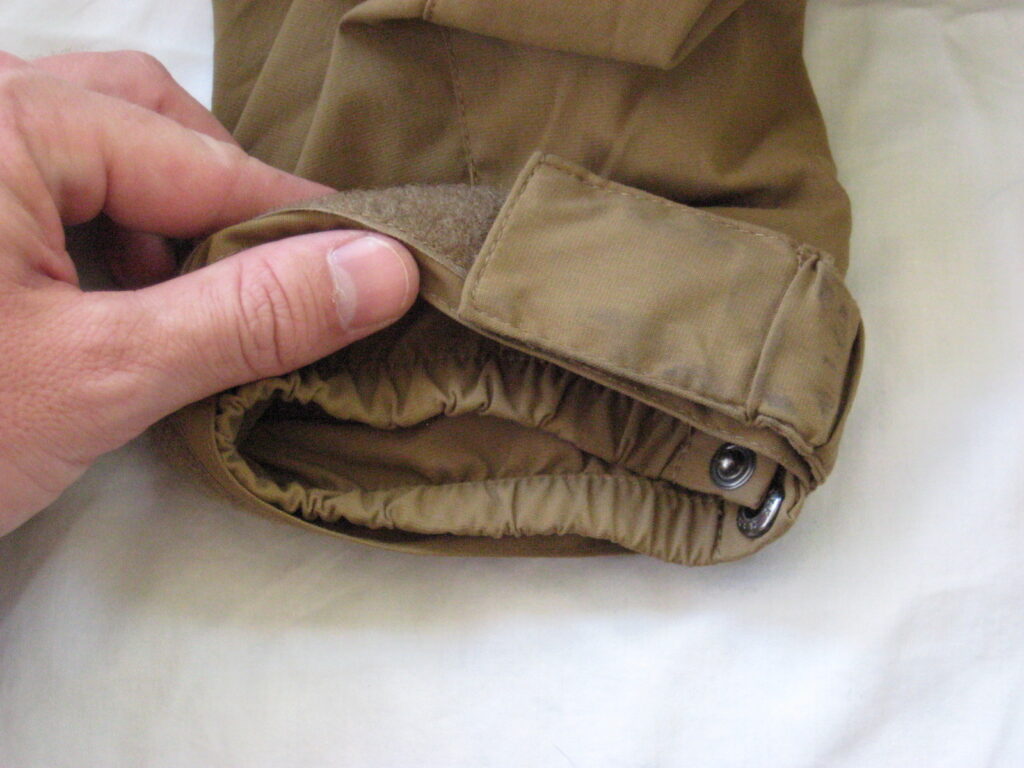 .
Under each arm pit is a zip to allow venting of the jacket whilst under strenuous activity.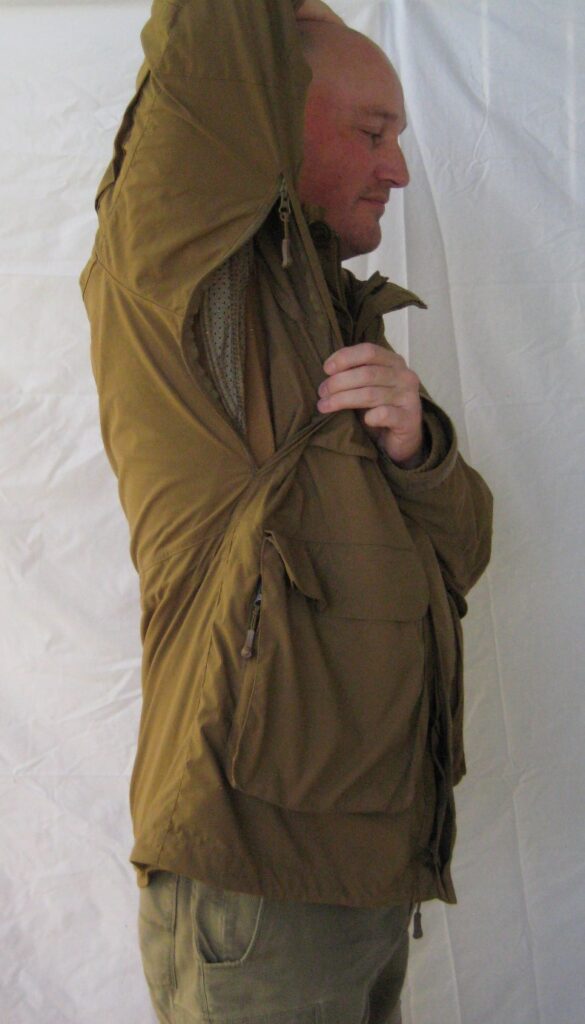 .
BODY –
Main entry to the jacket is via YKK zip and weather strip with Canadian slotted buttons.
There is a rank slide of the British pattern over the weather strip.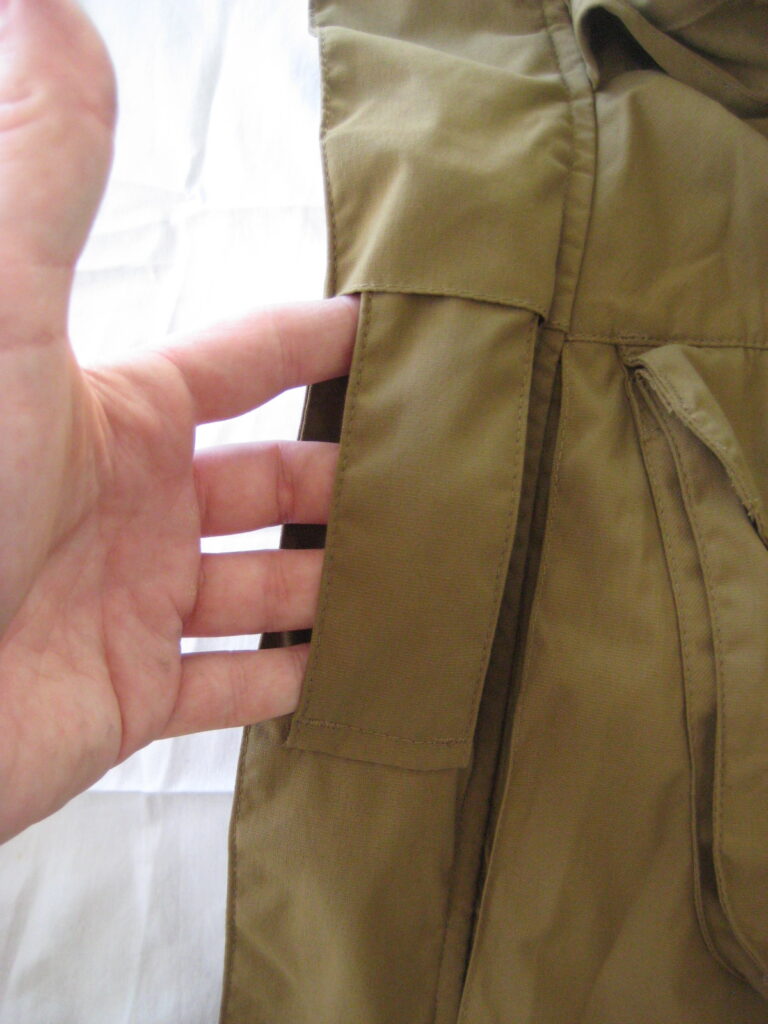 .
There is a bellows pocket on the upper chest, secured via Canadian slotted button. The flap is cut to fold over to prevent loss of any held items.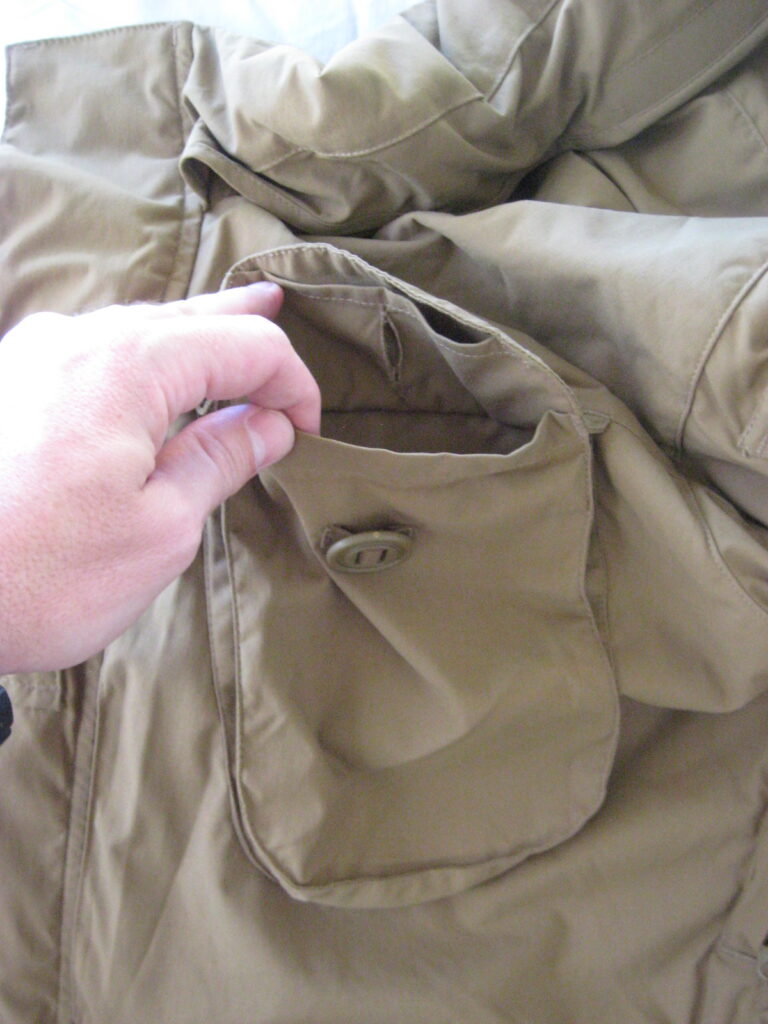 .
Behind each chest pocket is a Napoleon style pocket secured via zip. These zipped Napoleon pockets have a storm shield secured via hook and loop.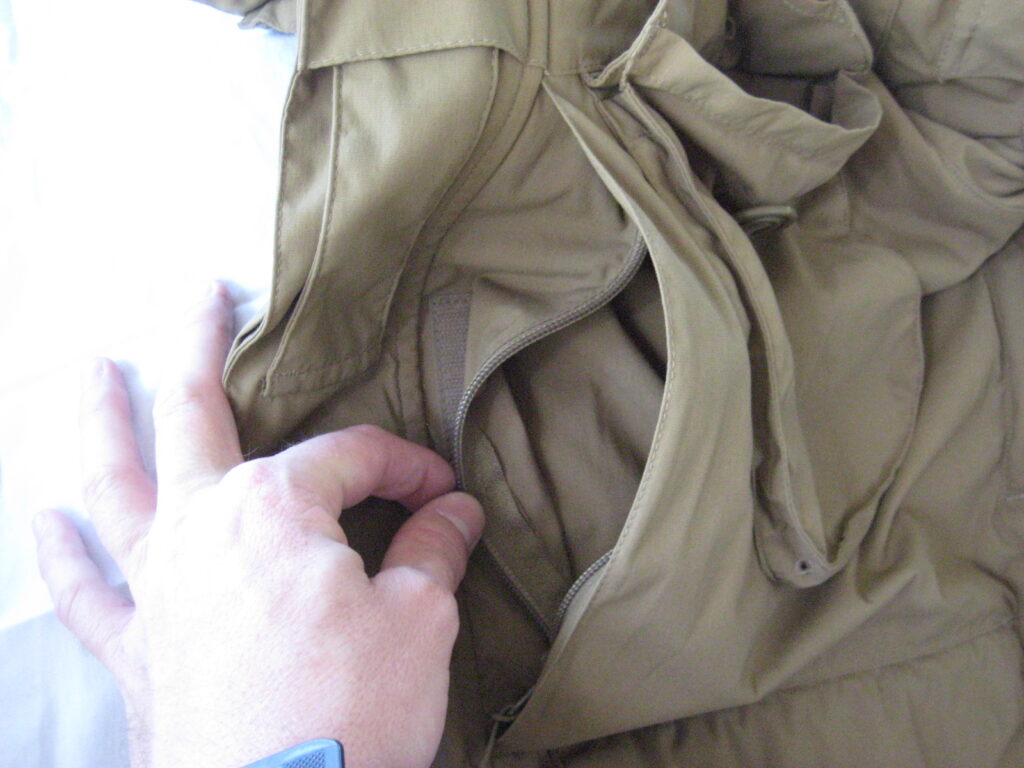 .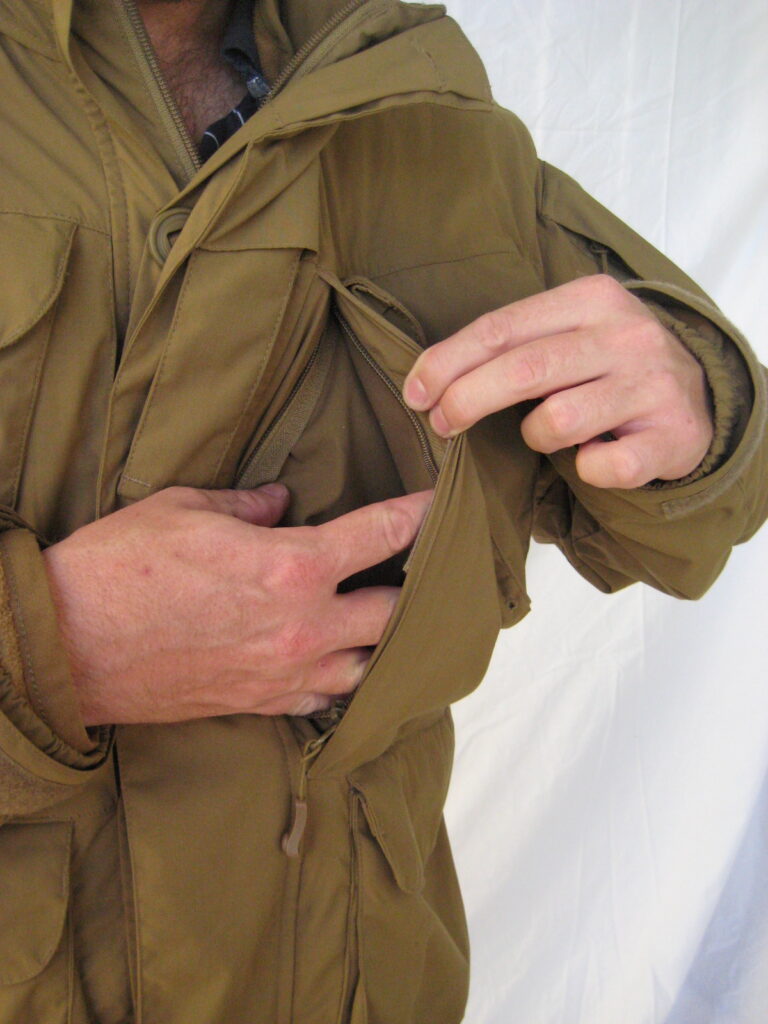 .
On the lower half of the jacket front is another larger bellows pocket secured via two Canadian slotted buttons. The flap is also cut to prevent loss of stowed items.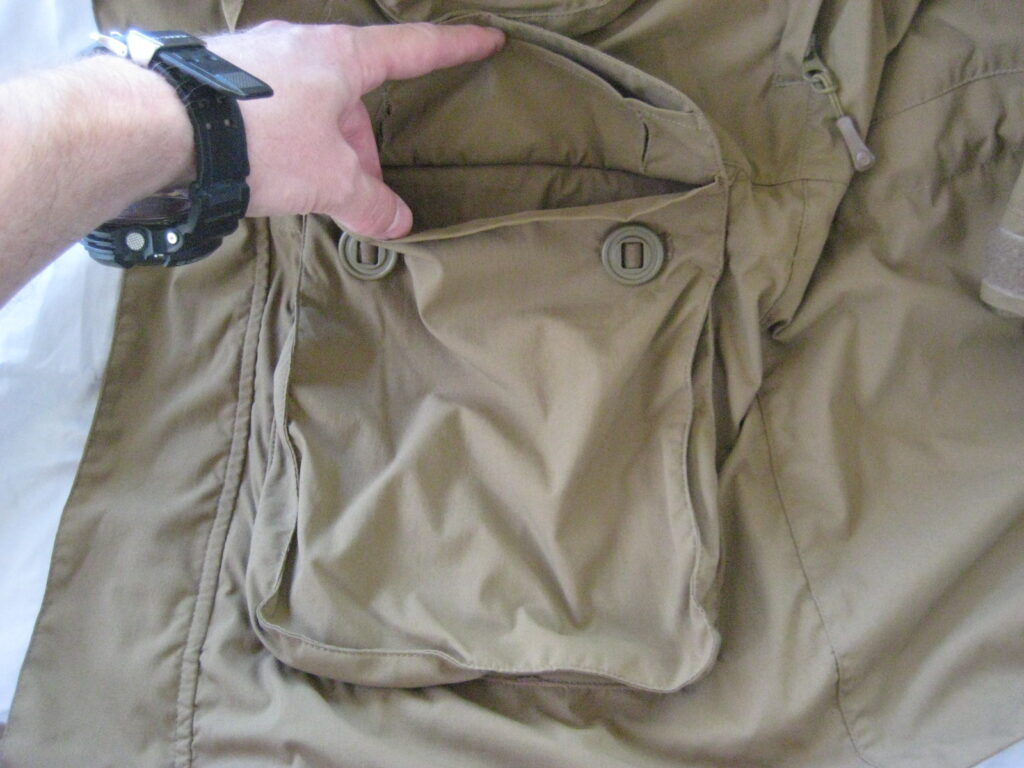 .
Behind these lower, larger bellow pockets is a hand warmer pocket secured with a zip and lined with microfleece.
In this handwarmer pocket is the tension for the waist draw cords. This helps prevent snags with worn or carried equipment.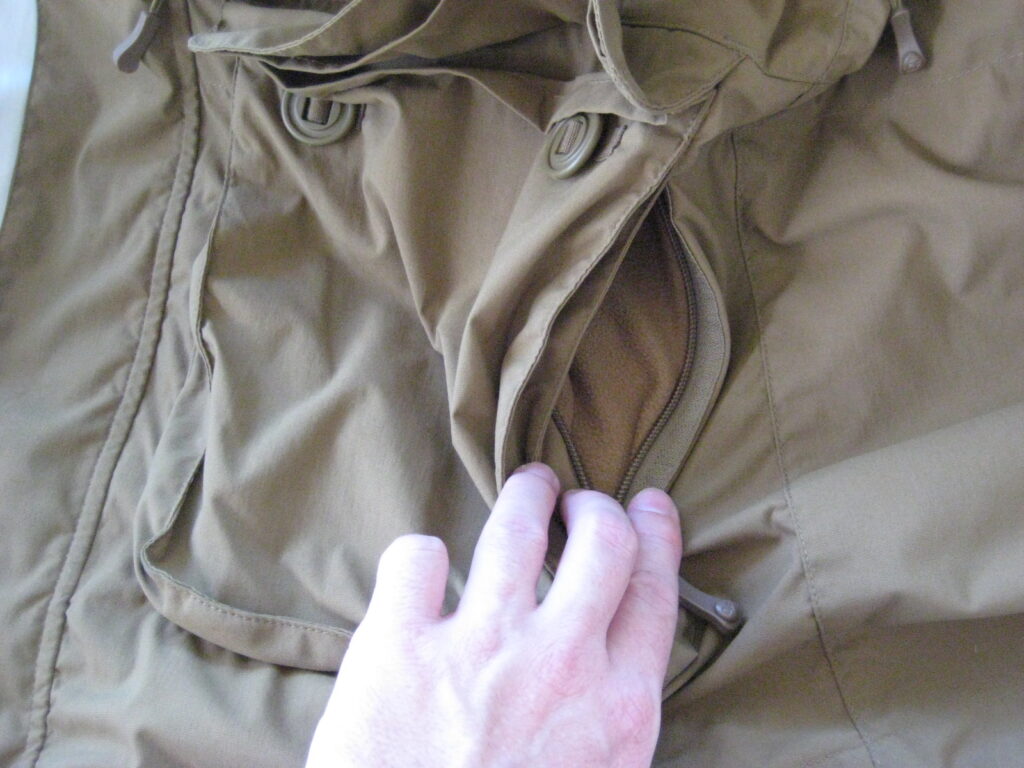 .
INNER LINER –
The inner liner is a lightweight fleece that can be zipped into the outer shell or worn as a stand-alone garment.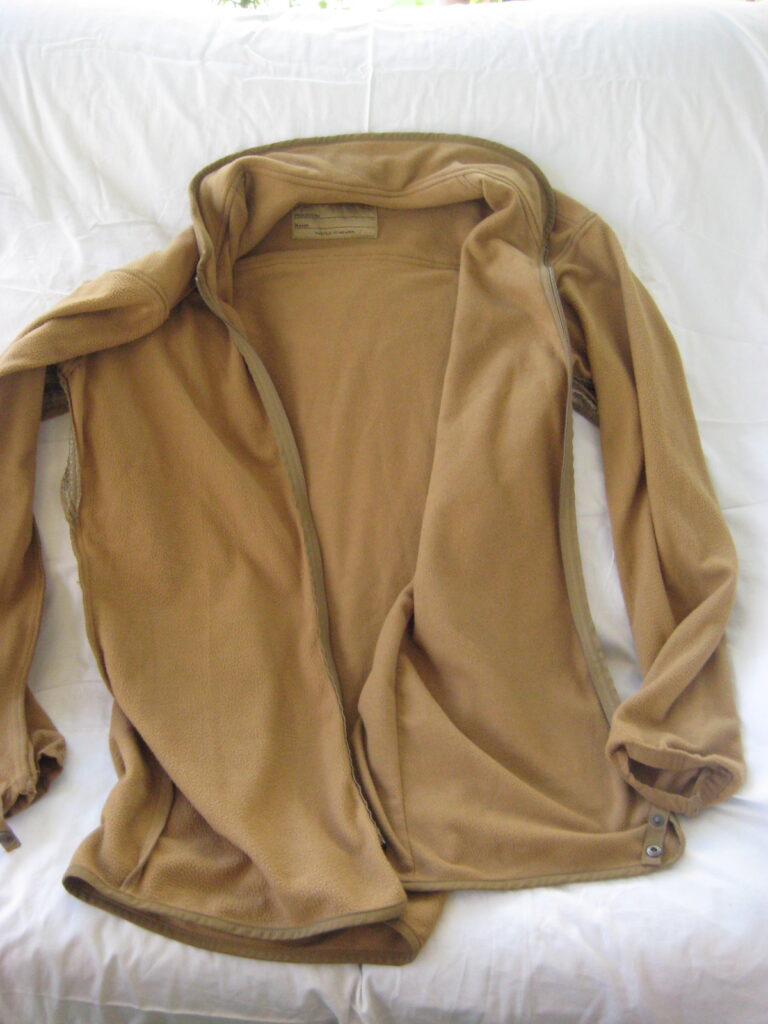 The collar can be stood up or folded down out of the way. There is a press-stud secured loop to secure the inner liner into the outer smock.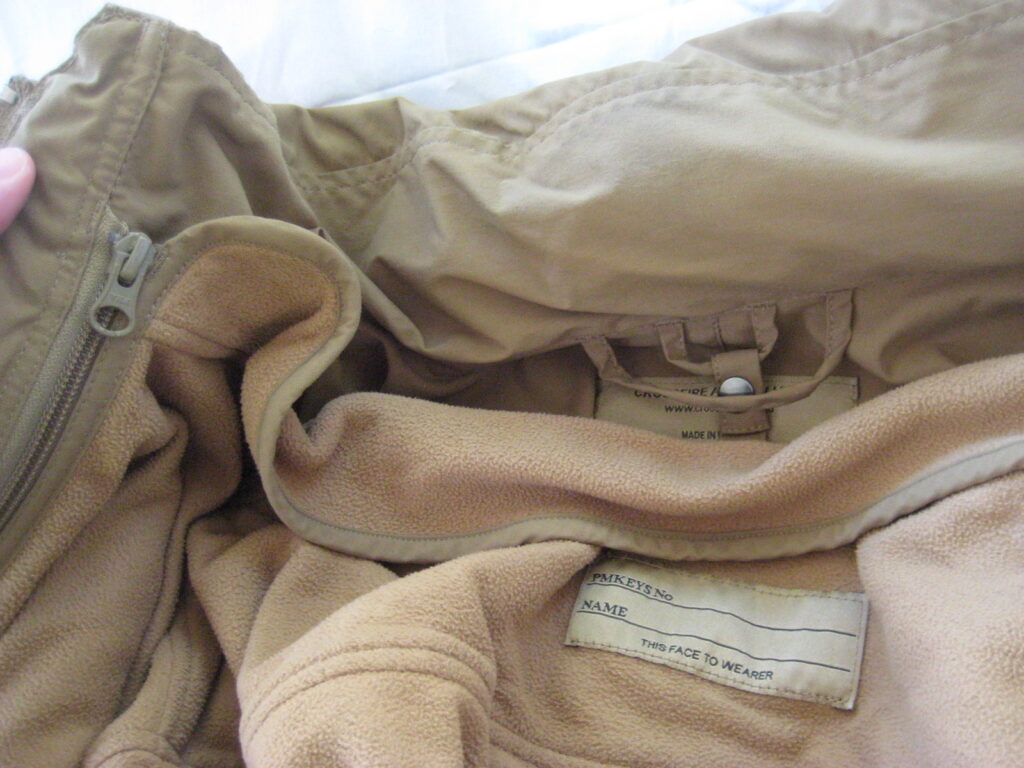 .
The sleeves are a simple cut with a press-stud loop to secure to the outer smock.
The armpits are a mesh material to allow venting of the garment when in use.
.
Outer edge seams are taped to ensure low snag risk.
.
PERSONAL ASSESSMENT:
The General Purpose Jacket has been a long term review assessment for me.
I've had it a couple of winters now, with plenty of opportunity to use it extensively.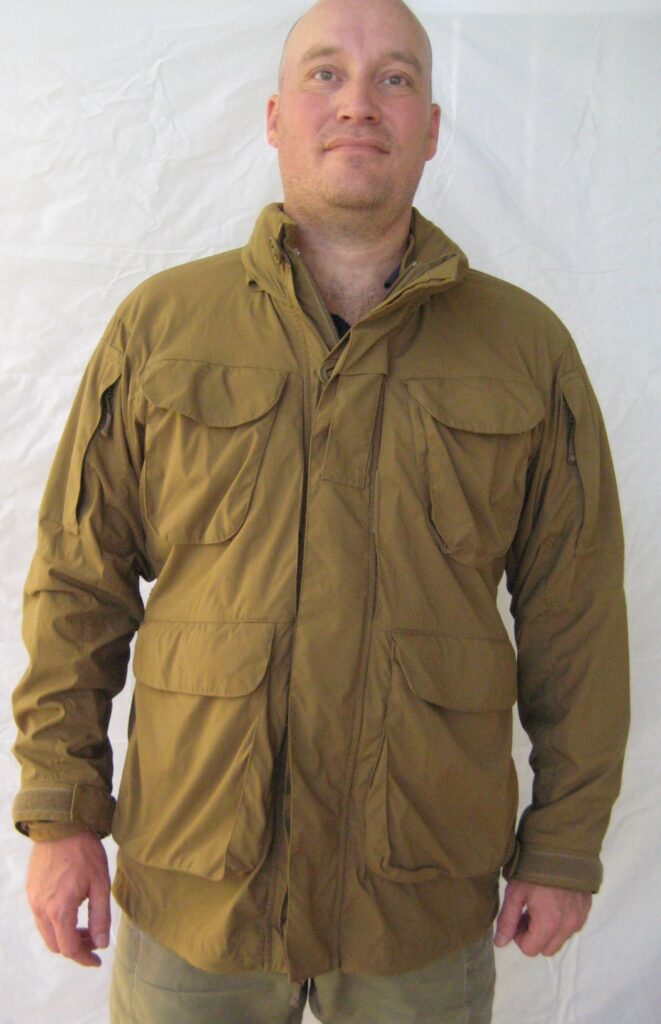 .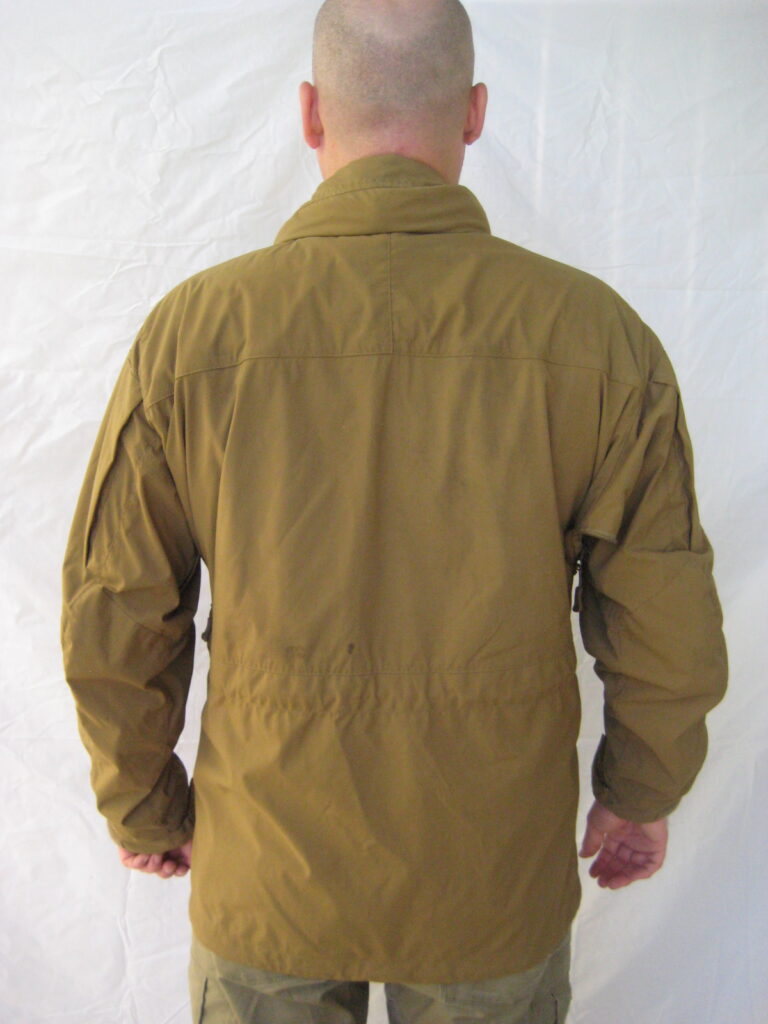 .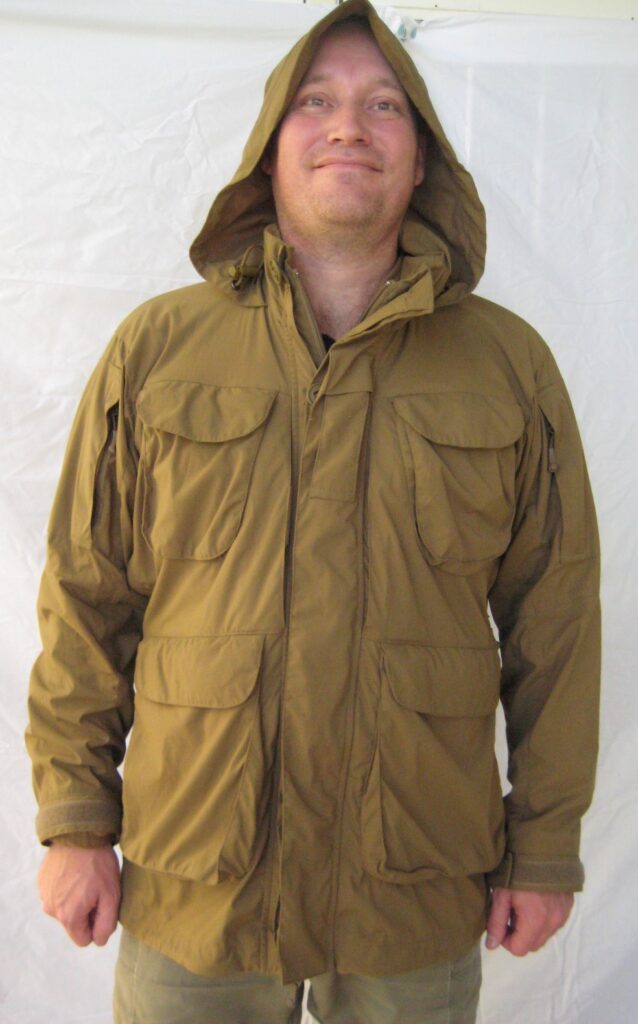 .
.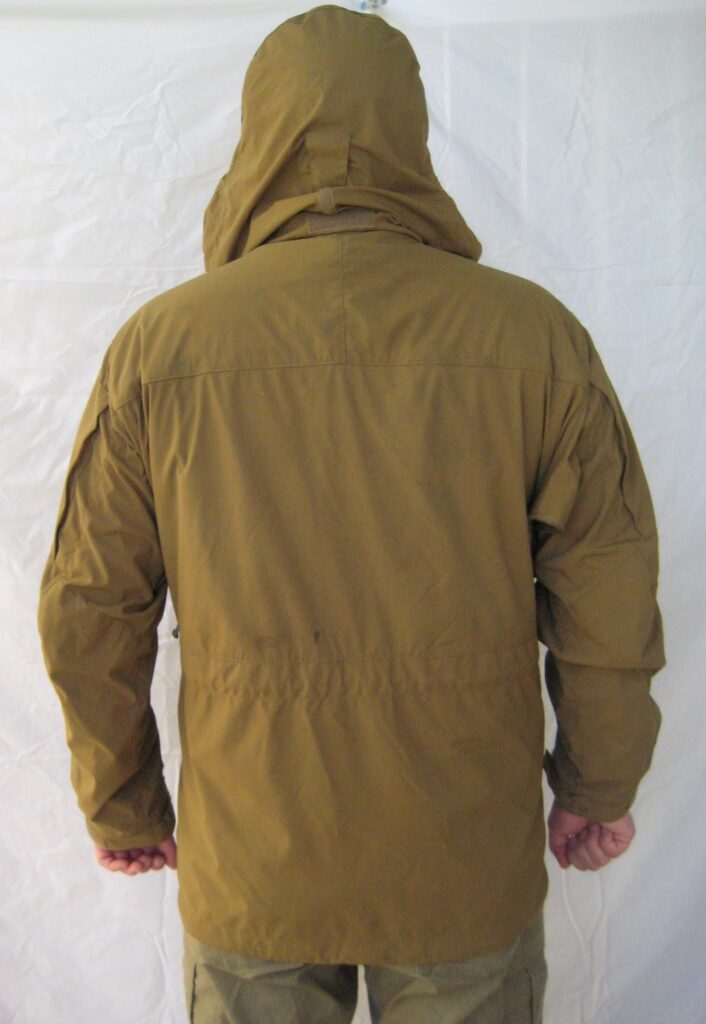 .
Part of the reason for this long term assessment period has been the requirement from Crossfire to keep it under wraps, preventing public discussion. The background behind this decision was a contract requirement with the Australian Defence Force, since the Australian Multicam Uniform (AMCU) garment was being introduced into service.
This at least has provided ample opportunity to try out the jacket under realistic use.
It really does live up to the General Purpose classification, by being able to be to be used as a jacket or a smock.
So far, the GP jacket has been worn whilst conducting my duties as a Scout Leader in regional Western Queensland during the height of a windy August winter. Temperatures were down to single digits with a strong wind cutting through terrain and clothing. The GP smock has proven it's worth when worn as an integrated outer layer with sufficient insulation underneath.
.
PROS –
The Nextec material is a really big improvement on coated materials. Unlike coated materials such as Goretex or eVent, abrasion won't significantly impact the garment.
.
It also provides a very quiet garment that won't make as much noise when brushed against certain types of vegetation. This has utility for other outdoor users such as hunters, who require significant noise control whilst stalking game species such as deer.
.
The zip-in fleece liner offers excellent ability to expand the jacket for a wider variety of temperatures. This can reduce the load carried by combining garments, providing it is appropriate to the weather.
.
CONS –
I'm not a fan of the hood. Oftentimes, such a feature isn't entirely needed on a jacket. But at least whilst the hood is stowed away, it stiffens the collar to prevents drafts.
.
.
SUMMARY:
The GP jacket has earned a place in my pack for its high quality, utility, useability and because it can replace a couple of garments – thereby reducing weight.

Posted in Civilian, Clothing & Footwear, Crossfire, Military, Wet Weather by 22F with 1 comment.