A recent discussion amongst Primary and Secondary moderators had us comparing notebook sizes.
One of the lads had a fairly decent collection of Australian issue Field Notebooks that he acquired whilst deployed and co-located with Australian troops.
It reminded me of my field notebook setup.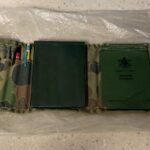 .
The old green field notebook was sized to comfortably sit in a breast pocket.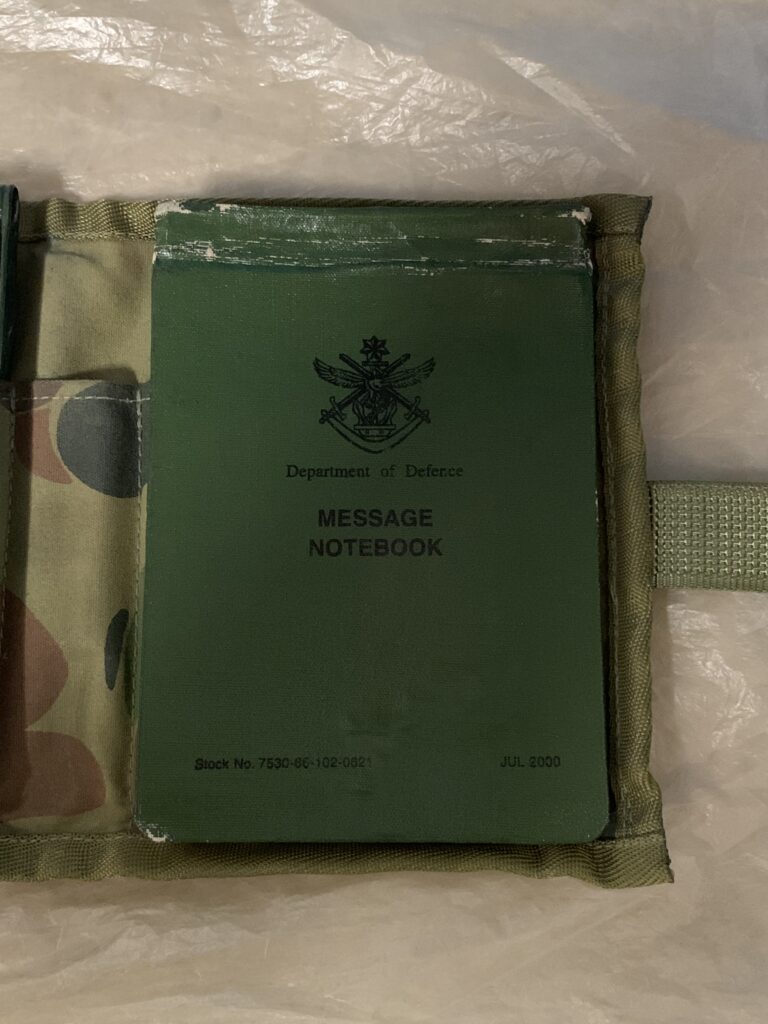 .
It's a good size to write on.
It's pages are perforated at the top and grid-lined.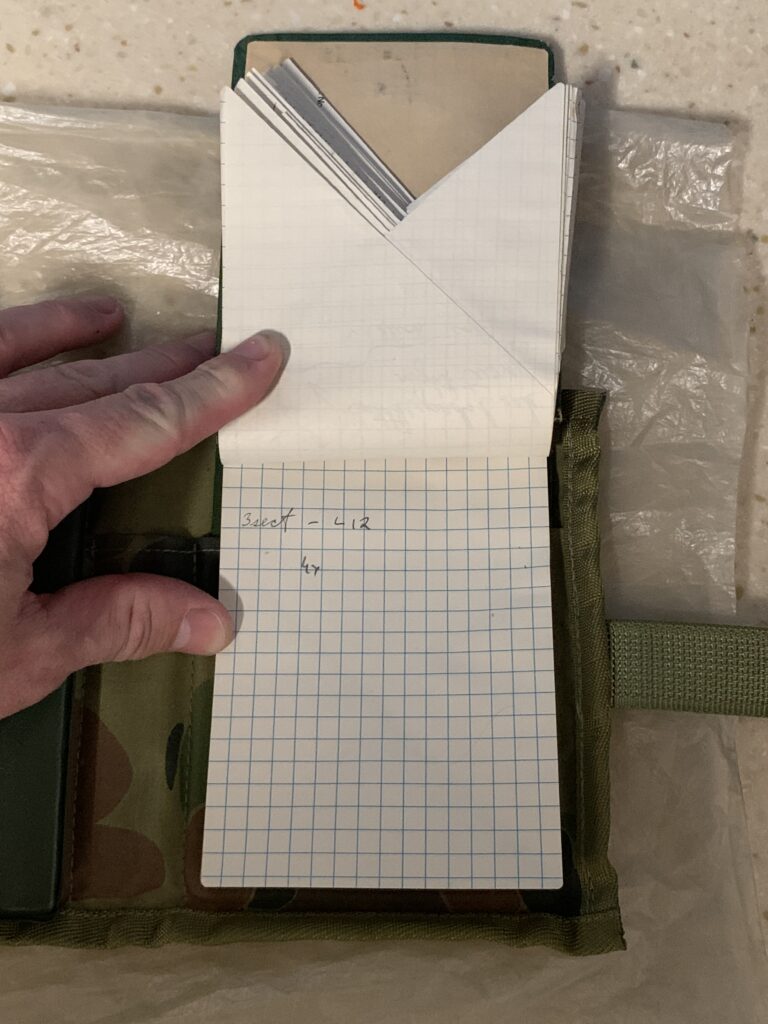 .
Also commonly used in conjunction with the field notebook was what we called a vuee-tuee in the ADF. A hard-covered plastic booklet with clear view plastic sleeves to carry all our reports and returns proforma's.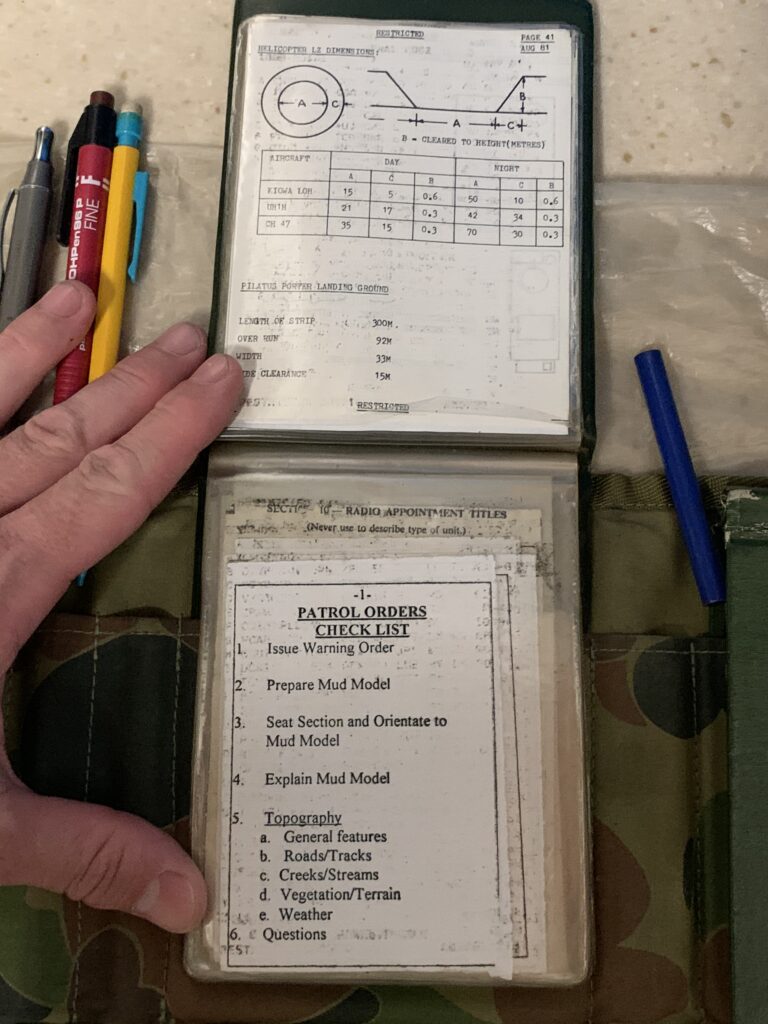 .
As a junior NCO (Non Commissioned Officer) my vuee tuee would contain:
– My orders for a tasking
– Radio report proforma (casualty evacuation, hand over report, contact report, resupply request, call for fire, amongst others)
– Clothing and boot sizes for my patrol members
– Controlled stores list (serial numbers for weapons, optics, radios and other equipment)
– Small personal morale pictures.
To carry all this in a neat little package, a lot of blokes would buy a cordura field notebook wallet.
.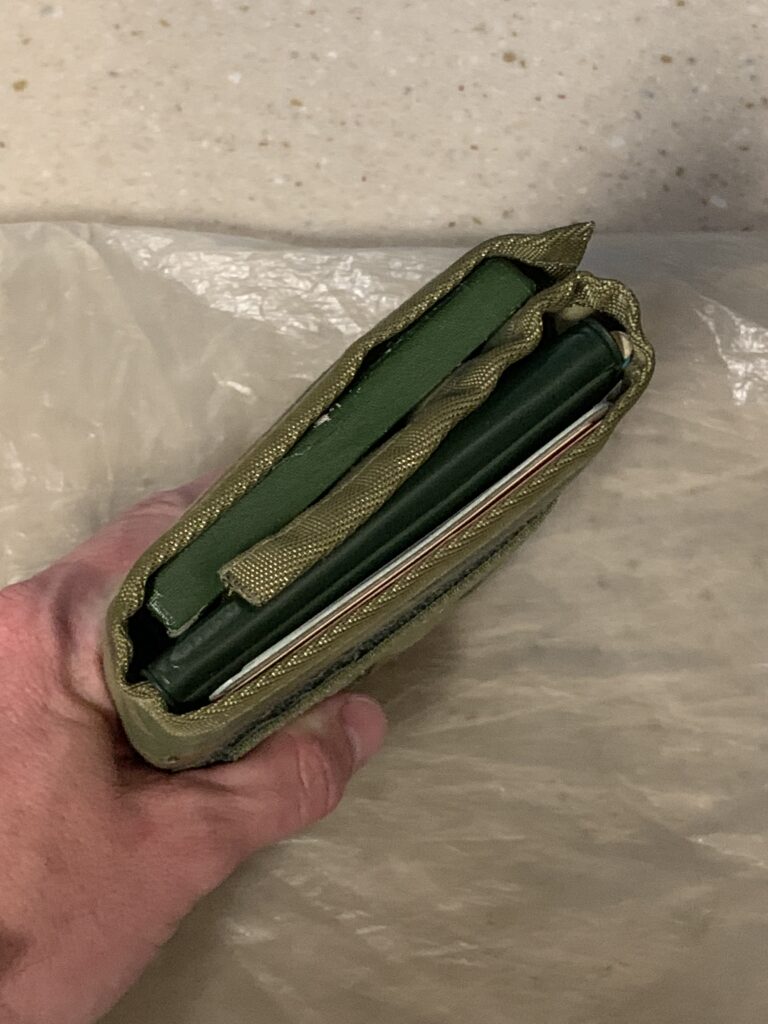 .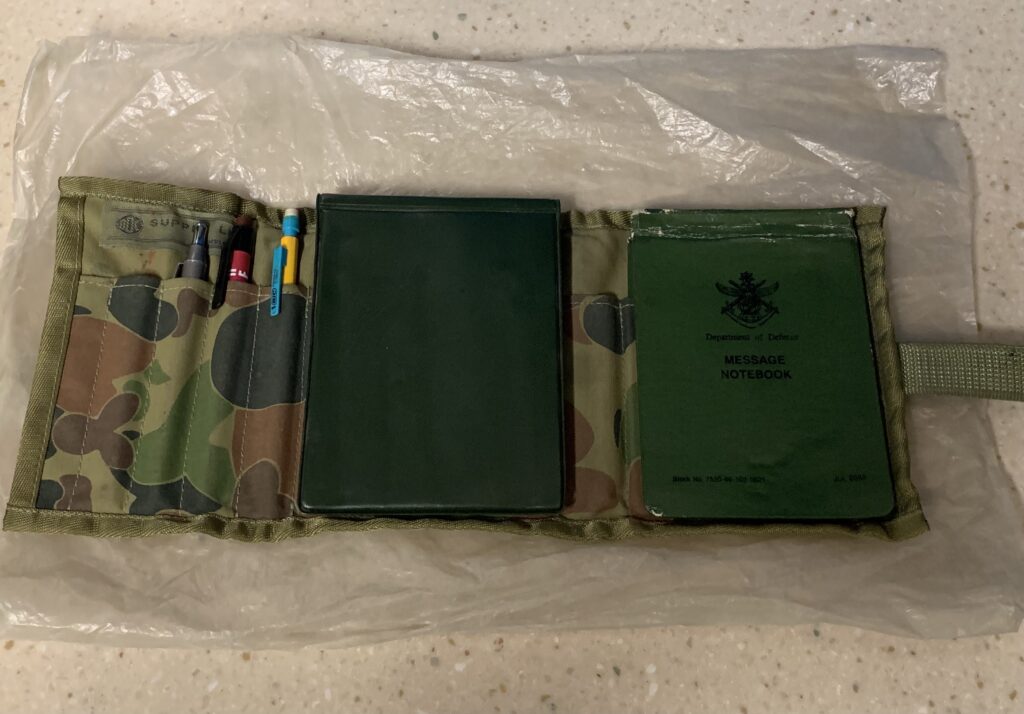 .
There were a few designs from different suppliers that were popular. They were all designed to carry writing implements and other sundry items as well.
Mine had:
– A mechanical pencil
– Ball point pen
– Map marking permanent marker
– Red and blue chinagraph pencils
– Protractor
– OFOF or RoE cards
– Range card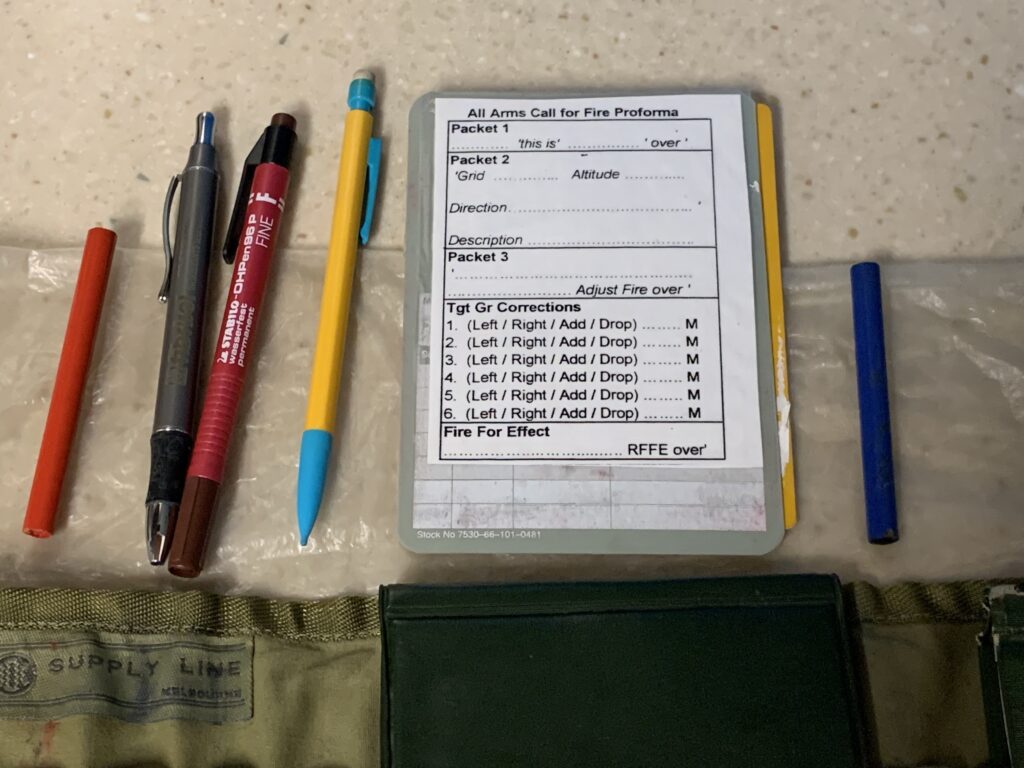 .
The back of my range card was covered in luminous glow-in-the-dark tape to make writing at night easier. I would charge up my card during the day in full sunlight, and then place it under the page I was writing on to give some form of illumination without having to hold a torch in my teeth.
It could also be used for IFF purposes in dark when marrying up with our mounted callsigns.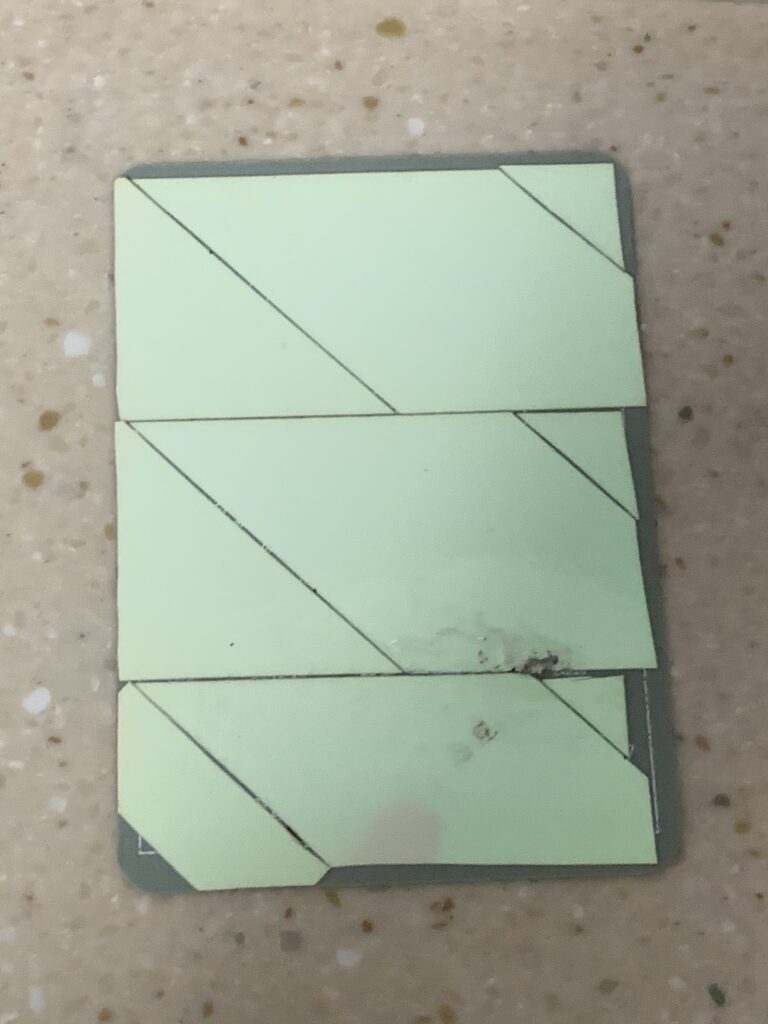 .
I generally didn't bother carrying too many map marking pens, because our vehicle crews would have a more complete set than I could carry.
And of course, everything is stored in a plastic bag (an old 200rd bag for 5.56mm link in this case) to prevent it all getting wet.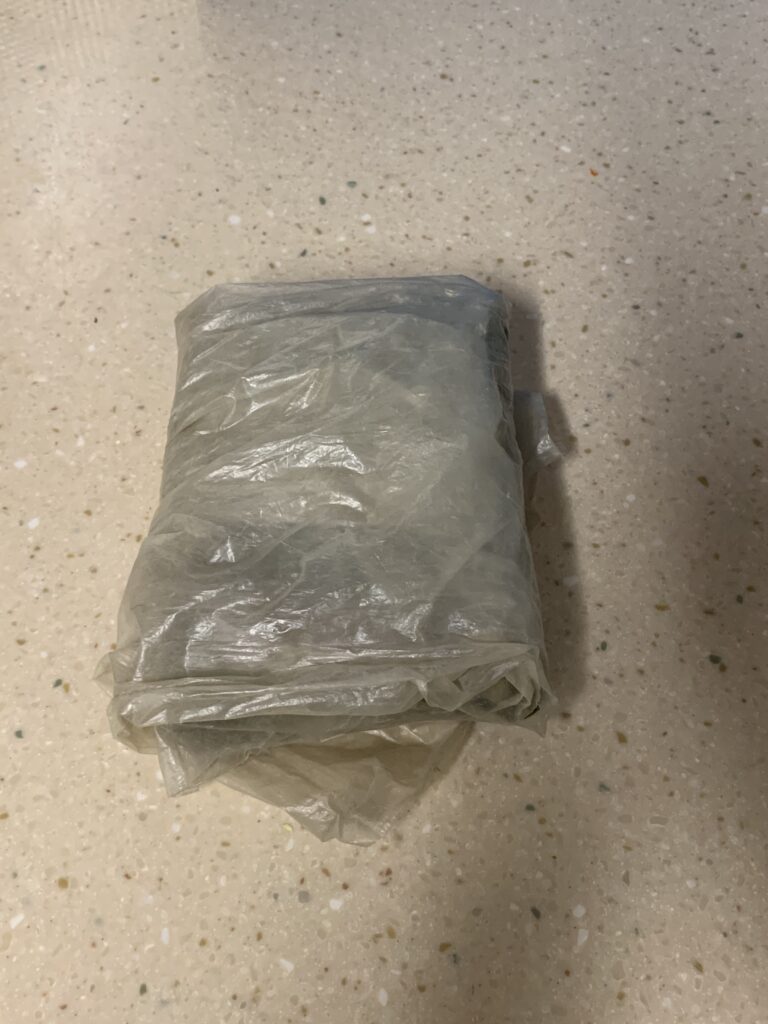 .
It all fits comfortably in a pants map pocket or in a kidney pouch in my belt webbing.
.
Nowadays as a Scout Leader, my field office is a lot simpler. Consisting of a Rite-in-rain notebook, smart phone, ball point pen and a chinagraph pencil.
.
What are your field admin solutions?

Posted in Military, Miscellaneous Equipment, Specialist by 22F with no comments yet.