Marching Order (aka 3rd Line)
.
This "how-to" has been a long time coming. I had a draft, with pictures all ready for publishing, but the hard drive I store my documents on died. It's taken me a significant period of time to get caught back up to where I'm relatively happy (or happier) with the level of detail I need for this article.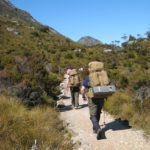 Posted in Civilian, Long Range, Military, Packs & Webbing by 22F with 4 comments.