ITEM: Tasman Hybrid Travel Pack
MANUFACTURER: OnePlanet
DESCRIPTION:
A hybrid travel pack that is designed to be used for adventure trekking in the wilderness, or backpacking (dare I say even "glamping") through the urban jungle.
Hybrid packs can be stowed as "normal" looking suitcase or duffel bag type luggage, with a hide-away harness feature that allows hip loading backpack to be used for full carrying comfort. Other sites like https://planettravelerusa.com/ often recommend hybrid packs for adventures in the outdoors, so it's not hard to see why the Tasman was designed as one.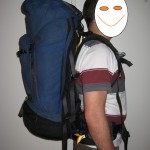 Posted in Civilian, Long Range, Packs & Webbing, Specialist by 22F with 2 comments.