ITEM: Overload Alpha
MANUFACTURER: Mystery Ranch
DESCRIPTION:
A specialist patrol pack of 54L, but possesses an expandable cargo area between the frame and rucksack that is designed to carry awkward objects, such as mortar tubes, ammunition boxes and long rifles.
The unique design of this pack allows it to be used in two modes: a conventionally configured top-loading patrol pack, and expanded out to a cargo carrying mode.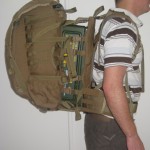 Posted in Military, Military Gear, Mystery Ranch, Packs & Webbing, Specialist by 22F with 2 comments.