Thanks to our old friends and long time supporters at Crossfire Australia, we had an opportunity to try out a new pack.
The DG-3 Slick is an internal frame, less "tactical" looking pack for those wanting to look a little bit less obvious, or just not needing external pouch capability.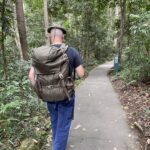 Posted in Civilian, Crossfire, Packs & Webbing, Short Trip, Trip Log by 22F with no comments yet.