So, my fellow scout leader Hawk had a brilliant thought:
We should walk the Oxfam Trailwalker.
.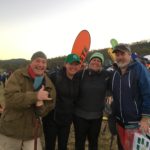 .
Oxfam Trailwalker is a challenging event that changes lives. Oxfam Trailwalker Brisbane, 21-23 June 2019, sees teams walking 100km or 55km through the beautiful D'Aguilar National Park.
.

Posted in Blog, Civilian, Long Range, Trip Log, Uncategorized and tagged Australia, Brisbane, Mystery Ranch, Oxfam by 22F with no comments yet.