PRODUCT:      DG-2 Lighthorse
MANUFACTURER:      Crossfire Australia
DESCRIPTION:
An internal framed, modular "hybrid" panel loading travel pack, of 60L capacity designed for mounted troops.
The hybrid designation refers to the civvy market idea of having the best features of a travel bag/duffle bag and hiking pack combined into one unit.
Pack is made from 1000D Cordura.
Compared to the DG-3 (DG-2 on left, DG-3 on left):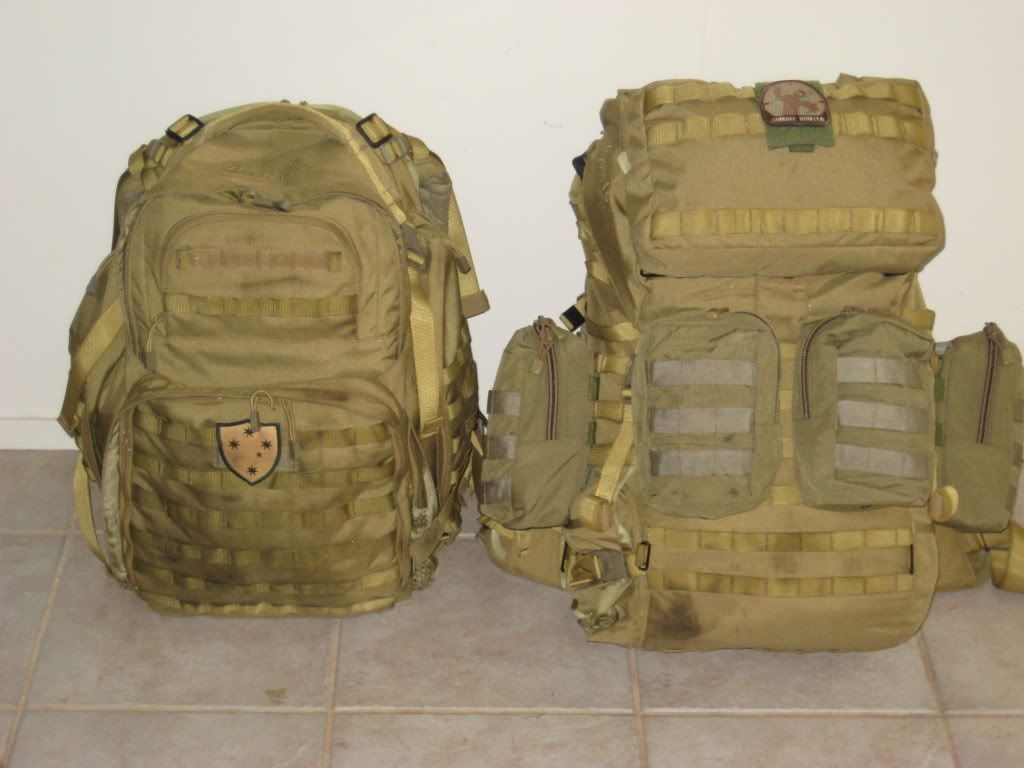 Frame
Plastic Frame Sheet, designed to provide comfort for load carriage. Removable to turn DG-2 into a soft pack to scrunch into difficult stowage spaces.
Harness –
Triple laminated to last under load. Harness straps are significantly less "beefier" than those found on the DG-3. Harness cannot be adjusted for back length. Sternum strap is fitted.
The hip belt is also not as solid as that found on the DG-3, reflecting on the fact that this pack is not intended to be used for really heavy use. Padding is fitted, but can be removed if necessary.
Interface between the back and the harness is a ventilated Free-2-Air lining, setup in a tensioned mesh tropical panel, looking somewhat like a trampoline.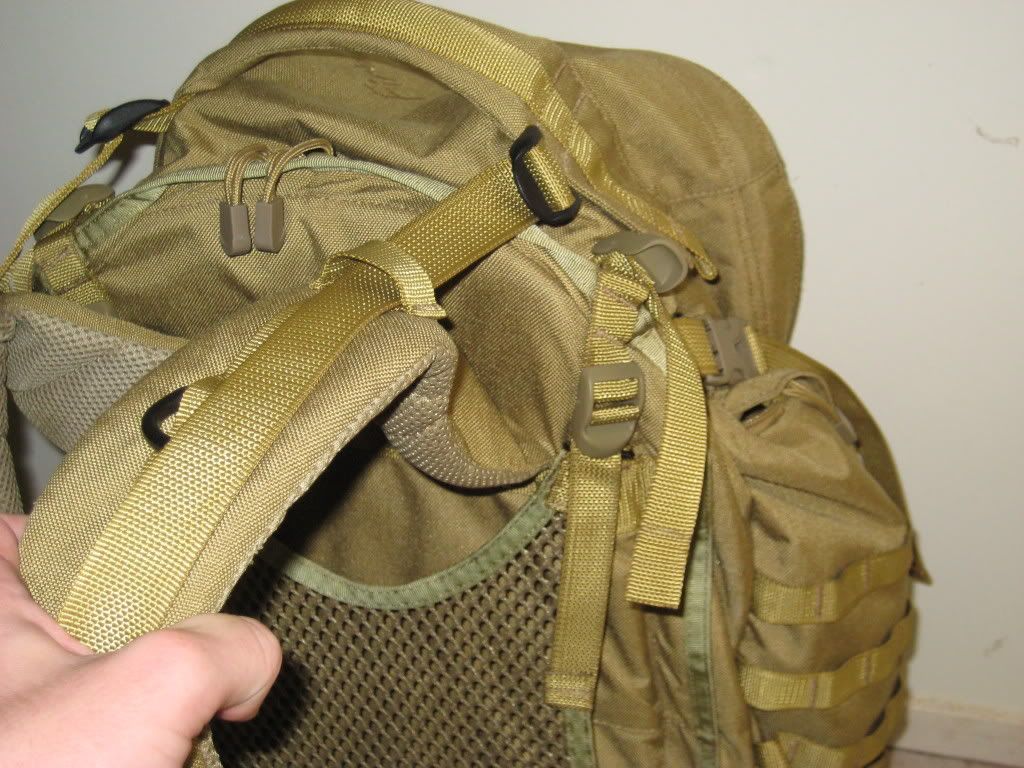 Rucksack –
The DG-2 Lighthorse is packed with features.
As mentioned, it is predominantly a panel loading travel pack.
Between the harness and the ain body is an area where flat items like sleeping mats or hydration bladders could be stowed.
Full side zip access on the main body is catered for. Lower mesh pockets, internal mesh pockets and plenty of internal organisation. All of the internal organiser pockets are zip accessed.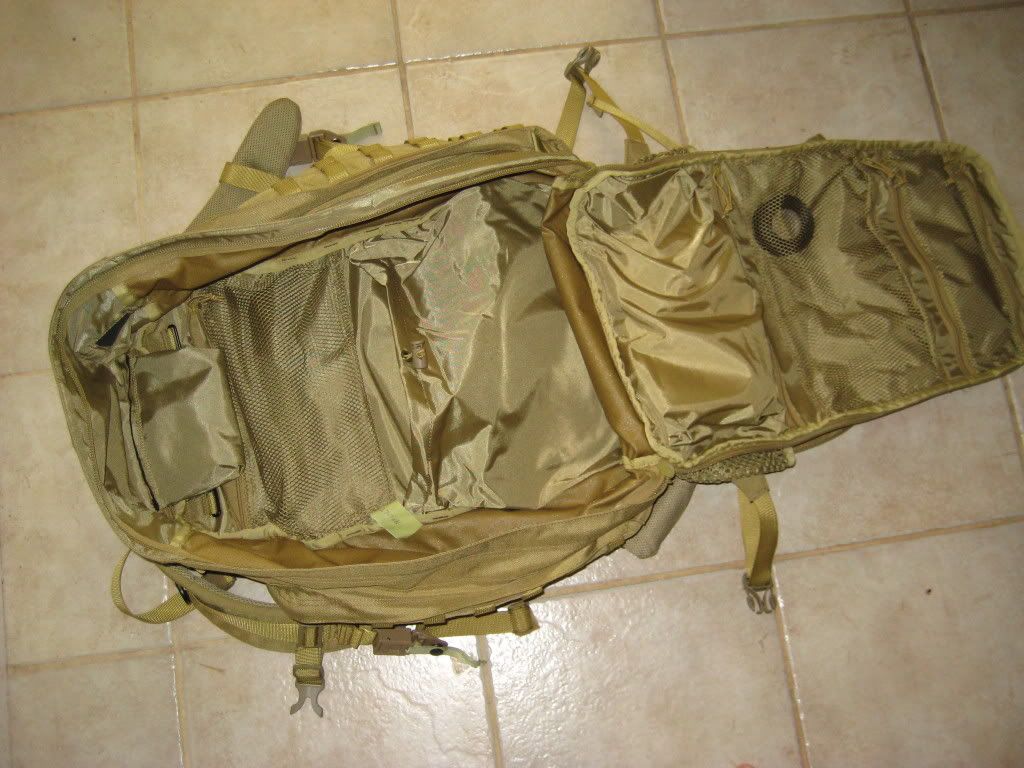 Inside the main body is also a radio pocket "Lost Arrow" hangers are placed at the top of the main body for hydration bladder stowage.
 Moving out from the main body is a "Beaver-tail" I guess is the best way to describe it. This is a net pocket with a smaller daypack sized external pocket to throw loose items like helmets, jackets when not in use, and time to properly stow them is short. Hell, one could even use this to stow a skateboard.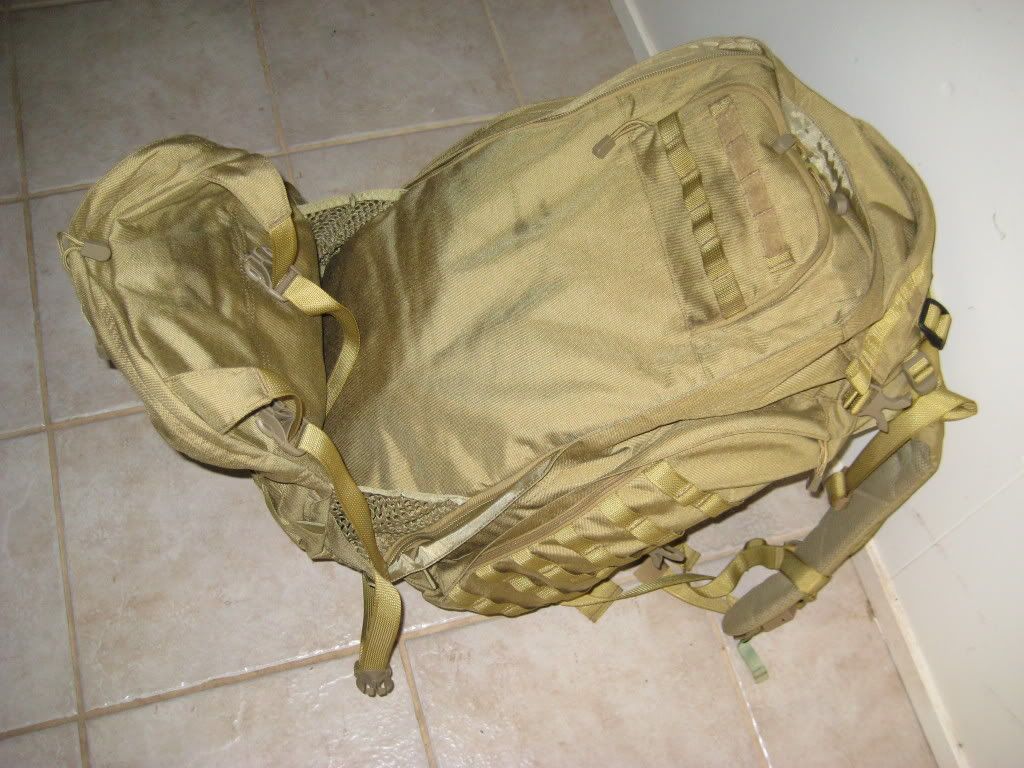 On the beaver tail is another zip accessed pouch with heaps of internal organisation, with a mixture of zip and Velcro access.
On the outside of the main body are two zip accessed side pockets with more internal organisation.
There are also a couple of zip access pockets on the external surface of the pack. This includes a fleece lined pocket to stow ballistic glasses. I like to put my iPod in here when I'm wandering around cities.
The pack is fitted with a very strong, reinforced drag handle, that is actually comfortable to sling it around by.
Access ports for radio handsets, antennae and hydration hoses have been provided.
Grommets are fitted to the main compartment to allow water egress. The most of the external surface of the pack, barring the bottom, has PALS rows sewn on to allow modular pouches to be attached.
There are also two Velcro pile sections for morale/unit/deployment patches.
PERSONAL ASSESSMENT:
I have used it for work related travel via air. Dragged it around major cities through public transport, taxi's and discount sales induced riotous crowds, trying to miss flights.
The most gruelling assessment I've given the DG-2 was a week's sailing the Whitsunday Passage from Airlie Beach. Yes, the trepidations of navigating hordes of foreign backpackers in Queensland beach paradise was onerous. I'm not sure how I survived…
For a pack designed for and named after my own glorious Regiment, I was a bit disappointed with it. As mentioned, the DG-2 was meant to be used for mounted troops. So, after looking at it and using it in similar ways, what did I think of it??
Cons –
My biggest gripe is the harness. Back length cannot be adjusted, and the shoulder straps seem a bit 'iffy'. I found that wearing the pack for longer than 30 mins, the tri-glides tensioning the tropical trampoline-like back panel would dig into my shoulders. Therefore, I would not recommend the DG-2 for extended dismounted use in a military environment.
I also have my doubts about some of the placement of the PALS rows on some areas of the pack, and their ability to withstand loaded pouches.
Pros –
Despite some of my concerns listed above, the DG-2 is made to Crossfire's usual bombproof standard. My gripe is with the design itself, not the manufacture.
For vehicle crews, I think this pack is a great idea for stowing within vehicle sponsons. Unfortunately, my experience is only with the M113, so I can't tell you if it's any good with newer vehicles like the LAV/Piranha series, Bushmaster, etc.
The size and actual dimensions of the pack suggest that a meaningful amount of kit can be carried by the crew within their car. I passed it around some of my mates who used to drive a-veh's, and they responded positively about the utility of being easily stored in the vehicle sponson.
I found during a week's sailing the Whistunday passage, on a decent sized boat, but with 8 people aboard, the nice compact sizing of the pack was useful. I was able to sling it into quite small spaces, whilst still being able to access my kit. Damn nice. The shoulder straps allowed me to strap my pack on and behave like a monkey climbing in and out of the boat, which was handy considering how much I had to help my mum board at times. Now I know where I get my lack of coordination from…
As an aside, that was an interesting trip. The young lass I was sharing a cabin with thought it was awfully cramped. She was 5ft tall, and lucky to hit 50kg's soaking wet. Me, being nearly 6ft tall, felt at home, since I had more room than I was used to from sitting in the back of '113 and thought it was a luxury.
Out of 8 people aboard, 6 were about ready to throw my sister's boyfriend over the side as a "tragic holidaying accident". Let me tell you, we were looking at everything that wasn't nailed down to weigh down the body… Funny conversation when baby brother looks at the DG-2 and asks if we use it to weigh down a body, will the pack fail in weighing down the bait, I mean body. My reply was that no Crossfire product would fail on any expected tasking. See Peter!! You do have a good rep!!
Steering back on topic, lest I gather some strange looks…
I would suggest that the DG-2 is suitable for armoured crewman who are going to be carrying the pack from their place/private car, to the carrier. Long term use in a dismounted role would not be recommended.
However, I think the pack can be improved.
My suggestion is to leave the existing hip belt, which is very low profile and suited for stowage in veh's and air travel.
I would however, suggest that the shoulder harness from the DG-3 be used instead of the current design. This would give a pack that can answer it's primary role of sponson stowage with the additional comfort required of long range walking for such things as admin moves, dismount taskings for the crew, or abandoning unserviceable vehicles.
With this recommended change, I think the utility of the DG-2 would be greatly improved.
My current use of this pack is as a "possibles" bag sitting in the back of my car. In the last 18 months here on the mines, I've been threatened with being flooded in to mine sites whilst I've been away from home. So if I have some sort of problem, I have immediate access to a first aid kit, water, decent pair of walking boots, wet weather gear, change of clothes, toiletries, emergency rations and other small items.
If the car dies, or road access is limited, well, I can always walk out. Albeit, somewhat more uncomfortably than if I had my dedicated gear.

Posted in Crossfire, Packs & Webbing by 22F with 10 comments.