ITEM: DG-6 AUSNICE Infantry Pack
MANUFACTURER: Crossfire Australia
DESCRIPTION:
An 85 litre, general purpose combat pack with external pockets using the NICE Frame.
REVIEW NOTES:
The new DG-6 is kindly supplied by Crossfire Australia.
I have received no financial compensation for the review of this item. I have done the review (like many with supplied equipment) with the proviso that I will be painfully honest in my assessment of this item.
This is the latest incarnation of the Crossfire general purpose combat pack.
My previous review of the old version of this pack can be found here:
Unfortunately, I haven't been able to take this pack out scrub, due to the vagaries of real life.
SPECIFICATIONS:
Dimensions
Height – 90cm
Length – 50cm
Width – 40cm
Volume – 85L (at the shoulder)
Weight – 4.5kg
RAID on left, Crossfire DG-6 on right: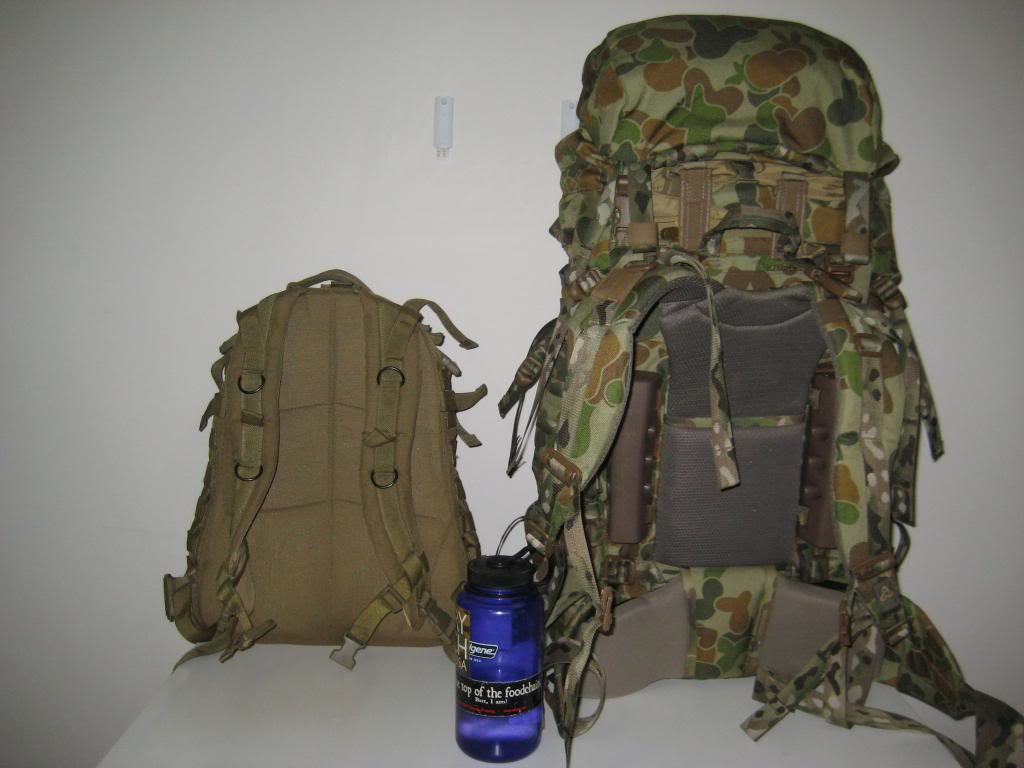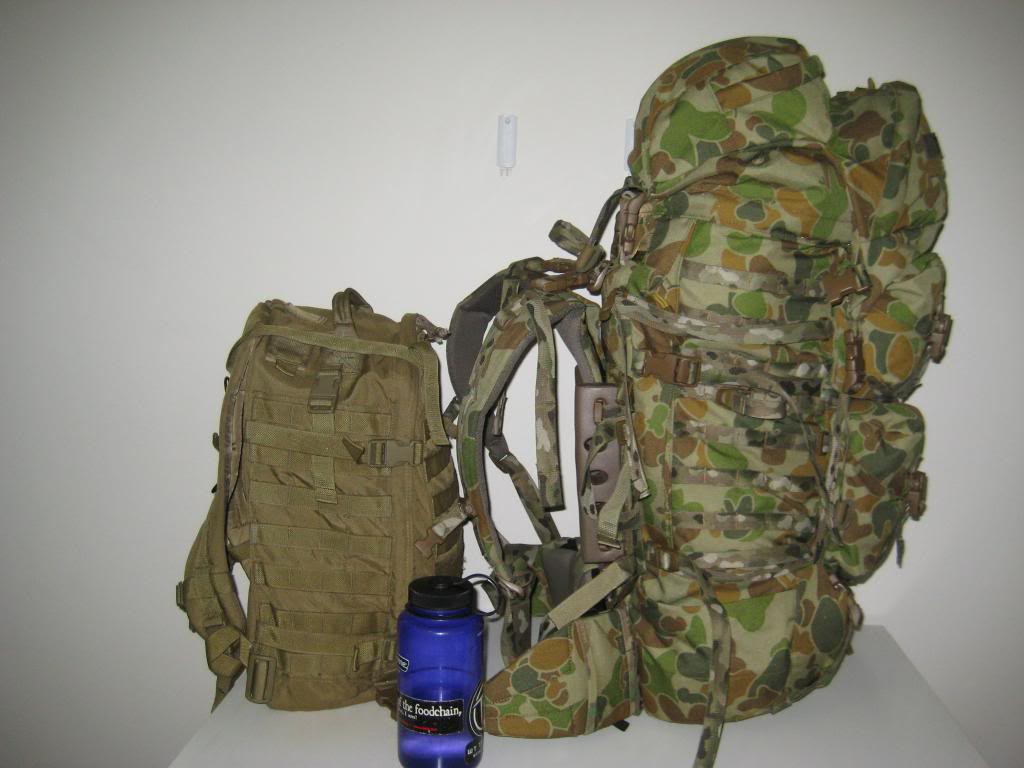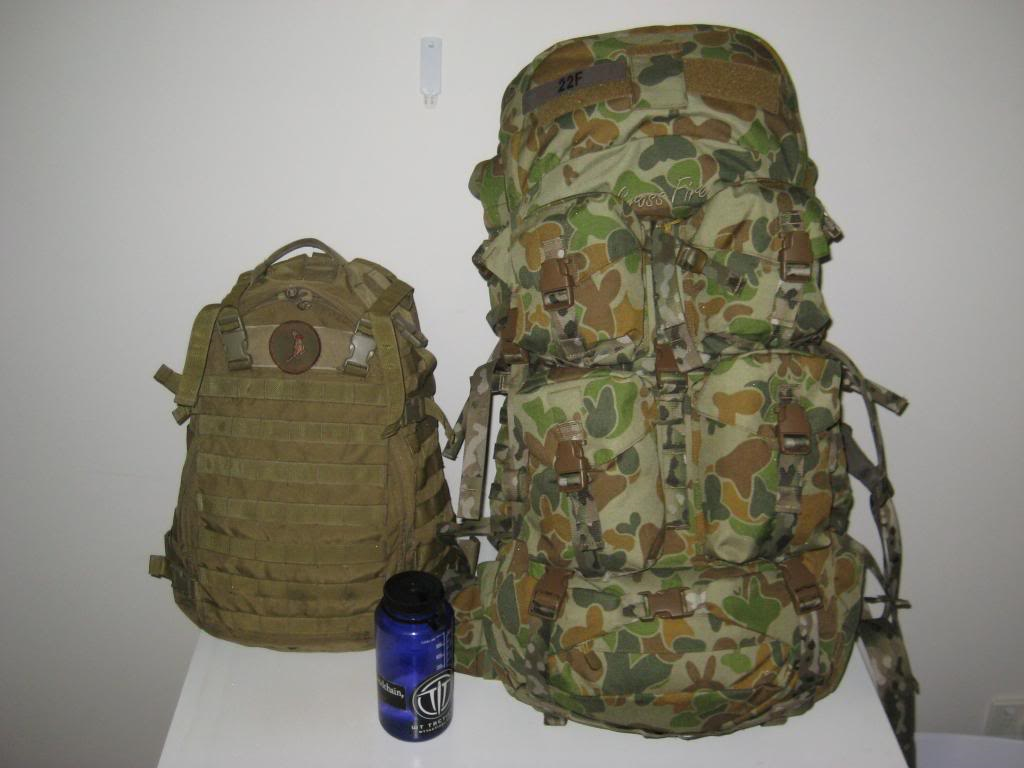 Old model DG-6 on left, new AUSNICE DG-6 on left: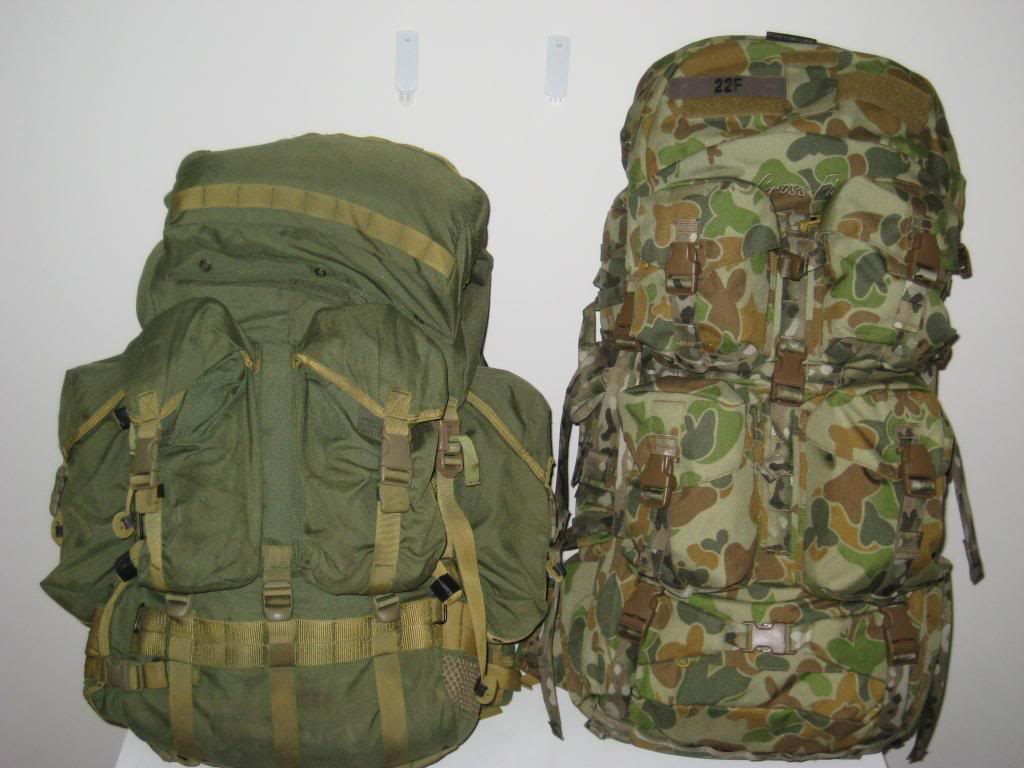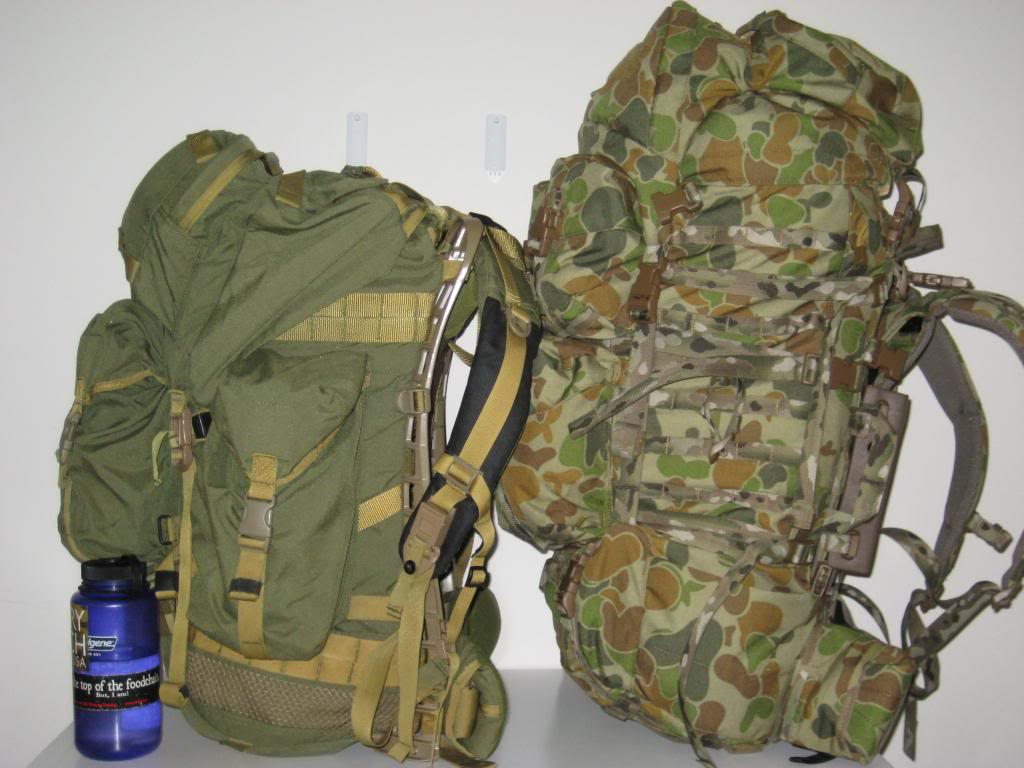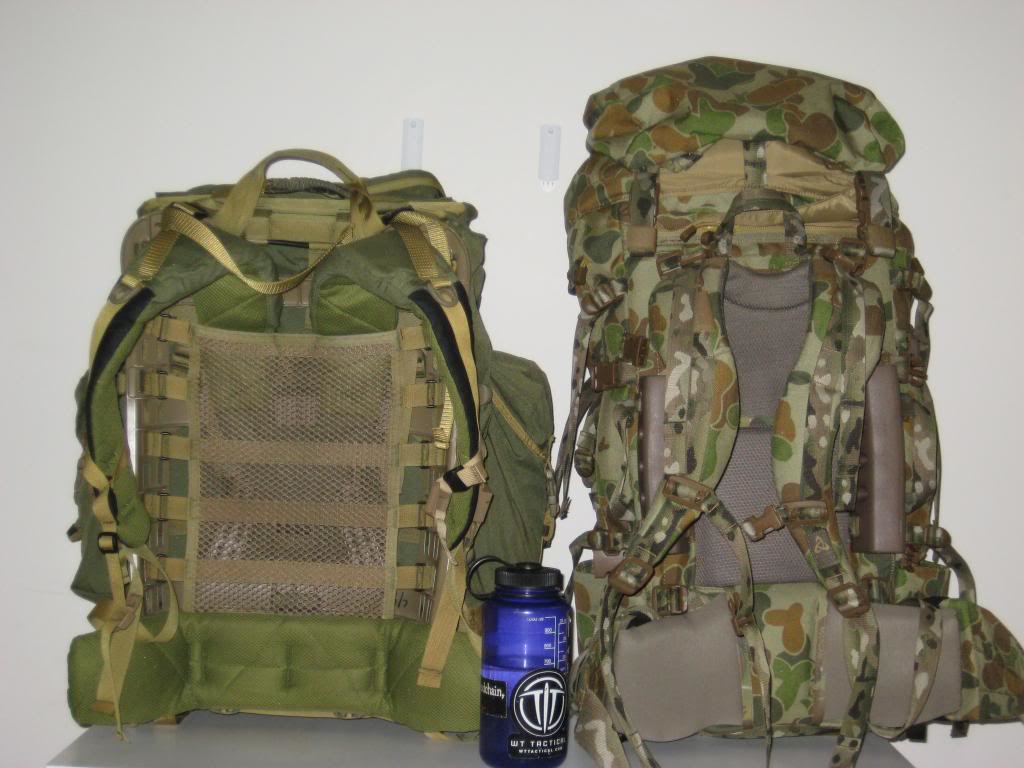 MATERIALS:
1000 Denier cordura for the main body.
Lockable fastex buckles.
Multicam Webbing
Mesh in various places.
LAYOUT: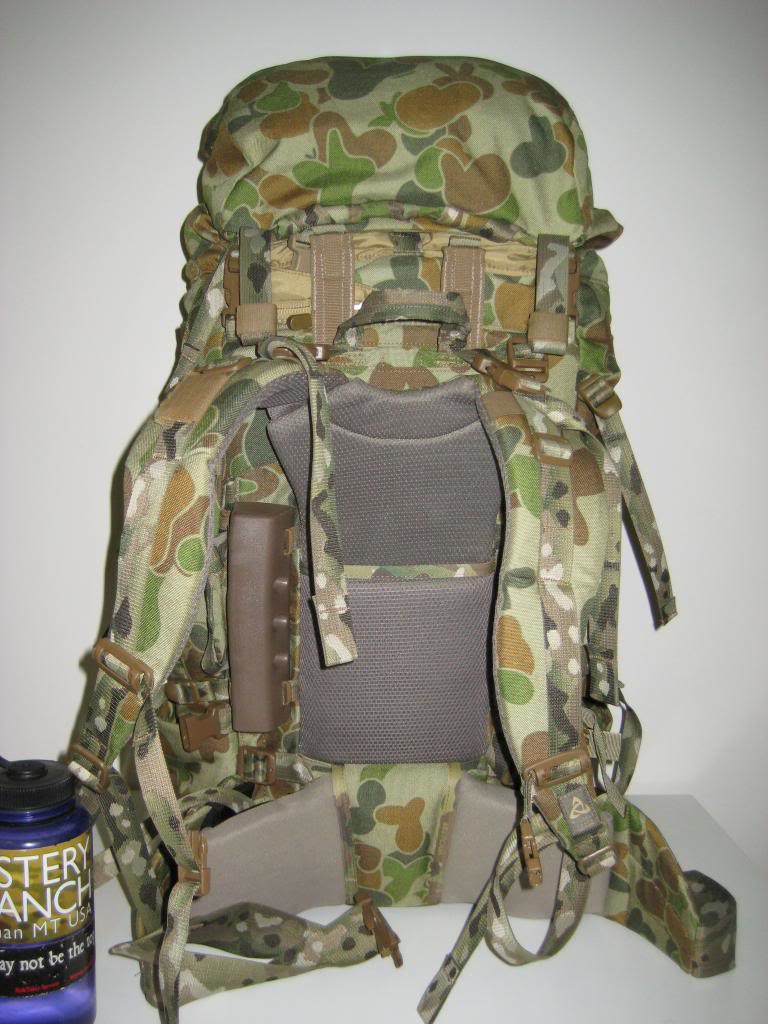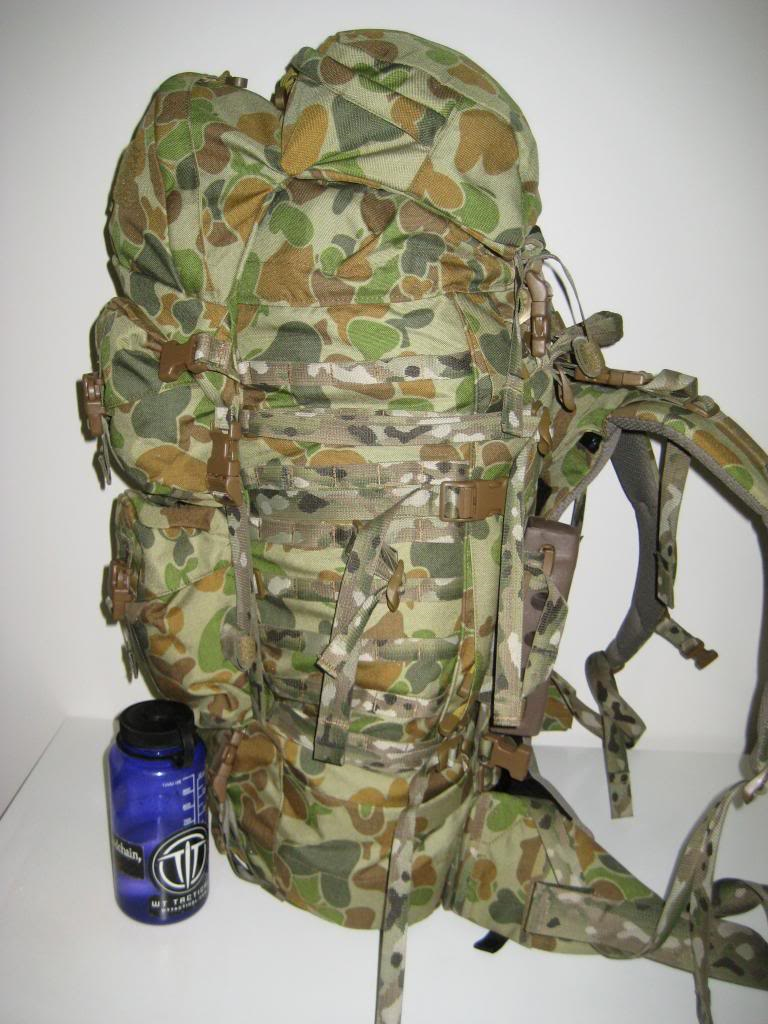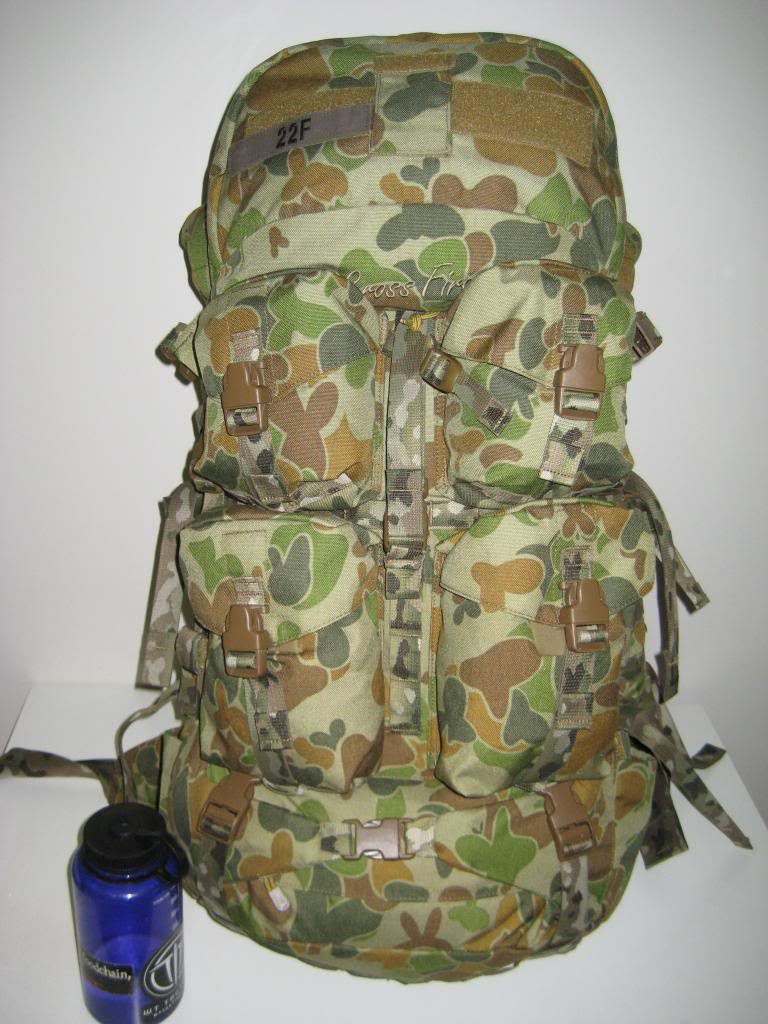 FRAME AND HARNESS –
This pack uses the Mystery Ranch NICE Frame. It's a hybrid internal and external frame.  Experience has shown the NICE system is very comfortable against the body.
This NICE frame is fitted with removable BVS blocks for integration with body armour.
For a full assessment of the NICE frame, please refer to my review here:
Mystery Ranch NICE and AUSNICE Frame
Something to note about this AUSNICE frame, is the lack of quick release buckles for the harness. I have mentioned this lack of quick release buckle to the team at Crossfire and apparently they are moving to instigate quick release buckles into the next production run.
Crossfire has decided to go with Multicam webbing tape for their NICE frames. This looks "dirty" or mismatched, but really will help with camouflage and concealment by removing obvious straight lines from personal equipment. I think this is a good point, since my initial setup of bush gear is a quick spray paint to break up any obvious straight lines that webbing tape always provides.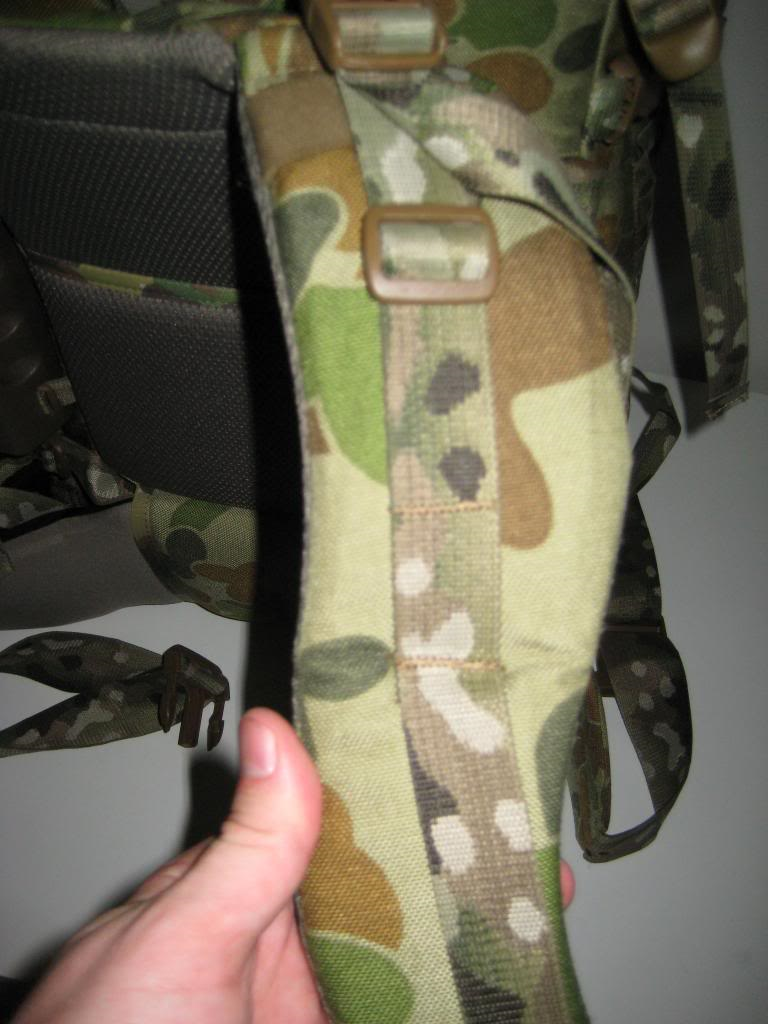 RUCKSACK –
In general design, the DG-6 rucksack is based upon the same format as the Mystery Ranch 6500, scaled down to suit the volume, with many smaller details added. This is part of the licensed business alliance between Mystery Ranch and Crossfire.
The DG-6 comes with an improved daypack lid. The pack lid is a detachable item that can be used as a small daypack. It could conceivably be used as an Escape and Evasion bag for those moments when immediate survival items are needed. It is secured to the pack frame via lockable fastex clips at top and bottom and has a harness system tucked away in a pocket for immediate use.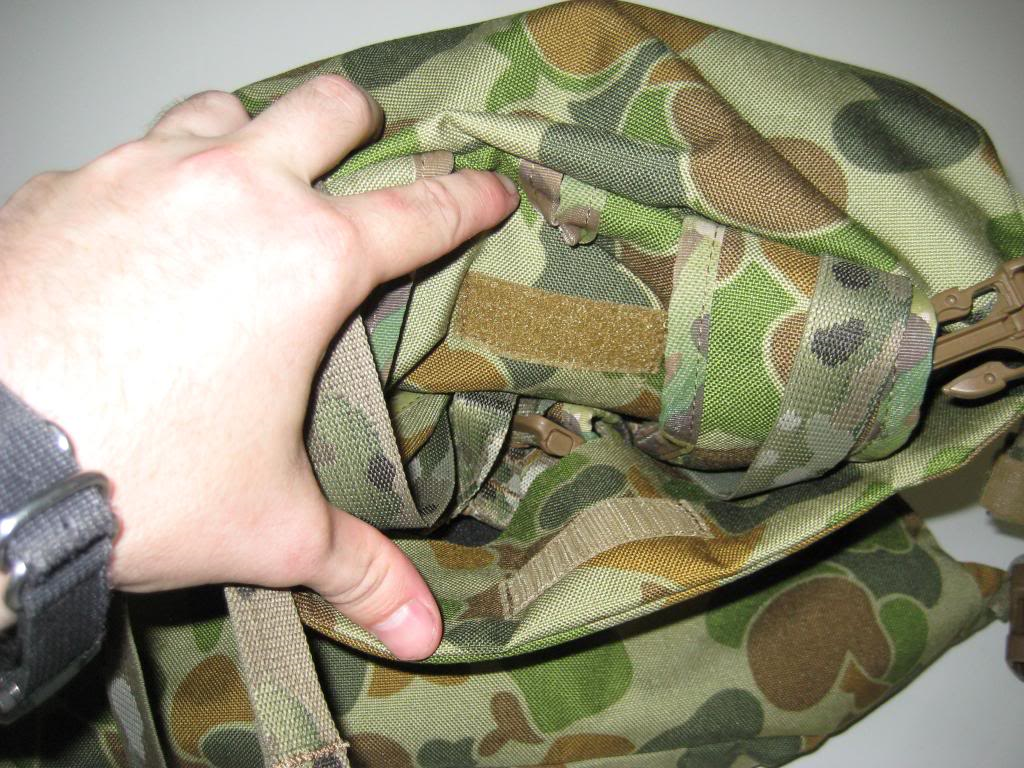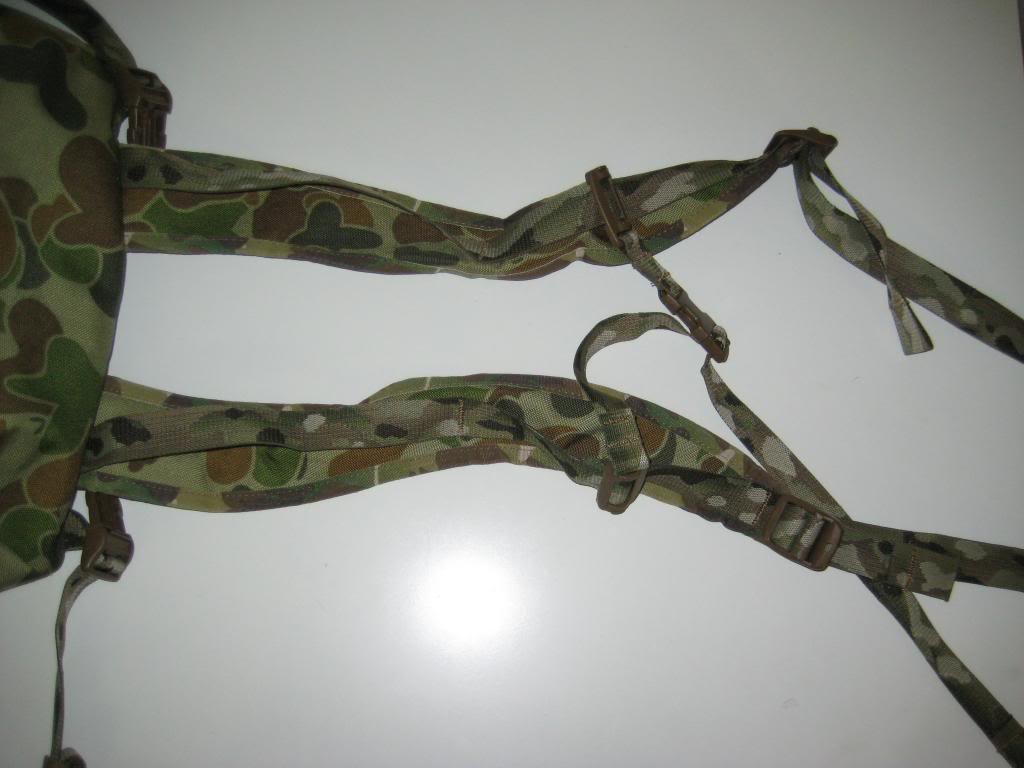 There are extra fastex buckles to allow a more comfortable fit of the daypack harness.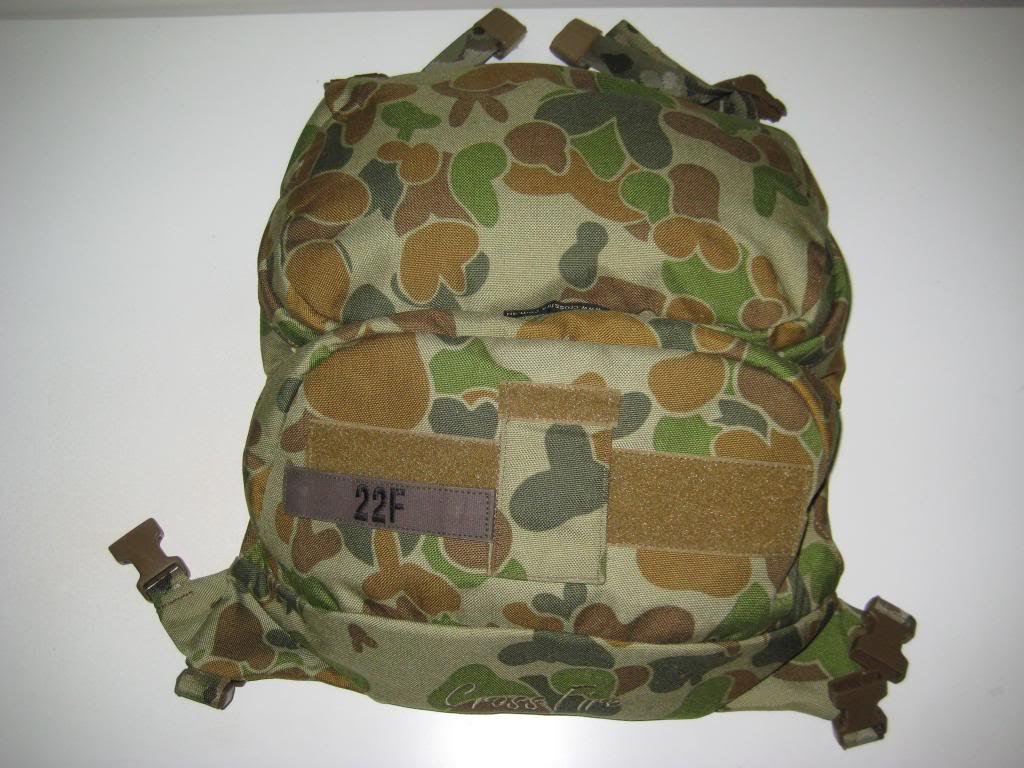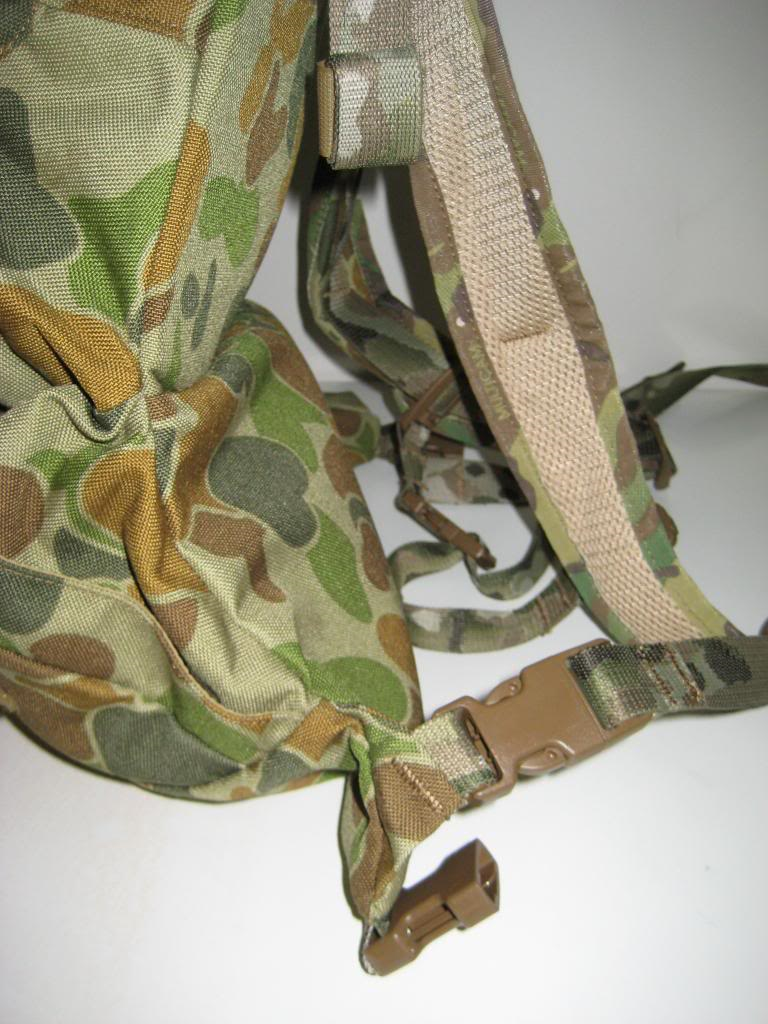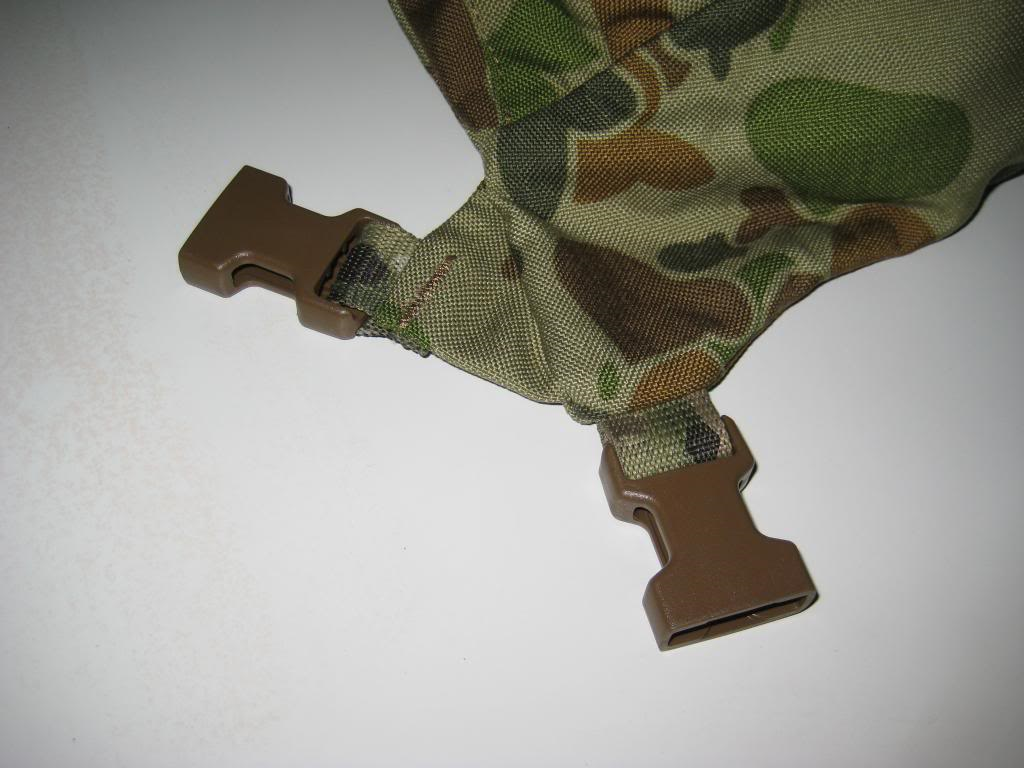 Daypack Lid being worn: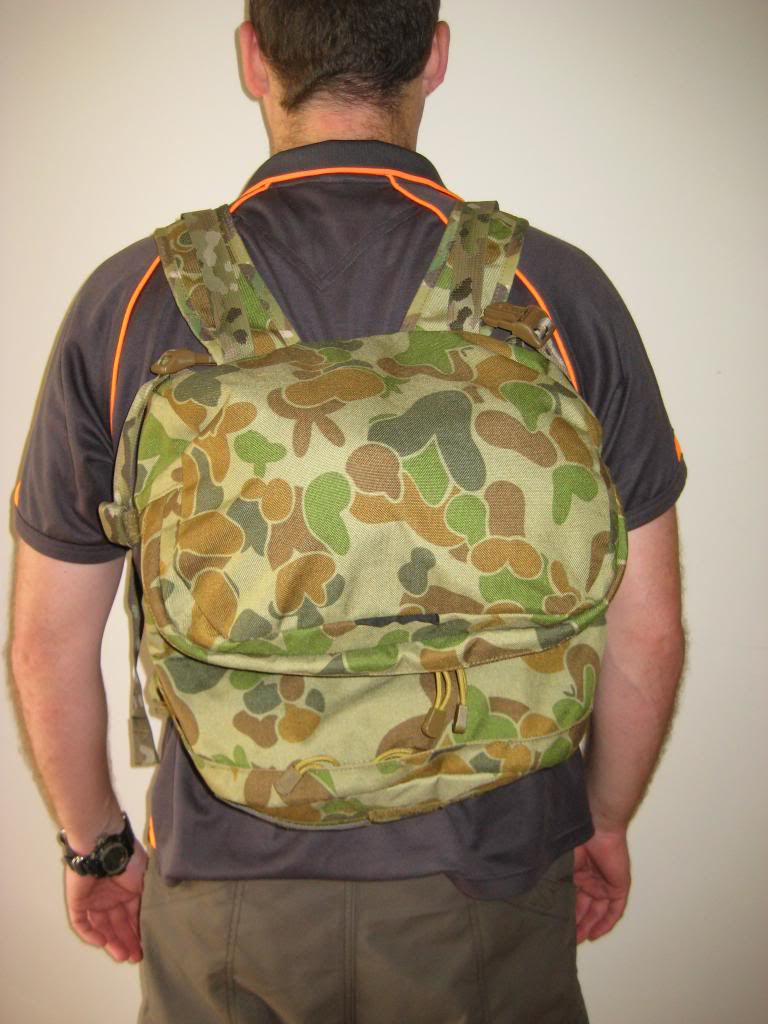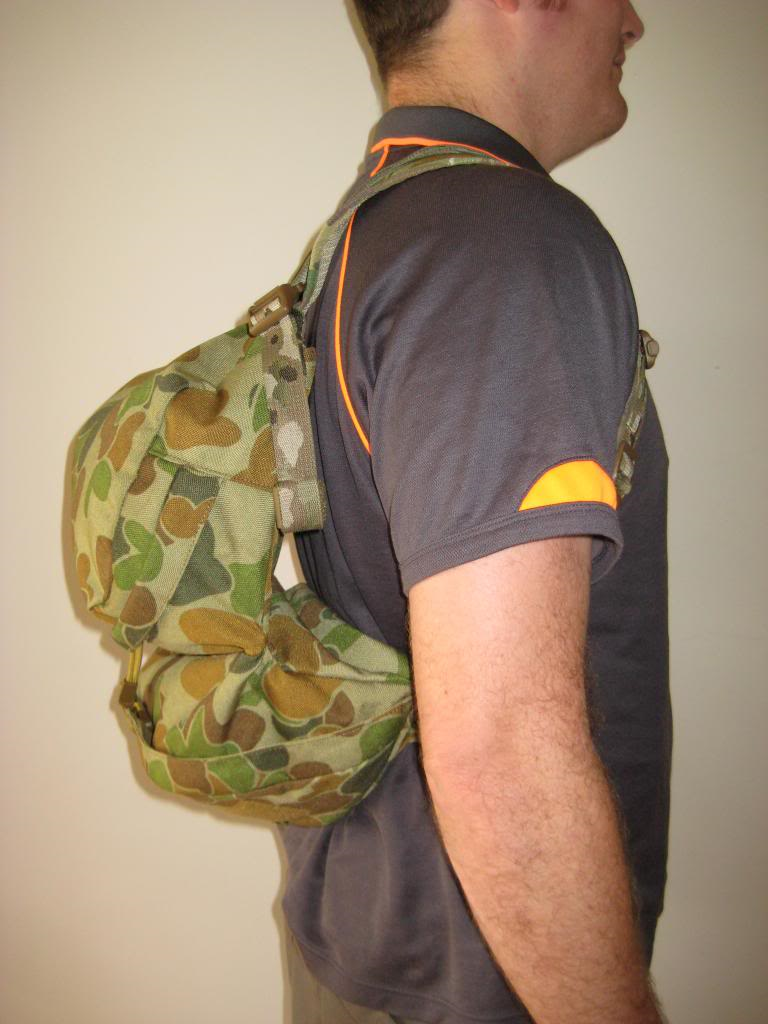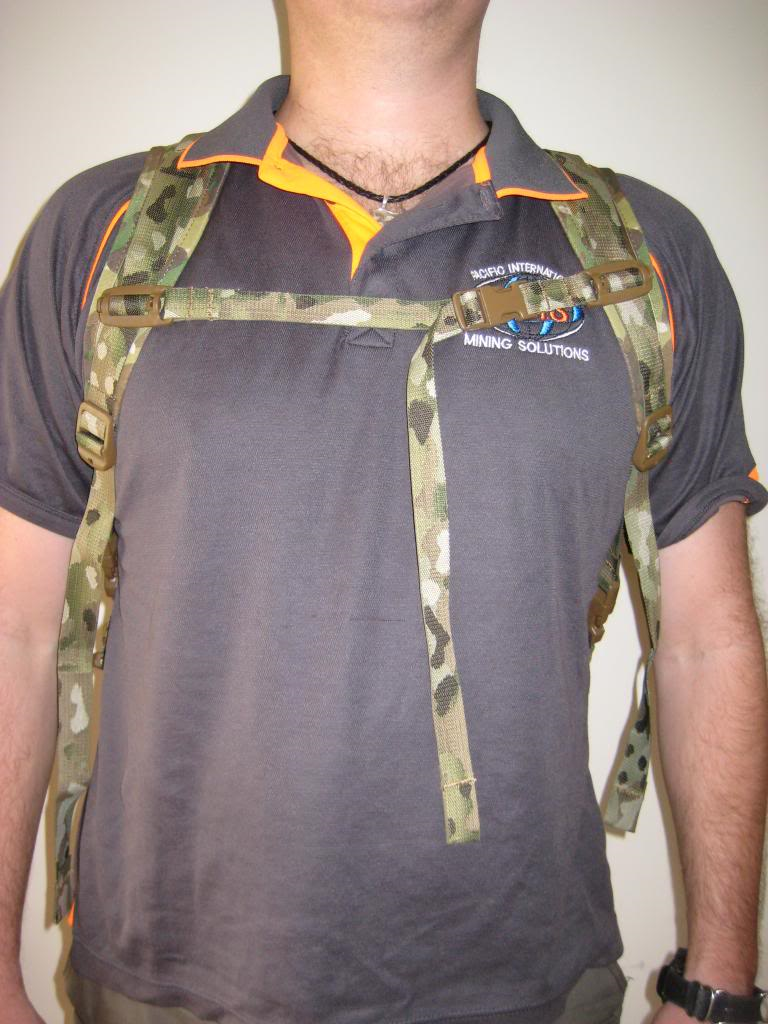 A nice design point on the fastex closure for top and bottom of the lid is the ability to undo the top portion for access to any radio controls, without having to muck around as much with the pack. This also allows the pack lid to be adjusted for the internal load and not interfere with the wearers head movements.
The top zip pocket of this lid has an access port for a hose, so this would suggest that it's intended for storing a hydration bladder. One could easily carry a 3L bladder within it. The positioning of the pack lid is such that if a hydration bladder is fitted, that it's in the most optimal balance point.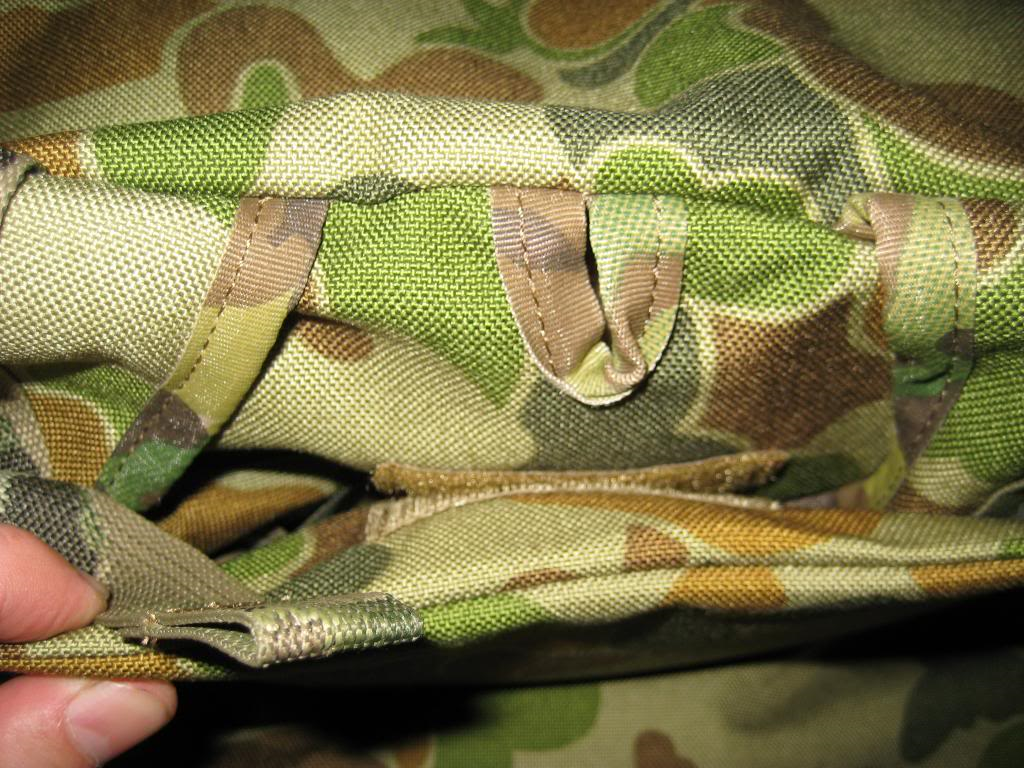 These pockets on the Daypack Lid are larger and better shaped to better allow a variety of different items to be carried. This increases the usefulness of the Daypack Lid. The top pocket is sized to accommodate water bladders and other such items of equipment such as complete M18A1 Claymore anti-personnel devices.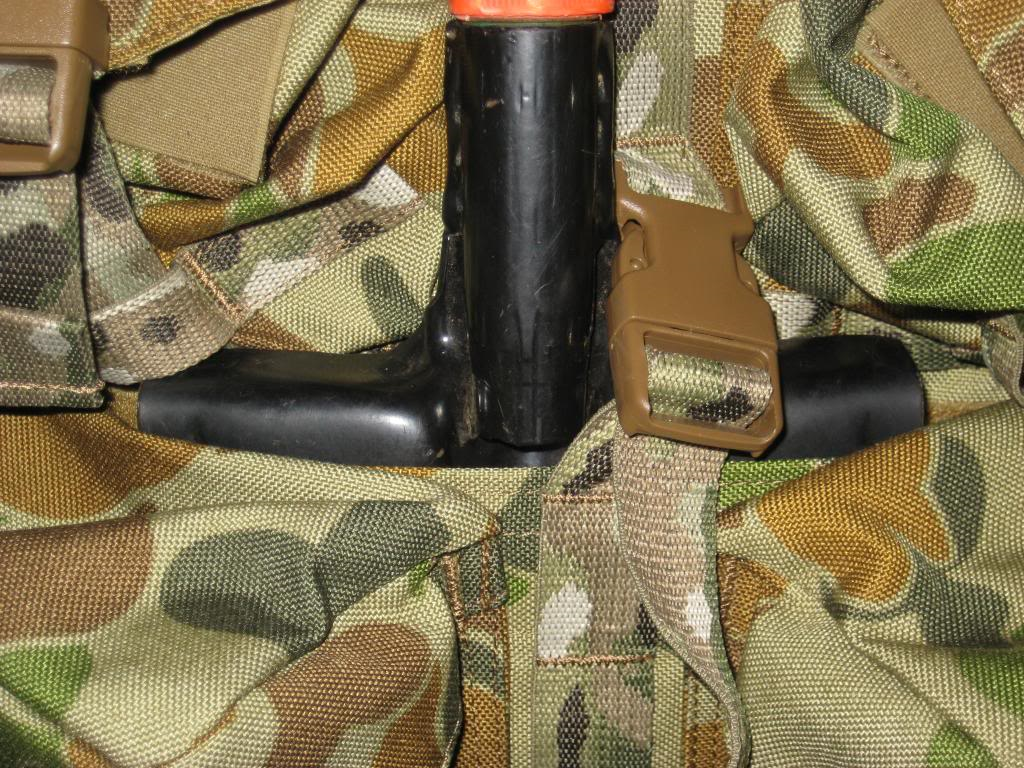 The second pocket, lower down on the lid is for carrying such things as rain coats. There is an internal zip accessed pocket inside for small sundry items.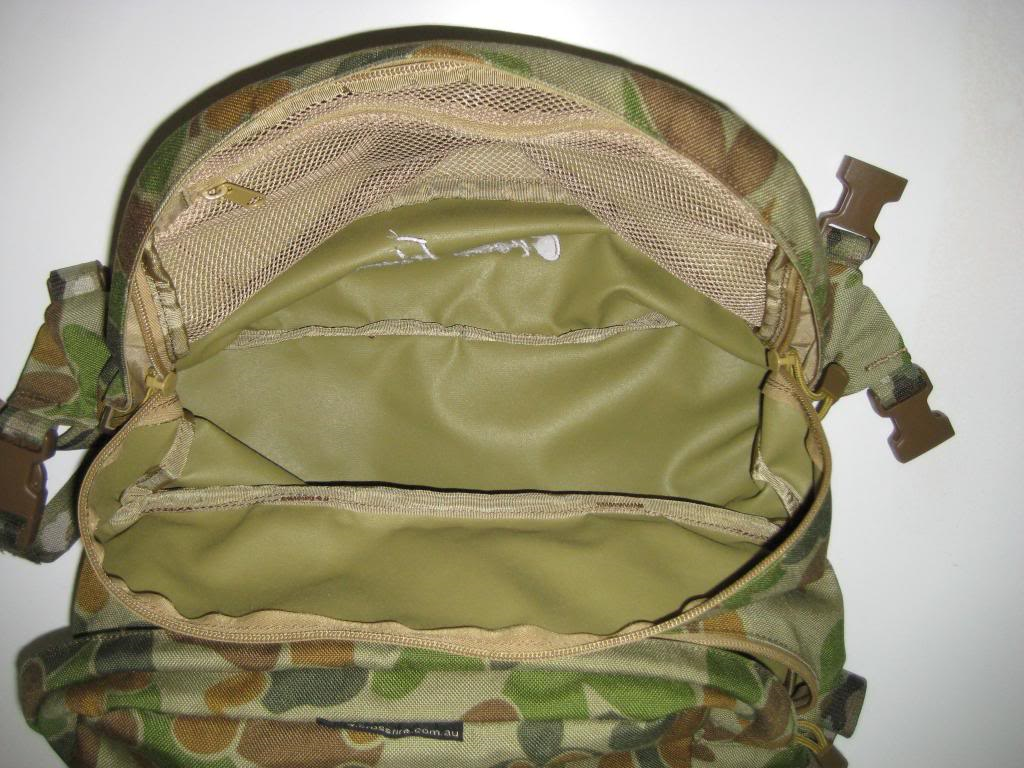 All these extra features make the daypack lid more useful as an actual daypack or E&E pack.
On the outside of this pocket, is a section of velcro loop material for IFF and morale patches. This is split in half by the signature Crossfire coverable patch of Scotchguard reflective tape covered with a roll cover. This allows the Scotchguard reflective tape to be covered or uncovered as necessary, to allow the poor bugger following along behind next in formation at night and other low visibility movement occasions, to have a visual reference point.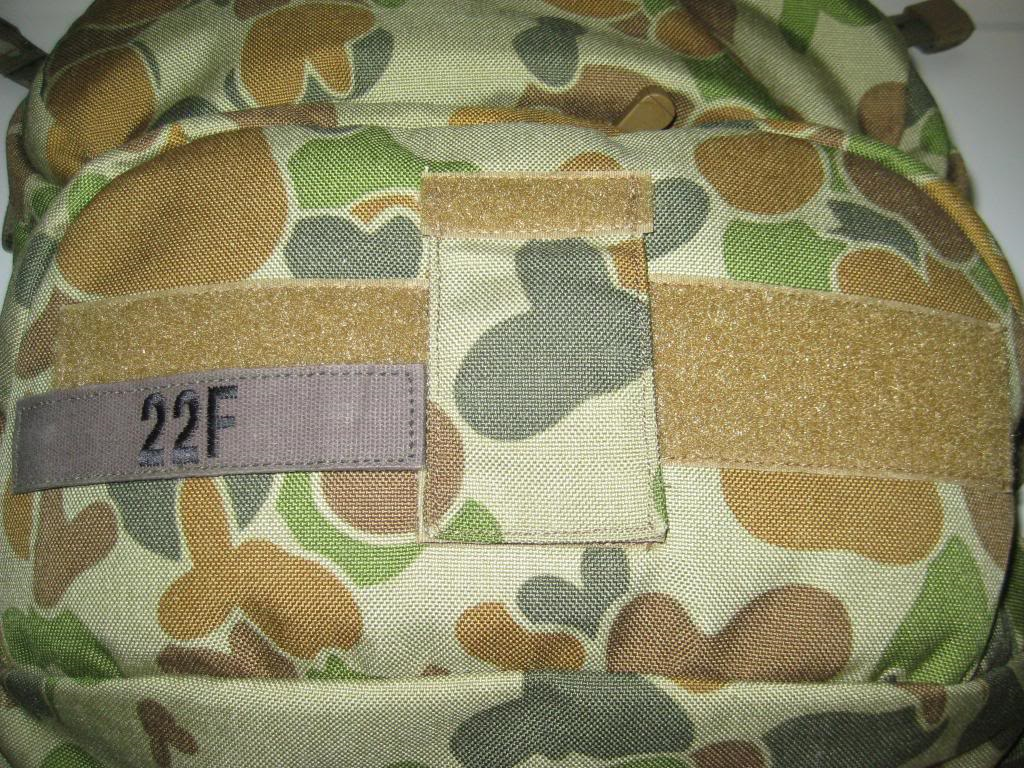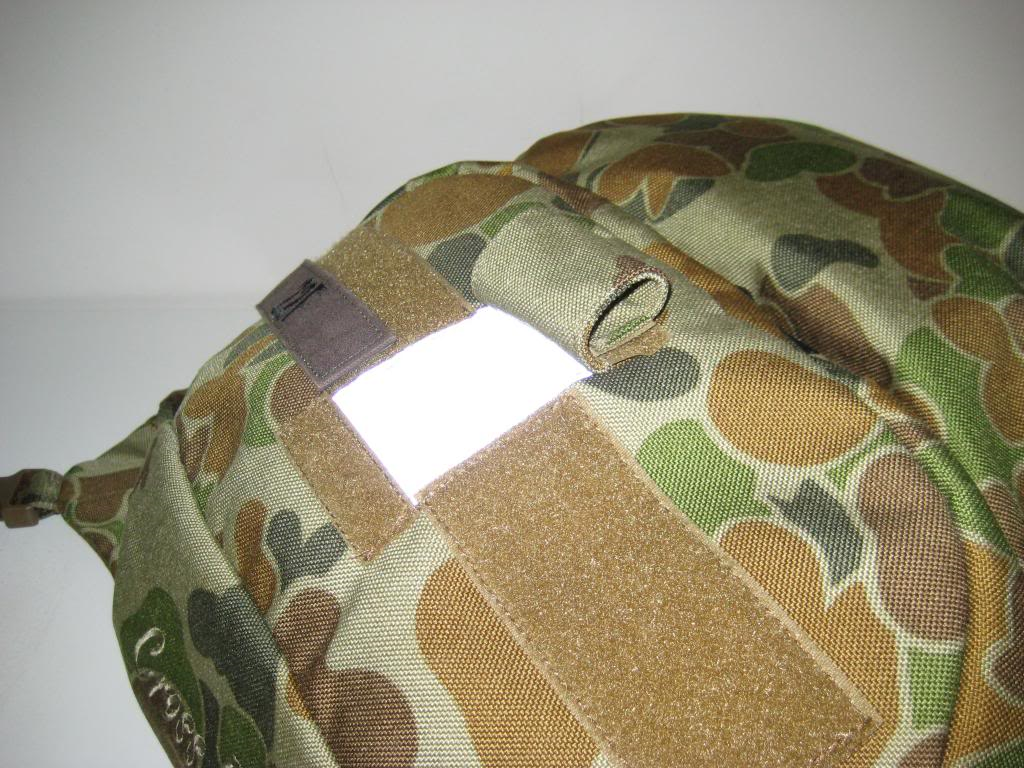 The main compartment is secured with a dual draw-string storm collar to seal the pack up against the elements and allow extra capacity to be packed in.
This storm collar allows a much greater capacity to expand the pack capacity should extra equipment be carried.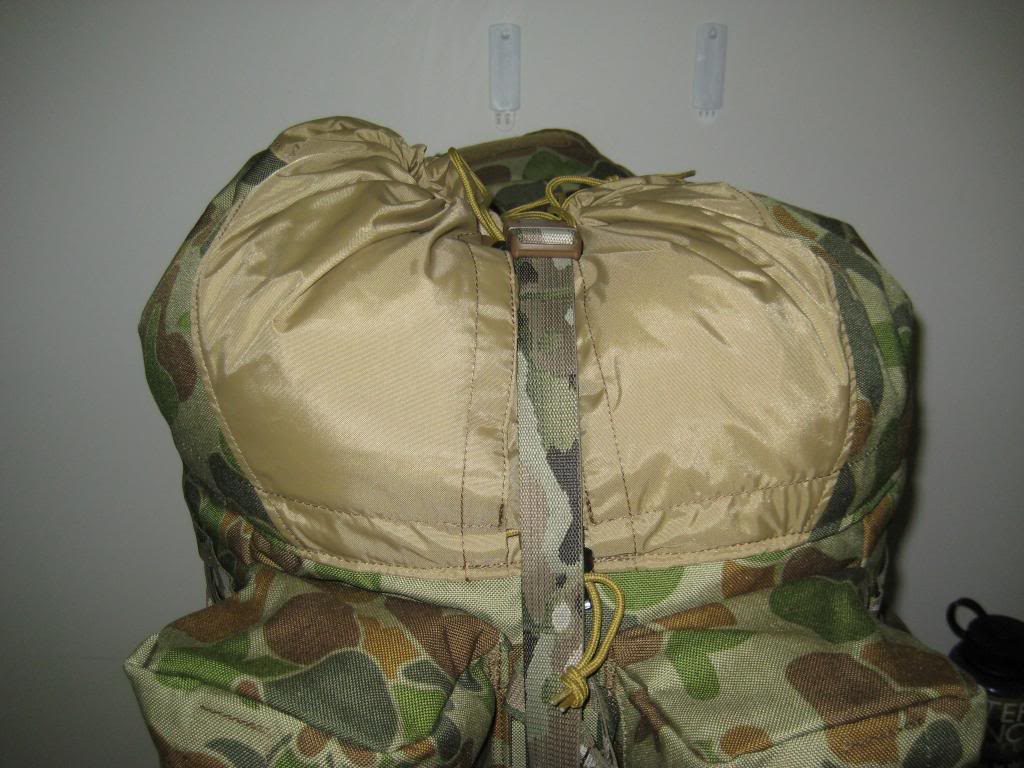 The storm collar has patches of cordura to aid in camouflage and concealment in close country. There is a fastex strap that gives a more secure method of securing equipment under the lid such as combat helmets and other loose items.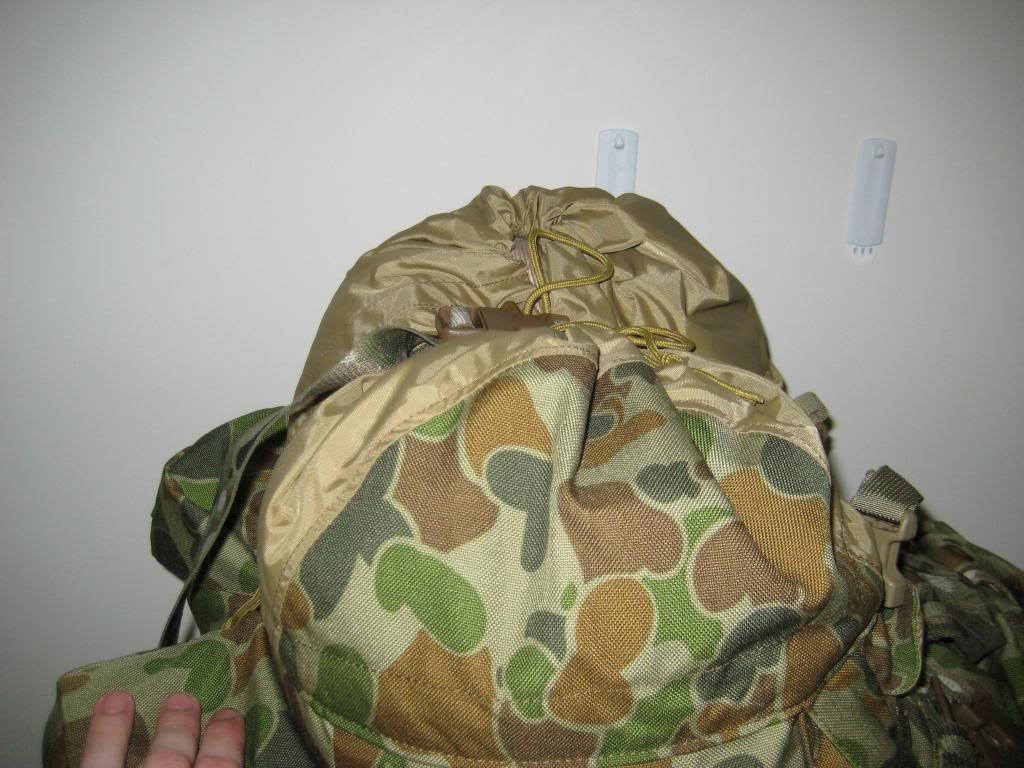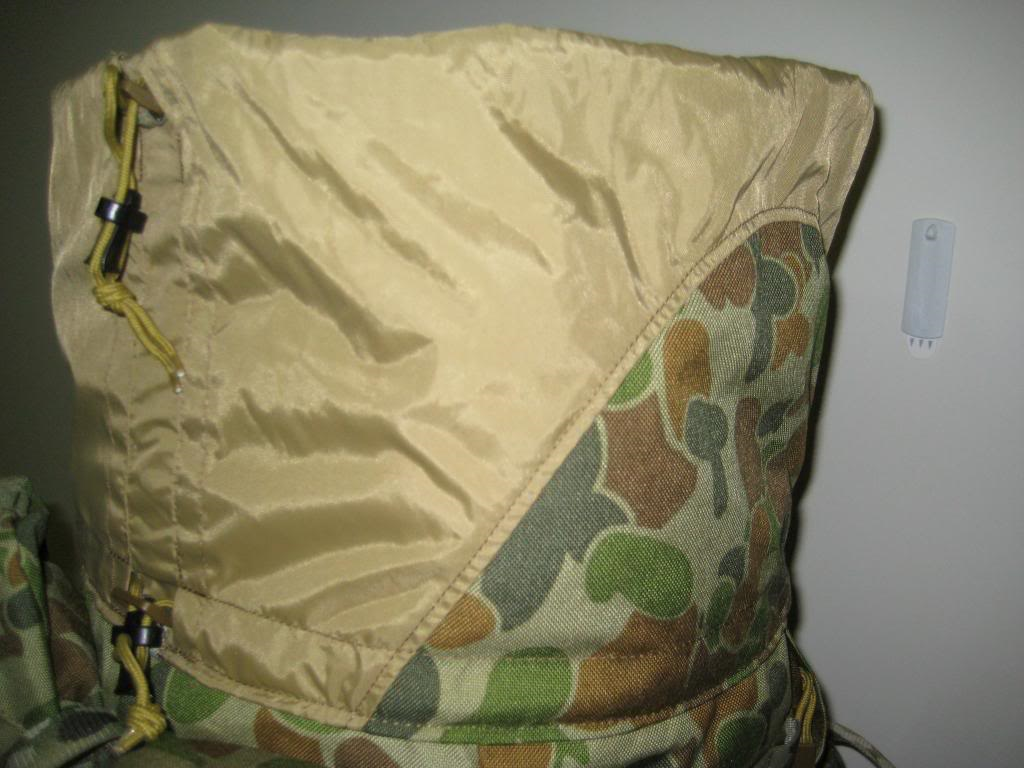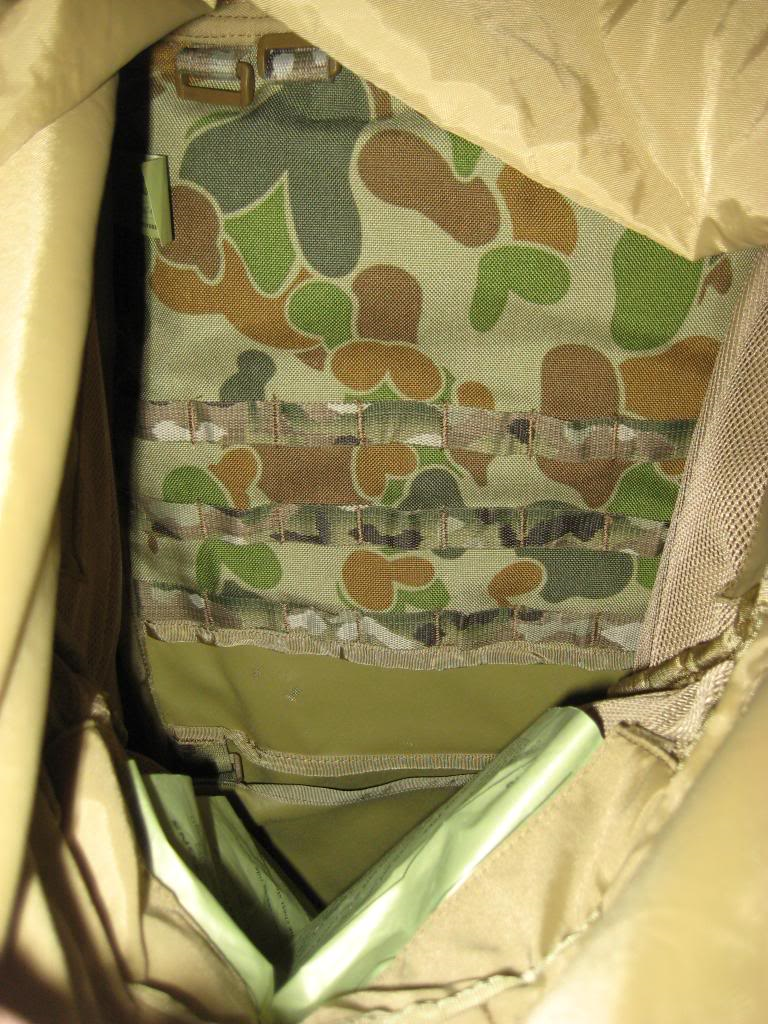 Inside the main compartment is a significant amount of internal organization, as per usual for Crossfire packs.
At the top of the pack are loops for Crossfire's "Lost Arrow" system for hanging hydration bladders or radio harness.
On the inner surface against the wearers back is a panel with MOLLE channels for securing such things as pouches and manpack radio harnesses.
Along the inside of the rucksack are three velcro secured mesh pockets for organizing small items.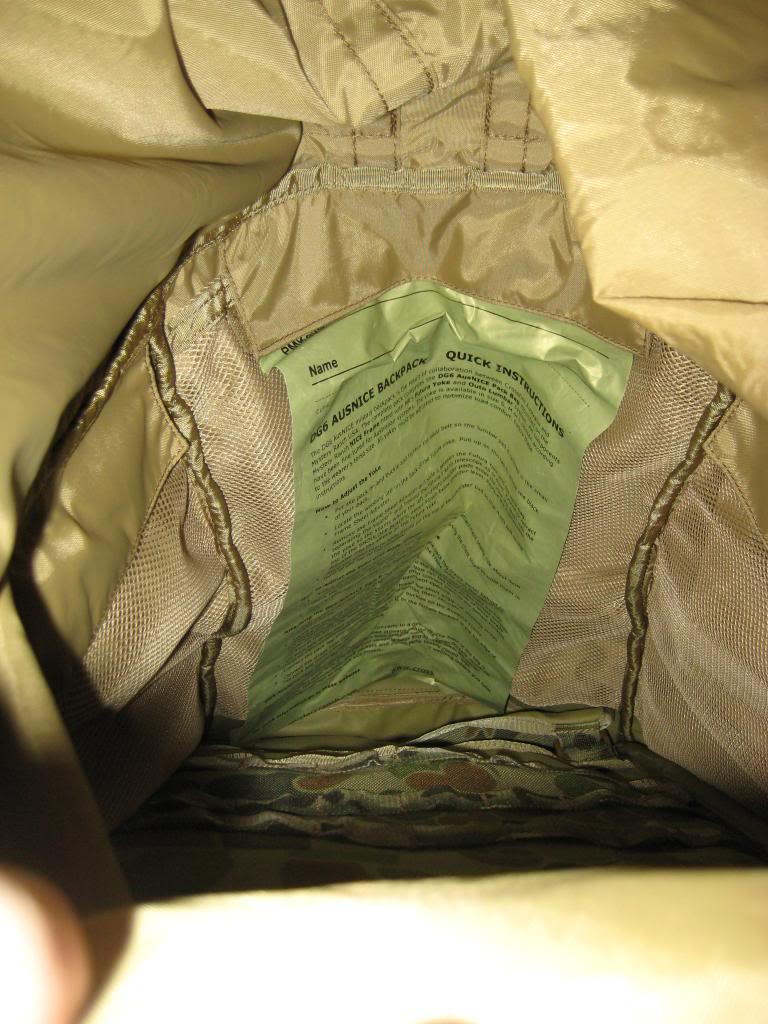 Radio access from the outside into the inside of the ruck is conducted by three zips. There is one on the top of the pack, close to the harness. Another zip is on each side of the ruck. Each zip is fitted with dual zippers to allow a variety of handsets or antennae to be routed into the pack.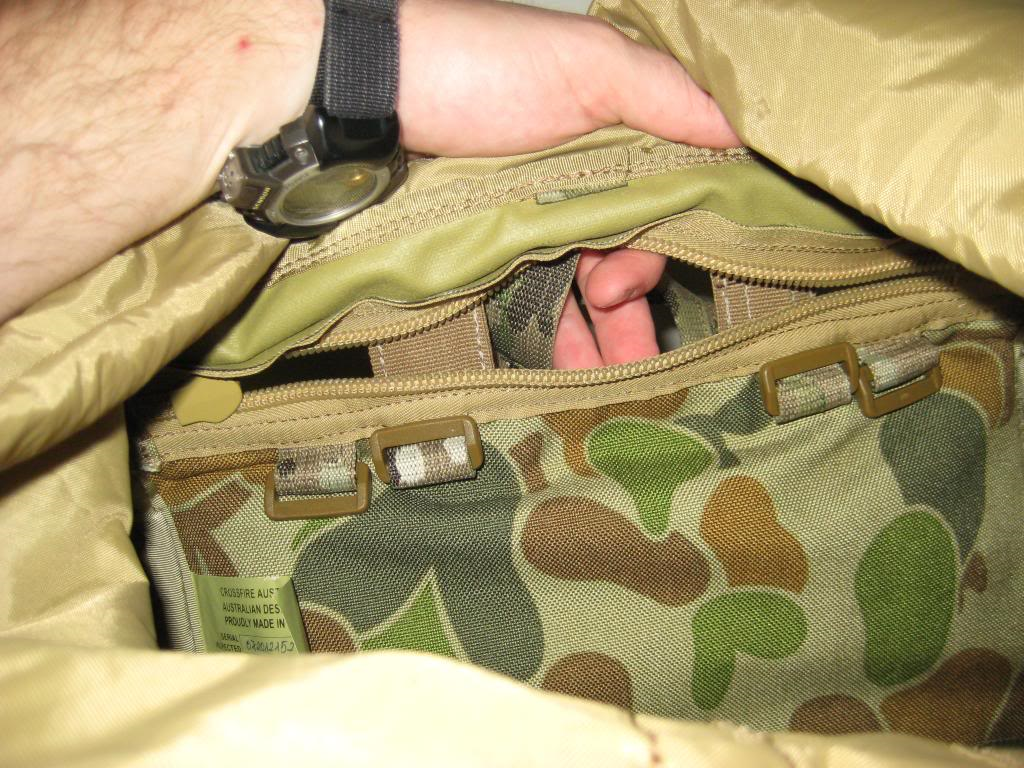 The sleeping bag compartment at the bottom of the ruck has a skeletonised shelf to separate the main compartment. It's not completely sealed off from the main compartment. The skeletonised sleeping bag shelf allows long items to be stowed within the pack. It was interesting to note that the skeletonised shelf is secured via Crossfire's "Lost Arrow" system.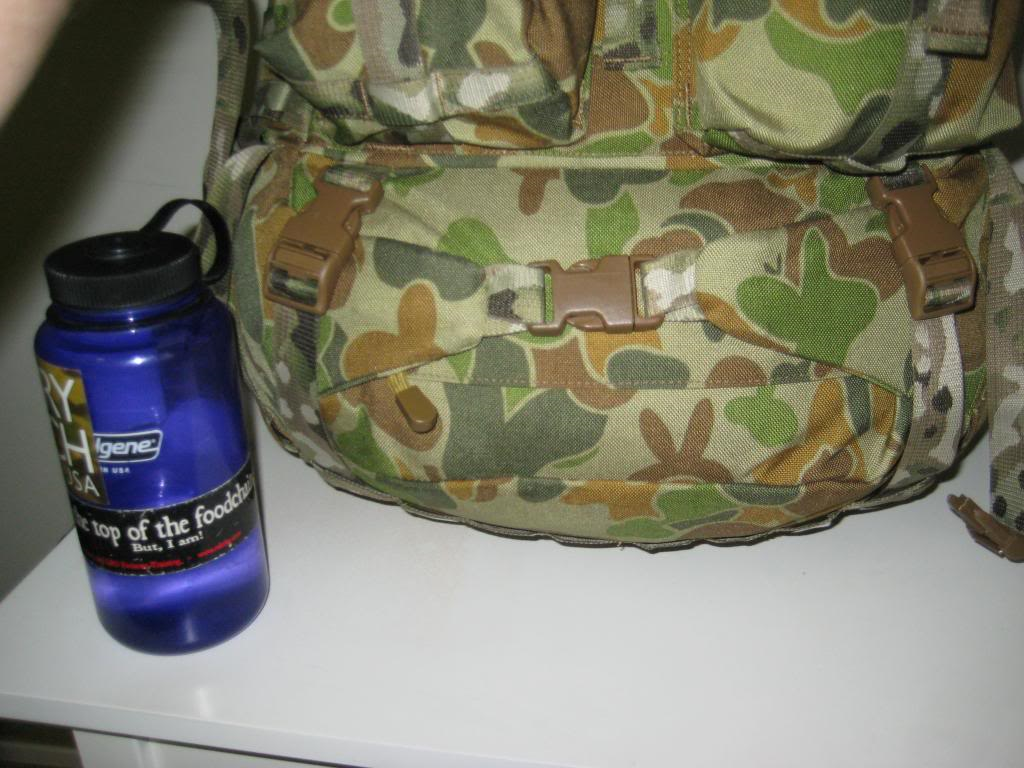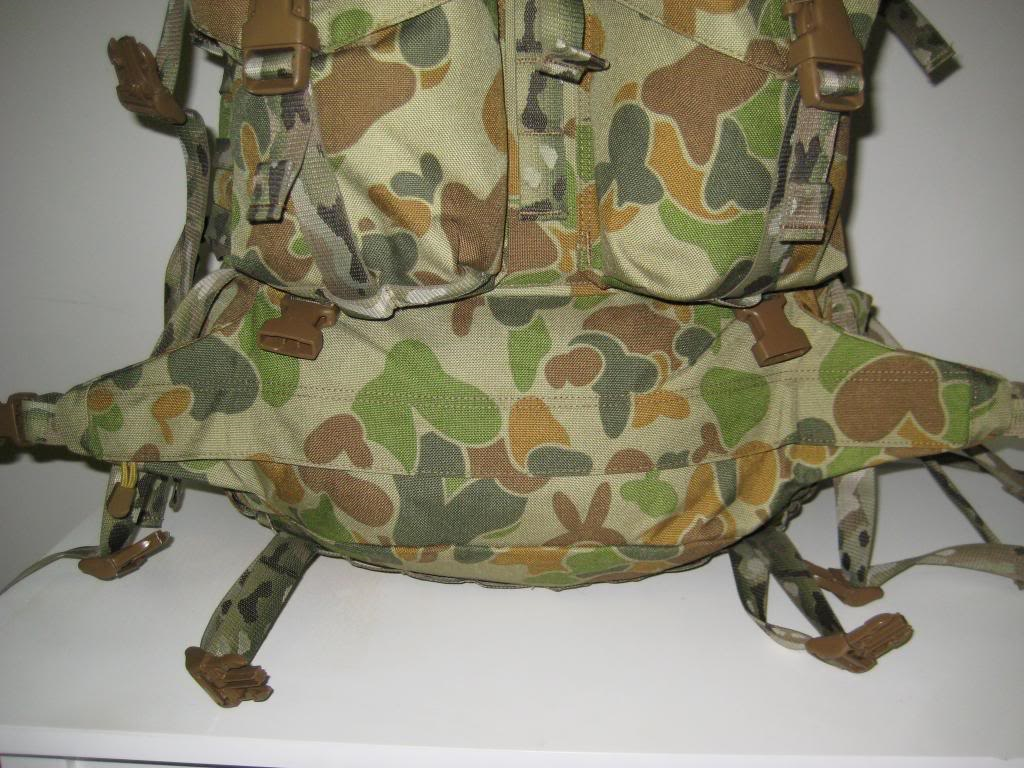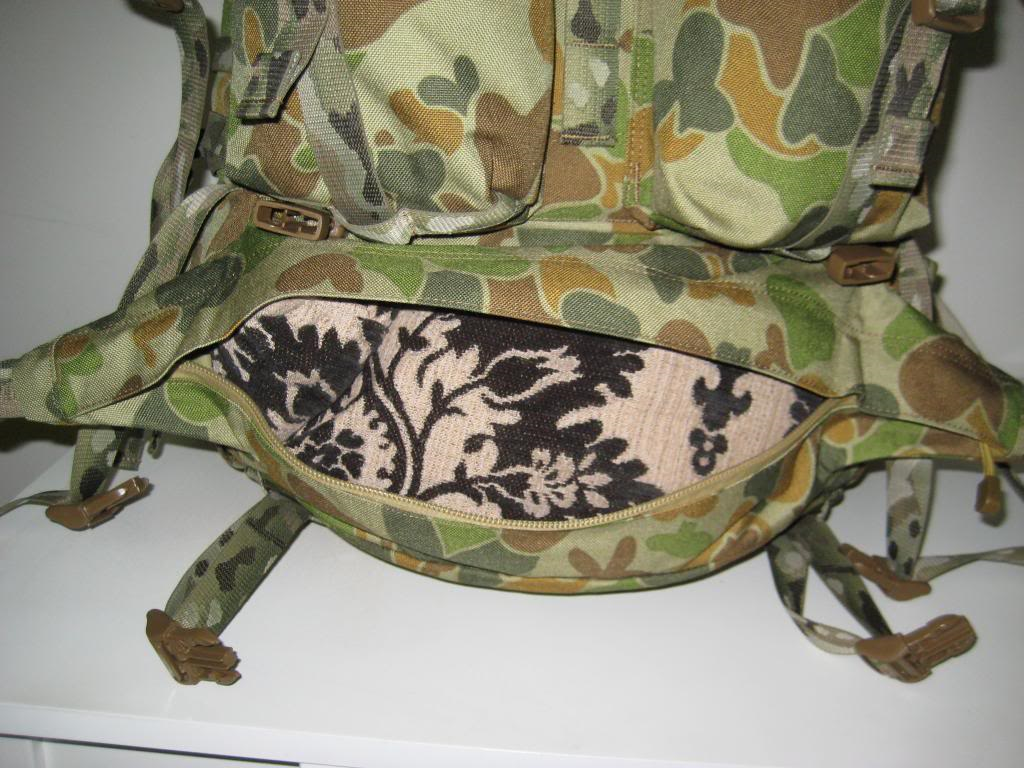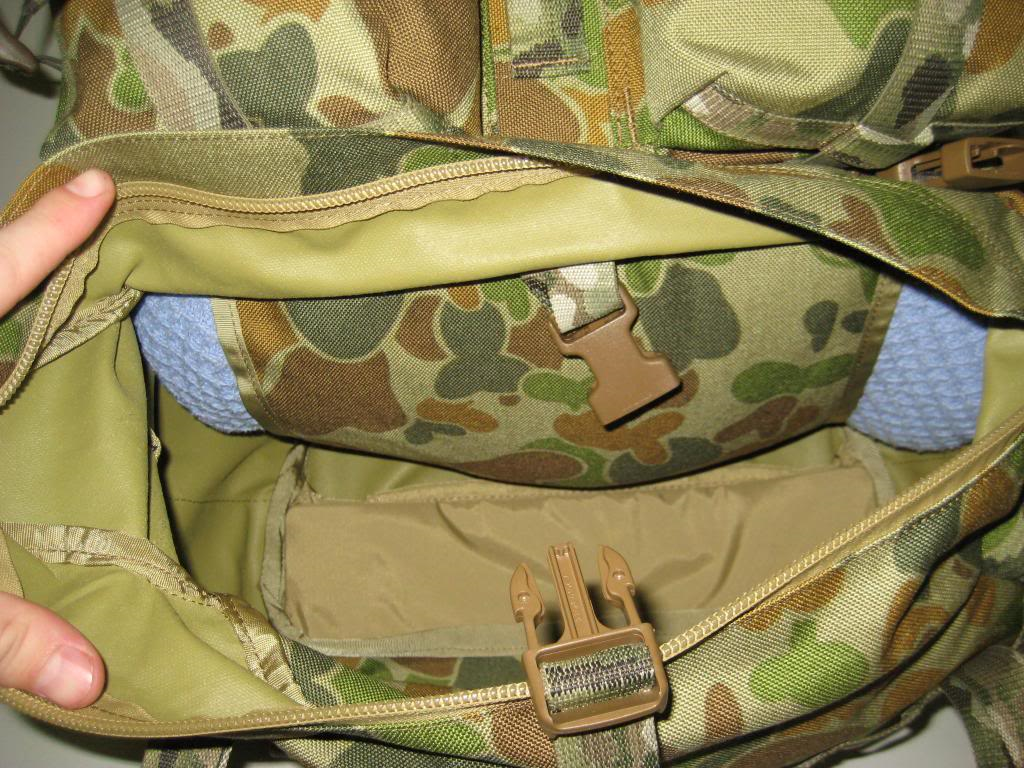 The external surface of the rucksack has four external pockets on the back surface of the rucksack.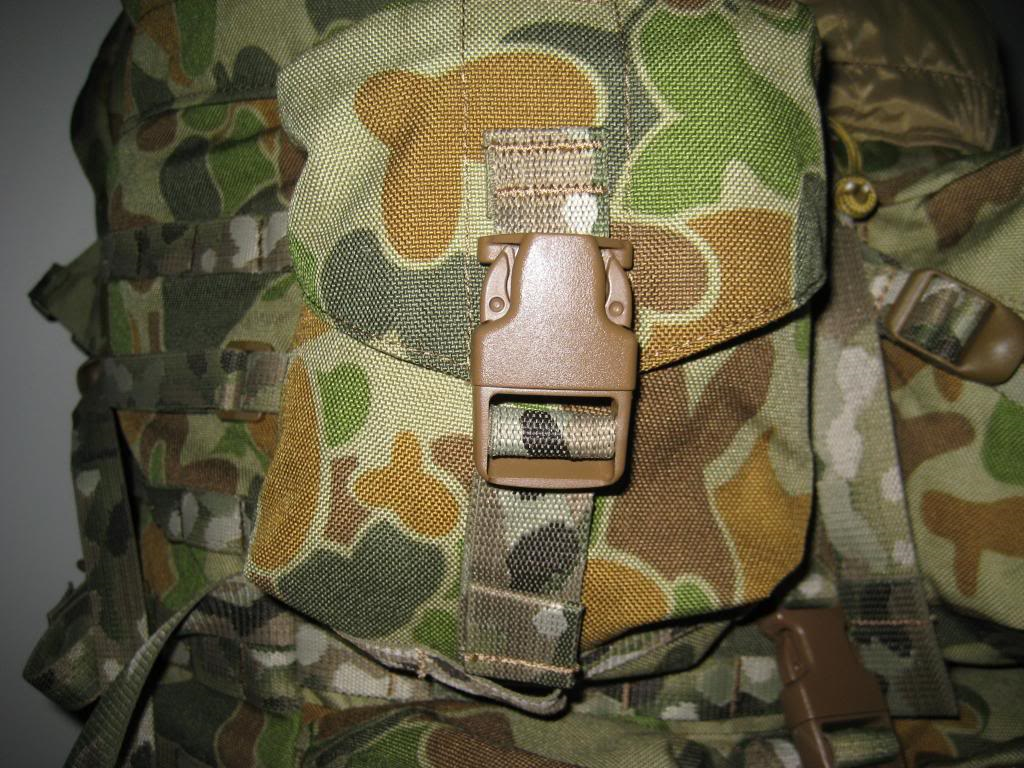 Each pocket is secured by fastex clip, barrel-locked cordage and velcro patch. Very secure methods of closure, and can be applied to suit the paranoia level. It takes a load off one's mind to realize that the only items to be lost are due to your own negligence and lack of attention to detail when not securing kit properly rather than equipment failure.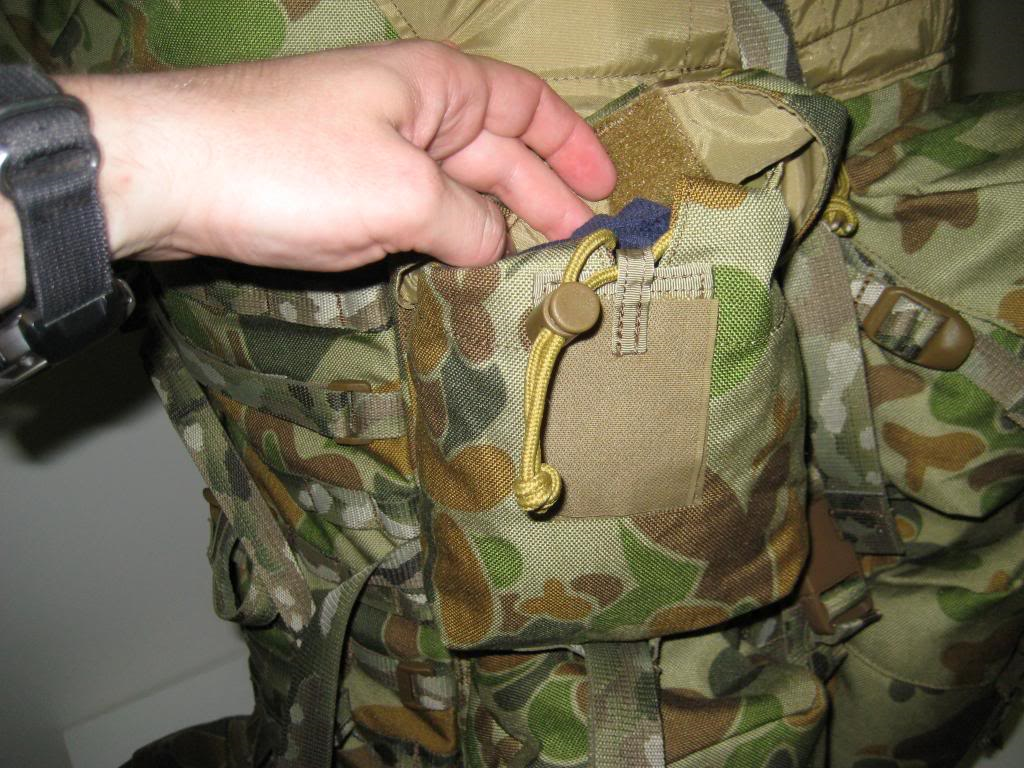 The sizing of these external pouches was to prevent a user from overloading the pack, by placing inappropriate items in them, and over balancing themselves. This sizing is good for such day-to-day items as rations for the next couple of meals, toiletry and morning routine dilly bags and other small sundry items.
The bottom pair of external pouches has a velcro secured kangaroo pouch-type pocket for stowing such items as hootchies (shelter sheets) or entrenching tools.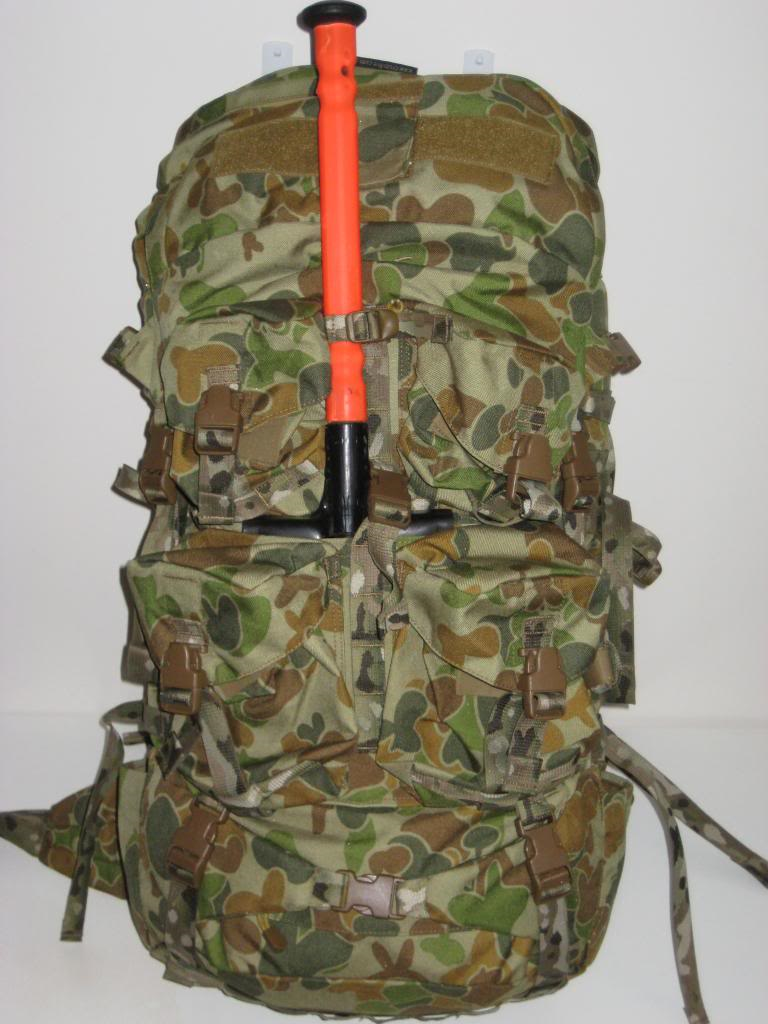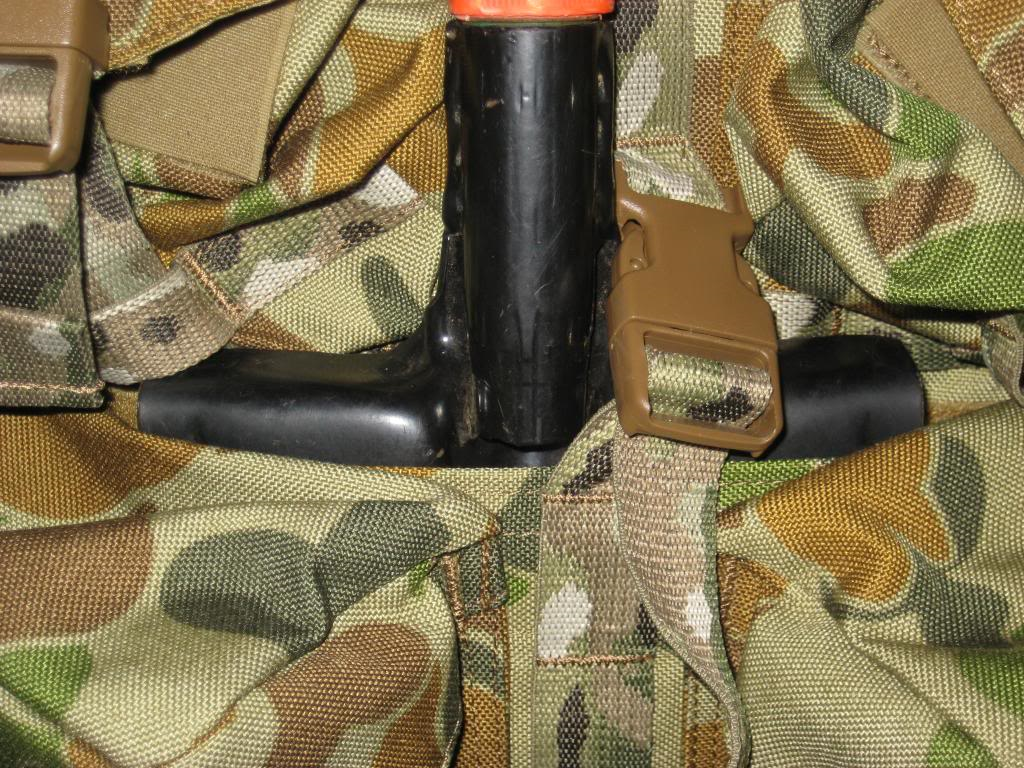 Grommets are located on all bottom surfaces to drain any excess water you may have accumulated.
On each side of the rucksack, is PALS channels for attaching external pouches. On each side are two compression straps, acting independently from the frame. These are the same design as seen on many Wilderness Equipment packs, in that they offer a two-to-one draw strength for ease of use. They are also removable, should that be required by the user. This could be extremely useful for certain emergency situations. Off the top of my head, I can see these being used for splinting walking sticks to limbs to treat broken bones or snake bite, aid in the securing of damaged equipment, or even lashing packs together to form a raft for water crossings. All this, as well as being able to compress the load within the rucksack and lash long bulky items to the outside of the pack.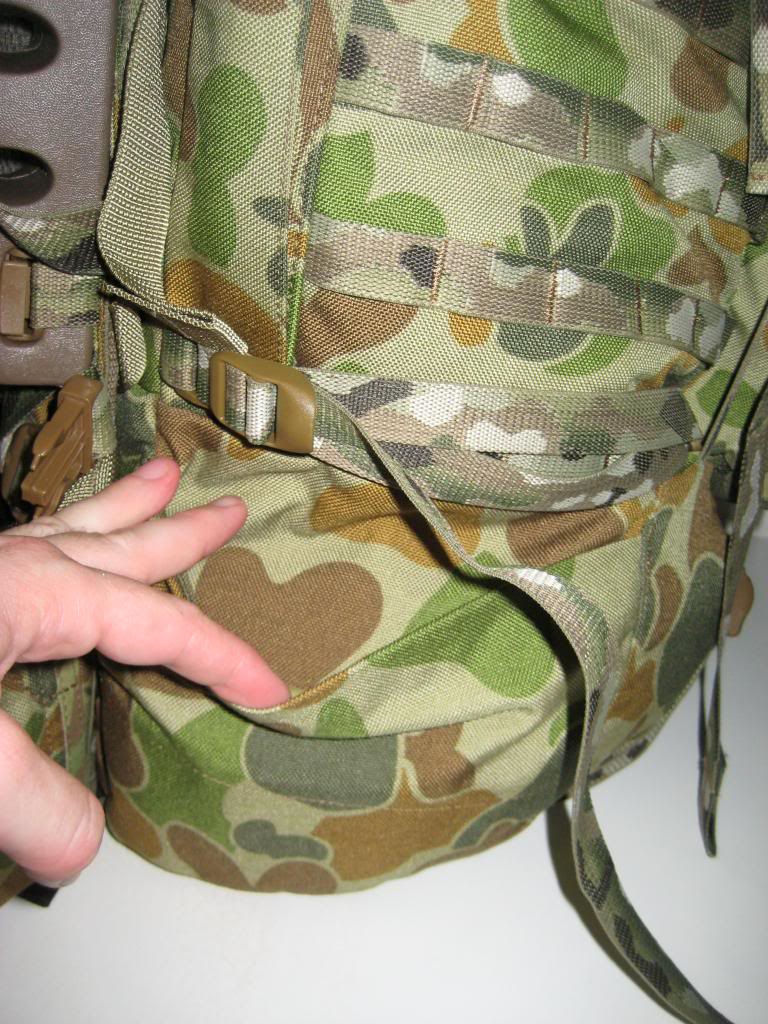 There is also one compression strap attached from the frame to the rucksack. This is the traditional compression strap location used by most other Mystery Ranch packbags.
Down the bottom of each side of the outside surface, are pockets for catching any longer items, and can accommodate an entrenching tool being stowed. For this purpose, the pocket is lined with a double-lined, very abrasive resistant material. There is also a loop of material to allow stowage of the entrenching tool handle alongside the pack should this be required.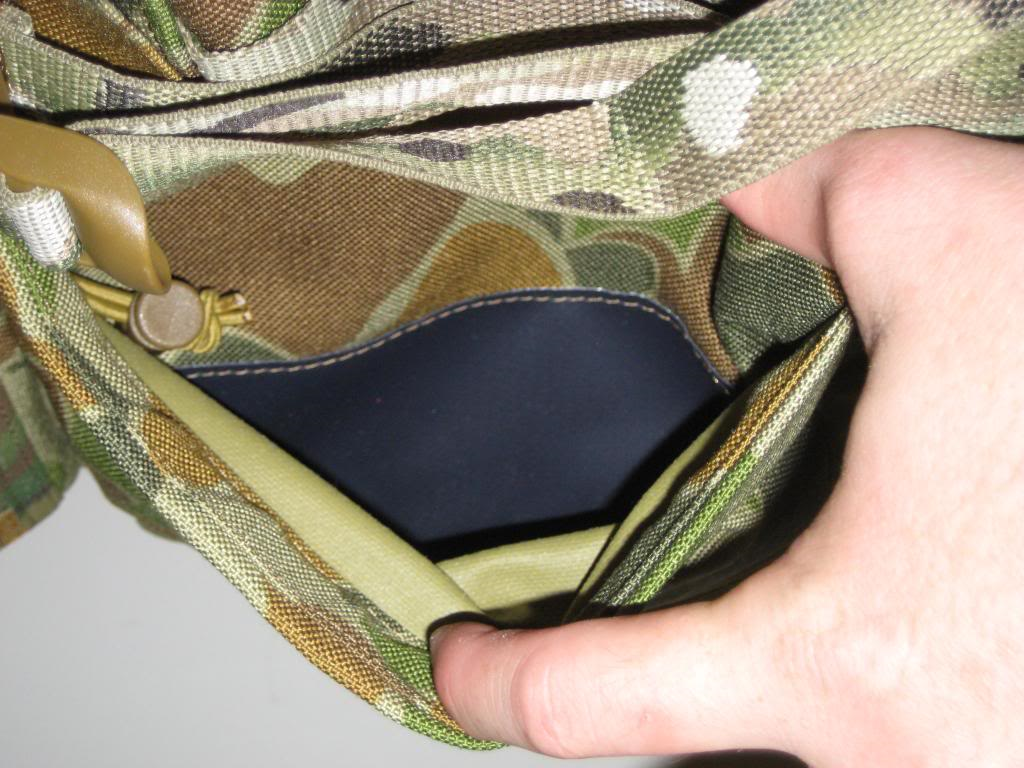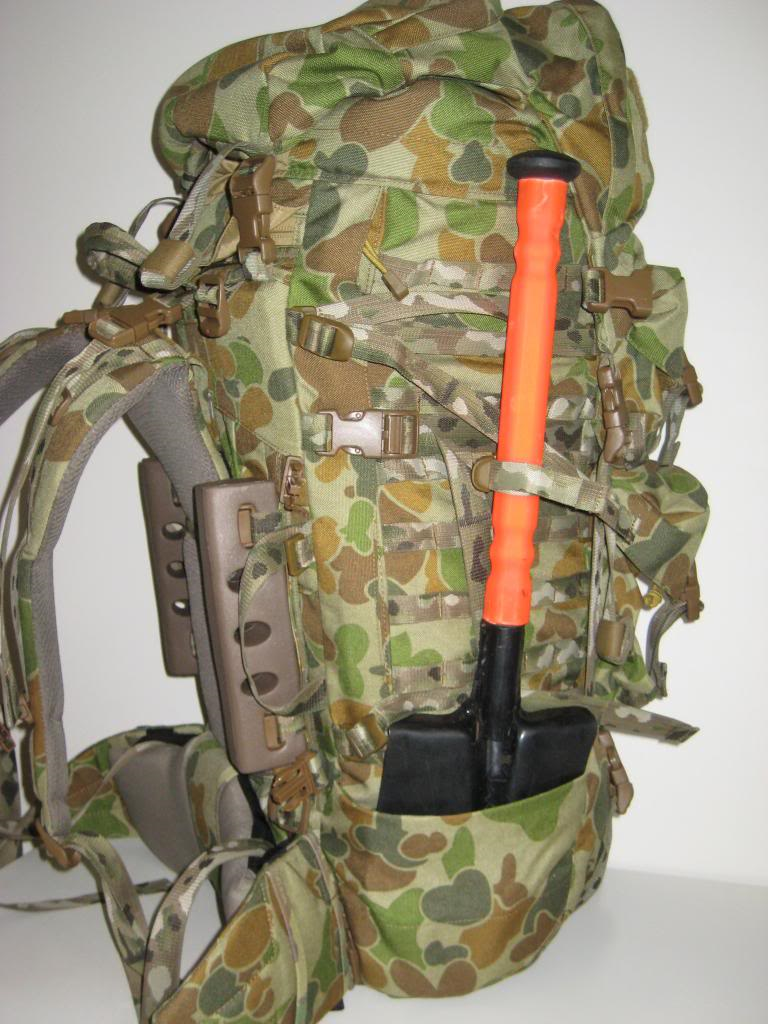 Loops are fitted on all three external surfaces for stowage of such items as entrenching tools or other similarly sized items like star pickets.
All straps have velcro to shorten and tidy-up any loose straps, preventing snags.
PERSONAL ASSESSMENT: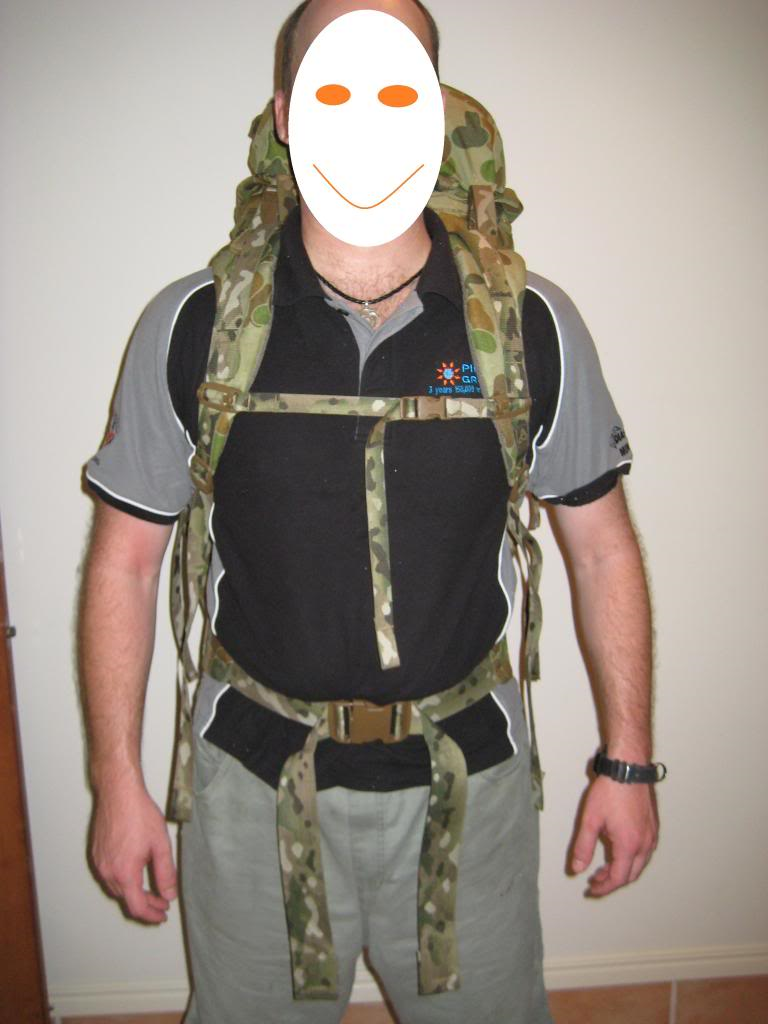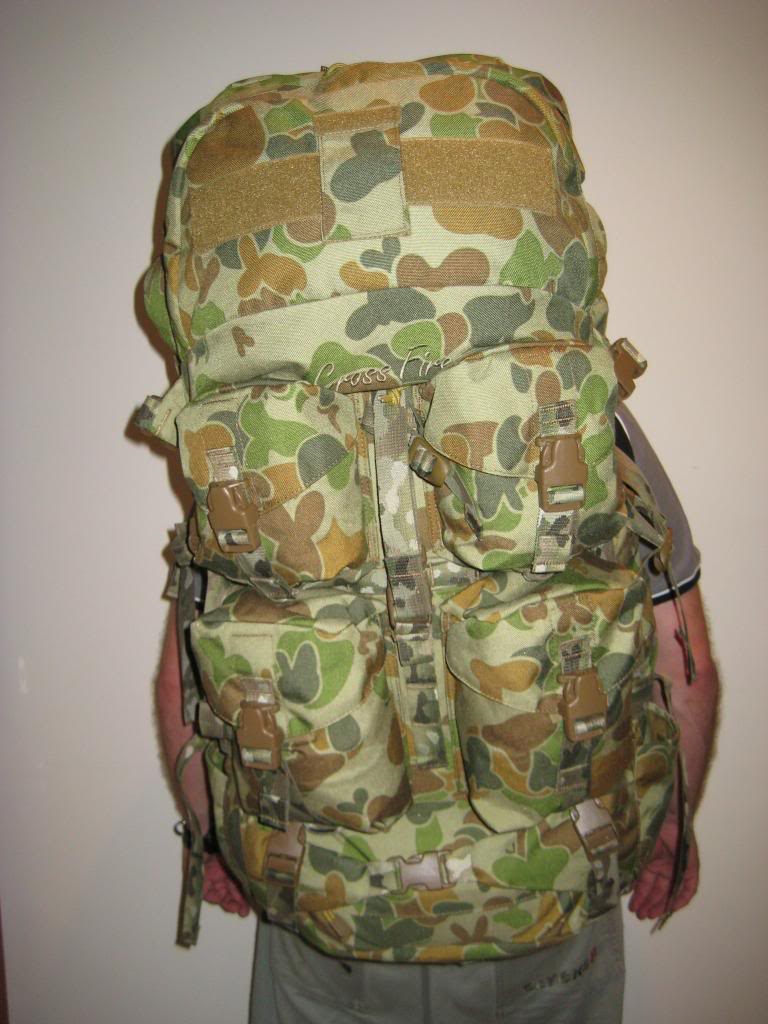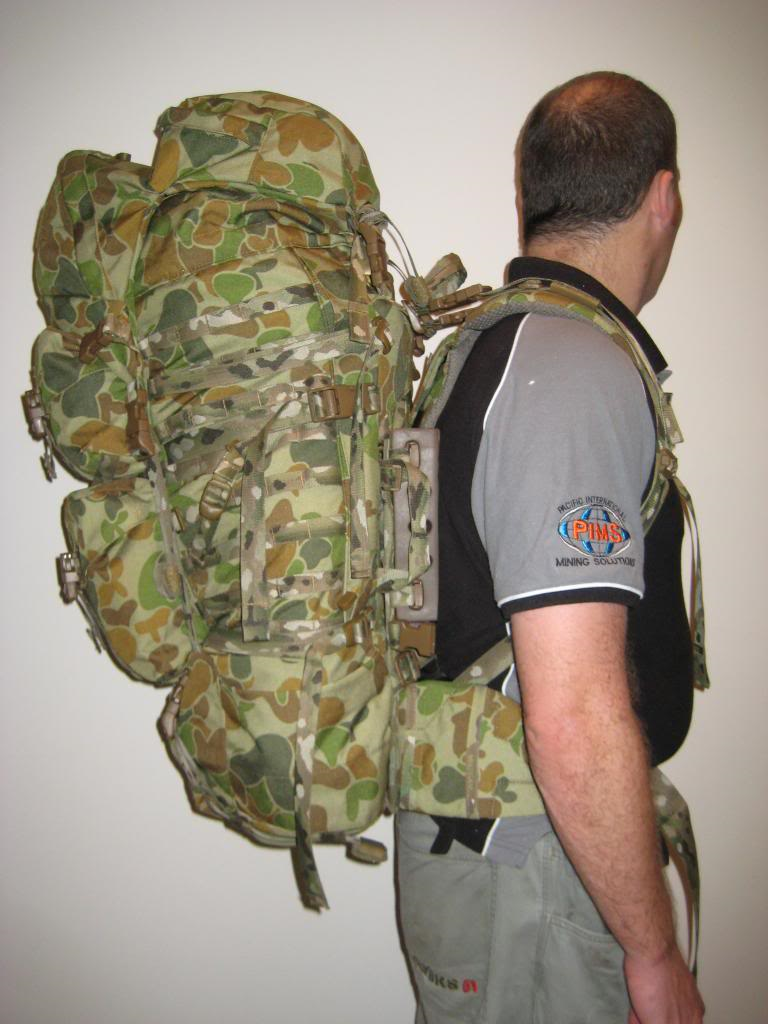 The new model, new generation DG-6 is a return to the original Wilderness Equipment SAS pack – but with more modern innovations and user feedback.
The old stalwart that was the Wilderness Equipment SAS Pack was an internal framed, external pocket general purpose combat pack that was considered as the essential pack to have as an armed professional when I was but a young, dopey digger.
The original Crossfire DG-6 was a development of the Wilderness Equipment SAS pack, but was evolved in a slightly different direction by using the DEI MOLLE frame.
The lineage continued with the pure internal framed DG-3, and now returns full circle with the new AUSNICE formatted DG-6.
I'm very pleased to say that I have had a minor role in the development of this pack, providing some end-user experience and feedback for the design team.
I have been able to take the new DG-6 on training walks around town. Walks have been conducted with and without armour, and with fighting load of a chest rig being worn.
Of course, for such a high quality piece of kit, no real surprises were found.
Although it should be noted that being worn with body armour (in this case, a Banshee Plate Carrier) in conjunction with the removable BVS blocks still made for a relatively uncomfortable experience, the BVS NICE frame at least makes it more bearable.
If I was to do it all over again, and lose what sanity I possess by returning to the service, I wouldn't hesitate in obtaining a DG-6 in its current format for work use. The beauty of the NICE frame system from Mystery Ranch would mean I would use the DG-6 packbag for work, and the Wolf Alpha for my own time, and just swap the NICE frame from each as circumstances require.
The new model DG-6 still follows basic tenets from the old version, by allowing unimpeded scanning by the head, and being sized to fit well within the shoulders for movement through close country.
PROS –
As per usual for a Crossfire product, the DG-6 is a very high quality item. Construction quality is high, and end-user feedback from an Australian perspective has been further incorporated into this design.
Such small details as the storm collar allows much easier of expansion of pack capacity should extra equipment be carried.
All of this now brings the venerable DG-6 design into what I consider its pinnacle.
CONS –
Perhaps one of the biggest things that I feel stacks against the new DG-6 is the main body material. Since it's made of 1000 Denier Auscam cordura, this adds significantly to the weight of the pack. It does provide amazing durability and toughness, but I'd prefer to have the pack material in a lighter weight, preferably in 500 Denier or lighter. But I do realise that it is rather difficult to source DPCU (auscam) in a variety of material weights. It's a very limited camouflage pattern in the world stage. So I would be very interested in seeing this packbag in a 500 Denier material. I am also disappointed that there are not any other colour choices as at this time. Some of us don't need DPCU (Auscam) in their lives anymore.
Whilst very good, due to its length, the AUSNICE frame may not be entirely suitable for those who wish to use or are restricted to traditional belt webbing.
Also, due to the requirement to keep the packbag well within the shoulders of the wearer, this means the packbag has to be fairly deep, which could lead to overbalance issues on the wearer. This can be minimised however by correct packing methodologies, ensuring dense and heavy items are against the back, and lighter items further out.
It was noticeable during the evaluation phase of this review that the multicam webbing tape seemed to be a little "stretchy" as a result of its construction. After some initial use, this webbing tape will stretch out and not be noticeable – a very, very minor point.
SUMMARY:
As per any design from Crossfire, the attention to detail, and dedication to the end-user is fantastic to see.
I consider the new model DG-6 AUSNICE as the one of, if not THE premier general purpose combat packs available in Australia. Decades of experience in design, and actual user feedback has resulted in this high end pack being available.
A personal favourite of mine, as I feel it more than answers many requirements for real world use, without sacrificing comfort, adaptability or useability.

Posted in Crossfire, Long Range, Military, Packs & Webbing by 22F with 12 comments.