ITEM: DG-3A New Generation
MANUFACTURER: Crossfire Australia
DESCRIPTION:
A 55L polymer-framed patrol pack intended to replace the ALICE pack.

.
REVIEW NOTES:
The new DG-3 has been supplied by a long time supporter of this website – Crossfire Australia.
This is their latest generation offering to replace the venerable ALICE pack that has been a mainstay in ADF service for decades now.
.
In the interest of full disclosure, I'm very pleased to report that Packs and Beyond has had some direct input into the design of the DG-3A.
.
Please let our suppliers know how much you appreciate their support for Packs and Beyond. You can really show your appreciation by giving them your custom.
Don't forget to follow Packs and Beyond on Facebook and Instagram (insert farcebook link) for all of our latest updates.
.
.
LINK:
https://crossfire.com.au/colections/packs/dg3-72-hour-3-day-tuned-flex-polymer-external-and-internal-frame-patrol-backpacks/
.
.
SPECIFICATIONS:
DIMENSIONS –
Height: 600mm (approx. 23.62inches)
Width: 400mm (approx. 15.74inches)
Depth: 250mm (approx. 9.84inches)
Volume: 55L (approx. 3356 cubic inches)
Weight: 2.2kg (approx. 4.85lbs)
.
.
MATERIALS:
Nextec 500D material
Webbing tape
Quick release buckles
.
.
LAYOUT:
Crossfire DG-3 New Generation on right, ATS RAID pack on left.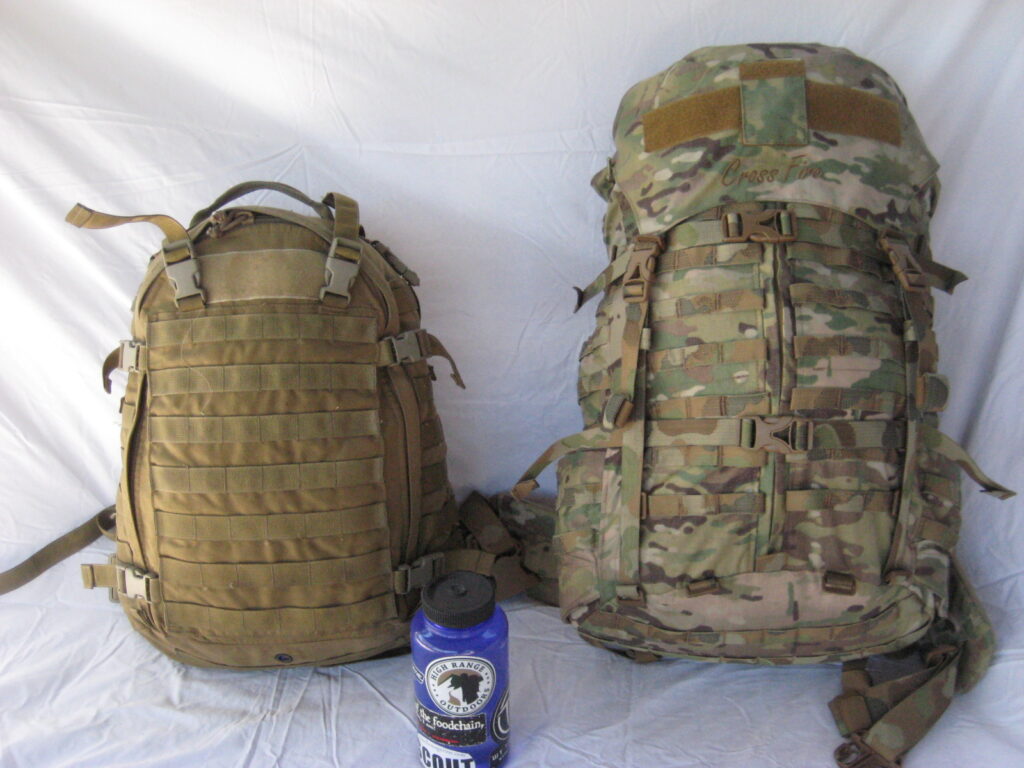 .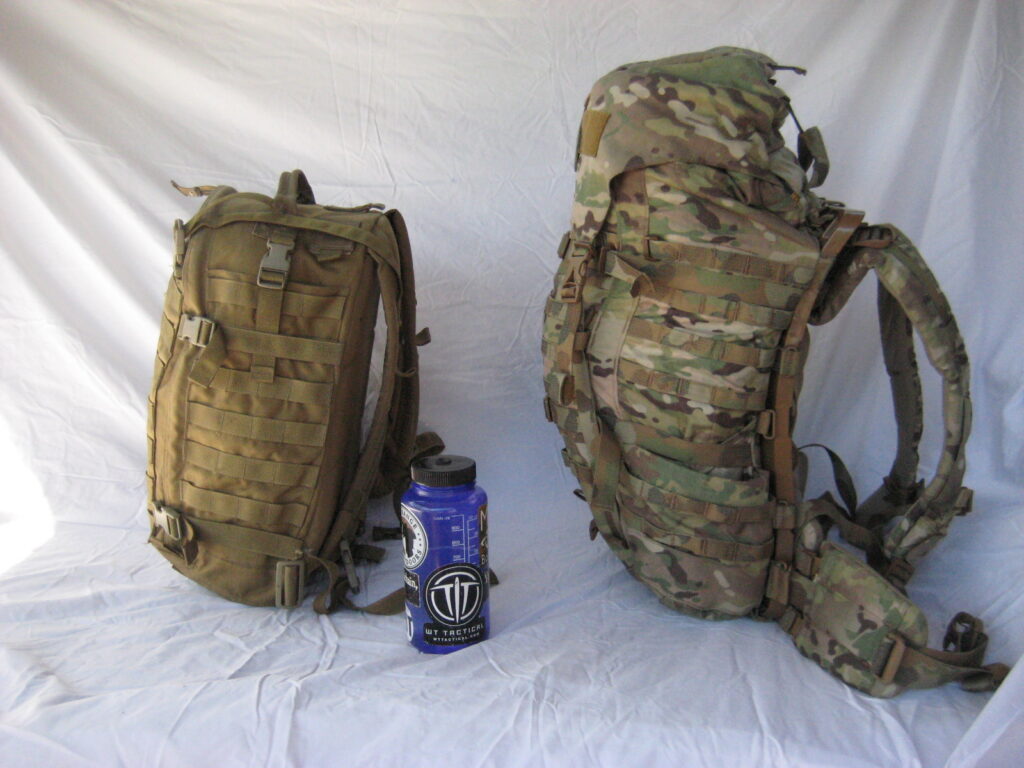 .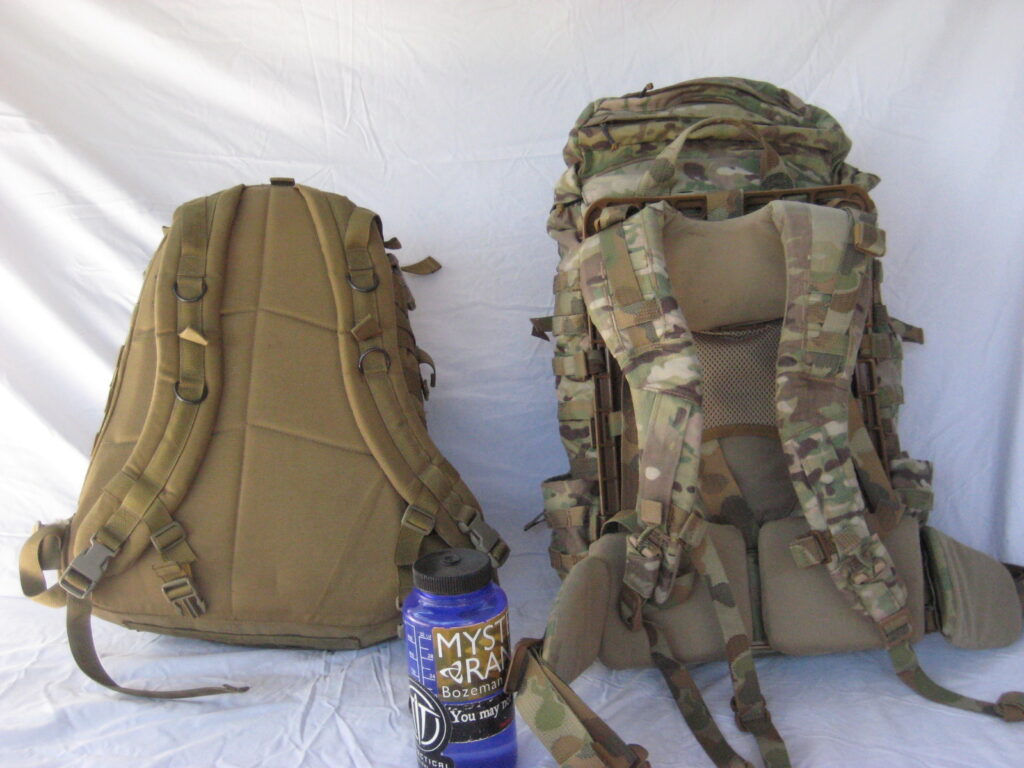 .
FRAME AND HARNESS –
The frame of the DG-3 is a polymer item similar to the frame on its bigger brother the DG-16 (Review seen HERE) with a sprung load. As long time readers of this site will be aware, a sprung (or dynamic) load is better ergonomically due to the way it flexes with the movement of the body. As opposed to a static load imparted by an inflexible frame such as that found on steel or solid aluminium frames such as that found on the old ALICE series.
It is sized to reflect the rucksack volume. In comparison to the frame of the DG-16, it's a great deal smaller to suit smaller statured end-users or be worn in conjunction with belt webbing.
.
Contoured shoulder harness straps have a lightweight 3-dimensional structure to absorb weight.
The load lifter straps can have their angle of departure from the frame mounting points adjusted to suit the wearer. They're also anchored to the frame via Crossfire's Lost Arrow system, allowing a very quick adjustment and replacement should it be needed.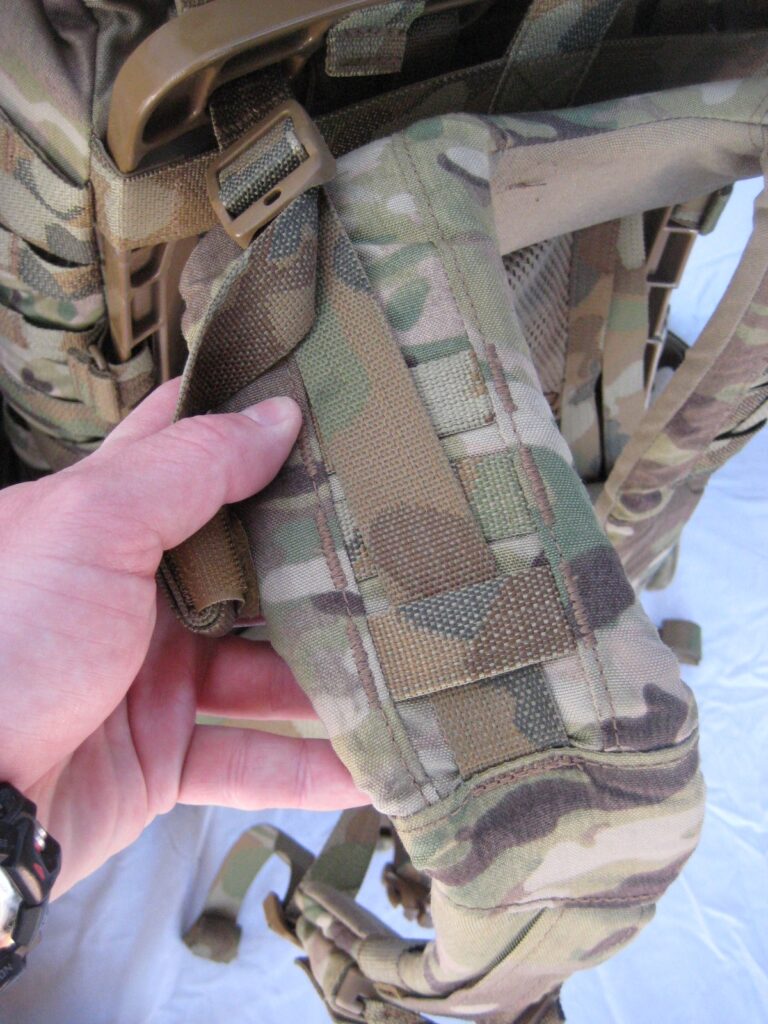 .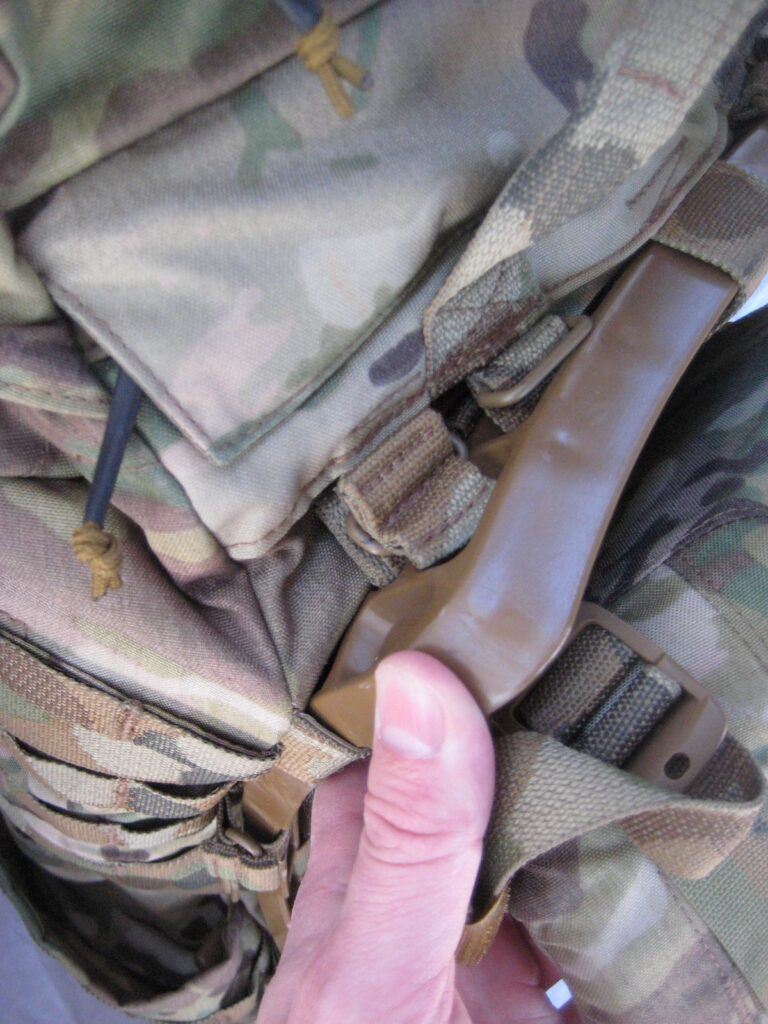 .
Quick release buckles are fitted to the shoulder straps. In order to prevent unintentional activation from snags, they're covered by a material shroud.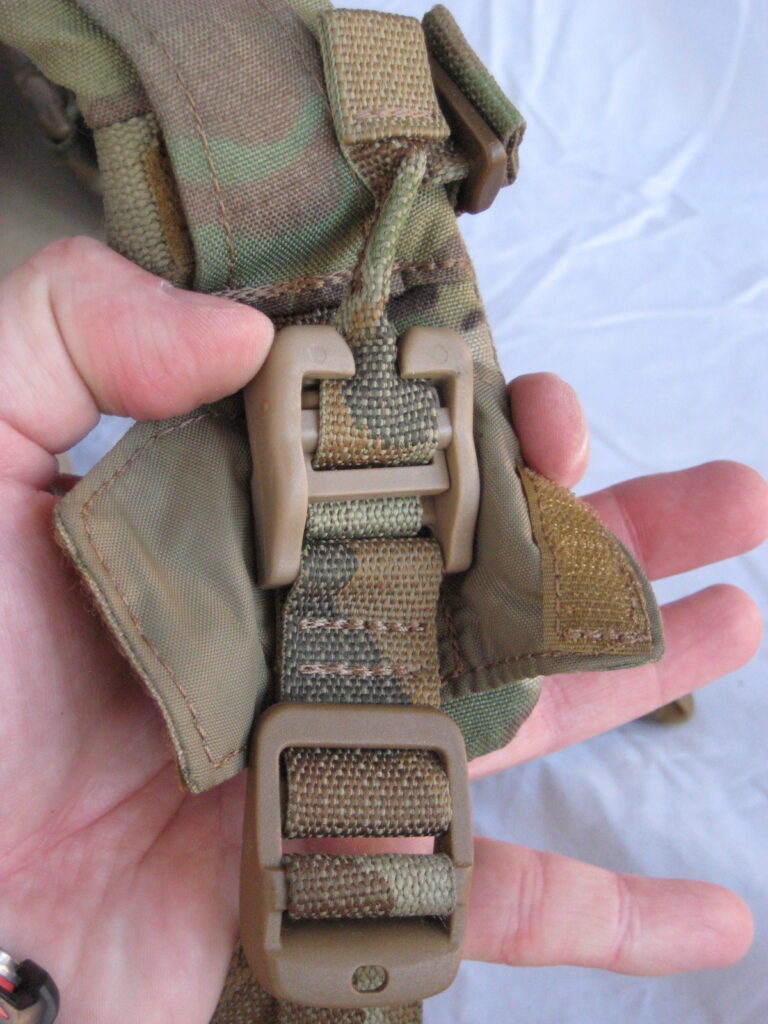 .
The sternum strap can be adjusted for height via a unique panel of hook and pile which is also great for securing other items such as hydration hoses and handsets securely.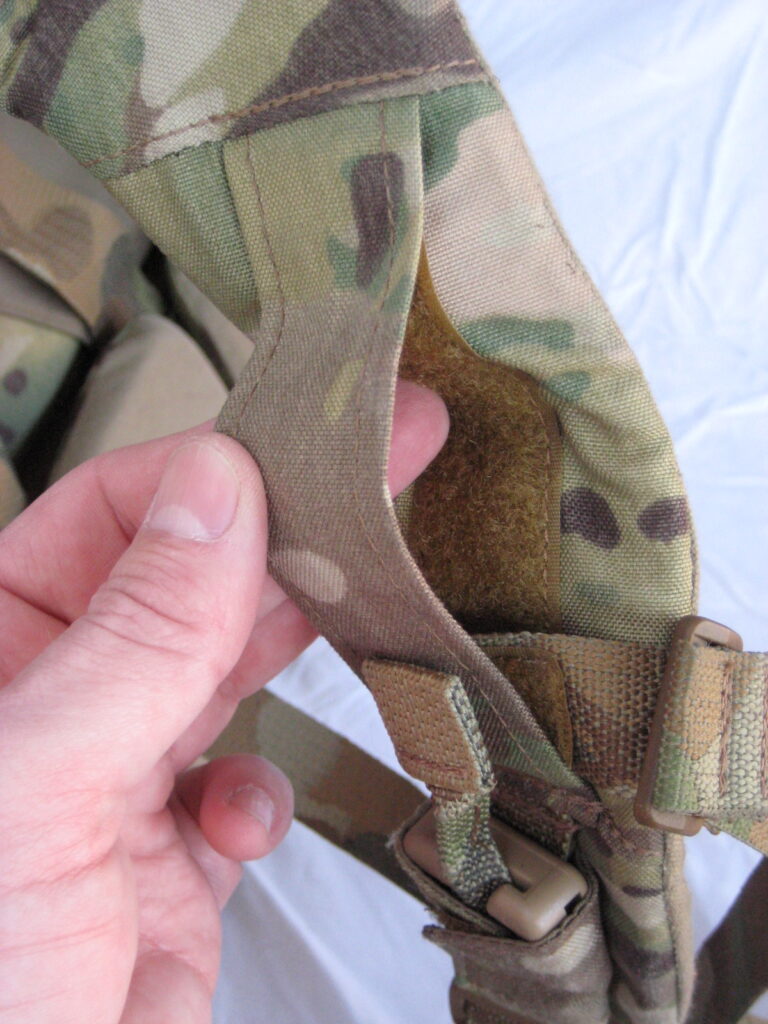 .
The hip belt is a very feature rich item.
Unlike traditional hip belts, this belt can have it's main back cushions adjusted for cant to suit the wearer's build. The wings of the hip belt are attached using Crossfire's Lost Arrow system which allows the choice of a full hip belt or only back padding. A great benefit of this detachable wing system is the segmentation it provides, when the pack needs to be dropped, the hip wings tend to fall free to the rear of the user to minimise snags.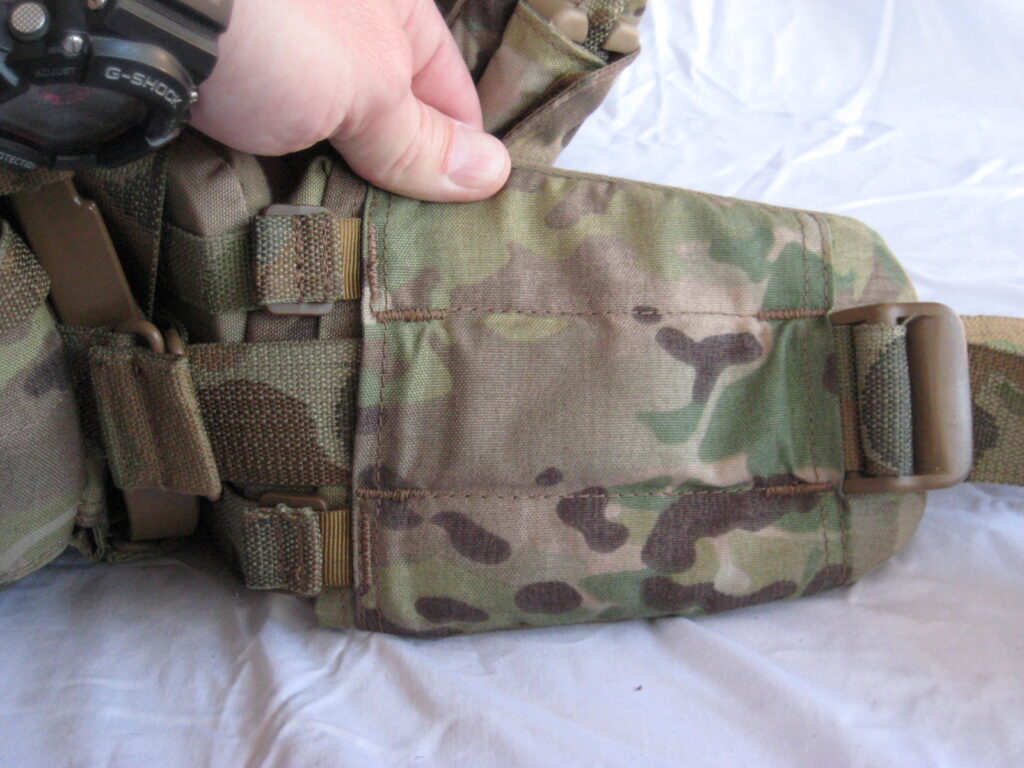 .
RUCKSACK –
Material for the main rucksack body is Nextec encapsulated material. By encapsulating each individual woven fibre with a polymer coating prior to weaving, some interesting benefits and properties are provided. One of these benefits is increased water and abrasion resistance of the rucksack.
.
Starting at the top: the lid is static/fixed to the rucksack and contoured to allow unimpeded movement of the head, especially whilst wearing a helmet.
There is a double-headed zip to allow access into the rucksack for equipment such as manpack radios and hydration bladder hoses to be routed out. This is protected by a weather-proof flap over the zip.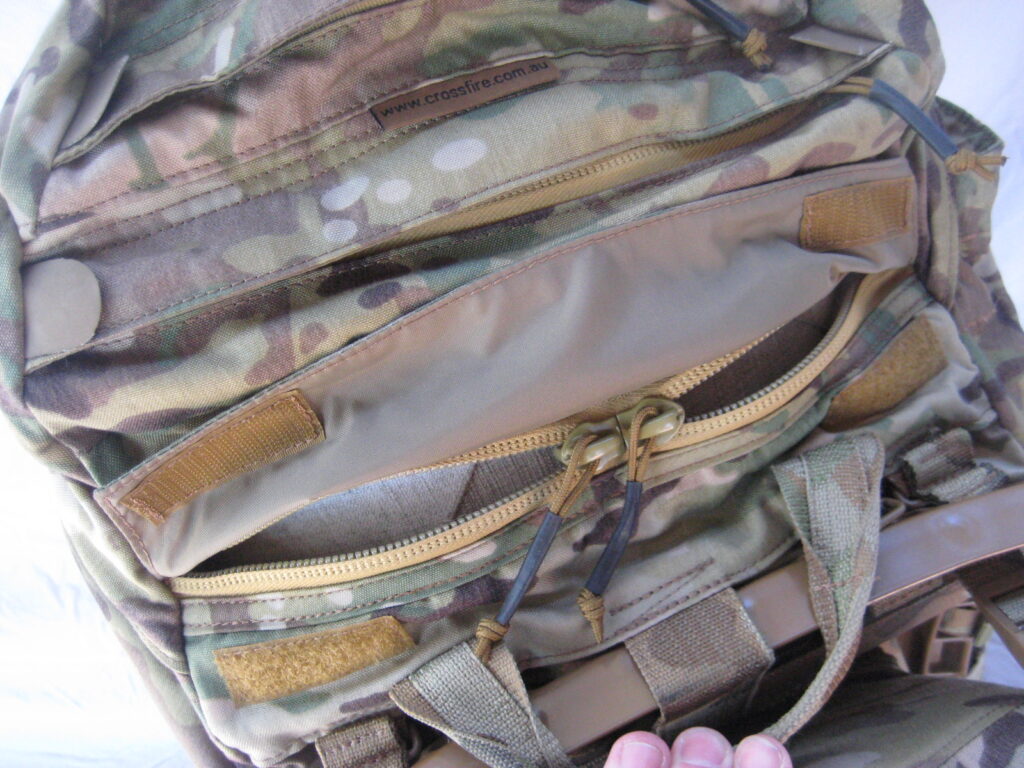 .
Two zippered accessory pockets are at the top of the lid. There is a mesh pocket in the lower portion, also accessible from the inside portion of the lid. The upper pocket has internal organisation for small administration items.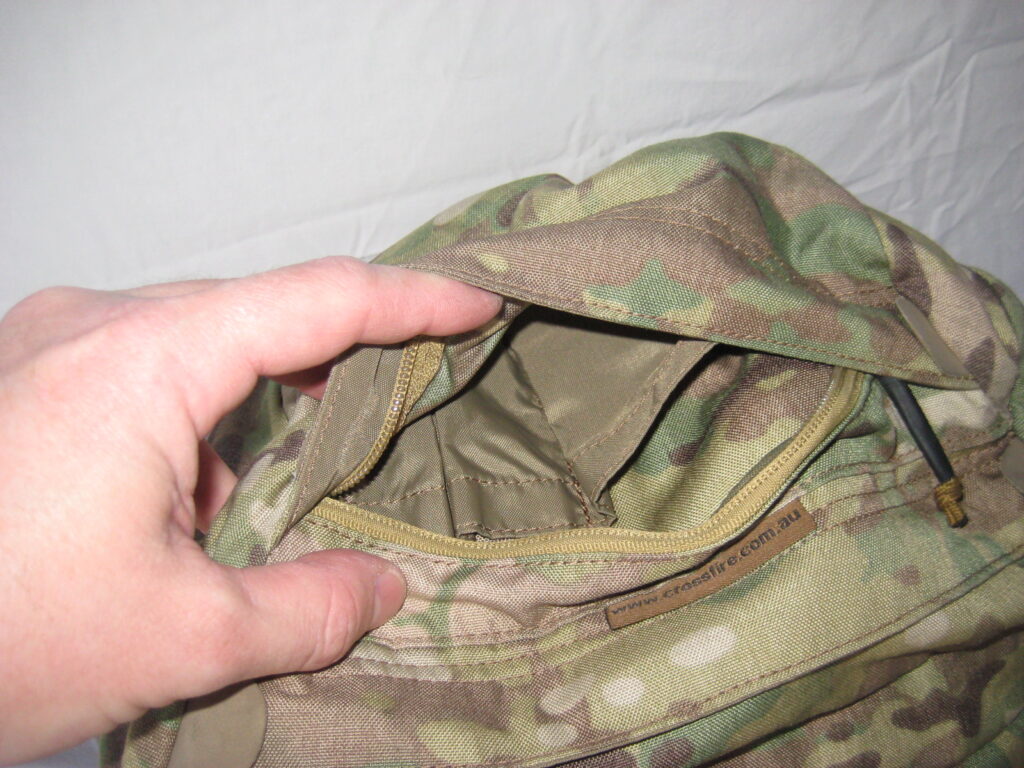 .
The lower pocket has access into the main compartment.
.
On the outside of the lid is a section of velcro loop material for IFF and morale patches. This is split in half by the signature Crossfire coverable-patch of Scotchguard reflective tape with a roll cover. This allows the Scotchguard reflective tape to be covered or uncovered as necessary to provide a visual reference point for the poor bugger following along behind next in formation at night or other low visibility movement occasions.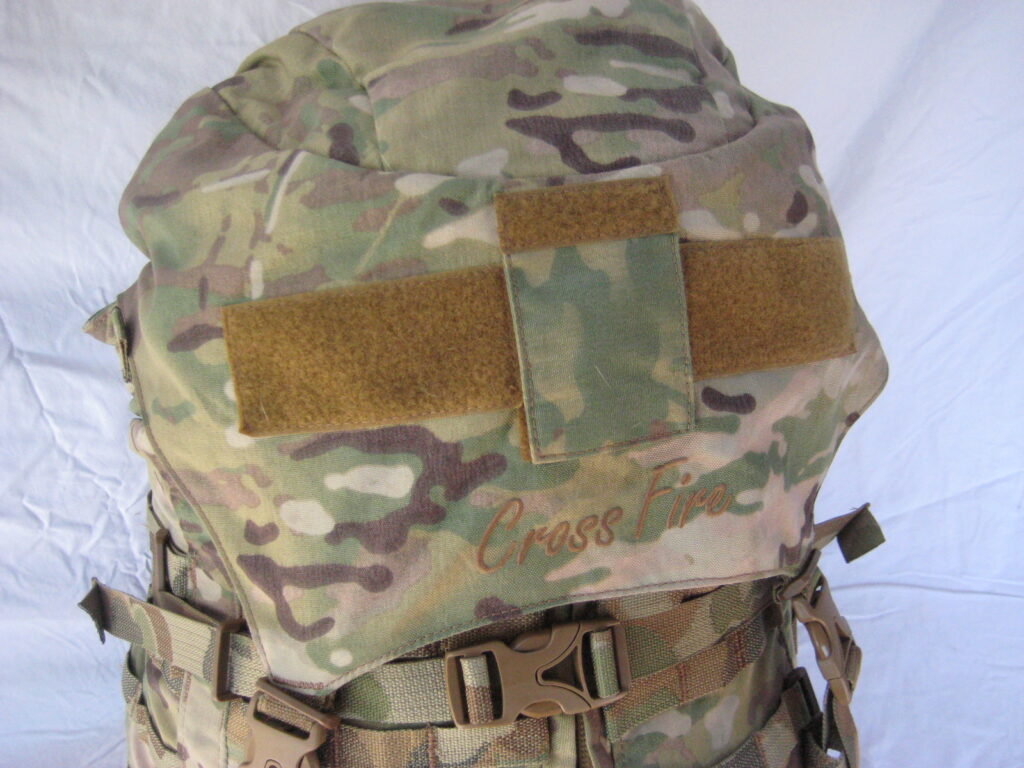 .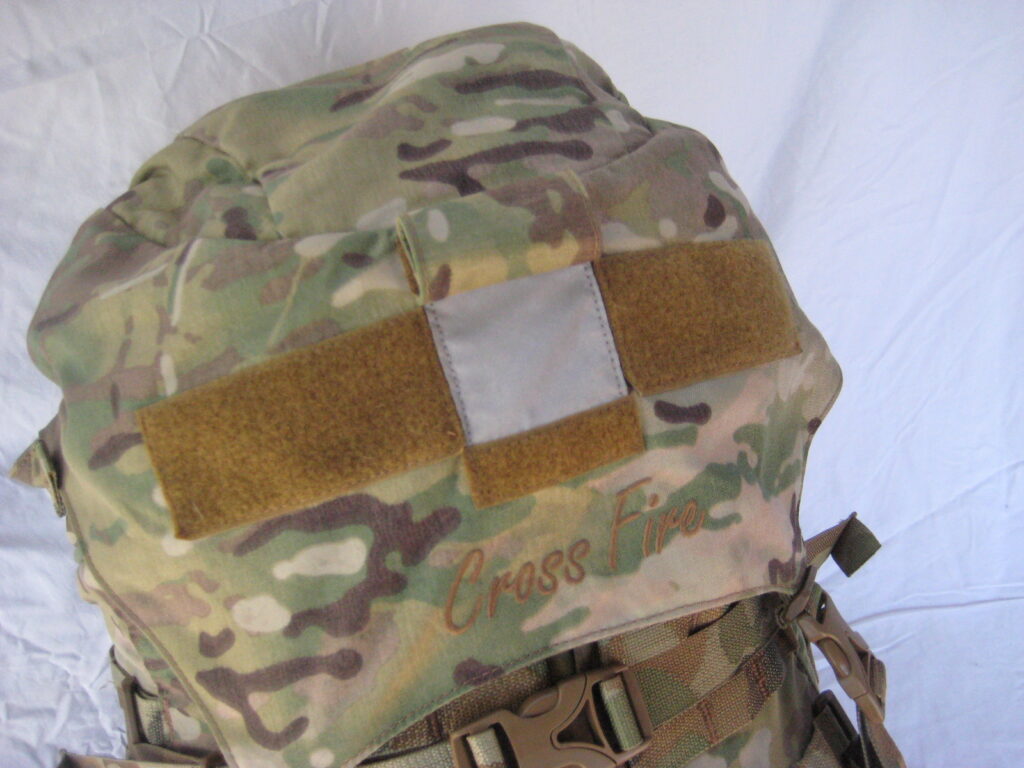 .
A modified top loading layout, the DG-3 has a single zip on the outer face running from the top of the throat to the bottom of the rucksack to allow easy access to the contents. The top of this zip has a fastex buckle to alleviate stress and strain.
.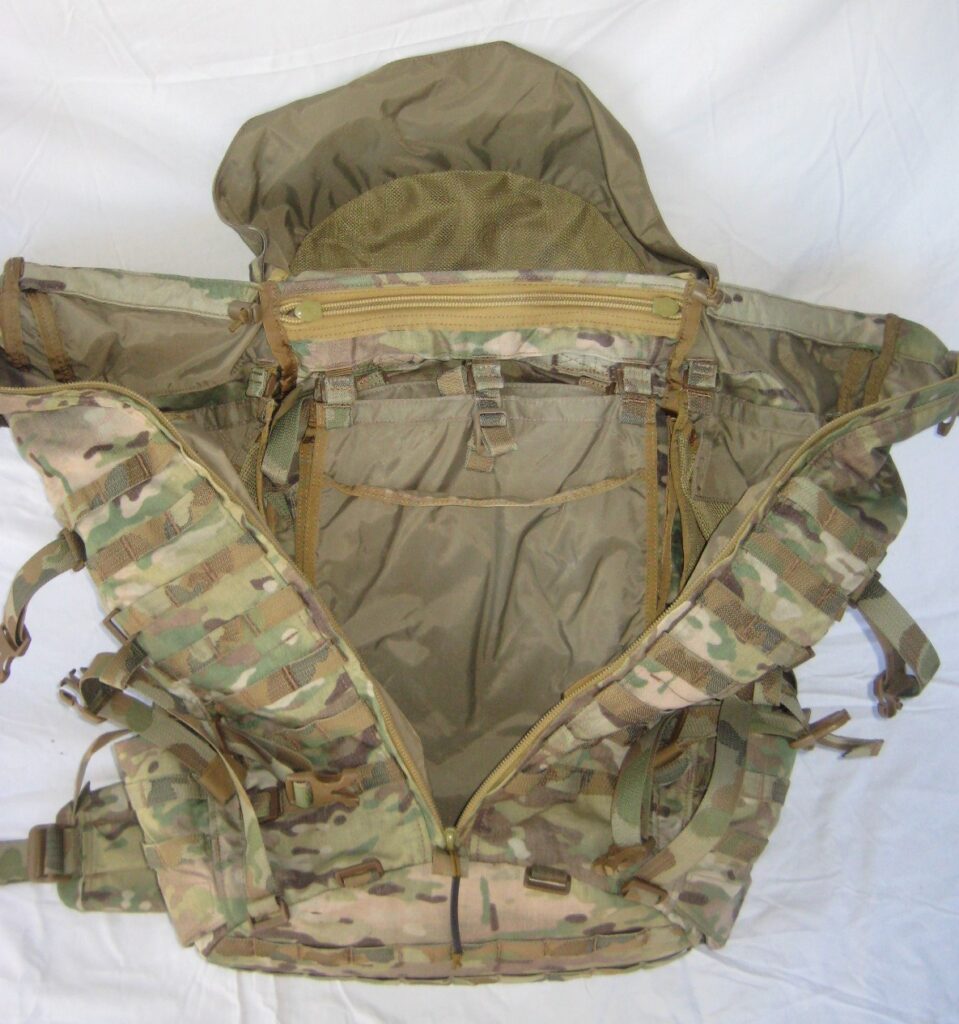 .
Compression straps are fitted, and they reach all around the rucksack to alleviate stress and strain on the main zip.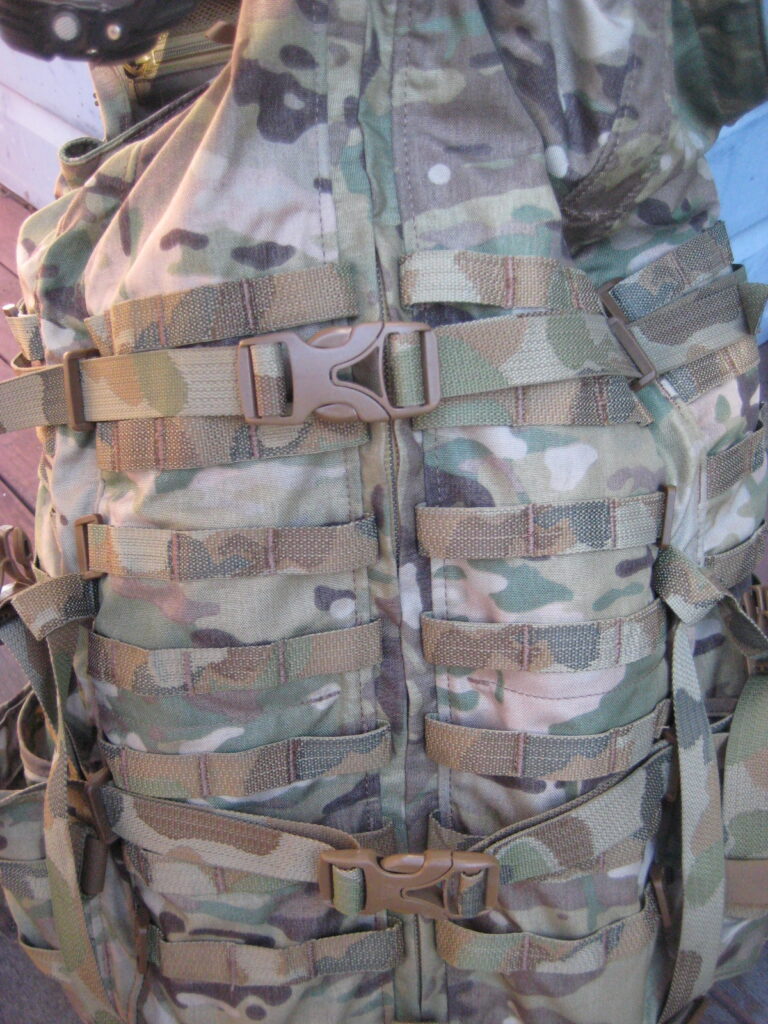 .
The throat also has limited ability to be tensioned up by shock cord and barrel locks.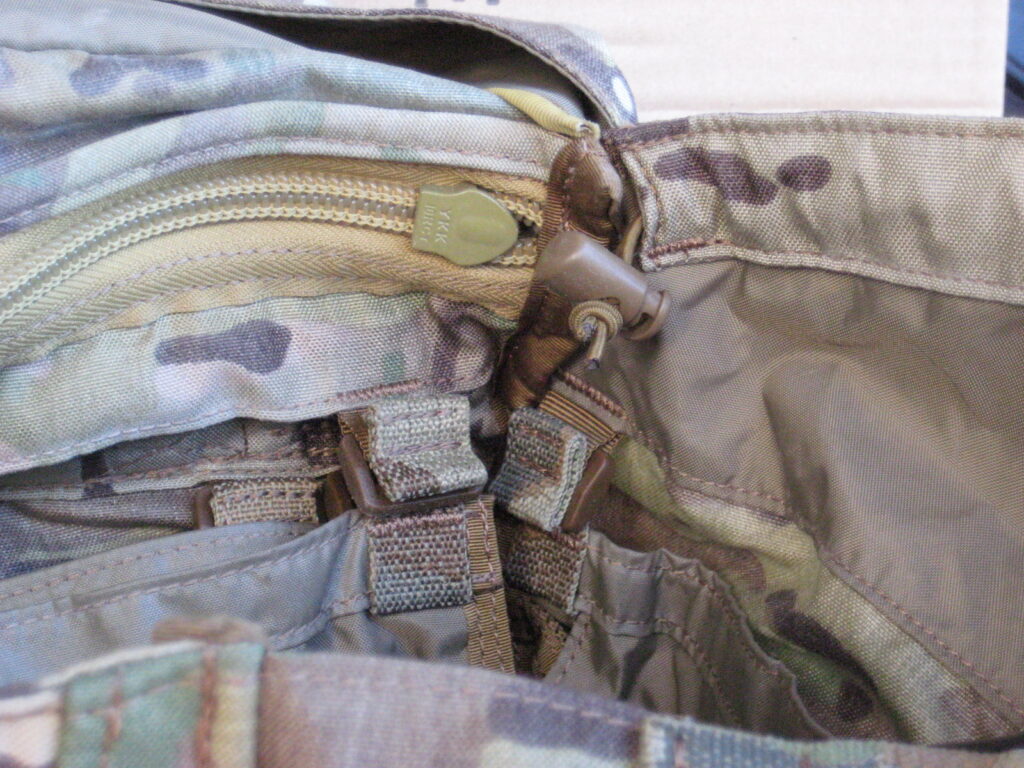 .
The front of the rucksack has PALS channels to allow modular pouches to be attached. There are also D-rings to attach the provided cargo-shelf/beavertail.
.
Both sides of the rucksack have a scotched panel with PALS channels for modular pouches and allows long objects to be securely stowed behind them. It aids in maximising the useable real estate and cargo capacity of the pack. Although some carried items may steal internal volume from the main compartment.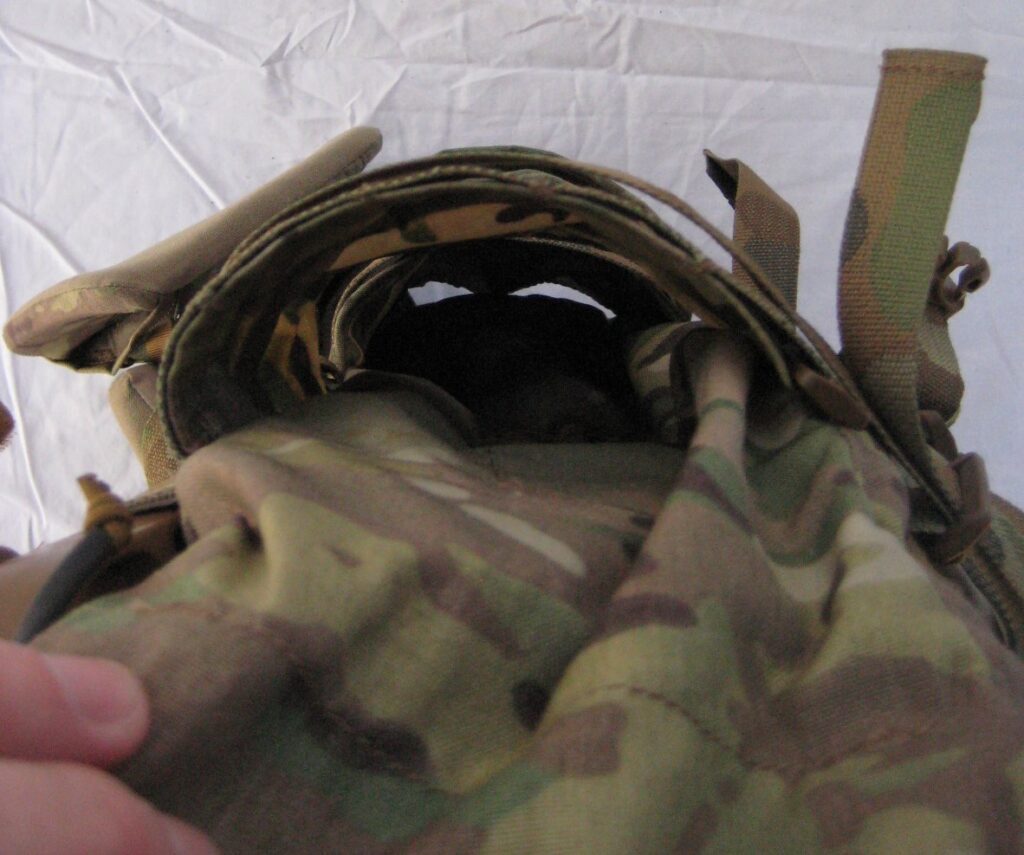 .
Each bottom corner has a scotched pocket to stow water bottles or other items. Longer items can be passed through the scotched area if necessary. The bottom of these pockets have a drain hole and are also lined with hypalon to prevent abrasion.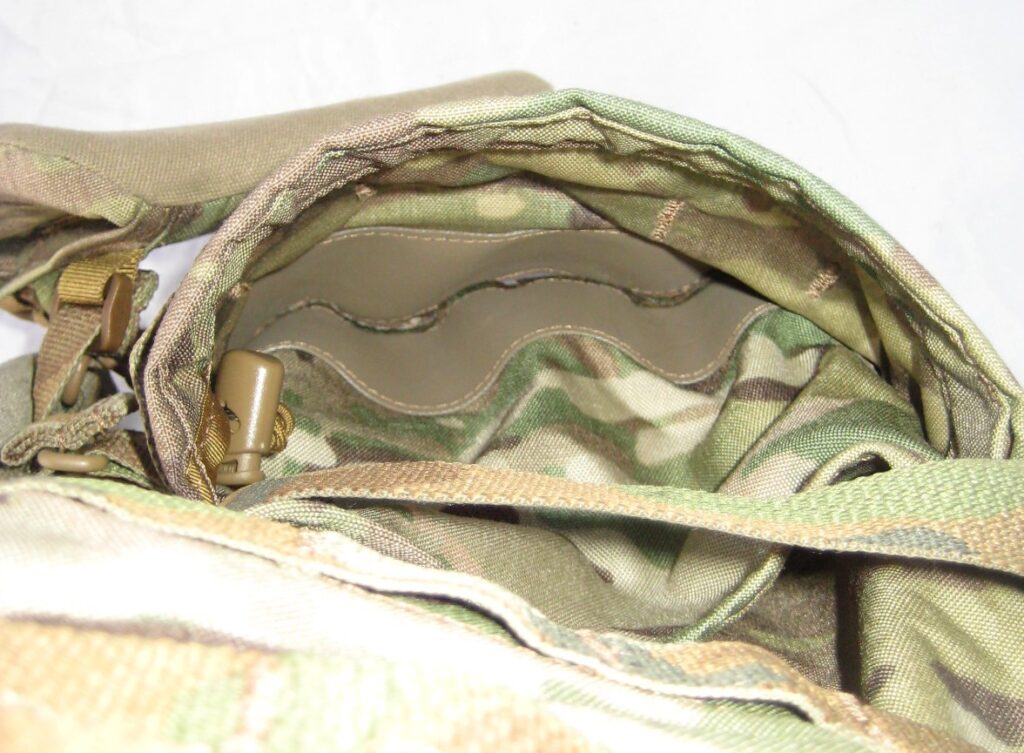 .
The bottom of the rucksack is triple-lined and has some sort of padded foam in between the outer 500D exterior material and the inner lining. Drain holes are present to allow drainage.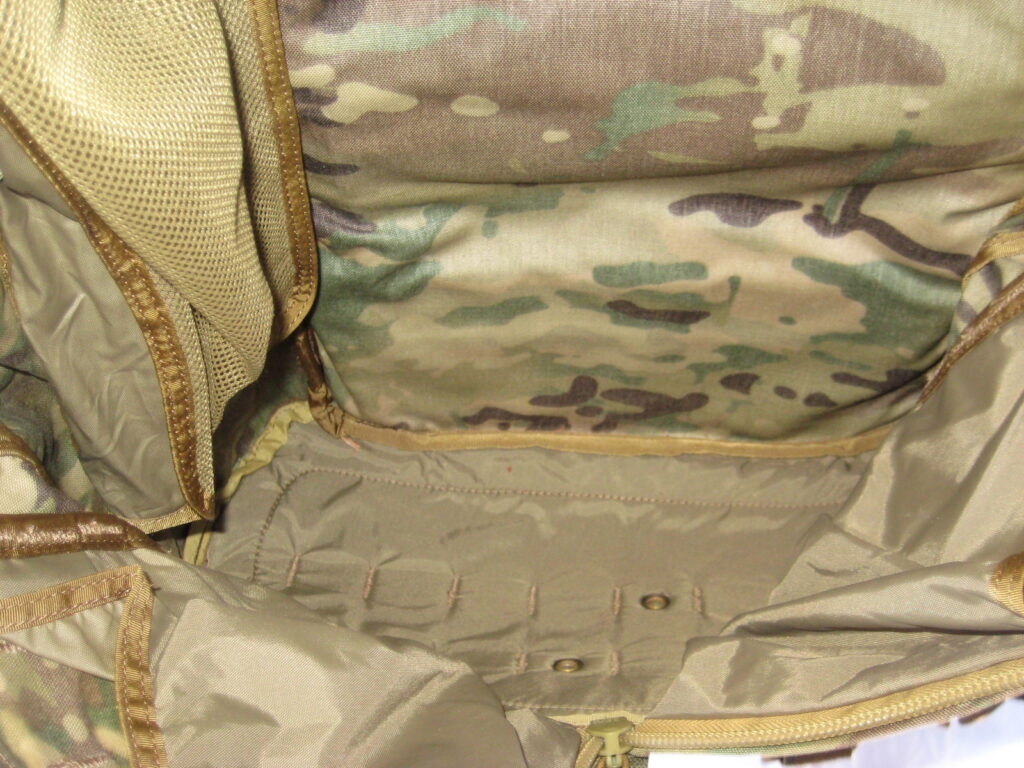 .
Looking at the internal setup of the DG-3:
All seams are edge-taped to prevent snags on stored equipment.
There are panels of velcro loop material combined with D-rings placed to utilise the Crossfire Lost Arrow attachment system for their series of removable internal pouches and accessories.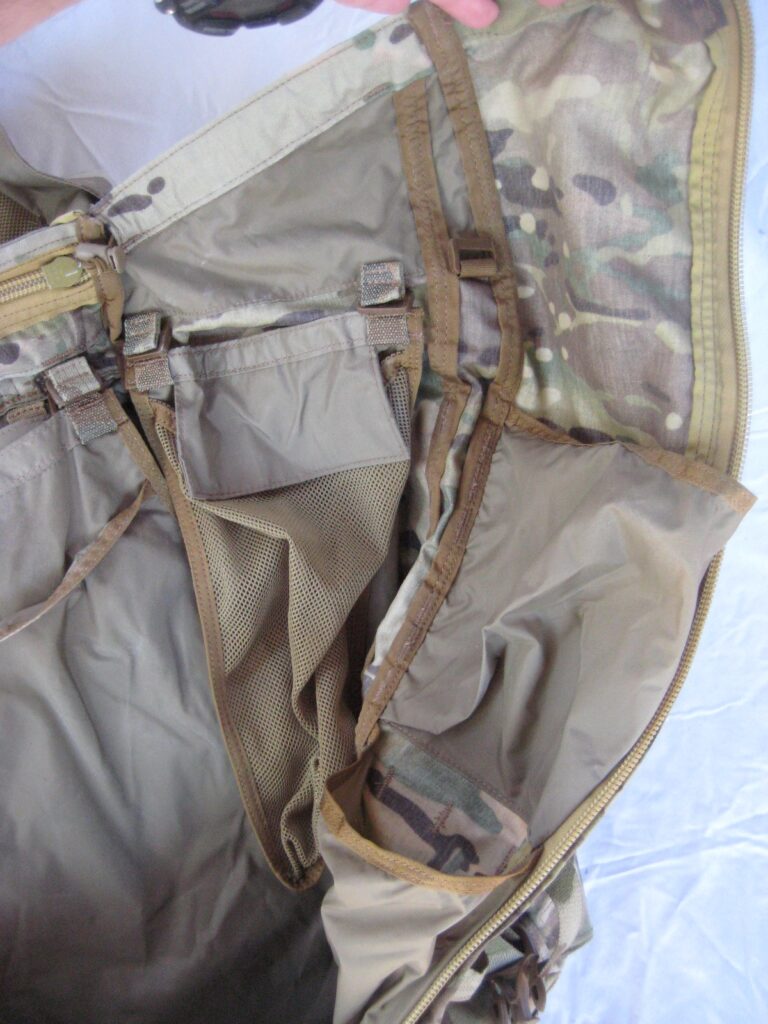 .
On each panel next to the main zip are two lightweight fixed pouches, providing a total of four pouches for small item stowage.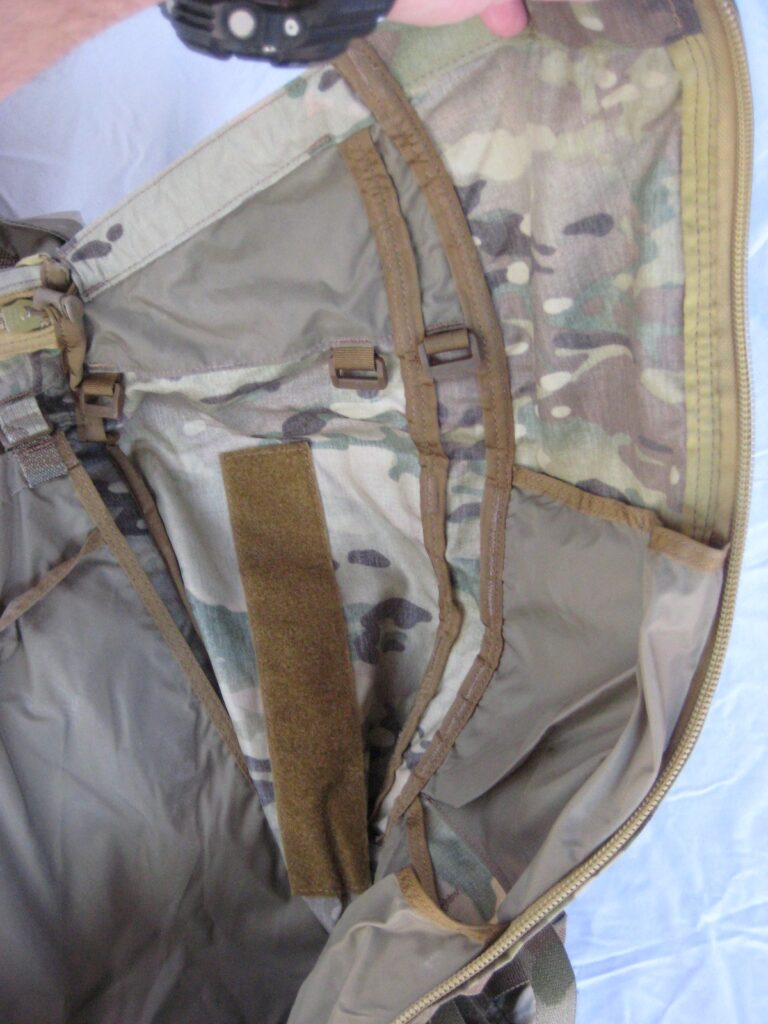 .
ACCESSORIES –
Supplied with the DG-3 was Crossfire's internal pouch set:-
Two removable mesh pouches that can be used to stow equipment in.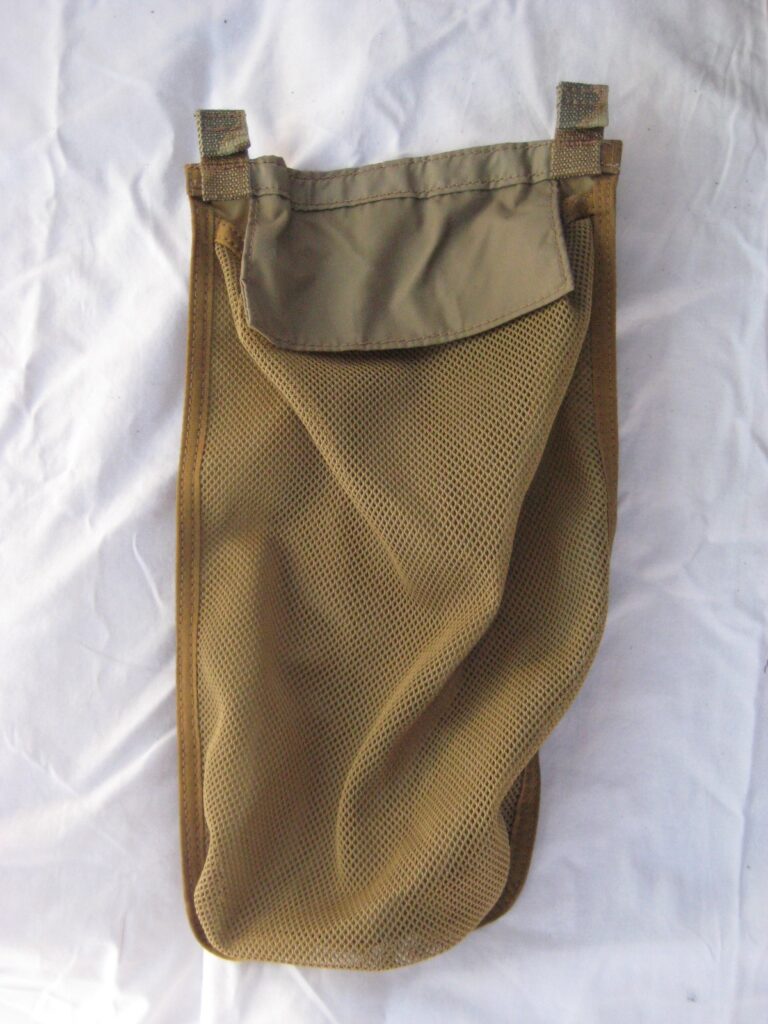 .
Two hydration bladder sleeves.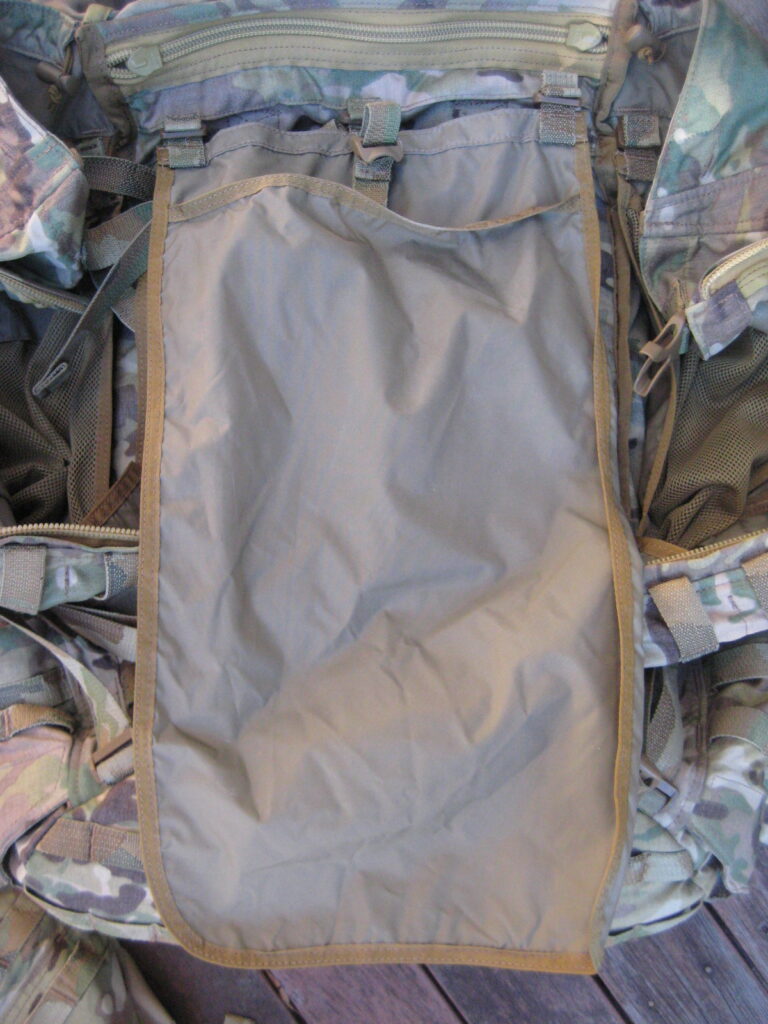 .
A manpack radio pouch sized for the Harris set currently in US and Australian service.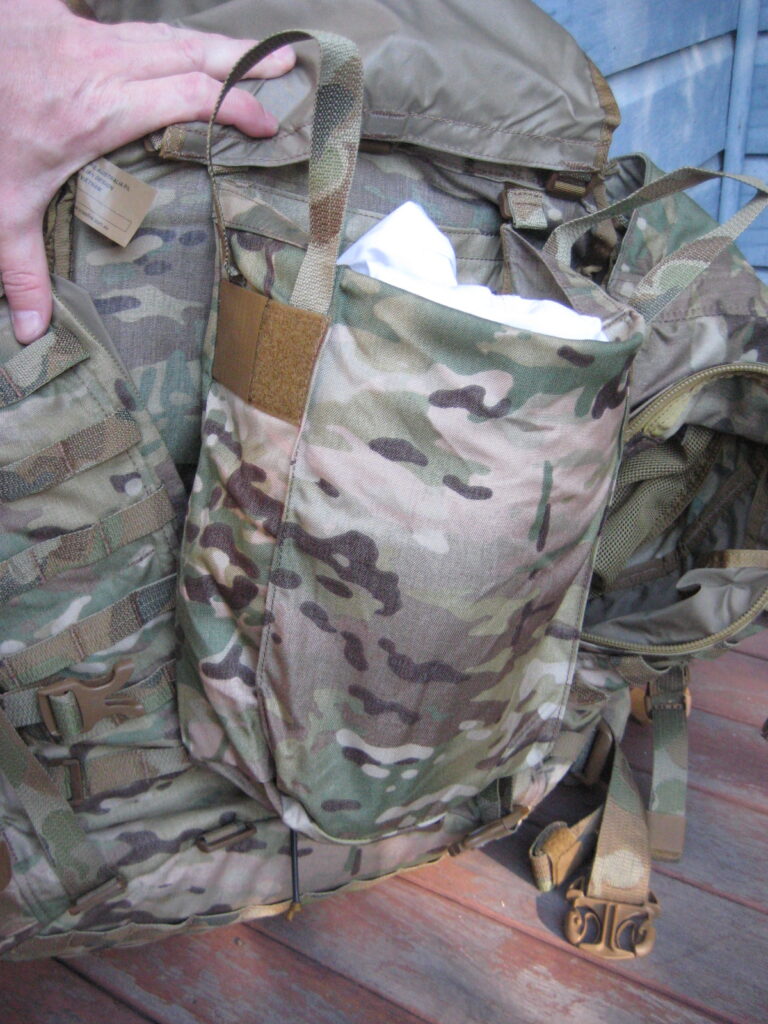 .
In addition is the removable beaver tail that can be fitted to the outside of the rucksack.
.
.
PERSONAL ASSESSMENT:
Our first exposure to the DG-3 started at SHOT Show a couple of years ago when we were presented with initial samples to present in meetings with industry types and offer initial assessment on.
We carried it around SHOT Show as a large daypack, a role that it was a little bit unsuited for, but was a great introduction to the system. That was a big show, where we walked about 80 kilometres in five days.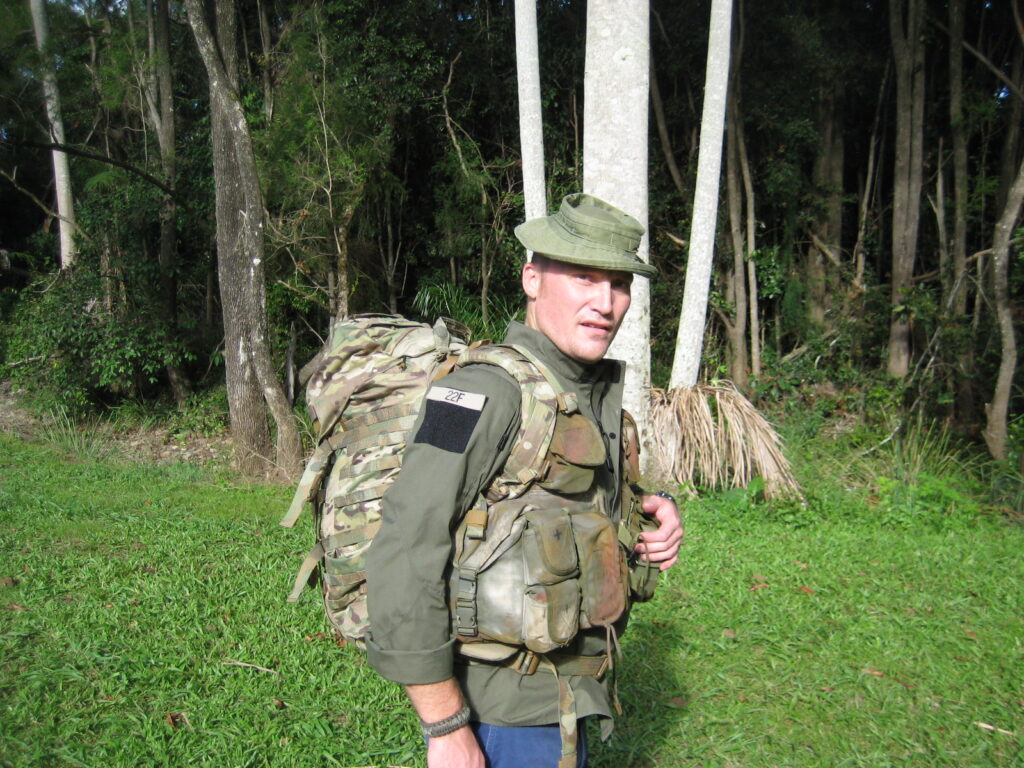 .
I've been using the DG-3 for for training walks (approximately another 80 kilometres worth) and in my duties as a Scout Leader.
Weight carried has varied from about 15 kilograms to over 25 kilograms.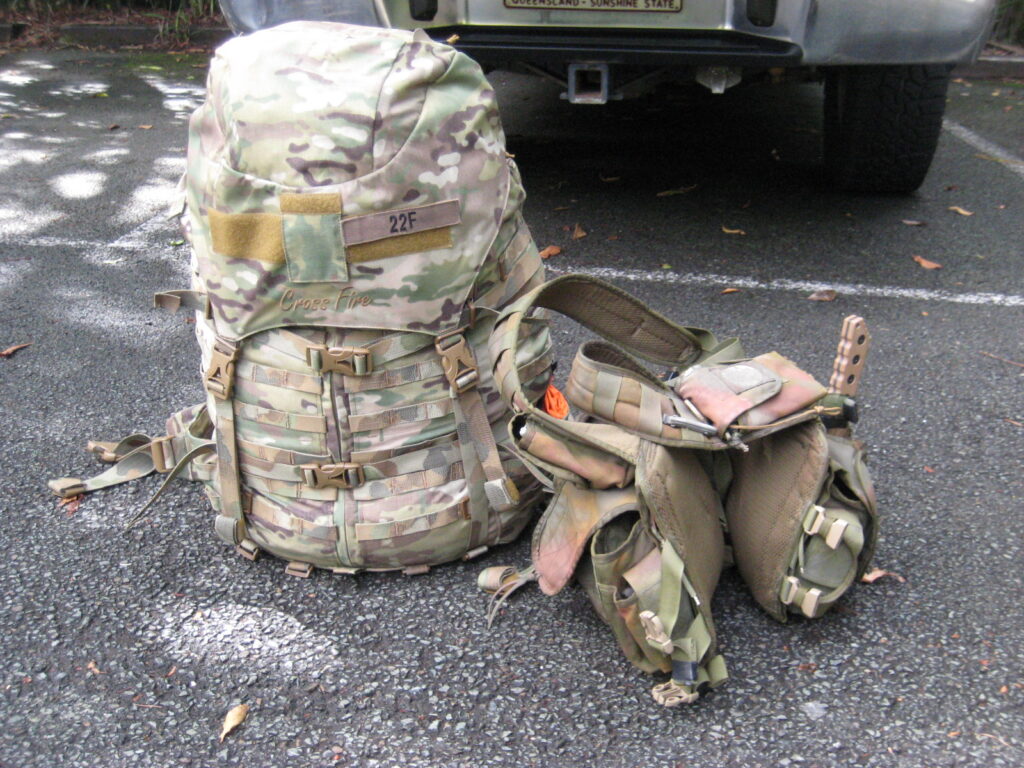 .
One of those walks was acting as support crew for a Scout Patrol Activity in the Mount Glorious area in Brisbane. A load of 20 kilograms in the DG-3, with another 5 kilograms in chest webbing. All that while portering extra water jerries for our team uphill proved the validity and size of the DG-3/frame combination for working in close country. It was noted by a few of my Scout's parents (some ex-military and former outdoor professionals amongst them) that the Mt Glorious area provides some of the hardest walking we'd seen in a long time. The area  is a heart-breaker that left us wondering where our youth had gone.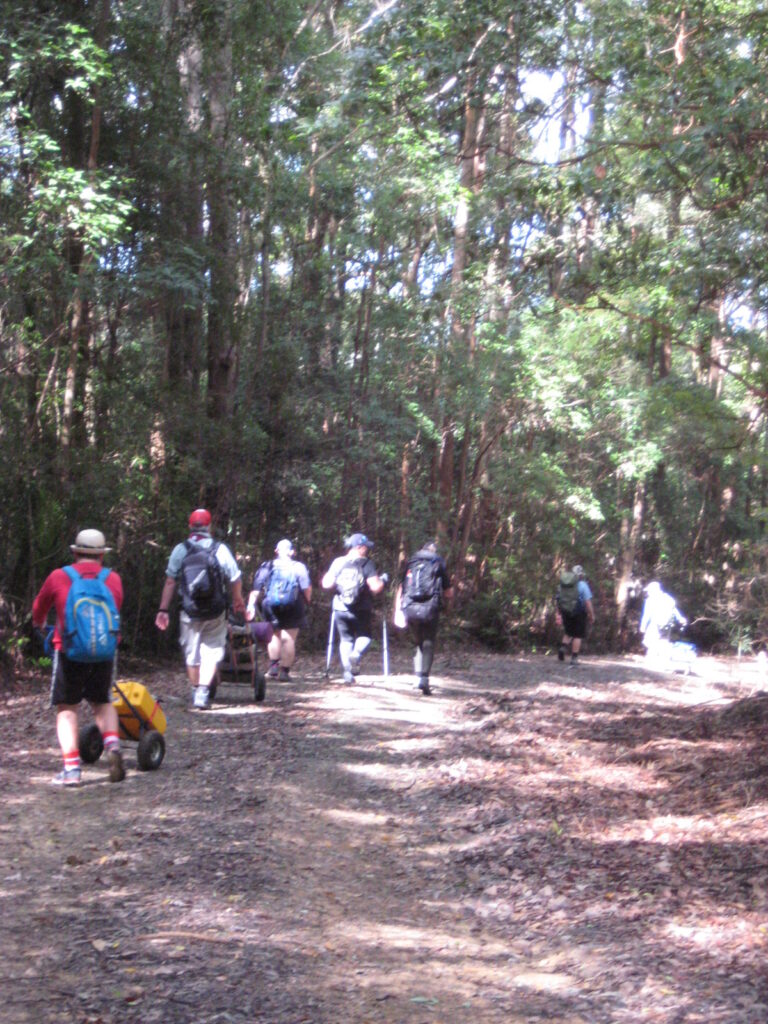 .
I've found that 25 kilograms is about the the top load for this pack before the harness is overwhelmed and comfort levels plummet due to it's back length.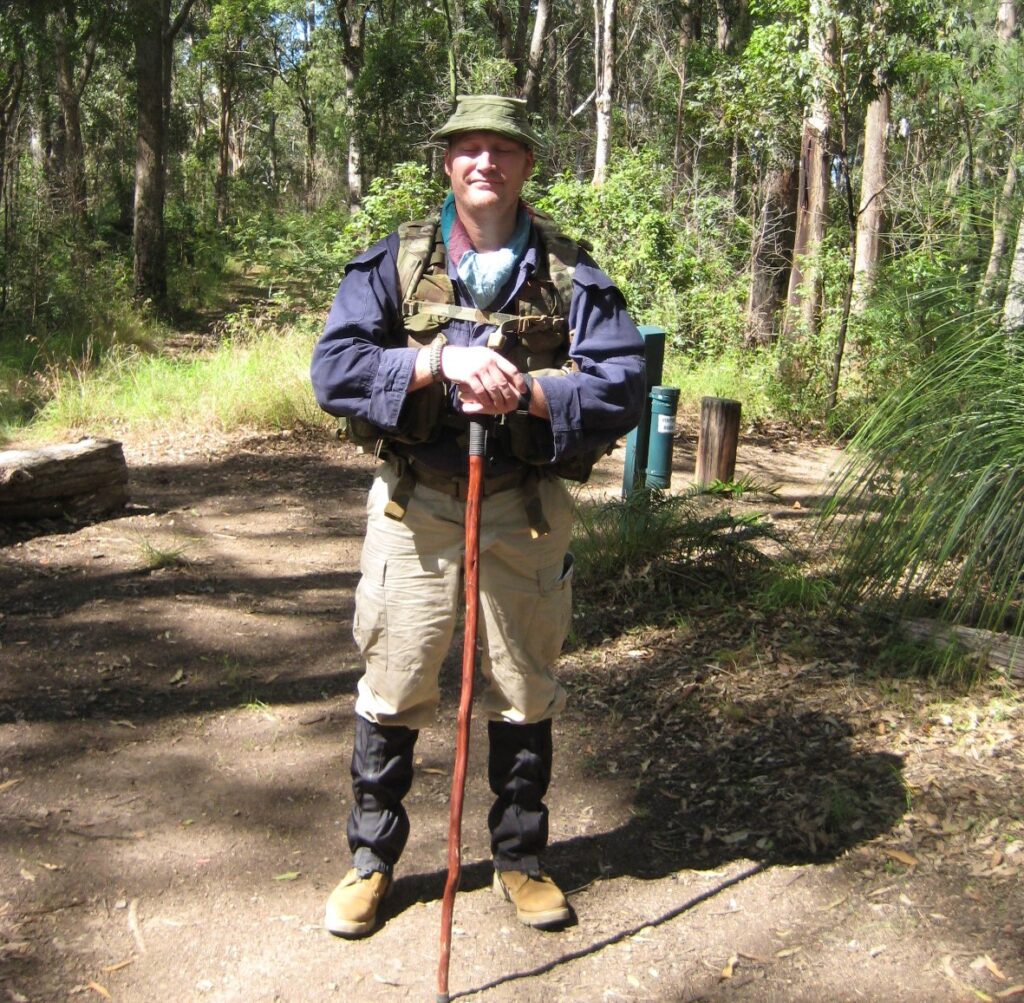 .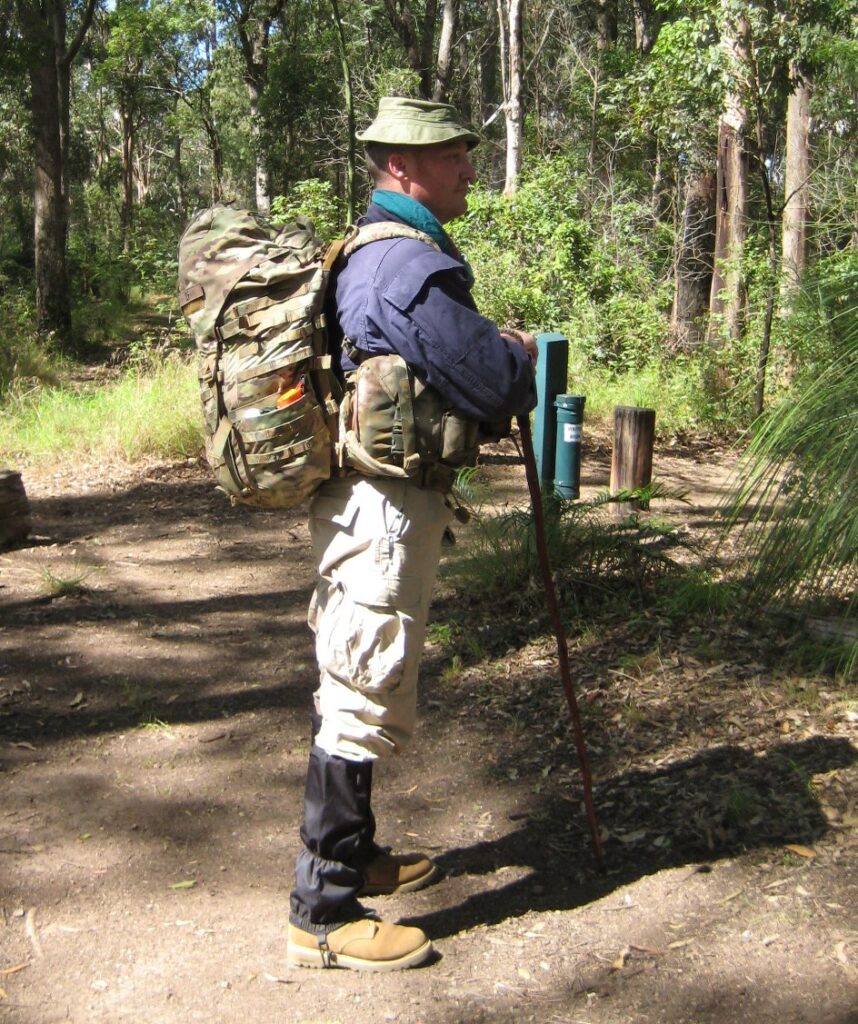 .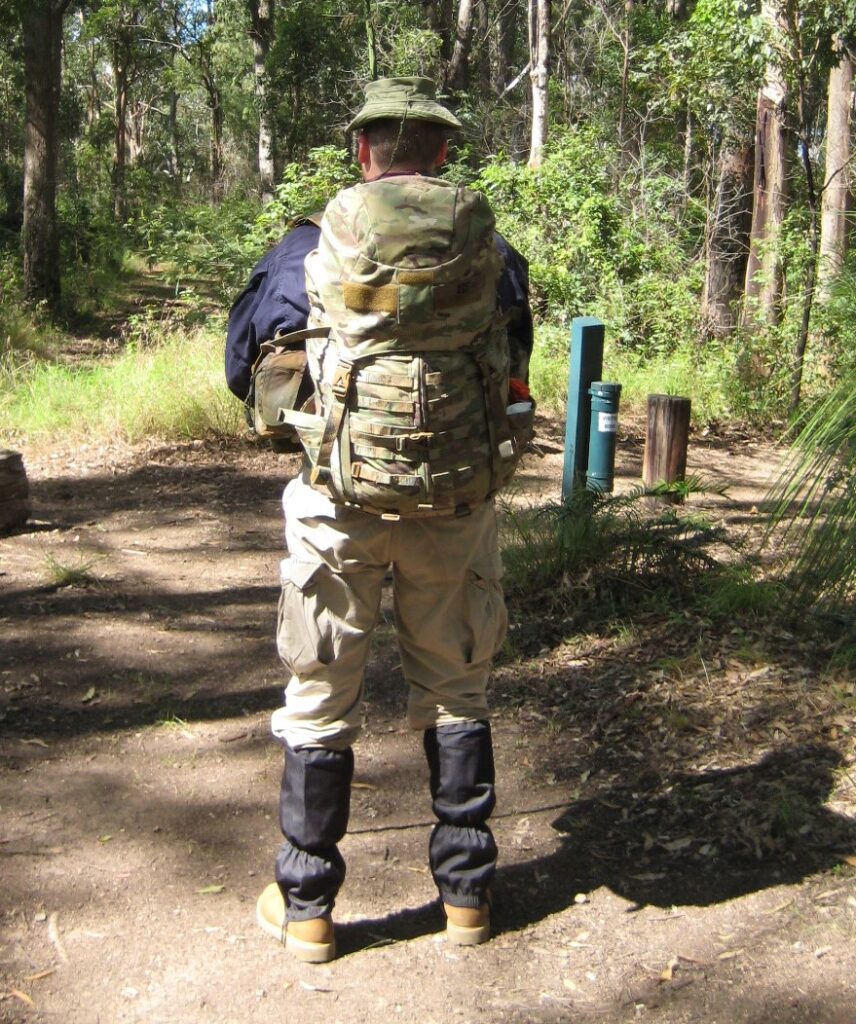 .
Due to its size, the new DG-3 is considered suitable for short range tasks for a couple of days, or more lightweight trips.
For those using it for work, providing logistical support is furnished every couple of days the new DG-3 is ideal as a replacement for the old ALICE series in warmer/temperate climates. It would also be ideal for those conducting a mixture of mounted and dismounted roles such as mechanised infantry.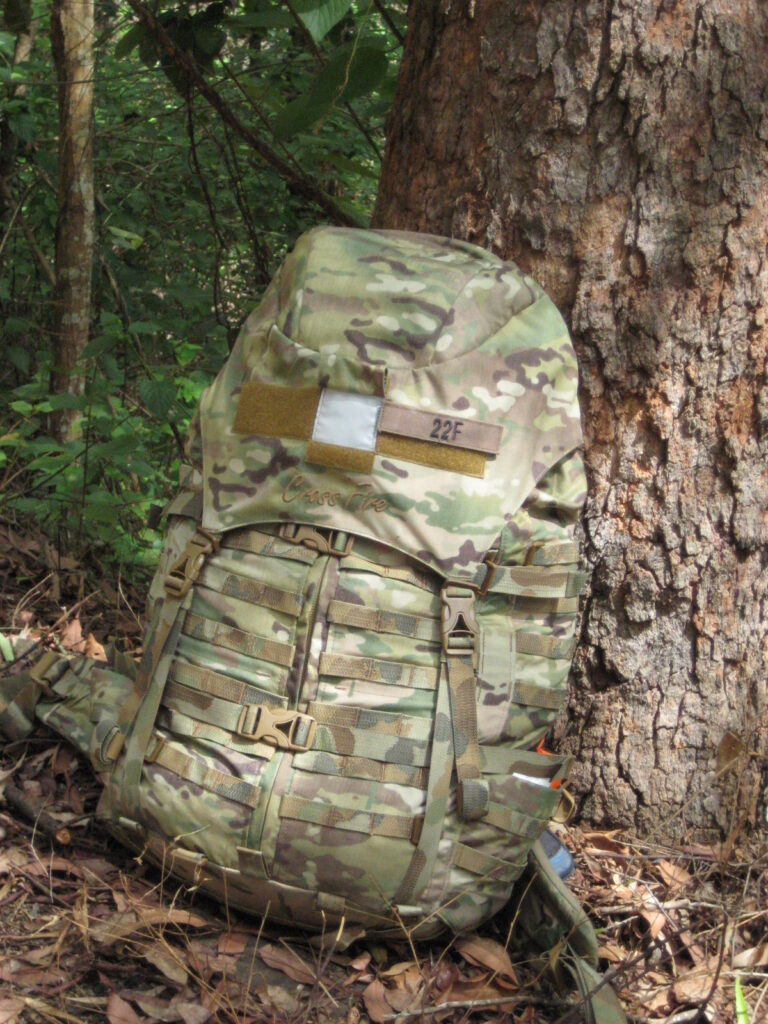 .
PROS –
Excellent frame and harness combination.
The central access zip on the rucksack allows easier access to the contents of the pack.
The shorter back length of the frame allows increased compatibility with traditional belt webbing.
The Crossfire hip belt system is extremely customisable and adjustable for the wearer. That, and it's segmented design allows cut-away of the pack when needed.
.
CONS –
Smaller frame size provides limited back length adjustment for taller people. This reduces it's comfort and load transferrance abilities. This will suit smaller statured wearers much more though.
The fixed lid detracts from useability. I've been spoilt for years now with Mystery Ranch and Crossfire packs with detachable pack lids, so it's been a trip back in time to return to a static lid. It may be possible to roll the lid up against the frame and still mount one of Crossfire's removable daypack lids to the frame.
.
.
SUMMARY:
I've found the new generation DG-3 to be a worthy replacement for the venerable old ALICE pack.
Well suited for shorter trips or with lightweight equipment options.

Posted in Crossfire, Military, Overnight, Short Trip by 22F with 4 comments.