ITEM:    Jagungal Pack
MANUFACTURER:           Wilderness Equipment
DESCRIPTION:
An internal framed, 48L technical day-and-a-half pack, comparable to the military concept of a 3-day pack. The Jagungle (I believe it's pronounced Jer-Jungle) is intended as a heavyweight daypack, for such outdoor professional such as outdoor guides, search and rescue teams and others who carry heavy but compact loads such as canyoners and climbers.
It's essentially a full-size alpine style hiking pack scaled down to a daypack size package.
ATS RAID on the left, Wilderness Equipment Jagungle on the right.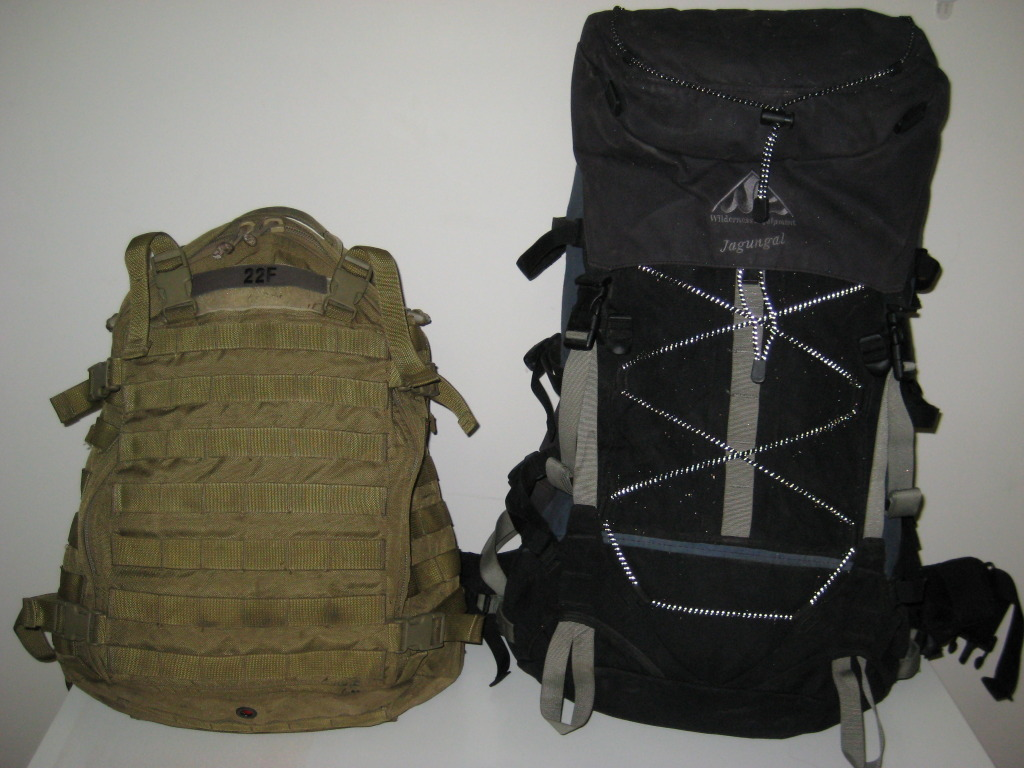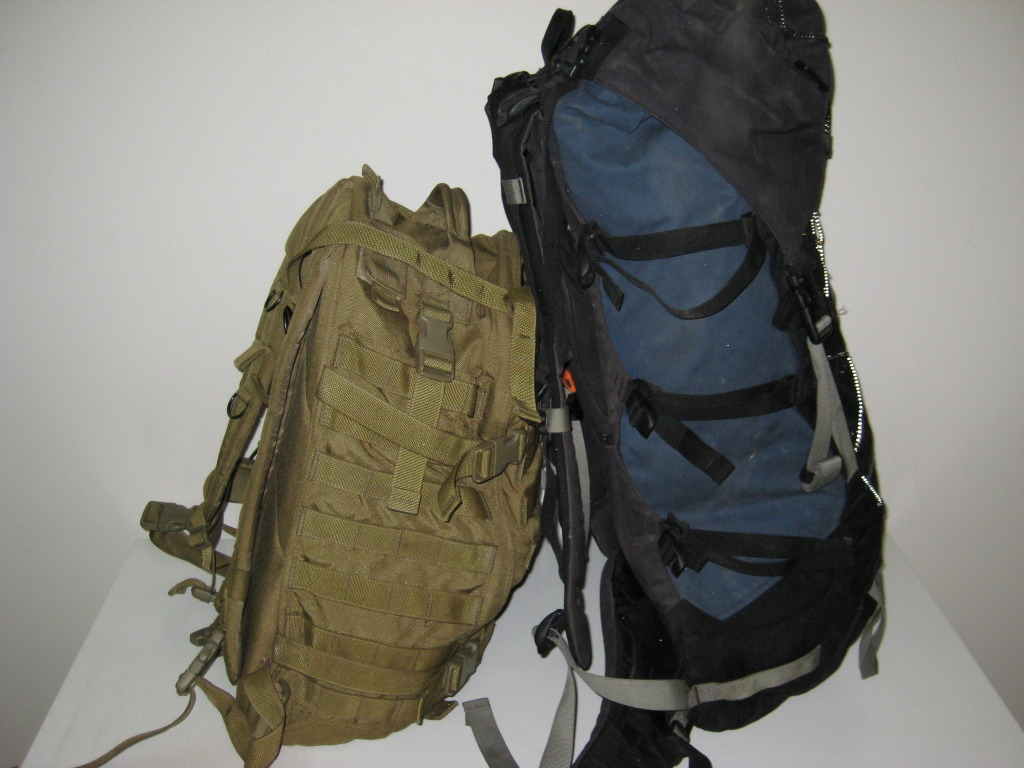 REVIEW NOTES:
This pack was a Christmas present from an ex-girlfriend many years ago. Such is the way of quality gear, the pack is still with me – due to cruel twists of fate, no such luck for that young lass.
It's pretty obvious that I've concentrated on a great deal of military equipment, I thought it high time I covered some of the more pleasantly coloured backpacks that happen to be sitting in my man-cave.
CAPACITY:
48L (2440 cubic inches) to the shoulder. The design allows some extra capacity via the roll-top rucksack.
DIMENSIONS:
Please note that these measurements are only an approximation gleaned from my sewing measuring tape. For truly accurate figures, please refer to the manufacturer.
Weight – 2.6kg (5.7lbs)
Height – 60cm (23.6in)
Width – 36cm (14.2in)
Depth – 23cm (9in)
MATERIALS:
Main Pack Body is canvas
The reinforced bottom and alpine racking is 1000D cordura.
Elastic buckles, shock cord, webbing tape.
LAYOUT:
FRAME –
The Jagungle is fitted with a shaped and contoured plastic (polypropelene) frame sheet, curved to fit the human spine. This keeps weight down, and performs similar to the aluminium staves found in a heavier/larger pack. Whilst the plastic frame sheet is somewhat flexible, it's still able to soak up some weight and punishment.
Whilst not perfect for really heavy loads, it is more than sufficient for its intended usage on a heavy-weight daypack.
HARNESS –
Shoulder harness is a fixed affair, unable to be changed to suit backlength. To this end, the Jagungle is available in three back lengths: small, medium and large. For my body, the large size has been fitted to me.
The shoulder straps are low profile, contoured, and backed with canvas. There are fabric loops to keep the top tensioner straps in place and tidy.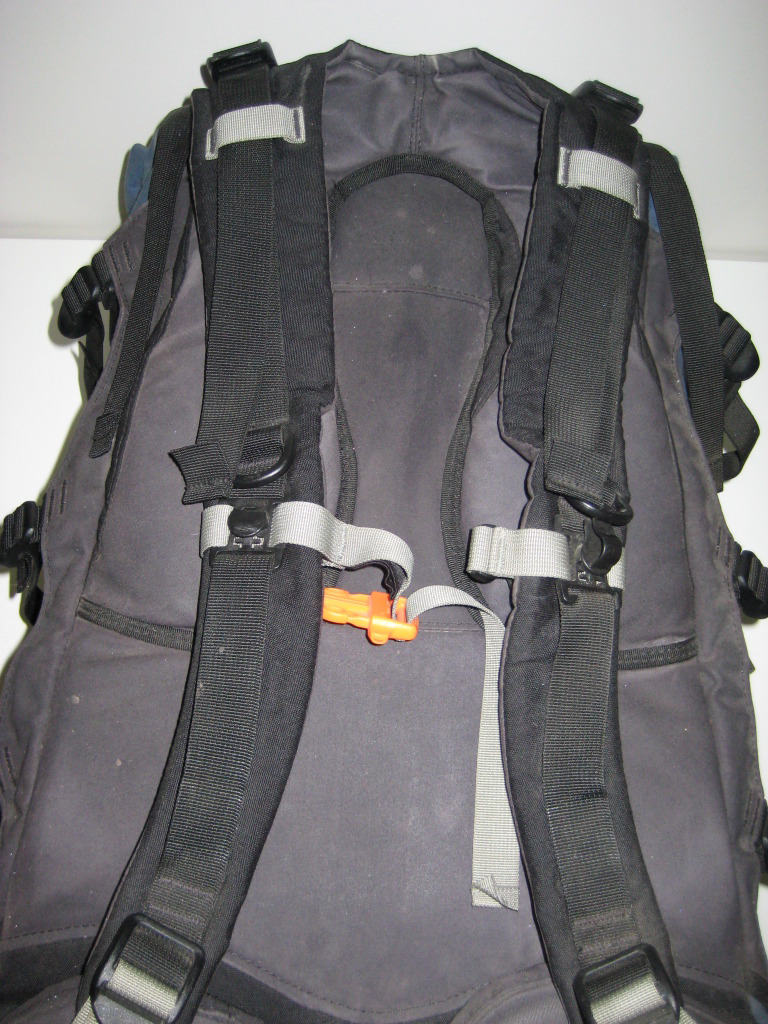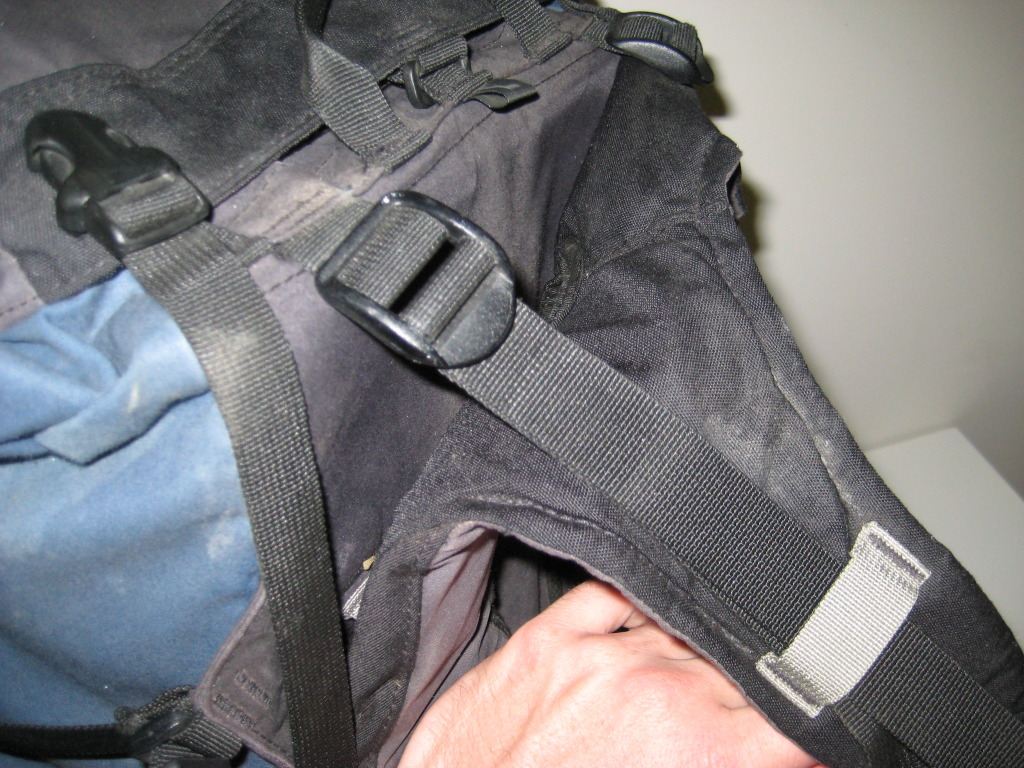 Shoulder cushioning extends down to the shoulder blades and has a large channel to allow airflow across the back.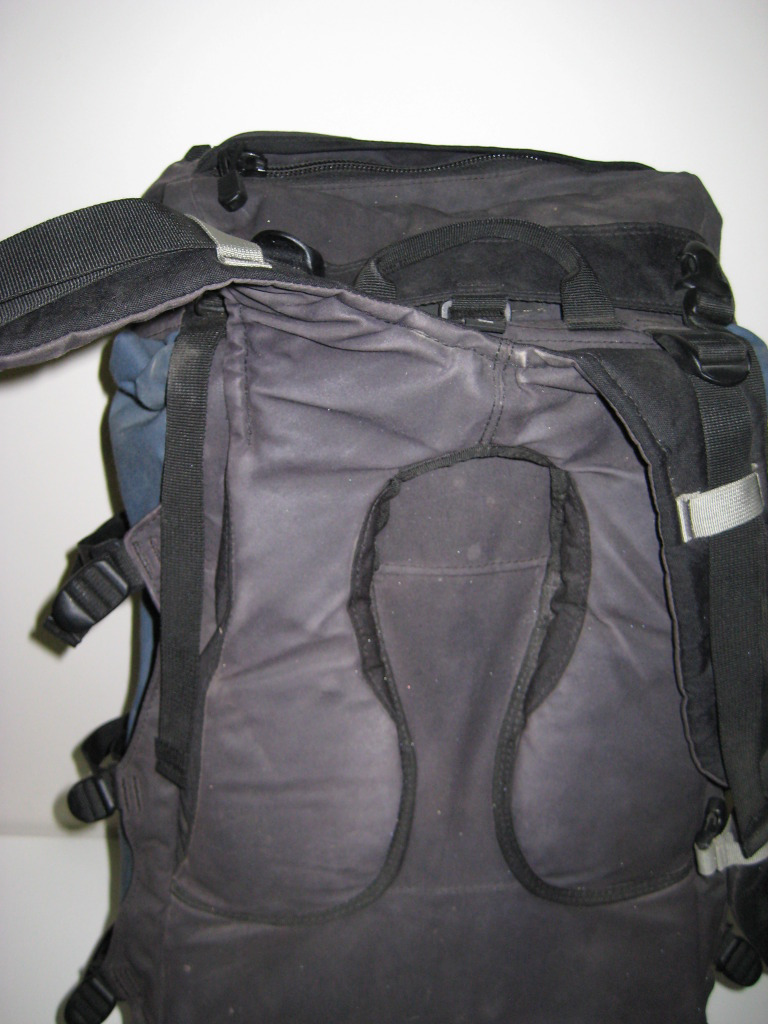 A sternum strap that can be adjusted for height is fitted. The sternum strap has plastic fittings to allow a hydration bladder hose to be routed to the harness and stowed. An emergency whistle has been integrated with the sternum strap buckle.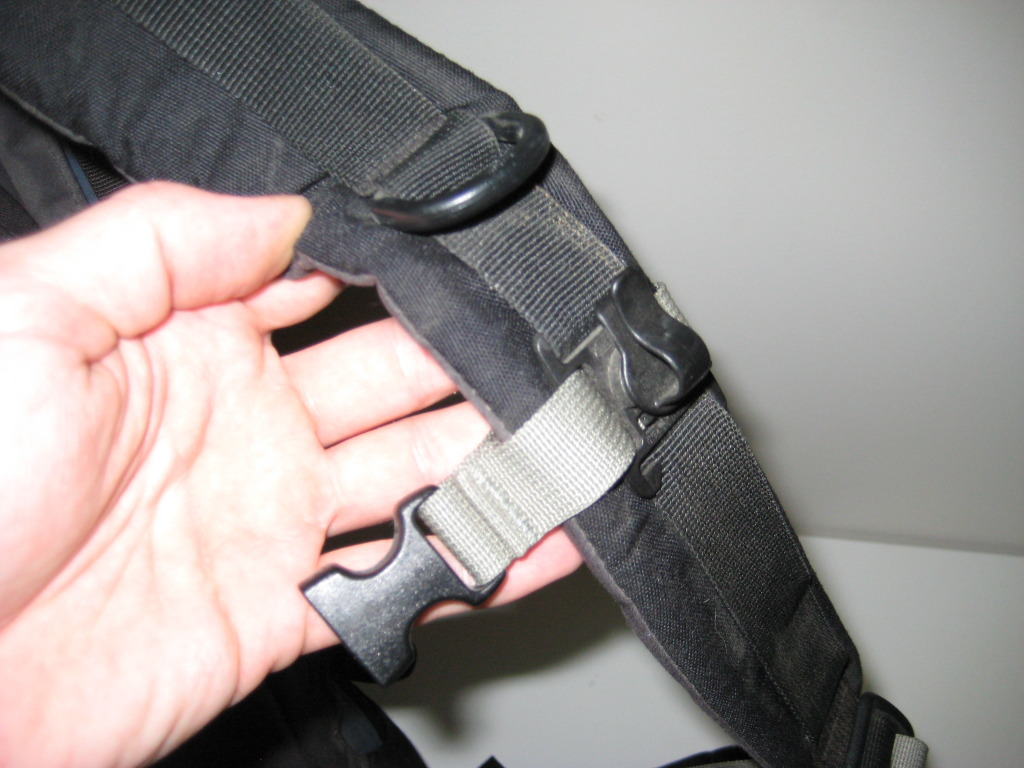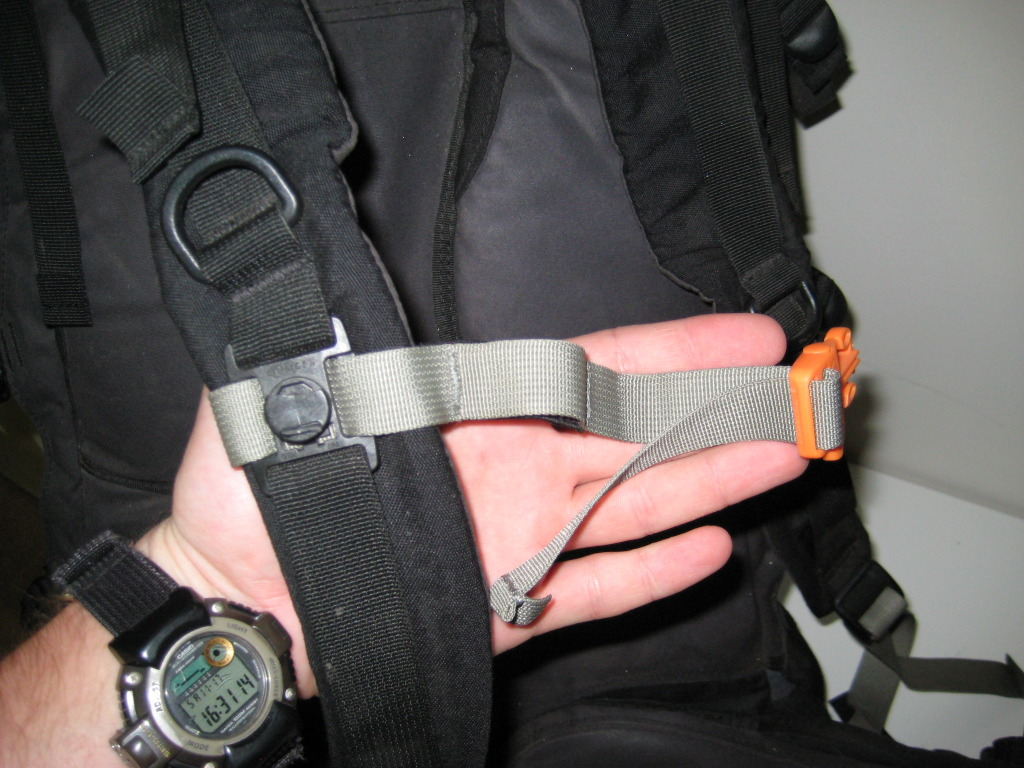 The hip belt is one of the most distinctive features of the Jagungle and the rest of the Wilderness Equipment line. The Synchro-form hip belt is mounted to the frame via rotating mounts so that the hip "wings" can rotate. These rotating wings can be tensioned to individual preference or rotated out of the way when not required.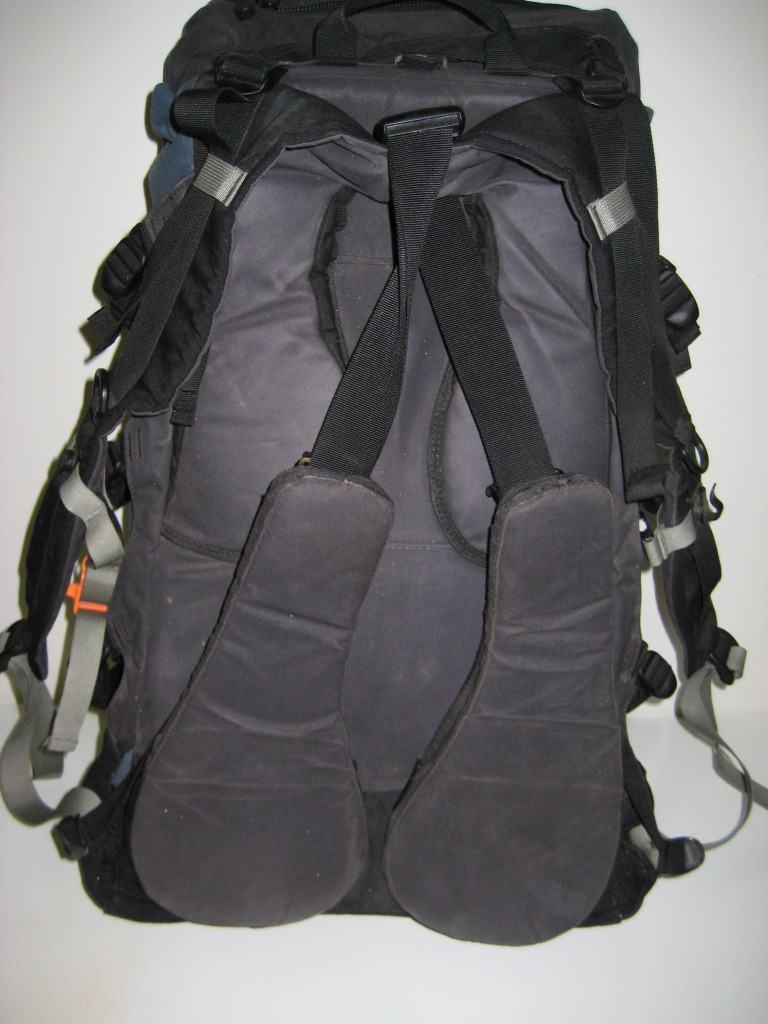 This is the same system used on the Crossfire DG-3, which is reviewed elsewhere.
One advantage of this Syncro-form hip belt, is increased mobility for more dynamic movement, such as climbing and rough terrain. Although a slight payoff of this harness is a slight decrease in load transfer to the pelvis, making it not as efficient as a fully anchored hip belt found on other designs.
The hip belt running ends are routed through steel loops on the wings. These allow a two-to-one pull advantage on the hip belt, and allow the loose running ends to be tidied up somewhat more out of the way compared to many traditional hip belts from the same time period.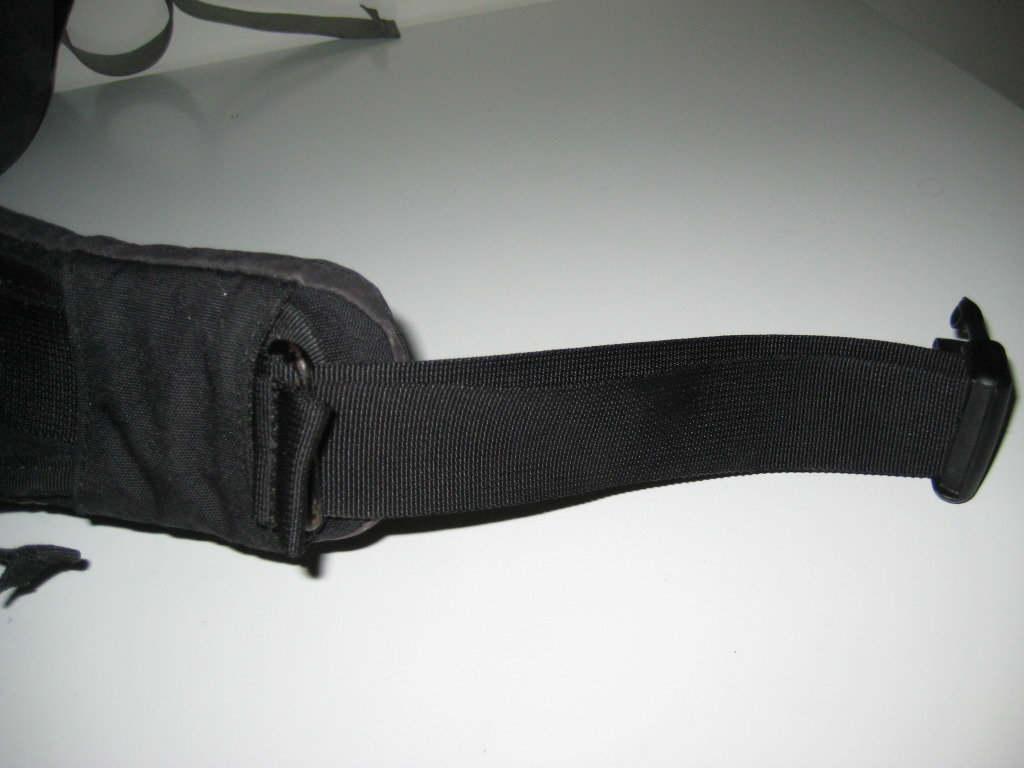 The padded cushions on the wings are secured via Velcro and are removable for replacement or desire on how much cushioning is required by the end-user.
An interesting design point, showing attention to detail on the rotating wings of the Synchro-form hip belt is a strip of cordura to provide an increased measure of abrasion resistance for the bottom of the pack.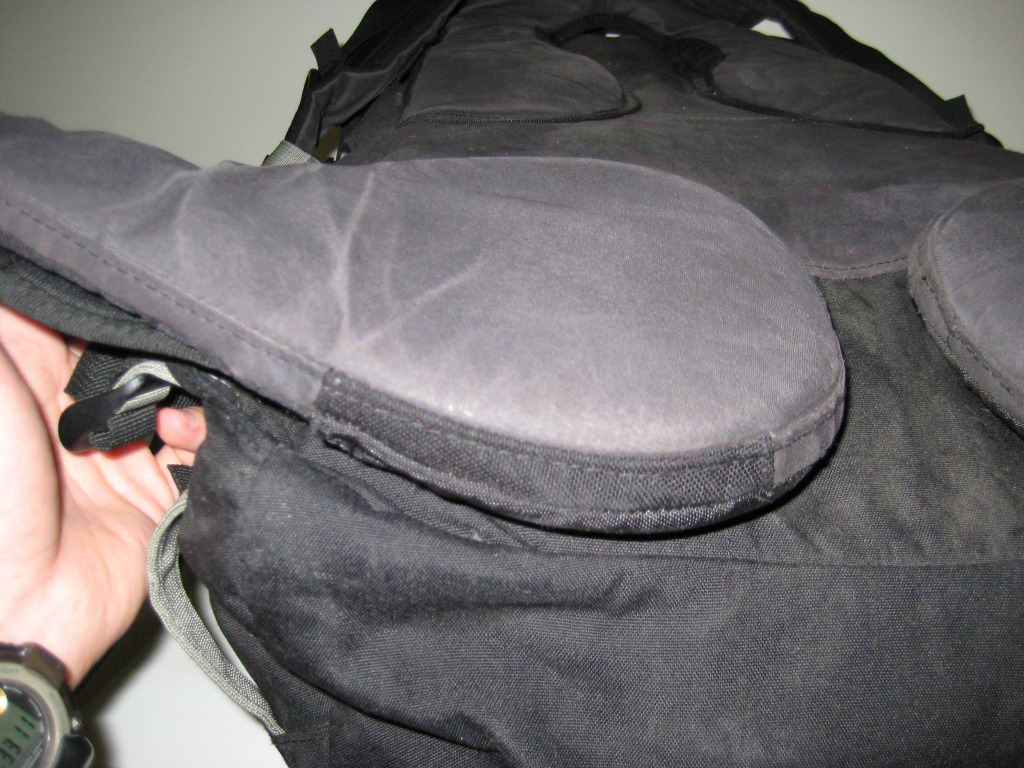 RUCKSACK –
The main rucksack is made of corespun canvas. The only internal organisation within the main compartment is a lightweight hydration bladder pocket. There is a hyphalon port to allow the hydration bladder port to be passed out to the harness.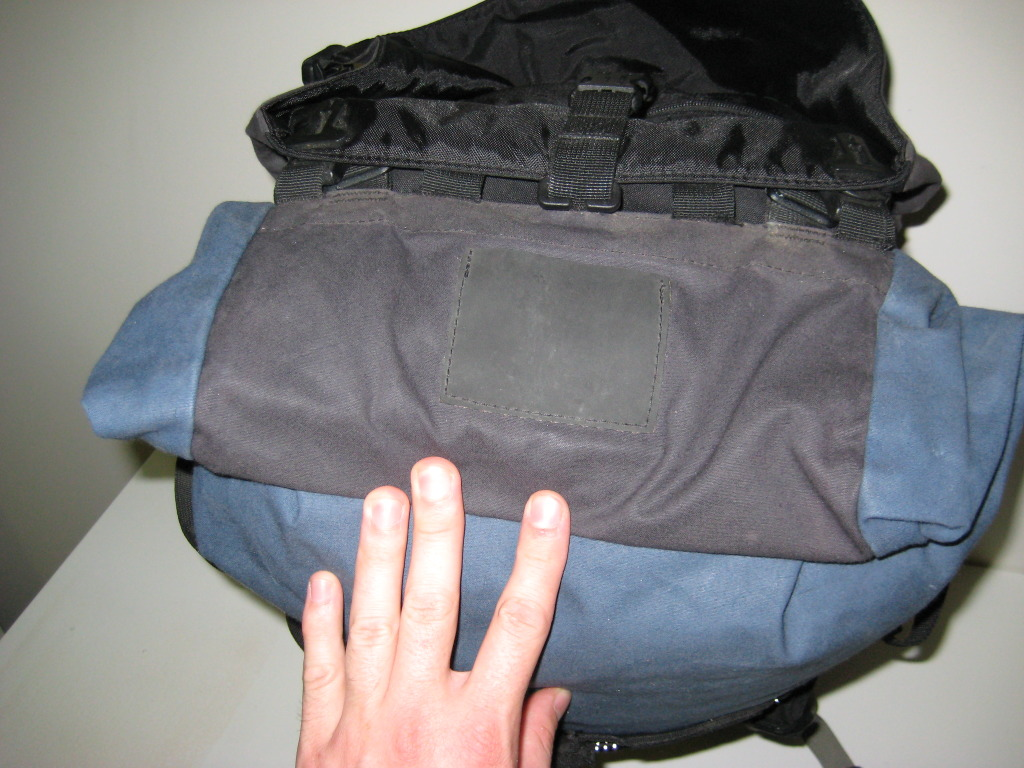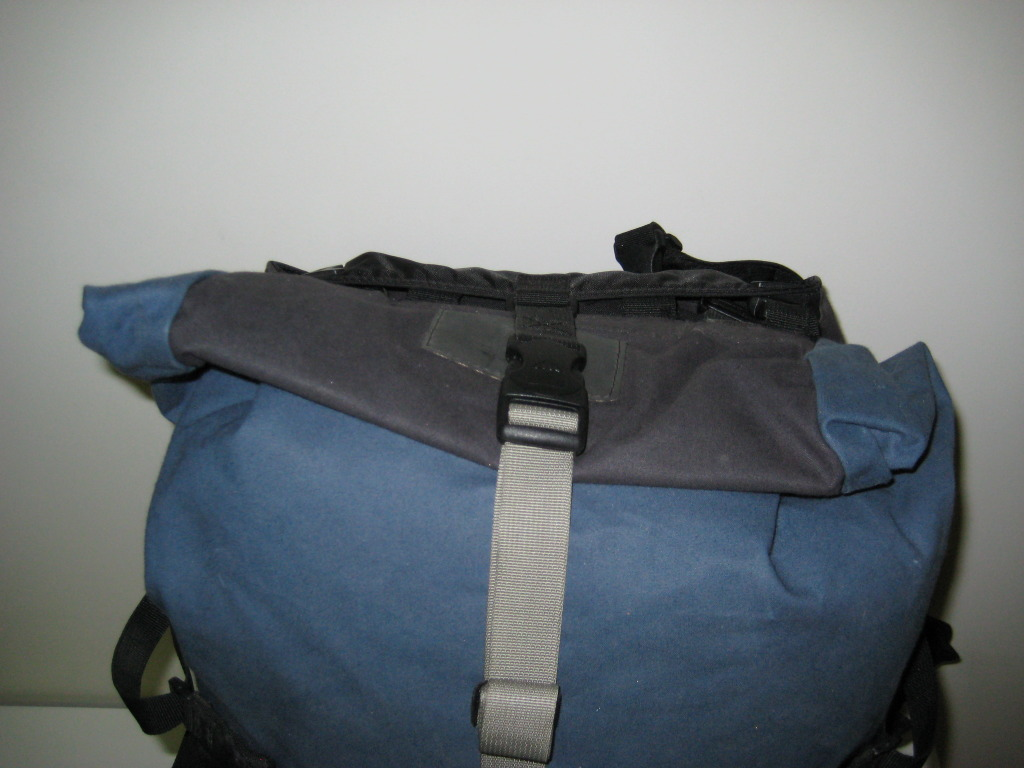 Sealing the main compartment can be achieved via two methods. The first method is a detachable lid, very similar in concept to the Mystery Ranch Daypack lid. Although not setup with daypack harness, with the addition of some extra buckles (not supplied) this lid could be setup as a bumbag (or fanny pack to our North American readers).
This lid can be raised in height by fastex clips and tri-glides to allow complete coverage of the main compartment when overloaded. It is heavily contoured to allow unrestricted movement of the head when a climbing helmet is being worn. There are two small zip secured sundry pockets on the top and bottom of the detachable lid. The outside of the lid also has shock cord woven around to secure small items to the pack.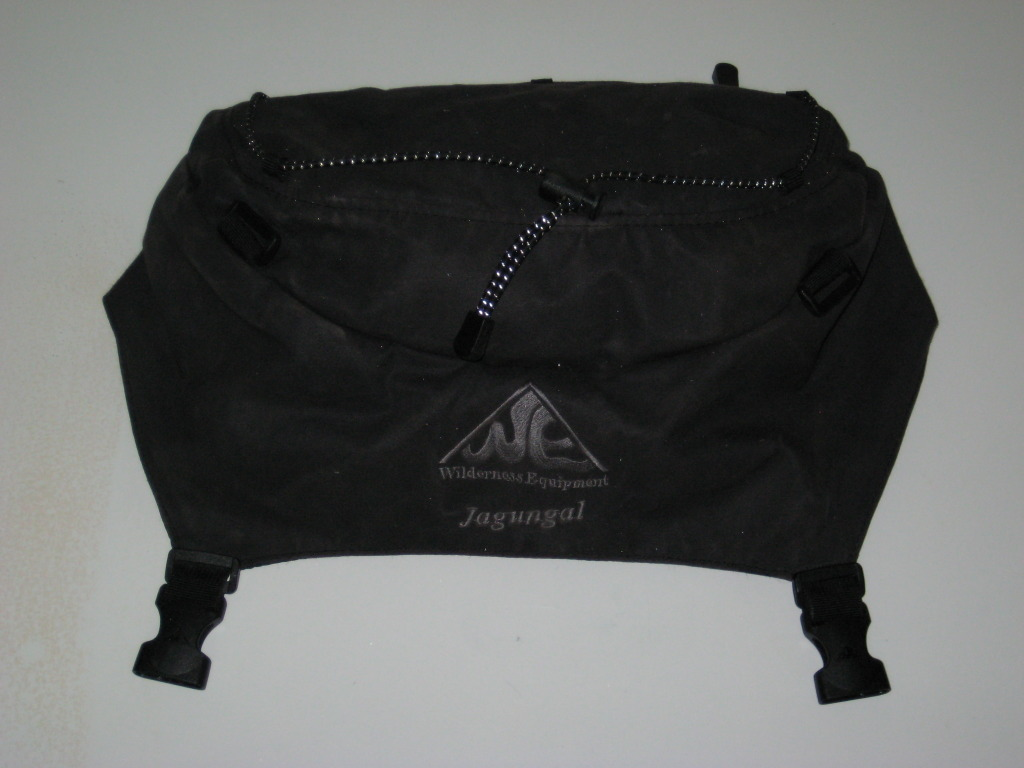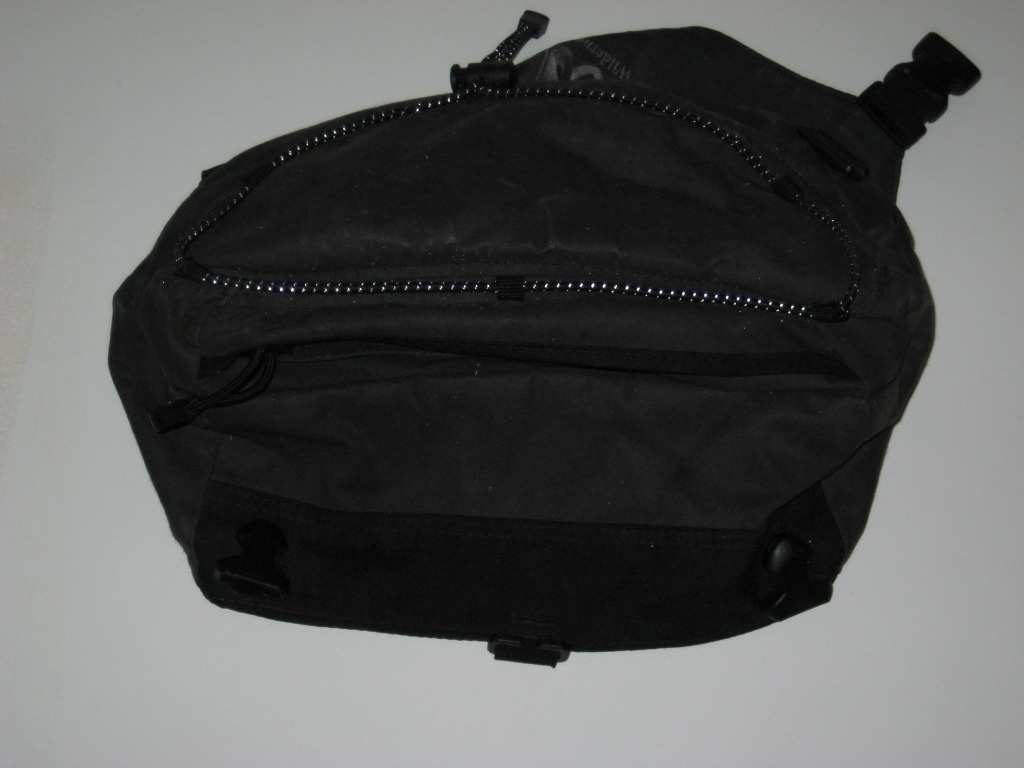 As mentioned, the pack lid can be detached, meaning the main compartment can be secured by the roll-top feature and closed with the fastex clips.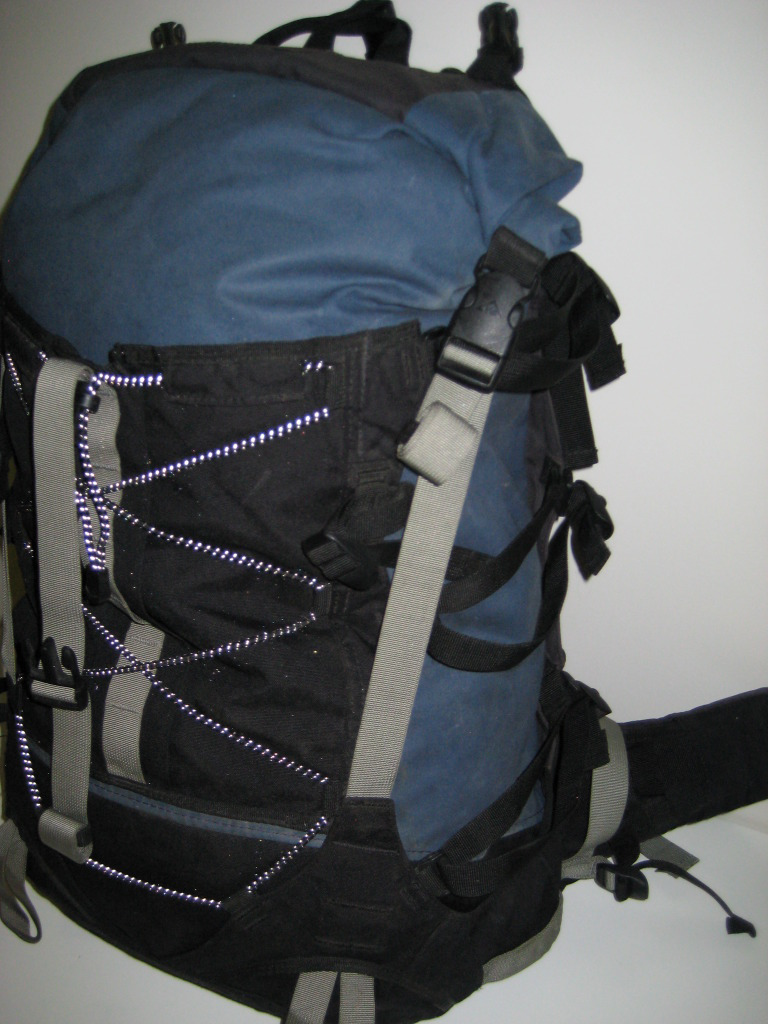 There is a cordura reinforcement on the bottom that provides abrasion resistance and extends to the alpine racking on the back of the rucksack. The alpine racking includes an expandable pocket in which throw small items in a hurry. There is various loops and handles to lash equipment like snow shovels and walking sticks with. To cover it all, is a woven shock cord assembly to stow larger items.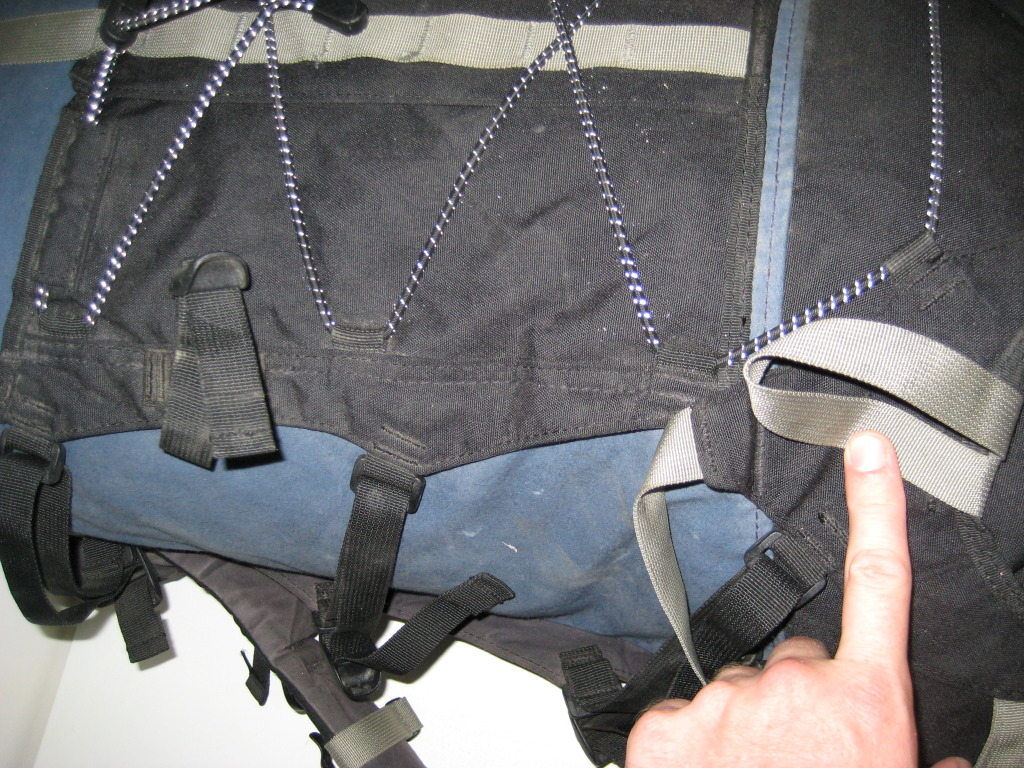 There are three compression straps on each side of the main rucksack, to help compress the load to prevent it swinging around in an unsafe manner, and can be used to carry long items such as walking sticks or ski poles.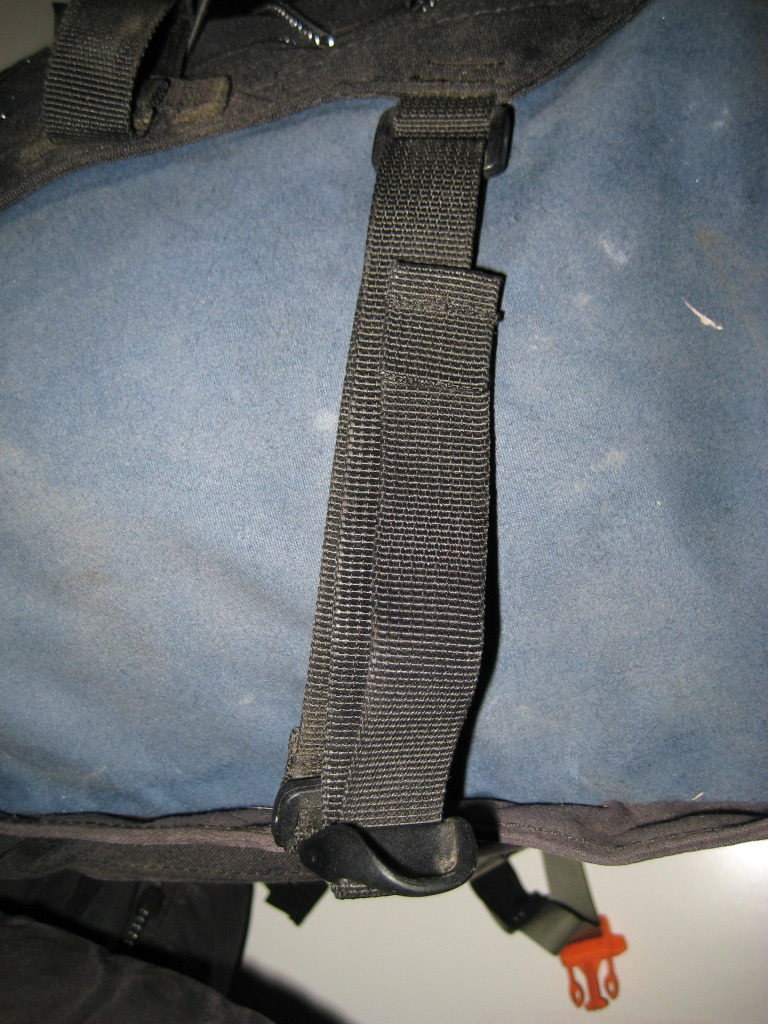 These compression straps are unique, in that they offer a two-to-one draw strength for ease of use. They are also removable, should that be required by the user. This could be extremely useful for certain emergency situations. Off the top of my head, I can see these being used for splinting walking sticks to limbs to treat broken bones or snake bite, aid in the securing of damaged equipment, or even lashing packs together to form a raft for water crossings.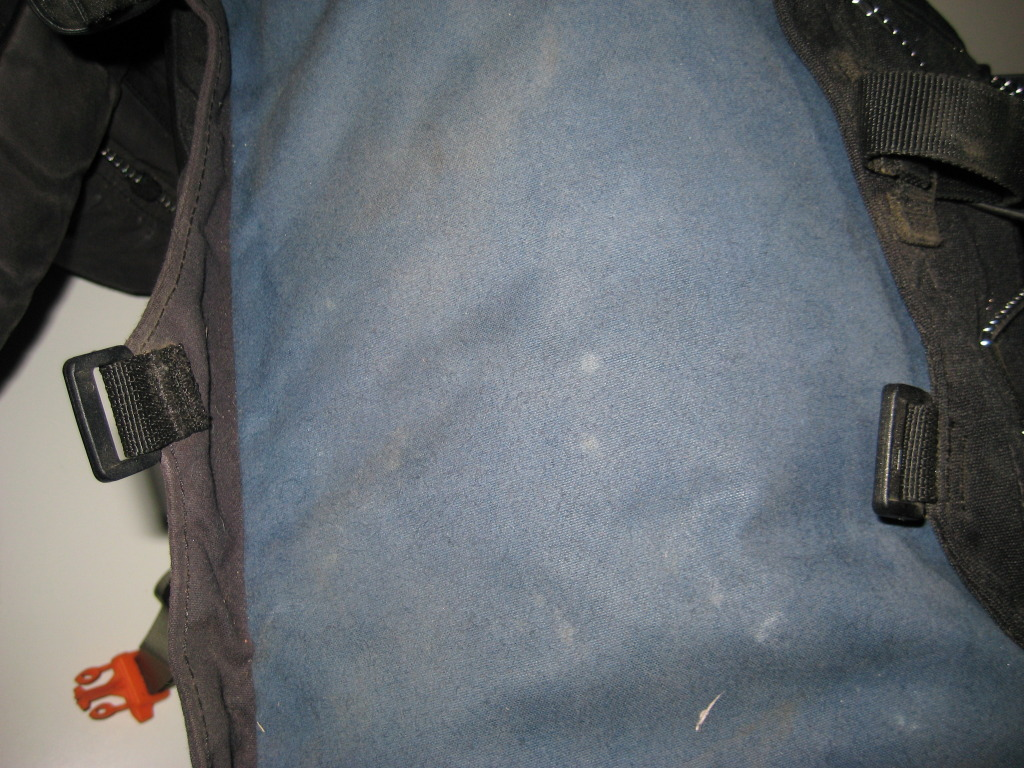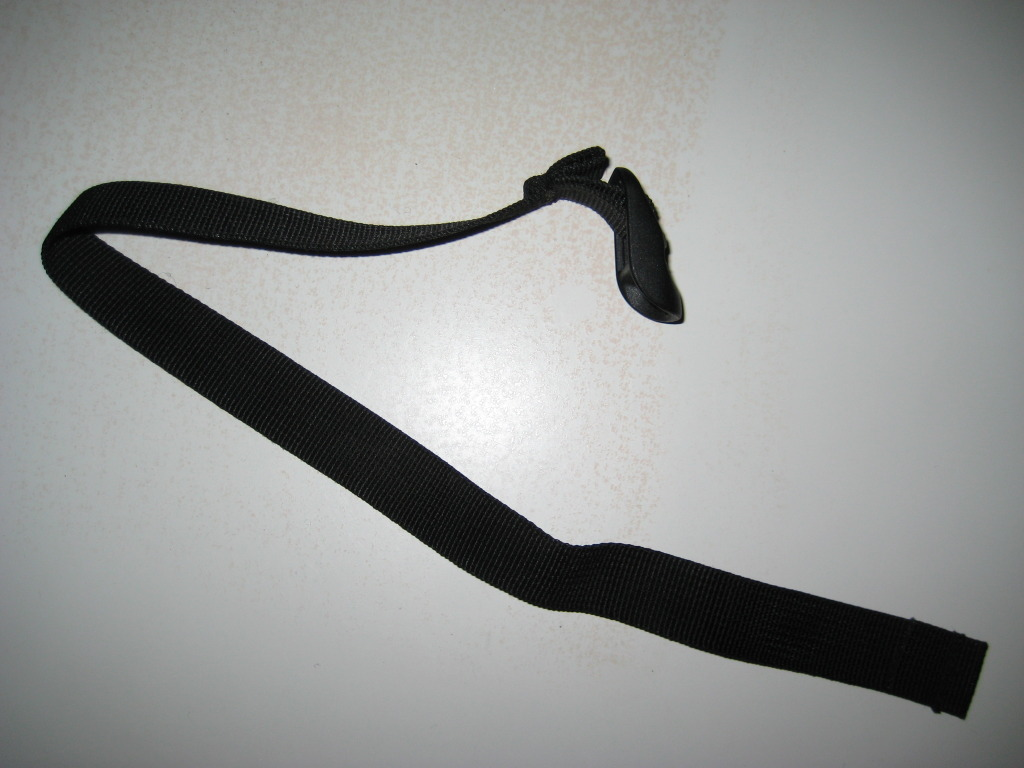 PERSONAL ASSESSMENT:
This was my first pack after leaving the service. I wanted a quality pack that could be used for day trips and very lightweight trips up to about 3 days. The main reason I was drawn to it was the canvas construction, high quality harness and subdued colouration.
The Jagungle pack has seen much use in the last nine years I've had it. It has been available on the market for some significant time before that.
I have used it for countless day walks, climbing Mt Barney in South East Queensland being one of the hardest walks with it; lightweight overnight walks; travel to rural and urban areas on social visits to catch up with old friends; and being thrown in the boot of the car loaded for emergency use during cyclone season.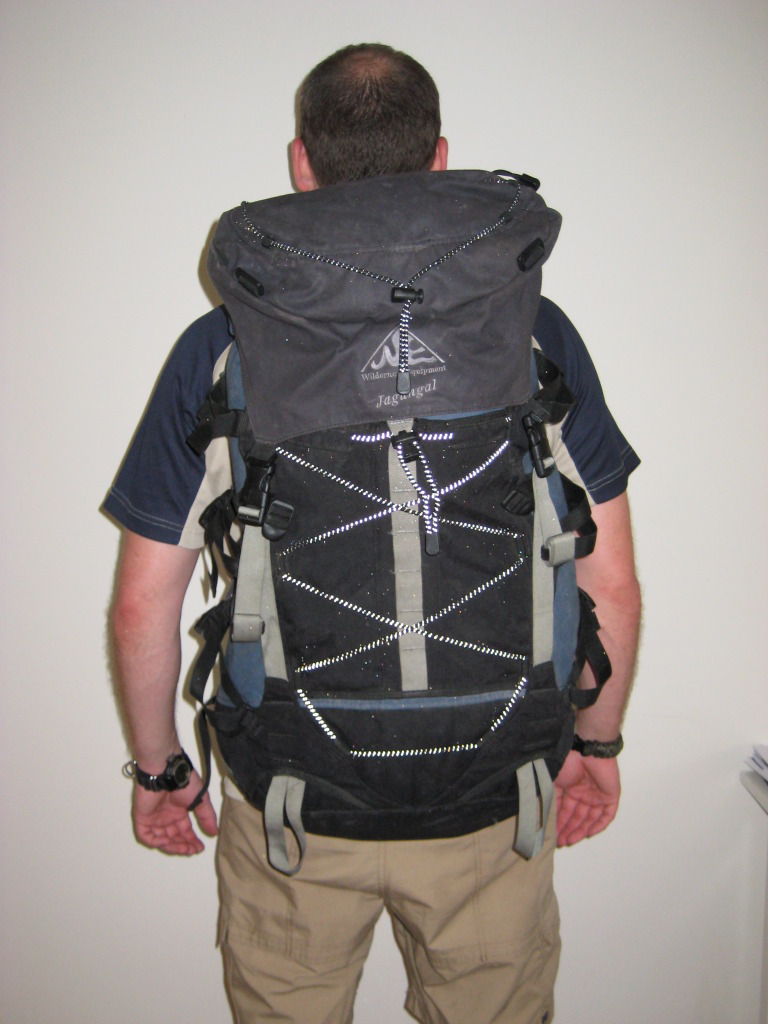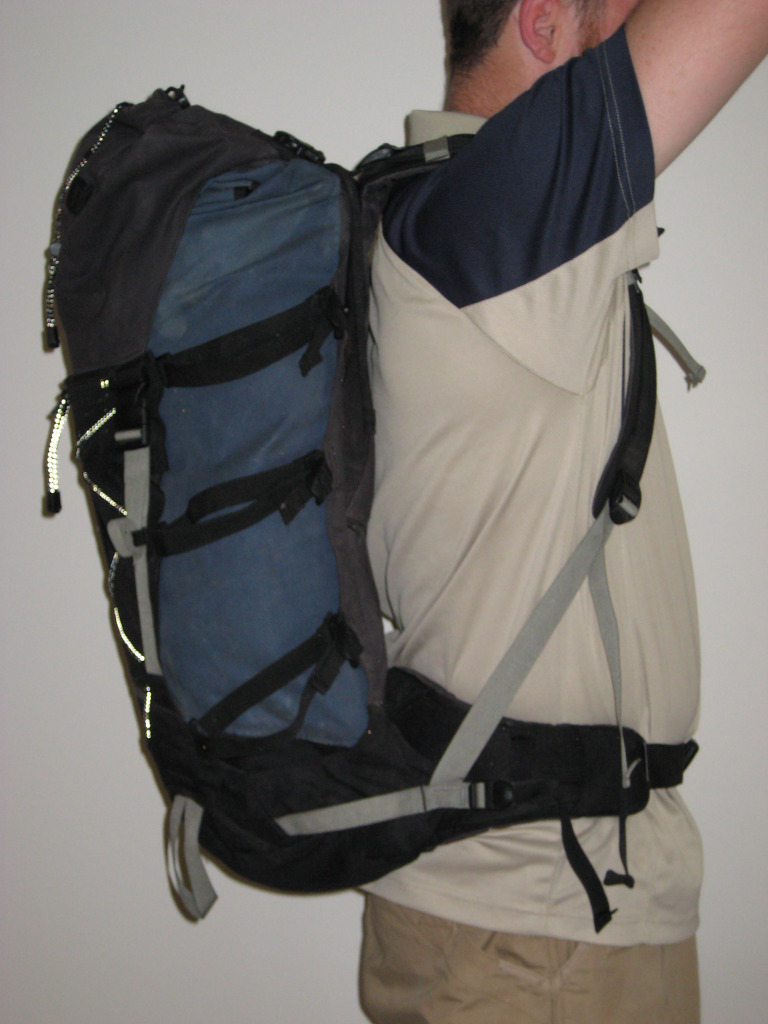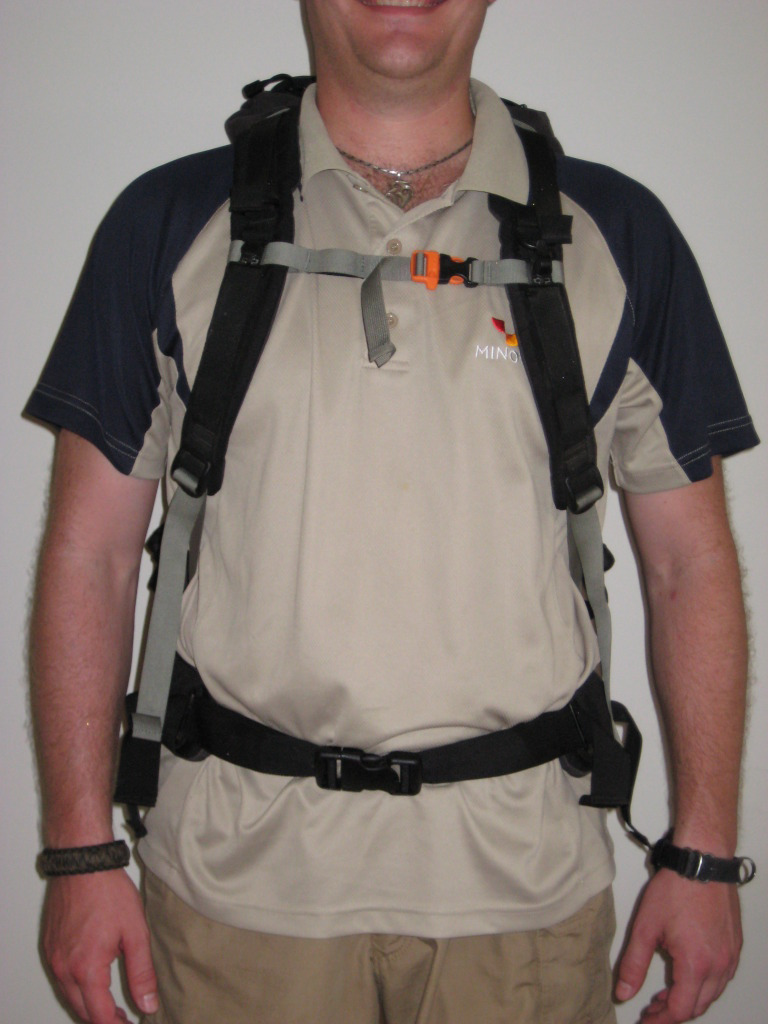 During 2005, when I first mooted and commenced planning for walking the Overland Track, I was using this pack for lead-up training.
It was during the lead-up training for that trip that I realised that a 40L daypack wouldn't be quite suitable for a long distance trek through a rough alpine area.
This realisation is what caused me to purchase the excellent Crossfire DG-6, also designed by Ian Maley.
The Jagungle has been one of those packs that has proven very useful across a spectrum of applications. In my particular case, when travelling interstate on social and work trips. Often times, I don't wish to travel with obviously military or tactical looking luggage, yet still need a good quality small to medium capacity pack that can withstand being overloaded for short hauls.
Probably the best example of this, was visiting an old mate a few years ago. I was packed for some quality time in an urban environment for engaging in over consumption of shopping and drinking activities. The plan had changed, and we were to actually head out on an overnight walk. All I had to do was dump my nice "stepping out" clothing and throw in some basic equipment for the walk.
PROS –
A very tough, comfortable and multi-use pack.
Whilst old fashioned, and heavy, the canvas body gives great resistance to rough field conditions.
CONS –
The most outstanding issue about the Jagungle I can think of is harness backing material is canvas instead of a moisture wicking synthetic material. This would probably increase the cost of the pack significantly, but would be worth investigating further.
I'm not a particular fan of the fixed backlength harness, but that is a feature that will add weight and cost to an item that should be fairly lightweight and relatively low cost.
It's not as modular as some newer designs, but given it's intended market audience and likely use, that's not such a big problem.
SUMMARY:
The Jagungle has been a really good travelling companion over the years with it's quality construction and simple, yet very functional design. I can't recommend it enough to people considering themselves outdoor professionals.

Posted in Civilian, Overnight, Packs & Webbing, Short Trip by 22F with 3 comments.