As mentioned in my synopsis of SHOT Show last month, I was very fortunate in being able to meet the blokes behind Battle Systems.
I've previously reviewed their products, which can be found elsewhere.
Being former Marines, I was able to speak with them using the universal language of grunts the world over. Thankfully, I have grown up a great deal since the first time I mixed with Marines as a young, dopey Digger – which ended in a punch-up! Thankfully, nothing as bad as that happened this time.
We had a great time, wandering the aisles and stands of SHOT Show, sharing stories of our service. Regaling each other of our respective service life – Exercises for me, and stories of operational service in the Middle East from them. We were also lamenting how complicated life has gotten after leaving the service. We even managed to grab a civilised meal with a quantity of cool, refreshing ales, and prove to the world that despite marching on our knuckles, we can actually use cutlery.
It was a particularly humorous moment observing our lovely looking waitstaff, to realise we have turned into responsible adults. Especially since we're all happily married and hence now defined as "dirty old men".
Amongst some of the more serious topics we discussed, the Battle Systems team have been busy doing some development of their product line and are working on a few things. Part of their business development effort is to expand the usefulness of their marker panels into multi-spectral modes, both active and passive. It was quite exciting to play a small part on the periphery of this process and observe this exciting development.
One of the ideas that they're offering is a conveniently bundled deal of their Individual Lightweight Marker Panel with a roll of their coyote tan tape and a signal mirror.
It's not a bad little package, with a roll of tape, a marker panel, a high grade two inch signal mirror and a small instruction card.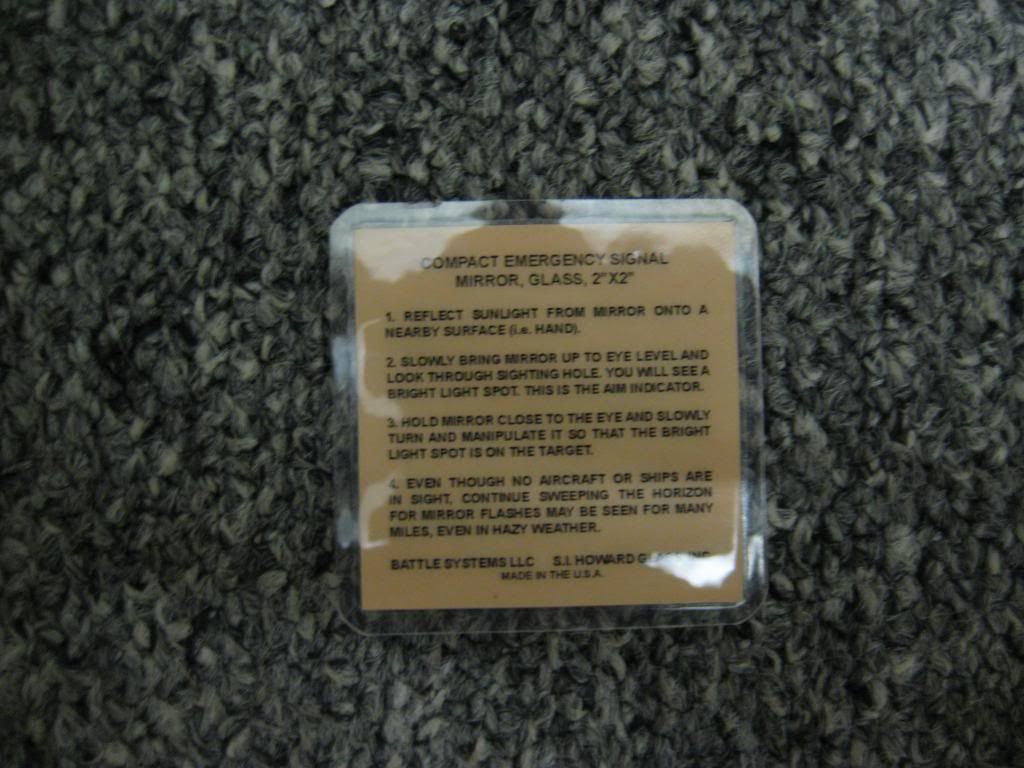 The signal mirror is glass, in order to give the best possible reflectivity possible, and the size is sufficient to be convenient to carry and easy to protect during rough field use. It's also velcro backed to allow it to be secured to the marker panel.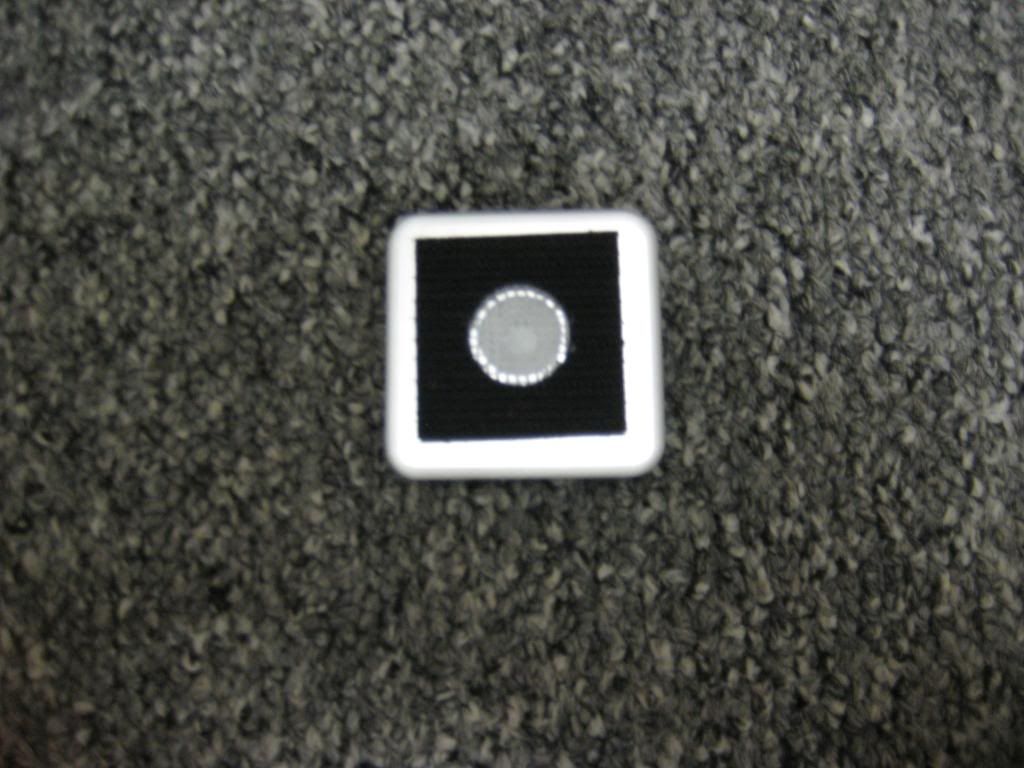 It's a really nice, convenient little package that would make a good stocking filler as well.
Battle Systems also have a new product in the marker panel range: a larger size panel suitable for vehicle or group applications. Just like its smaller sibling, the vehicle sized panel has several patches of velcro strategically placed to aide in placing multi-spectral visual aids on the panel.  Unlike its smaller sibling, there is both hook and loop sections for joining to other panels, and allow such things as IR reflective patches to be installed in patterns.
Individual marker panel on left, and vehicle sized panel on right, stowed: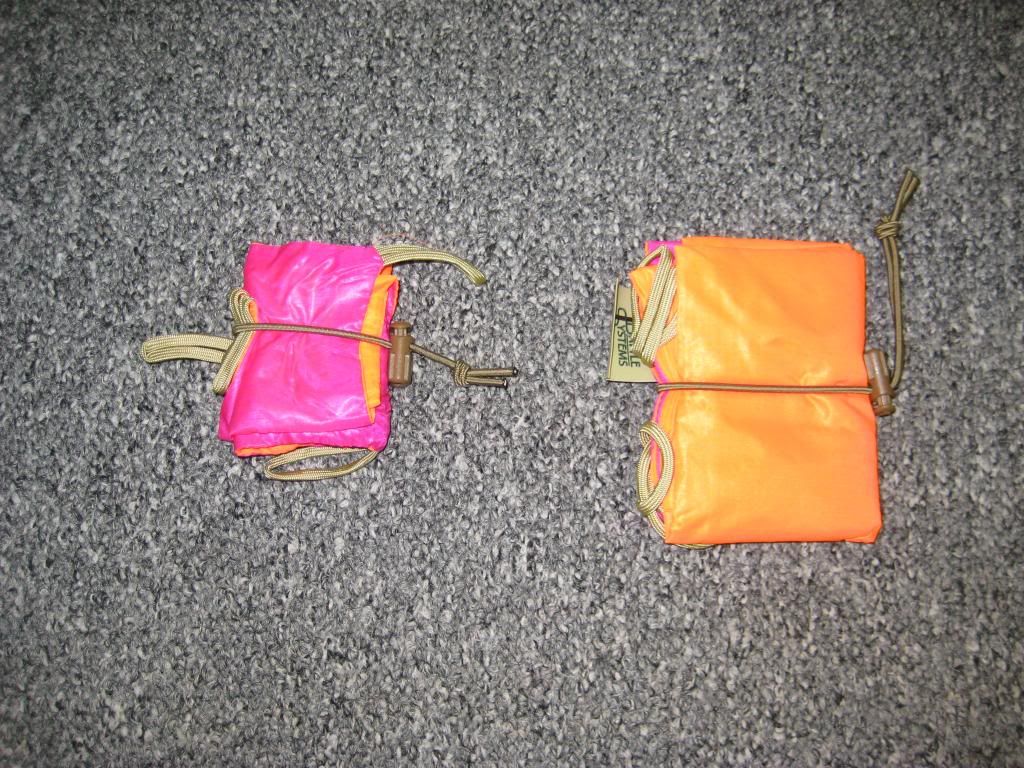 Individual markerpanel on the bottom, and vehicle panel on top: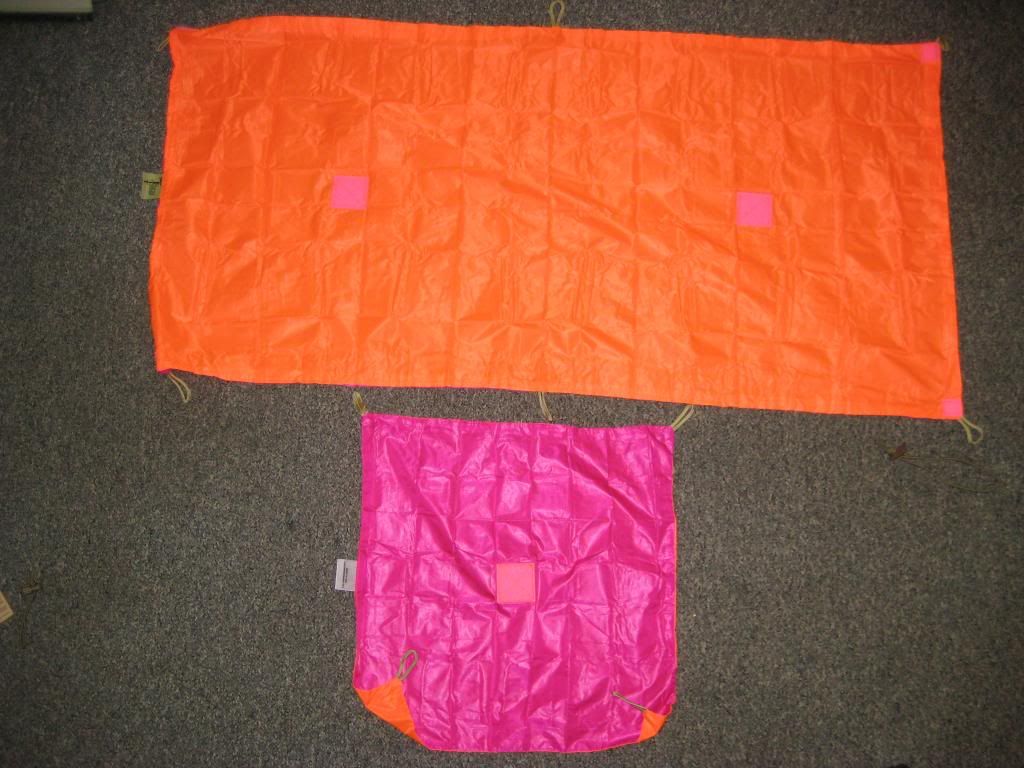 It's another well thought out piece of kit from this new start-up company.
I look forward to seeing further developments from the crew at Battle Systems. I can't wait to catch up with the boys again, the next time I'm over in the United States.

Posted in Civilian, Military, Miscellaneous Equipment by 22F with no comments yet.