PRODUCT:      Woobie (Poncho Liner in the American vernacular)
MANUFACTURER:      Kifaru
DESCRIPTION:
A lightweight, poncho liner. Made of two-tone material (grey/green). Weight is approximately 600g. Size is 66×84 inches unfolded (approx. 167x213cm). Paracord loops are placed on the corners and spaced strategically around the liner. A stuffsack is built in to the woobie.
MATERIALS:
Outer shell is made of Kifaru's own Rhinoshield. Insulation is a continuous filament material called Climashield.
 Here, the woobie is folded in half to simulate ready-use state, and the fact that my patio was too cluttered to fully spread it out.
PERSONAL ASSESSMENT:
Apparently this was made by Kifaru as a modernised and updated replacement to the famous and very popular poncho liner that our American allies have had as standard issue for decades. It's also been a popular item in swaps and trades with Yank units that I've seen over the years. The Australian Army version when I got my grubby little hands on it, was found to be a cheaper version, and not wholly comparable to the original item.
Since the Kifaru woobie uses a continuous filament for the insulation, the liner lacks the well known quilted look of the issue item. As such, the outer shell is not attached to the insulation like you would see with sleeping bags or other poncho liners. It's more akin to a doona cover such as that seen on your own bed at home.
The built in stuff sack is a great idea. Dual use means it can't be lost (as we've all had experience of over the years) and can be used as a field expedient pillow by stuffing some extra clothes in there. I quite like the idea!!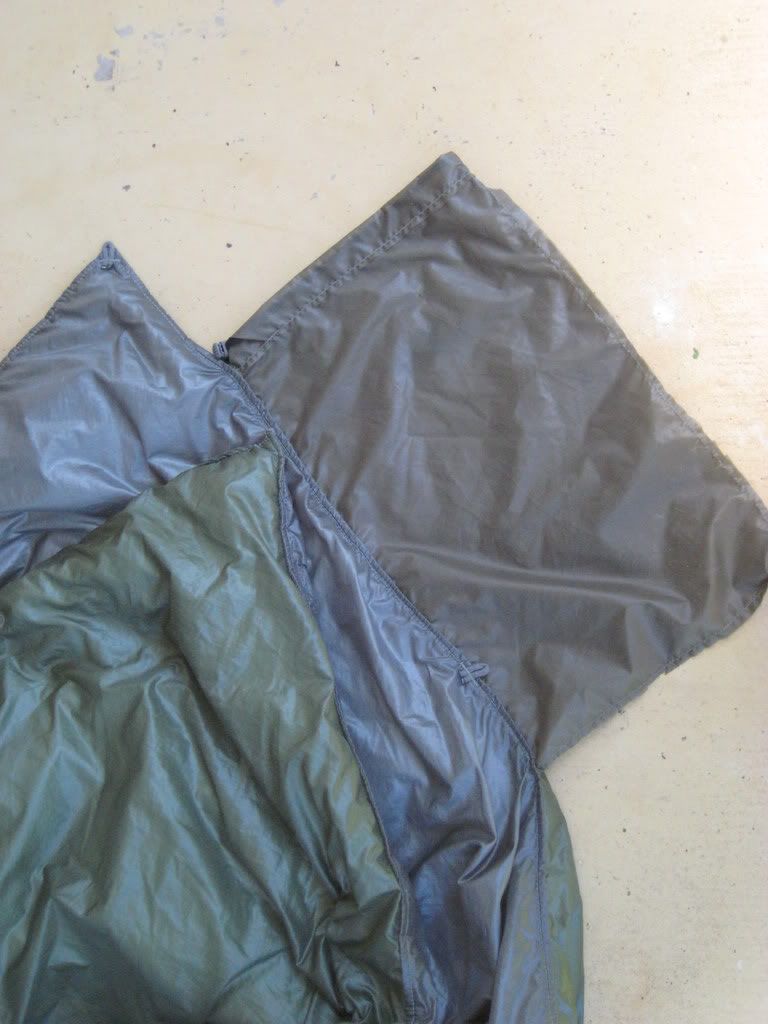 Loft for this lightweight poncho when unpacked is surprising. Whilst packed away in its stuff sack, size is negligible, I'd suggest 6x7inches. 
Please note that the photo of the woobie I have is uncompressed. If needed, this can be compressed to half the size shown.
Some sources have suggested that this woobie/liner will handle down to about 4degC. Although I'm somewhat sceptical of this since there is no way to properly secure the blanket from losing warm air from body movement during the night. But having said that, limited experimentation by yours truly has revealed the liner to be surprisingly warm.
How did I do such climactic testing like this in North Queensland?? Easy, I had 4 airconditioners in my old house, so I can get the place rather cool. Trust me, I'm glad I don't pay for electricity, but in the name of science, sacrifices have to be made. So much for global warming and carbon footprints.
SUMMARY:
In the never-ending search to lighten my load, I think this will do nicely for just about anywhere in temperate Australia. Since I've been using my Hennessy hammock a great deal on my wanderings about the country side, I've been finding that a zipped sleeping bag is a pain to use with this shelter. A blanket works better with this hammock than a sleeping bag. About the only thing I can think of against this product is the exchange rate to the American Dollar isn't exactly favourable at this point in time. I was lucky, and managed to get in before the downturn.

Posted in Civilian, Military, Overnight, Short Trip, Sleeping & Shelter by 22F with no comments yet.