I'm really pleased to announce the latest milestone for this project.
Previously mentioned HERE and HERE.
Partly because I'm such a Luddite, and partly because my brain has difficulty staring at complex things and interpreting complicated drawings on a computer screen, we're about to kick off our first physical prototype. We're going to use that really new and cool technology 3D printing for initial prototyping. Maybe later on in the development stage, we'll look at creating a prototype using wire edm machining methods, which is common practice in many industries.
There are a couple of reasons I like having a physical prototype, and why I'm going for 3D printing at this stage:
It's easier to discuss modifications and design changes for design maturation and development with a physical object in one's hands.
– Ergonomics and aesthetics can be quantified.
– Trial fitting (very, very carefully!) to the original equipment.
I'm pretty pleased to have achieved reached this stage.
The next stage will be further design development and maturation, as well as scale-up for manufacturing (ie. How will this item be built to aid in ease of manufacturing and keep costs down?).
I s'pose now is a good time to give you all a sneak peek of the initial CAD concept drawing that was developed, and lift the veil of secrecy that I've been coyly using: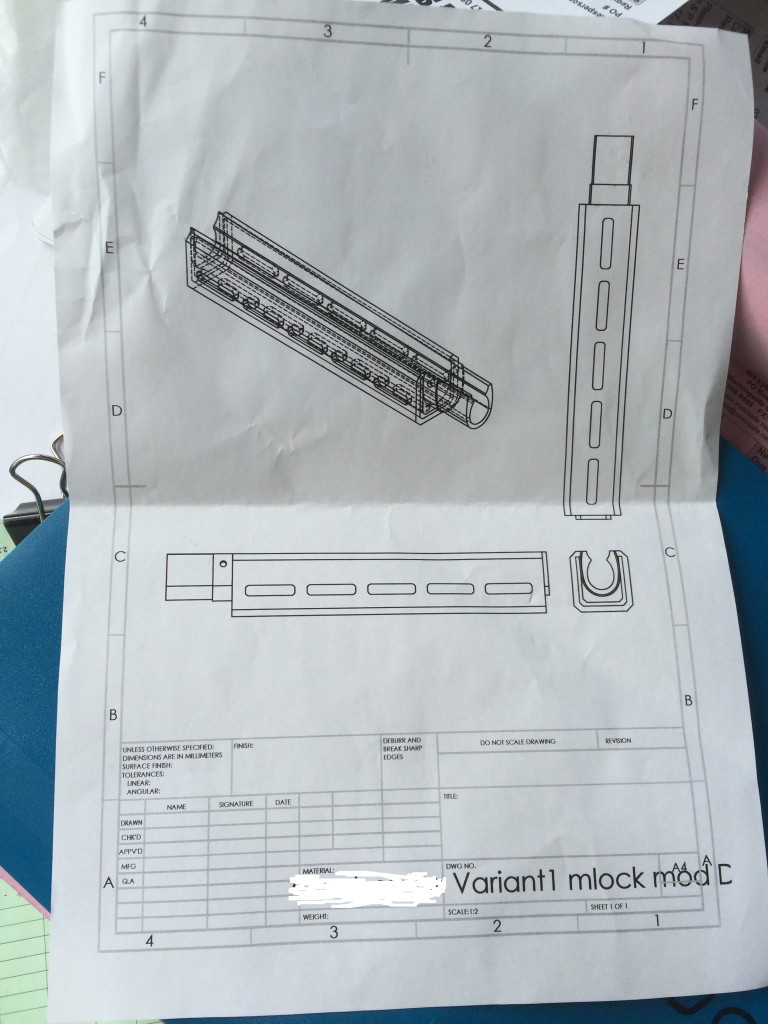 .
So… what is it?
We're designing an accessory forearm for the Marlin 336 using the M-Lok attachment system from Magpul.
Here's what Magpul have to say about their M-Lok system:
This picture shows the initial concept drawn up from my scribblings and description outlined from a project brief I wrote and supplied. My draftsman is a wizard who did this up in less than two days from start to finish (not including the two days he needed to download, understand and play with the programme I suggested he use).
We're currently on about Version 5 of the design, so it's not looking quite as steam-punk agricultural now. The forearm is looking much more svelte and streamlined.
.
What's going to happen next?
When I have a complete 3D printed prototype, then further design development will occur. This includes ergonomics, and thoughts about scale-up for manufacture.
Once this is complete, we'll move onto our next prototype stage – in aluminium via CNC machine, as a scale-up for mass manufacturing.
We are also in the process of investing in a new CNC machine, so it will be interesting to see how our final product turns out. So far, a few different CNC machines on websites like https://www.tsinfa.com/ have caught our eye, so watch this space for further updates.
Once we have the right CNC machine for our needs, this CNC'd aluminium prototype will also be used for real-world testing (use and abuse evaluation) and live-fire certification. Moreover, once we have our CNC machine, we might also look for a CNC monitoring system that can allow precise control of CNC machines–one which can help us receive status messages on user-defined machine signal events anytime, anywhere. Perhaps, we will look into something like xynLOG provided by firms like xyndata s.r.o. It is believed that xynLOG can connect to any machining equipment and provide preventive maintenance to the existing CNC infrastructure. It can also provide useful and accessible information for the users who have to make decisions regarding their CBC machines. So, hopefully, we will use something like this. However, this is for the near future!
Anyway, one thing can be said that we're really excited about this project, and hope you are too! We have dreams and aspirations attached to the project. And if the project turns out to be successful, then rest assured we will be able to climb the ladder of success easily.

Posted in Blog, Civilian, Weapons usage and accessories by 22F with no comments yet.