A recent discussion amongst Primary and Secondary moderators had us comparing notebook sizes.
One of the lads had a fairly decent collection of Australian issue Field Notebooks that he acquired whilst deployed and co-located with Australian troops.
It reminded me of my field notebook setup.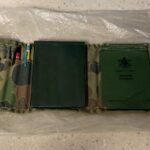 (more…)

Posted in Military, Miscellaneous Equipment, Specialist by 22F with no comments yet.