This is a hard one for me. 
I'm planning on getting deep and meaningful. Possibly exposing my soul to the world. 
I'll be painfully frank: I am nowhere near a mental health professional. Please bear this in mind. 
Most of this will be simply my own experience and outlook. It may not be the best solution recommended by mental health professionals. 
Our tribe – military, emergency services and the hard industries – traditionally do pretty badly at recognizing and acknowledging mental health and the impact it has on us, our lives and our families. 
This is at an individual, collective and institutional level.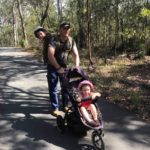 Posted in Blog, Civilian by 22F with 2 comments.